3 Best Eye Patch for Small Dog – DIY or Budget Online Options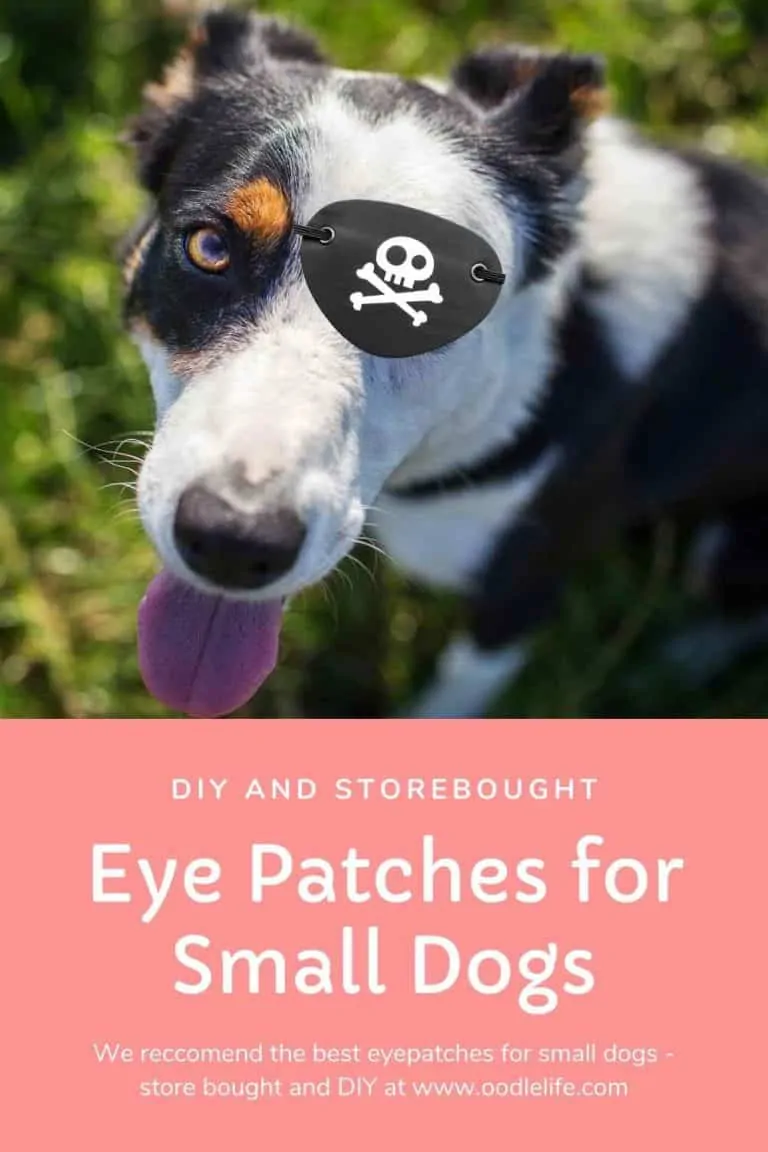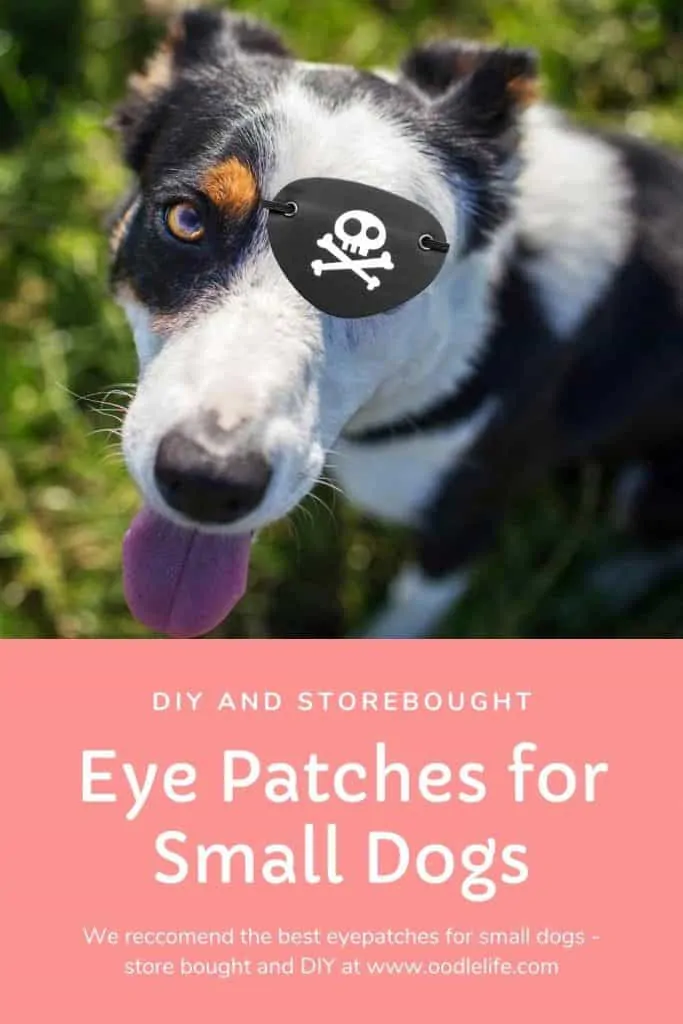 There are a bunch of different reasons a small dog may need an eye patch. A dog most commonly needs an eye patch as a temporary measure due to an injury or medical condition.
Sometimes there are other reasons a small dog may need an eye patch. Owners need to be cautious about the dangers and risks of future injury before starting to use one.
Where To Get an Eye Patch for Small Dog
Finding an eye patch that a small dog tolerates can be tricky. Sometimes you need to purchase a custom one from a Veterinarian.
This can be pricey and take a while to source and arrive. Given that most eye patch use for dogs is temporary, most owners try to avoid this.
Luckily there are a few products available online and some DIY dog eye patches that you can consider.
In this article, we discuss why a small dog should (or shouldn't) wear an eye patch, let you know where to get a good piece, and share the best eye patch DIY projects.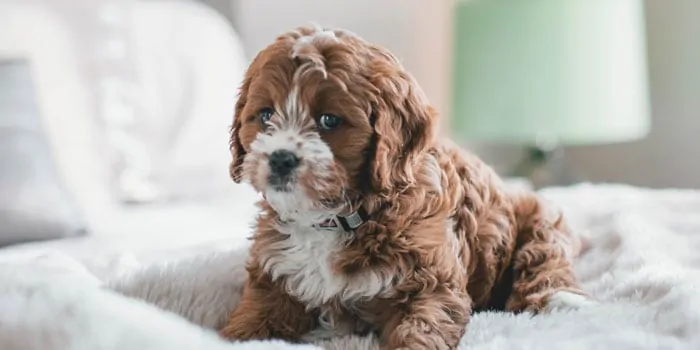 Why a dog might wear an eye patch
There are a bunch of reasons a small dog (like a Teacup Goldendoodle!) might need an eye patch. Acute medical reasons are most common, followed by longer-term Veterinarian suggested wear.
A controversial final reason that some owners choose to look for an eye patch is fashion and costuming.
Can you get a small dog eye patch on Amazon?
A medical-grade prefabricated eye patch for small dogs can be hard to find. Many vets actually make their own, or even order eye patches for humans and package and sell them for dogs.
Ideally, a soft and safe eye patch with no sharp corners or staples as fastenings is recommended.
That's right, some eye patches actually include STAPLES despite the area where they are used most being so delicate and fragile.
Small dog eye patches should be quite affordable as they are both.
Typically, only used for a brief duration of a medical condition as recommended by a Veterinarian.
Made of soft materials that are safe and medically approved, but not durable of the dog decides to scratch or have a chew.
It does not make tremendous sense to spend an arm and a leg on a small dog eye patch when more affordable options should meet the need!
Best small dog eyepatch to buy
A popular small dog eye patch to buy is the adjustable adult (human) super soft AKOAK eye patch.
AKOAK 1 Pcs Adult Kid's Black Adjustable Soft and Comfortable Pirate Eye Patch Single Eye Mask for Amblyopia Lazy Eye
Made of high quality cotton, breathable and comfortable to wear, will not hurt your skin. Overall size: 2.75"x2.56" ;Groove size:1.97"x1.57",You can find the size you need with adjustable strap.
The adjustable strap makes pirate eye patches really comfortable and adjustable to fit just right.Soft and adjustable stretchy rope for more free wearing.
The eye patch is soft, durable, stylish and comfortable. It is not flat which helps not to put pressure on the eye. Helpful for daily patching for eye condition. This eye patch is ideal for any child...
Idea for dress up party,Also a good eye mask for Halloween dress up party, masquerade etc. The patch adds fun for life. One size fits most children.
Training the lazy eye to work properly, so that vision can develop correctly, These eye patches are suitable for training the amblyopia, short sighted, And it can be applicable for cosplay, such as...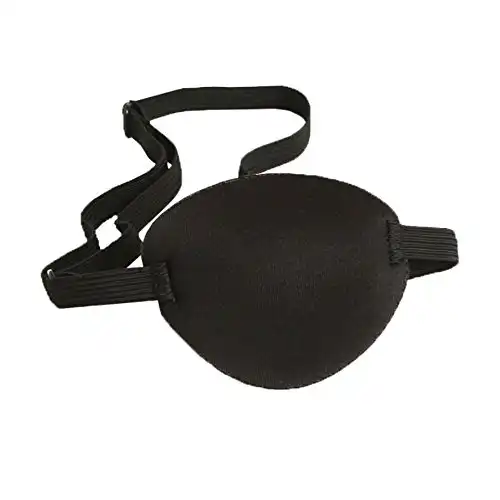 We earn a commission if you make a purchase, at no additional cost to you.
Like any budget-friendly eye patch, expect the elastic to not last a tremendous amount of time. Luckily there are very few scenarios where a small dog will need an eye patch for longer than a few days or a week or two.
Vets usually recommend that eye patch wear be supervised at all times to ensure dog comfort and make sure the dog does not dislodge the patch and eat it. This could be dangerous! Consult your Veterinarian if you need any specific advice or are worried about wearing the patch they recommend.
Best DIY Dog Eye Patch
I found these two excellent examples of how to patch a dog's eye. One is a kickass DIY project on how to make a soft and safe eye patch for a small dog. The other covers the emergency bandaging of an eye for a dog until medical treatment can be arranged.
The first video shows how you can DIY a soft and safe eye patch for a small dog. How cute! Protect the eye and look like a small dog pirate.
The following video details the steps for emergency eye care in the event of an injury. Your Veterinarian is typically only a phone call away – but this might be an appropriate short term solution to eye injury or problem. A detailed video shared by a helpful Vet!
Other Ways To Protect Dog Eyes When Eye Patches Do Not Work
When an eye patch does not work, dogs have a few other options that can help protect the eyes if damaged or following surgery.
Dog eye patch alternatives include a plastic cone. By wearing a plastic cone, the dog is unable to paw or scratch at its own eye. This can prevent further damage if the dog is healing. We all know how annoying a healing injury can be!
Rex Specs Dog Goggles - Eye Protection for The Active Dog
CHECK YOUR SIZE! Rex Specs Dog Goggles come in 6 sizes (X-Large, Large, Medium, Small Wide, Small, and X-Small) be sure to measure your dog to ensure you get the best fit.
Rex Specs dog goggles come with 2 lenses - 1 Clear and a second lens of your choice. All lenses are rated UV400 - blocking 99.9% of UVA and UVB rays.
Strap system is fully adjustable to accommodate a range of shapes and sizes. Be sure to follow the fitting instructions, a good fit makes training much easier!
Please note that this product requires training. Allow 1-3 weeks training period and follow the recommended training instructions. If you have any questions about training, contact Rex Specs customer...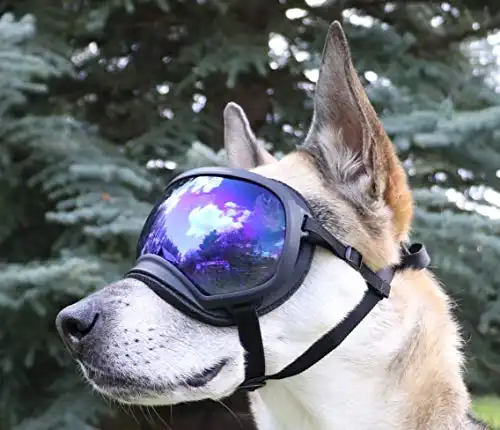 We earn a commission if you make a purchase, at no additional cost to you.
Another popular option is custom fit dog goggles. They look much like a snowboard or ski goggles – and cover both eyes at once. The custom-fit goggles are made for different sizes of dogs and prevent debris or dog paws from scrubbing or scratching at the eyes.
Medical Conditions for Dog Eye Patch Wear
Medical reasons a small dog might wear an eye patch include when a Vet as commenced treatment and identified the following conditions AND recommended an eye cover.
Plenty of eye conditions actually need to be left open to heal correctly!
Accurate professional tailored Vet advice is essential for something as crucial as the eyesight of a dog.
Typical dog and puppy eye conditions that may need an eye patch include
Conjunctivitis (or pink eye)
Glaucoma
Cherry eye (problem with the third eyelid, yes you read that correctly – dogs have THREE eyelids!)
Dry eyes
Corneal injury (serious condition)
Blepharitis
If your Vet has recommended an eye patch as part of the treatment – get a safe one. Buying or creating a safe one is the way to go. A shoddy or dangerous eye patch can result in further injury!
Eye Patch for Dog Missing Eye
NOTE: A dog missing an eye does not typically wear an eyepatch
Sometimes a dog will need to have an eye removed. This happens due to injury, disease, or genetic conditions!
Luckily a dog with one eye can still function well and enjoy life to the max. A one-eyed puppy or dog can still be a delighted puppy!
Most veterinarians will not recommend an eyepatch for a one-eyed dog. It can look kickass but offers minimal actual benefit to the dog.
If you did decide to use one anyway, go with a medical-grade, or safely make a DIY eye patch.
Don't use an eye patch costume for your dog.
Some dogs love to wear costumes.
You can safely and respectfully costume your dog without hurting or upsetting it. The process can be unique, rewarding, and fun for both owners and dogs.
Incredible caution needs to be taken when placing any eye patch or covering near the eye of a dog.
Any nonfitted device can risk injury to your puppy. Puppies and dogs are very likely to try and remove any patch placed over the eye.
Any rough areas or parts of the eye patch might scratch or damage the eye of your dog. Trying to remove the eye patch can also cause unintentional self-harm from the claws and paws.
Think about how important your eyes are to you! They are just as crucial to a dog. Dogs do see five times better than humans at night, but their daytime eyesight is actually worse than ours! They need every chance they can get to see clearly and with confidence.
Injuring an eye of a dog through an improperly fitted eye patch or as part of a costume is a considerable risk. Avoid taking such risks if it can be avoided.
Eye patch for small dog conclusions
There are a few scenarios in which you might need to find an eye patch for a small dog. Be extra cautious if you need to use one – pick one that is soft and safe for use.
Only use an eye patch for a medical condition if it is specifically suggested by the expert animal health provider (vert or Vet nurse typically).
Be insanely careful if costuming or electively getting your dog to wear an eye patch. Be cautious and avoid any risk to the dog's eyesight. They need to be able to see well in the dark!
Looking for more articles? Find out if dogs have belly buttons, the BEST Star Wars dog names, and the best small dog breeds for small kids.