3 Best Stackable Dog Crates (2023 Update)
Stacking dog crates isn't a simple matter of buying multiple crates of different sizes and then stacking them on top of each other.
Since crates can vary in material, endurance, and quality, stacking can impose several different problems, especially when it comes to cleaning and sanitation. Wired crates do not have enough cover and support on the bottom so they could easily start transferring liquids through.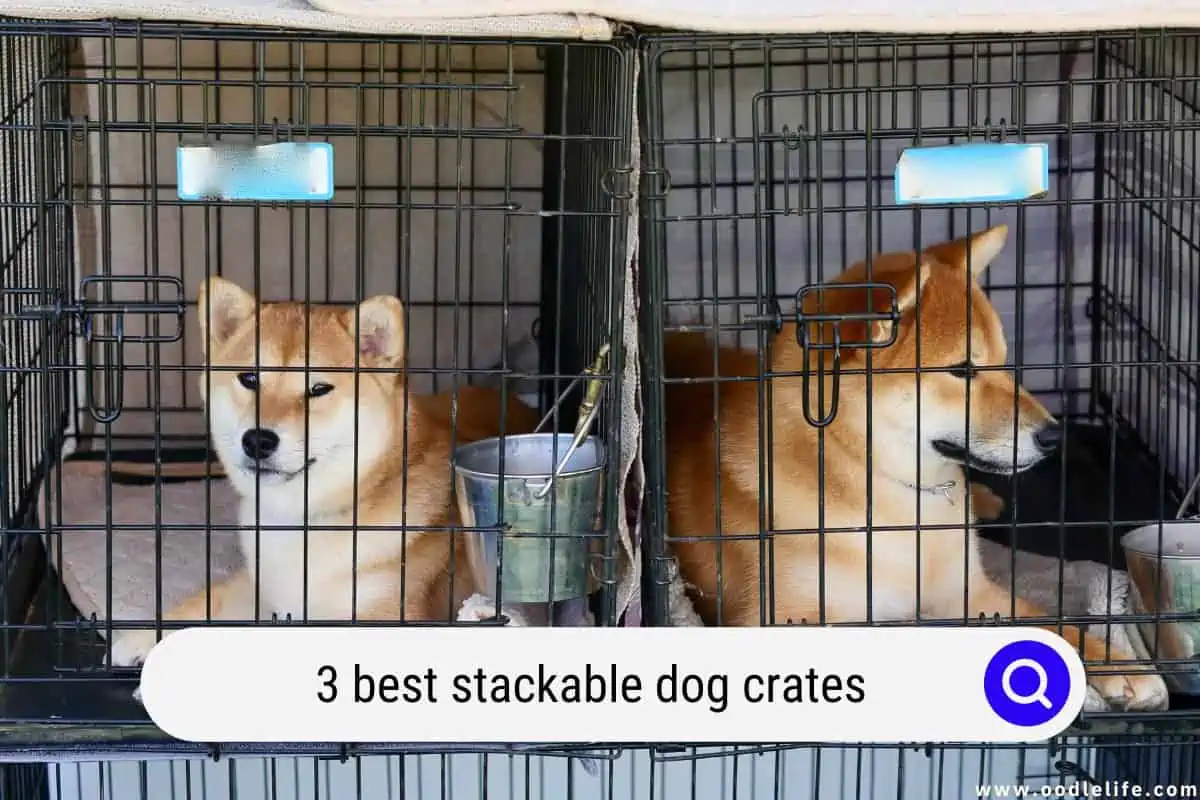 They also do not provide sufficient support on the top either so neither the bottom nor the top crate is protected. Crates will let through urine and waste to be transferred from the higher crates to the lower ones.
However, crates are also big and bulky and can take up a lot of room. People who need stackable crates such as vets or groomers to hold their customers' dogs for a short time before they are picked up need room to be able to move, so a floor space filled with crates isn't the solution.
That's when stackable crates come in. To accommodate several different crates, it is possible to go vertical and utilize the space differently, but only if they are made of the same size and designed to be safely stacked on top of each other.
In this blog post, we'll share our three favorite stackable dog crates, why you might need them, and the things in mind when it comes to choosing one.
3 Best Stackable Crates
One of the key things is to pick one type of crate and stick to it because once you've decided on the model, size, and material, you'll have to continue using the same one or stack them differently.
These heavy-duty crates come with a safety auto lock and the open top makes it easy to take your dog in and out. Measuring L37″xW22″xH31″, this crate can fit dogs of up to 70 lbs. The pull-out tray is easily cleaned and will protect the lower crates from anything dropped from the higher ones, in addition to protecting the dog's paws from the mesh wiring.
These durable, spacious crates have wheels and you can stack them up to three levels. The wires are spaced 1 inch apart, which is much closer than other crates. This makes it safer for some dogs that like to get their muzzles stuck in between the bars.
This crate also allows for a side opening as well as a top opening, which makes it easy to get your dog in and out.
One of the downsides is that this crate comes in individual pieces and you'll need to assemble this crate. Assembly isn't too difficult and should take about 10 minutes.
First, attach the front and side panels with the included screws. Use the shorter screws.
Each panel will have a total of four screws; one on the top and one at the bottom on each side.
Next, attach bars to the front panel with the screws that are already attached to the bar.
Once the bars are in place, attach the last panel.
Now attach the four castors in the corners.
Add the floor grids and the durable ABS tray.
You can place the tray under the floor grid in the slot so that the dog's waste will go into the tray and keep the crates on the lower levels clean. Alternatively, you can place the tray on top of the floor grid for more comfortable paws for the dog.
Now just attach the top panel with the longest screws, and install the wing bolts, and you're done!
Made with premium materials, this stainless steel crate claims to be indestructible. You can stack up to two crates easily for transport or temporary confinement.
Confote 37" Stackable Heavy Duty Dog Kennel Pet Stainless Steel Crate Cage for Small Dogs with Tray in-Door Foldable & Portable for Animal Out-Door Travel
$243.99 ($243.99 / Count)
Premium-grade construction: Commercial quality stainless steel construction provides a heavy duty indestructible dog crate expertly crafted and designed to keep pets safe and comfortable. Depending on...
Non-toxic: Our heavy duty dog crates Made out of STAINLESS STEEL.It helps the crate stand up to rust, corrosion, scuffs and scratches, perfect for indoor and outdoor use.Safe and non-hazardous dog...
Double door folding metal dog kennel design for large dog: The front door is suitable for pet in and out,the top door also can be opened for you interacting with your dog. 360 degree rotated locking...
Easy to clean: Folding metal dog crate assembles easily w/out tools & folds flat for convenient storage, travel & portability inside & outside your home.Removable (slide-out) plastic tray helps you to...
Choose the right cage for your pet based on his size(small,medium,l,xl). Easy to assemble: All hardware pack included, locks were pre-assembled, just takes 5 minutes to complete. Notice: In order to...
We earn a commission if you make a purchase, at no additional cost to you.
The bottom bar spacing is a 0.6-inch and the bars are square, so you can rest assured doggy paws will be kept comfortable. Made of non-toxic stainless steel, this top-quality, durable crate will withstand rust, corrosion, and scratches, and is virtually escape-proof.
Like the Homey Pet crate, the Confote also allows for side and top entry, and the rotating wheels are lockable and will help you move the crates anywhere. This dog crate comes folded and can be easily assembled without tools. Set up takes about 5 minutes.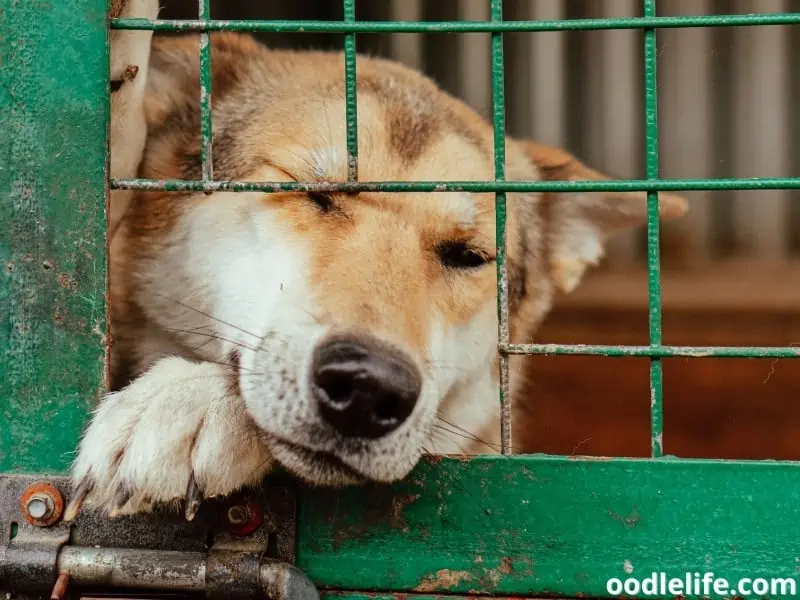 Available in four different sizes to suit almost all dogs, Vebo's new crate incorporates an updated design of stackable tube cages. They are significantly stronger than collapsible crates and can be assembled or packed up in mere minutes.
Like the Homey and the Confote, the Vebo crate has both a front and a top opening for easy access to your dog. The heavy-duty metal frame comes with a 5mm thick ABS plastic tray, and there is an extra feeding door at the bottom for the two largest sizes.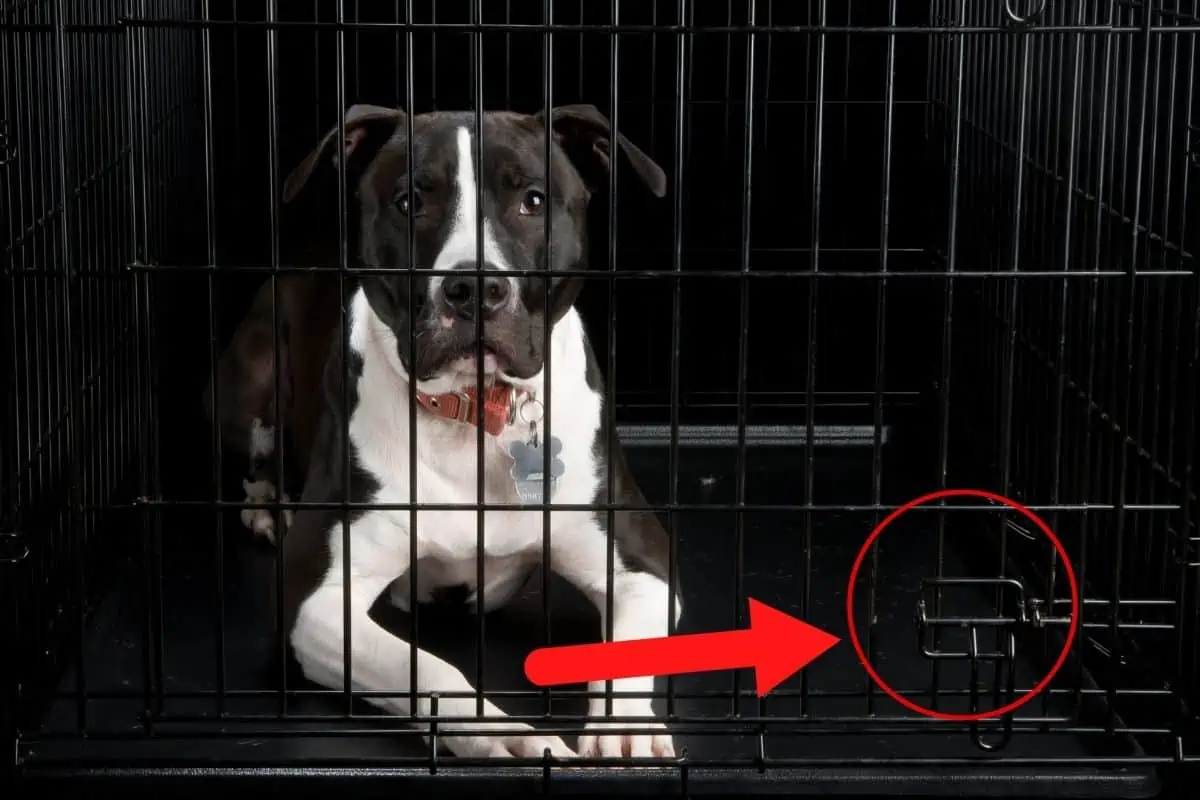 Why And Who Would Stack Crates?
Dogs are not meant to be crated for long periods, and should only be left in a crate for up to six to eight hours. Some stackable crates allow for urine and poop to seep through from the higher crates into the lower crates.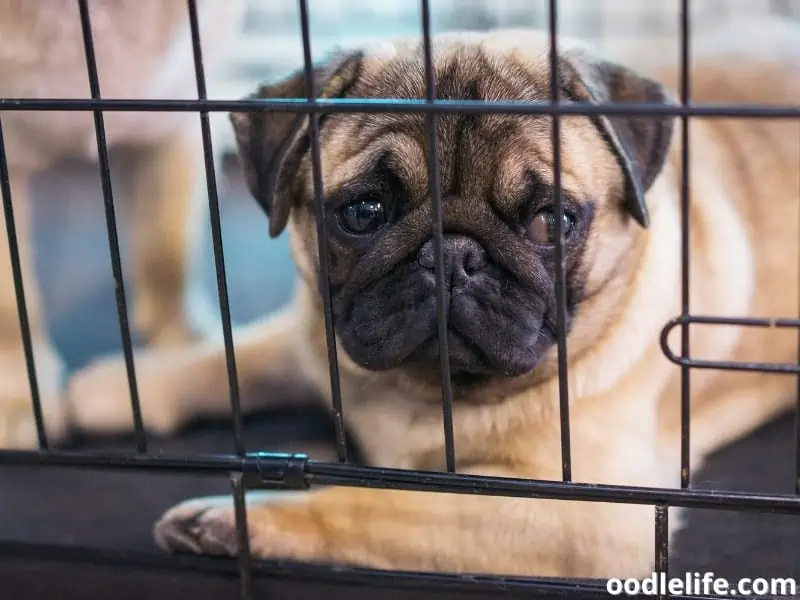 Stacked crates also encourage overcrowding, and one of the key users of stacked crates is puppy mills – illegal, unethical breeders that keep the dogs in their cages all their lives.
Puppy mills are commercial dog-breeding facilities that mass-produce dogs for sale through pet stores, online sellers, and other outlets. Puppy mill dogs are housed in cramped, unsanitary conditions and receive little to no socialization or veterinary care. As a result, they often suffer from physical and behavioral problems that can be expensive to treat.
However, some professional dog care facilities would certainly benefit from stackable crates. For example, veterinarians would benefit from placing a dog in a crate post-surgery or treatment, while waiting for the dog to wake or if waiting for the return of its owner. In addition, vets often keep their patients in crates if they are being observed overnight or have to stay on the vet's premises to wait for the return of their owners.
Groomers might be giving a dog a full grooming session without the presence of their owner, and if they are finished before the owner returns, a groomer would benefit greatly from having the dog in a crate as opposed to running around freely in the grooming center.
Dog boarding facilities might choose to have their lodgers sleep in crates after a day out running freely around the property, and some rescue organizations might also use stackable crates for newly-arrived dogs under medical care or observation before going into a main kennel facility or foster home.
In all these instances, space is crucial, and stackable crates are certainly the solution. Even some households with multiple pets might choose to have their dogs sleep in stackable crates at night.
How To Choose A Stackable Crate?
If you are looking for crate stacking for multiple pets, collapsable models could be a safety hazard, since they are not usually built for heavy-duty weight and movement.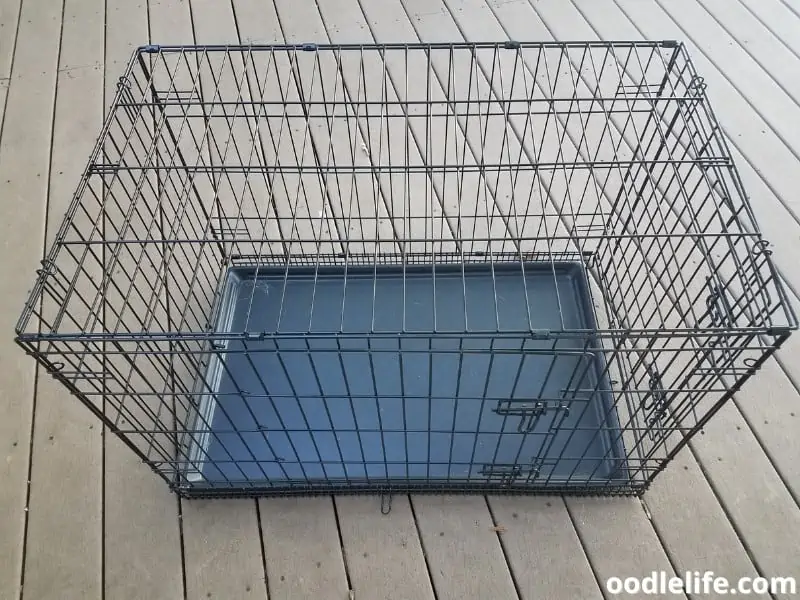 An important part of any crate, whether it is stackable or not, is trays that have the possibilities to be removed for everyday maintenance and deep cleaning in case a dog has an "oopsies." Unless you are using the collapsable ones and are changing up the crate often, a removable tray is not just practical but essential. Instead of washing the whole thing, you can just take out the tray, clean it out, brush it, and replace it clean or change it with another one.
This would be easier to handle so you would not have to make a whole mess of moving the entire crate, and you would not disturb the crate itself.
When stacking trays, the important part is having strong, durable attachment points, which collapsible crates do not have.
The crates should have heavy pins, latches, and different types of locking mechanisms that would add security. This is especially important since the place for the dogs to move around is limited, and they will need to endure the constant movement of the other dogs.
Another important part is having wheels, which is especially important if you are moving the crates around and cleaning the floor below. Of course, the wheels can be locked in place for security and stability.
Final Thoughts
The SPCA, Humane Society, and other animal rights groups caution against the use of stack cages, often associating them with puppy mills and overcrowding. However, when used right, stackable crates are a godsend to many businesses. Operating optimally would be impossible without these crates!
To use stacked crates, you can't simply buy two crates and plop them on top of each other. They'll need strong, durable attachment points to stay safe, and dogs that aren't crate-trained often scratch and dig at their crates, causing significant movement and running the risk of injury.
With our top recommended crates, your precious pooches are guaranteed to stay safe, calm, and happy. Happy stacking!