7 Best Dog Crate Furniture And End Tables (2023 Update)
All dog owners already know how a simple tool like a dog crate can be a lifesaver. They're great for keeping your pup safe when you cannot supervise him, when he needs a break, or when you want to speed up the potty training process. A dog crate can be a huge asset for all dog parents.
However, this essential training equipment comes with a major drawback. Dog crates are heavy and take up way too much space than most people would like them to. If you're someone who loves maintaining the esthetics of your home, having a bulky dog crate crowding your space can ruin your decor.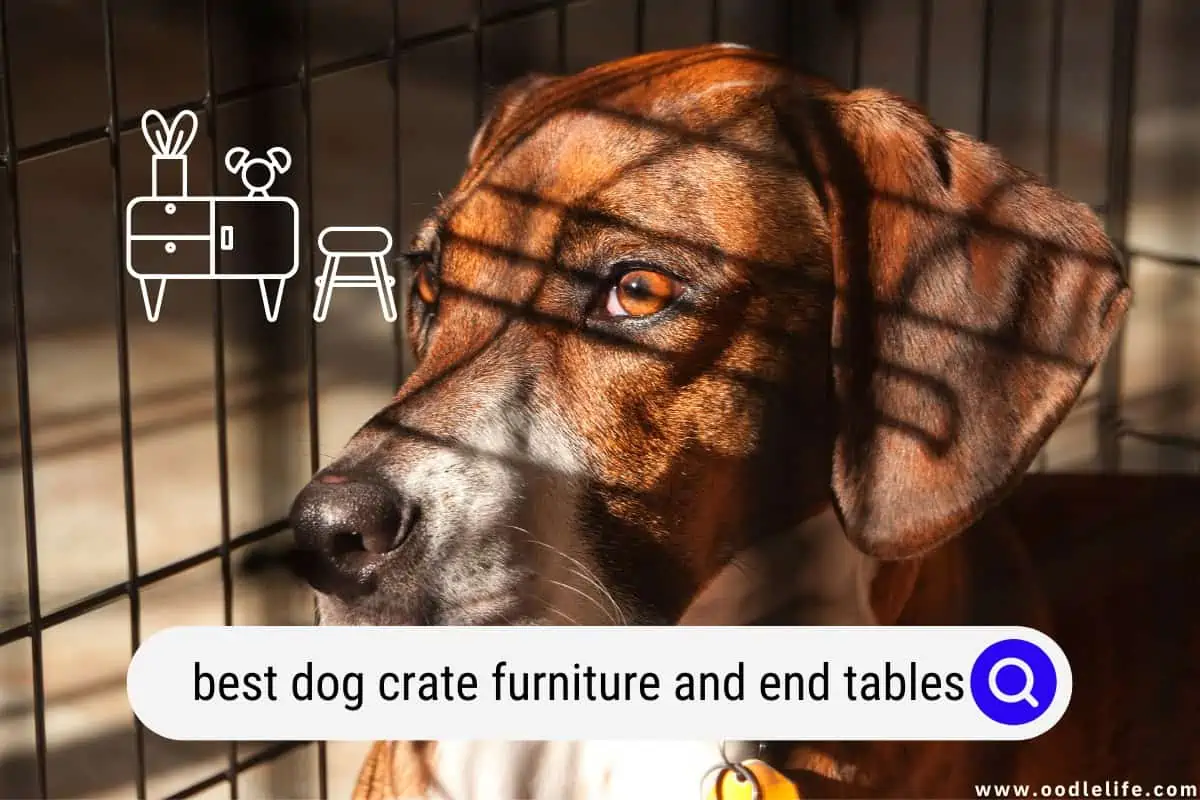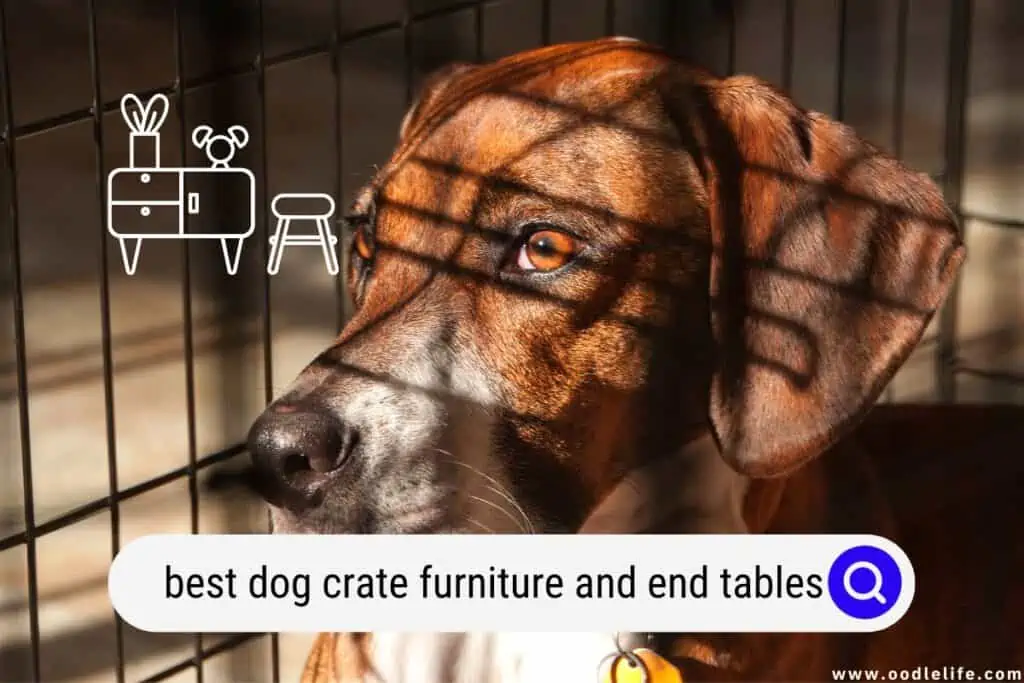 Enter dog crate furniture and end tables!
Imagine a sleek, multifunctional, and fashion-forward crate — fashion has finally caught up with function.
Keep reading to learn about why you need to consider investing in this versatile furniture as well as a curated list of some of the best dog crate furniture available on the market.
Why You Should Invest In Dog Crate End Tables?
A good dog crate end table will not only reduce clutter but can also offer many other advantages. Here are some persuasive reasons why you should buy dog crate end tables.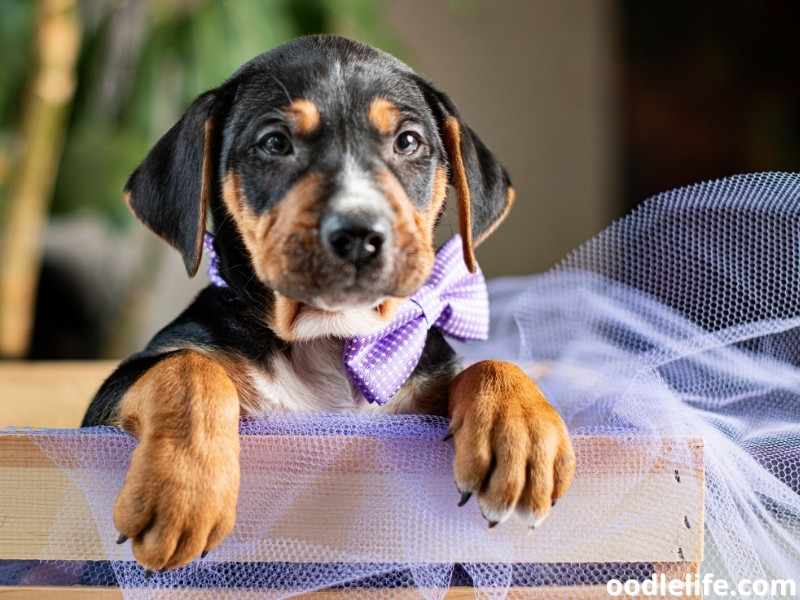 Esthetic Charm
Dog crate end tables are not just another piece of equipment; these tables are specifically designed to look pretty. The plastic crate can never blend with your house decor. Dog crate furniture, on the other hand, is typically made of wood or polished metal to enhance the beauty of your house while also serving as a useful piece of furniture.
Cost-Effective And Space-Saving
You get a 2-in-1 piece of furniture that helps you save space and money. It's a smart choice for people with small homes and apartments. When you're not using the dog crate for your pup, it can double up as your end table or nightstand.
Excellent Choice For Well-Trained Dogs
The crate can work as a safe space for mature well-trained dogs who can be trusted to not chew on the crate. It provides a den-like experience that many dogs love. You can also place the crate end table near your couch so your pet feels included in your family activities.
Not only would you be maintaining the aesthetic of your house but also providing socialization to your dog.
Who Shouldn't Buy This Furniture?
Dog crate ends tables are a great investment for almost every dog parent, but there are some instances where it may not be a good choice for you.
Not For Dogs Who Chew On Furniture
Since most dog crate end tables are made from wood, they will not be an ideal choice for dogs who are struggling with excessive chewing or other aggressive behaviors.
Unsuitable For Crate Training
If your puppy is just starting with crate training or if you have a rescue dog, dog crate end tables are not suitable.
This type of furniture does not have a divider panel, which makes it unsuitable for potty training.
And for rescue dogs, being in enclosed spaces can be stressful. This can lead to destructive behavior like chewing, biting, and even deliberate soiling.
Keeping The Crate Clean Can Be An Issue
Since the crate is made of wood, cleaning it can be bothersome. Wood is a porous material and if your dog has a urinating incident in the crate, the urine will be soaked into the material. This will cause a lingering smell that is not at all pleasant.
If your dog is not trained or has some aggressive behaviors or even if you do not wish to spend too much on a dog crate, you may want to stick to the regular dog crates.
However, a dog crate end table is a great choice if you have limited space, if your dog is well behaved, and if you want to add beauty to your living space.
Our Pick Of The Best Dog Crate End Tables
1. Megidok Wooden Dog Crate End Table
Designed with MDF wood and a metal frame, the Megidok dog crate end table is modern, stable, secure, and durable. This multipurpose dog crate can be a beautiful addition to your home decor.
Megidok Wooden Dog Crate Furniture End Table for Small Dogs, Double Doors Dog Crate with Slide Tray, Dog Kennels Indoor, Easy Installation, with ​Detachable Top Cover - Black Gold - 27*19*24 in
Modern Dog Crate Furniture: A rustic style crate end table that doubles as a beautiful piece of home decor. Made of high-quality MDF board, superior to particle board. With thick metal frame inside,...
Double Doors Dog Crate Table: The side door can be installed on the left or right side. Every door is designed with 2 locks, never worry about the naughty dog ​​getting stuck in the neck again!...
Removable Top Cover: The roomy dog ​​crate top has 4 rounded corners, the top can hold up to 200 pounds, and you can even take off the top for a more open-air aesthetic! Complementing any home...
Easy Installtion: Quick installation with instructions and accessories, with removable and removable high-quality trays for even less hassle, give your pet friends a comfortable and luxurious home,...
Professional Customer Service: We provide caring service 24 hours a day, 365 days, 100% responsible for dog kennels indoor. As long as you leave us a message through the order page (not the product...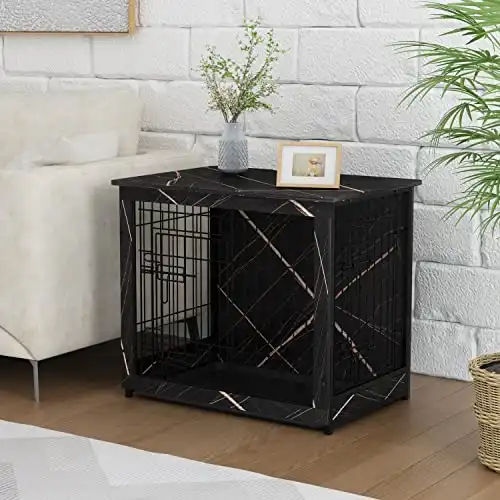 We earn a commission if you make a purchase, at no additional cost to you.
The elegant crate can be accessed from two sides and each door is equipped with two locks. The tabletop is also removable, so cleaning and securely holding the dog won't be a problem.
With a wide table top and a unique but classy design, the crate can be used as a sofa table, a coffee table, and even a TV stand while complimenting any contemporary home decor. Equipped with non-slip pads, the crate does not scratch the floor. It is easy to install and comes with a removable side tray, which makes cleaning easy.
It also features an elegantly designed backboard, so you can easily push it pushed against a wall, a sofa, and even a coffee table.
Pros
Beautiful design
Come in 4 colors and 4 sizes
Two door access
Wide and detachable tabletop
Removable side tray
Light chew resistant, tasteless, and safe
Professional customer service
Cons
Not completely chew-proof
All sizes do not come with a pad
2. DWANTON Dog Crate
The Dwanton dog crate is a wooden crate that wonderfully compliments rustic style decor. It is multi-functional and can double up as an end table, nightstand, or side table.
DWANTON Dog Crate Furniture with Cushion, Wooden Dog Crate Table, Double-Doors Dog Furniture, Indoor Dog Kennel, Dog House, Dog Cage Small, 27.2" L
【Multi-functional】: This pet furniture can be used as pet crate ,also as a side table, end table or night stand.The wide top provides enough place to put some decorations such as small/medium...
【Double door design & Adjustable feet】: Your pet will go in and out easily with double doors. When the floor is not flat , this side table can be kept stable by the adjustable feet.
【Particleboard and wire construction】: Chew-resistant construction for pet-safe durability and long service life.
【Dog crate with Cushion】: Matching cushion in the crate take your dog a warm and more comfortable sleep, and also we use the wooden plate at the bottom, no pet foot jamming, more safety.
【Size selection】: please be sure to measure your pet's height and length data before you buy, refer to the purchase advice to choose the right crate; if you find it difficult to choose, you can...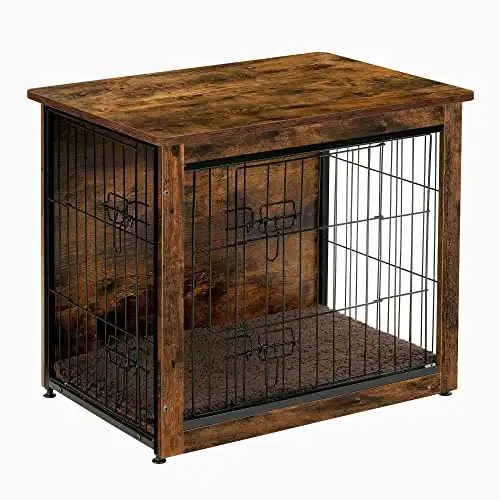 We earn a commission if you make a purchase, at no additional cost to you.
Its double-door design gives your dog easy access in and out of the crate while also making it easy to clean. The adjustable feet and leveling do not scratch the surface and are ideal for floors that are not flat.
The wire construction is chew-resistant and is safe for pets while also being durable. The crate has a wide table top that offers enough space for small decorations, plants, lamps, cups, etc.
The rustic crate has a sturdy and durable basal plate that is scratch-resistant and easy to clean. It also comes with a soft cushion that provides your dog with the ultimate comfort.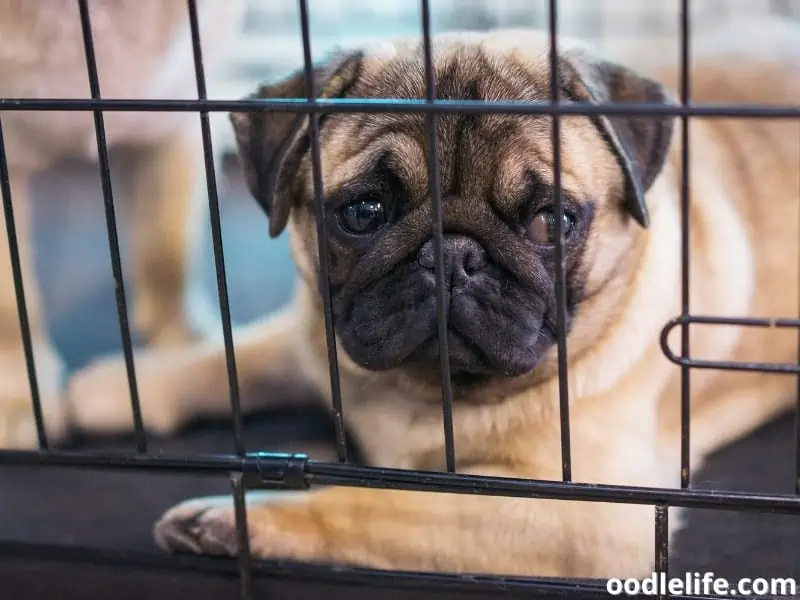 Pros
Elegant rustic design
Easy to clean
Adjustable feet
Chew-resistant
Cushioned
Four sizes available
Easy to assemble
Stronger load bearing
Cons
Comes in only one color
Wood is not chew-proof.
3. Unipaws Furniture Style Dog Crate
Made from pressed wood with metal enclosure bars, the Unipaws dog crate table is an elegant option for an end table, nightstand, and a side-table.
unipaws Furniture Style Dog Crate End Table with Cushion, Wooden Wire Pet Kennels with Double Doors, Large Dog House Indoor Use
$279.99 ($279.99 / Count)
CREATE A PERSONAL SPACE FOR YOUR DOG: All dogs have a strong natural tendency to seek out shelter. If your dog has no place to call his own in your home, he will make attempts to curl up under a table...
BUY A SIDE END TABLE FOR YOURSELF: Use the dog crate as a side end table or nightstand for a cozy life. Place decorations, plants, magazines, books or a cup of coffee on the spacious top. Have leisure...
BONUS FEATURES: 1) Come with a soft pet bed to create a comfortable place for your dog to rest; 2) Two entrance design for easy accessibility and cleaning; 3) External and internal 3 locks to prevent...
NOTICE: The dog crate is not chew-proof. Recommend for the trained dogs.
EXPENSIVE BUT WORTH IT: Give your dog and yourself the best enjoyment. You will not regret your decision. If you have any questions after receiving the product, please do not hesitate to get in touch...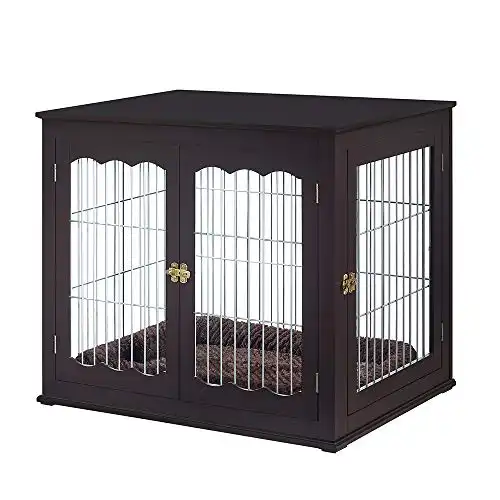 We earn a commission if you make a purchase, at no additional cost to you.
The crate is not only spacious for the dog but its double-door design also offers enough open space for easy cleaning. Also, the other door can be installed on either side of the crate. The crate has three elegant locks that are safe and easy to operate.
The wide tabletop gives you the freedom to add your choice of home decor and can support weight up to 200 lbs.
The crate comes with a waterproof pet bolster bed that has a comfortable cushion for your pup to rest without you worrying about your dog urinating on it. Removing the bed is also very easy because of the double-door design.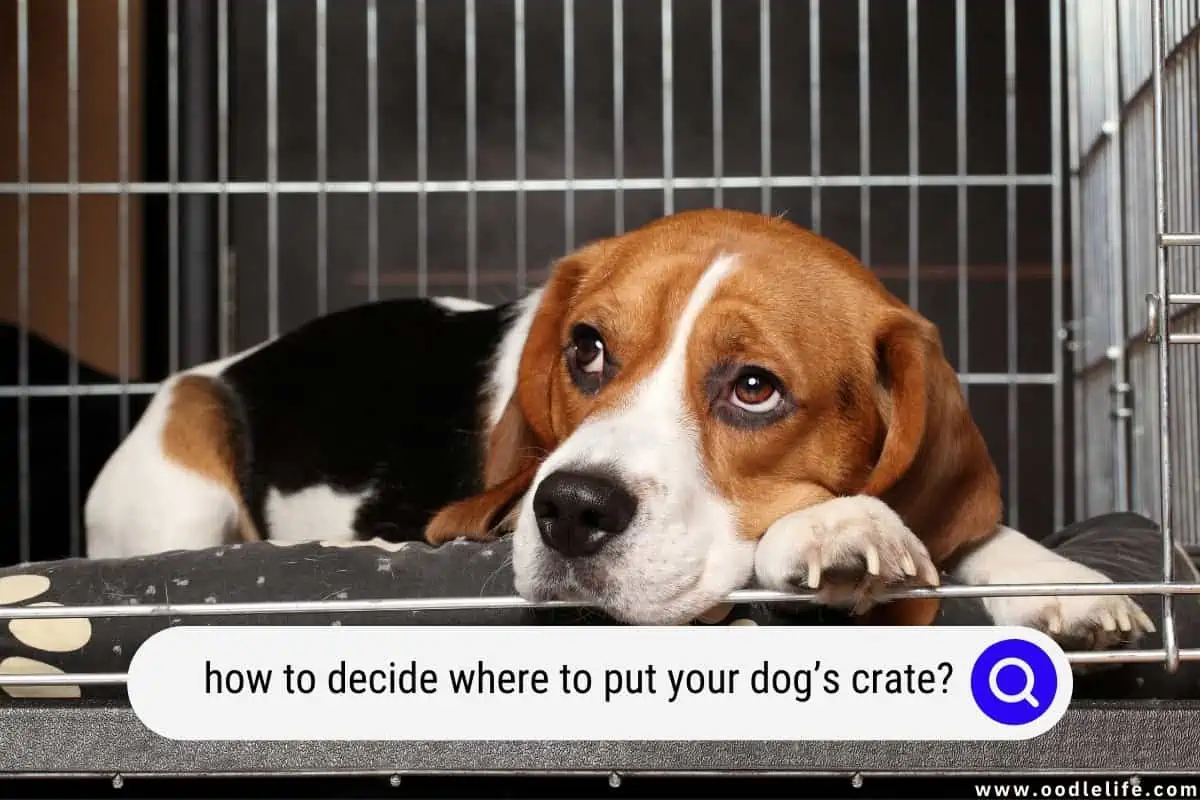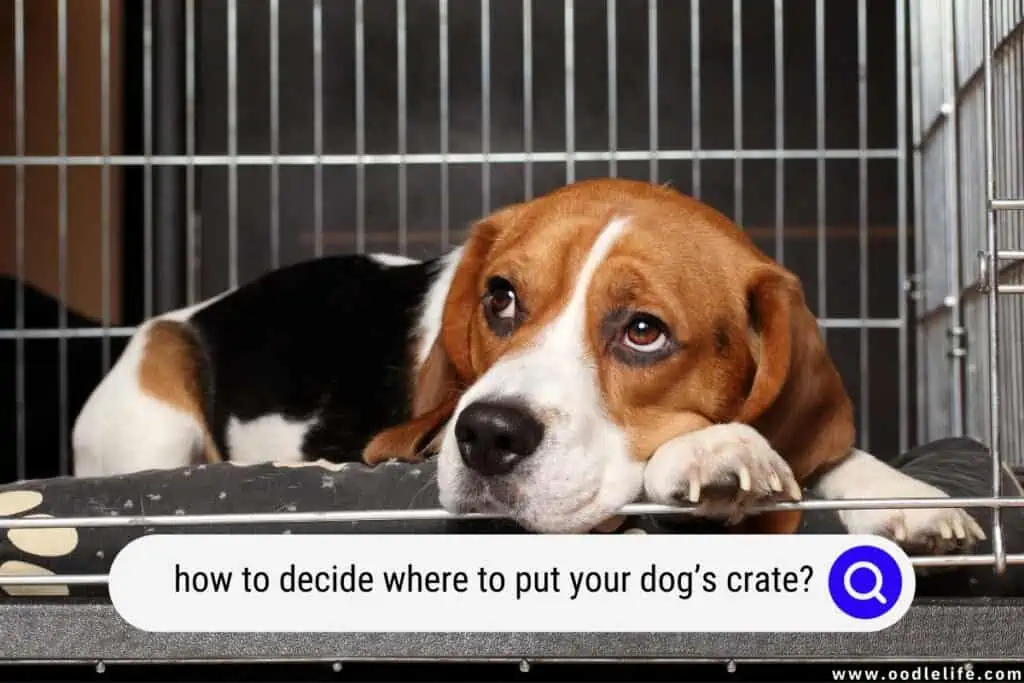 Pros
Elegant design
Spacious
Double door design with interchangeable panel
Triple safeguard
Waterproof pet bolster bed
Tabletop supports 200 lbs
Easy to assemble
Cons
The locks are a little difficult to install.
Wood is not chew-proof.
4. Birdrock Home Decorative Dog Kennel
This handsome dog kennel features an elegant design and is made of MDF wood that is stained with a classic espresso . It's a stunning piece of furniture that doubles as an end table, nightstand, or side table, adding a warm touch to any room in the house.
BIRDROCK HOME Decorative Dog Kennel with Pet Bed for Small Dogs - Espresso - Double Door - Wooden Wire Dog House - Indoor Pet Dog Crate Side Table - Bed Nightstand
MULTI-FUNCTIONAL DOG KENNEL: This decorative pet furniture for small dogs adds a warm and handsome design to any room in the house. The dog house doubles as a side table, end table or large night...
WOODEN WIRE DOG CRATE WITH PET BED: The Dog Kennel has been crafted from strong MDF along with metal wire side panels providing durability and a crate that is built to last. Kennel is also equipped...
HANDSOME DESIGN: Wood is crafted elegantly and is stained with a classic espresso providing a handsome and luxurious feel to the room. The wooden dog crate is equipped with brass hardware for securely...
DOUBLE DOOR & WIDE TOP: The dog kennel includes two entry and exit points (double side door & end door) for easy accessibility. The dog house is equipped with a wide table top perfect for magazines,...
FITS SMALL SIZED DOGS OR SMALLER. DIMENSIONS: External Dimensions: 23" Width x 32" Depth x 26" Height; Internal Dimensions: 21.5" Width x 30" Depth x 22" Height; Dog Bed: 2.75" Height;...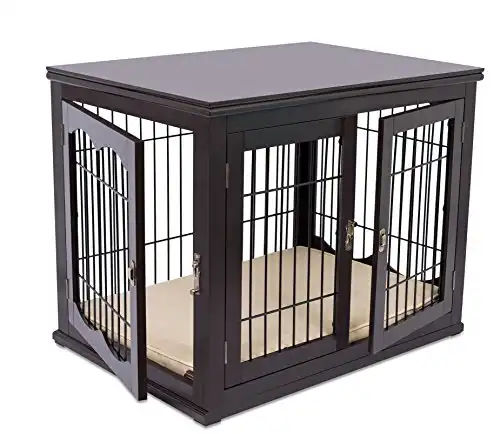 We earn a commission if you make a purchase, at no additional cost to you.
It comes equipped with metal wire side panels and brass hardware for locking. The crate is durable and securely locks the kennel door.
The decorative furniture is also equipped with a 2.75-inch padded removable dog bed that provides your baby with a comfy place to rest. The kennel can also be accessed from 2 points and the two doors also make cleaning it a breeze.
The wide table top can have multifunctional use, so you can place the crate at the end of your couch to hold magazines, lamps, drinking glasses, and cups along with your dog.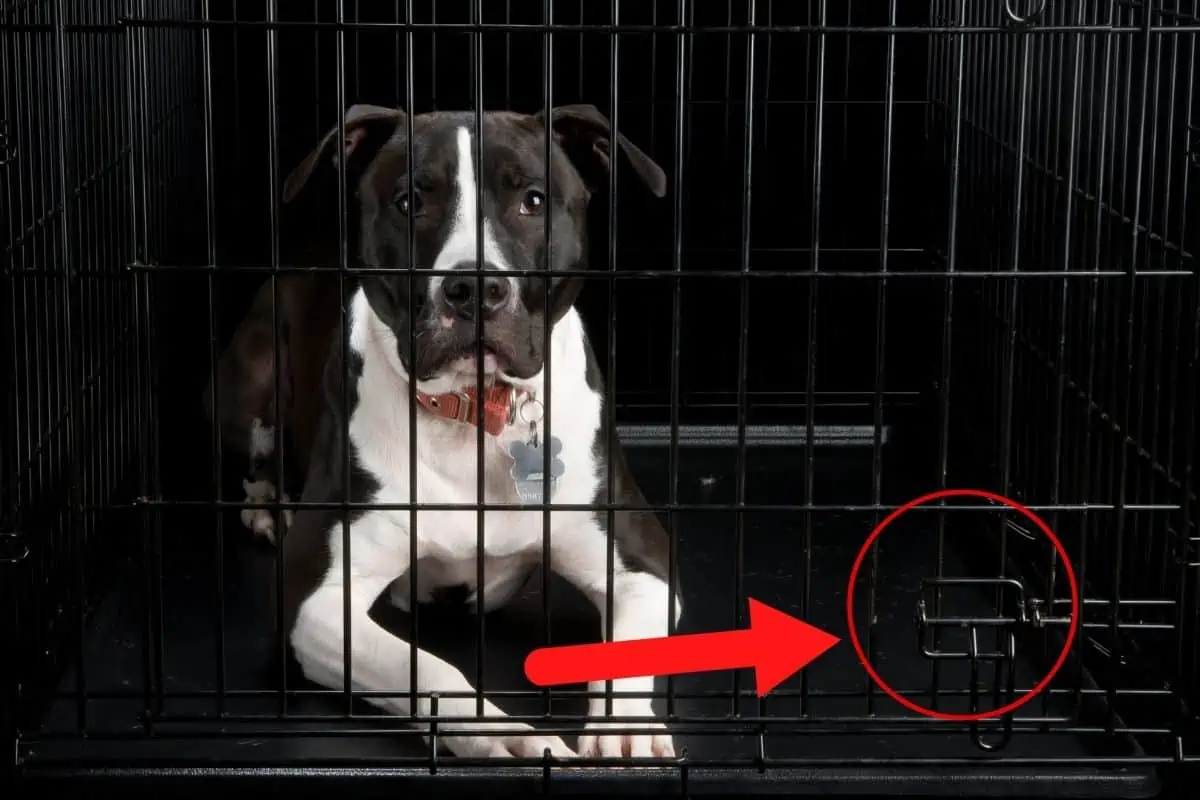 Pros
Elegant design
Two door access-easy to clean
Wide table top
Cushioned
Simple instructions-easy to assemble
Cons
Not for larger dogs
1 color option
Not chew-proof
5. Piskyet Wooden Dog Crate
The Piskyet Wooden Dog Crate has a sleek and modern design that is perfect for both rustic and modern home decor. It is not only a piece of elegant furniture but the crate is quite spacious and accommodates large dogs easily.
Piskyet Dog Crate End Table for Large Dog, Dog Crate Furniture for 2 Dogs with Tray, Double Doors Wire Wood Dog Kennel Indoor, ​Detachable Top Cover Pet Crate Table Cage for Dogs- Light Brown
The wooden dog crate is perfect for modern home style. Side table dog crate is very suitable for dogs in 71-90 Ibs. The large space dog crates great use for large dogs and multiple small dogs.
The double-door furniture-style dog crates is made of high-quality MDF board and iron wire net, more durable and firm. Each door is a double lock design. Which can survive a chewing dog!
This large dog crate indoor is equipped with a detachable large fillet top cover. The top cover is strong enough to hold weight up to 250 Ibs. Put your favorite lights, potted plants and magazines or...
The wooden dog crate is designed without tools and is equipped with installation instructions for quick and easy installation and adjustment. Equipped with a removable high-quality tray for easy...
Customer Service: We provide one-year product service. If you encounter a product problem, please contact us to solve it. Thank you for your understanding.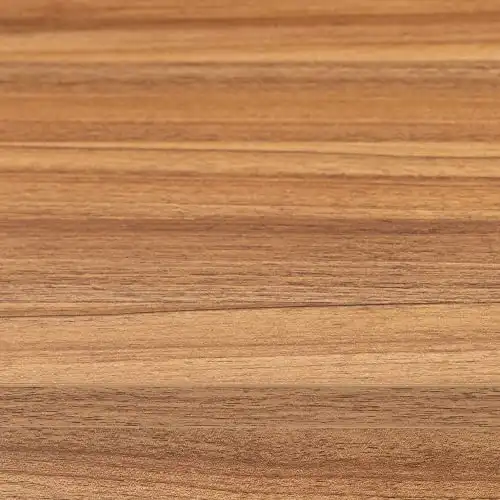 We earn a commission if you make a purchase, at no additional cost to you.
The crate is made of waterproof MDF wood and thickened iron mesh. It has a wide tabletop with rounded corners and can hold 250 lbs. The tabletop is also removable.
The crate is equipped with a slide tray, which makes cleaning very easy. It has raised feet with anti-skid pads. For greater ease, the crate has two doors and the side door can be installed on either side.
Each door has a double lock, offering additional security. The crate is designed so that it is very easy to assemble without any tools.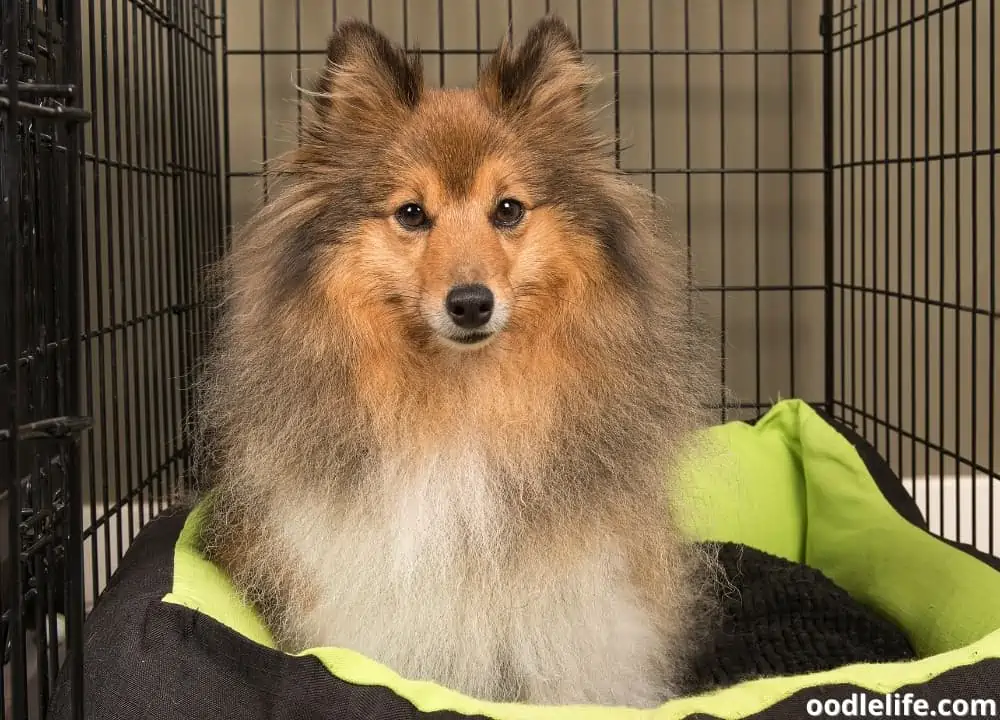 Pros
Rustic, sleek, and modern design
Very spacious
Waterproof material
Different colors
Tabletop can hold 250 lbs weight
Easy to clan
Two doors
Double lock
Anti-skid feet
Easy assembly
Cons
6. Idealhouse Furniture Dog Crate
True to its name, this dog crate is ideal for small dogs. This elegant dog crate can work as a great end table, side table, or nightstand. It also has a pull-out drawer where you can store your essentials or dog food and treats.
IDEALHOUSE Furniture Dog Crates, Style Wood Dog Kennel End Table with Drawer, Dog House Indoor Use, Chew-Proof, Casual Home Wooden Pet Crate, Indoor Pet Crate Side Table, Grey
🐶Durable dog crate: Designed with precision metal fence, so they can survive chewing puppies! It is very suitable for small dogs, don't worry that the puppy will bite the fence of this dog cage.
🐶Multifunction: This is a nice piece of furniture that also serves as a dog crate. Appear as an elegant side table, end table, and nightstand. Also, come with a flip top storage for more storage...
🐶Wide Top: Durable top provides smooth wideness to add your choice of home décor such as a small/medium plant, magazines, family picture frames and night lamps. Maximum support weight of the top...
🐶Flip Top Storage: Provides an extra storage space. You can put dog food or dog snacks in this storage space, which greatly saves your space.
🐶Safety: There is a magnetic latch on the door, which is very strong to improve safety and security. Crate not only protects your furniture from curious or destructive puppies when you are away,...
We earn a commission if you make a purchase, at no additional cost to you.
It is designed with a precision metal fence and is compact but still offers enough space for your pup to be comfortable. It is ideal for small dogs and puppies who are still in their chewing phase.
The wide table top can hold your choice of home decor and essentials but supports only 36 lbs. It has a strong and secure magnetic latch on the door to keep your pup safe.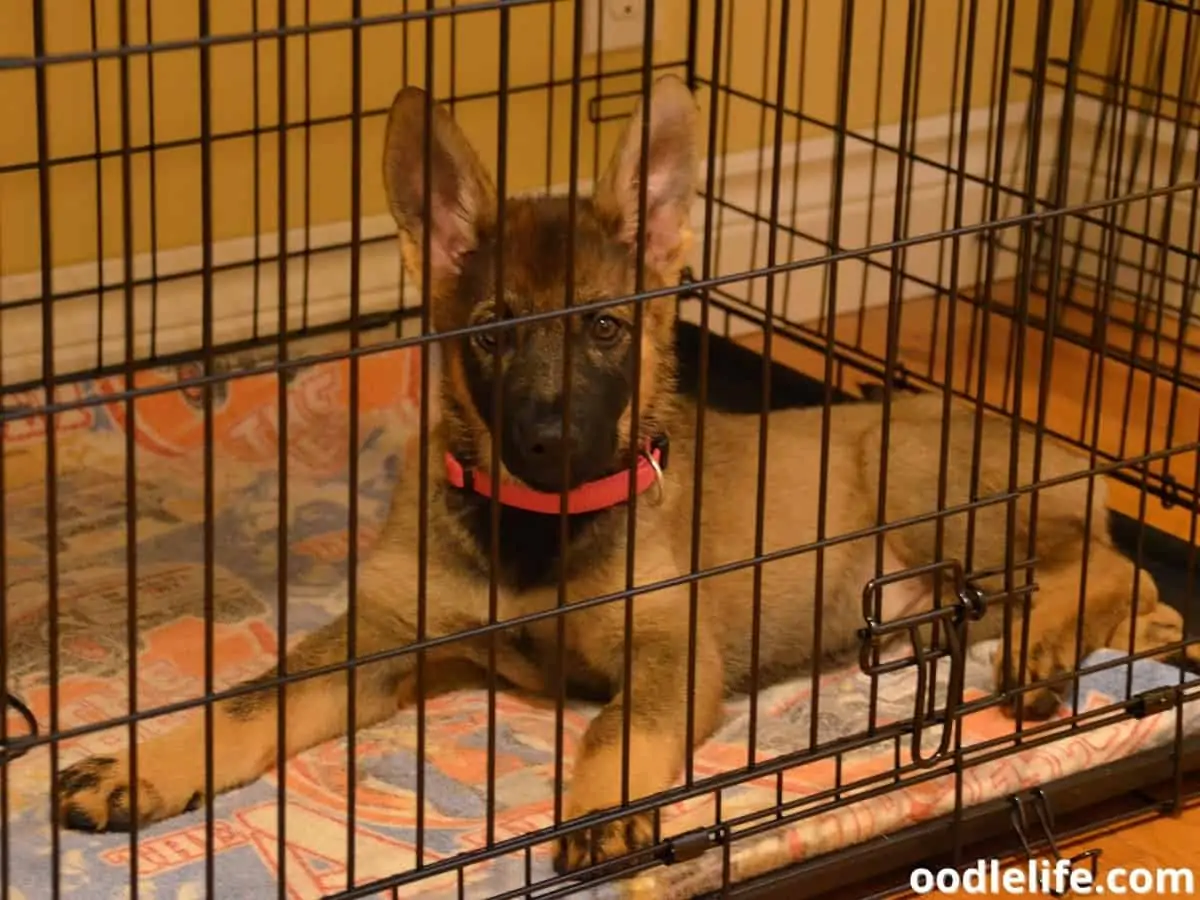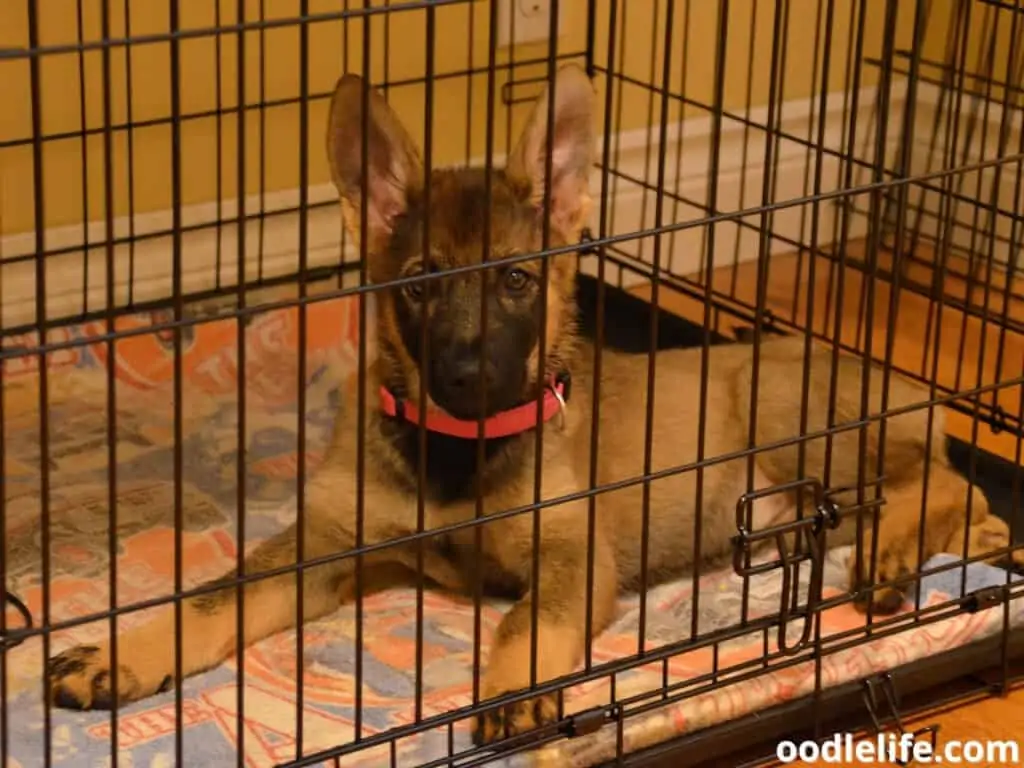 Pros
Elegant and compact
Chew-resistant
Ample storage space
Secure lock
Wide top
Affordable
Cons
Not for big dogs
Tabletop supports only 36 lbs
7. Casual Home Pet Crate
Featuring a minimalist, sleek design, the Casual Home Pet Crate is made of sustainably sourced solid wood that makes the furniture look and feel high-end. The crate is simple, classic, and has a rustic feel, while the elegant design and solid color easily blend with any home decor.
Casual Home Wooden Medium Pet Crate, End Table, Black
End table design gives this pet crate a native feel that blends with light and easy assembly
Lockable gate for your peace of mind with solid wood construction for increased durability and longevity
End table style top provides an additional storage space; It is also easy to clean; get rid of messes by wiping the crate with a damp cloth.
Interior dimensions: 16.5"W x 24.25"D x 21"H
Not Chew Proof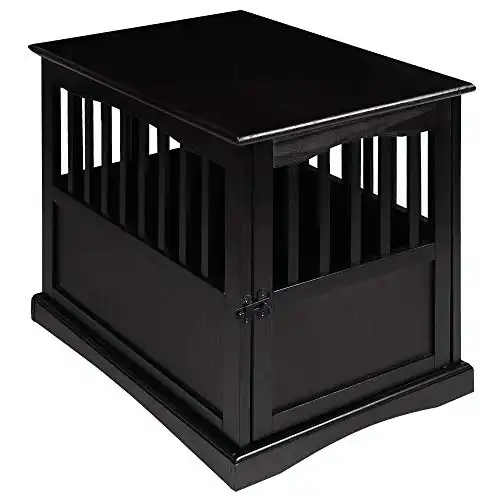 We earn a commission if you make a purchase, at no additional cost to you.
The crate is much cozier than most other crates available on the market. The crate is quite durable as it is made entirely out of solid wood. With a wide tabletop, you have a storage space where you can display the home decor of your choice.
The crate can be assembled easily with the given instructions and has a simple latch to secure your pet inside.
Pros
Made from sustainably sourced wood
Easy and secure lock
5 sizes
Color options
Wide tabletop, can support 120 lbs
Easy assembly
Affordable
Cons
Not for big dogs
Single door
No cushion
Tips To Select The Right Size Of Dog Crate Furniture
While most dog crates are adjustable, dog crate furniture cannot be modified. This is why the first thing that you must look at when shopping for dog crate furniture is the size.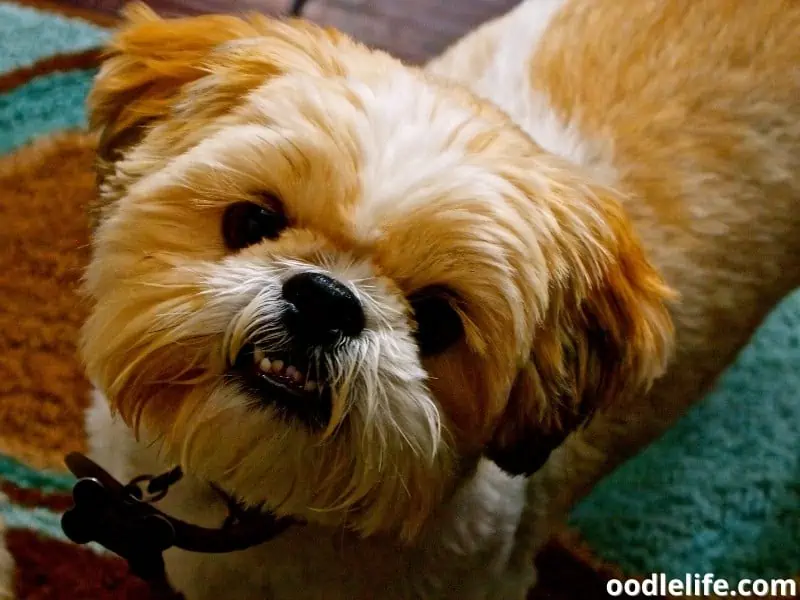 If your dog is still a puppy, consider his size as a full-grown adult dog when buying the crate.
Most crate furniture is better suited for small to medium-sized dogs. So, if you have a large dog, make sure the crate would be comfortable for him.
The crate must be cushioned so that the dog can sit comfortably inside the crate.
The furniture must be large enough for the dog to stand, sit, and even lay down spread eagle.
Large enough for the dog to turn around without bumping into the walls or getting stuck.
Conclusion
We hope this comprehensive guide helps you out when you're buying dog crate furniture. Whether your dog is small or large or you want a simple or elegant design, there are diverse dog crate end tables available to cater to you and your dog's needs.