Is Burt's Bees Dog Shampoo Safe? 2023 Update Review
Walking through any grocery store's skin and hair care aisle, you'd be hard-pressed to miss the brand Burt's Bees.
Dogs are a part of the family, and everyone wants to use products that are safe for their pup and will not break the bank.
Looking for a good dog shampoo, there are a few things to be aware of. Factors include the shampoo's effect on fleas and ticks, the products used to treat those, the pH level of the shampoo, the overall ingredients, and the individual and unique needs of your dog.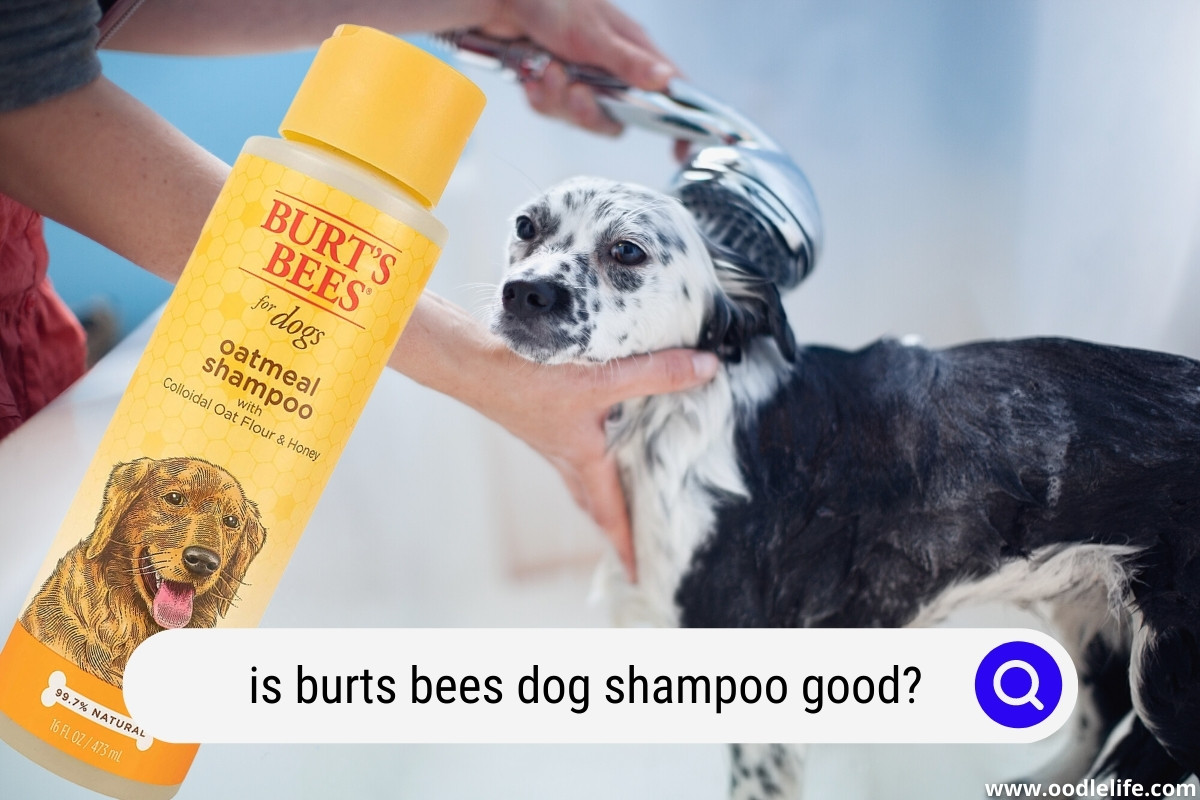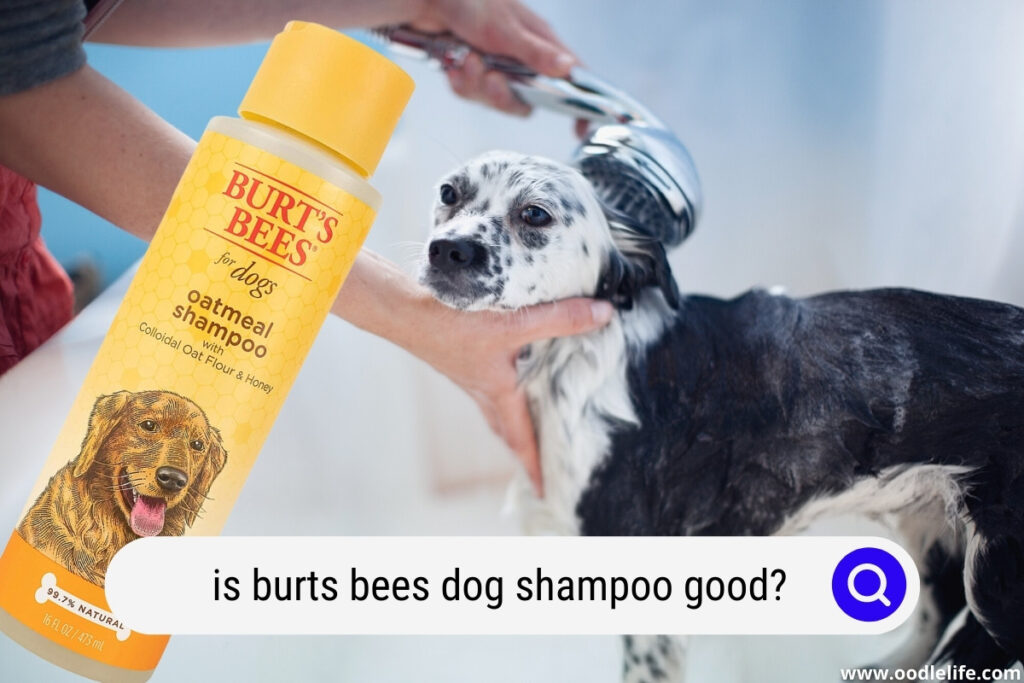 The personal care giant specializes in natural ingredients in their products, but did you know that their eco-friendly pet care line is also made from organic ingredients?
Burt's Bees Dog Shampoo is a safe and eco-friendly option for you and your beloved pooch, and in this article, we will go over the important information regarding the ingredients, safety, and general use of this popular dog shampoo.
Burt's Bees for Dogs Oatmeal Dog Shampoo | With Colloidal Oat Flour & Honey | Moisturizing & Nourishing, Cruelty Free, Sulfate & Paraben Free, pH Balanced for Dogs - Made in USA, 16 O...
PET GROOMING BRAND IN THE USA - Join the millions of pet parents who can t get enough of Burts Bees for Pets by using Americas pet grooming brand
SOOTHES AND SOFTENS - Burt's Bees Oatmeal Shampoo cleans, soothes, softens, and conditions your dog's dry skin and coat
MADE WITH THE HIGHEST QUALITY INGREDIENTS - This gentle formula includes ingredients like colloidal oatmeal, honey, and beeswax for sensitive skin
SUITABLE FOR ALL DOGS AND PUPPIES - This mild tearless shampoo is pH balanced especially for all dogs and puppies
SAFE AND GENTLE -   This formula is free of fragrances, sulfates, colorants, and harsh chemicals HOW-TO: Wet dog down. Apply shampoo from back of ears to tail, carefully avoiding eyes. Lather, rinse...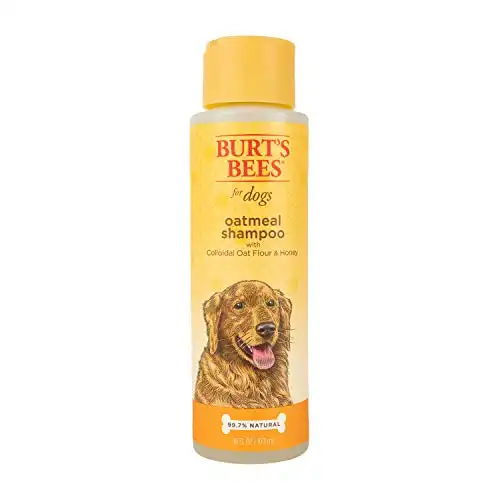 We earn a commission if you make a purchase, at no additional cost to you.
Who Is Burt's Bees?
Headquartered in North Carolina, Burt's Bees is a personal care company that makes products for skin care, lip care, hair care, body care, and baby care. The company is headquartered in Durham, North Carolina. Burt's Bees was founded in 1984 by beekeeper Burt Shavitz and artist Roxanne Quimby. Burt's Bees makes a wide range of natural personal care products. The company's mission is "to put nature's power to work for your health and beauty."
Burt's Bees products are made with natural ingredients such as beeswax, propolis, royal jelly, honey, and pollen. These ingredients are known for their ability to moisturize and protect the skin. Burt's Bees also uses natural plant extracts, such as calendula and chamomile, to soothe the skin. The company's products are free of synthetic fragrances, parabens, phthalates, and petrochemicals.
Burt's Bees is a cruelty-free company certified by PETA. None of the company's products are tested on animals nor contain any ingredients that are derived from animals.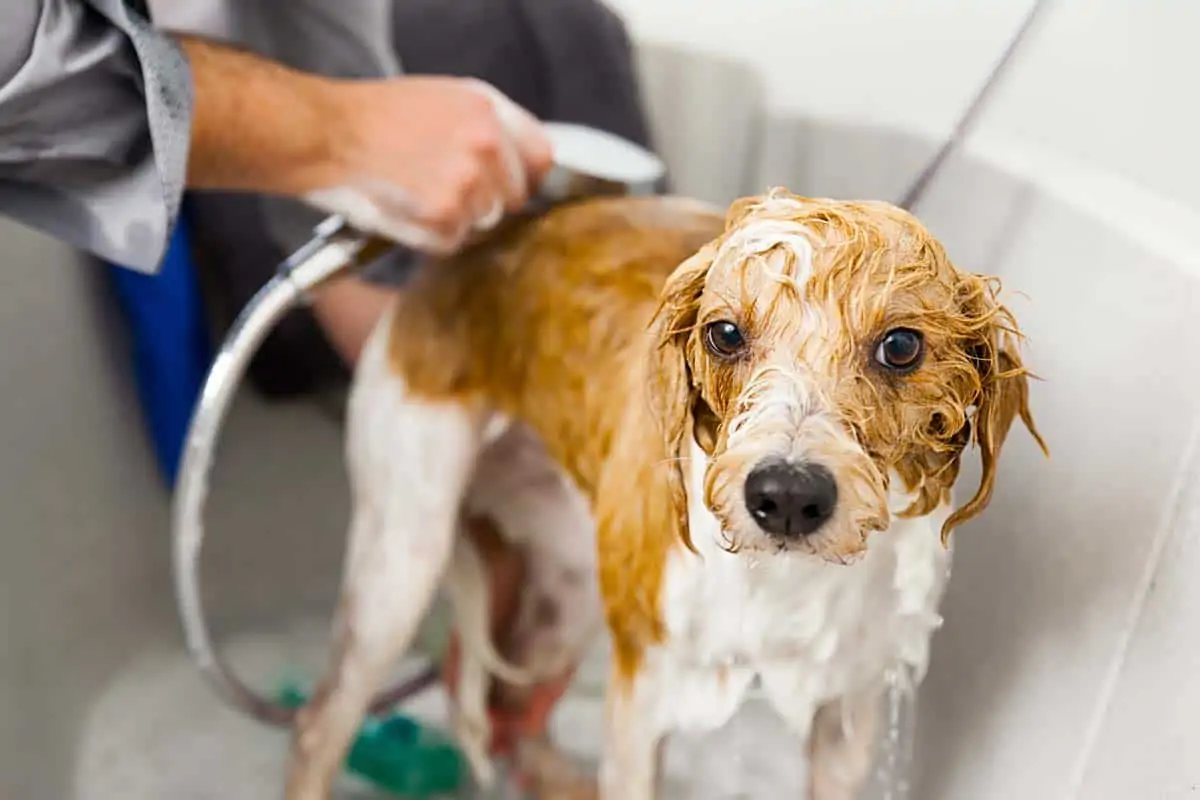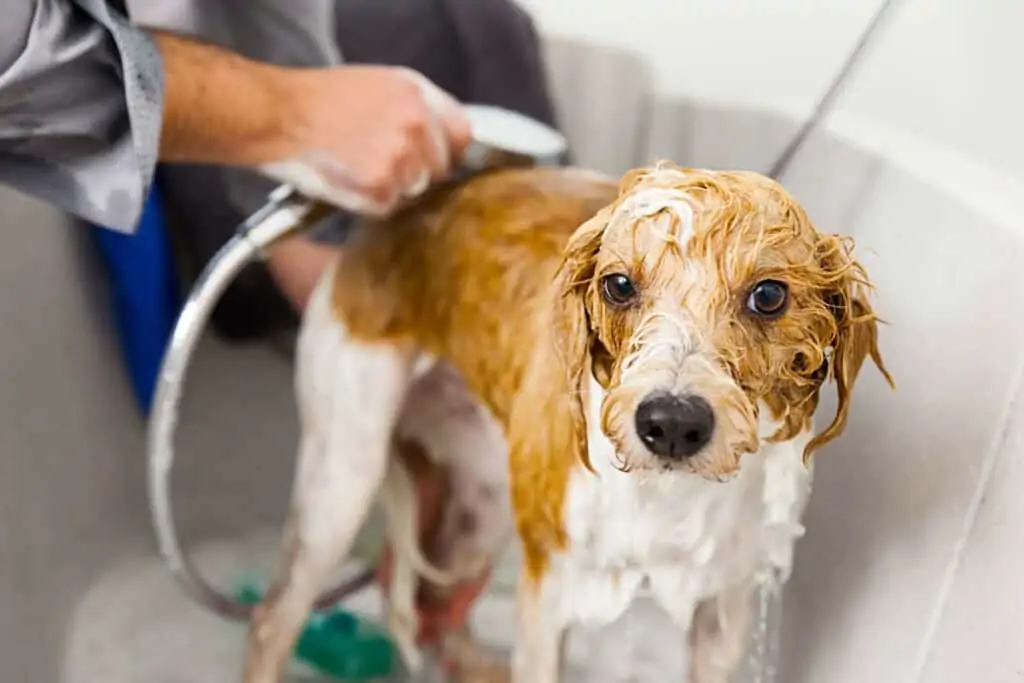 Burt's Bees Dog Shampoo
Burt's Bees Dog Shampoo is considered organic and safe for dogs that may have allergies or sensitive skin because it does not use harsh chemicals that can cause irritation.
The ingredients of their dog shampoo include scary-sounding compounds like:
Coco betaine
Coco-glucoside
Glyceryl oleate
Disodium cocoyl
Glutamate, glycerin
Xanthan gum
Honey
Beeswax
Shea butter
Potassium sorbate
Sodium benzoate
While these names look complicated, they are natural-sourced and entirely safe to use on dogs and puppies.
The shampoo is also free of chemicals and fragrances, which is great for dogs and people with sensitive noses.
When choosing a shampoo for your dog, it is important to consider the pH balance. Dogs have a different pH level needed in their shampoo than people do, and it is important that dog shampoo is neutral or just slightly alkaline in order to protect their skin.
Some human shampoos can be more acidic than shampoos that are safe for pets and can cause irritation if used on a dog.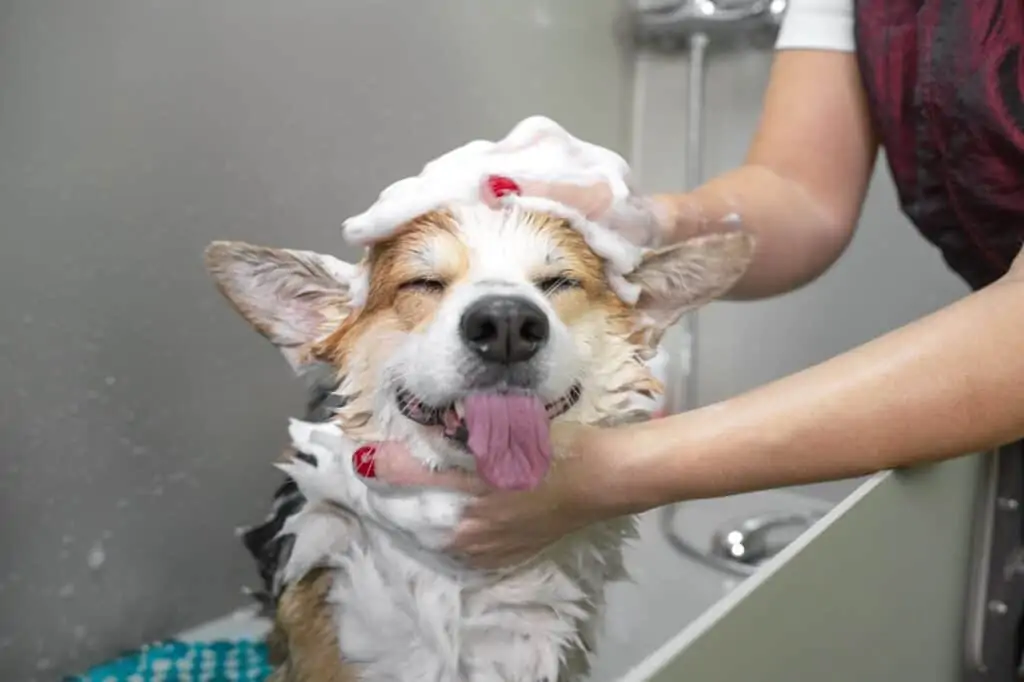 Burt's Bees Dog Shampoo has a pH rating of 7.5, making it slightly alkaline and more matching to the natural pH level of your dog's skin.
Despite our best efforts, sometimes shampoo is bound to get in a dog's eyes during bath time, but thankfully this shampoo will not irritate their eyes and just needs to be rinsed out if that occurs.
This shampoo will not strip out the beneficial oils in a dog's coat like other shampoos can if they are too strong or contain certain chemicals.
Puppy And Dog Safe Ingredients
Now that we have looked at the ingredients and pH levels of the Burt's Bees Dog Shampoo, we can see how these ingredients affect the performance of the shampoo.
Burt's Bees Dog Shampoo for Puppies, 2 in 1 Shampoo and Conditioner, Buttermilk and Linseed Oil, 16 Oz
DID YOU KNOW DOG SKIN DIFFERS FROM HUMAN'S - Dogs' skin is less acidic than human skin, so human shampoos destroy a dog's skin protective barrier, leaving your pet vulnerable to itchy flaking
NO. 1 PET GROOMING BRAND IN THE USA*-See why millions of pet parents entrust their pet's health and hygiene to Burt's Bees for Pets.  This natural puppy shampoo for dogs is no exception
TEARLESS FORMULA WITH BUTTERMILK FOR PUPPIES -  All natural ingredients include buttermilk, which soothes skin and softens hair and linseed oil, which deeply conditions your puppy's coat
NO SULFATES, COLORANTS, ADDED FRAGRANCE OR HARSH CHEMICALS - This formula is free of fragrances, sulfates, colorants, and harsh chemicals. That's what makes Burt's Bees for Pets a natural dog company...
SAFE FOR ALL DOGS AND PUPPIES - This shampoo is pH balanced for dogs and puppies of all ages, so it's perfect to add to your puppy supplies kit or dog grooming supplies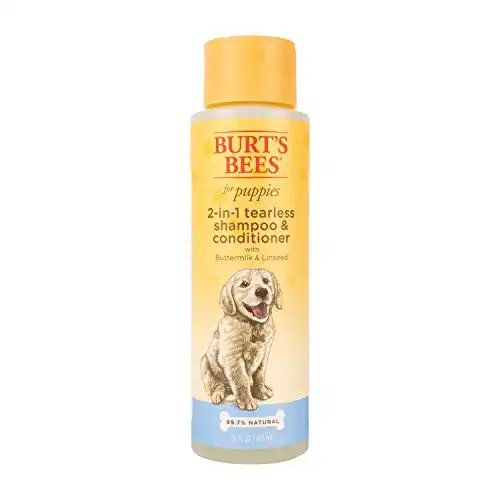 We earn a commission if you make a purchase, at no additional cost to you.
The shea butter moisturizes your dog's skin and can soothe itchy skin without leaving a dry or sticky residue on your dog's soon-to-be shiny coat. Some ingredients act as lightly scented, natural deodorizing agents that will fight smells without being too overpowering afterward.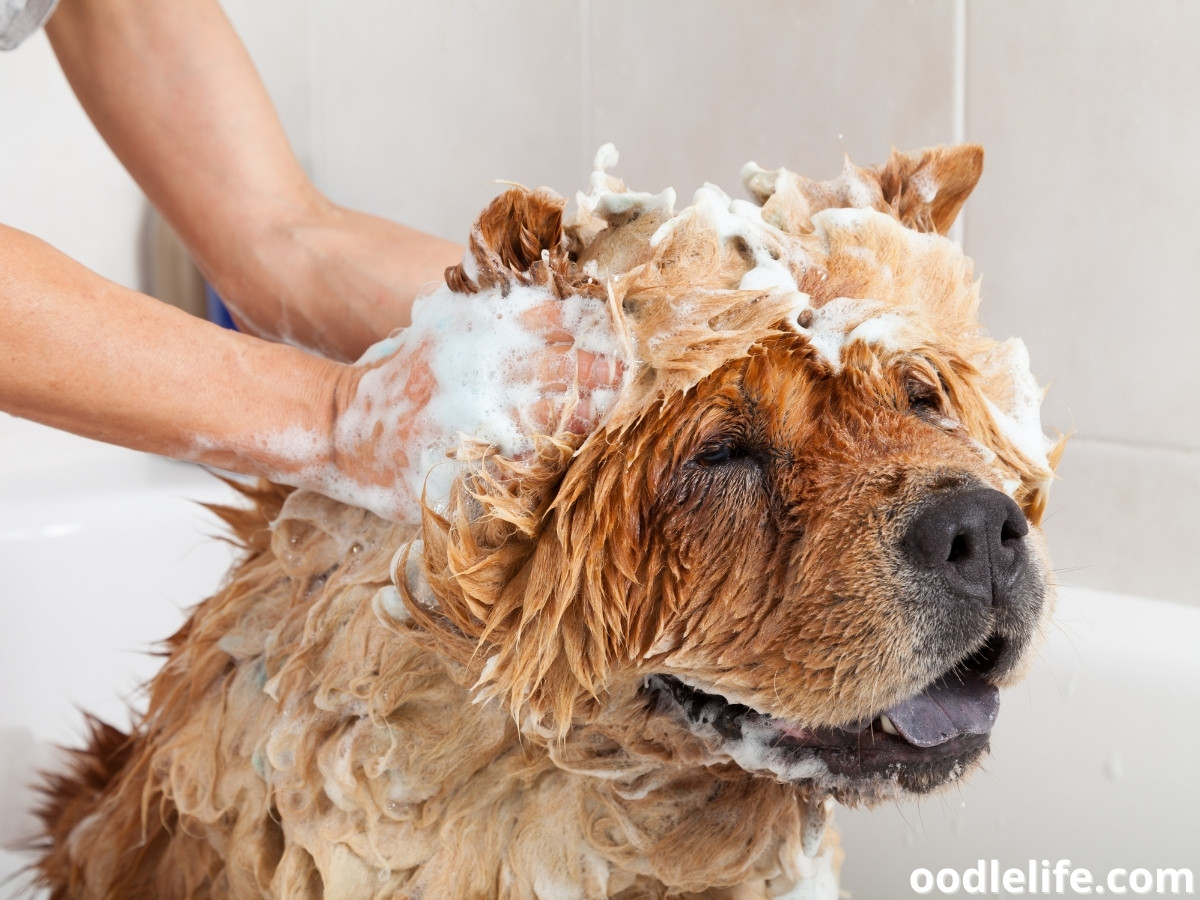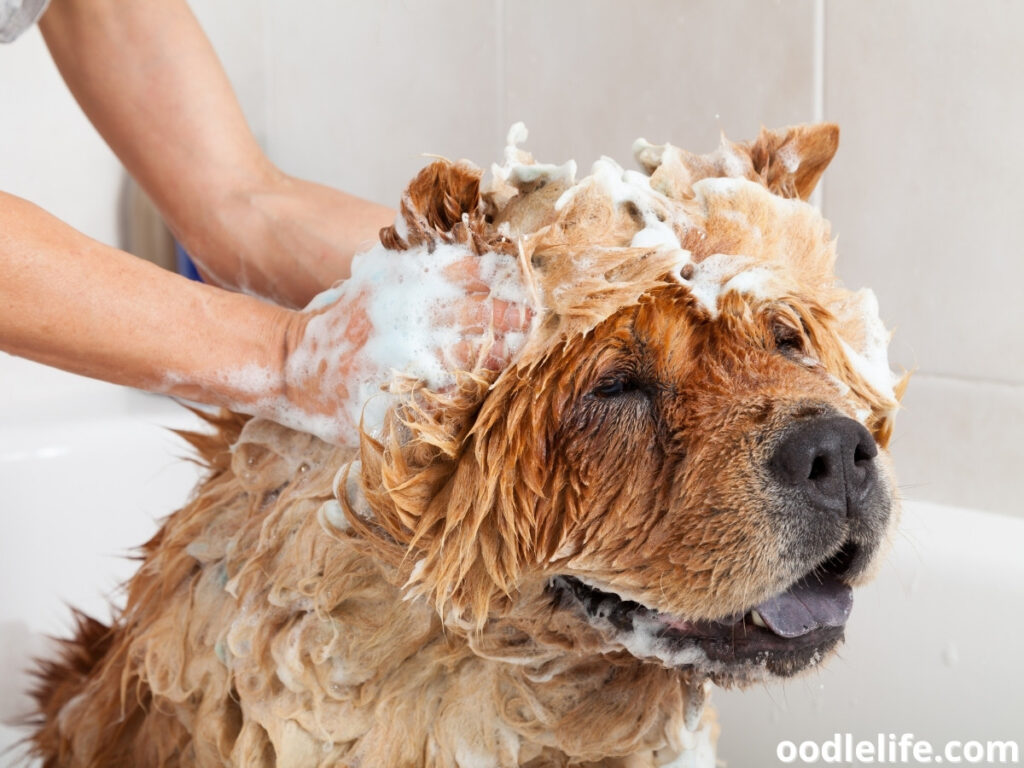 The shampoo often has the faint smell of honey or oatmeal after use but does not linger. The honey brightens dogs' coats, leaving them shiny and clean after a bath.
Overall the ingredients included are eco-friendly and naturally sourced, all designed to repair, revitalize, and maintain the soft and shiny nature of coats that dogs have.
This dog shampoo is gentle enough for the cutest puppies with sensitive skin and the active adult dogs with less sensitive skin. Regardless of the age, breed, size, and shape, this dog shampoo is safe to use externally during bath time.
An Eco-Friendly Dog Shampoo
Burt's Bees is committed to being an eco-friendly brand, and their dog shampoo is a reflection of that.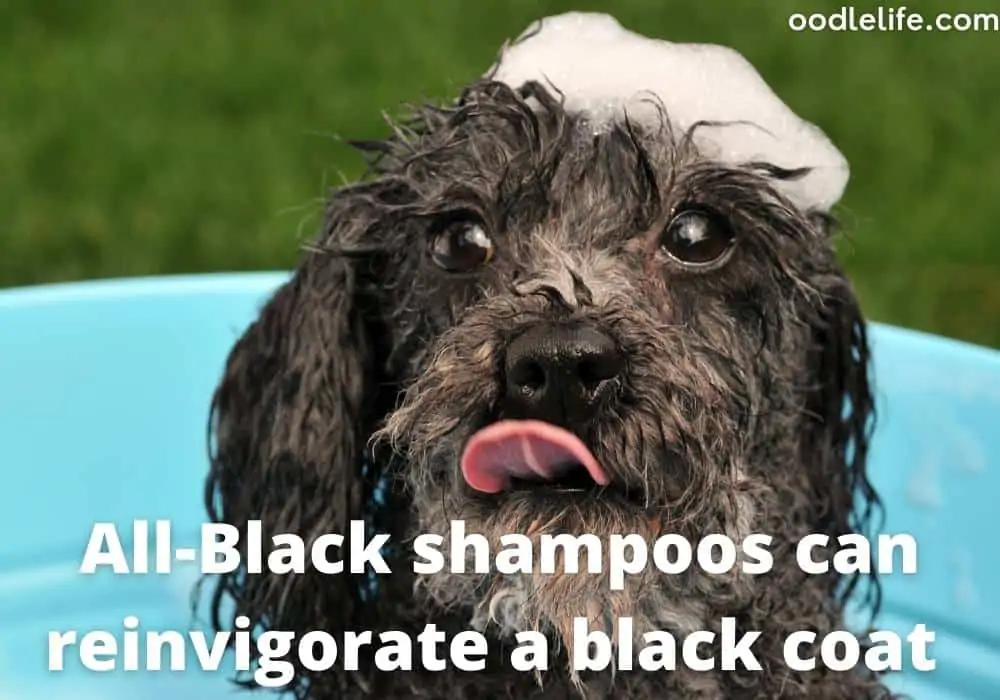 Made entirely of natural ingredients sourced all over the world, once the shampoo is produced it is stored and sold in containers made out of recycled materials.
This shampoo can make an excellent option for those who prefer to purchase eco-friendly and holistic products that lack chemical fragrances, parabens, phthalates, or petroleum.
Additionally, Burt's Bees does not participate in animal testing which is important to note. While many love the eco-friendly aspect of this brand and their pet products, there are drawbacks due to the lack of chemicals and sulfates if you desire a certain outcome.
This shampoo will not get rid of topical flea and tick treatments, will not prevent fleas and ticks, and tends to require more product use per bath depending on the size of your dog due to its inability to lather.
Regardless of these few things, if it is important to find an organic and holistic option for your pup's bath day, this is the shampoo for your beloved pooch!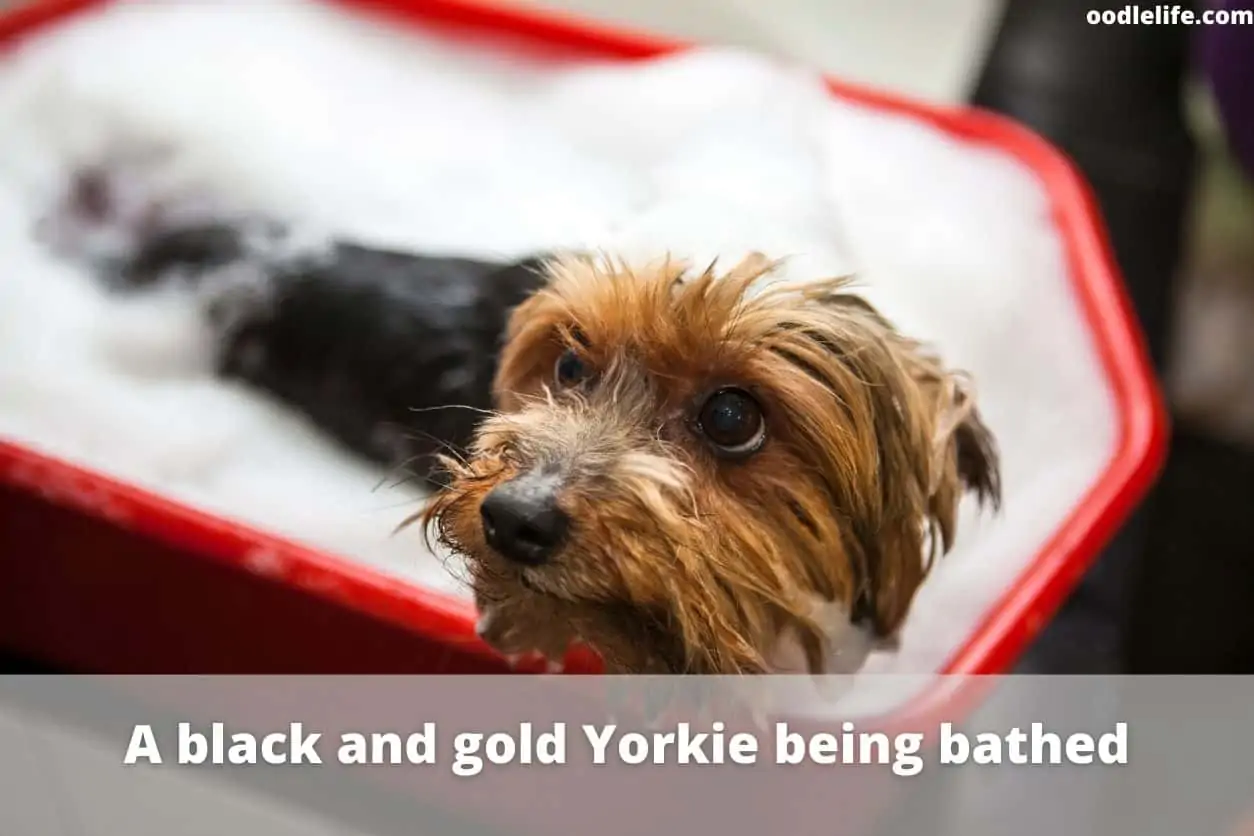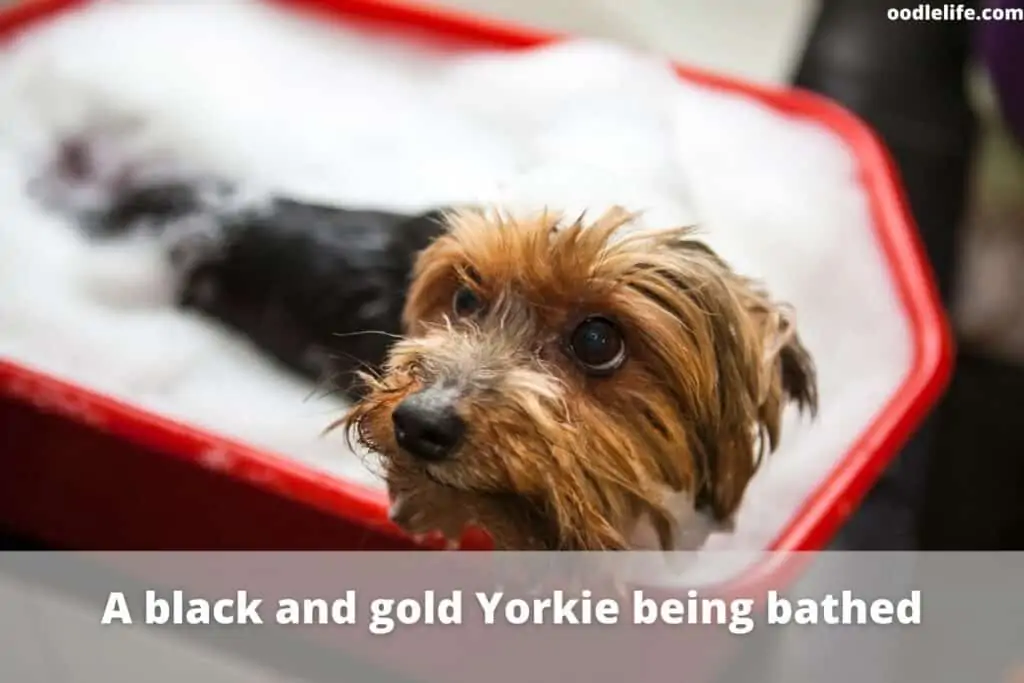 Common Criticisms
Every product comes with criticism, and while Burt's Bees dog shampoos tend to have positive reviews, one critique comes up often. Due to the fact that the shampoo does not contain sulfates or chemicals, it does not lather well.
The product is entirely safe for you to use on a puppy and continue to use on them into adulthood, but the larger dog you have, the more product you will need to use.
Some owners say to use up to a third of the bottle for a single bath due to the watery nature of the shampoo. Despite the lack of a soapy lather, Burt's Bees dog shampoos tend to be affordably priced and gentle on the skin.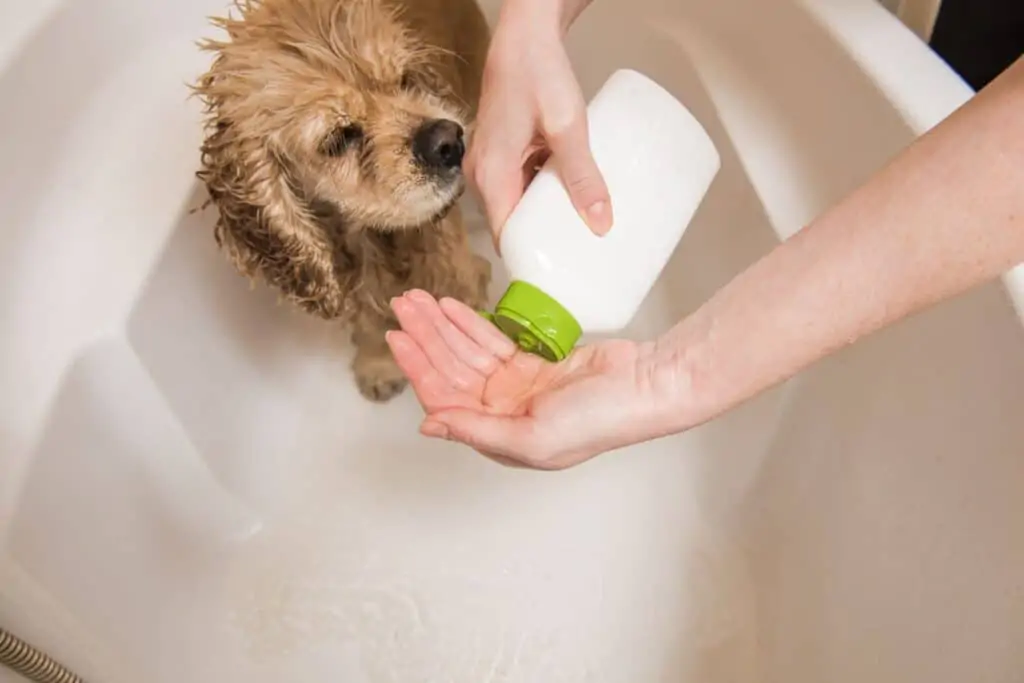 Burt's Bees Types Of Dog Shampoo And How To Use
On Burt's Bees website, you can see the variety of options they have available for their dog shampoo. Some of their shampoo varieties include:
Tearless Shampoo
Hydrating Shampoo
Nourishing Shampoo
A 2-in-1 option
Soothing Hot Spot Shampoo
Skin-Soothing Shampoo
Shed Control Shampoo
Whitening Shampoo
Hypoallergenic Shampoo
Itch Soothing Shampoo
Calming Shampoo
Deodorizing Shampoo
Oatmeal Shampoo
Regardless of the individual dog, there should be a shampoo that will suit them well.
Like many products similar to this, it is best to store Burt's Bees Dog Shampoo in a cool, dry place, away from direct sunlight and excessive heat. Once you are ready to use it, make sure to shake the bottle well before opening it. 
Then thoroughly wet your dog's coat before applying any shampoo. Apply the shampoo from the back of their ears, all the way to their tail, and take care to ensure that it does not get in their eyes. If it does, just rinse it out thoroughly. After applying the shampoo, rinse your dog's coat and store the shampoo in a cool, dry place afterward.
The first time that you use this product, apply it slowly and check to make sure that your dog does not have any allergic or adverse reactions to it. Instances of this happening with this particular shampoo are not common, but it is best to check before lathering your dog up.
It is important to note that Burt's Bees Dog Shampoo will not remove topical flea and tick products, but it is safe to use alongside them. Due to the chemical-free nature of the shampoo, it will not remove these products, nor repel any fleas or ticks.
It is important to keep the shampoo out of reach of children and pets, as like most shampoos, it should not be ingested.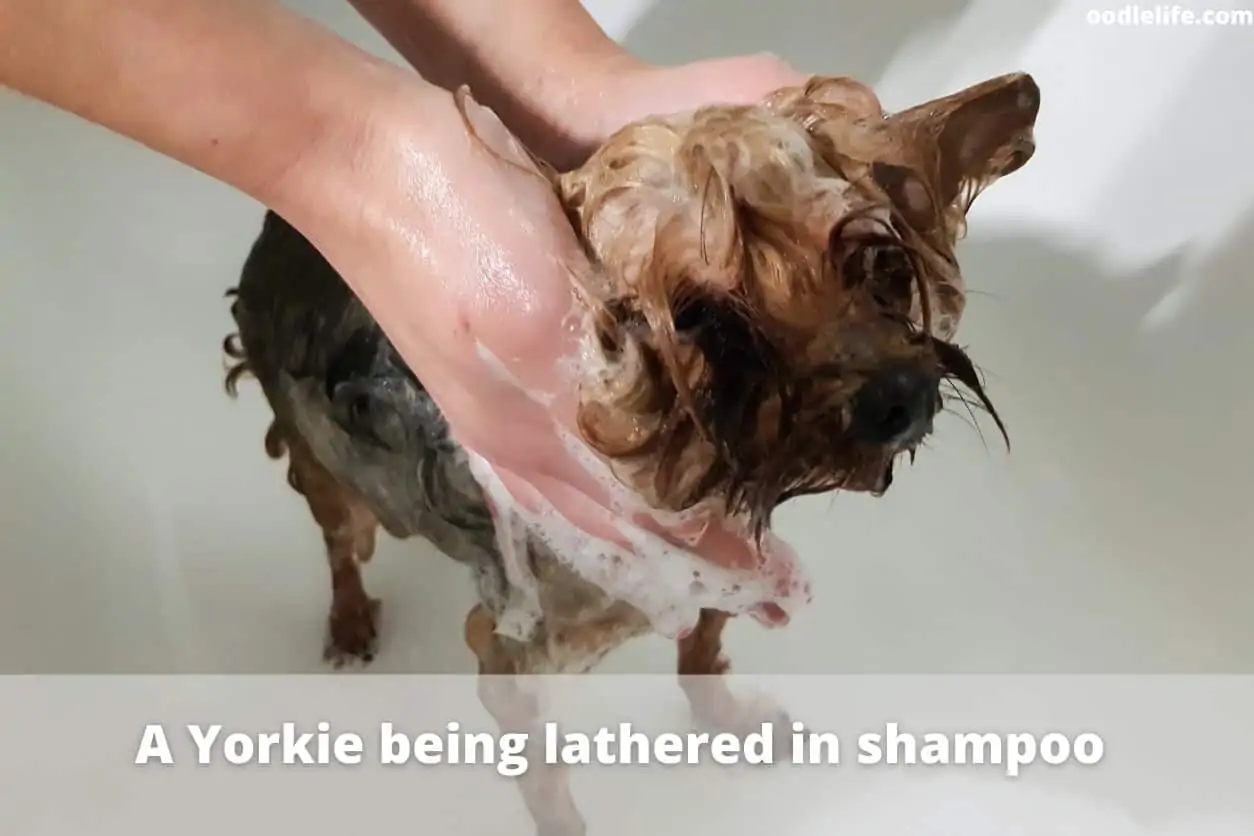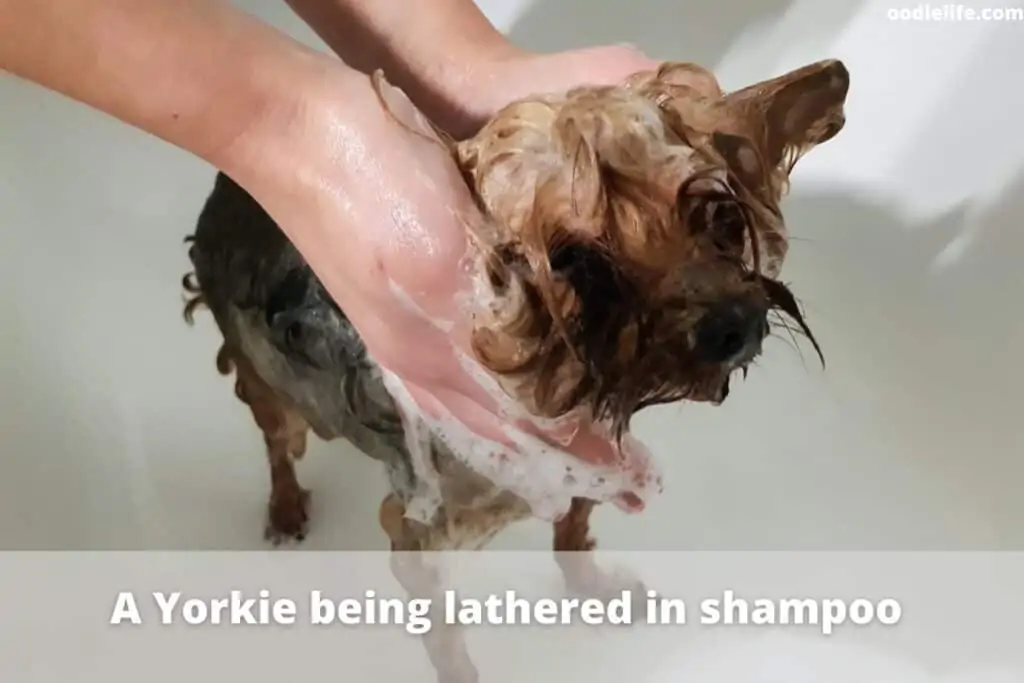 Final Thoughts
Most people are aware of the benefits of using organic shampoo for themselves, but did you know that it's just as important to use organic shampoo for your furry friends?
Dogs have sensitive skin, and conventional shampoos can contain harsh chemicals that can cause irritation. In contrast, organic shampoos are made with natural ingredients that are gentle on the skin.
All variations of Burt's Bees Dog Shampoo are safe to use on any dog, at any age and do not cause allergic reactions or irritation often.
There are different types of the Burt's Bees Dog Shampoo for individual needs, and the all-natural ingredients and lack of an overpowering scent draw the appeal of many dog owners that prefer to shop eco-friendly and use more holistic products on their dogs.
So, if you're looking for a shampoo that will be kind to your dog's skin, be sure to choose an organic option!