Do Black Poodles Fade? [and How to Fix]
Poodles are one of the more popular dog breeds when selecting a companion. They are highly intelligent and possess a wonderful demeanor, making them ideal for anyone looking for a family pet.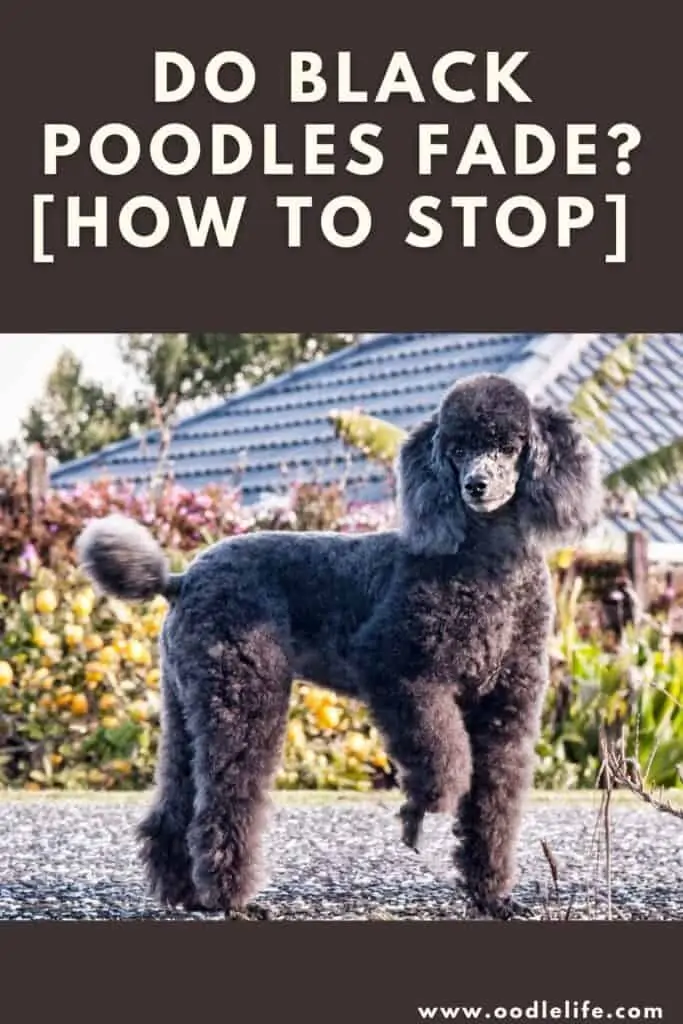 When choosing your furry friend, many dog owners will seek out specific colors for various reasons. You can find many poodle breed color hues, including:
Black
White
Grey
Brown
Silver
Cream
Cafe Au Lait
Sable
Apricot
Red
Blue
Parti-colored with a combination of two colors
Black poodles are one of the most sought-after colors, along with white ones. These two colors are the more popular choices for many pet owners. (Dogs like Goldendoodles and Maltipoos are most popular in red and apricot colors) But having a white dog can be intimidating to keep clean for many individuals, and they go with the alternative classic black color. 
White poodles will show any dark dirt or debris, while black poodles will show light-colored debris, such as carpet fibers, dust, or other elements. Daily brushing can help your dog's coat look dark and shiny throughout the day.
Are Black Poodles Better?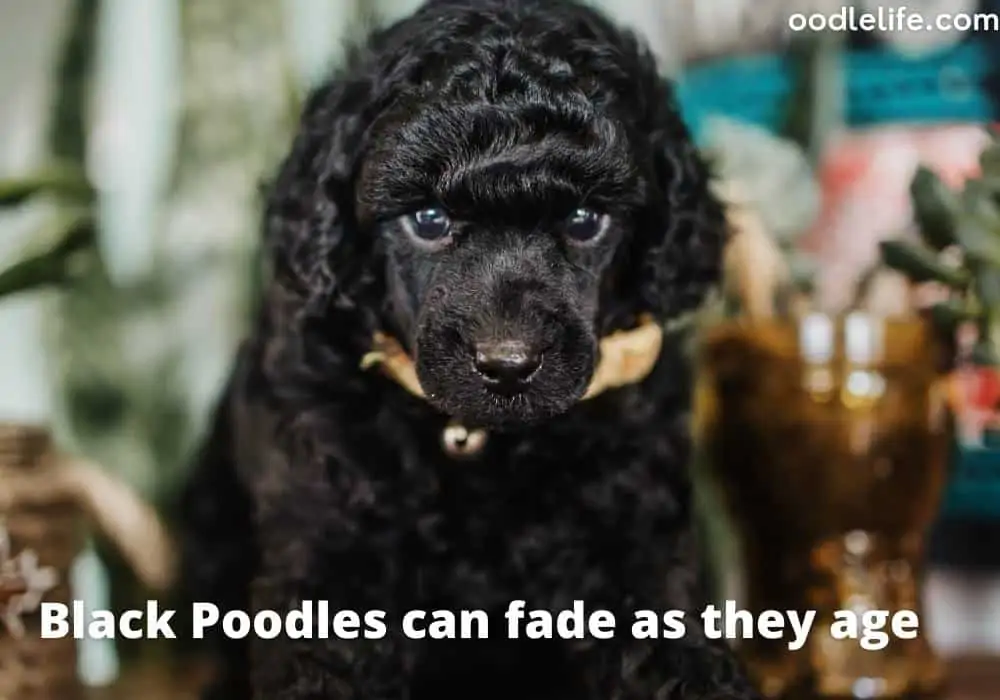 No matter which color you choose, a poodle will still have all the same characteristics and features of the breed. Black poodles are terrific companions for anyone looking for a loyal companion. This color is extremely popular, so you will have no problem finding a black poodle to add to your family.
The poodle breed holds the second-place ranking for the most intelligent dog breed in the world. Obtaining an alternative color will not change the temperament or elements of a poodle. You should not see much of a behavior difference between black and white poodles with the appropriate training and exercise.
Some pet owners may find black poodles better because of their dark hue. This reason is purely a personal preference.
Black Dog Syndrome
There is a well-known term called Black Dog Syndrome, where potential owners pass over black dogs in shelters or litters due to their color. Some reasons for this could include:
Hard to see facial expressions or determine demeanor with black dogs
Hard to photograph
Superstition
Fear of aggression
Consequently, black poodles may be least likely to be adopted from shelters or rescues due to their dark color. Sadly, because of this, many potential pet owners may not realize what an exceptional animal the black poodle is.
Thankfully, black dogs are no different than their lighter-colored counterparts, no matter what breed. Any dog with the proper care and training can be a terrific companion. And when it comes to black poodles, they are one of the most popular colors to select. When you choose this color and breed, you will have an intelligent and loyal friend for life.
Do Black Poodles Fade?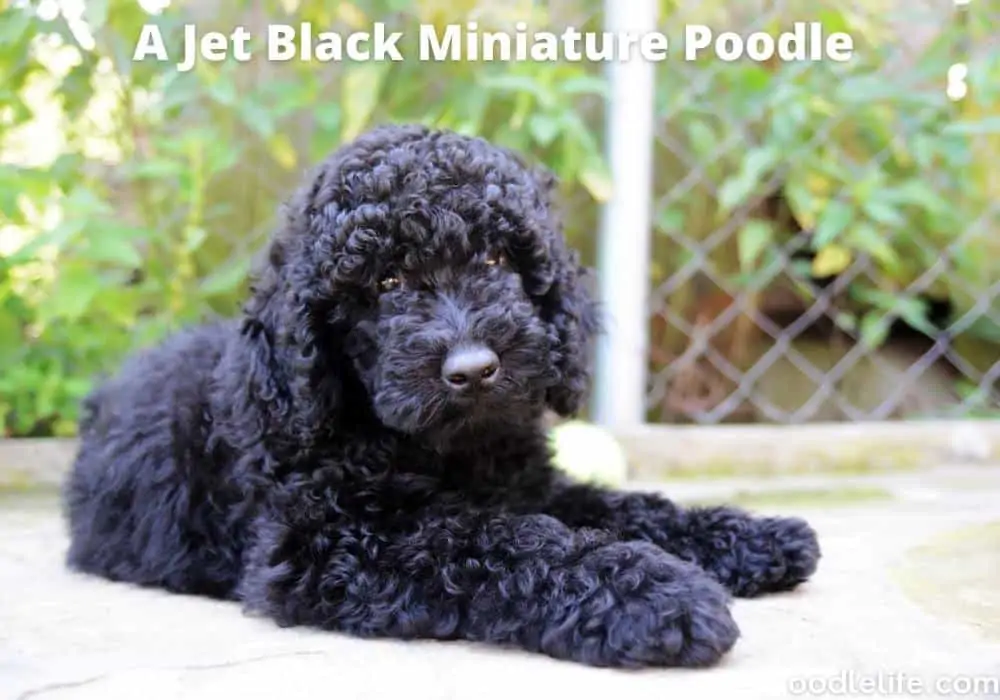 With many dog breeds, their color can fade over time or change as they grow. When you spend time and money finding your pet, it is natural to wonder if black poodles fade. Young puppies in a litter may all look black, but they can change as they grow. Silver and blue poodles will be born black but will fade as they mature, adjusting to their true color.
Dogs that keep their original color are 'holding' their hue, while poodles with fading or changing colors are 'clearing.' Clearing happens when the original color fades or changes as the dog matures. This process can take up to two years to complete before you see the resulting color of the dog. Dogs who clear color as they get older quite often retain more color on their ears and thicker hair sections, like guard hair.
Poodles have both an inner and outer coat of hair. True black dogs will only have ink-black color in both coats throughout their lifetime. It can be challenging to determine if a young puppy will remain black, but it is easier to figure out as they grow older.
It is normal to be concerned about your dog's coat. Nevertheless, responsible pet owners should ensure that their pet receives proper care and maintenance throughout the years to ensure a healthy life.
There are circumstances where a black poodle's color will fade. These instances are due to several factors, including:
The dog is not a true black, where the coat contains hints of grey or blue coloring 
Sun damage from too much UV exposure (remember dogs can also get sunburn)
Harmful pet shampoos 
Turning grey as they age
On average, just over 60% of all adult black poodles will slowly turn grey as seniors. If you have a true black poodle, there is a good chance they could fade to grey as they grow old. (Why not get ahead of the curve and give your puppy a gray dog name?)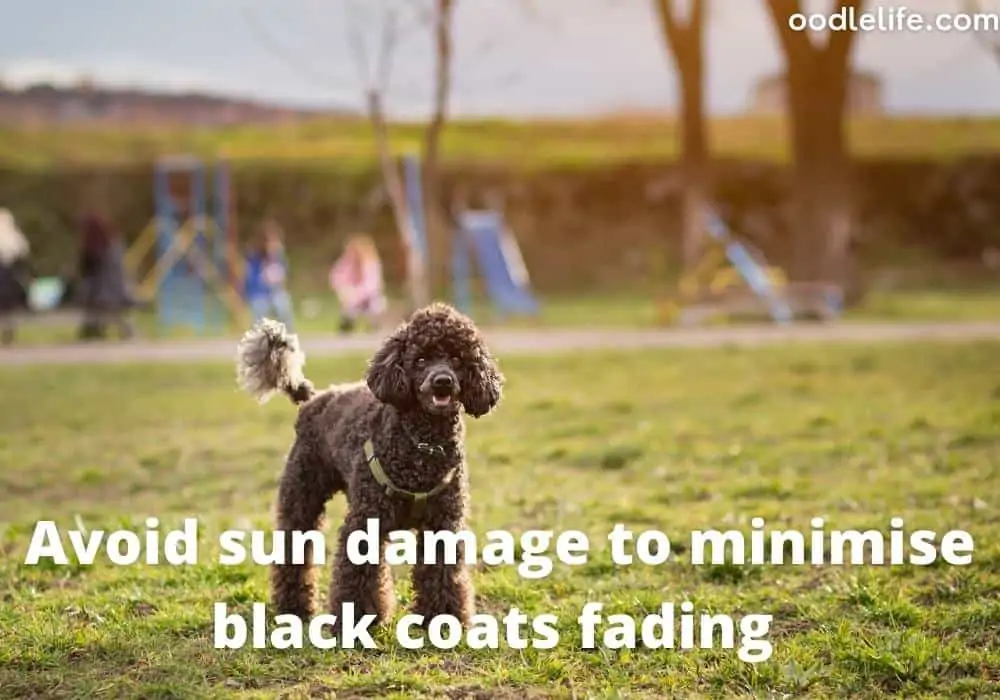 How You Can Help Your Black Poodle from Fading
There are ways you can help your black poodle's coat from fading or dulling over time. Proper care and maintenance are vital to keeping your dog healthy and happy, no matter what breed or color you choose.
If you have a black poodle, you can help preserve its deep color to ensure it remains bright and vibrant. While these solutions will not keep your poodle's coat from turning grey when they are old, they can help preserve their young coat and avoid any damage they may incur.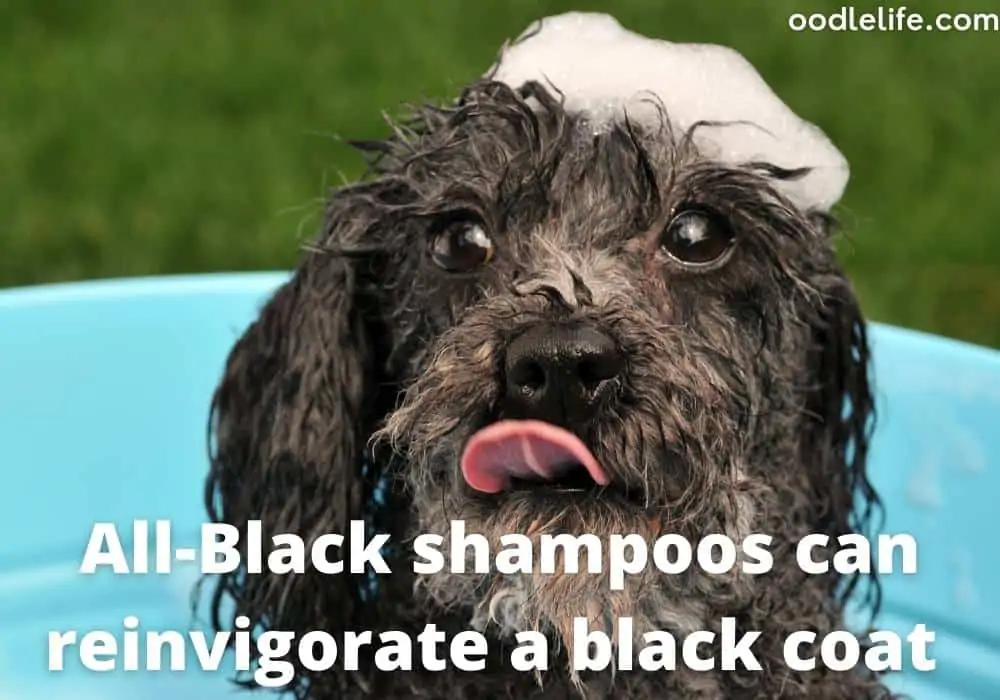 Use the Proper Shampoo and Hair Care Routine
Select a specially formulated shampoo for black-haired dogs. Some pet products will contain harmful chemicals or solutions that can damage the hair and skin, causing the color to fade with extended use.
Chris Christensen Black on Black Shampoo (16 Ounce)
GROOM LIKE A PROFESSIONAL- Neutralizes unwanted stains that cleansing does not remove.
BENEFITS- Restores the intense black color of coats exposed to the bleaching effects of the sun.
NOT A DYE- Semi-permanent color that will not rub off on hands or clothing, lasts up to 4 weeks.
BREEDS- Suitable for all breeds with black coats
WHY CHRIS CHRISTENSEN - It all started in 1996 when Chris Christensen developed the first true color correcting shampoo for canines and felines. White on White was a catalyst in the evolution of...

We earn a commission if you make a purchase, at no additional cost to you.
Choose a high-quality black pet shampoo that includes natural ingredients to provide vitamins and nutrients beneficial to your dog's hair growth. Many color-enhancing pet shampoos in the market are protecting dark coat colors, like black. These products can add sheen and restore their coat from being dull.
Daily Brushing
Daily brushing can also add to the health of your pet's hair. Use a brush with soft bristles that will not scratch their skin. Brushing will help remove debris from the hair and help distribute natural oils throughout their coat and skin. These oils help keep them moisturized and keep hair healthy as the climate changes during the year.
A healthy coat can stand up to natural elements better, minimizing the effects of UV rays and aging.
Limit Exposure to UV Rays
Just as your hair will become bleached out from the sun, so will your dog's. Your pet cannot wear a hat like you do when protecting your hair. Because UV rays can be damaging, it is essential that you limit your pet's exposure to direct UV rays. 
Dogs who spend a great deal of time outdoors will show the effects of sun damage over time. Limit their exposure and use a natural protective shampoo to keep their hair safe and preserved.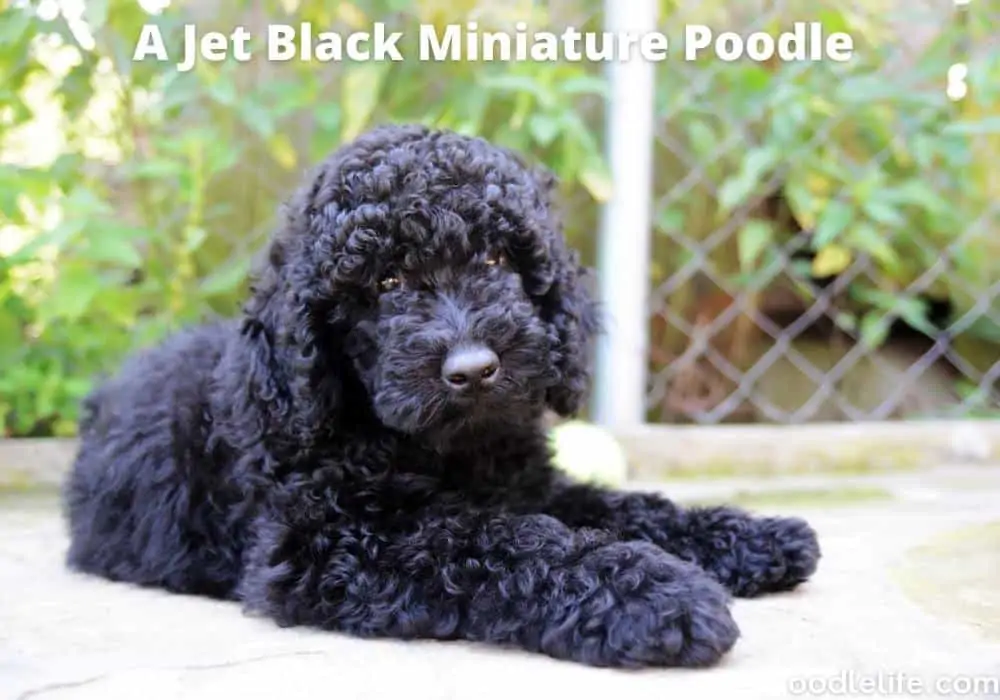 Poodles With Fading Color
A dog does not live forever, unfortunately. When you begin to see the signs of aging in your black poodle, like a fading color, many owners start taking notice of their senior pet's needs.
Fading in your black poodle coat is not a bad thing, but it does mean they are getting older and may require additional care for the rest of their years. Unfortunately, it can be hard to experience your beloved pet grow older.
Summary
With proper grooming, your dog can maintain their deep, classic color for many years before seeing any fading effects. Some poodles will not fade at all during their lifetime, holding their ink-black hue beautifully. Unfortunately, there is no way to tell if your dog will hold his color as he grows or will fade to grey.
Having a black poodle fade when they enter the senior years is not a breed defect at all. This is not an element that breeders can avoid when offering animals to potential owners. You should not feel that your dog is inferior or less than ideal if their coat changes color during their life. You will still have an exceptional dog breed that is a terrific companion and a loyal friend.