Best Dog Water Bowl Chiller (and DIY Ideas)
Just as you enjoy a cool drink on a hot summer day, so does your dog. Lukewarm or room temperature water doesn't quench the thirst like a cool, refreshing drink.  So what is the best dog water bowl chiller?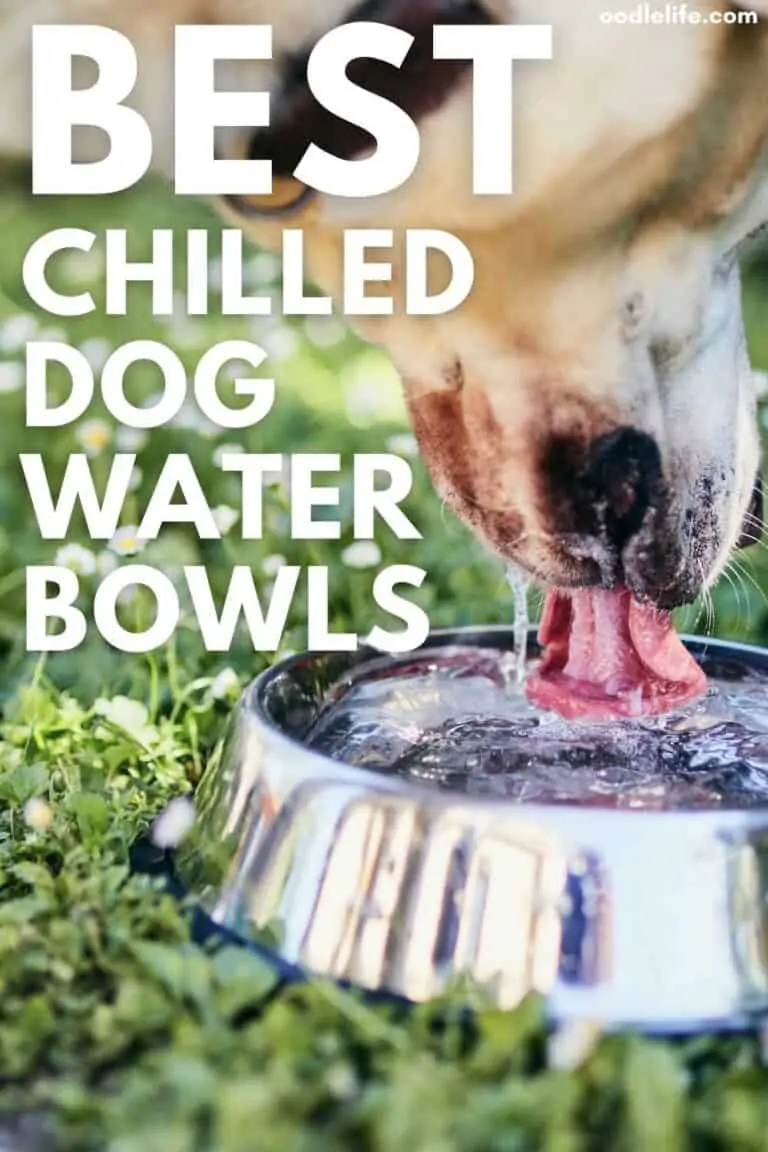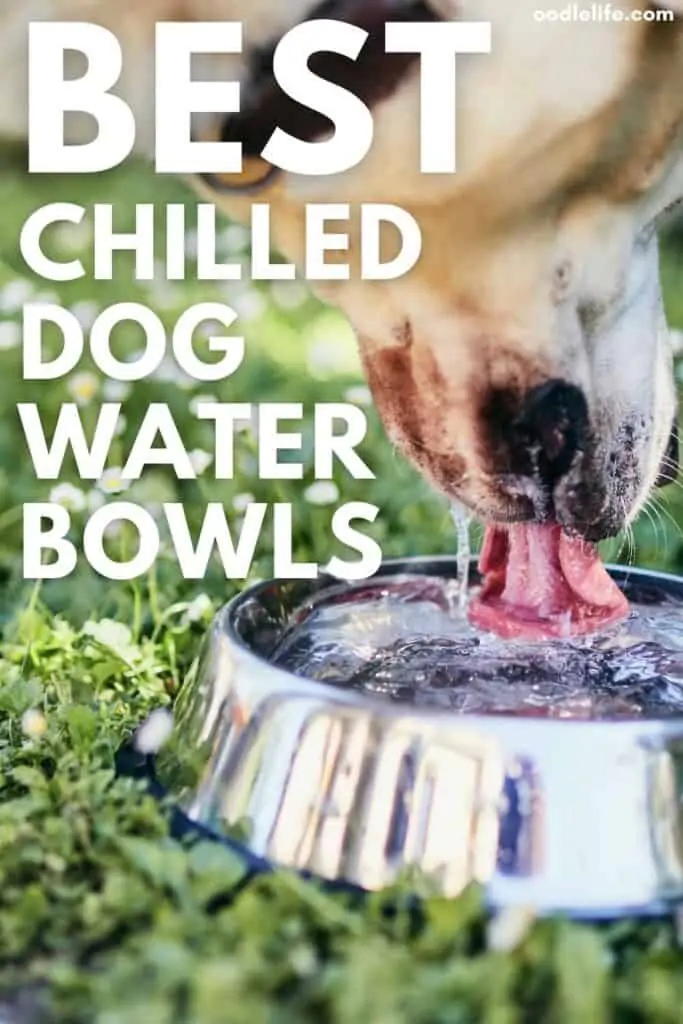 Your pet must take in enough water throughout the day, especially on days when the temperatures are excessive or more active than usual. Instead of offering your pet water from a bowl that has been sitting out all day and is no longer cold, try using a water bowl chiller. So what makes the best dog water chiller?
These products can help keep your pet's water cool throughout the day. Many animals will drink more often when the water quenches their thirst rather than drinking warm liquids on a hot day. There are numerous options available for pet owners looking for a bowl chiller, each with individual features, making your decision easier.
What to Look For in a Dog Water Bowl Chiller
Not all chillers are created equal. Depending on your preference, bowl materials and sizes can vary. If you are on the hunt for the best dog water bowl chiller, consider these factors:
Cost
Durability
Material
Portability
Ease of use
Cost
Most dog chiller bowls are relatively inexpensive and fit within a budget. As you increase the size of the bowl, costs will rise, so this can be a consideration if you require a product that will hold a great deal of water.
Many simple designs will fit a tight budget, while fountain styles or elaborate chiller bowls can become costly. If you are watching your pennies, avoid dog water bowl chillers that require electricity to save some money.
Durability
No product is indestructible, but choosing a chiller that can stand up to constant use will benefit your dog. Some items will require you to freeze the entire bowl, while others will have a frozen insert to use. As a responsible owner, you want to ensure that the chiller bowl you use will not break and be unsafe for your pet.
Material
The type of material will directly affect how long water will stay cool in the dog bowl. Stainless steel can keep water cool indoors but left outside in the sun, and this material will heat up quickly. Ceramic is thick and can help keep the water cooler longer even without a frozen gel insert.
Plastic bowls can be terrific when you need to freeze the entire bowl or a gel pack insert and are more affordable than their counterparts. They will not stand up to use like stainless steel or ceramic materials, though.
Portability
If you and your dog leave the house on adventures during the hotter months, having access to chilled water is essential. Not all dog water bowls are portable, so you will need to explore all the features if you need to take it with you on the go.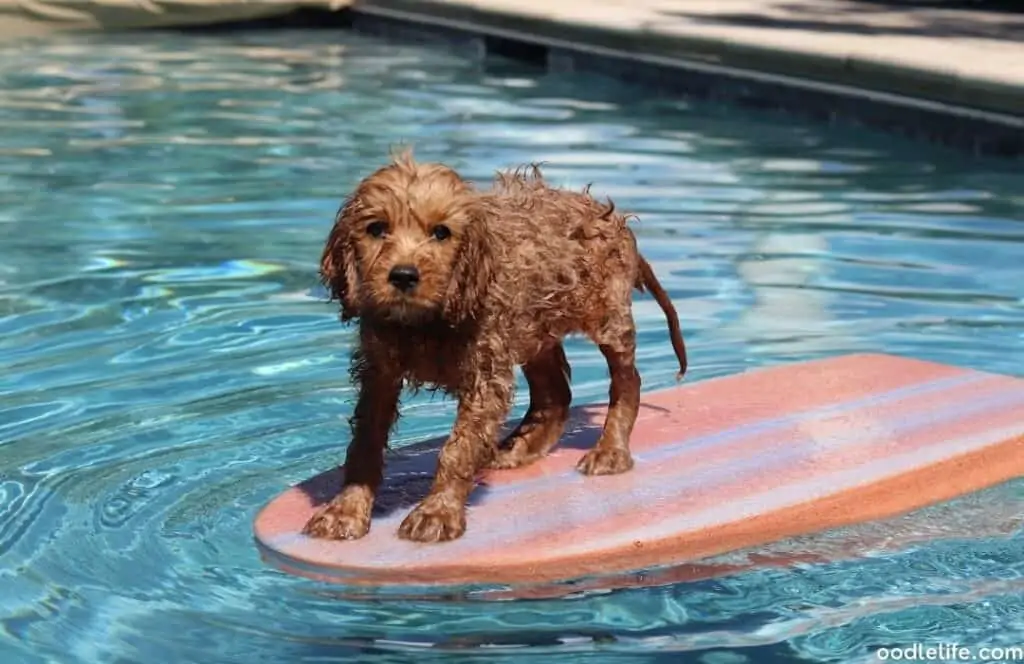 Ease of Use
Any accessory you have for your pet should not be difficult to use, including a water bowl chiller. Often, the easier the product is to use, the more popular it is with consumers. Some bowls require you to freeze the entire thing, while others need you to freeze a gel insert beforehand.
These products are simple to use, depending on how much time you prepare before using the water bowl. If you regularly forget to freeze the added gel packs, you may want to choose a more convenient bowl for your routine.
The 3 Best Dog Water Bowl Chillers
Because there is such variety in chiller bowls for dogs, we have a list of the three best dog water bowl chillers to choose from, depending on use and size.
Best Overall Dog Water Bowl Chiller: K&H Coolin' Freezable Water Bowl
K&H Pet Products Coolin' Pet Bowl 32oz. Sky Blue - Fresh Cool Water For Your Pet!
POWERFUL COOLING: The only pet cooling bowl that keeps water fresh and cold for up to 15 hours to help keep pets cool and hydrated all day long
INDOOR/OUTDOOR: Cooling water bowl can be used indoors and outdoors, does not use electricity and is BPA free
EASY TO USE: Great for home or on the go simply activate the cooling crystals by filling the interior with water once; then freeze the bowl each night
BRAND YOU TRUST: Designed by K&H with OVER 20 years of experience in creating safe, innovative, quality products for pets
SIZING: Holds 32 ounces that is perfect for kitten, puppies, cats, and small dogs
We earn a commission if you make a purchase, at no additional cost to you.
K&H has the best overall dog water bowl chiller with the Coolin' Freezable Water Bowl. This product can keep water cool for up to 15 hours by using cooling crystals freezing technology. This plastic bowl is BPA-free and uses no electricity, making it safe and portable for use anywhere.
You can choose between 32 or 96-ounce sizes to suit larger dogs who need more water throughout the day. To prepare this chiller water bowl, remove the plug at the bottom, fill it with water, replace the plug and shake before freezing the bowl.
Best Portable Chilled Water Bowl: TE WAI FreeZone Freeze Cool Portable Foldable Dog Water Bowl
TE WAI FreeZone Dog Pet Water Bowl Freeze Cool & Frosty Summer Foldable Portable Bowl for Outdoor Activities Dog Gift
😊-COMPLETELY SAFE: Eco-Friendly Anti-Toxic, FREEZONE Food Grade Approved Silicon and Gel Folding Bowl Keeps Water Cold For Your Dog Up To 6 Hours!!
😊-TAKES UP NO SPACE: A Perfect solution For dog's Show Day, Hiking,Trips To The Beach, Camping, Training, Running. Always Clean, The End Of Drinking From Improvised Unclean Containers During Trips...
😊- EASE AND SPEED 2 in 1: Suitable for any Dog Size!! FREEZONE Is Also Used As A Cooling Collar For Your Dog With Reflectors Visible at At Night. Can Also Be Used As a Regular Water Bowl Without...
😊-MORE HEALTHY FOR YOUR DOG:Studies Have Shown Dogs Prefer To Drink Cold Water At 16°C(61°F) , The Bowl Will Cool Water To This Temp. immediately,Especially in Hot Weather!
😊-PERFECT SOLUTION:The Bowl Is In a Cold-insulated Pouch That Attaches To The Dog Collar, If Your Dog Is Too Small To Carry The Pouch On His Collar, You Can Carry It On Your Belt. SUMMER IS HERE!...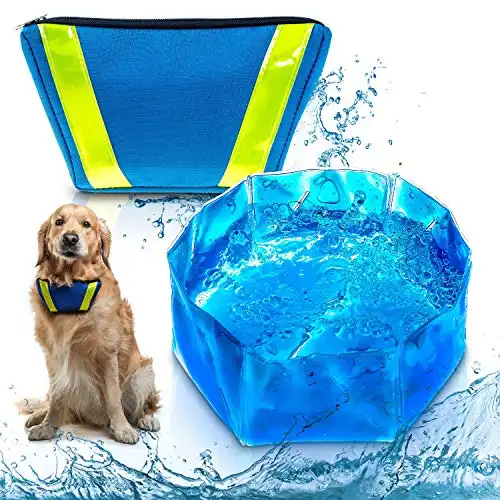 We earn a commission if you make a purchase, at no additional cost to you.
If you and your four-legged friend venture out for hikes or day trips, having a portable water bowl chiller comes in handy. The FreeZone Freeze Cool Portable Foldable Dog Water Bowl gives your dog a cool drink while away from the house. When you fold it into the carrying pouch, it makes the perfect cooling collar on those hot days.
This portable chilled dog bowl can keep five cups of water cold for up to six hours. It easily attaches to a dog's collar or your belt for transporting.
Best Durable Chilled Water Bowl: Neater Pets Stainless Steel Polar Bowl With Gel Core
Polar Bowl by Neater Pet Brands (Medium, 3.5 Cup)
EXTRA COLD - Double walled stainless steel freezer bowl (28 ounce capacity, 3.5 Cups)
STAINLESS STEEL WITH GEL CORE - Put it in the freezer and upon removal the gel core will keep your pets water cold for hours.
USE ANYWHERE - This means your pet can enjoy fresh, cool water inside or out without ice cubes that can melt in just minutes.
SAFE - Bowl is made of stainless steel. Gel inside is non-toxic and freezable. Colder water is actually healthier for your pets, because it encourages proper hydration
COMPATIBLE WITH NEATER FEEDER - The Medium Polar Bowl will fit the Medium sized Neater Feeder Deluxe.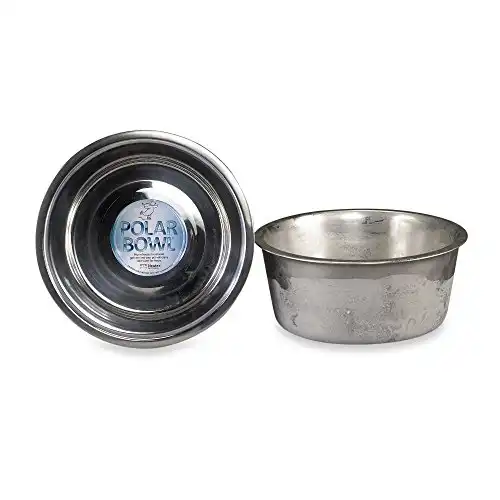 We earn a commission if you make a purchase, at no additional cost to you.
For pet owners with puppies and dogs who like to chew on their dishes, the Neater Pets Stainless Steel Polar Bowl with Gel Core is the ideal solution. This bowl contains a gel core within the stainless steel walls to keep water cool while standing up to those four-legged chewers.
The gel core is non-toxic and freezes easily, creating a durable chilled water bowl no matter where you use it. It holds 28 ounces of water and remains cool for hours. Cleanup is easy with the Polar Bowl since it is dishwasher-safe.
Can You DIY and Create a Water Bowl Chiller?
Keeping your dog's drinking water cool on hot days can be a challenge. If you find yourself out camping or cannot run out and purchase a dog water bowl chiller, you do have some simple options.
You can add ice cubes to the dish periodically to keep the water cool. This method is only safe if your dog does not try to swallow them whole. The best time to add ice cubes is when your dog finishes having a drink or napping so they will have time to melt.
You can use a ceramic dog dish that will hold the temperature longer than plastic or stainless steel bowls. Ensure the bowl is not in direct sunlight if it is outside.
Freeze a water bottle or mini water bottle and set one in your dog's water dish. This method will keep the water cool without having to worry about your dog choking on ice cubes.
Make an ice bowl by using two different bowl sizes, typically a large and small one together. Pour water into the large one and place the small one on top, and freeze. Once frozen, you can add water to the small bowl while the bottom bowl keeps the water refreshingly cool for hours.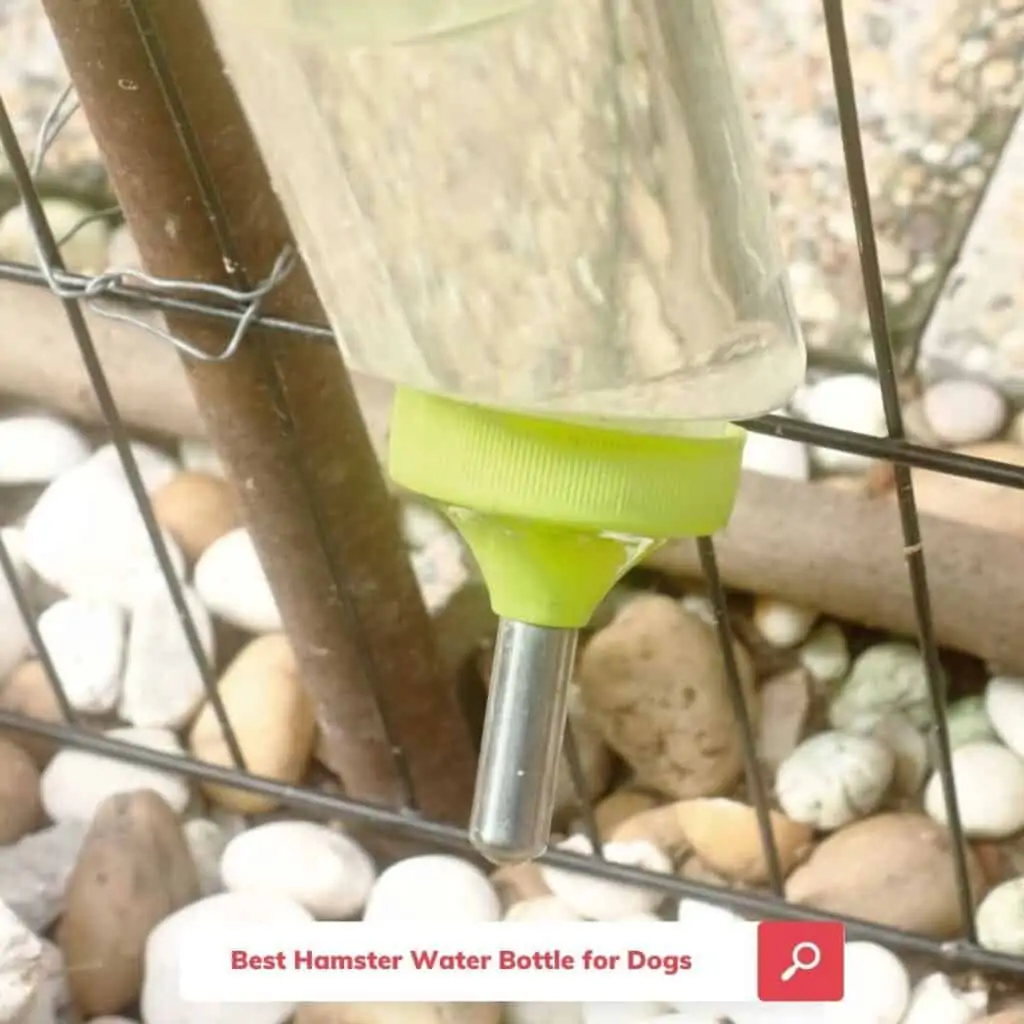 In Summary
It is vital that you offer your dog cool water during the day, especially when temperatures run high. Using a dog water bowl chiller can ensure they will drink enough to stay hydrated. Your options include electric or portable versions, or you can even make your own at home. Choose the method that works best for you and your pet, and they can quench their thirst on those hot days.