Best Dog Water Bowl No Spill (Do They EXIST?)
Ensuring that your dog drinks enough water is extremely important, but finding a water bowl that doesn't make a huge mess is challenging. The goal is to get the water into your dog and not all over your floor, so finding the best dog water bowl with no spill is essential. 
Lucky for you, no spill dog water bowls do exist! They are the best type of dog water bowl you can possibly buy. Listed below are the top 12 dog water bowl no spill on the market. 
1. 5 UPSKY Dog Water Bowl No Spill
The 5 UPSKY dog water bowl comes in 4 different color schemes and is excellent for dogs that like to make a mess while slurping up their water. Its design allows for easy drinking, and the deep bowl size is perfect for any size dog breed. 
UPSKY Dog Bowl Dog Water Bowl No Spill Pet Water Bowl No Drip Slow Water Feeder Dog Bowl No-Slip Pet Water Dispenser 35oz Slow Drinking Bowl for Dogs and Cats
Extreme Large Capacity: With the dimension 8.8 x 7.2 x 2 inches, the bowl has a pretty large and practical capacity, about 35oz in total, which is enough for dogs to drink a whole day.
Splash-proof Water Bowl: The waterproof edge strip and floating disk dual design can effectively prevent water from overflowing, keeping your floor dry and tidy at all times.
Slow Water Feeder: The automatically adjustable floating disk design slows down the drinking speed of your pet. When your pet's tongue touches the floating disk, it sinks and the water undulates.
Prevent Wet Mouth: The floating disk of no drip dog water bowl can control water easily and then prevent large areas of water from wetting pet's mouth hairs. Keep your pet's hair dry and tinted.
Keep Water Clean: The separable 2-pieces disk welded design helps prevent the dust, dirt, and pet hair from falling into the water to affect water quality. Provide clean water for your pets all day.
This no-spill dog water bowl is BPA-free, and the stainless steel material makes it easy to clean. Bonus points… it's also dishwasher safe for those busy pet owners that don't like to do extra dishes! It also has a non-slip rubber edge to help keep the bowl in place while your dog drinks. 
Need water on the go for your pup? No worries, the UPSKY dog water bowl is portable as well. You can easily take it in the car, wherever you go, so your pup can have a drink while playing at the park or visiting grandma.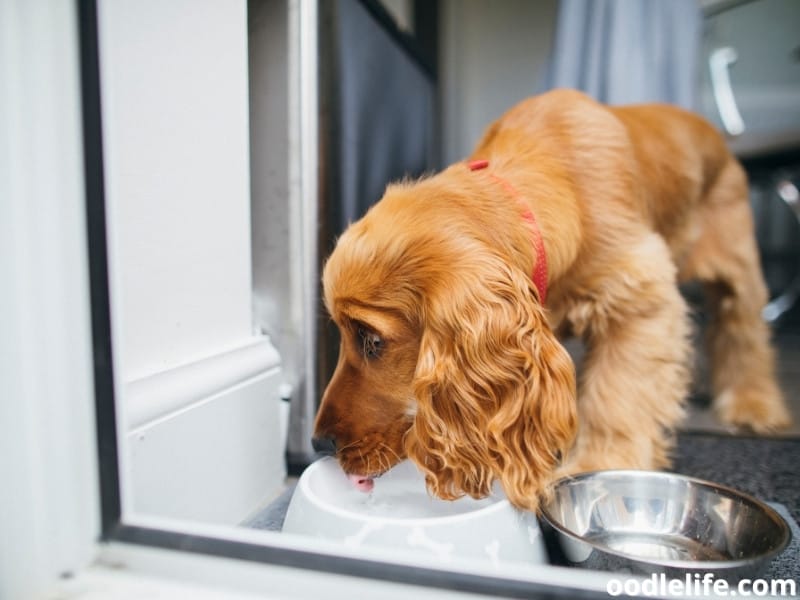 2. Indipets Stainless Steel Spill Proof Dog Water Bowl
The Indipets stainless steel no-spill dog bowl is perfect for keeping a clean floor in your dogs room. It features a sleek, stainless steel design that looks nice and keeps the water inside the bowl. In addition, it has a no-tip and skid-free bottom that allows your dog to drink the water as quickly as he wants without risking drippage. 
Sale
The Indipets Stainless Steel Dog Water Bowl is easy to clean, scratch-resistant, and affordable. You'll love this easy-to-use dog water bowl no-spill design.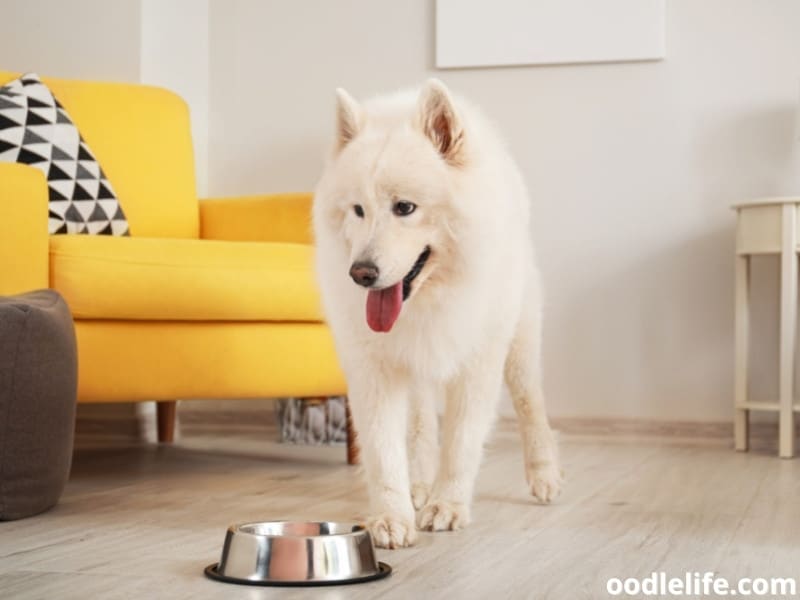 3. Petmate No Spill Dog Water Bowl
This no-spill dog water bowl is made of plastic and has a rubber rim around the top to help keep the water inside the bowl. It is lightweight, easy to clean, and recyclable. The adjustable water flow control allows for a mess-free design that still gives easy access to your dog while drinking. 
Sale
Petmate No Spill Bowl
Splash-proof design to keep floor neat and clean
Constructed of sturdy plastic, made for long-lasting use
Great for travel or at home
It's a great dog water bowl to take with you camping or on vacation since it's easily portable. The bowl holds up to 48 ounces of water, so your pup won't get thirsty on long trail runs. This no-spill dog water bowl is made with thick plastic, so you won't have to worry about breakage, and is suitable for long-term use.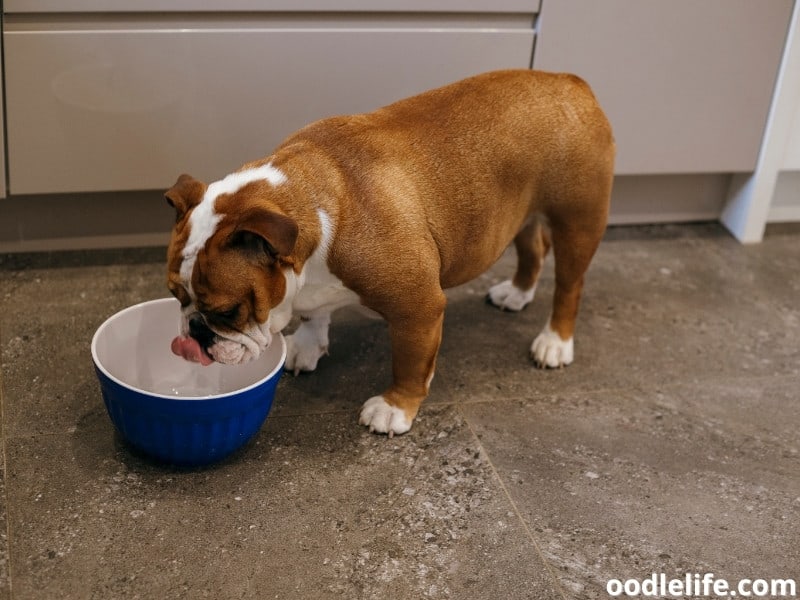 4. Prestige Pets Road Refresher
The Prestige Pets Road Refresher is perfect for dogs with droopy jaws, such as the Bassett Hound or Boxer, because it has a wide lip at the top. The edges are also high, which helps to keep water from splashing out. This dog water bowl no spill design is top-notch.
Road Refresher by Prestige Pets, The No-Spill, Slobber Stopper Dog Water Bowl Dispenser, The Neater Water Dispenser Dish for Home & Travel, No Messy Splashes, Spilling or Drips for Dogs & Cats
NO MORE MESS: The Road Refresher keeps your pet's water clean and fresh with the unique shallow floating plate protecting the water base from dust, dirt, and debris. The floating disk rests on the surface of the base controlling the amount of water available for your pet to consume. This function keeps long ears and snouts dry and the area around the bowl clean and clear of drips, splashes, and slippery wet surfaces. Also great for the cat that likes to play with their watering bowl.
SLOW AND STEADY: Fresh clean water from the pet bowl reservoir continuously flows up through the floating lick plate. This slow feeder dog bowl dispenses the ideal amount of water for your pet throughout the day. Greatly reduces the risk of choking by regulating intake - stopping speedy /gulping drinkers and the ability to splash, submerge face, keeping your pet hydrated without excess gulped air and messy facial drips.
ON-THE-GO: Includes optional velcro fasteners for your own attachment - Secures base of the bowl to just about any surface! The unique no-skid base, no-slopper, dripless combination make it the smart item for use in cars, RV's, boats, and any other outside, recreational / travel activity such as camping, patios & poolside.
PET HOME ESSENTIAL: Curious and playful paws of all sizes, breeds & ages make the Road Bowl a must have for pet parents. Multi-dog homes love the plentiful extra-large (47oz) dog water bowl, while the small (20oz) water bowl makes a great spillproof new puppy bowl. Breeds with long ears such as Bassetts & Spaniels benefit from the bowl's design keeping ears dry and out of the water, droopy jowls such as Boxers, Frenchies, Bulldog, Pugs & Great Danes enjoy drinking without dripping from faces.
EASY, SAFE & CLEAN: Finished with smooth rounded edges, the Road Refresher pet bowl is made from BPA-free, heat resistant polypropylene, making it durable, lightweight, steady and efficient. Its purposeful design makes it easy to fill, clean and take on the go as needed. Dishwasher clean (top rack) safe.
It has a secure base that won't slide around your floor and a water capacity of 54 ounces, perfect for larger dogs. 
Featuring a slow-feeder design, this dog water bowl allows your dog to drink as much as he needs without overfilling the dish and causing a huge, watery mess. The material used to create this dog water bowl is also BPA-free and dishwasher safe.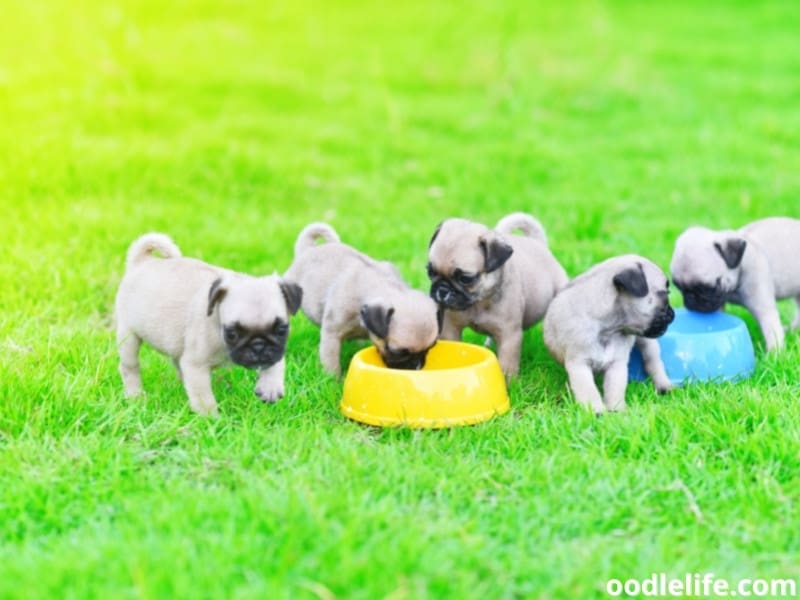 5. American-Made Heavy-Weight Stoneware Water Bowl
Suppose you want a heavy-duty dog water bowl that will hold well in any condition. In that case, the American-made Heavy-weight Stoneware Water Bowl may suit your needs. Dogs that love to chew their dog bowls, and make a huge mess, will benefit from this heavy-duty dog bowl.
American Made Heavy-Weight Splash-Reducing Stoneware Water Bowl for Cats and Small Dogs (48oz)
Ideal for small dogs and cats that tip their bowls, or animals traveling in an RV (not for dogs that pick up their bowls)
Sturdy water bowl is handcrafted on the potter's wheel from solid stoneware clay and high-fired; lead-free and food-safe
The shape of the clay keeps the bowl upright while the wide, inverted curve rim helps to reduce splashes (water level should be kept below the interior rim) - weight helps keep bowl in place while shape helps prevent splashes
Blending beautifully with any decor, the American-made white glaze is chip-resistant, scratch-resistant, lead-free, cadmium-free, food-safe, and safe for use in the dishwasher (decorative drain holes allow water to escape the rim after washing)
Largest size measures approx. 9" diameter x 3" high ; 48 ounce (or more) volume ; weighs 4 lbs (see product description for small size)
The bowl is unique in that it's artisan-crafted and extremely high-quality. 
This dog water bowl, no spill, is created with a deep concave design that keeps the water inside the bowl. It's also very decorative and will spruce up your dog room without looking tacky.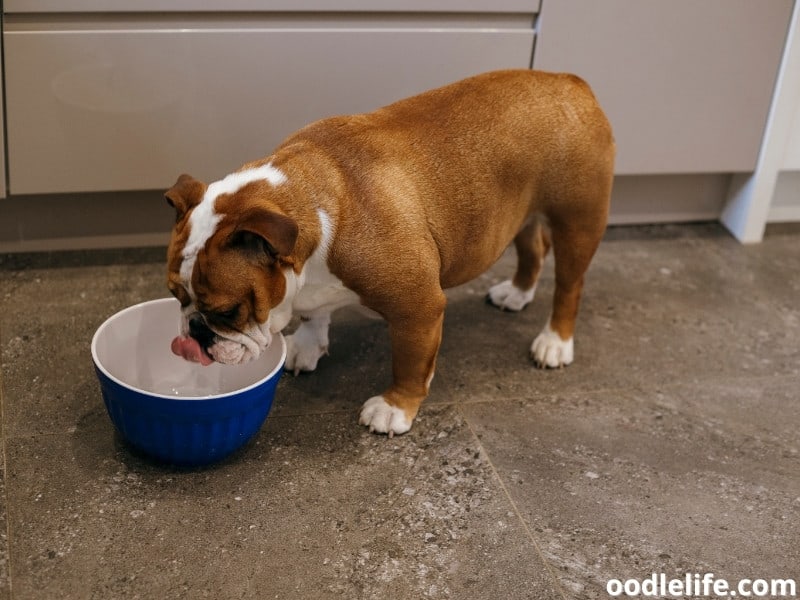 6. Guardians No Spill Dog Water Bowls with Mat
The Guardians No Spill Dog Water Bowl is great for dogs that tend to make a mess while they drink. The stainless steel, no-spill bowls sit on top of a rubber mat, creating a clean drinking environment. It comes in four different colors and varieties: black square, black bone shaped, grey square, or grey bone shaped. 
Dog Bowls with Mat, Dog Food Water Bowl Set (26.5oz Each), No Spill Dual Pet Feeder Stainless Steel Bowl in Silicone Mat for Medium Sized Dogs
Full Dog Bowl Set -This dog bowls with mat including a waterproof dog feeding mat and two dog bowls (26.5 oz for each bowl), one for water and one for food. It can also be used as cat food water bowls.
Non Spill Silicone Mat - The pet food mat is designed to hold the removable dog bowls and to collect the food, water and treats when pet eat and drink to prevent them from spilling onto your clean floors.The silicone base also keep from skidding on the floor and doesn't slide all over the place when your dog is eating.
No Mess Feeding Mat- Made of food grade silicone material, and the heat resistant temperature is from -40 to +240 degrees, it is safe for the pets to eat the food even if they spilled out of the food bowl.
Easy to Use and Clean-The removable dog cat bowls make it easy to fill food or water. Both silicone stand and stainless steel bowl are dishwasher safe.
Best choice for dogs, cats and all kinds of pets that love neat and convenient feeding bowls.
Your dog will love the feel of the rubber mat under his paws, and the dog bowls will hold the water well, as long as they are not over-filled. This is a great, cost-efficient choice and can easily be bought on Amazon.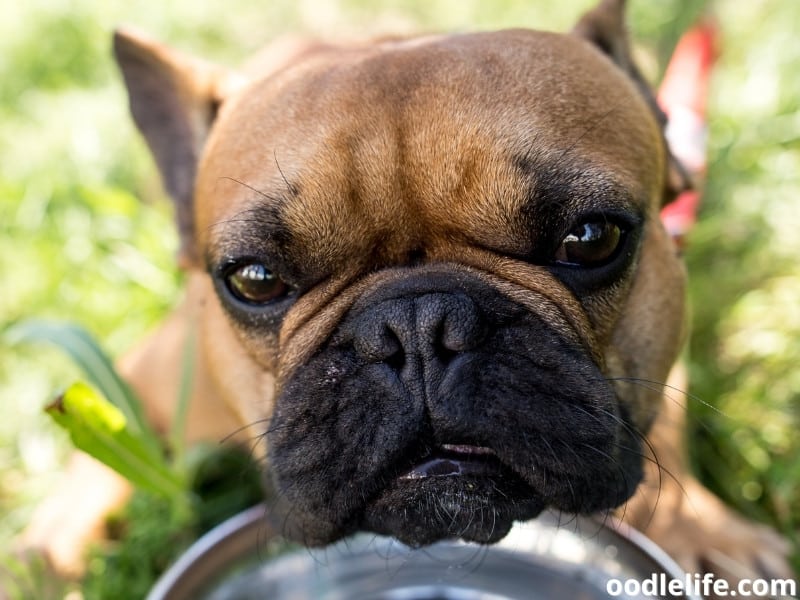 7. Kurgo Splash Free Wonder Water Bowl
If it's a dog water bowl no spill that you want, the Kurgo Splash Free Wonder Water Bowl is the perfect addition to your dog's room. This splash-free bowl is made of silicone and can hold up to 24 ounces of water. In addition, the flexible nature of the bowl makes it ideal for travel, so you can take this dog water bowl with you anywhere! 
Sale
Kurgo Splash Free Wander Water Bowl, No Spill Dog Travel Bowl, Portable No Mess Water Bowl for Dogs, Splash Less Pet Bowl for Car Travel, Dog Travel Accessories, 24 oz, Chili Red
Portable dog bowl: dog travel bowl is convenient for the on-the-go pup! It's important to keep dog hydrated and refreshed while on the road, but sometimes it's just not convenient to stop, This dripless water bowl makes sure your dog stays hydrated and fed while in the car, without the mess!
No spill dog bowl: tapered lip helps reduce splashing while travelling and keeps kibble/water off car floor; unique wedge design ensures that pet water bowl lays flat on car seat
Made of safe materials: travel dog bowl is designed with your dog's safety in mind; Made of food-grade silicone and dishwasher safe
Sizing: lightweight dog car bowl holds 24 oz. Of water or dog food. Approximately 7.3" L x 2.75" W.
Age Range Description: All Life Stages
The lightweight wedge design appeals to the eye and keeps the water inside the bowl rather than spilling on the floor. It's also dishwasher safe and highly durable, making it a long-term solution to your dog's water spilling problem.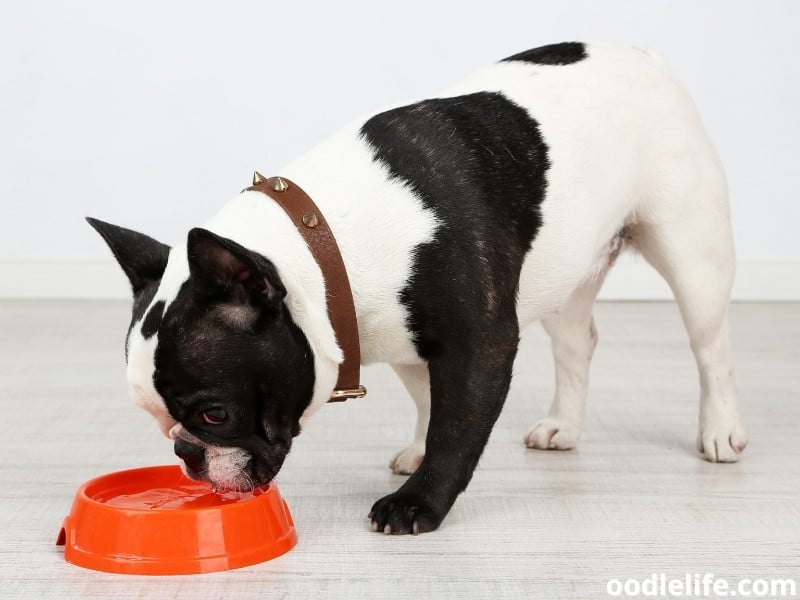 8. Slopper Stopper Dripless Water Bowl
The Slopper stopper not only has a really cool name, but it's also a great dog water bowl for messy dogs. The lid design and gasket make this bowl easier for dogs with long ears and droopy jaws to drink without making a giant mess. In addition, the bowl is made from high-quality, industrial-strength materials, which makes it durable and long-lasting. 
The patented design pulls the fluids away from the dog as he drinks, creating a clean, mess-free way to drink, keeping the surrounding floor clean and clear of a watery mess. It's affordable, easy to clean, and great for large breeds of dogs.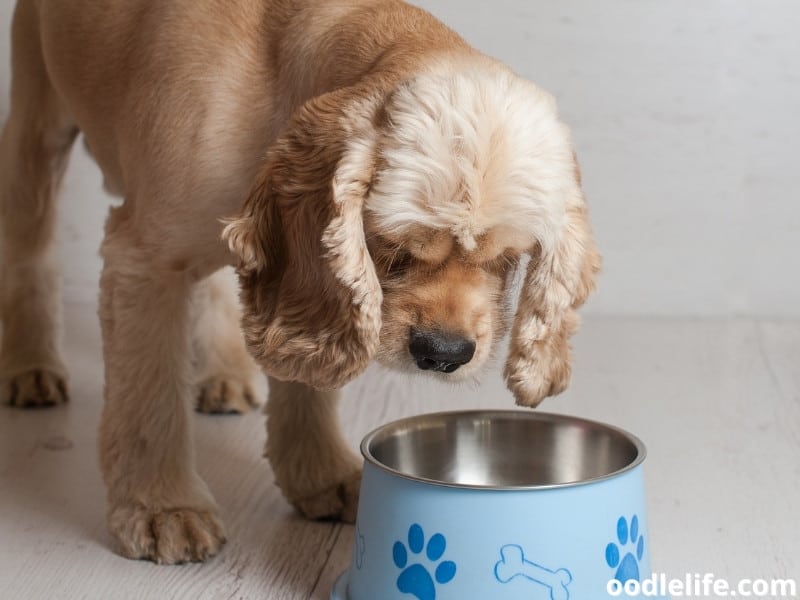 9. Super Design Mess-Free Slanted Water Bowl
This water bowl is designed to keep water inside the bowl using a slanted edge and high platform. This dog water bowl can also be used for cats and is sleek in its appearance. It comes in four different sizes and various colors to choose from.
Super Design Mess Free 15° Slope Bowl for Dogs and Cats, Tilted Angle Bulldog Bowl Pet Feeder, Non-Skid & Non-Spill, Easier to Reach Food M/1.5 Cup Cream White
Slanted Dog Bowl - Ergonomic 15 Degree Tilted Dog Bowl makes the food concentrate on the bottom and makes your pet easy to empty the food, as well as reduces risk of "bloat" and indigestion
Non Spill Dog Food Bowl - Dogs tend to stack food to the edge, higher round arc design makes food not easy to overflow the edge
Stable and Non-slip Dog water bowl - This pet food bowls hard ard to turn over, heavy duty stand with non-slip feet
Easy to Clean Cat Bowls - Both Melamine Stand and Stainless Steel Bowl are Dishwasher Safe, super easy to clean and wipe
Medium Dog Bowls - Dog bowls for medium sized dog and cats between 6. 6-19. 8lbs, hold around 1 Cup particle Food; SS bowl: diameter - 5", depth - 2. 75", melamine base: diameter - 6. 25", highest height - 4. 5"
Perfect for any breed of dog or cat. 
The Super Design Mess-Free water bowl is made from durable plastic and stainless steel and is easy to clean as well. You won't be disappointed with this design. With more than 7,800 positive reviews from satisfied customers, you can't go wrong with this choice.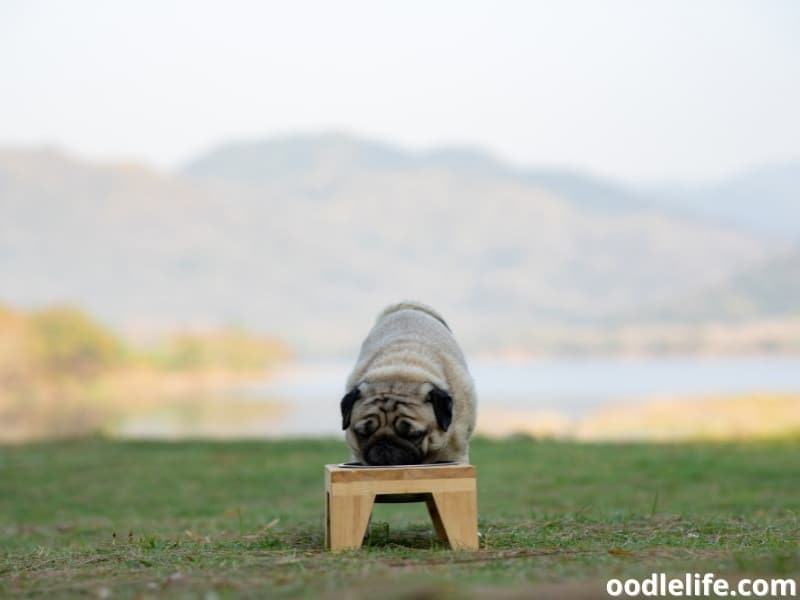 10. Franklin Sports Spill-Proof Water Bowl
This dog water bowl no spill is perfect for any dog breed and easily fits in with your current setup. It's made from sturdy silicone and can easily be transported when you're on the go. It's lightweight and flexible, so it fits in small spaces and is also super affordable. 
Franklin Sports Spill Proof Pet Bowl - No Splash Travel Water + Food Dish for Dogs + Cats - Portable Pet Bowl for Cars + Travel - 16 oz. - BPA Free
SPILL PROOF BOWL: Eliminate messes with this specially-designed, no-splash bowl that prevents spills and messes when you take your pet on the go in a car, on a boat, or anywhere else
GREAT FOR TRAVEL: This portable travel bowl is a must-have for pet owners who are taking the pets on the go
LARGE SIZE: This bowl holds up to 16 oz. of water at a time so even bigger dogs will have plenty of water to drink
GREAT FOR ALL PETS: Whether you have cats or dogs, this bowl is perfect for keeping them fed and hydrated all day long
BPA FREE: This bowl is certified BPA free for your pets health and safety
The Franklin Sports Spill-Proof Water Bowl can hold up to 16 ounces of water and is excellent for any pet. It is also BPA free, so it's safe for your pets and won't leak. Your pup will love drinking out of this water bowl, and you'll love that it doesn't leave a mess!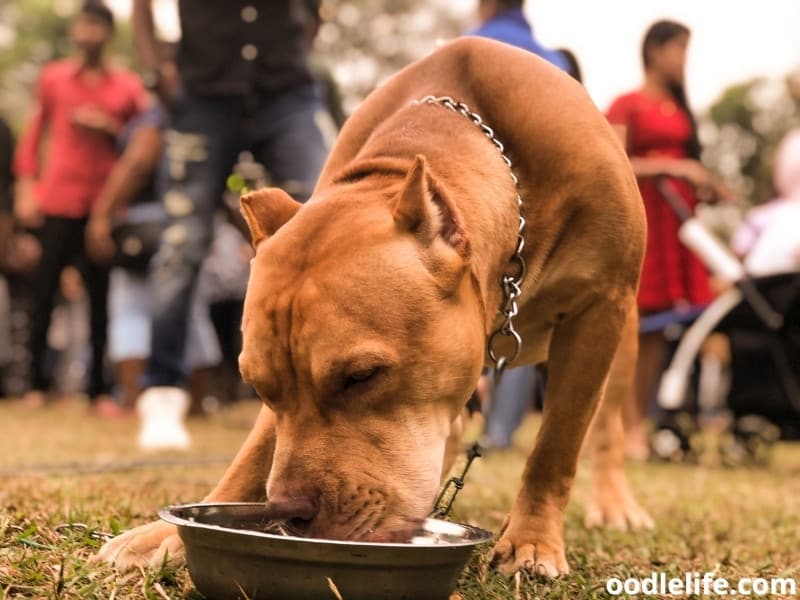 11. Leashboss No Spill Water Bowl
The Leashboss No Spill Travel Water Bowl is perfect for any pet. It is made of silicone and is a light grey color that blends well with other natural colors. It's easy to transport and holds up to 24 ounces of water. 
Leashboss Splashless Travel Dog Water Bowl - Large 40oz Capacity, No Spill Portable Silicone Car Dish (Grey, Silicone)
No-spill portable bowl for car rides and road trips - Fill this splash free dog water bowl at the start of your trip and you won't have to stop for breaks. Perfect for providing water for your dog or cat while your vehicle is in motion. Works for cars, trucks, SUVs, vans, motorhomes, or boats.
Tapered lip prevents splashing – The high-sides and tapered lip keep water from sloshing and splashing out of the bowl. Try adding ice cubes as a cool treat and to further reduce splashing. Note: this product will not prevent dogs from slobbering, and is not ideal for dogs that dig at their water or pick up their bowl.
Convenient size is ideal size for short or long trips – Holds more water than all other competitor products. 40 oz. maximum capacity with 24 oz./3 cup recommended fill line can be used for food or water. Measures 9" x 8" and 3" tall. Has a 4" x 4.5" opening with plenty of room for most dog snouts. Not recommended for giant, bearded, or flat-faced breeds.
Travel more, splash less – Unlike other silicone bowls, our modern no-mess design holds its shape and doesn't bend or collapse when full of water. This lightweight but sturdy bowl won't bend when you pick it up. Our patent pending, no-mess design with geometric shape and skid-proof base lays flat on the car seat and stays put. Great for SUVs, RVs, hatchbacks and long-haul truckers.
Easy clean up and dishwasher safe – Food-grade silicone bowl is dishwasher safe, BPA, PVC, and phthalate-free. --THIS PRODUCT IS PATENTED--
Unlike other silicone bowls, this no-spill water bowl is not bendy and won't collapse when liquid is inside, creating a mess. It's sturdy and reliable. This dog water bowl is great for medium to large-sized dogs with a regular-sized snout. Due to the depth of the bowl, more prominent noses may not fit comfortably. 
12. Valterra Products Water-Hole Dog Water Dish
The Water-Hole dog water dish is exactly as it sounds, a deep hole you can fill with water for your dog to drink from. Its small opening creates a mess-free way to drink but is also large enough to allow your dog to fit his nose into it. This water dish is made of high-quality, sturdy plastic, durable, and easy to clean.
Sale
Valterra Products, Inc. A-72 Water-Hole Pet Dish
Random Color Either in Beige or Blue
Top of dish extends inside bowl keeping bowl contents from spilling while vehicle is moving
Top removes for easy cleaning
Top Diameter: 7-15/16"; Opening Diameter: 4-1/4"
Bowl Dimensions: 7" diameter x 2-1/2" depth
It also comes in two colors, blue and beige, and travels well due to its small size. 
The Valterra Products Water-Hold Dog Water Dish is affordable and easy to clean, and both you and your dog will love it. Easily purchase this dog water bowl today!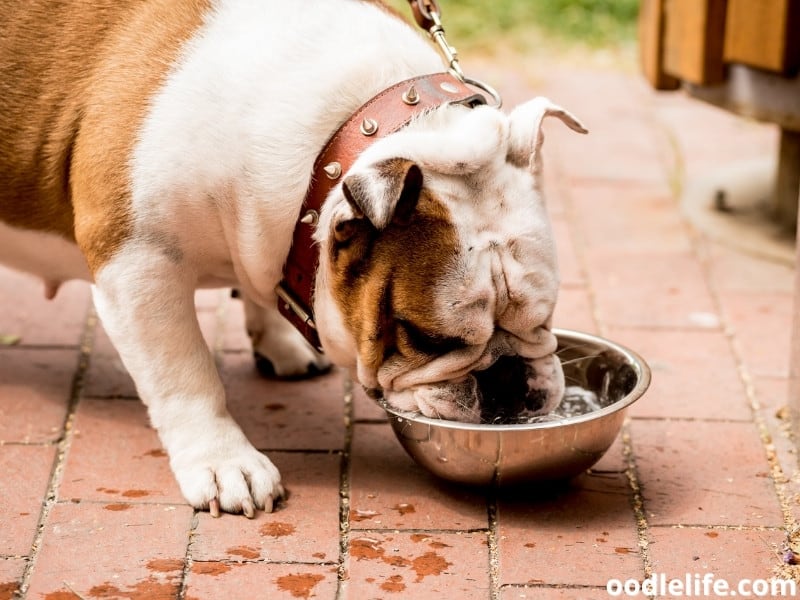 Before You Go
When searching for the best dog water bowl with no spill or leaking, check out these fantastic options supported by good reviews from other happy customers. Affordability, appearance, durability, and convenience are all important considerations. Choose one that best fits you and your pup's needs, and finally, enjoy a clean, water-free floor in your home.