9 Ways To Help Teething Puppies [Plus DIY Tips & Tricks]
Bringing home a new puppy is exciting but can also be a lot of work. Puppies require extra playtime and attention, especially when they are teething. Just like babies, puppies teethe until they get all their adult teeth.
Before then, your puppy may be uncomfortable and chew on anything it can to get some relief.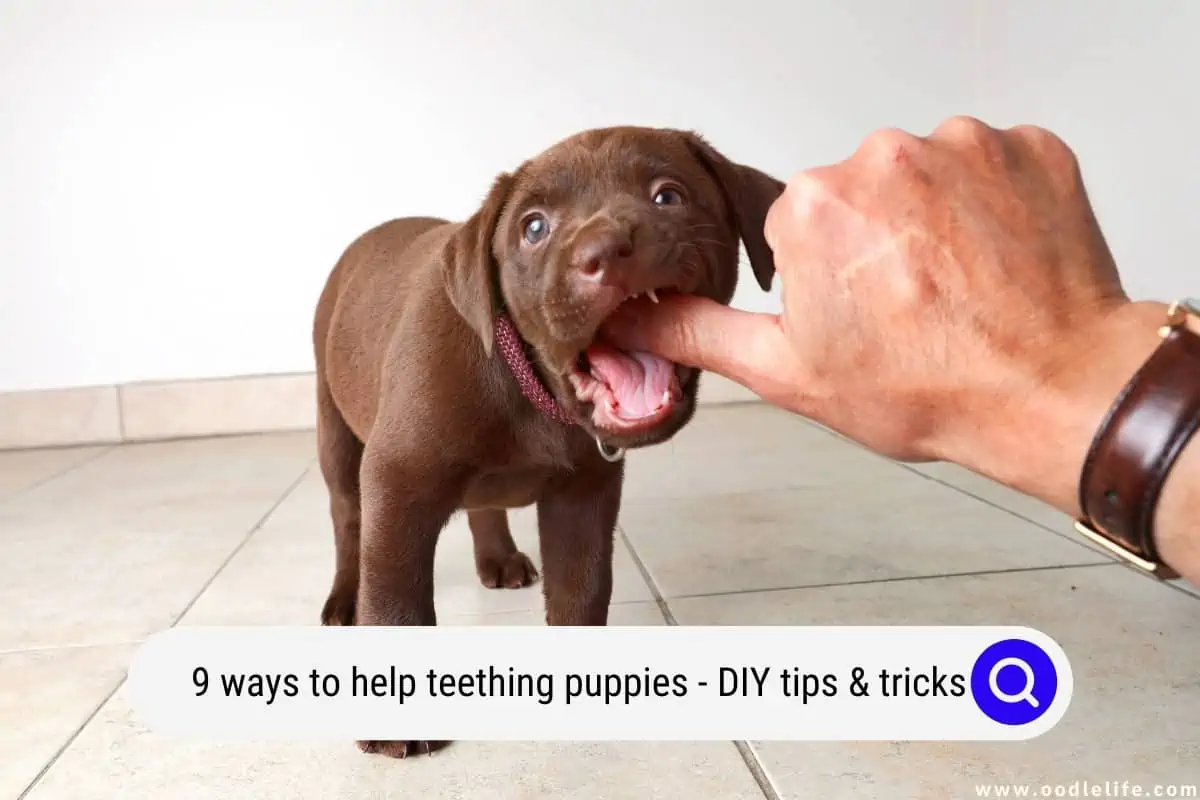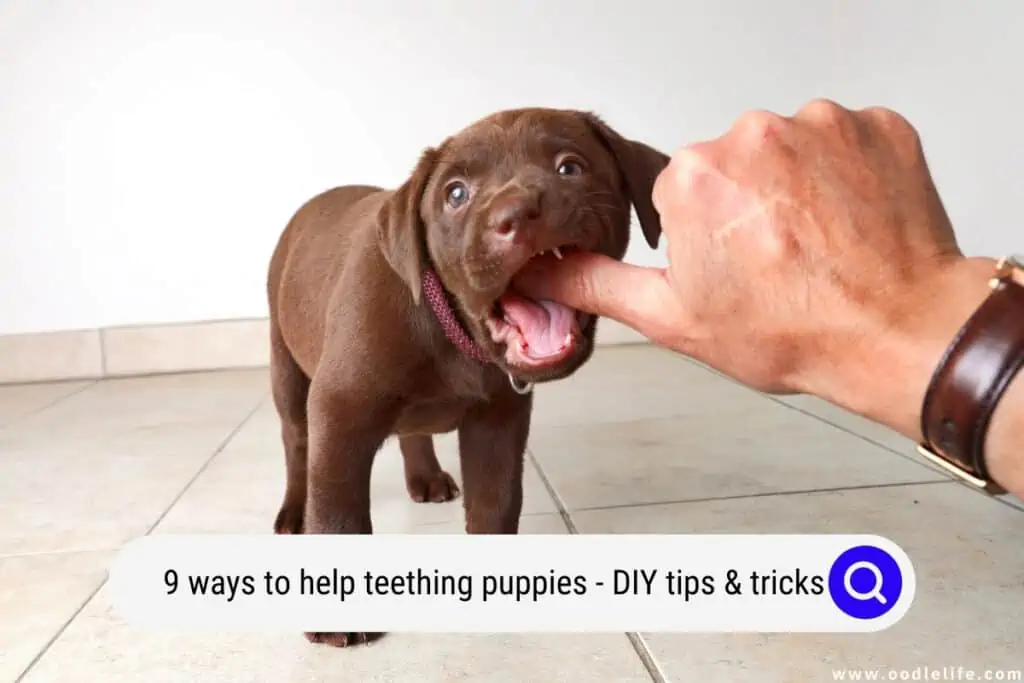 Luckily, we have some tried and true steps you can take to help your new furry friend during their teething phase. Read on for some helpful tips, including suggestions for homemade teething toys for puppies!
Educate Yourself on Teething
Before you can adequately help your pup through teething, you need to understand it for yourself. Puppies go through three stages of teething. The first stage is the development of their milk teeth, the second is the process of losing those teeth, and the final stage is the growth of their adult teeth.
Puppies begin to grow their milk teeth within just a couple of weeks of being born, and their adult teeth will be coming in by the time they are six months old. Each stage deals with varying pain levels, but there are ways to recognize when and how much pain your pup is experiencing.
Keep an eye out for whining, bloody gums, changes in eating, or abnormal drooling, as these are signs of teething and could indicate that your pup is in pain. Once you notice any of these signs or your pup is right around that age, it's time to get plenty of teething toys in the house.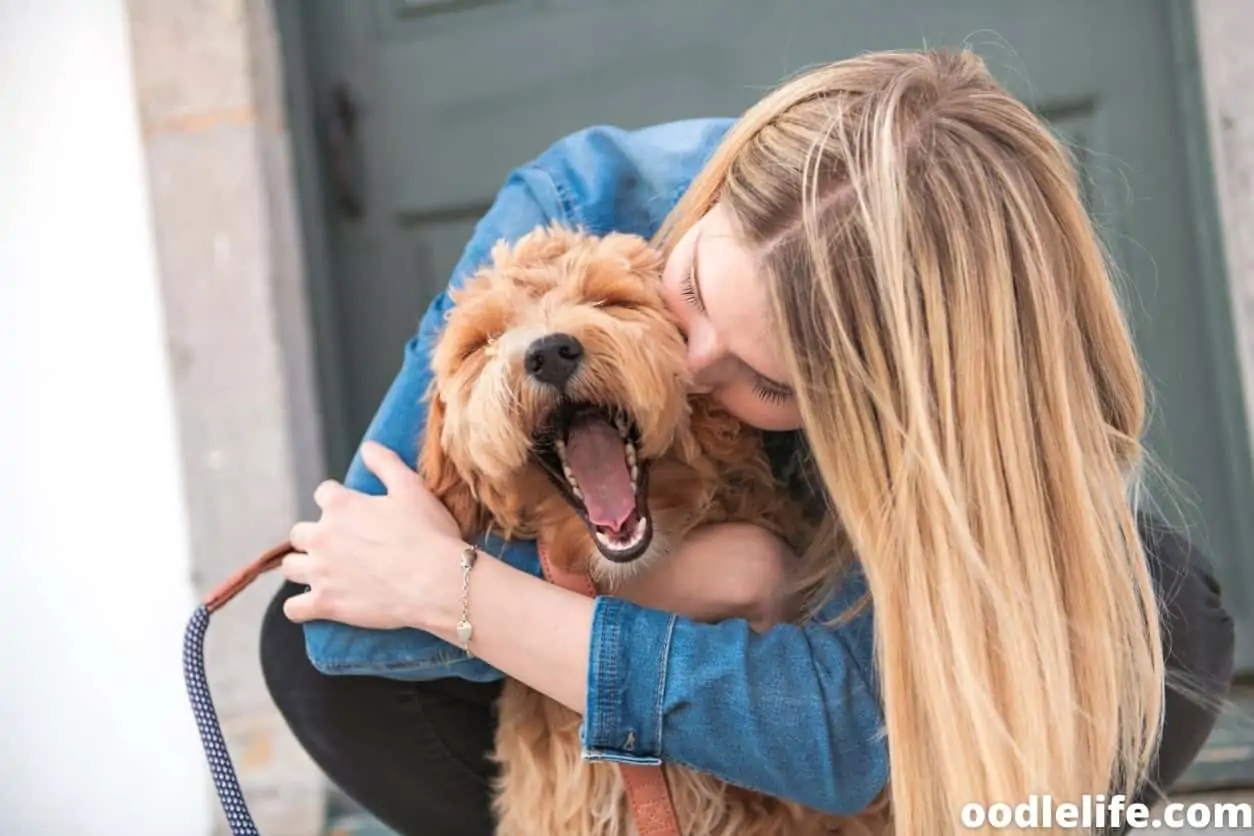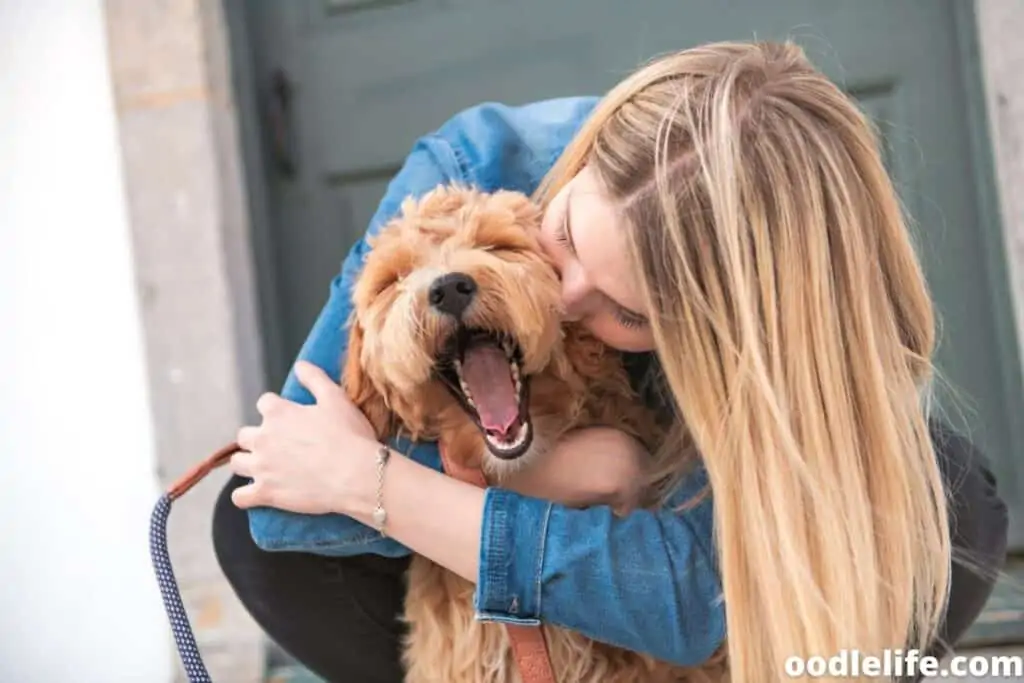 Find the Right Teething Toys
Depending on the size and age of your dog, you want to get the best teething toys for their teeth. Just as not all dogs are different, not all teething toys are the same. A young puppy may enjoy a soft stuffed animal as it adapts to being away from its mother.
Puppies tend to find the softness of a stuffed animal comfortable for mouthing and sucking with their new baby teeth. A stuffed animal is great for puppies of all ages and sizes, especially when their teeth are small or falling out.
As your puppy gets bigger, it can move on to bigger and stronger teething toys. A top choice among many dog lovers is the ZNOKA Cooling Teether Chew Toy. This toy is an organic, durable rubber ring filled with purified water that slowly comes out as your dog chews to keep it hydrated.
ZNOKA Pet Products Arctic Freeze Fetch Food Cooling Teether Upgraded Chew Toy
Frozen dog teething toys: Upgraded designed to be frozen, to keep your dog cool, as well as freezable for long lasting refreshment. Thicken ring design makes it more durable for dog chewing.
Safe&non-toxic: Made with non-toxic material. Thicken ring design makes it more durable for dog chewing. Healthy growth of dogs bones.
Release dog's sense of separation anxiety: Freezable stress relief toy, control and reduce dog's destructive behavior. By encouraging healthy play and satisfying instinctual needs, this toy helps...
Fit with treats: Put in the snacks that the dog likes, which can improve its interests and hold your dog's favorite treats. Dispenses food and treats for hours of fun.
New upgraded dog teething ring: Perfect for teething dogs, meanwhile, helps clean your dog's teeth. Great for indoors or outdoors, durable and safe dog toys.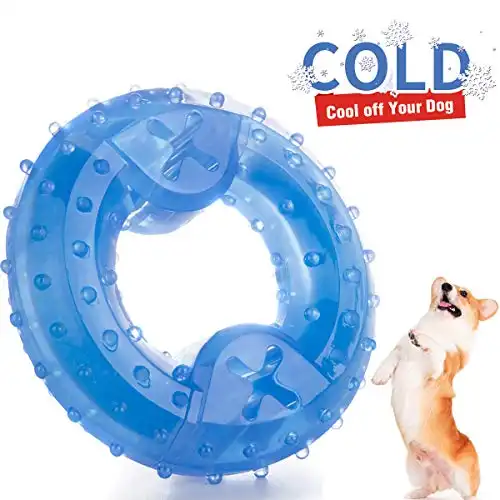 We earn a commission if you make a purchase, at no additional cost to you.
You can also choose to freeze the toy, giving the dog extra relief and playtime.
Another option is the Nylabone Chew Freezer Dog Bone, which has a unique shape that makes it great for playing fetch and chewing. Toys with cooling effects provide soothing relief each day without worrying about your dog tearing them apart.
Nylabone Puppy Chew Freezer Dog Bone Puppy Peanut Butter Small/Regular (1 Count)
FOR TEETHING PUPPIES - made with soft, durable material designed specifically for teething puppies who have not formed any adult teeth
GREAT FOR DENTAL HYGIENE - textured dog bone features soft bristles to help soothe gums and satisfy your puppy's natural urge to chew
FUN & OCCUPYING – soak and freeze the whole bone and cloth of this interactive dog toy for a cool texture with added teething relief
DELICIOUS FLAVOUR THROUGHOUT - these chew toys have a delicious flavour throughout, meaning the flavour goes on for as long as the chew does, they are not sprayed, dipped or coated in any way so there...
FOR SMALL PUPPIES – intended for small puppies up to 11 kg, with no adult teeth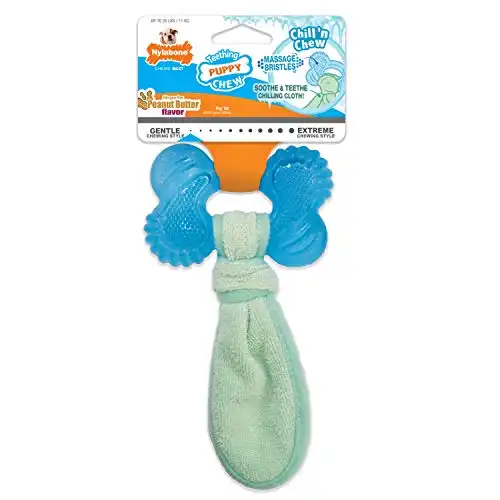 We earn a commission if you make a purchase, at no additional cost to you.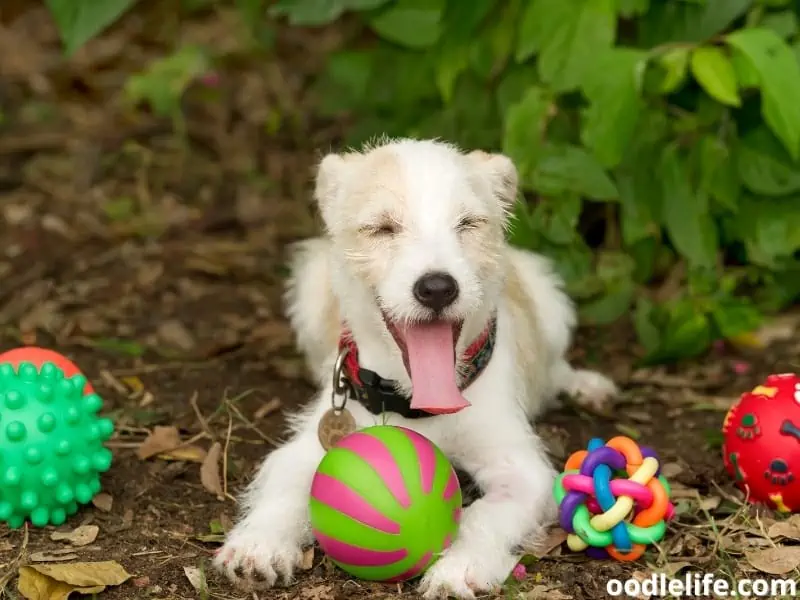 DIY Teething Toys and Treats
The cost of a new dog can start to add up, so you may be looking for ways to save money. Luckily, if you're looking for homemade teething toys for puppies, you can easily make teething toys at home. Making your own teething toys not only saves you money but can be fun, too.
Below are some homemade teething toys for puppies that can soothe your dog's gums better than the average chew toy.
Ice Pop
One tasty teething treat is an ice pop. This treat takes dog-friendly fruit (bananas, strawberries, blueberries, or peaches), a teaspoon of yogurt, peanut butter, and an ice tray. Simply muddle the fruit, add the yogurt and peanut butter, and pour the mixture into an ice tray, freezing it overnight.
Your dog will love how delicious these are!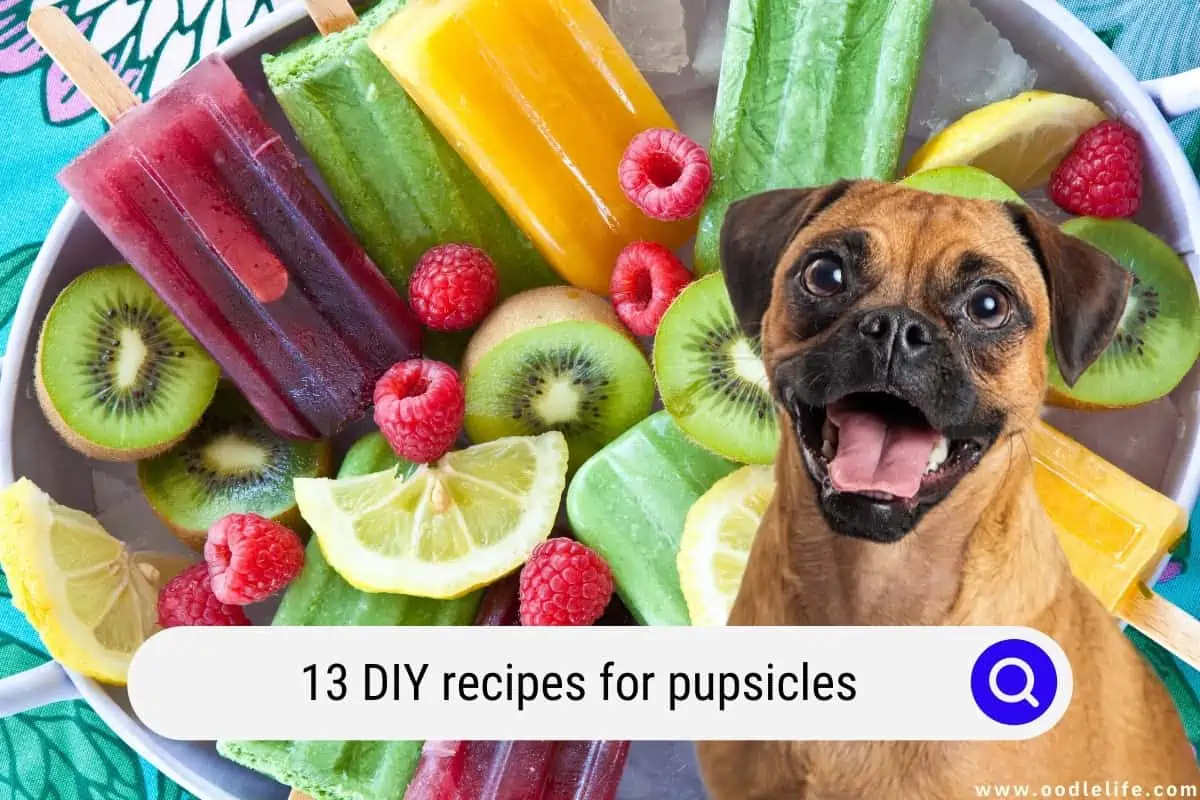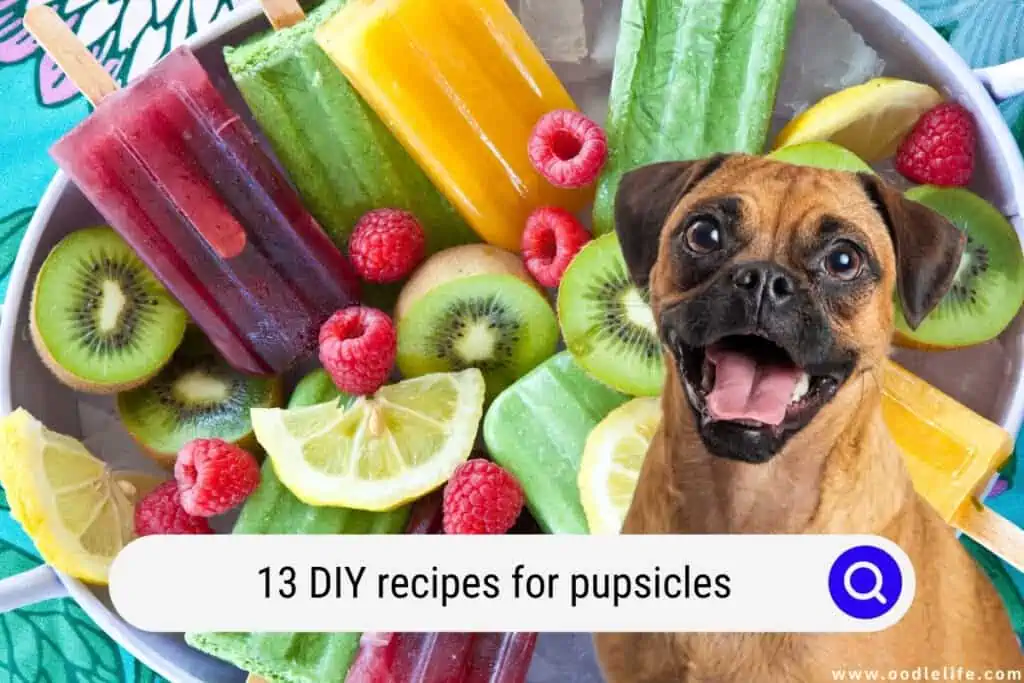 Twisted Dish or Tea Towel
An easy teething toy that anyone can make at home is a twisted dish or tea towel. Take an old, thin towel and soak it in a chicken or bone broth. Then stick it in the freezer overnight so the next morning your puppy will have a tasty toy to chew.
Some DIY teething toys also double as treats, keeping your dog entertained, soothing their inflamed gums, and satisfying their cravings!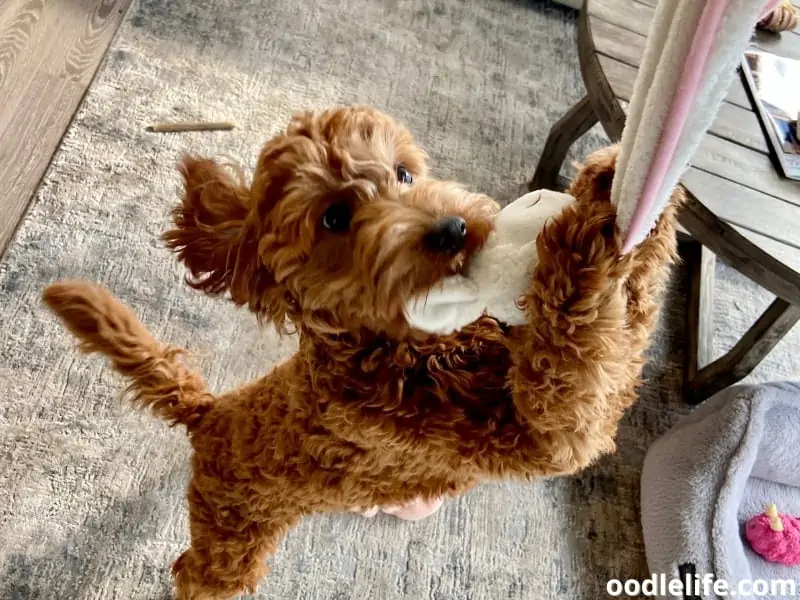 Healthy Teething and Eating
High-quality ingredients are a must for healthy teeth and a happy puppy. Best Bully Sticks has a ton of organic, hardy options your pet will love. Their top-rated items include 6-inch Bully Sticks and Pig Ears, each easily digestible and great for cleaning teeth.
When picking out teething treats, look for long-lasting and fully digestible ingredients that are low in fat and high in protein. If you notice your pup is in pain when eating their meals, you can mix some wet food with their dry food to help soften it. Ask your vet what food may be best for their diet.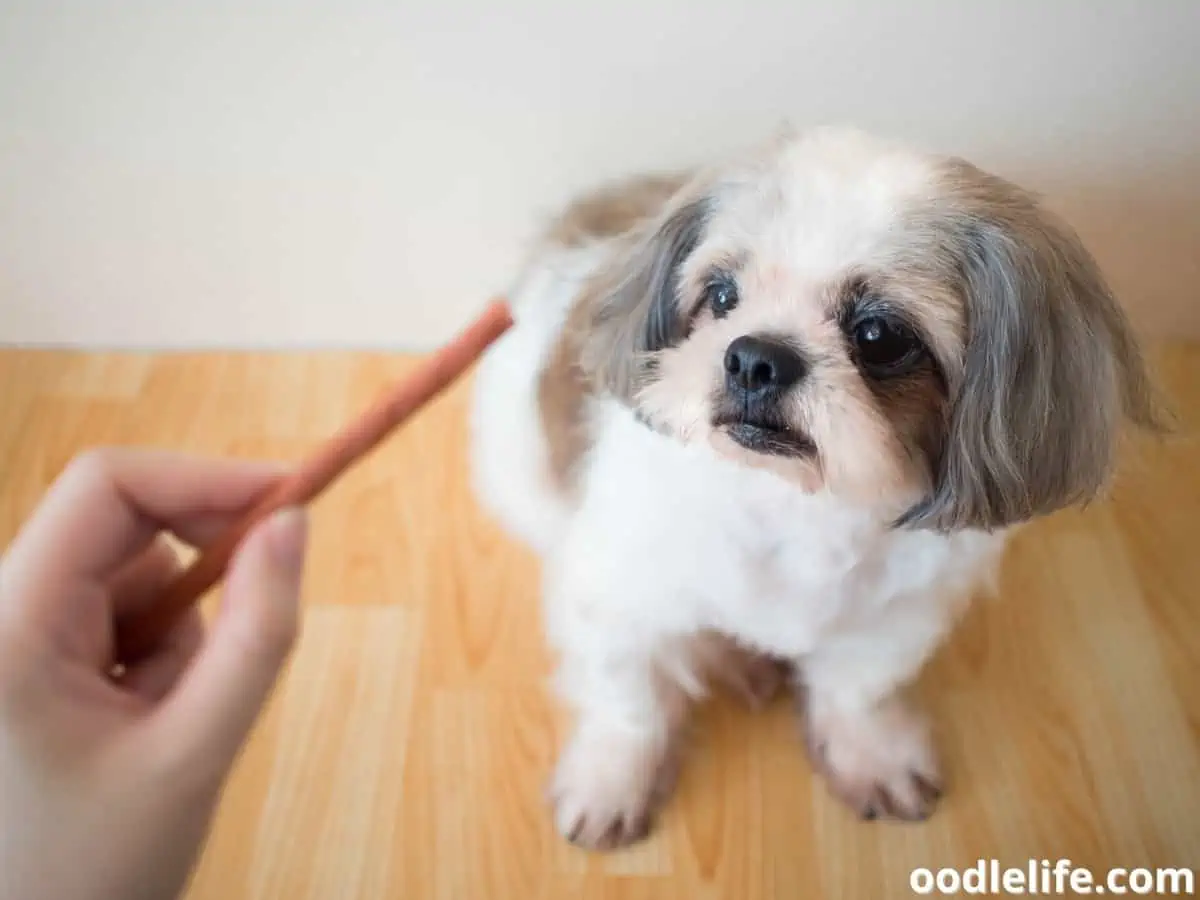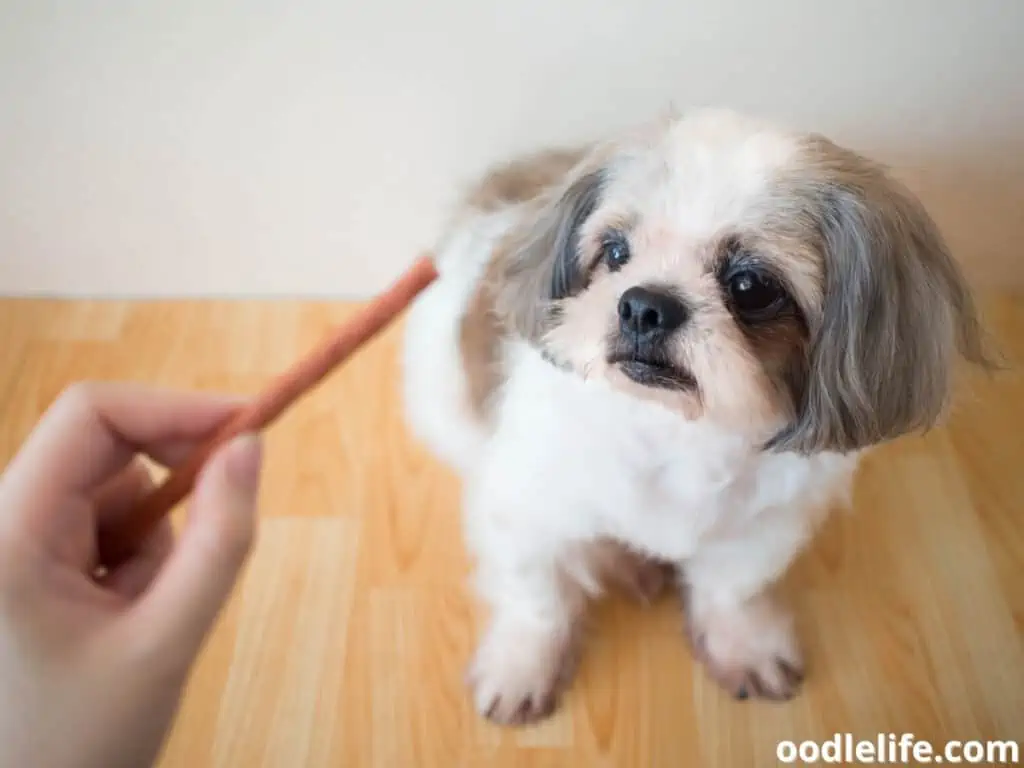 Develop a Teeth-Cleaning Routine
Starting a good cleaning routine early in a dog's life has a variety of benefits, especially when it comes to teething. In fact, by the time they turn two years old, 80% of dogs show signs of gum disease.
Puppy-friendly brushes can be used to clean your dog's teeth a few times a week, and they're carefully made with the comfort of your pet in mind. You can also utilize teeth-cleaning treats to prevent the build-up of plaque in between brushes. This is a great routine for a dog at any age, helping prevent gum disease, bad breath, and tooth loss.
Once plaque forms on a dog's teeth, it requires a vet visit to get them properly cleaned, so it's best to start early. This allows your dog to have happy and healthy gums, minimizing any discomfort teething may cause.
Supervise Playtime
When a puppy starts teething, it will be on the hunt for anything it can get its paws on. This is why it is crucial to make sure you are always supervising or playing with your puppy when they need to get their energy out.
Even if they are chewing on an old shoe that you don't care about, you should take it away, so your puppy knows early on that shoes are not for chewing. The same goes for other items in your home. Not only is this important for them to learn what is and isn't okay to gnaw on, but it also ensures they don't consume anything that would be unsafe or harmful to their stomach.
Additionally, even if they are playing with a chew toy or teething toy, you should always keep an eye out just in case the toy is too much for your puppy's young teeth. You want to make sure there's no chance of your pup getting hurt while they're carried away chewing!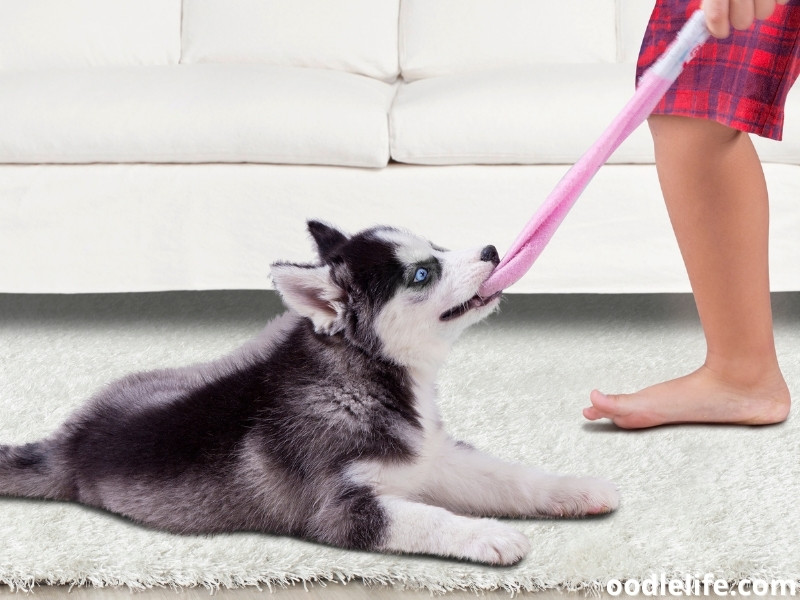 Check Toys Frequently
Not all teething toys are made the same. Be sure to frequently check on your pup's toys after they have been chewing on them to ensure there are no missing pieces, loose plastic, or hazardous parts that they could choke on. A high-quality, durable teething toy will be able to withstand lots of playtimes.
Once you see signs that the toy's life has come to an end, be sure to get a replacement to keep your pup safe. The more your dog loves a toy, the more they chew on it, and over time, the less relief that toy can provide for their teeth and gums. Consider having a couple of each toy so that your dog never misses out!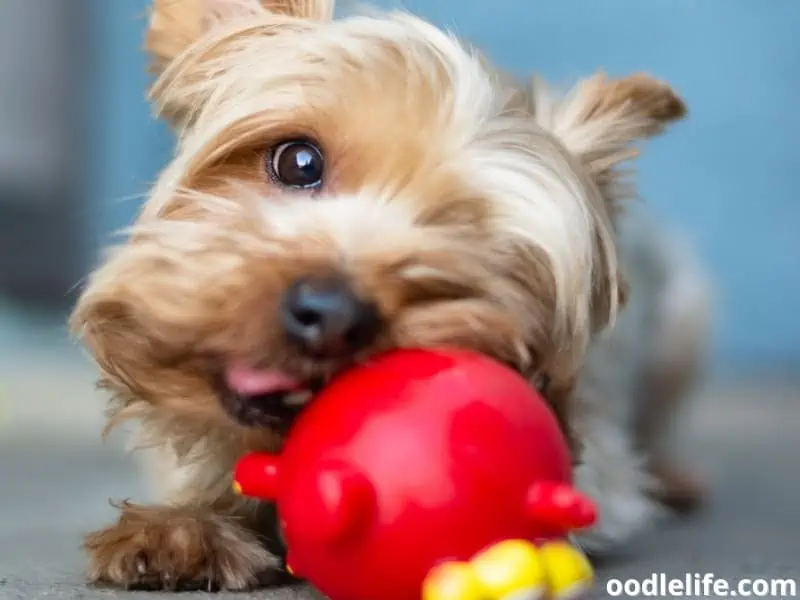 Redirect Biting
It's normal for puppies to nip at you or even other dogs, especially when they're teething. As they look for relief and ways to spend their energy, it's important to discourage this behavior. Try visibly showing your puppy they hurt you by shouting "ouch" and removing your hand.
Then, show them one of their teething toys instead.
If your puppy successfully redirects their biting to a toy, reward them with a treat. Over time, this will teach them to always go straight to their toys, rather than their friends, as they will get more relief from the teething toy and maybe even another treat from you!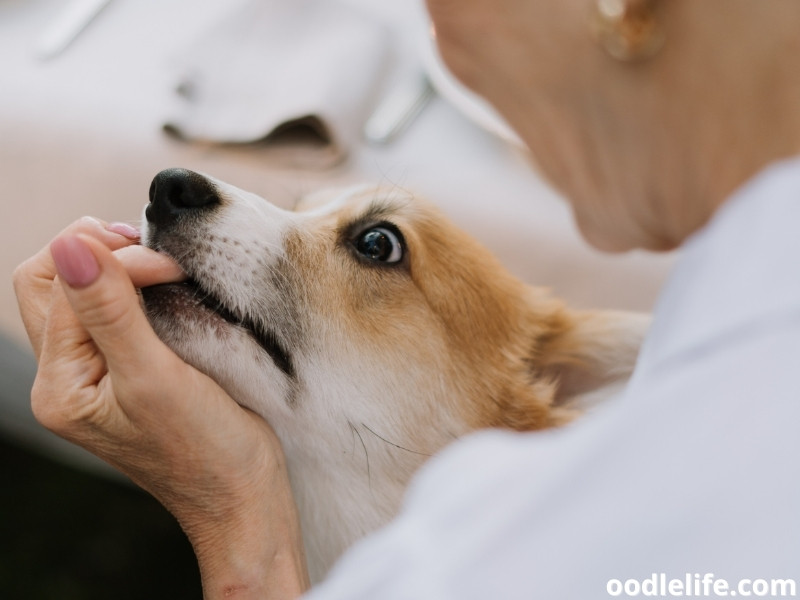 Talk to Your Vet
The best way to ensure you are getting the best toys, treats, and care for your pup, teething or not, is to talk to your vet! Your vet can help you figure out exactly what works best for your puppy, as well as let you know their opinion on the best toys and treats around.
Talking to your vet also allows you to have peace of mind about your pup's teething health and whether or not they may need additional support to be comfortable in this process.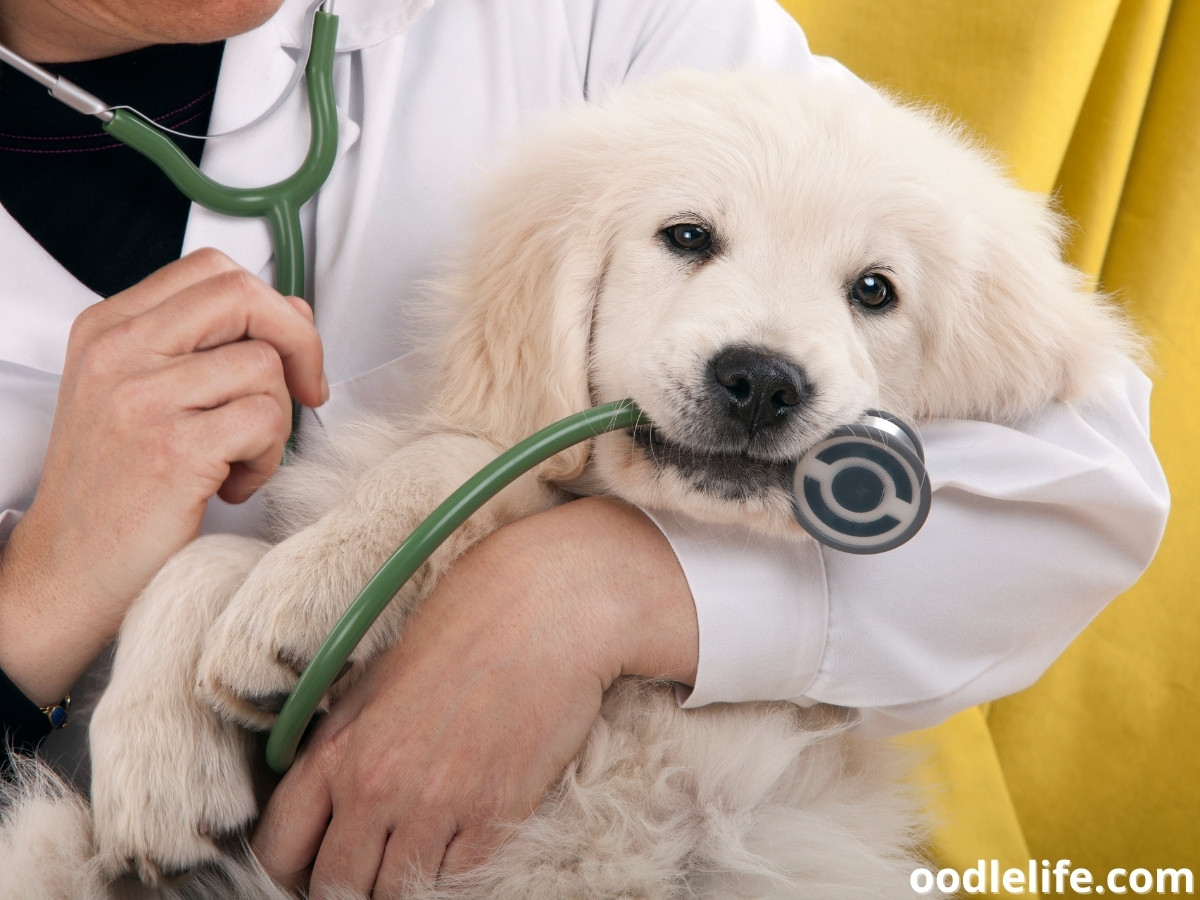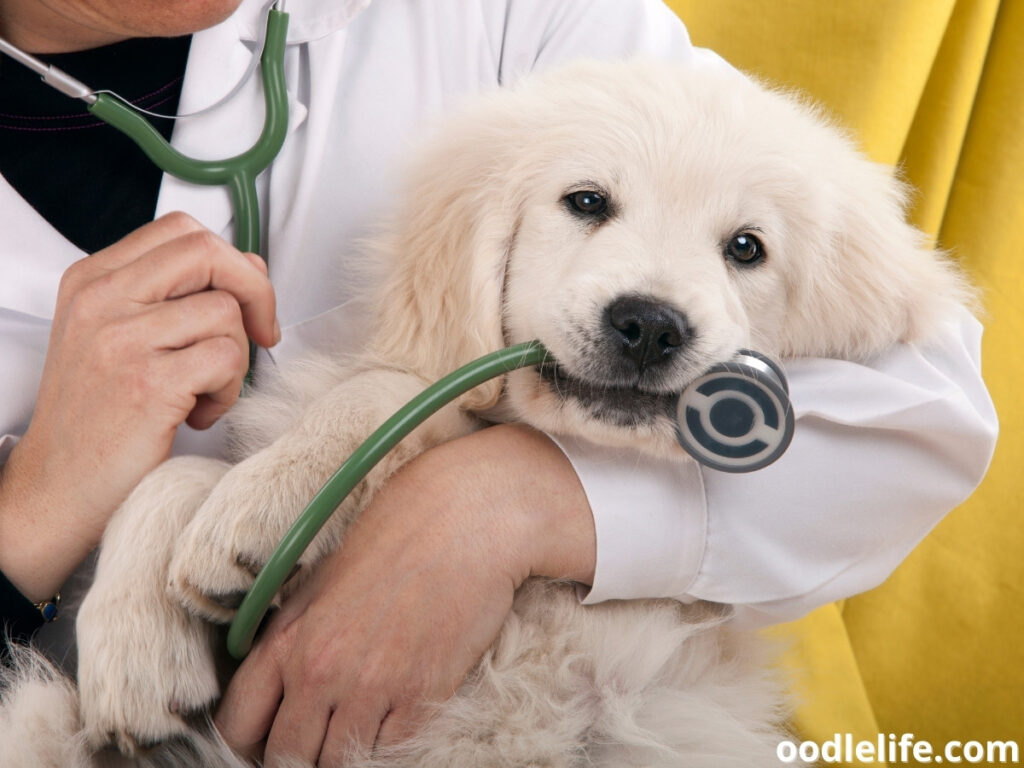 Final Thoughts
There are plenty of toys for your puppy while they are going through teething. You can also make some homemade teething toys for puppies if you're looking to save money.
All in all, raising a puppy is a joyful experience, even if it can get a bit hectic at times. Just make sure to provide them with plenty of options, and to be patient and loving as your puppy learns how to use its new teeth!