Where to Buy a Goldendoodle (Best Advice)
If you've clicked this article, then chances are you've decided to add a Goldendoodle to your family. Congratulations! We love these playful, intelligent, yet even-keeled dogs who are known to make wonderful family pets. So, great choice!
Your next step will be to choose the right place to acquire the new addition to your family. Your options are many, and your choice will come down to what's most convenient and right for your family.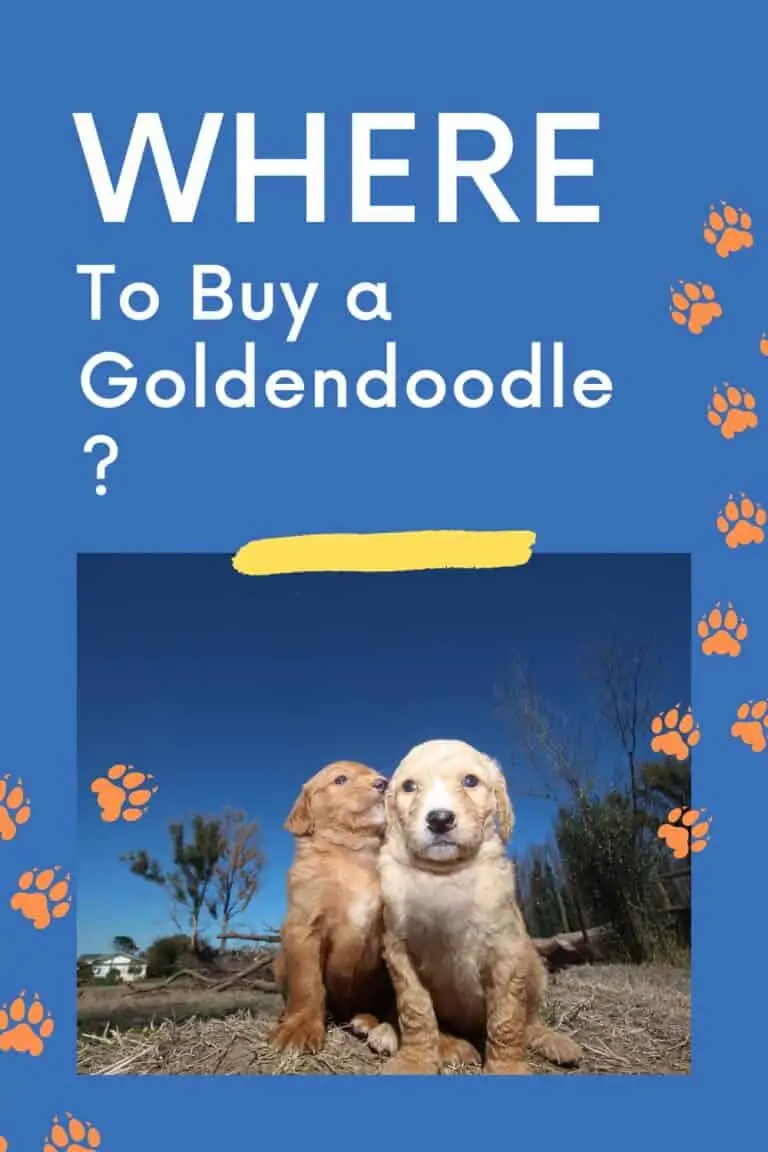 To help you sift through the options for where to buy a Goldendoodle, we'll discuss the pros and cons of each of the most common ways to buy or adopt. We'll also share more about what each one entails so that you can make an informed decision that you'll be happy with for years to come.
Different Approaches to Buying a Goldendoodle
Adding a new member to your family isn't something to take lightly. Most likely, you've already brainstormed about your ideal scenario for finding a Goldendoodle.
The most popular ways to get a Goldendoodle puppy are through a breeder or an adoption organization. However, even within those two choices, there are multiple ways to approach finding your new furry friend.
Breeders
Families who are looking to bring a puppy into their home usually utilize a breeder. With a breeder, you're often able to obtain a lot of detailed information about your new dog. The pedigree and temperament of its parents, its family history of illness, and other facts can help you understand and care for your new pet well.
However, not all breeders are equal. There are a few different types, and there can be good and bad apples in each.
Certified Breeders
If you are looking to purchase from a breeder, then a certified breeder is often a great place to look. Because certified dog breeders must participate in audits for Canine Care Certification and take courses on best practices, certified breeders are generally a safe place to purchase a healthy and humanely bred pup.
However, many prospective dog parents pay more attention to the certification of their potential pup's parents than to that of the breeder. We would recommend choosing a trustworthy and certified breeder to ensure that you have a great experience.
Especially for those choosing to buy a Goldendoodle pup as first-time pet parents, there are several essential things to consider about a breeder before making your decision.
Questions about the health of the dog's parents, vaccination and deworming practices, and socialization efforts should be at the top of your list when corresponding with a breeder with which you'd like to work. Consider these questions and more when making your final choice of certified breeder.
If you're unsure of where to start in your search for a good breeder in your vicinity, GoodDog.com is a perfect place to begin. Because the organization pre-screens breeders nationwide for responsible practices, including consideration for the dogs' physical and mental health and buyer education policies, you can trust the site to help you find a reputable breeder.
Amateur Breeders
Some people, however, can still feel uncomfortable working with an organization with which they're not familiar. Purchasing a family pet can be a costly process, and you want to make sure you're investing well and getting what you pay for. See our detailed breakdown of how much a Goldendoodle costs over the first year.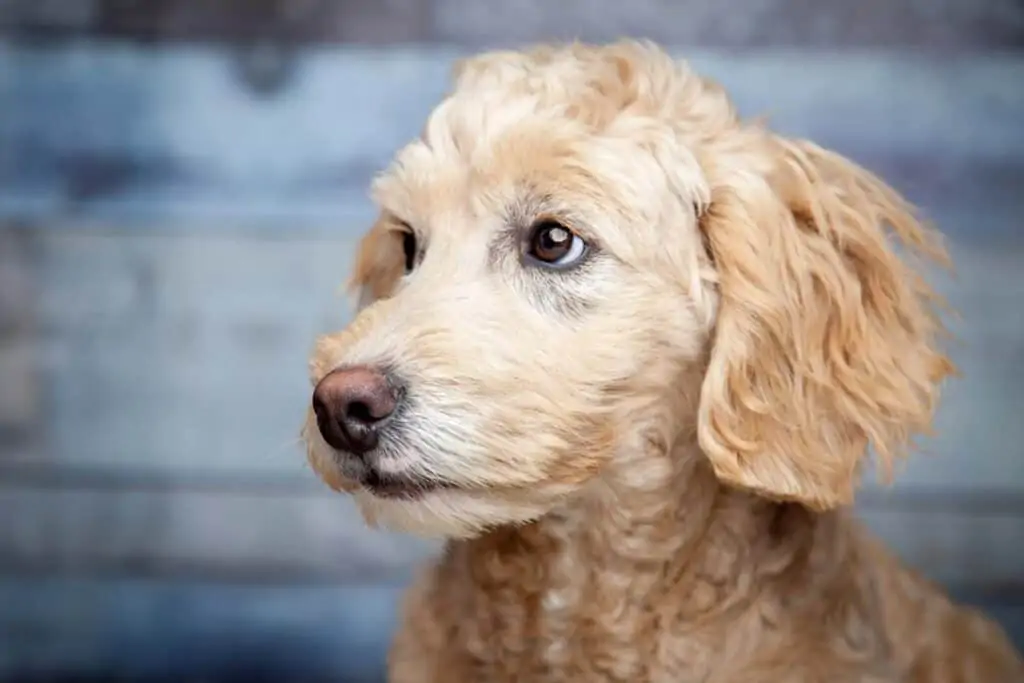 For those who would rather work with someone they know or want an option closer to home, an amateur or "backyard" breeder may be a better fit. While an amateur breeder may offer added convenience, you will have to be much more vigilant in vetting them for yourself.
In a best-case scenario, the perfect amateur breeder would be an already-close family friend or neighbor whose practices you are well-familiar with and who you know can be trusted. If you're not in that scenario, then you might have to work a little harder to find a reputable backyard breeder.
In particular, it's important to watch out for breeders who advertise on Facebook or Craigslist. These sorts of encounters can often be a scam, leaving you out several hundred dollars with nothing to show for it.
Of course, not all Facebook advertising breeders are looking to trap you. You can do several things to make sure the posts you are seeing aren't fraudulent, such as making sure the pictures used are not stock photos and never paying for a puppy before you see it in person.
Furthermore, to make sure that the backyard breeder you're considering employs ethical breeding practices, make sure to test their knowledge of the breed, check the breeder's references, and visit their home if you can. 
Ensuring that the breeder's dogs are treated humanely and not only as business investments will go a long way to ensuring your furry friend is healthy and well-adjusted.
Adoption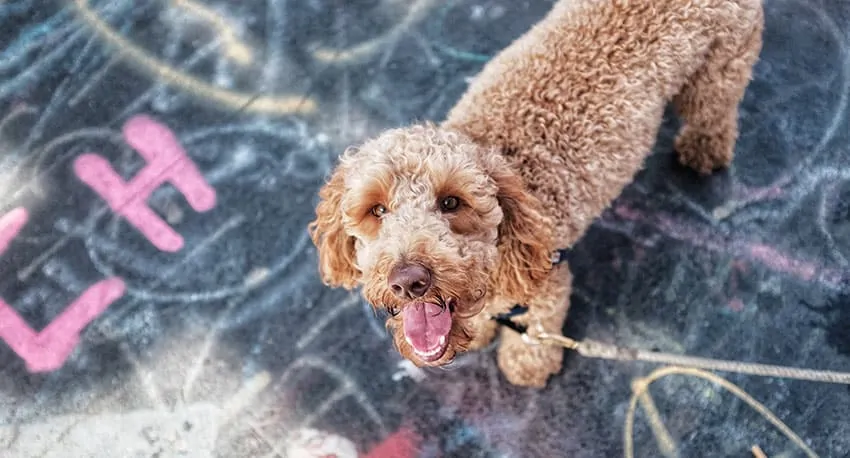 Unfortunately, there are so many unwanted and discarded dogs who need a second chance at a loving family. Fortunately, this is where you can come in! We recommend continuously checking shelters and adoption organizations before deciding to utilize a breeder.
The main reason that families often choose a breeder as where to buy a Goldendoodle dog is that they'd prefer to have a perfect puppy instead of an adult dog. This is a valid desire for families with children or with plenty of extra time to spend raising a dog.
It's very satisfying to bring a new puppy into your family, train it, watch it grow up, and know that you will be its lifelong family. However, puppies are often available to adopt if you look in the right places!
Local Humane Societies and Shelters
Regardless of where you live, you likely have a Humane Society or shelter in your local area. If you are close enough, you can visit to see what kind of dogs are available.
Indeed, puppies don't last as long at a kennel or shelters because they're usually in high demand. However, browsing the shelter's website can help you see dogs as soon as they are available and ensure that if there is a Goldendoodle you're interested in, you are at the front of the line to adopt it.
Shelters are also very meticulous about health standards, so you can be sure that your new friend is vaccinated when adopting. Pets are also often microchipped and spayed or neutered if not already. As an added plus, adoption is often far less expensive than purchasing from a breeder.
If you are open to adopting an adult dog, shelters are a perfect place to begin your search. You can never be certain of what kind of dogs will be abandoned or given up at no fault of their own. Browsing your local shelter's website could help you find a wonderful Goldendoodle who needs a fur-ever home!
Adoption Organizations
If you're struggling to find a Goldendoodle at your local humane society, then don't give up on adoption just yet. Designer dogs, like puppies, are in high demand and move through shelters quickly.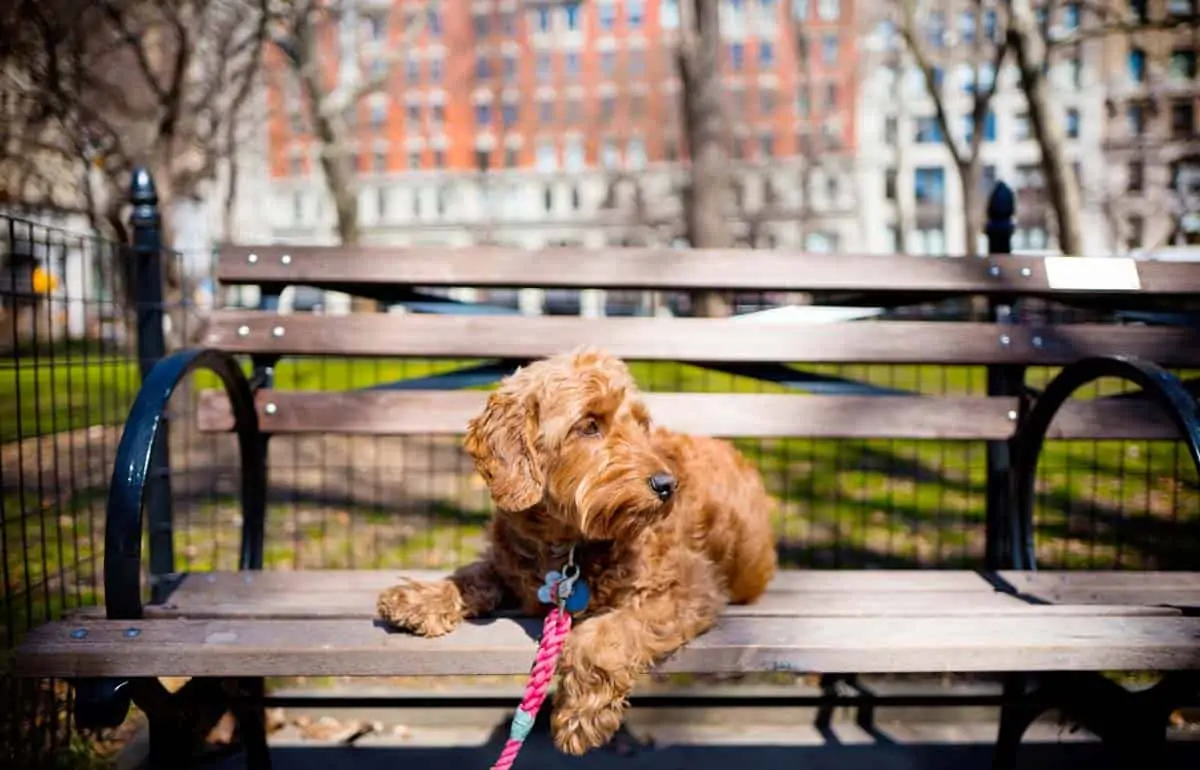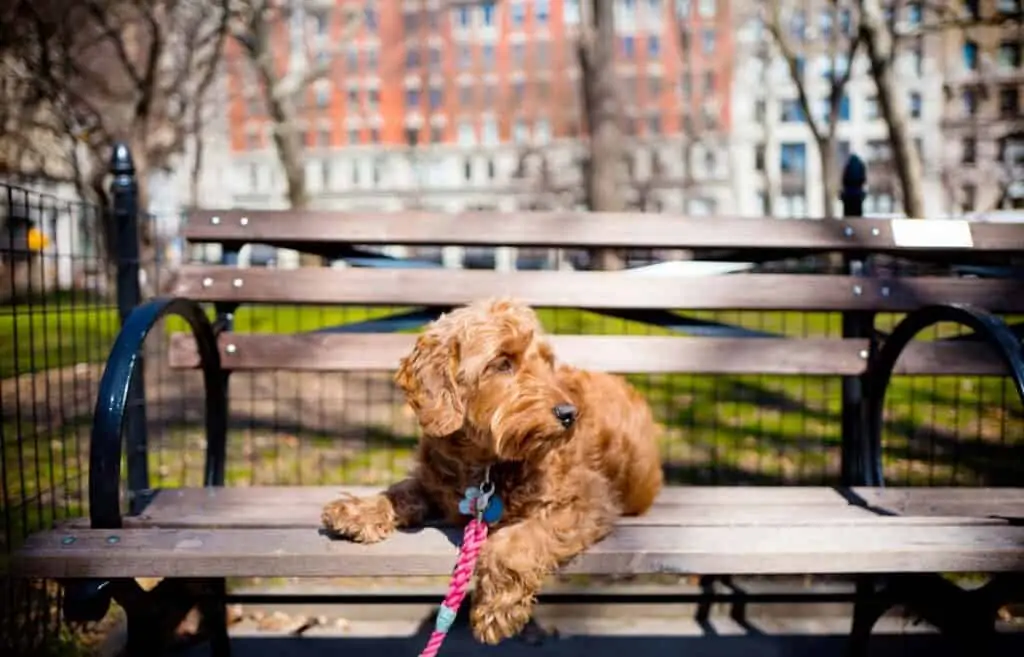 However, many breed-specific rescue groups can make your search for where to buy a Goldendoodle much easier! These groups specialize in re-homing specific breeds. Because of this, they are often run by breed enthusiasts who are knowledgeable and experienced at not only working with Goldendoodles but helping you find one with the right temperament to fit your family.
Another bonus is that many breed-specific rescue groups, because of their specificity, employ a vast network of volunteers to make transportation easier. If you are not in the vicinity of the rescue itself, transportation options are often available.
There are Cockapoo rescues and Maltipoo rescues scattered across the USA. Most other countries have Poodle mix rescues.
Make sure to ask upfront or research transport, specifically if the rescue is not in your local area. Even if you are willing to travel to collect your new furry friend, some rescues might have rules about the radius in which they are willing to adopt out. So become familiar with the rescue's website to learn about all of their policies beforehand.
If you're still unable to find your new furry friend through a breed-specific rescue, then don't despair! There are also website databases designed to help you search across multiple rescues and shelters for precisely the kind of dog you want.
PetFinder.com is a decent resource that allows you to search by mile radius, dog breed, and gender, specific rescue organization, or even by dog name! This is the perfect resource if you feel overwhelmed at the prospect of searching out a specific rescue. When you use PetFinder, you'll get pages of results that all fit your criteria.
You will always have the issue of not knowing the parent dogs, so there is risk of temperament issues, or hereditary health problems like hip dysplasia. But you are saving a life and most resuces are fanatical about protecting and ensuring a healthy puppy.
Final Thoughts
Adding a Goldendoodle to your family is a great choice that you are sure to be happy with for years to come! Where you get your new furry friend will determine a lot about your dog's health and happiness, so it's not a decision to be taken lightly.
When deciding where to buy a Goldendoodle, always check your local shelters and rescues first. There are so many dogs waiting for a second chance at a fur-ever home who can bring you a lifetime of joy and fulfillment.
If you decide to go with a breeder, make sure to vet them and examine their credentials thoroughly. We recommend never purchasing from a pet store or a puppy mill, even though these may sometimes masquerade as backyard breeders.
Doing your pet owner homework beforehand, whether you choose to adopt or buy, will ensure that you end up with a happy, well-adjusted Goldendoodle who will be a perfect fit for your family. (And don't forget to pick a great dog name!)