Best Bed for Maltipoo [8 Top Choices]
Even the most active Maltipoo loves to take a nap once in a while. Give your Maltipoo the rock star treatment buy choosing the best bed for Maltipoo dogs.
Choosing the most durable and comfiest bed for your Maltipoo puppy is essential. We have put together and reviewed our eight favorite Maltipoo dog beds.
Finding the best dog bed for your Maltipoo can be a challenging endeavor, as there are so many to choose from. However, it is critical for your dog's well-being that you make the right choice.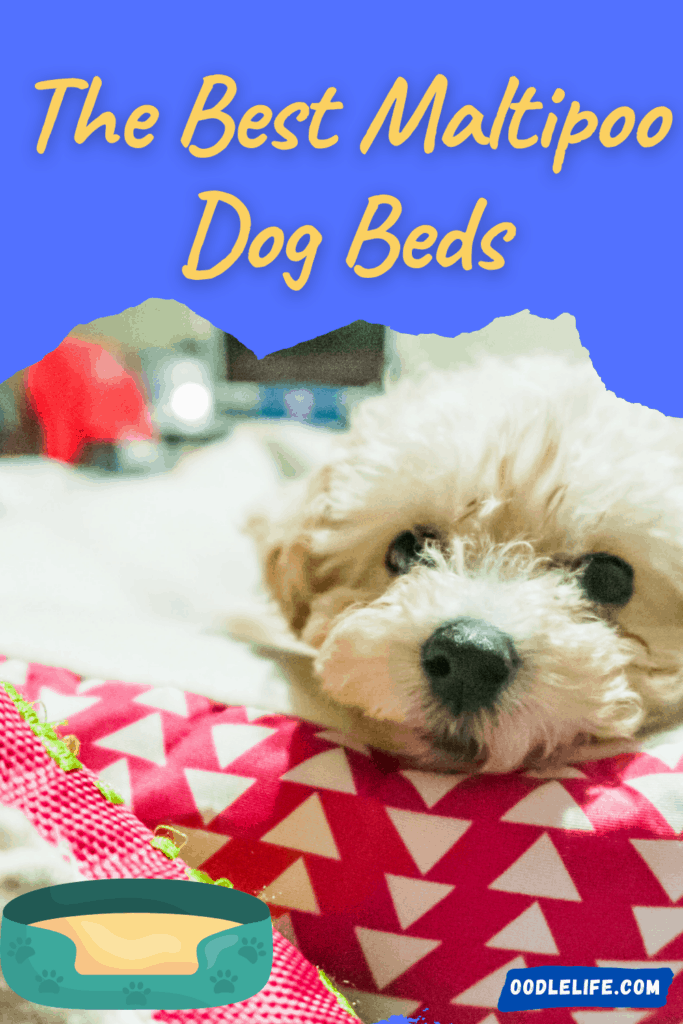 (Spoiler alert – Our all-around favorite bed available for Maltipoos is the Animals Favorite Retractable Pet Bed)
Like most pet parents, you only want the very best for your little furry friend. Therefore, it is crucial to choose a bed that puts their comfort, health, and happiness first.
This post will dive into the many different aspects of the dog beds we've reviewed and what makes them a good choice. Our goal is to provide you with enough information to confidently choose a bed that will fit your Maltipoo's lifestyle.
We'll be covering our eight favorite options available. We will carefully explain their main features and what makes them a good choice.
Our all-around favorite bed available for Maltipoos is the Animals Favorite Retractable Pet Bed. This bed puts your dog's comfort first, curated from the softest materials available. It is well-built, easy to clean, and supports all your dog's joints for a healthy and happy lifestyle.
We were most impressed with this option's choice of materials, as they are top-of-the-line quality. The cover of the bed is crafted from soft and soothing polyester. The outside is made from an unbelievably soft fabric that is both safe and easy to clean.
We especially like the bed's overall design, as it has raised rims on three sides, allowing for your pup to rest their head comfortably. The bed's raised sides help your Maltipoo feel secure and ensure they are comfortable, no matter where you place the bed.
The bed base also has non-slick materials underneath, great for when your energetic pup jumps into it to take a nap after a day of activity.
It's no mystery why this is one of our favorite dog beds on the market today, as it is safe, promotes healthy rest, and is extremely comfortable. If you are looking for the overall perfect bed for your Maltipoo, this is certainly worth a look.
This bed is one of the most calming on the market. This donut-shaped bed is made of luxurious materials and puts your dog's comfort at its forefront. This is our choice for the most calming bed due to its spot in the center that allows your Maltipoo to burrow down and feel safe and secure. This feature actively promotes sleep and is one of the best features, in our opinion. 
This bed is especially recommended for puppies, as it helps them feel calm and promotes the sleep they need to become healthy adults. Washing this bed is also a breeze, as it is machine-washable.
If your Maltipoo pup is anxious and has difficulty settling down (or barking), we can confidently recommend this bed to you and your pup. It is exceptionally ergonomic and designed to help your dog receive the restful sleep they need to remain healthy and happy. 
Sale
The Dog's Bed Sound Sleep Donut Dog Bed, Med Silver Grey Plush Removable Cover Calming Nest Bed
Medium Silver Grey plush 30 inch diameter round deluxe plush dog bed. Premium 1.5 inch vegan fur contours into a deep & luxurious comforter for your cherished best friend as well as a charming room accessory, injecting style into your lounge or bedroom interior
Ideal puppy receiver bed - welcome your puppy home with luxurious vegan fur which replicates the warmth of mum's fur & of being in a puppy pile, easing the transition to a new home. Unsurpassed comfort due to unique dual-layer base mattress cushion design - the top layer forms around your dog's body, while the solid base pad supports your dog's weight. Generously filled bolsters surround your dog making them feel secure while providing a comfortable headrest
Satisfies the nesting instinct of dogs who tend to curl up when they sleep - high sides & long vegan fur pile hugs your dog's body, reducing feelings of vulnerability & anxiety by inducing a sense of security & serenity. Improved sleep - soft texture, self-warming materials & superior body support reduces night pacing associated with anxiety, discomfort & cold
Bed can be used for years - it comes with stylish, removable covers that are easy to wash & are quick-drying. Replacement covers can be purchased separately for a fraction of the cost of replacing the whole bed
Produced by global experts in sleep-solutions for dogs & who have been featured in publications such as The Sun, the largest newspaper in the UK, & in Buzzfeed in the US for excellence. Covered by a 1-year limited warranty for manufacturing defects. Customer Support available for the life of your dog's bed
This stunning bed is great for pet parents who want to provide their Maltipoo with maximum comfort and add a splash of style as well. It will make your designer dog feel like a… designer dog! We enjoyed the unique color combination of this bed; it is decorated in stunning dark blue with red stitching.
They designed the bed to provide comfort for dogs with chronic joint pain, arthritis, and other chronic conditions. Because of the immense support this bed provides, your dog will be able to remain active throughout their senior years.
The Dog's Bed Orthopedic Memory Foam Dog Bed, Small Blue/Red 28x19, Pain Relief for Arthritis, Hip & Elbow Dysplasia, Post Surgery, Lameness, Supportive, Calming, Waterproof Washable Cover
Small Dark Blue with Red Trim (Easy Clean Cover) 28x19x4" waterproof orthopedic dog bed. Solid 2" high density, orthopedic memory foam over a solid 2" base of high stability support foam with covers designed so that your bed fits your home decor seamlessly and your dog can stay close to your family
A prudent preventative measure for younger dogs of breeds predisposed to joint conditions, ensuring your dog's joints remain mobile into their senior years, improving their quality of life and keeping your dog healthy and active for longer
Therapeutic bed designed to provide relief and comfort to tripawds, dogs with joint conditions such as hip and elbow dysplasia, arthritis, patella luxation, osteochondritis and other conditions such as torn cruciate ligaments so they can get the rest they need. Prevents elbow calluses as well as pressure sores due to immobility during illness or post-surgery
The Dog's Bed Orthopedic was designed to keep your best friend's joints young for longer. The Dog's Bed Orthopedic is proven to restore the mobility and vitality of dogs, as well as helping them to sleep more soundly
Bed comes with removable covers that are easy to wash, quick-drying and include a waterproof mattress protector to catch accidents associated with incontinence
The therapeutic support this bed provides is especially prominent for younger dogs, as it will give them the support they need to grow into a healthy and thriving adult. The sheer comfort and security this bed provide for improved sleep and overall wellness.
The Furhaven Pet-Round orthopedic dog bed is ingeniously designed with an attached blanket to keep your Maltipoo warm and cozy. Its round donut shape provides dogs with an improved sense of security, which promotes healthier sleep.
A bolster in the center of the bed provides support and allows dogs to chase their natural burrowing instinct. What separates this bed from others we've reviewed is the ultra-soft sleep surface, provided by a faux fur sleep surface. This allows your Maltipoo to experience the best possible comfort each time they take a nap. Perfect for the older dog.
Furhaven Pet Bed for Dogs and Cats - Plush Velvet Waves Round Deep Dish Cushion Donut Dog Bed with Attached Blanket, Dark Gray, Small
DESIGNED FOR PETS: The pet bed comes with an attached blanket hood and a bolstered donut shape that promotes comfort and security, providing a super cozy and insulating burrowing nest for dogs and cats
SLEEP SURFACE: The interior sleep surface is lined with plush 'wave' faux fur, while the exterior features cuddly soft velvety fabric; both materials are gentle on noses and paws for enhanced snuggling and burrowing comfort
NON-SLIP BASE: For your pet's safety, the bottom base of the pet bed comes equipped with non-skid silicone dotting to keep it from sliding on non-carpeted surfaces
PRODUCT DETAILS: Dark Gray; Small, 24" x 24" x 7" (20" Interior Sleep Surface)
AVAILABLE VARIANTS: The bed comes in Dark Gray and Rose Pink; it's also available in Small and Medium
We also like the various color combinations offered with this bed, such as dark gray and vibrant pink. Several sizes are also available, which should be around medium for your Maltipoo.
The Asfrost dog bed is an excellent choice for your Maltipoo, and it is small and compact; however, it still provides enough room for your furry friend to spread out and get comfortable. Like the other offerings we've reviewed, this bed offers ample support for your dog's joints and prevents issues later on in life.
Our favorite feature of this bed is its small size, as it will provide your dog with a sense of security and promote healthy sleep. If you own a Maltipoo, you know they love to play and have tons of energy; therefore, they need a dog bed that can withstand their constant movement. The Asfrost dog bed is one of the most durable we've reviewed and curated from the highest quality materials available. This bed also has a premium feel due to the carefully crafted quilted design.
Sale
AsFrost Dog Bed, Orthopedic Dog Beds with Removable Washable Cover, Pet Bed for Dogs Cats, Nonslip Bottom Pet Beds for Sleep - (Large)
✅HIGH-QUALITY MATERIALS: Solid orthopedic foam base for perfectly to your pet's body for maximum comfort, provides deep cushioning and pressure relief on joints; Orthopedic foam filling, provide a soft and cushioning sleeping environment for your pets, helps sleep and relieves bone disease.
✅Large DOG BED: Measuring from outside of bolster 41"x 28". Sleeping area inside bolster: 36"x 24". Ideal for Medium to Large size pets. Can easily hold up to 100 lbs and fitted for pets up to 36" in length
✅VERSATILE SOFA BED: Quilted gray cover compliments any home decor and is removable and machine washable; Non-slip rubber backing prevents the the bed from sliding on hardwood floors and tile; Cotton padded walls are designed to instantly contour to the neck and head for optimum comfort
✅REMOVABLE & MACHINE WASHABLE COVER: Easy to clean, keep your dog's bed looking and smelling fresh and clean. No more messes! Pets maybe present some unique cleaning challenges, That why we made sure the removable dog bed cover is completely machine washable for your convenience.
✅EXCELLENT CUSTOMER SERVICE: We aim to create higher quality products and happy experience for customers, provides a comfort bed for our pet friends. If you have any suggestions or quality issues,Please let us know in time and we will reply you within 24 hours.
It is also one of the easiest beds to keep clean, as the cover is machine washable. However, it is important to let it dry in natural conditions and not subject it to high heat.
The Binetgo dog bed is a high-quality and easy-to-clean dog bed that will provide your Maltipoo with all the comforts they crave. Like the others we have reviewed, this shape of the bed is designed to create a sense of security and promote healthy sleep.
Our favorite feature is the rubber base that keeps the bed in place. Even if you have the most energetic Maltipoo, the best will stay in one place. The bed is lightweight, making it easy for almost anyone to move to a different location, making it less tedious to transport. Your Maltipoo will love the soft PP cotton filling used, which is also safe and eco-friendly.
BinetGo Dog Bed Cat Bed Rectangle Washable Pet Bed with Firm Breathable Cotton for Medium Large Dog, Sleeping Orthopedic Bed for Dog cat Joint-Relief and Improved Sleep (20" x 16" x7", Gery)
SMALL DOG BED: The bed is about (20" x 16" x7") for dogs or cats up to 10lbs.The bolstered sides provide ultimate comfort for dogs cats who love to cuddle, curl and snuggle while sleeping.
FULLY REMOVED COVERS and WASHABLE DOG BED: Washable dog bed covers free you hands and allowing you to clean effortlessly,Filling material cannot be washed.Frequent washing can avoid dirt and provide a comfortable and clean bed for your dogs. Portable design makes this large dog bed perfect for both indoor and outdoor use.
NO-SLIP BOTTOM DOG BED: High density rubber dot shall prevent the large dog bed from sliding during rambunctious play with a favorite toy or a crazy doggy dream, steady and safe for worry-free placement on tile and hardwood floors in the home.
COMFORTABLE and SOFT FABRIC DOG BED: Cozy dog bed is made of soft fabric, non-toxic and environmental friendly. Stuffed with eco-friendly PP cotton, cozy plush provides an ideal sleep surface for your dog, keep the dog bed warm and comfortable.
PLEASE NOTE: The dog bed is compress-packed, so that it usually for 72 hours for a recovery. If necessary, for get a good shape when first get the pet bed,please iron the removable dog bed cover , wait 72 hours after Open filling and direct-sun exposure a few hours , and continue to reshape the bed!
Cleaning is a breeze with this bed, as it has a removable cover that can be machine washed. If you are looking for the softest bed on the market, the Binetgo is a solid choice.
The Milliard Premium Orthopedic Memory Foam dog bed is one of the longest-lasting dog beds available. The bed base includes orthopedic memory foam, and the outside of the bed is crafted from a durable foam material. Because of its durable foam construction, it lasts longer than the others we've reviewed.
This bed is easy to clean, as the bed's cover can be easily unzipped and thrown in the wash. This is a great feature to have, especially if your Maltipoo decides to take a nap after coming inside with muddy paws.
Memory Foam Dog Bed – 2-Layer Orthopedic Dog Bed with Machine Washable Cover - 26 x 19 Dog Bed for Medium Dogs up to 40lbs by PETMAKER (Tan)
MEDIUM DOG BED – At 26-inches long, 19-inches wide, and 4-inches of memory foam, this orthopedic dog bed has the perfect combination of comfort and support for dogs of all ages, sizes, in perfect health, as well as those who suffer from arthritis.
2-LAYERS OF FOAM - The dog bed features 2-inches of memory foam at the base, 2-inches of egg crate style foam on top that distributes their weight evenly to limit pressure points, and is covered in lush fabric for cuddling comfort pets love.
MACHINE WASHABLE COVER - This plush dog bed has an attractive polyester fabric cover with a zipper so it can be removed for easy cleaning as needed. For best results, machine wash or clean with a light vacuum.
VERSATILE USE - This dog mattress is ideal for kennels, crates, placed directly on the floor, or anywhere leisure and luxury for your pet is needed. It has a non-slip base to keep the cushion stable as your pet gets on or off the crate bed.
PRODUCT DETAILS – Materials: Polyester Fabric, Polyurethane Foam, and Memory Foam. Dimensions: (L) 26" x (W) 19" x (H) 4". This bed for dogs can support dogs weighing 40lbs or less and can be used on the floor, in a car, or as kennel pad. Color: Tan.
The bottom of the bed includes a rubber material to prevent the bed from sliding. This bed is also one of the most affordable on our list and has the potential to last the longest with proper care. If you want an inexpensive bed that is well-made and durable, this is certainly worth a look.
The Floppy Dawn interchangeable 2-in-1 bed is the most versatile on our list. You can easily transform the look of the bed by switching between the two included covers. The bed will cater to your Maltipoo's natural instinct to feel safe and secure and fulfills their natural denning instinct.
The bed is crafted from high-quality memory foam, supporting your dog's joints and promotes healthy and relaxing sleep. Floppy Dawg also took the durability factor into account, as the bed is waterproof and easily washable if your pup ever has an accident.
If you have an anxious dog that loves to nest underneath something to calm them, this bed is a viable option and will provide your dog with a calming and restful experience. If you crave versatility but want your dog to be comfortable in their space, this bed is a solid choice.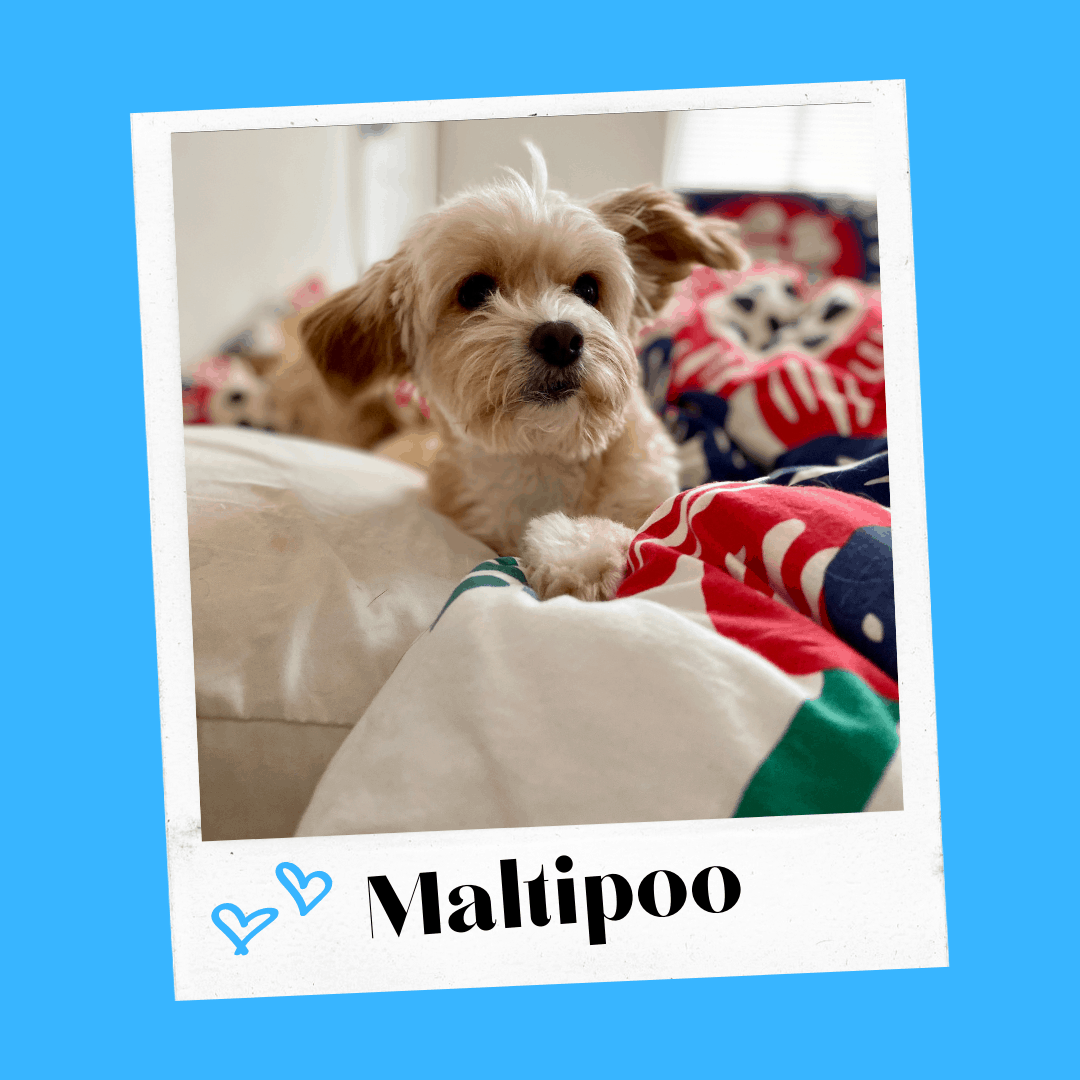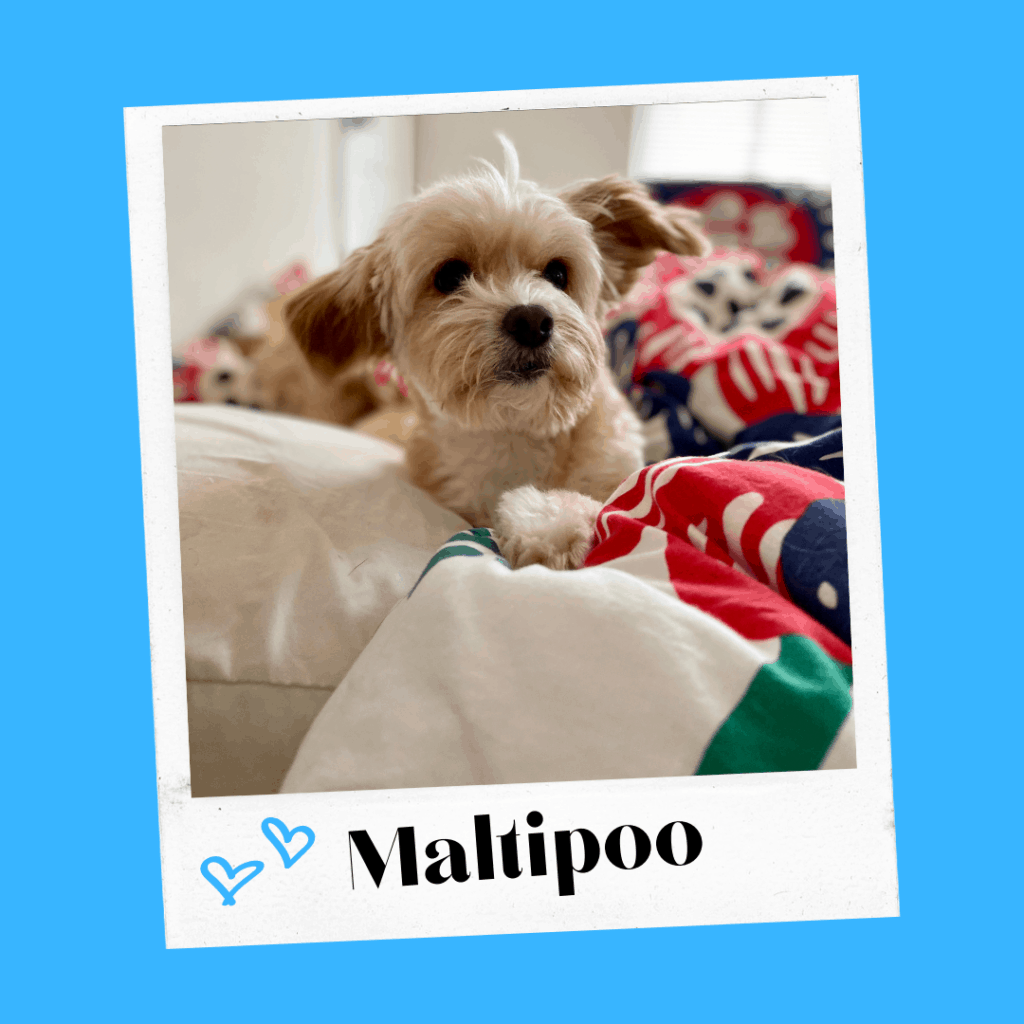 What to Look for In Dog Beds for Maltipoos
When purchasing a bed for your Maltipoo, there are a few things to take into account, including:
Shape and size of the bed
Material
The comfort of the mattress
Recommendations for cleaning
… and we're just getting started!
How to Choose the Right Size Dog Bed for a Maltipoo
Because a Maltipoo is a relatively small dog breed, you can choose small beds that are comfortable for your dog and great for small spaces. However, it is best to pick a bed that is slightly oversized to ensure maximum comfort. Remever there is a size difference between a teacup Maltipoo puppy and even a miniature Maltipoo dog.
There are various beds available that will make your pup feel safe, secure and satisfy their natural nesting instinct.
You must choose a bed that is easy to clean both inside and out, because, as you know, with any bed, accidents could happen! Because Maltipoos are so playful and active, it is best to choose a durable bed that can withstand constant chewing. 
The ideal dog bed will provide enough support to alleviate any pressure points carefully and ensure that their joints are adequately supported.
It is also essential to consider the overall temperature the bed reaches and where you place it in your home. This can determine whether or not your dog will find the bed a good place to catch up on some sleep from personal experience.
Best Bed for Maltipoo Conclusions
You can't go wrong with any of the beds we've reviewed above, as they are all durable, ergonomic, and built with comfort in mind. Our favourite is the Animal's Choice Retractable – because it hits the mark between budget friendly, design, and durability.
Like most dog owners, you want the absolute best for your dog and want them to be as comfortable and healthy as possible. We only included the beds that we would personally use for our dogs and would not steer you in the wrong direction. Therefore, we highly recommend you take a look at the best dog bed for Maltipoos we've reviewed.