How To Clean Maltipoo Eyes? (Techniques)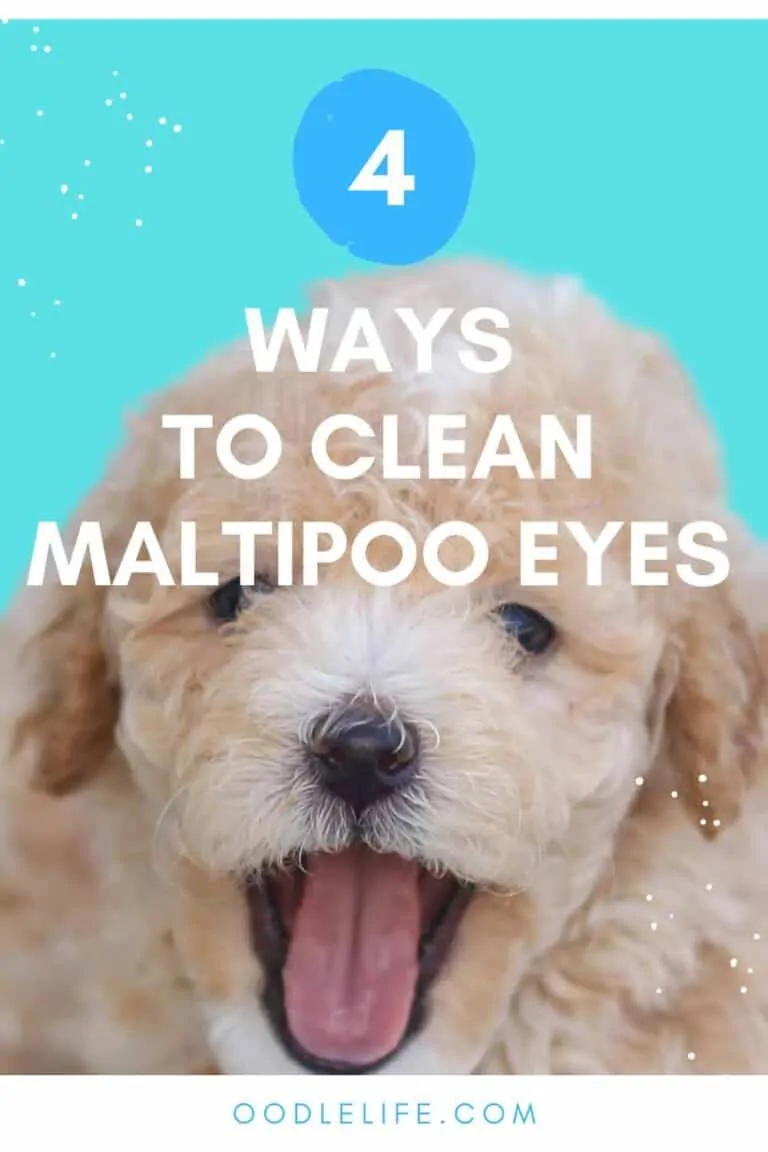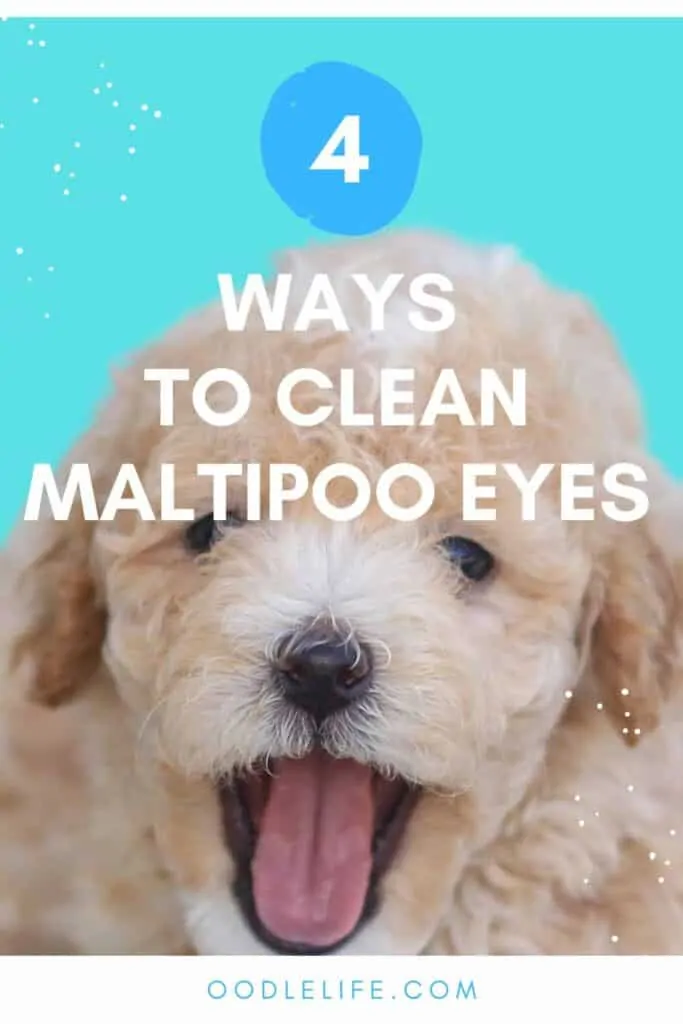 If you are anything like us, you love your Maltipoo and think they are completely adorable. They are lovable, cute, and deserving of attention, grooming, and praise from their snout to their tail.
Whenever you look at your Maltipoo, though, you might be caught off guard by the amount of gunk surrounding their eyes. This is entirely normal for Maltipoos since they have Poodle in their genes.
The slang term for it is "Poodle eye" – they are just a breed that is prone to this build up!
Even though Maltipoo eye build up it is normal, you should clean the gunk away from their eyes to prevent coat staining or more severe issues. Not to mention, eye gunk is a primary reason that a Maltipoo may stink.
To make the process of cleaning your Maltipoo's eyes a little easier, we have come up with these 4 great ways to clean Maltipoo eyes. We have even taken the liberty to explain three key reasons why your Maltipoo has gunk in their eyes and how to clean them according to the problem. All methods are DIY friendly and easy, but they will require persistence and patience.
Identifying the Problem Causing Maltipoo Eye Stain
All dogs, regardless of the breed, get eye gunk now and then, but Maltipoos are especially prone to eye gunk. Sometimes, that gunk is just typical eye gunk (dog eye boogers), but the gunk can also sign a more serious condition. Whenever you see that your Maltipoo has gunk around their eyes, you should first identify the severity.
There are typically 3 scenarios to explain the gunk around your Maltipoo's eyes. Identify the actual specific cause to know how to best clean it away.
Regular Gunk
Every dog gets gunk in their eyes from time to time. After all, dogs are at heart a little gross and put their faces in about everything – even your beloved Maltipoo.
Normal eye gunk can be caused by allergies, hair in their eyes, or characteristic Poodle eye exudate. This scenario is nothing to worry about, but you should clean it out immediately. If you leave the gunk, it could stain the dog's coat or lead to more significant issues down the line.
Maltipoo Tear Stains
Maltipoos get tear stains, often called the poodle stain, because they are part poodle. Their coats, especially those that are lighter, can easily get stained from their tears. Like regular eye gunk, tear stains are nothing to worry about, but you should clean them away as soon as you notice them. Tear stains will take a little bit more effort to clean away, but it should be somewhat easy to do.
Maltipoos are active dogs, sometimes even a little hyper. Although it may be a challenge to get your Maltipoo to sit long enough to remove the tear stain, you should be persistent anyway. If left unchecked, tear stains can cause an irreversible color change, and short haircuts will become more necessary. Try to avoid this outcome by cleaning away tear stains before it's too late.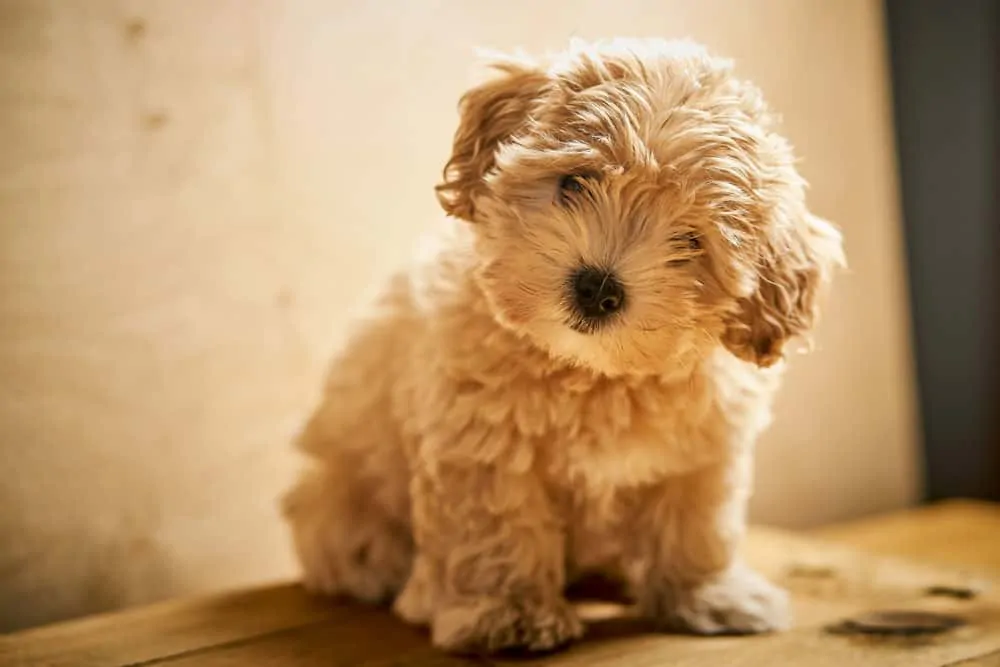 Serious Eye Conditions Effecting Maltipoo
Finally, the last reason why your Maltipoo may have gunk around its eyes is due to serious eye conditions like an eye infection. Excess mucus, green discharge, and excessive tear stains are all signs of a more severe problem.
The only way to know for sure that an infection is behind your dog's gunky eyes is by going to the vet. No matter how much cleaning you do, it might not be enough to tackle the issue head-on.
If you think that something more serious is affecting your dog, try to clean the eye as best you can, but schedule an appointment with your veterinarian. They will be able to diagnose the problem and prescribe any medication as necessary. Follow their recommendations for treatment.
4 Steps of How to Clean Maltipoo Eyes
Once you identify the problem, it is a lot easier to clean the Maltipoo eyes. You can tailor your cleaning method to the identifying problem for optimal results. Here are 4 great ways to clean Maltipoo eyes according to the issues described above.
Technique One – Regular Eye Gunk – Washcloth, Warm Water, Patience, and Persistence
Suppose your Maltipoo has just regular gunk in its eyes. In that case, you should opt for the washcloth, warm water, patience, and persistence method. This method should be your go-to for most eye gunk needs. Although it may get on your dog's nerves, wipe away regular gunk using a washcloth and warm water.
For this method, begin by wetting your washcloth with warm water. Make sure that the water is not too hot for your skin. If it is too hot for you, it is too hot for your dog. Use the wet washcloth to remove the gunk from around the Maltipoo's eyes gently.
If your Maltipoo is resisting the washcloth, be patient and persistent. Maltipoo dogs DO like to be held, but only on their terms. Most dogs do not like their eye area being touched. You can try bribing your dog with treats or trying to wipe away the gunk when they're sleepy. If they're tired, they are less likely to fight back.
Even though it may take a little bit of time, patience and persistence will allow you to effectively wipe away all of the regular gunk from your Maltipoo's eyes.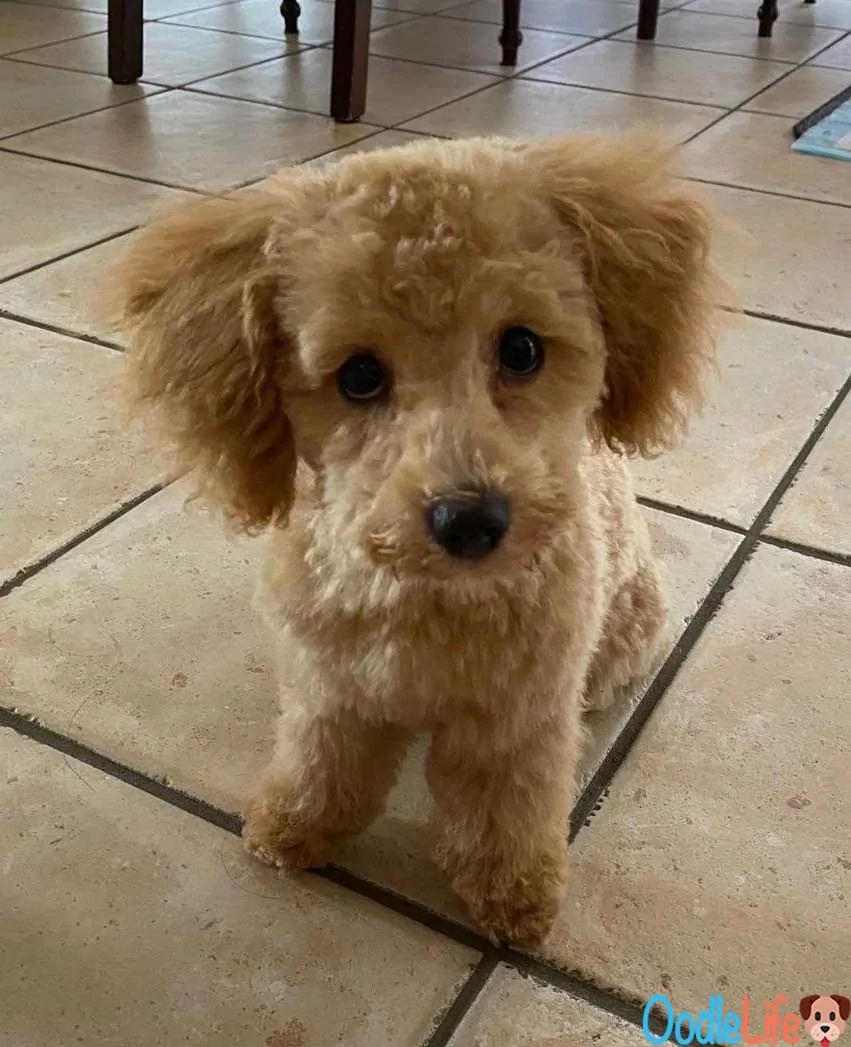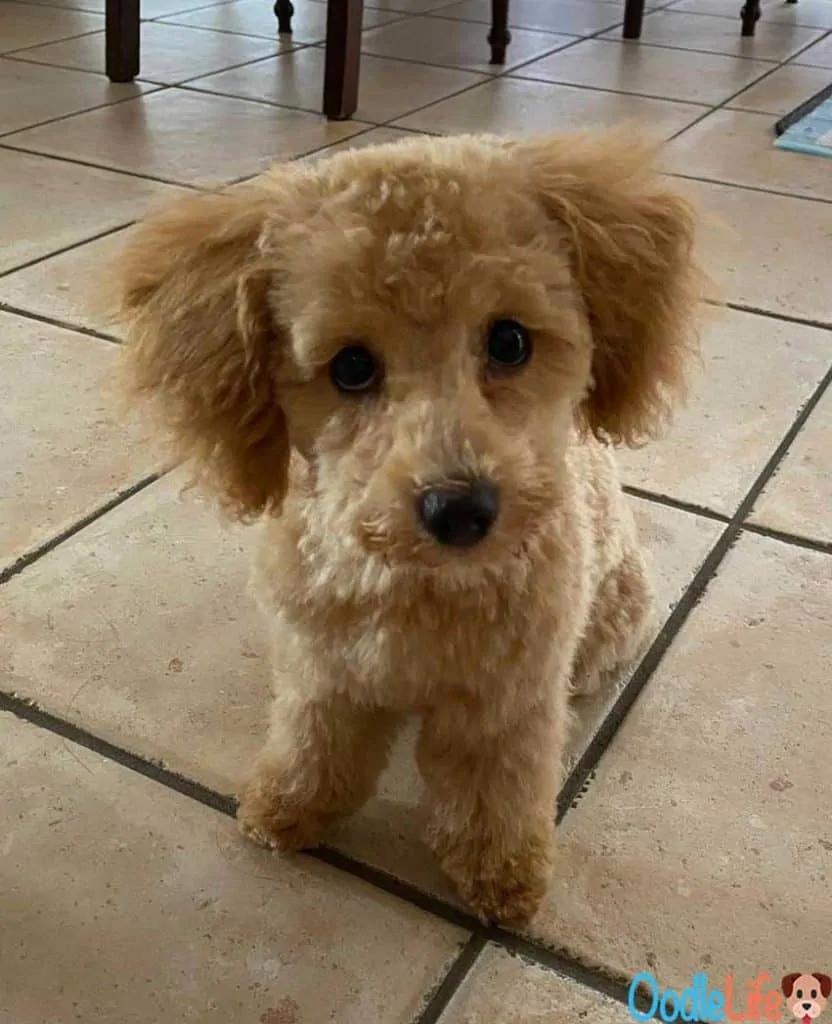 Technique Two – Pre-Impregnated Wipe to Remove Maltipoo Eye Stains
If you see that any tear stains are left behind, you need to use something a little bit stronger to effectively clear away these tear stains. You can use a pre-impregnated wipe to remove the residue from your Maltipoo's gorgeous coat. These wipes offer more cleaning abilities than the washcloth method, but they are still gentle and non-aggravating.
Petpost | Tear Stain Remover Wipes - 100 Presoaked Cotton Pads - Best Natural Eye Crust Treatment for White Fur - Maltese Angels Approved - Chemical and Bleach Free - 4 Oz.
♦ JUNIPER BERRY & COCONUT BASED FORMULA makes these tear stain remover wipes a favorite for groomers and veterinarians that want to keep your dog's eyes completely safe. That's right, no bleach,...
♦ BEST TEAR STAIN WIPES for dogs and cats that suffer from unsightly tear stains. With regular & consistent use, this product has proven to be highly effective at lightening the most stubborn tear...
♦ LUXURIOUSLY SOFT COTTON WIPES makes getting to the areas around your dog's eyes and mouth easy. Say goodbye to measuring capfuls, spilled solution, cheap pads, and unhappy puppies!
♦ ENVIRONMENTALLY CONSCIOUS PET COMPANY By using healthy ingredients and recyclable packaging, Petpost actively seeks ways to reduce our footprint, so our products can be healthy to the earth and...
♦ 100% HAPPY DOG GUARANTEE If the Petpost Tear Stain Remover Wipes do not help remove your dog's tear stains after regular use, *or if you or your dog just don't like it* we'll replace it or...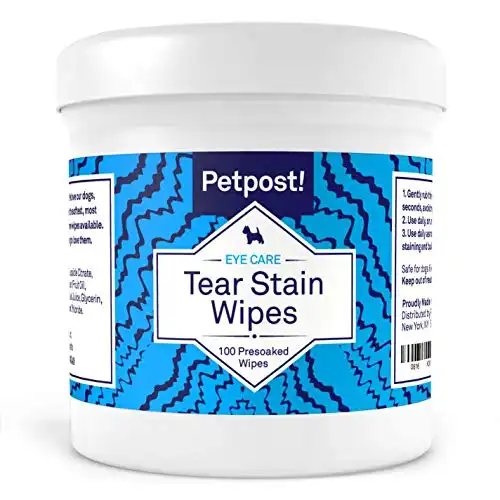 We earn a commission if you make a purchase, at no additional cost to you.
It is important to note that you should never use shampoos around your Maltipoo's eyes. Although this may seem like a good idea for removing the tear stains from their coat, it can easily make the problem worse by stinging your dog's eyes or causing an allergic reaction. Especially do not use human shampoo since it is not designed for your dog's sensitive eyes and fur.
Like with our first technique, you can try bribing your dog with treats or using the wipes around their eyes when they are sleepy. This will make the process a little bit easier. You will also need to be highly persistent and patient with this technique as well. Tear stains need more muscle to remove, meaning that your dog is more likely to fight back. Be patient and persistent until the tear stains disappear.
You will want to focus on one eye at a time. We find that breaking the cleaning process into smaller chunks is less aggravating and overwhelming for the dog.
Technique Three – Use Gentle and Natural Cleaning Solution
Cliny Universal Pet Eye Wash Cleaner for Dogs & Cats - Natural Gentle Eye Infection Treatment - Tear Stain & Dirt Crust and Discharge Remover Drops - Prevents and Controls Irritation
$19.00
$11.99 ($6.80 / Ounce)
✅CLEANS SKIN AROUND EYES & CONTROLS INFECTION: Cliny provides gentle care for dogs and cats, prevents eye infection, eliminates clogging, and relieves puffiness and irritation around eyelids.
✅MADE with NATURAL INGREDIENTS: Cliny contains boric acid, which disinfects eyes and reduces inflammation of eyelids. It also contains taurine, which activates the process of eye restoration.
✅HEALS AND SOFTENS THE SKIN: This cleaner contains silver ions, which have a bactericidal effect, and panthenol, which helps heal wounds and soften skin.
✅SAFE AND EFFECTIVE FOR PETS: A new formula developed by veterinarians in Germany allows us to gently clean dogs, cats, puppies, kitten, rabbits, ferrets eyes and take good care of them.
✅JUST NEEDS TO BE APPLIED ONCE OR TWICE A WEEK: For thorough care and healthy eyes, provide treatment once or twice a week.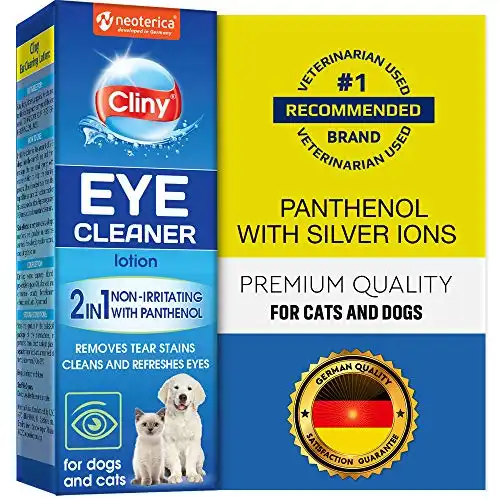 We earn a commission if you make a purchase, at no additional cost to you.
If you do not have pre-impregnated wipes, you can use a gentle and natural cleaning solution instead. You can look online or at your local pet store for a natural tear stain removal solution.
Like all the other techniques, you will need to be incredibly patient and persistent with your pup. Us humans don't like our eyes being prodded, and your Maltipoo doesn't either. As you are using the natural cleaning solution, make sure that there is no significant irritation. A little redness and irritation may be present, but anything more severe is a sign of an allergic reaction.
If you see any major irritations, welts, or anything else that shows that your dog is allergic to the solution, stop use immediately. Gently remove the cleaning solution by using warm water and a washcloth.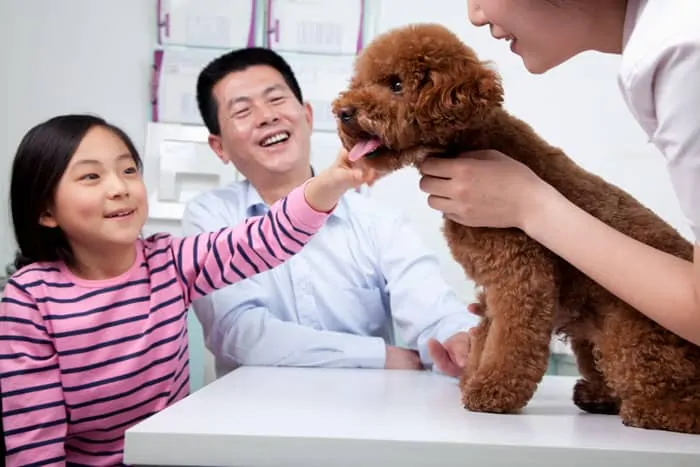 Technique Four – Dealing with Maltipoo Eye Infections
Washcloth, Warm Water, and Consult a Vet
Suppose you believe that a more serious issue is behind your Maltipoo's eye gunk. In that case, you should immediately schedule an appointment with your veterinarian. Your vet will diagnose the problem accurately and prescribe any medications or treatments for the issue.
In the meantime, go ahead and gently clean your Maltipoo's eyes. Using a washcloth and warm water will be the best method since it will not cause further irritation or infection. Be patient and persistent with your puppy as you try to clean its eyes. If there is a more severe condition behind the gunk, your dog may be more resistant to it being cleaned.
If you find this to be the case for your dog, bribe them with treats, wipe when they are sleepy, and make sure they feel completely safe in your arms.
Maltipoo Eye Gunk Conclusions
Maltipoos are gorgeous dogs that are lovable and cute. Sometimes they need a little extra help cleaning their eyes, though, since they are part poodle. Regular eye gunk, tear stains, or more severe conditions may be at the heart of your Maltipoo's gunky eyes.
Maltipoo dogs have a long lifespan, and older dogs tend to get more tear stain. Establishing your grooming process early is important as there will be many years of cleaning ahead!
No matter the reason for the gunk, it is essential that you clean it away so that the gunk doesn't stain the Maltipoo's coat or lead to a more severe condition. Regardless of the cleaning method, you select, remember to be patient and persistent. No one likes their eyes touched after all, and that includes your Maltipoo.
Even though your Maltipoo may fight you a bit at first, they will feel much better after removing the eye gunk and wag their tail with glee. Just give them some extra lovings and treats, and they will be good as new.