Best Brush for a Pitbull – Top 7 Picks! (2023)
If you are lucky enough to be the owner of a Pitbull, you know what amazing dogs they are. Despite their bad reputation as aggressive and challenging to manage, they are a sweet and loving breed that brings endless joy and laughter to their families.
Because Pitties tend to have short, thin coats, they have relatively minimal grooming needs compared to many other dog breeds. However, this does not mean they don't need a good brushing every now and then. But with so many types and styles of dog brushes on the market, it can be an overwhelming task to try to pick which one is right for your pup.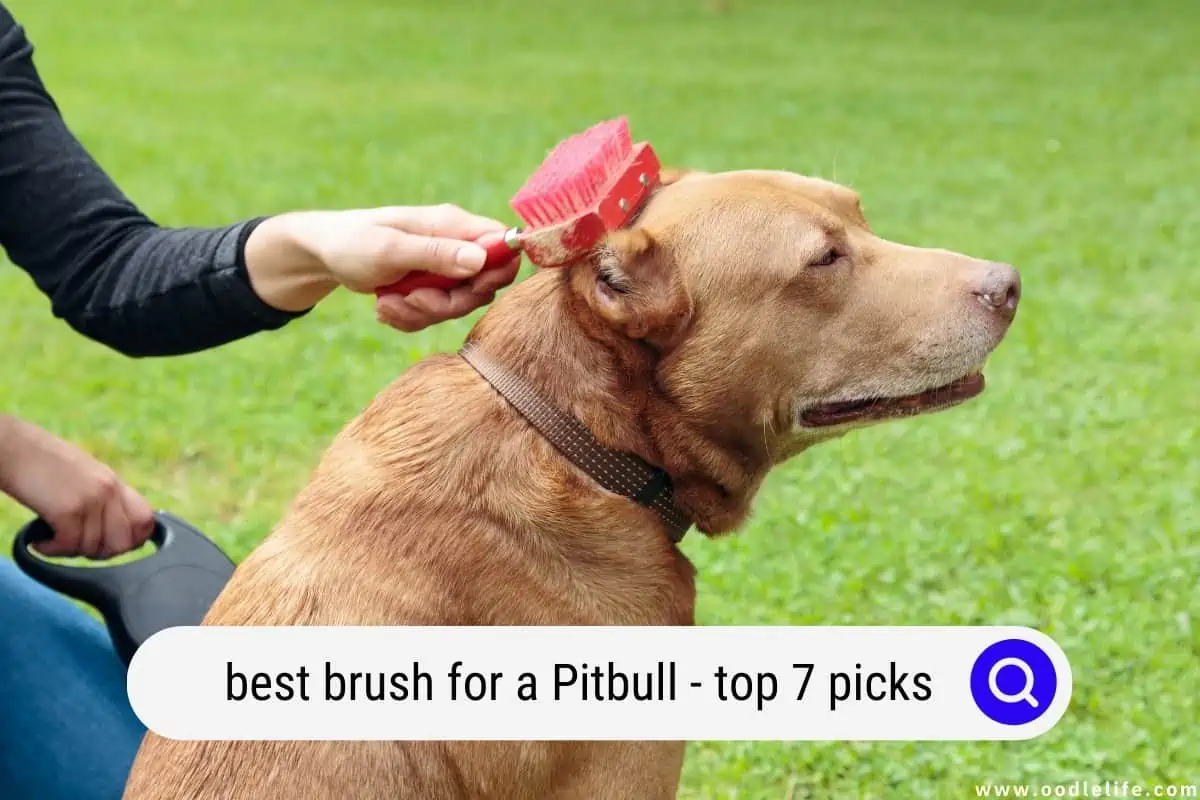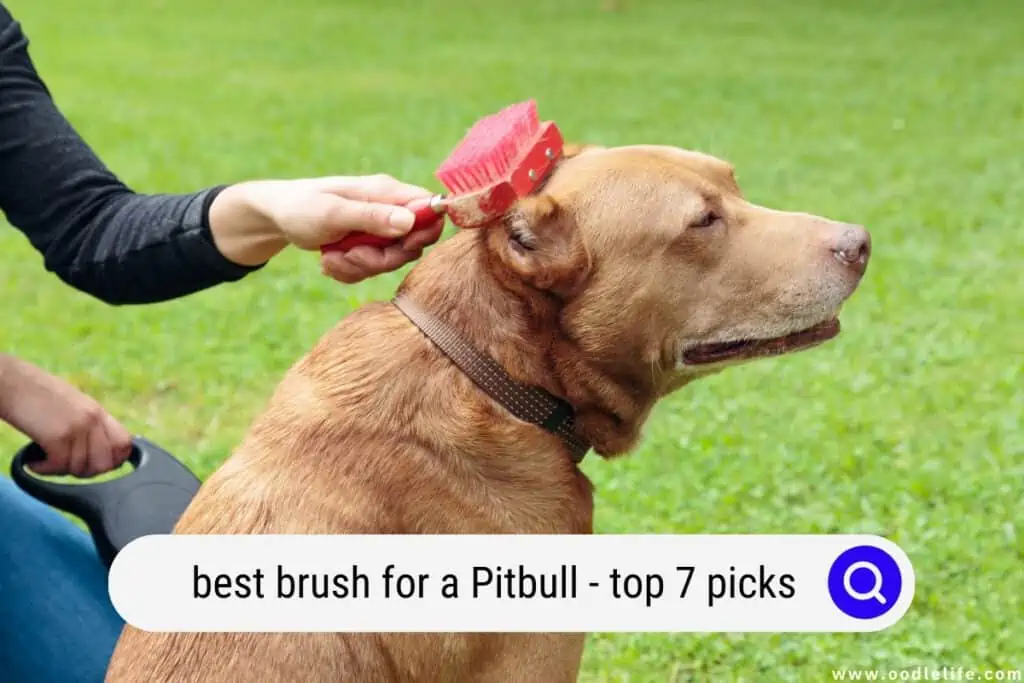 For this reason, we've compiled this guide of our top 7 picks of brushes to use on your Pitbull. Ready to learn everything you need to know about the best brush for Pitbull pups? Read on!
Why Do Dogs Need Brushing?
Even though they have short coats that don't get mats, Pitbulls still need to be brushed regularly. Brushing helps collect loose fur and reduces shedding, meaning that there will be less dog hair for you to clean off your furniture and floors.
Another reason to brush your Pitbull is that it helps keep them clean. Brushing cleans off dirt and debris they can pick up from outdoors and also helps remove any dry or dead skin.
Brushing also helps you get to know the minute details of your dog's body. With this knowledge, you'll be able to tell early on if your pup starts to develop skin problems.
Additionally, many dogs absolutely love to be brushed. The bristles feel like an excellent scratch or massage.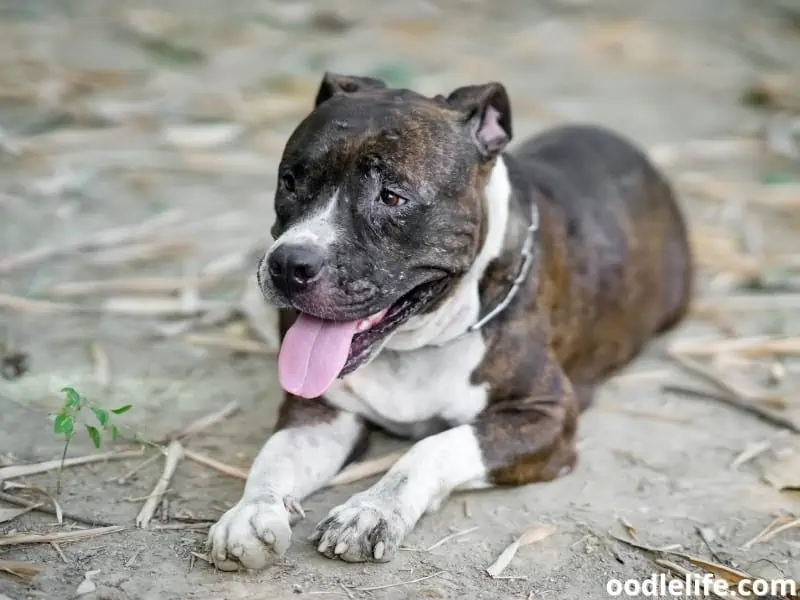 How to Brush Your Pitbull?
Not all dogs are accustomed to being groomed, and taking a few simple steps when you are first introducing a new routine will help make it a more pleasurable experience for you and your pup.
Make sure you are starting in a safe environment where there are as few stimuli as possible that could trigger any reactivity in your dog.
Whichever grooming tool you use, be sure to let your dog sniff it and explore it before attempting to use it on their body. Encourage positive or neutral associations with the brush by rewarding your Pitbull with training treats when they sniff it.
When you start brushing your dog, make sure you go with the grain, or in the same direction as hair growth. Dogs are uncomfortable with being brushed backward (from tail to head or from paws to body). Use a medium amount of pressure – enough to pick up loose hair and clean your dog's fur, but not hard enough to hurt them with the bristles.
If your dog shows any signs of discomfort, stop brushing them immediately. Give them a break and offer some more treats and pets. Slowly resume when they have calmed down.
Once your dog has gotten accustomed to being brushed, you should aim for brushing them once every few days. Think of it less as a chore and more as a bonding opportunity for you and your animal.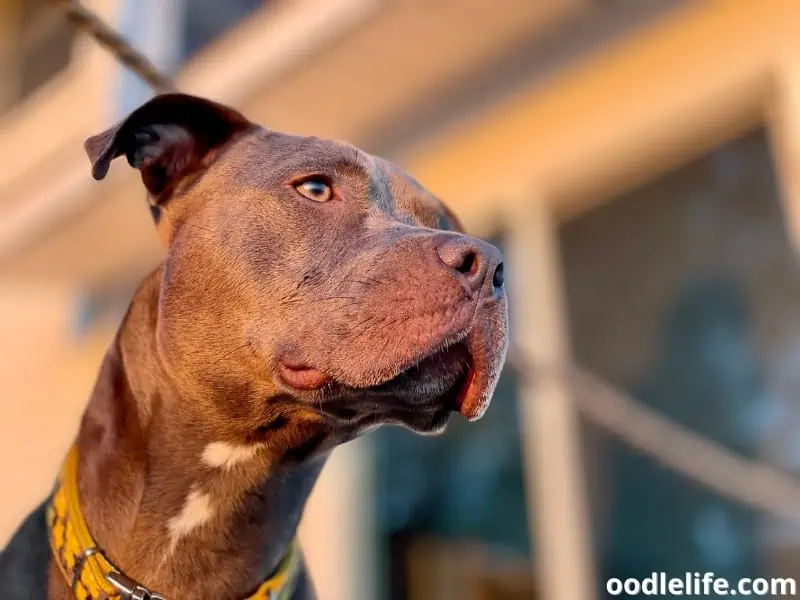 Our Top Brushes for Pitbulls
We selected these 7 brushes based on price, versatility, style, and unique features.
1. HandsOn All-In-One Bathing & Grooming Gloves
These grooming gloves are one of the top contenders for the best brush for Pitbull dogs. We love them because they come in 5 different sizes and 3 different colors and are made of solid but flexible and lightweight nylon fabric. They feature soft rubber nodules on the surface of the palm and fingers that gently massage your pup and collect fur.
Handson Pet Grooming Gloves - #1 Ranked, Award Winning Daily Pet Hair Remover - Mitts for Gentle Deshedding, Bathing, and Massaging Cats, Dogs, Horses & Other Animals (Grey, Large)
[ Works on Dogs, Cats, Horses, and More ] : Simply pass the five finger design glove over your pet's hair and watch it fall off without the need to scrub nor creating uncomfortable friction. Our...
[ Pets Love It ] : Our customers find that the grooming glove is a great tool for scrubbing clean during bath, but also great for deshedding and massaging waterless with the non-abrasive flexible...
[ The Original Patented Pet Grooming Glove ] : The rubber nodules found in our lightweight gloves are unique and considerately made to massage your pet gently like a brush with flexible bristles, with...
[ More than Just a Hair Remover ] : The dual purpose of the gloves allows you to keep your hands dry clean and protected while providing your pet with a professional grooming experience. You'll save...
[ Easy to Clean in Seconds ] : Simply rub your gloved hands together and the pet hair falls right off. When finished grooming, rinse the gloves off with water and air dry. If in a rush, throw them in...
We earn a commission if you make a purchase, at no additional cost to you.
These are a great option to introduce your dog to brushing if they are not used to being groomed. Dogs may initially be uncertain about a new brush, but the fact that these are gloves that one wears on the hands instead of an implement that one holds will help them feel more comfortable and secure.
Another benefit to these grooming gloves is that they are safe for use with soap and water and also keep your hands dry if you choose to use them for bathing.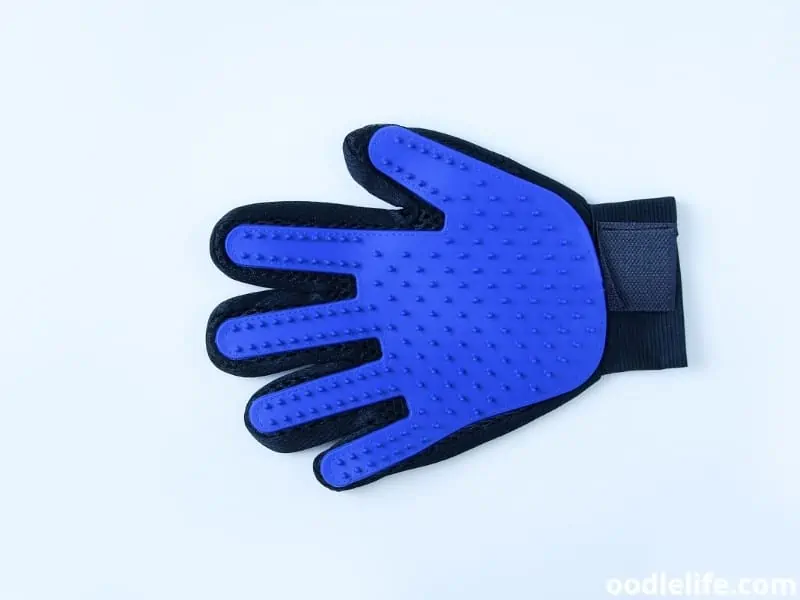 2. BV-BV-PE-BR2-IN-1 Dog Brush
This option is one of the most versatile all-purpose dog brushes on the market. If your Pitbull is not the only furry friend in your family, this tool is an excellent choice because it also works with longer-haired breeds and even cats.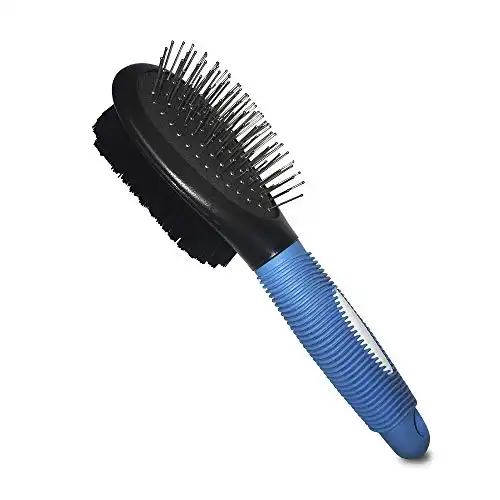 We earn a commission if you make a purchase, at no additional cost to you.
One of the features we love about this brush is that it is double-sided; one side has soft bristles, and the other has flexible metal pins. The pin side is great for removing loose hair and massaging the skin, while the bristle side removes dirt and cleans the hair.
It also has an ergonomic handle that is comfortable for you to hold securely while brushing your pup.
3. Furbliss Grooming Med/Large Pets with Short Hair, Deshedding, Massaging & Bathing Dog Brush
This grooming and de-shedding brush from Furbliss is explicitly built for short-haired breeds, including Pitbulls.
Furbliss Dog Brush for Grooming, Brushing and Bathing Dog & Cats, Great for the Bath Deshedding and Massaging Your Pet, 1 Soft Pet Brush - by Vetnique Labs (Short Hair Pet Brush)
DESHEDDING, BRUSHING, MASSAGING, EXFOLIATING, RELAXING, ALL IN ONE multi-functional two-sided brush for dogs, cats, & small pets!
100% PREMIUM MEDICAL GRADE SILICONE & patented design provides comfortable & safe brushing unlike harsh metal or steel brushes
VETERINARIAN & GROOMER RECOMMENDED for all pets & coat types, stimulates the circulation & nourishes the skin & coat
MASSAGING & CALMING ACTION relaxes your pet while brushing leaving your pet feeling pure bliss with Furbliss! Easy to clean, rinse under water
USE WET OR DRY, PERFECT FOR BATHS cleans & shines the coat, back side of brush removes fur & lint from clothing, furniture, & auto interiors!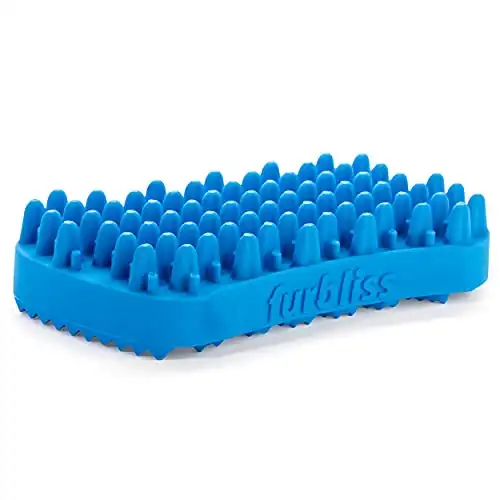 We earn a commission if you make a purchase, at no additional cost to you.
It is constructed entirely out of silicone, making it a flexible tool that will bend and mold to the curves of your dog's body. The material also makes it ideal for use in the bath and almost effortless to clean. It is also great for dry grooming and removes dirt, debris, and loose fur.
A unique benefit to this option is that you can also use it to remove hair from furniture. Simply rub it against a sofa or chair. It can even function as a lint roller to clean pet hair off of your clothes.
4. FURminator Curry Comb for Dogs
The FURminator Curry Comb for Dogs made our list of the 7 best brushes for Pitbull pups because of its unique ergonomic design and soft rubber bristles.
FURminator Curry Comb with Rubber Teeth for Short and Medium Coats
FOR DOGS: FURminator Curry Comb is ideal for daily use on short and medium coats
MOLDED RUBBER TEETH: Removes dust and loose hair – extracts debris left over from brushing.
PROMOTES COAT HEALTH: Helps stimulate the production of natural oils for a healthy coat.
INCLUDES HAND STRAP: Attaches to your hand for easy handling and maximum control while grooming.
USE: Comb daily to keep your pet's coat clean and healthy.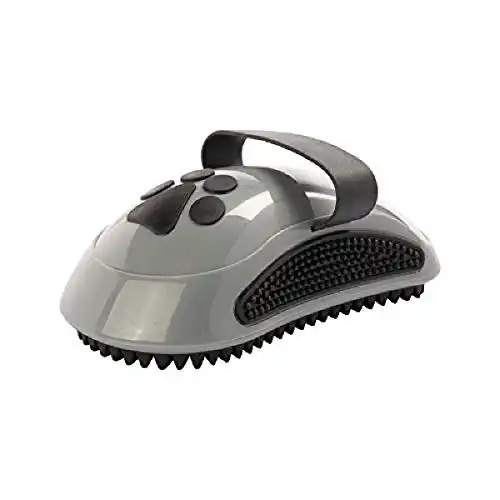 We earn a commission if you make a purchase, at no additional cost to you.
One of its unique features is the material – it is made out of antimicrobial plastic that helps kill unwanted germs and bacteria. The soft rubber also massages your dog's skin to help stimulate the production of natural oils, making for a healthier coat.
A curry comb is widely recognized as one of the best grooming options for short-coated dogs because it is so effective at removing loose hair and dirt while gently massaging the skin to promote circulation and oil production. This model, in particular, is affordable and has an easy-to-hold design.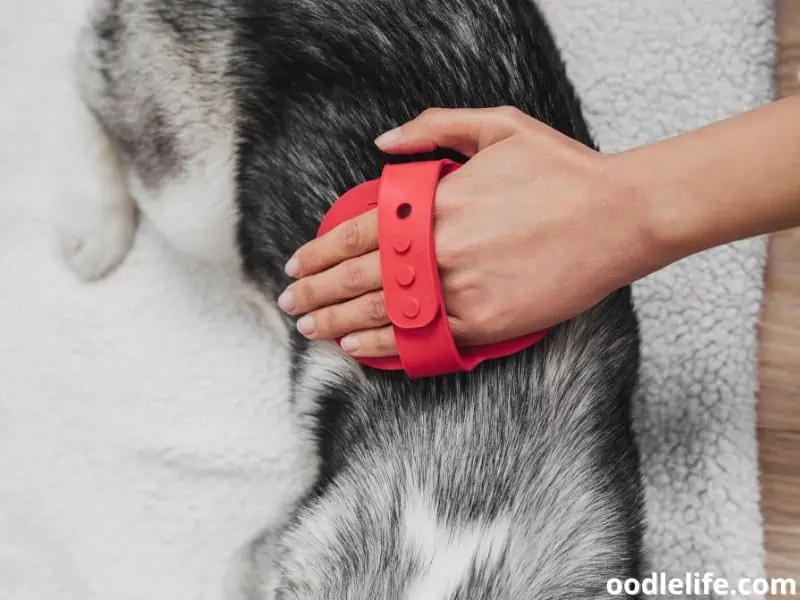 5. BioSilk for Pets Dogs Facial/Paw Brush
We would be remiss not to include a facial brush for Pitbulls on this list of grooming tools. This model is perfect for reaching smaller, more sensitive, and hard to reach areas of your dog's body. The bristles are soft and will gently clean your dog's face without irritating the sensitive skin there.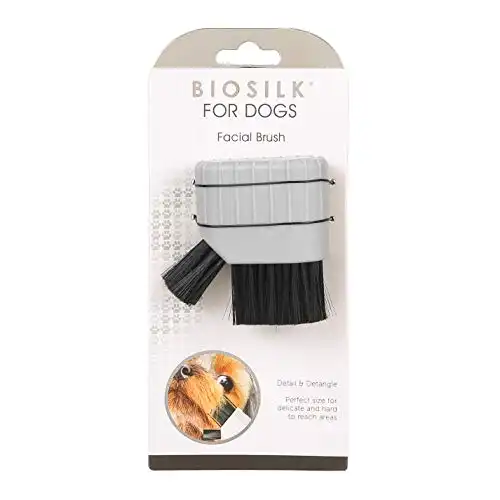 We earn a commission if you make a purchase, at no additional cost to you.
The small size means that it is not ideal for use on your dog's entire body. Try out one of the other 6 options on this list for a larger brush that can cover more surface area.
6. Biosilk De-Shedding and Massaging Palm Brush for Pitbulls
At just over 4 ounces, this option comes in as one of the most lightweight tools for grooming your Pitbull. It's a great all-purpose tool and will also work for brushing dogs that have long hair if your pack is more extensive than just a Pitbull.
BioSilk for Dogs Combo Deshedding and Massage Palm Dog Brush for All Dogs | 2-in-1 Deshedding Palm Brush for Dogs and Massage Dog Brush, Suitable for Dogs with Long or Short Hair
ALL-IN-ONE COMBO DOG BRUSH — Enjoy the all-in-one deshedding, massaging, ergonomic palm brush for dogs designed to bring your dog their best brush yet
REMOVES LOOSE HAIR EASILY — The deshedding blade dog brush portion of this combo dog brush reduces loose hair from the top coat to give your pet a sleeker coat
GREAT FOR DOGS WITH SENSITIVE SKIN — The rubber bristles in the middle of this dog brush provide a soft feel while helping massage your dog's skin, making it the ideal grooming tool for dogs with...
IDEAL FOR ALL DOGS — This dog brush is the perfect grooming tool for all dogs, no matter whether your dog has long hair or short hair
ERGONOMICALLY DESIGNED FOR EASY BRUSHING — Pet parents now have an easier time with the new and improved ergonomic palm design of the this dog brush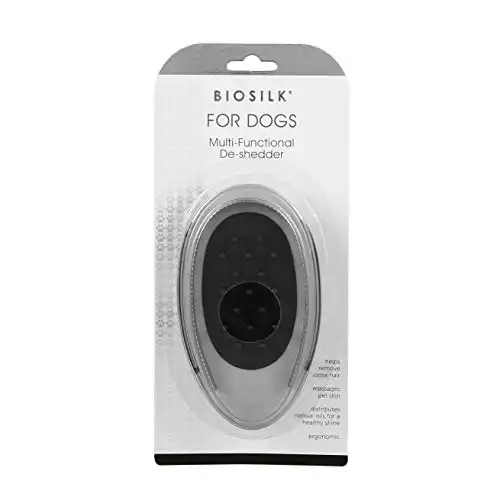 We earn a commission if you make a purchase, at no additional cost to you.
It features both soft rubber bristles and a de-shedding blade for removing loose hair while also massaging the skin.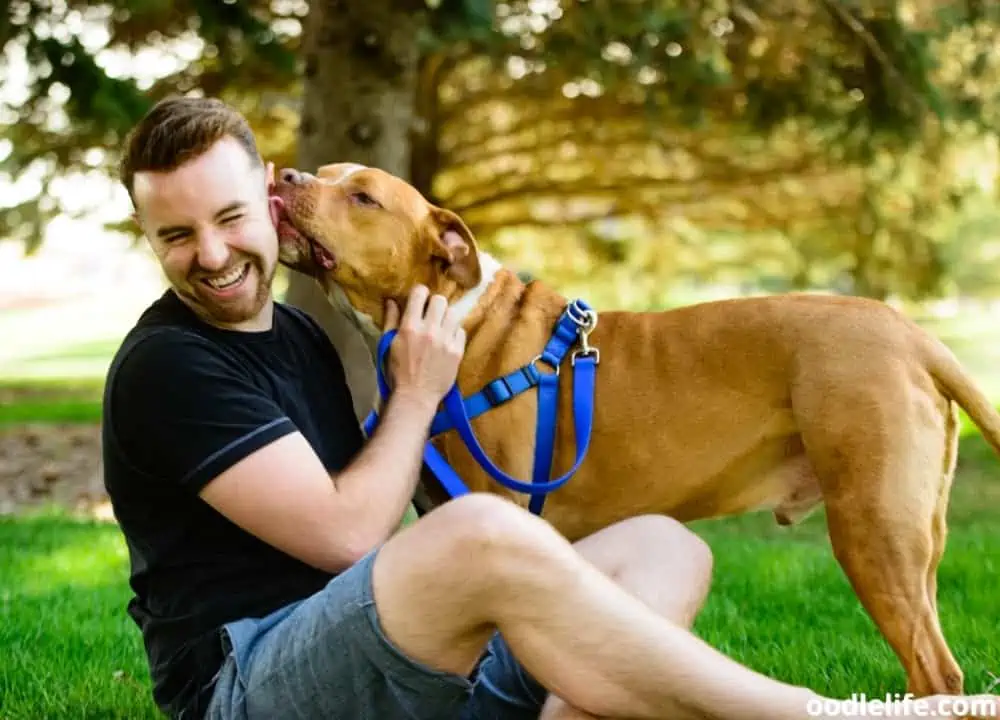 7. Biosilk Silk Therapy Moisturizing and Cleansing Wipes
Although not technically a brush, the last tool in this roundup is grooming wipes. The main benefit of these wipes is that they contain only all-natural ingredients such as aloe vera and chamomile. And that's ideal for a Pitbull's sensitive skin. Because they are hypoallergenic, they won't irritate your dog's skin.
BioSilk for Dogs Silk Therapy Moisturizing & Cleansing Wipes | Best Dog Wipes for Dogs With Dry Itchy Skin | Removes Dirt, Debris and Odors Without Irritation, 50 Count
REMOVES DEBRIS WITHOUT STRIPPING MOISTURE ? Silk and enriching vitamins work together to eliminate dirt, debris, and odors from your dogs coat while restoring moisture to alleviate itchy skin
EASY CLEAN BETWEEN BATHS ? Great as a supplement to regular doggie baths, these dog cleaning wipes are an easy and convenient way to ensure your pup stays clean and silky
SAME PREMIUM INGREDIENTS AS THE HUMAN LINE ? BioSilk for Dogs features the same classic ingredients and innovative technology as the original and revolutionary BioSilk Silk Therapy line for humans
FOR ALL DOGS ? Moisturizing wipes are pH balanced specifically for dogs and can be used on dogs of any size or breed
SAFE FOR TOPICAL TREATMENTS - BioSilk's wipes for dogs canbe used with topical treatments. The formula is paraben & sulfate free, making it something you and your pets can feel good about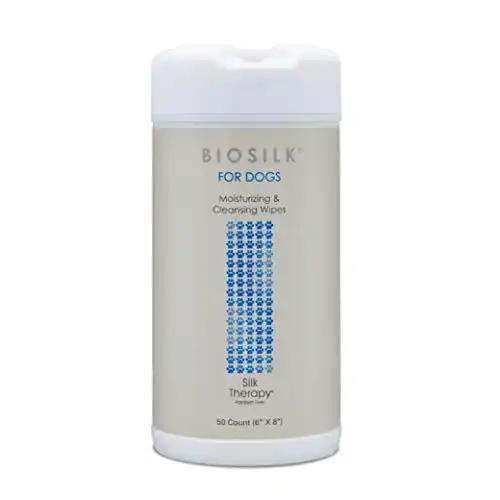 We earn a commission if you make a purchase, at no additional cost to you.
Biosilk's wipes don't have any parabens or sulfate, and its pH is appropriate for your pet. You are sure to buy a product that has a low price but that is totally safe for your Pitbull.
They work to both cleanse and moisturize your dog's skin, meaning they clean off dead skin and dirt while restoring moisture and preventing more dry skin. Each pack comes with 50 8×6 wipes, which can be used while you are applying topical treatment for fleas and ticks.
Although not a replacement for a more thorough grooming routine, these wipes from Biosilk are perfect for cleaning your dog in between brushes and baths.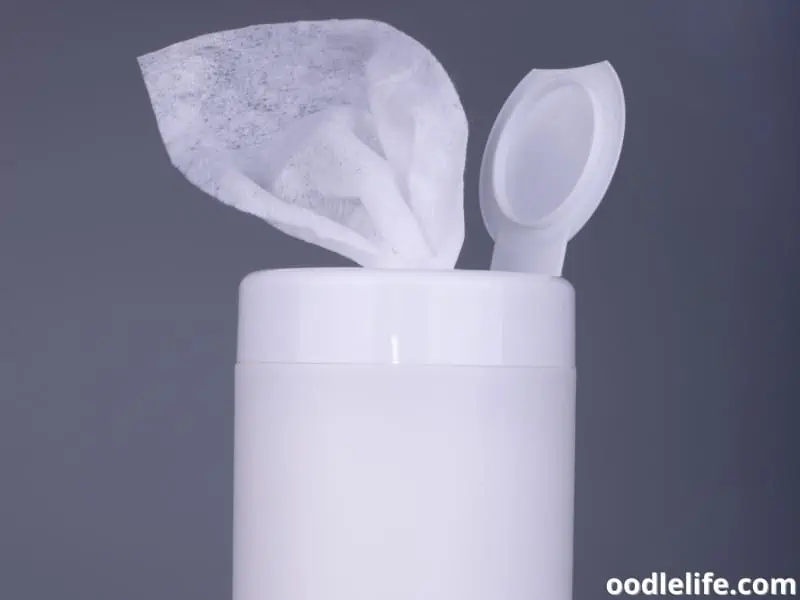 Final Thoughts
You can find the best brush for Pitbull pups right here in this guide. When embarking on a new grooming routine, make sure to start slowly and with consideration for your dog. A little positive reinforcement can go a long way in making grooming a positive experience for them and for you.
We've provided our top 7 options for brushes for Pitbulls because not every dog will like every tool. Sometimes it can come down to individual preference for texture, size, and shape. If your dog is averse to the brush you purchased, try one out that has another design.
Have you tried one of these brushes with your Pitbull? Which is your dog's favorite? Let us know how it went!