The 3 Best Shampoos for Pitbulls (Tested 2023)
If you are the lucky pet owner or share your life with a Pitbull, you know this breed is a delight in the canine world. Pitbulls are known for their energy, personality, and loyalty to their owners, making them excellent family pets.
Pitbulls have certain issues specific to their breed. As a result, they need shampoos that target these issues. Read on to find out how to keep your Pitbull pup happy and healthy with the best shampoo for Pitbulls!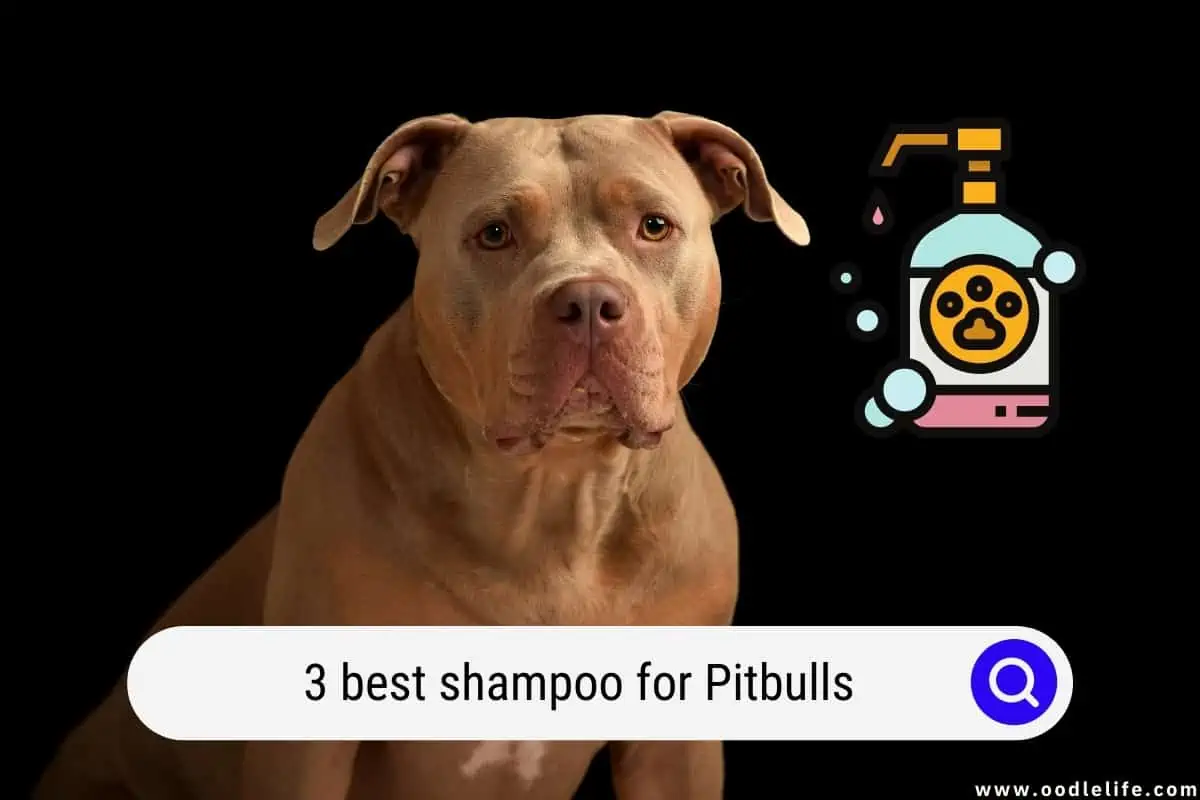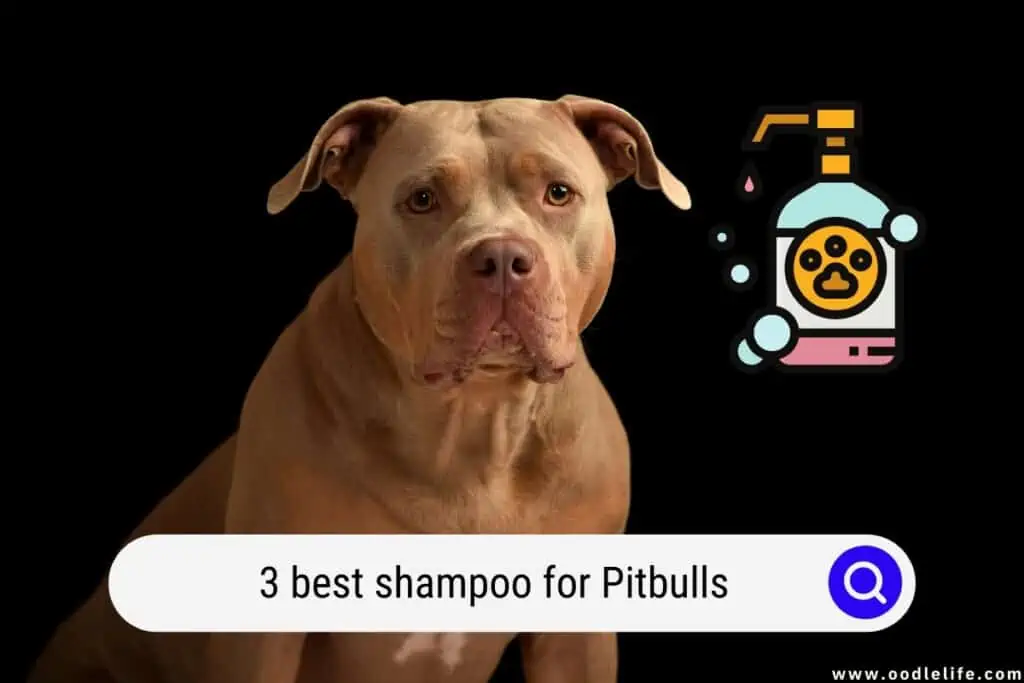 Why Pitbulls Need Specialized Shampoos?
Unfortunately, many Pitbull owners are all too familiar with Pitbull skin issues. They are prone to dry skin, allergies, and dermatitis.
Pitbulls are single-coated, meaning they only have one type of fur on their bodies. Unlike double-coated breeds that benefit from an undercoat that insulates and protects their skin, Pitbulls are more susceptible to skin problems since they do not have the protection of an additional coat to shield them from the elements.
There may also be some hereditary issues that could affect your Pitbull's skin and coat.
How To Spot Skin and Coat Issues?
Skin and coat issues are usually easy to spot. Unfortunately, dogs can be self-destructive in trying to get relief and soothe their discomfort. For example, you might notice your Pitbull is excessively scratching or biting themselves or licking the same patch of irritated skin. You may also see your Pitbull's red, dry, or inflamed skin and scabs and sores.
Fortunately, Pitbull skin issues are treatable and, in most cases, preventable. However, while you can treat most skin affecting your Pitbull at home, some may require prescribed treatment. In any case, it is always best to consult your veterinarian so that you can safely and effectively treat your furry friend.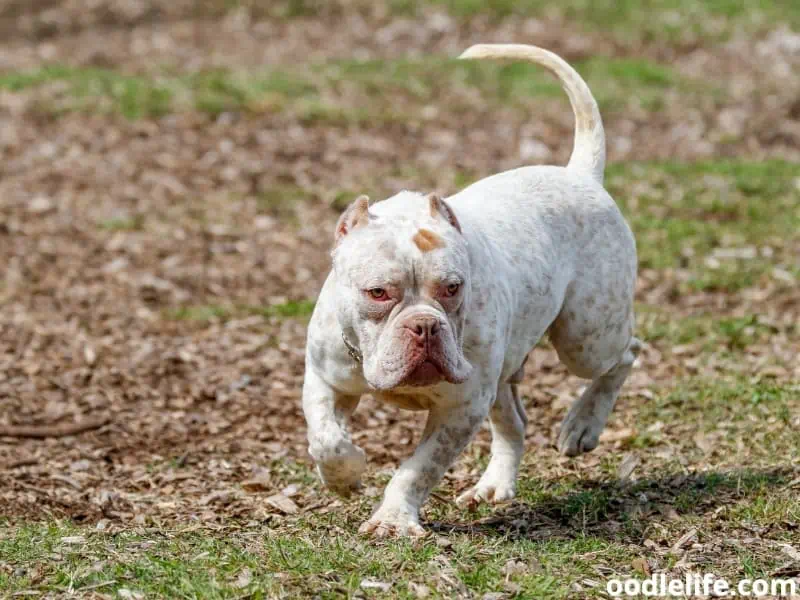 What To Look For in a Dog Shampoo for Pitbulls?
Shampoo and routine bathing are essential to skin and coat health in all dogs, but making the right choice in shampoo is vital for Pitbull owners who may be looking to prevent or treat their pet's sensitive skin.
The best shampoo for Pitbulls is moisturizing and hypo-allergenic, which will be vital in giving your furry friend a hydrated coat, healthy skin, and, ultimately, a happy life!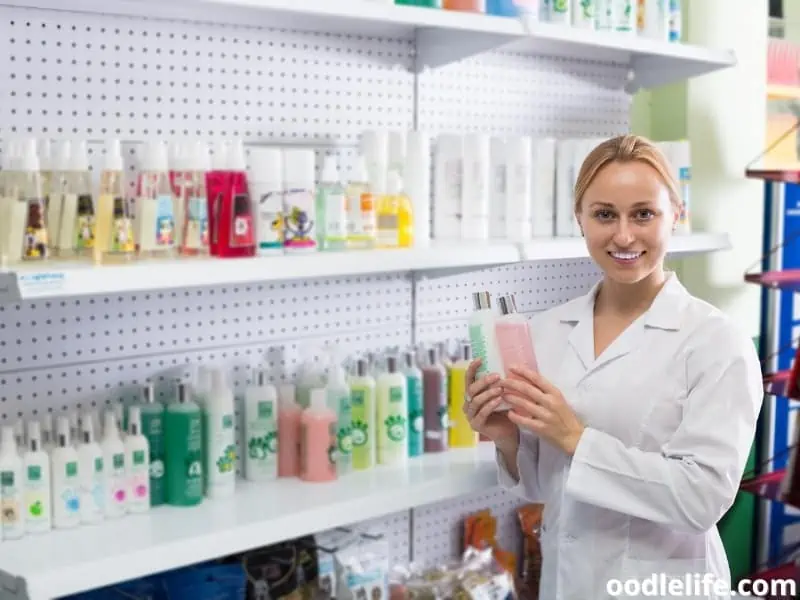 Moisturizing
Since Pitbulls have short fur and are single-coated, their skin can quickly dry out and get itchy. So it's essential to look for a good moisturizing shampoo. Moisturizing shampoos will hydrate both the skin and the coat and provide relief to your pet. Ingredients to look for that will aid moisturizing include oatmeal, linseed oil, and almond oil.
Hypo-Allergenic
Any dog shampoo marked as hypo-allergenic usually contains natural ingredients that are considered safe for your pet.
However, while many dog shampoos use a certain amount of natural ingredients in their products, even natural products can trigger an allergic reaction. That's why it's important to ensure the shampoo you choose is hypo-allergenic to avoid any adverse reactions.
For Pitbulls with extremely sensitive skin, it's recommended to seek out a hypo-allergenic shampoo specially formulated with gentle and soothing ingredients. These types of shampoos tend to be soap-free, paraben-free, and phosphate-free.
1. Earthbath Hypo-Allergenic Dog Shampoo
Earthbath is known for its outstanding line of cruelty-free dog shampoo products. Its Hypo-Allergenic Dog Shampoo is a wonderful option for dog breeds prone to sensitive skin and itching, especially Pitbulls.
earthbath Hypoallergenic Dog Shampoo, Fragrance Free, 16 oz – Pet Shampoo for Sensitive Skin & Allergies – Made in USA
HYPO-ALLERGENIC FOR SENSITIVE SKIN/ALLERGY: This mild, hypo-allergenic shampoo is FRAGRANCE FREE and formulated especially for pets with skin allergies and sensitivities. Puppies & kittens, older...
NATURAL & ORGANIC INGREDIENTS: Blended with the finest ingredients, such as renewable plant-derived and coconut-based cleansers, organic aloe vera, and vitamin E. NO PARABENS, NO DYES, NO SOAP, NO...
SAFE & EFFECTIVE: Our products are designed with the health of your beloved, furry friend in mind. We believe the ingredients that touch your pet's coat and skin should be as naturally effective,...
CRUELTY FREE: We at earthbath have a genuine love for pets and concern for the environment. Since 1995, these passions have been at the heart of everything we do, from the ingredients we put into our...
HAPPINESS GUARANTEE: We are so sure you will love this product that we will refund your money if you are not satisfied for any reason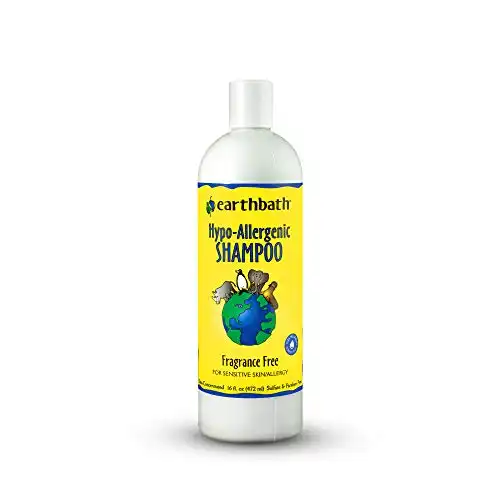 We earn a commission if you make a purchase, at no additional cost to you.
Perfect for all skin types and sensitivities, Earthbath's Hypo-Allergenic Dog Shampoo is a tearless and soap-free formula containing all-natural biodegradable ingredients, such as aloe vera, renewable coconut-based cleansers, purified water, and vitamins A, B, D, and E.
If your Pitbull has sensitive skin, Earthbath has formulated a fantastic soap-free alternative that soothes irritated, red, and itchy skin while gently cleansing your pet's coat and nourishing the skin.
The unique formula is so gentle that you can even use it alongside your pet's topical flea treatment without it washing off. So pet owners will not need to worry about holding off on bathtime for their pets in fear of disturbing any ongoing topical treatments.
Earthbath prides itself on ensuring that bathtime for dogs doesn't lead to dried-out skin, and it has truly formulated a product that is mild enough for pets of all skin sensitivities and is safe for humans as well.
The formula is paraben- and phosphate-free and contains only biodegradable ingredients. Earthbath's Hypo-Allergenic Dog Shampoo is also fragrance-free and free of any artificial color additives, which are known to be harmful and irritating to the skin.
Earthbath products, including the Hypo-Allergenic Dog Shampoo, are made in the United States. The company believes so much in its pet shampoo formulas that they have every product with a 100% satisfaction guarantee.
Earthbath's Hypo-Allergenic Dog Shampoo makes this list as a veterinary-approved shampoo that is safe for your Pitbull and ticks off all the boxes. While we are fans of most of Earthbath's pet shampoo products, we are listing its Hypo-Allergenic Shampoo as the perfect shampoo option for Pitbulls with skin sensitivities, especially those prone to red or itchy skin.
We love that Earthbath has formulated shampoo with quality ingredients gentle enough to use alongside any current topical treatments you may have for your Pitbull. It is truly an all-natural and soothing shampoo for pets.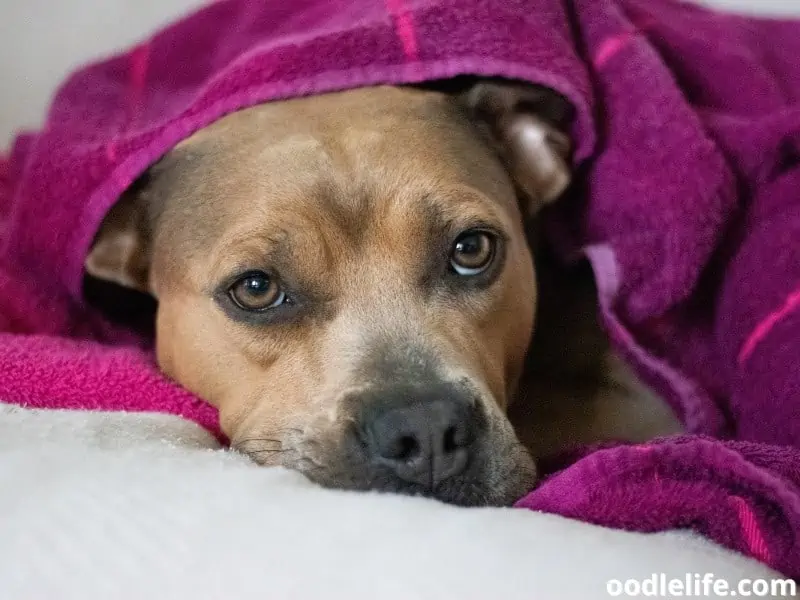 2. Burt's Bees Puppy 2-in-1 Shampoo and Conditioner
While Burt's Bees have become a household name recognized for its natural skin care products for humans, the 2-in-1 Puppy Shampoo and Conditioner puts its pet shampoo products on the map and delivers the same amazing quality ingredients and results.
Burt's Bees Dog Shampoo for Puppies, 2 in 1 Shampoo and Conditioner, Buttermilk and Linseed Oil, 16 Oz
DID YOU KNOW DOG SKIN DIFFERS FROM HUMAN'S - Dogs' skin is less acidic than human skin, so human shampoos destroy a dog's skin protective barrier, leaving your pet vulnerable to itchy flaking
NO. 1 PET GROOMING BRAND IN THE USA*-See why millions of pet parents entrust their pet's health and hygiene to Burt's Bees for Pets.  This natural puppy shampoo for dogs is no exception
TEARLESS FORMULA WITH BUTTERMILK FOR PUPPIES -  All natural ingredients include buttermilk, which soothes skin and softens hair and linseed oil, which deeply conditions your puppy's coat
NO SULFATES, COLORANTS, ADDED FRAGRANCE OR HARSH CHEMICALS - This formula is free of fragrances, sulfates, colorants, and harsh chemicals. That's what makes Burt's Bees for Pets a natural dog company...
SAFE FOR ALL DOGS AND PUPPIES - This shampoo is pH balanced for dogs and puppies of all ages, so it's perfect to add to your puppy supplies kit or dog grooming supplies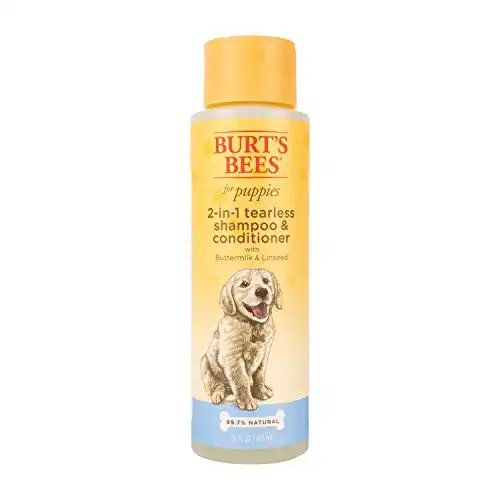 We earn a commission if you make a purchase, at no additional cost to you.
This gentle cleanser not only smells great, but this tear-less formula, so there is no need to worry if the shampoo makes it onto your Pitbull's face during bathtime.
This 2-in-1 shampoo uses buttermilk to cleanse and soothe and linseed oil to deep condition your Pitbull's coat while remaining gentle enough for the skin. 
This 2-in-1 option is perfect for pets that are not particularly fond of bathtime or do not sit still in the tub. This shampoo will make bathtime quick, as there is no lengthy wait time to leave the product in, unlike other pet conditioners.
It is also pH-balanced and contains no sulfates or colorants, which can be harmful and irritating for your Pitbull's sensitive skin. Made with 97% natural ingredients, this shampoo will leave your dog smelling clean and their skin and coat feeling great.
Like other options on our list, this formula contains all-natural ingredients and will not wash off topical flea and tick treatments on your pet, and can be used as directed based on the flea treatments bathing instructions.
For a pet shampoo gentle enough to use in your Pitbull's regular bathing routine, we love Burt's Bees Puppy 2-in-1 Shampoo and Conditioner. This shampoo naturally nourishes and strengthens your dog's coat while it cleanses and moisturizes, making it one of our favorite options for puppies and adults alike.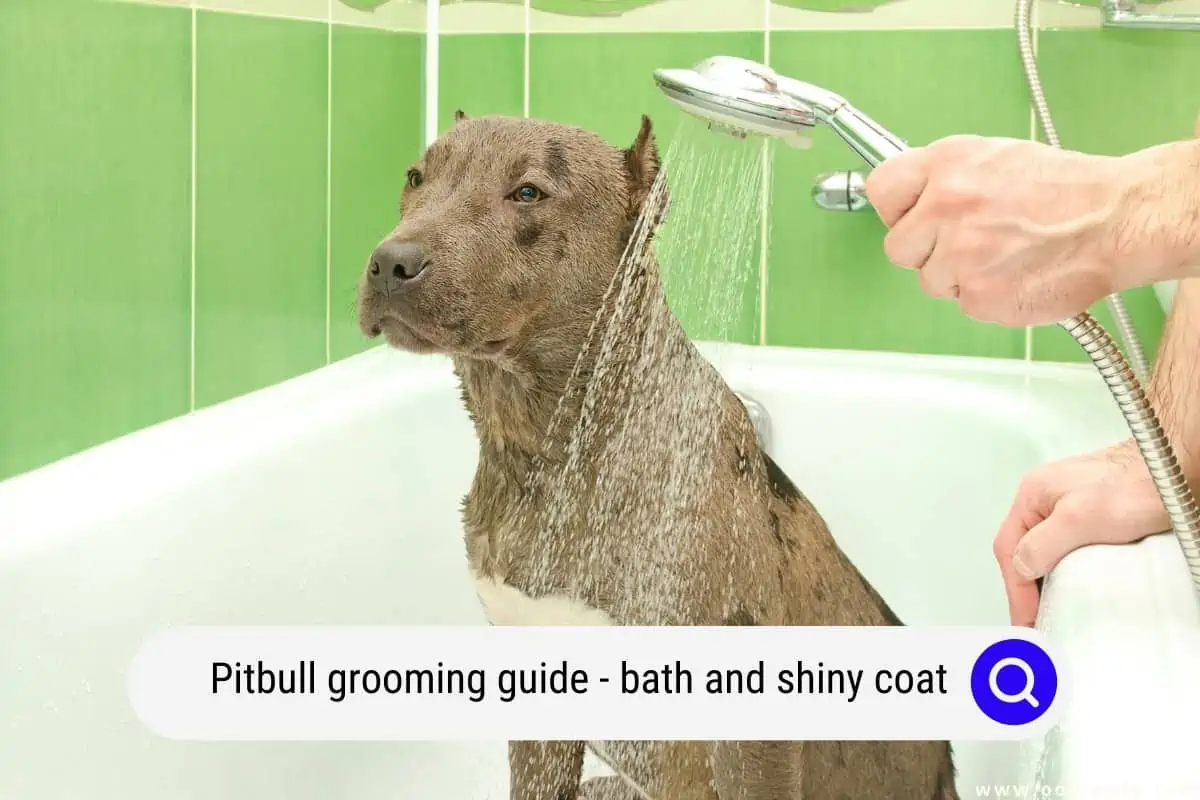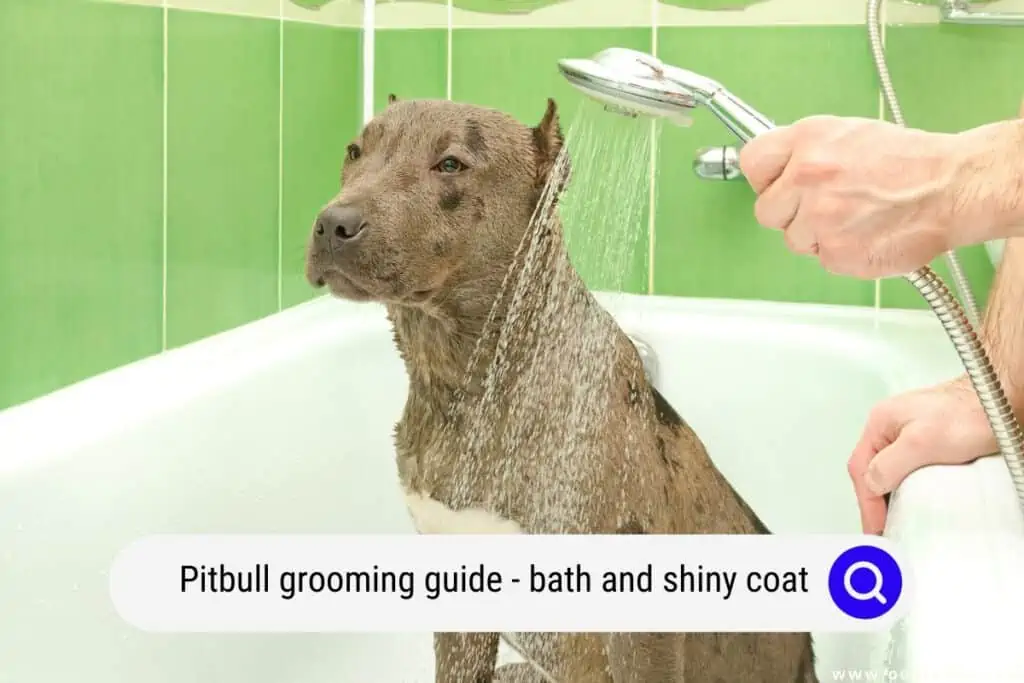 3. Pro Pet Works All Natural Organic 5-in-1 Oatmeal Pet Shampoo and Conditioner
Pro Pet Works has formulated a quality 5-in-1 shampoo that is both gentle and effective for your furry friend. The specialty formula contains gentle ingredients safe enough for pets requiring frequent bathing. In addition, it is sure to leave your dog smelling fresh with natural aromatic ingredients like almond oil, oatmeal, and aloe vera.
Pro Pet Works All Natural Soap Free 5 in 1 Oatmeal Dog Shampoo and Conditioner-Moisturizing Formula for Dandruff Allergies & Itchy Dry Sensitive Skin-Puppy Grooming for Smelly Dogs -17oz
>ALL NATURAL PLANT BASED FORMULA: Featuring ingredients like Aloe Vera Gel, Organic Almond Oil, Oatmeal, and Vitamins A, D, E, and B12, our unique and special blend was formulated to be safe and...
>PREMIUM QUALITY: Made using only the finest ingredients available, our formulation is paraben-free, cruelty-free, sulfate-free, alcohol-free, and soap-free. The Aloe Vera Gel in our formula contains...
>MULTIPET USE: Our one-of-a-kind, 5-in-1 oatmeal shampoo and conditioner is not just great for dogs - use our blend on your cat/kitten, rabbit, guinea pig, or ferret. Preserving the natural oil...
>UNIQUE INGREDIENTS: What sets our blend apart are the ingredients we use. Soothing Aloe Vera Gel and Almond Oil synergistically work together to effectively help relieve skin issues and treat your...
>DESHEDDING FORMULATION: Our deshedding shampoo and conditioner helps to keep skin cells healthy, protect the skin against UV damage, and helps to deshed the undercoat. The Fatty Acids in our formula...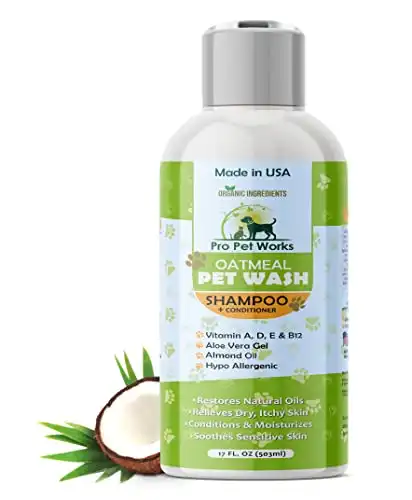 We earn a commission if you make a purchase, at no additional cost to you.
Pro Pet Works All Natural Organic Oatmeal 5-in-1 Oatmeal Pet Shampoo and Conditioner makes our list because it is a great option that is safe enough for everyday use, smells great, and is effective on sensitive skin.
This dog shampoo contains 20 of the 22 veterinary-recommended amino acids, including Vitamins A, D, E, & B12, that pets need to lead a healthy lifestyle and helps to restore your pet's natural oils while soothing and moisturizing.
Pro Pet Works are also happy to back its cruelty-free guarantee and have perfected a formula that is paraben-free, alcohol-free, soap-free, and sulfate-free, and all its products are made in the United States.
We also like that this shampoo is an excellent option for everyday or frequent baths, as the recommended leave-in time for the product is a quick five minutes.
We love this product and have included it in our list because it delivers great moisturizing ingredients that are important in providing relief to itchy, dry skin.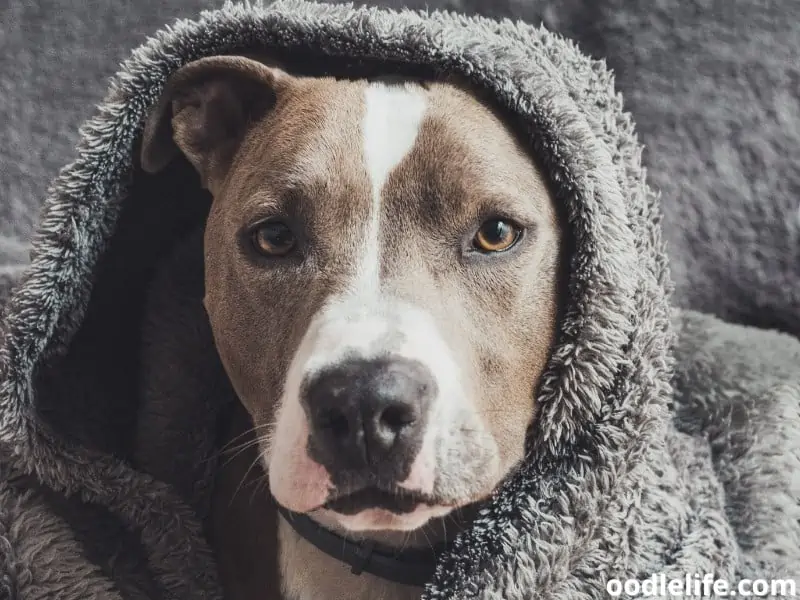 Final Thoughts
These three products are the best shampoos for Pitbulls because they are moisturizing and hypo-allergenic, making them suitable for sensitive skin. Whichever product you decide to use, it will be sure to leave your pup clean, smelling fresh, and, most importantly, irritation-free.