As dog owners, we all love our pets. But there is one thing that can't be denied, and that is the fact that they smell. They may not necessarily smell bad, but dogs always give off the scent of one thing, and that is dog.
This smell can often be made worse, especially if your dog suffers from a medical condition, or they have rolled in mud and other unpleasant things on a walk.
You can't use regular wet wipes on dogs because they contain chemicals that could harm your dog's skin, so what else can you use to wipe your dog clean after a messy walk?
Well the answer is simple, and that is dog wipes! Dog wipes are exactly like wet wipes except they exclude all the nasty chemicals that harm our fur babies.
In this guide, we've put together a short list of the top 5 brands of dog wipes. So if you want to find out more, then keep on reading.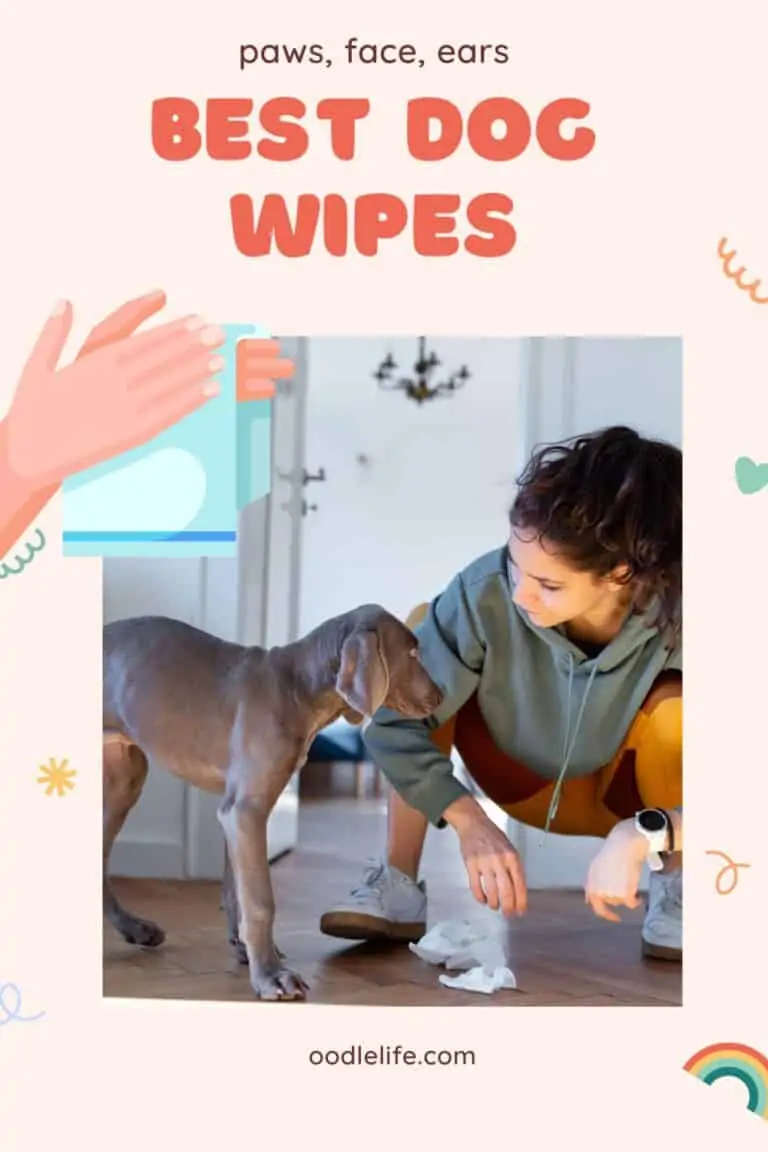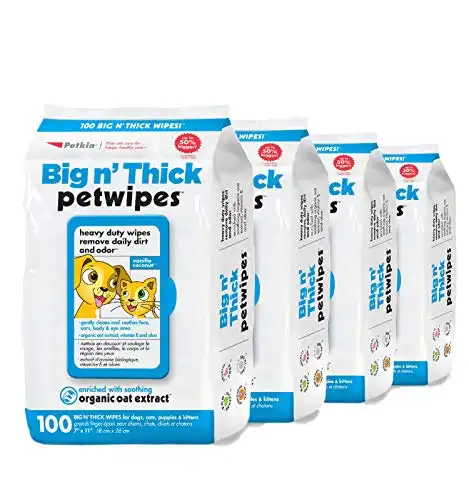 Our favorite dog wipes on the market are the Petkin Pet wipes for dogs. These wet wipes have a fresh and pleasant scent of vanilla and coconut that masks the scent of mud and dirt. They are also designed to be extra large, and this is for two main reasons.
The first being that large wipes are easier to use, and make cleaning your dog an easier (and quicker) process. The second being that they are easy and convenient to use on larger breeds as well as small.
But it isn't just their size that makes these pet wipes great because they are also incredibly soft. Even if your dog has thick fur you don't want them to feel uncomfortable while you wipe them clean, and these pet wipes make them easy.
Not only are the wipes themselves designed to be gentle, but the ingredients that are used are also gentle so that they will clean your dog's fur without causing their skin any harm.
If that wasn't enough, the packaging of these wipes is also very easy to use, making them excellent for situations where you need a wet wipe quickly. So it's clear that these are one of the best options on the market.
Pros:
Extra Large Size – makes cleaning your dogs with these wipes a quick and easy process, and also makes them suitable for larger breeds
Soft and Gentle – dogs have sensitive skin, so these wipes are designed to be as comfortable as possible so that your dog stays happy
Convenient to Use – easy to open lid makes getting these wet wipes out an easy task which is great for emergencies
Cons:
Petkin Petwipes, 400 Wipes – Big 'n Thick Extra Large Pet Wipes for Dogs and Cats – Cleans Face, Ears, Body and Eye Area – Super Convenient, Ideal for Home or Travel – 4 Packs of 100 Wipe...
Petkin Pet Wipes For Dogs and Cats - These large grooming wipes are a fast, convenient way to freshen up your pet every day. Easily remove daily dirt and odor with a quick wipe down. Includes 4 packs...
Gentle For Your Furry Friend - These refreshing dog wipes are extra gentle and ideal for daily use around your pet's eyes, ears, face, body and butt. Won't remove spot flea treatments. Perfect for...
Use Less Wipes - The 7 x 11 inch wipes are larger than standard wipes, making them the smart choice for large pets and helps reduce how many wipes you need to use. Moistened with a gentle cleaning...
Super Convenient, Goodbye Shampoo - Petkins are perfect for quick touch ups between baths. Use as dog paw wipes after a muddy walk, or when it's too cold for a bath outside. A great solution for older...
Easy To Use - Open the lid and remove seal. Pull a wet dog wipe out. Close lid tightly. Gently wipe entire pet until clean. No water or rinsing is required. Use daily or as needed.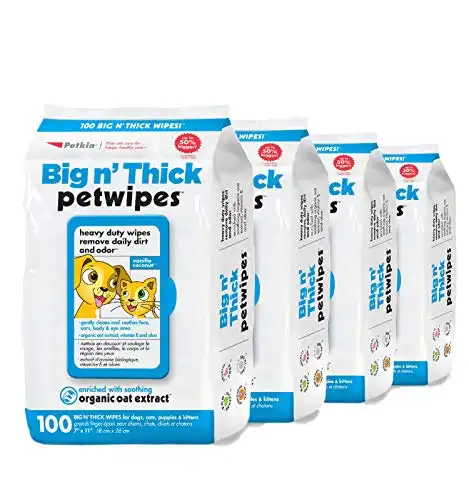 We earn a commission if you make a purchase, at no additional cost to you.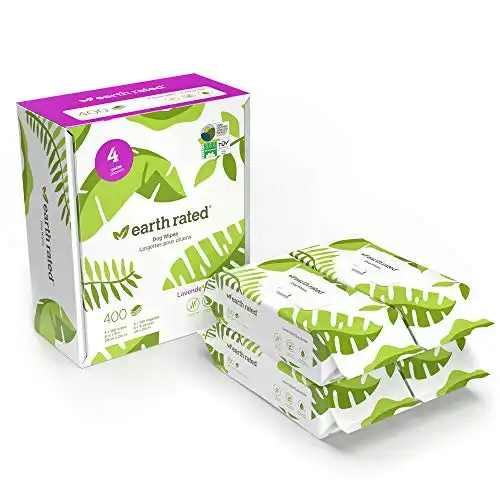 Another product that we love is the Earth Rated Plant-Based Dog Wipes. As their name suggests, these dog wipes are an excellent choice if you are passionate about the environment and ethical companies.
The wipes are designed using only natural ingredients so that neither your dog nor the environment are unnecessarily exposed to nasty chemicals that could cause harm.
Additionally, they are designed to be hypoallergenic and avoid any common allergens to ensure that your dog's skin does not become irritated by these wipes.
Finally, these wet wipes are excellent because they come in two different options. If you want wipes that will improve the smell of your dog then you can get a lavender scented version.
Whereas, if you just want wipes to clean your dog's fur, and aren't bothered about the scent, they also come in an unscented version.
With all of this, plus the fact that they come with a discount if you buy these wipes in bulk, there's no doubt that they are one of the best options on the market.
Pros:
Hypoallergenic – designed with dogs in mind, so these wipes exclude all common allergens that could irritate your dog's skin
Scented and Unscented – available in both scented and unscented options, so you can use them to freshen up your dog's smell or simply wipe away dirt
Natural – these wipes are plant-based and avoid any nasty chemicals that could harm your dog or be bad for the environment
Cons:
Small Design – means that they might not be the best choice if you have a larger breed of dog
Earth Rated Dog Wipes, 400 Plant-Based and Compostable Wipes for Dogs, USDA-Certified 99 Percent Biobased, Hypoallergenic, Lavender-Scented 8x8 Deodorizing Grooming Pet Wipes for Paws, Body and Butt
99% PLANT-BASED: Our dog wipe fibres are certified compostable according to EN13432 standards, and made from cellulose fibres sourced from renewable resources.
GENTLE AND CRUELTY-FREE: Made with soothing aloe vera, shea butter, chamomile, and cucumber. Gentle enough for daily use, even on sensitive spots.
DERMATOLOGIST TESTED: Hypoallergenic and free of parabens, and alcohol. A Dog Wipe a day keeps the bath stress away!
GIVING BACK SINCE 2009: Your purchase from Earth Rated helps support animal shelters, rescues & non-profit organizations. As a B Corporation, making things better, for dogs and people, is the reason...
ONE SIZE PRIMPS ALL: Contains 100 regular size wipes (8"x8") perfect for small, medium, and large dogs.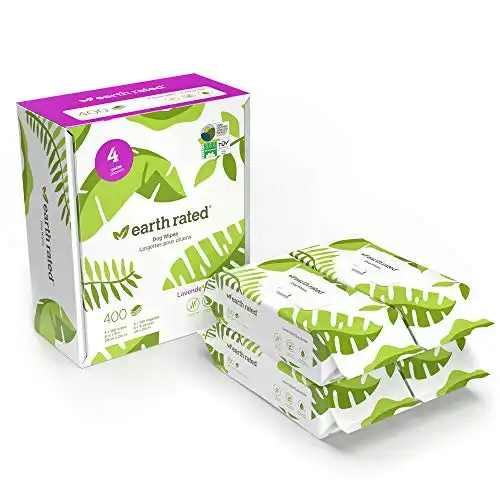 We earn a commission if you make a purchase, at no additional cost to you.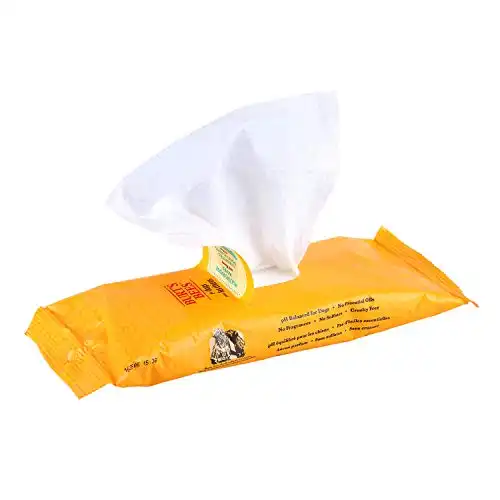 Alternatively, a great choice is the Burt's Bees Multipurpose Dog Wipes. Burt's Bees is a well-respected brand which is known for its natural ingredients, making it a perfect choice when it comes to buying things for your dog.
These wipes are no different as they are packed with natural ingredients that will help clean your dog's fur. They also contain lots of natural vitamins, minerals and amino acids that are sourced from the honey used in these wipes.
These ingredients will not only clean your dog's fur, but they will also cleanse their skin which will improve their smell even further.
Another great thing about these wipes is that they are suitable for use on puppies. Despite the fact that dogs are probably at their messiest while they are puppies, a lot of dog wipes are not suitable for use on puppies but these are.
If all of this hasn't sold you on these wipes, it is worth saying that Burt's Bees is a responsible company which ethically sources and doesn't animal test. So there's no denying that these wet wipes are some of the best that money can buy.
Pros:
Natural Ingredients – contains lots of natural vitamins, minerals and amino acids to naturally clean your dog's fur and cleanse their skin
Suitable for Puppies – a lot of wet wipes are only suitable for adult dogs, these wipes are also suitable for puppies over the age of 12 weeks
Responsible Company – Burt's Bees source all ingredients from nature, only use responsible sources, and don't test on animals, so they are great from an ethical perspective
Cons:
Weak Scent – compared to other products by Burt's Bees, the smell of these wipes disappears quite quickly
Burt's Bees For Dogs Multipurpose Grooming Wipes | Puppy and Dog Wipes For Cleaning, 50 Count, FF7488
$10.99
$7.49 ($0.15 / Count)
No. 1 PET GROOMING BRAND IN THE USA* - Join the millions of pet parents who can't get enough of Burt's Bees for Pets by using America's #1 pet grooming brand. Try Burt's Bees Tearless Pet Wipes as...
WIPES REMOVE DIRT AND ODORS - Burt's Bees dog wipes are a quick solution for removing dirt and odors from your dog's coat in between baths and after long walks - use as a dog paw cleaner after every...
MADE WITH THE HIGHEST QUALITY 99.7% NATURAL INGREDIENTS - Burt's Bees products, including these puppy wipes, include 99.7% naturally derived ingredients, which gently cleanse and soothe your puppy's...
SUITABLE FOR ALL DOGS - These gentle pet wipes are ideal for most dogs & puppies. They are pH balanced specifically to dogs' skin to retain their moisture barrier. They are a perfect addition to your...
NO SULFATES, COLORANTS, ADDED FRAGRANCE OR HARSH CHEMICALS - This dog dandruff treatment formula is free of added artificial ingredients. That's what makes Burt's Bees for Pets a natural dog company...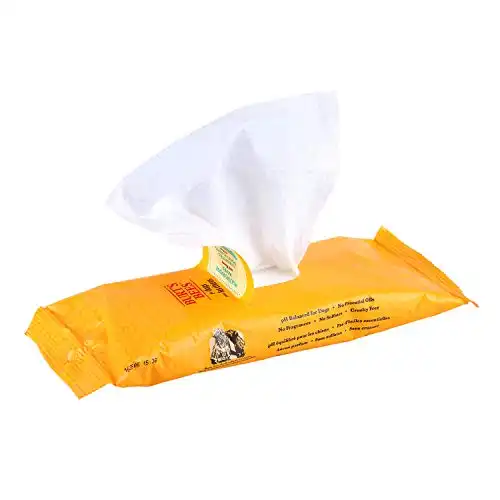 We earn a commission if you make a purchase, at no additional cost to you.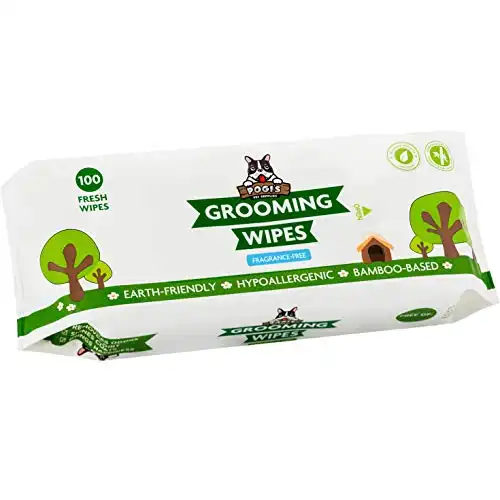 We also really like the Pogi's Hypoallergenic Pet Wipes for dogs. All dogs have sensitive skin, but some suffer with allergies more than others. If your dog fits into this category then these could be the perfect pet wipes for you.
As their name suggests, these wet wipes are designed with allergies in mind, so they contain no ingredients which are linked to common skin allergens in dogs. Instead, they contain ingredients that will soothe sensitive and damaged skin, including aloe vera, vitamin E, and Hawaiian Awapuhi.
As well as using natural ingredients that will not cause allergic reactions, these wipes are also designed to be sustainable. This is mainly because the actual wipes themselves are created using 100% sustainably sourced and harvested bamboo.
But perhaps the best thing about these wipes is their sheer size. The majority of dog wipes on the market are small which isn't that good when you have a very muddy dog.
But these wipes aren't small, instead they are actually very big which makes wiping your dog down an easy job. So if you want wet wipes that are good for getting mud and dirt off of your dog's sensitive skin, these are the ones for you.
Pros:
Sustainable – the wipes themselves are made with sustainably harvested bamboo to ensure they bring no harm to the environment
Conditions the Fur – contains vitamin E, aloe vera, and Hawaiian Awapuhi to freshen up, condition and improve your dog's coat
Versatile – large design means that they are suitable for use on your dog's coat, as well as on their paws and bums when needed
Cons:
Poor Packaging – it is difficult to get the wipes out of the packaging, so they are not great for emergencies
Pogi's Grooming Wipes - 100 Hypoallergenic Pet Wipes for Dogs & Cats - Plant-Based, Fragrance-Free, Deodorizing Dog Wipes
Conditioning Ingredients - Aloe Vera, Vitamin E, and Hawaiian Awapuhi help clean, freshen and condition while giving the coat a healthy shine. Perfect for wiping away odor, dirt, and dander from paws,...
Large Pet Wipes (8 x 9 inches) - Our textured dog grooming wipes are made big enough for even the largest dogs, and thick enough for the heaviest coats. Perfectly sized puppy wipes and kitten/cat...
Versatile - When normal baths are not an option, pet parents love using Pogi's dog cleaning wipes for gentle puppy baths, pets under stress, or pets post surgery.
Hypoallergenic Dog Wipes - Completely free of parabens, sulfates, alcohol so they're safe for daily use. They are also gentle enough wipes for use around the eyes, ears, and face.
Super Convenient - Perfect for at home or travel. Use as a quick touch up, as dog wipes for paws and butt after a muddy walk, or when it's too cold for a bath outside.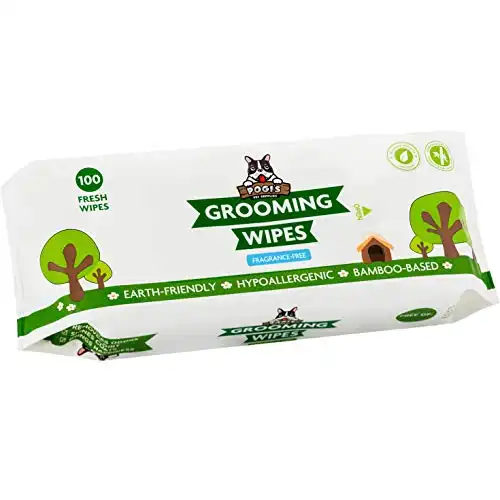 We earn a commission if you make a purchase, at no additional cost to you.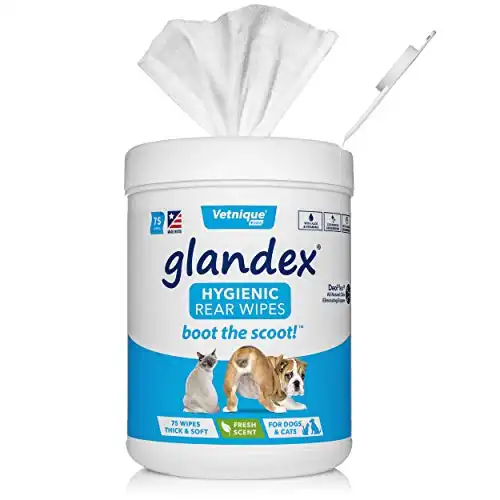 The final product on this list is slightly different from the others that we have looked at, but definitely worthy of making it onto this shortlist.
We are, of course, talking about the Glandex Deodorizing Hygienic Dog Wipes which are designed with dogs who have anal gland issues in mind.
It's not a pleasant subject, but a lot of dogs suffer with anal gland infections, and the smell that comes with these infections is extremely unpleasant. These dog wipes are designed primarily to clean the anal area of any secretion, and deodorizing the unpleasant smell so that your dog smells better.
Even thought they were designed with anal gland issues in mind, these wet wipes also work incredibly well as regular dog wipes. So even if your dog doesn't suffer with infections, these wet wipes could still be a great option.
They are incredibly hygienic and can be used for general cleaning as well as cleaning your dog's face, ears, and rear end. They also actively moisturize your dog's skin as they are made with aloe vera and vitamin E in the recipe, so if any of your dog's skin is sore, these wipes will make it feel better.
With all this in mind, it's clear that these wipes are a great choice, even for dogs without anal gland problems.
Pros:
Deodorizing – eliminates the unpleasant smell of anal gland odor rather than just trying to mask it
Moisturizing – contains aloe vera and vitamin E to soothe your dog's skin and improve the quality of their fur
Hygienic – great for general hygiene, but also excellent for cleaning your dog's rear end, as well as the face and ears
Cons:
Noisy Packaging – if your dog is nervous about being cleaned then these wipes might not be the best choice
Glandex Dog, Cat & Pet Wipes Cleansing & Deodorizing Hygienic Anal Gland Grooming Wipes 75 ct Fresh Scent - by Vetnique Labs
SUPPORTS ANAL GLAND HEALTH & PROPER HYGIENE - Convenient for daily hygiene can be use all over body on paws coat face ears & anal area. Great for dogs and cats, ages from puppy to kitten
DEODORIZING & FRESH SCENT - Contains natural DeoPlex enzyme to help eliminate unpleasant anal gland odors. Glandex grooming supplies such as these deodorizer wipes are a must have!
VETERINARIAN RECOMMENDED - For anal gland odor & health used by professional groomers & vets after emptying anal glands. Papertowels and cleaner won't cut it with smelly anal gland problems or dirty...
WITH ALOE VITAMIN E MOISTURIZERS & SKIN CONDITIONERS - To help soothe & restore the area, leaves your pet happy and healthy Made in USA from globally sourced ingredients
ULTRA SOFT & DURABLE CLOTH - Gentle for sensitive areas yet tough enough for difficult odors & mess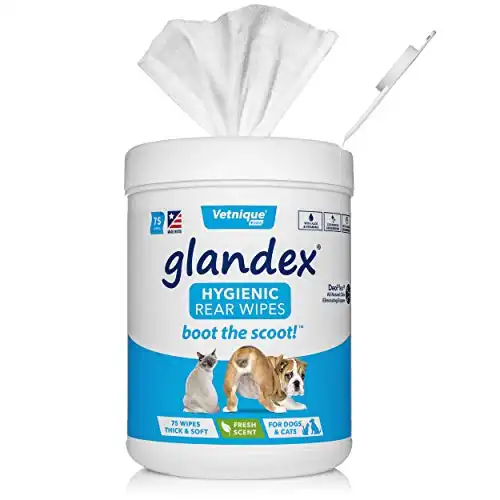 We earn a commission if you make a purchase, at no additional cost to you.
Guide to Dog Wipes – What We Considered
Finding the perfect dog wipes for your fur baby can be difficult.
The options we have looked at above are, arguably, the best on the market, but if you still aren't sure we've put together this buyer's guide to help.
So if you want to find out more about what to look for when buying dog wipes, keep on reading.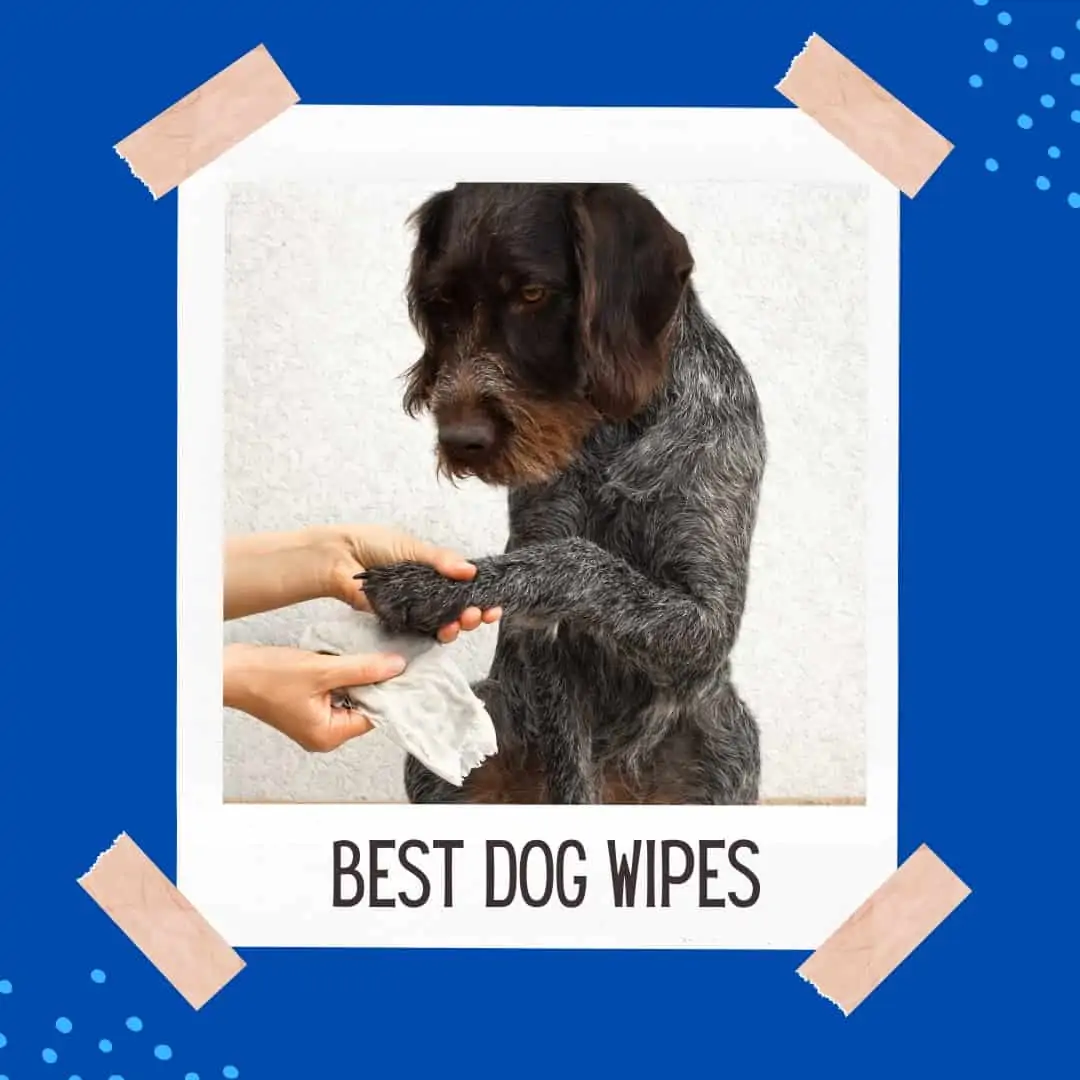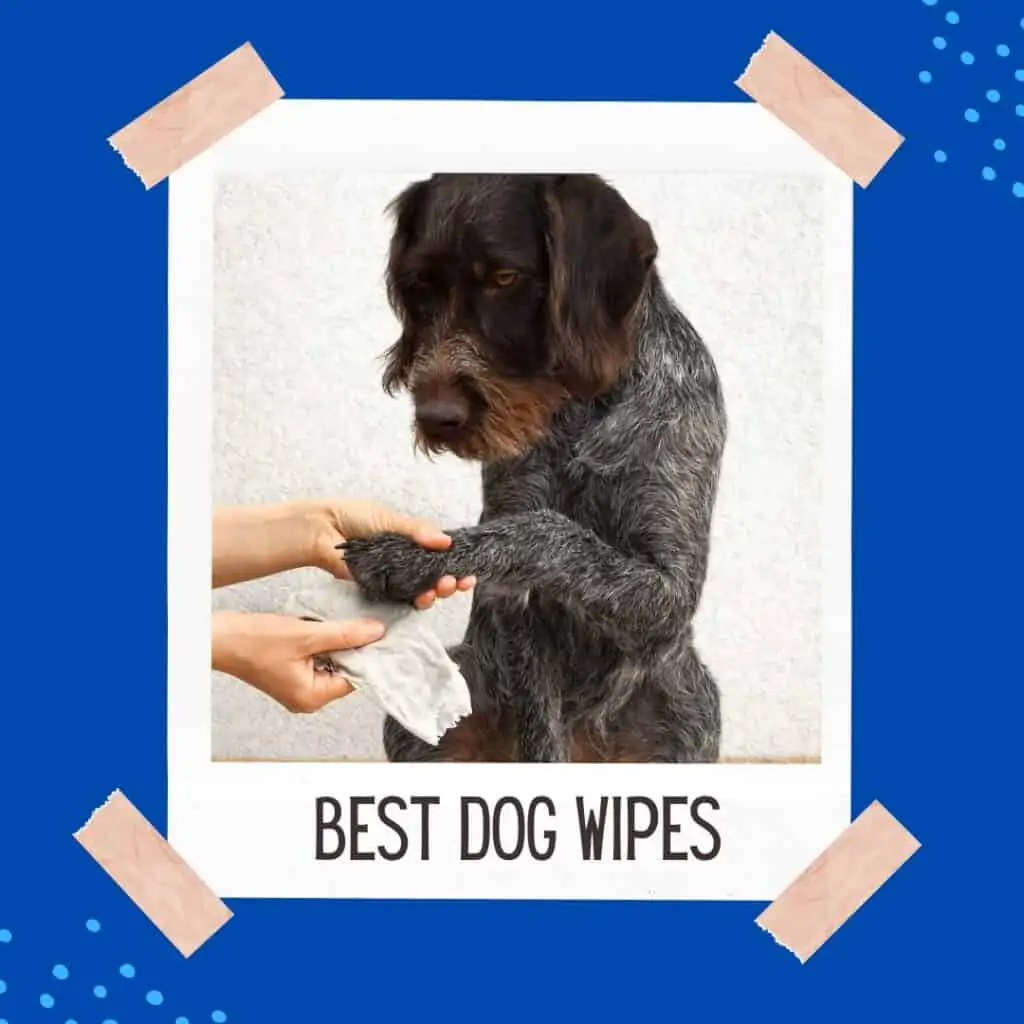 Ingredients
The most important thing to consider when it comes to dog wipes is the ingredients that are used to produce the wipes. Dogs have very sensitive skin, and some ingredients can be very dangerous for them and their well-being.
With this in mind, you should never use wipes on your dog if they contain artificial fragrances, parabens, alcohol, or phthalates. All of these ingredients can be very irritating to your dog's skin and can cause them a lot of pain, so it is best to avoid them all together.
Instead, you should try to find dog wipes which primarily use natural ingredients. Natural ingredients are not only good for the environment, but they are also good for your dog and can be excellent at soothing their skin. So don't forget to check the ingredients list before you buy any dog wipes.
Purpose of Wipes
Another thing you have to consider is the purpose of the wipes. As we have mentioned, there are lots of different types of dog wipes available. But all of these products fit into one of two categories: general or specific.
Dog wipes that fit into the general category are wipes designed to wash your dog all over. These wipes are suitable for washing your dog's fur and removing dirt from between their pads. But they are not designed for specific areas of your dog's anatomy.
Whereas dog wipes that fit into the specific category are wipes that are designed with a specific area of your dog's anatomy in mind. You will often find dog wipes that are designed for use on your dog's face and ears.
Additionally, there are dog wipes designed for specific conditions, such as ones designed to target anal gland infections. So before you buy any wipes, consider what you want to do with them.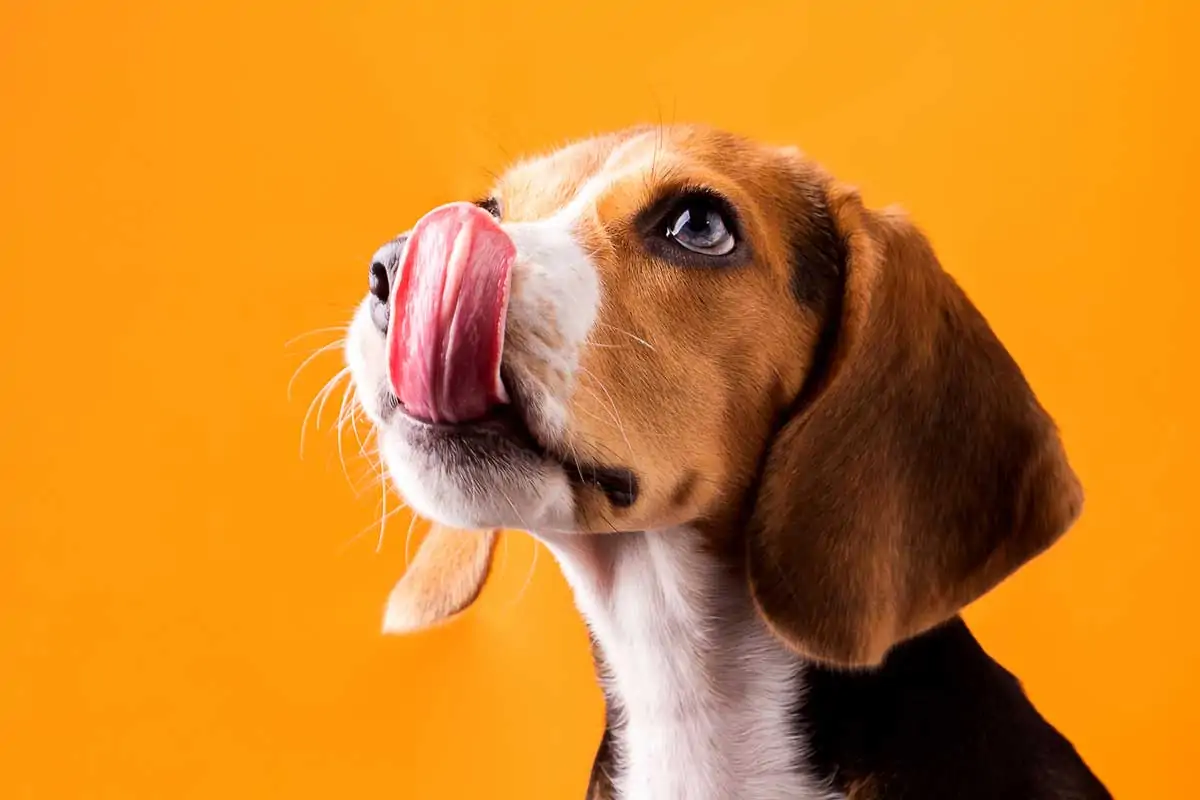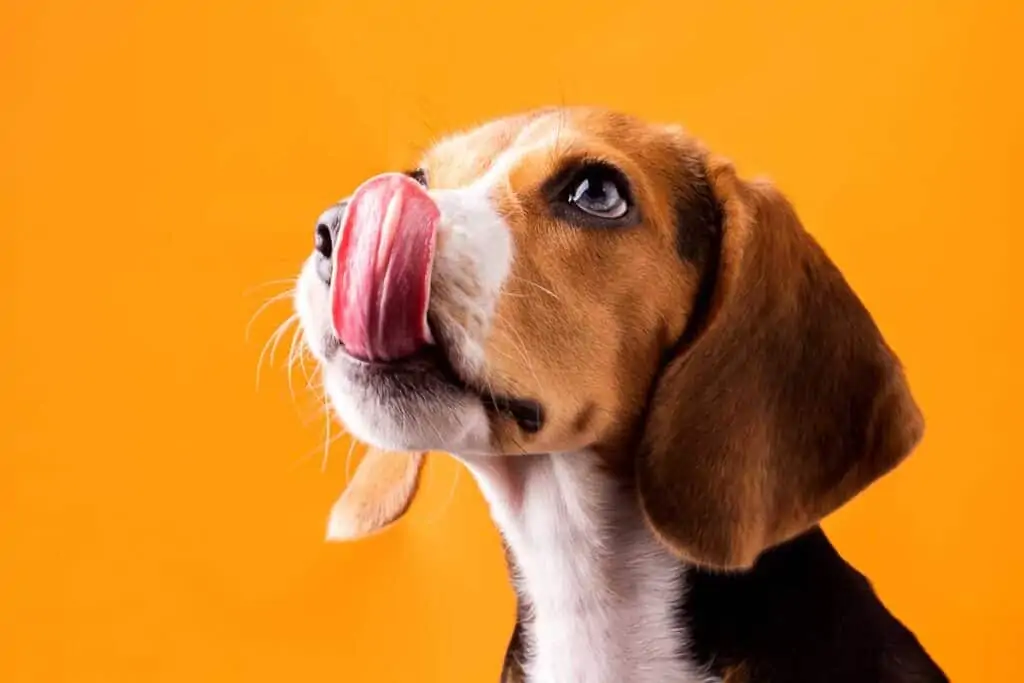 Size
Before you buy any dog wipes, you should also consider the size of wipe that you want. If you purchase the wrong size of wipe it isn't the end of the world, it will simply mean that wiping your dog clean may take a little longer.
The best way to decide what size of wet wipes you need is to consider how big your dog is. If your dog is only small then small wet wipes will be fine for the job. But if you have a larger breed of dog then it will take considerably longer to wash your dog if you buy small wet wipes.
However, some people with smaller breeds still choose to buy larger wipes as they can help speed up the process of cleaning your dog. Larger wet wipes will be able to cover a larger area of your smaller dog's fur which will speed up the cleaning process. So before you buy any wet wipes think about how big your dog is.
Frequently Asked Questions
Do dog wipes really work?
Yes, dog wipes do work! They are excellent at wiping dirt off of your dog's coat, and can also be used to clean up surface dirt that has come off of your dog.
In particular, dog wipes are very good for cleaning the smaller, more sensitive areas of your dog. These include wiping dirt off of their muzzle, and cleaning mud out of the gaps between your dog's pads.
If your dog smells dirty, there is a good chance it is because mud has snuck into these out of reach areas. So it is always a good idea to clean your dog's pads thoroughly after you get back from a walk to avoid this mud drying and causing a smell.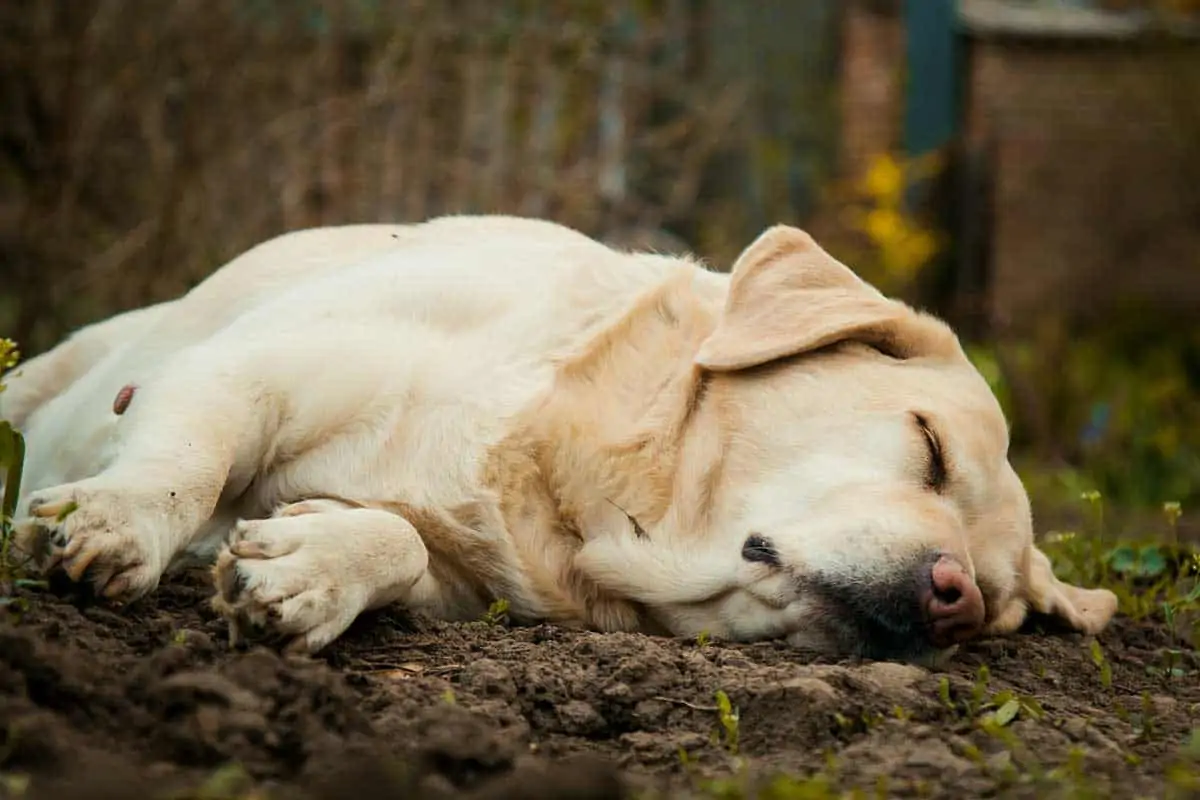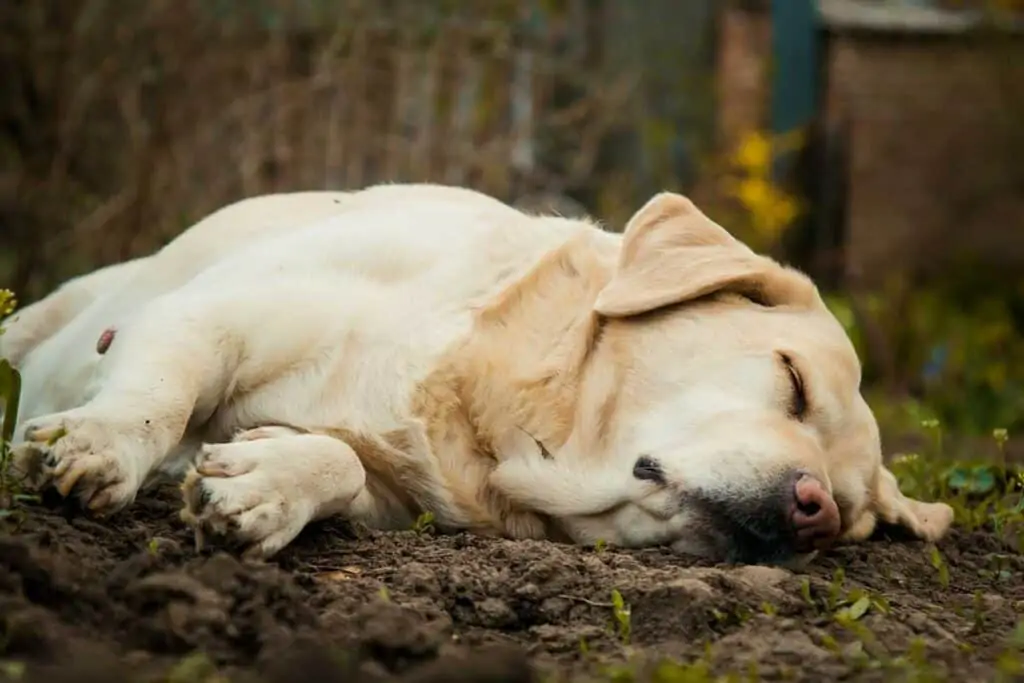 Are pet wipes safe for dogs?
Generally, dog wipes are safe for use on your dog. However, there are a few companies who manufacture dog wipes that include chemicals and ingredients which could be harmful for your dog.
This is why it is very important that you always check the ingredients list before buying. But these few companies aside, generally pet wipes are safe to use on your dogs.
As long as you follow the instructions, and avoid your dog's sensitive areas (inside the ears, eyes, etc.) then dog wipes are perfectly safe to use on your dog, and a great way to get them clean and smelling better. 
If your dog suffers from allergies steer clear of any medicated wipes – stick with water and a clean cotton wipe (DIY wipe) and for stubborn smell or stain consider gentle allergy safe dog shampoos.
Should I wipe my dog's bottom with wipes?
No, you do not need to regularly wipe your dog's bottom. However, now and then you might need to help your dog clean themselves up if they are stuck. In these situations, the best way to clean their bottom is by using a dog wipe. 
There are lots of different types of dog wipes available, and some of these are actually designed with the purpose of cleaning your dog's rear end. Some dogs suffer with anal sac disease which causes repetitive infections in the anal glands which give off a pungent smell, so some wet wipes have been designed to improve this stink.
So if you do find yourself needing to wipe your dog's bottom, it is always a good idea to keep some dog wipes handy, just in case.