Best Dog Food For Dachshunds [5 Best]
Picking appropriate food for the low and long Daschund can be a vital difference between health and sickness. Carefully choose appropriate nutrition for your Royal Dachshund.
Nothing will turn a man's home into a castle more effectively or quickly than a dachshund – Queen Victoria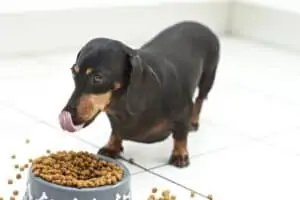 There is no creature more loving, loyal, and faithful than the dog.
For fifteen thousand years, canines and humans have been inseparable, and as much as dogs might depend on us, we rely on them far more.
In the many millennia since forming that initial bond, and mainly due to selective breeding programs and the concerted efforts of humans to fashion dogs to perform a multitude of different tasks, canines have become infinitely adaptable and have further cemented their place in human society as man's best friend.
Among the many breeds of dogs vying for our attention, few are as playful, clever, courageous, or committed to their owners as dachshunds.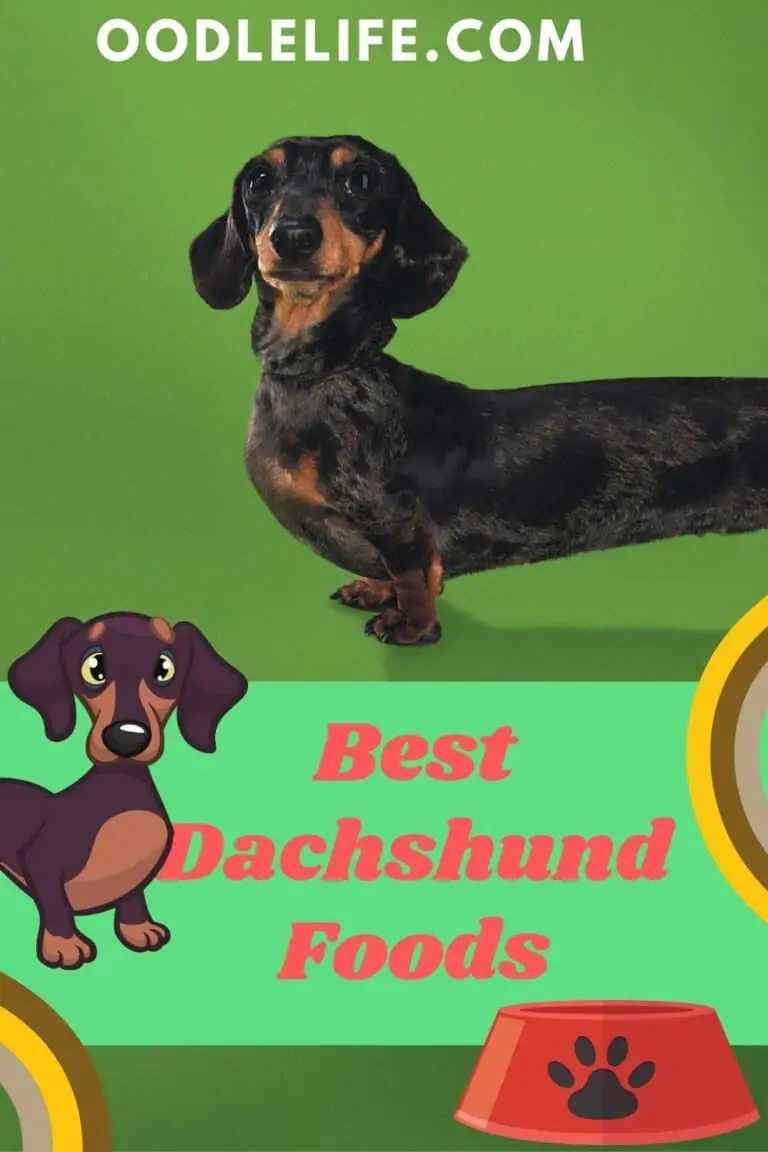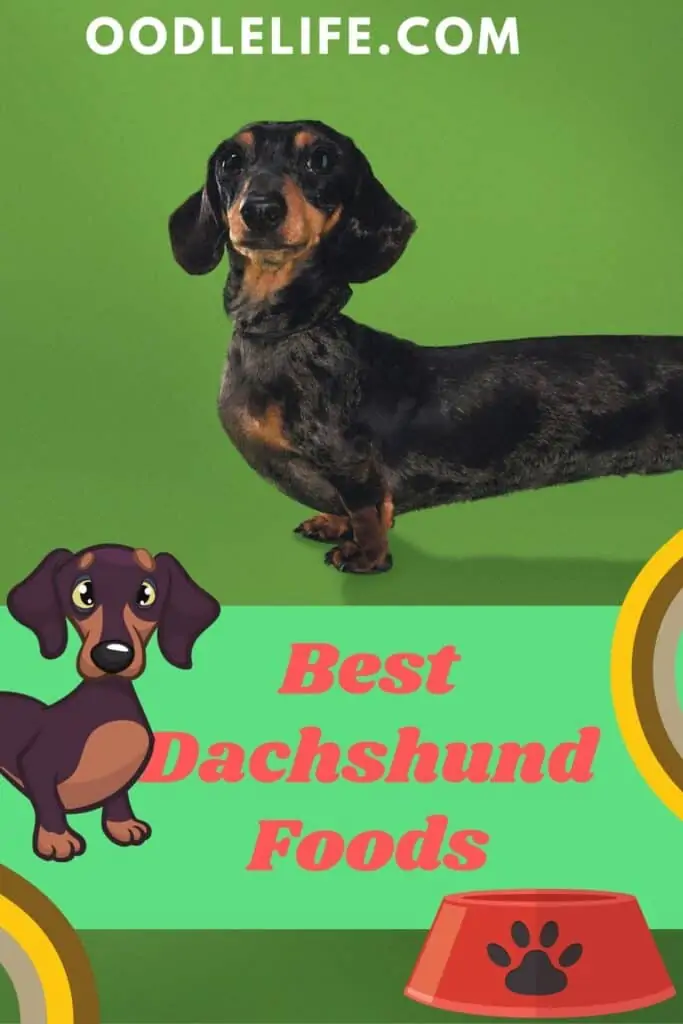 Commonly known as Weiner dogs due to their short stature and long bodies, dachshunds were originally bred to hunt badgers and other burrow dwelling animals, and while they still love to embark on all sorts of incredible adventures with their two-legged companions, there's nothing that they like more than spending time and being curled up and cuddling, with their families.
And that's why we've compiled a list of the best dog food for dachshunds so that your cherished hounds can live long, active lives and spend as much time as possible enjoying all of their favorite things.
It's time to fill your wiener dogs bowl with the sort of food that they'll instantly fall in love with…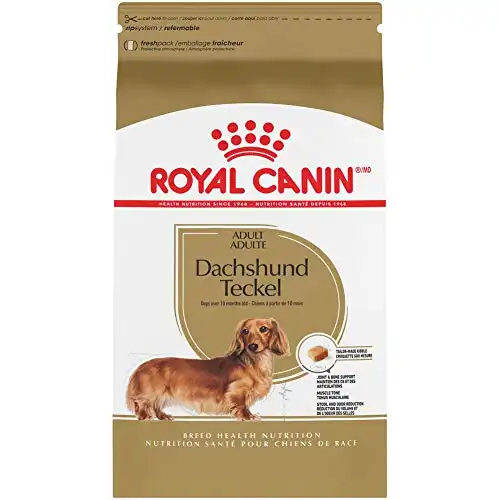 Royal Canin is famous the world over for creating food that's specifically designed to cater to the needs of different breeds of dogs.
Whatever gene pool your hound is part of, there's a variety of Royal Canin's highly nutritious and tasty dog food that's been formulated to help them thrive and make the most out of every second of every day.
Their breed-specific dachshund food has been created to help dachshunds pick up and chew their food and is packed with calcium and phosphorus to strengthen and support their small limbs and elongated backbones.
Made with a precise protein content to help your hound's muscles develop and grow, and full of highly digestible proteins and fibers to maximize their stomach and gut health and reduce stool volume and odor, Royal Canin was designed to enable your dachshund to meet every single day with rugged determination and enthusiasm.
Founded by a veterinarian who believed that the key to guiding dogs to live healthier lives lay in their diet, Royal Canin has spent more than half a century following their architect's dream.
And they've gone from strength to strength as more and more owners, and their dogs, are slowly, but surely, subscribing to Royal Canin's ideology and following them on the path to health and happiness.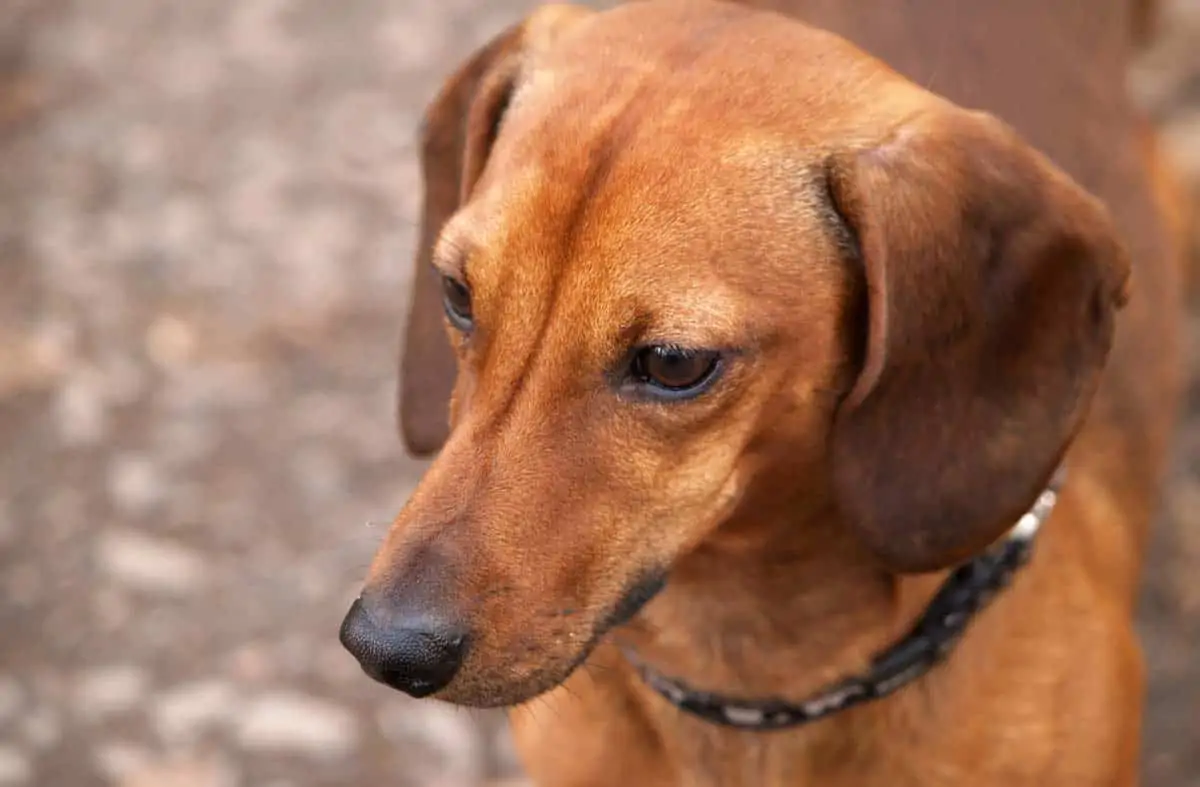 Pros:
Specially formulated to help dachshunds to thrive and not just enjoy the food in their bowls, but all of the benefits that it brings to their lives, Royal Canin is a wiener dog's dream dinner made manifest.
The kibble has been designed to suit the mouths of dachshunds and to enable them to savor and enjoy every bite as it releases all of the vitamins and nutrients that Royal Canin contains.
In order to create their wiener-friendly food, they partnered with breeders, vets, and a nutritional expert from all over the world to create a diet that would help dachshunds to prosper and flourish. And if you feed your dachshund on Royal Canin, that's exactly what they'll do.
It's not exactly a secret that dachshunds are prone to weight gain and to help them fight off that tendency to add a few pounds as they get older, Royal Canin contains a perfect combination of fiber and calories that'll deliver all the energy they need and convince them that they're full, so they'll never eat more than they need to.
Cons:
It's far from the cheapest way to feed your dachshund, and given how notoriously fickle they can be, it might be worth feeding them a small amount at first, to see if they actually like it, before attempting to completely switch them over to a diet of nothing but Royal Canin. After all, you don't want to be lumbered with a huge bag of food that your weiner dog won't eat, do you?
Royal Canin Dachshund Adult Breed Specific Dry Dog Food, 2.5 lb bag
FORMULATED FOR PUREBRED DACHSHUNDS: Royal Canin Dachshund Adult Dry Dog Food is designed to meet the nutritional needs of purebred Dachshunds 10 months and older
SPECIALIZED KIBBLE: Unique kibble shape helps Dachshunds pick up and chew their food
BONE AND JOINT: Calcium and phosphorus provide joint and bone support to help aid a small dog's tiny limbs and a long backbone
MUSCLE SUPPORT: Supports a little dog's muscle tone with precise protein content and L-carnitine
OPTIMAL STOOL: Highly digestible proteins and precise fiber content reduce stool volume and stool odor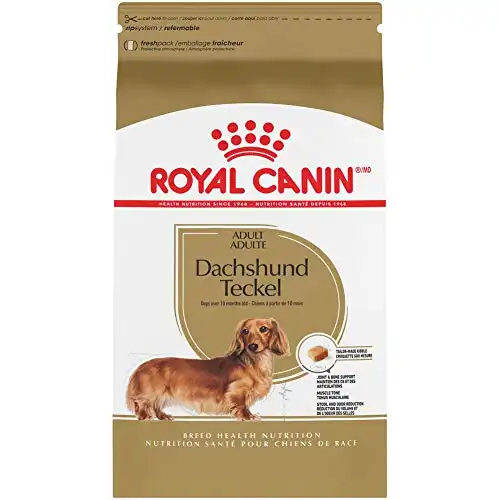 We earn a commission if you make a purchase, at no additional cost to you.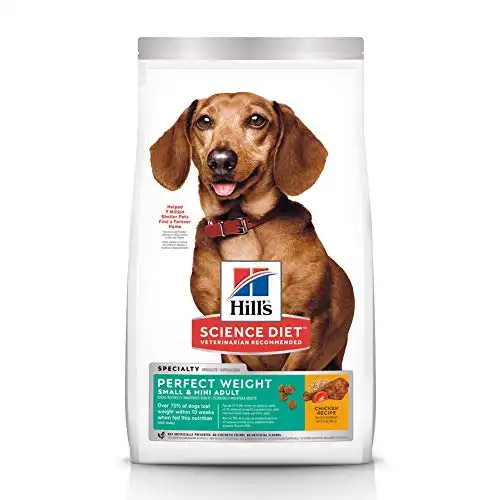 Hills have a direct and simple philosophy – they want to enrich and lengthen the special relationships that exist between people and their pets, and they believe that the food that your dog eats is crucial to maintaining that bond.
That's why their dedicated team of two hundred and twenty food scientists, nutritionists, and veterinarians are constantly working to improve their already tried and tested formulas in an effort to make them even better than they already are.
Dachshund's proclivity to gaining weight and their elongated spines are a combination that's ripe with potential health hazards and life-threatening problems, which is why this incredibly nourishing dry food has been designed to help them maintain their ideal weight.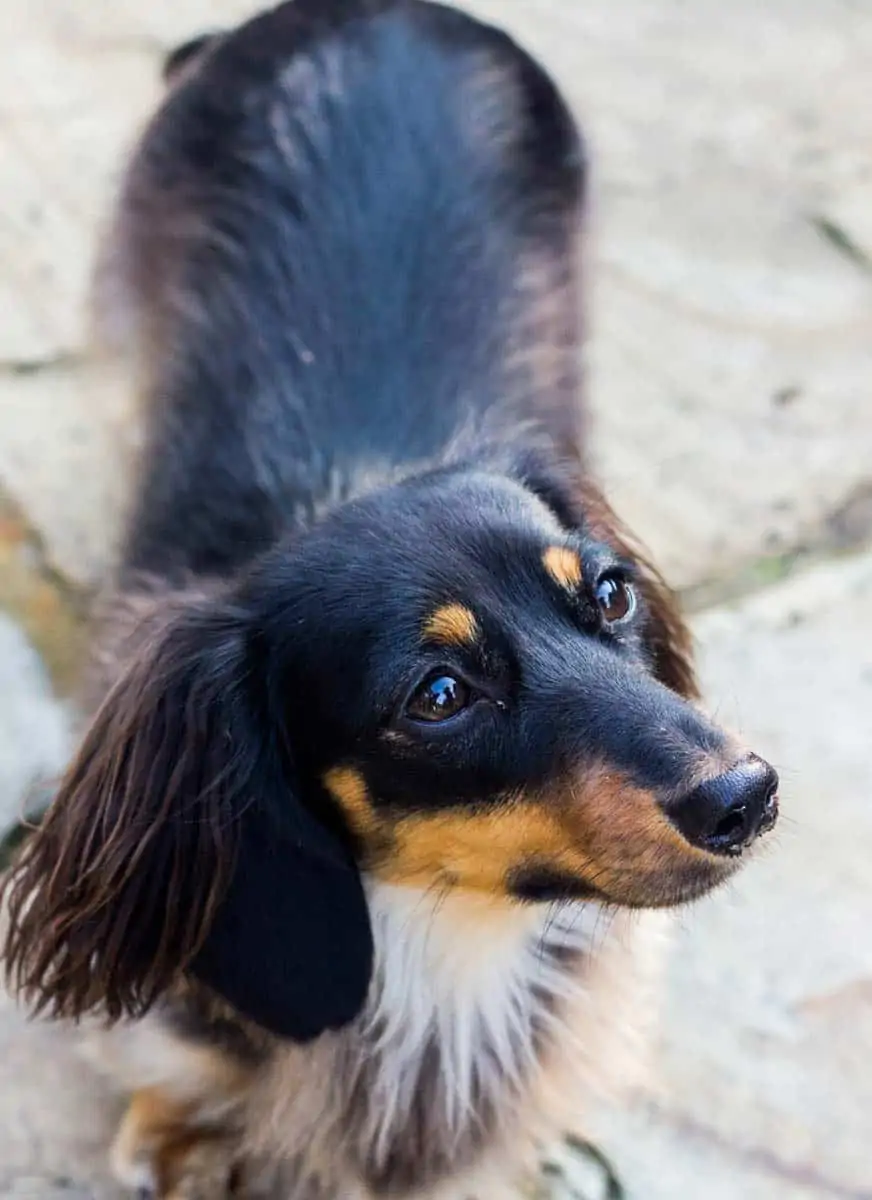 Mixing a great tasting kibble that's full of the vitamins, minerals, and fatty acids that your dachshund needs to maintain a healthy coat, skin, and lean muscle mass with cutting edge dietary science that's been engineered to keep them on a healthy and wholesome life path, Hills ensures that your Weiner dog will never tip the scales in the wrong direction.
Using only the highest quality ingredients in all of their food, Hills always makes sure that the very first thing that goes into everything they make is the protein.
Then they build the rest of their formula around it, making sure that the two things that dogs love the most, taste and meat, are always at the forefront of every recipe.
Pros:
Protein comes first and everything else follows its lead. That's the Hills way, and with a lot of scientific know-how and cutting-edge dietary knowledge, they've created a small dog food that tastes good and will help your wiener dog to maintain its svelte figure. This means that they won't put unnecessary pressure on their joints and skeletal structure and won't suffer any of the associated health problems that weight gain can induce.
Hill's Science Diet also contains everything else that they'll need to live a long, energetic and exciting life that you can, and will, happily share.
They're also one of the few brands to actively help animal shelters across America by running a program they call Shelter & Love. Every single bag of Hills bought helps to contribute to that program. You won't just be helping your dachshund by feeding them a Hills diet, you'll also be helping dogs all over the country.
Cons:
Some owners have complained that Hill's Science Diet made their dogs ill, so if you are tempted to feed your dachshunds on Hills, it might be advisable to try them on a small amount to see how they react to it before attempting to switch them over to a Hills dominated diet. It's better to be safe than sorry and let your hound decide if it's the right diet for him before trying to force him into a dinner time disaster that he just won't take to.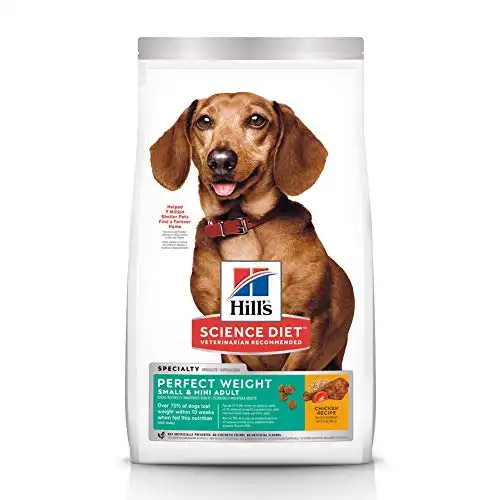 We earn a commission if you make a purchase, at no additional cost to you.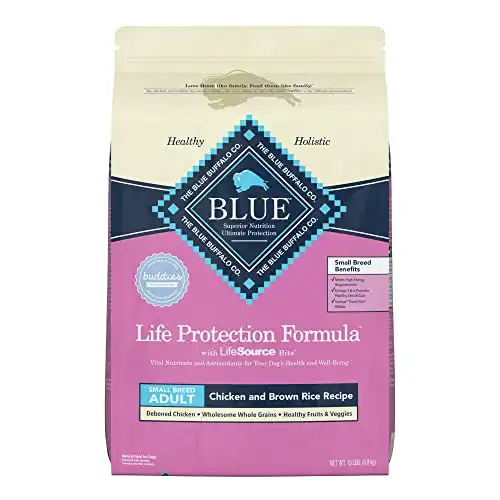 Every recipe that Blue Buffalo produces is made from the love for a small family dog called Blue.
An Airedale terrier with health problems, Blue was a dog adored by his family who were determined to help him enjoy every second of his life in any way that they could.
So they decided to make their own dog food, one that would help Blue to thrive. And that one recipe soon grew into many more, and Blue Buffalo was born. Blue may be gone, but his memory lives on in every bowl of Blue Buffalo.
Real meat is the first ingredient in every Blue Buffalo recipe and the chicken that this Life Protection formula contains helps your hound to build and maintain healthy muscles and has been specially created with increased levels of protein and carbohydrates to meet all of the energy needs and requirements of your little dog.
And the kibble itself has been designed for smaller jaws so that your hound can get stuck straight in and begin to enjoy everything that Blue Buffalo has to offer.
Which includes their patented LifeSource Bits, a precise blend of vitamins, nutrients, and antioxidants that are carefully selected to boost and maintain your dachshund's immune system and health at every stage of their adult life.
Using only natural ingredients, Blue Buffalo believes that every dog should be fed like family, which is why to refuse to compromise or include anything but the best in their dog food.
That's what Blue would have wanted and that's what they continue to do, Because for them, it's always been, and always will be, about a little dog called Blue.
Pros:
A completely natural dog food that uses only the best ingredients, if you want to feed your dachshund like royalty, which is the way they expect to be fed, then the best way to do it is with Blue Buffalo, which is a dog food fit for Kings and Queens.
Blue Buffalo's Life Protection Formula includes their patented Life Source Bits which were created to boost your hound's immune system and help him to easily overcome every hurdle that life puts in his path.
And if your dachshund isn't overly fond of chicken, Life Protection is also available in lamb and fish varieties, so it'll please even the choosiest palate.
Cons:
Apparently, Blue Buffalo has recently changed their recipes and some long-time fans of the brand have claimed that the change has turned their dogs off the food that they used to love. So it might be worth digging a little deeper and letting your hound try a little Blue Buffalo before you commit to buying a lot.
Blue Buffalo Life Protection Formula Natural Adult Small Breed Dry Dog Food, Chicken and Brown Rice 15-lb
REAL CHICKEN IS THE FIRST INGREDIENT: Blue Buffalo's Small Breed Dog Food features high quality deboned chicken as the primary ingredient, cranberries and vegetables for a protein rich diet that...
HIGH QUALITY NATURAL FOOD: BLUE's natural dry dog food is made with premium ingredients and contains no chicken or poultry by-products, corn, wheat or soy
SUPPORTS HIGHER SMALL BREED ENERGY LEVELS: Contains essential proteins and carbs to support higher energy requirements of small breed dogs
CONTAINS IMMUNITY-BOOSTING LIFESOURCE BITS: LifeSource Bits contain a precise blend of antioxidants, vitamins and minerals to support immune system health, life stage needs and a healthy oxidative...
NOURISHMENT IN EVERY BAG: Contains one 15-lb. bag of BLUE Life Protection Formula Natural Adult Small Breed Chicken and Brown Rice Flavor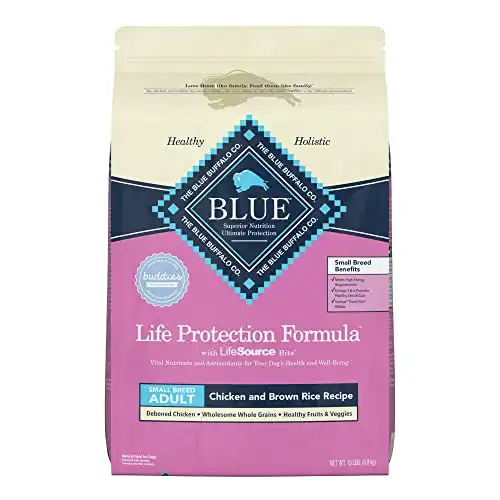 We earn a commission if you make a purchase, at no additional cost to you.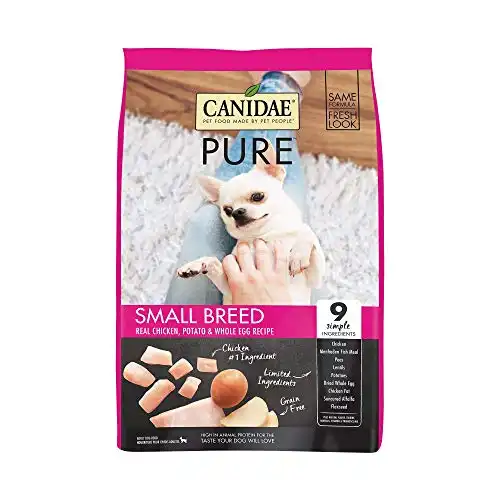 Pet food that's made by pet people, Canidae started small and before they knew it, they'd become a force to be reckoned with in the dog food world.
Driven by the simple idea that dog food should taste better, contain better nutrients, and be better than it was, Canidae started to make natural dog food that would meet all of their criteria and for the last quarter of a century, they've been helping to improve the quality of dog's lives, and diets all over the world.
Created from a limited menu of ten items or less, so that you'll always know what your little man is eating, Canidae is also grain-free so it's also ideal for hounds with more sensitive stomachs or food allergies.
Forged from a protein-rich menu, Canidae's recipes revolve around meat so that every bowl of their food is as close to the diet that your hound would thrive on in the wild as it can possibly be.
And they also make sure that all of their food includes all the anti-oxidants, vitamins, minerals, and fatty acids that your dachshund needs to enjoy life to its absolute fullest.
Canidae fully controls every part of the process of making their food, from sourcing the ingredients to cooking the food in their purpose-built kitchen facility in Texas, as they want every mouthful of their food that your dog eats to be the absolute best that it can be.
They don't do half measures, and that's why you and your dachshund will always be able to trust Canidae.
Pros:
With a limited ingredient list of ten items or less in every recipe, you'll always know exactly what's in every single bowlful of this natural dog food.
Protein-rich and grain-free, it's an ideal source of nutrition for any hound plagued by food allergies or a sensitive stomach.
Cons
Like all natural dog foods that focus on creating a healthy, life-affirming diet, Canidae isn't exactly cheap and it will leave an unhealthy impression on your pocketbook. There are more affordable ways to feed your boy, but they won't be as good for him as Canidae is.
Canidae PURE Limited Ingredient Premium Small Breed Dry Dog Food, Chicken, Potato and Whole Egg Recipe, 12 Pounds, Grain Free
Contains 1- 12 Lb. Bag of Canidae PURE Chicken, Potato and Whole Egg Recipe Dry Dog Food for Small Breed Dogs
Real food ingredients for the taste your dog will love. Crafted with real chicken as the first ingredient, paired with whole ingredients like potatoes, whole eggs and peas
Complete and balanced goodness for small breed dogs. This recipe is made using 9 or fewer key ingredients that are easily recognizable, perfect for sensitive dogs
Formulated with antioxidants and probiotics to support a healthy digestive and immune system, along with a nutritious blend of vitamins and minerals to support healthy joints, skin and coat
Canidae is creating a world of goodness for pets and the planet. Premium proteins and regeneratively farmed ingredients nourish pets and planet in every bowl, setting a new standard for pet food....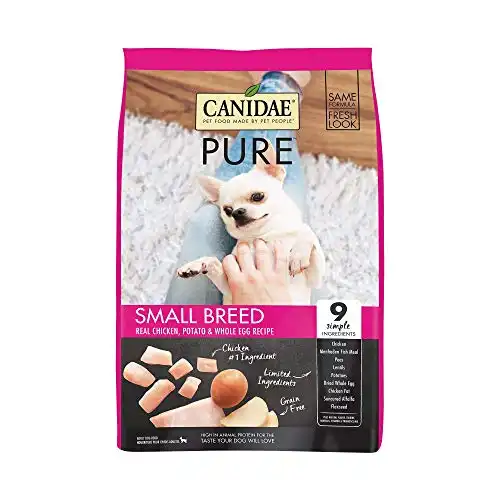 We earn a commission if you make a purchase, at no additional cost to you.
For more than thirty years, Merricks's goal has always been to make the best food possible, because they know as well as you do, that your hound is the best in the world, and the best dog in the world deserves the best food in the world.
It's a grandiose claim to make, but it's one that Merrick has every right to cling to. They care about what they do, and they're very, very good at it.
While Merrick's Healthy Grains food contains all of the fatty acids, vitamins, minerals, and nutrients that your dachshund needs to maintain its lean muscles, a healthy skin, and coat, and to remain sharp and focused, the reason your dachshund will love this chow that's also crammed full of healthy grains, is the primary ingredient that it uses, deboned chicken.
Knowing that taste is the first thing that any dog looks for in their food, Merrick's healthy weight recipe is made to appeal to your hound's palette while keeping them happy and healthy.
It's everything that nutritious, balanced dog food should be.
Tradition and remaining true to their core mission mean everything to Merrick, which is why they're still based in the same Texas kitchen where their founder Garth Merrick cooked his first batch of dog food more than three decades ago.
And their original five star promise, to deliver superior nutrition and improve the lives of pets and their parents, is just as important to Merrick as their roots are.
They earned the trust of dog owners the hard way, by making healthy food that your dachshund will adore.
Pros:
Merrick uses a blend of healthy grains, including brown rice and barley, to aid digestion and to ensure that your hound has a healthy amount of fiber in his diet.
The number one ingredient in all Merrick's recipes is always deboned meat or poultry. They focus on protein, because they know that's what dogs love, and their high level of natural protein is what will keep your hound coming back for more.
As well as using all-natural ingredients, Merrick's is also overflowing with all of the vitamins, minerals, and fatty acids that your dachshund needs to live a long and prosperous life.
Cons:
If your dachshund suffers from a sensitive stomach or has food allergy problems, Merrick might not be the ideal brand for them, as grains can cause intestinal distress, and if your hound is already prone to digestive issues, the combination of healthy grains that Merrick uses might exacerbate any existing problems that your dog has.
Merrick Classic Healthy Grains Dry Dog Food Small Breed Recipe - 4.0 Lb Bag
One (1) 4 lb Bag - Merrick Classic Healthy Grains Dry Dog Food Small Breed Recipe
Merrick Classic Healthy Grains Dry Dog Food Small Breed Recipe
Real deboned chicken is always the first ingredient
Small breed dry dog food with grain, including quinoa, supports healthy digestion
Whole grain dog food with leading levels of glucosamine and chondroitin for dogs support healthy hips and joints
We earn a commission if you make a purchase, at no additional cost to you.
Best Dog Food For Dachshunds Buyer's Guide
Which Dog Food Is The Best One For My Dachshund?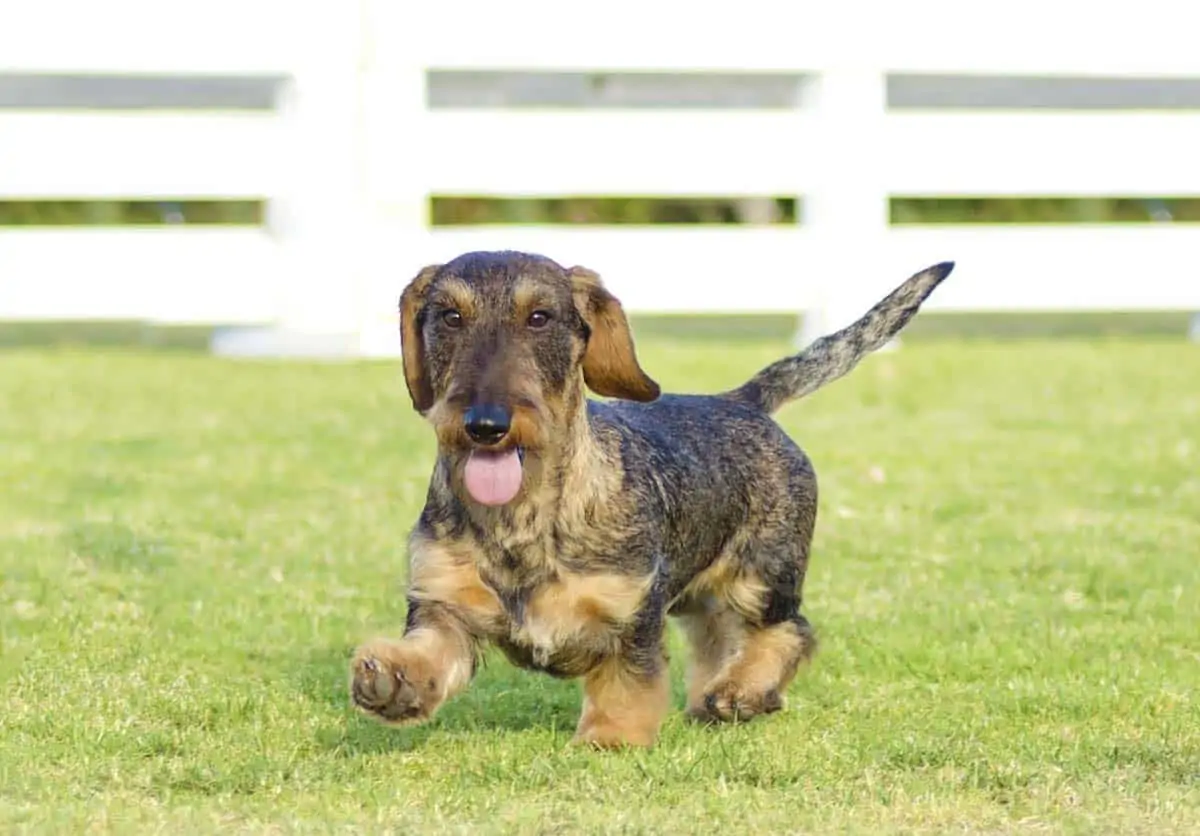 All of the dog foods on our list are designed to please even the pickiest dachshunds' taste buds and can help to ensure that they live long healthy and happy lives.
The primary factors that differentiate them are their affordability and the brands that use grains as part of their ingredients.
The latter can have a detrimental effect on the health of dogs with sensitive stomachs and food allergies and the former can also have a devastating impact on the ongoing health of your pocketbook.
So, taking both into account, read the list again and the answer to your question should become fairly obvious.
That said if you were keen to follow our lead and want to feed your dachshund the same way that we feed ours, then without hesitation, we'd point you in the direction of Royal Canin.
It's purpose-designed for your dachshund and has been formulated to cater to all of their dietary needs. And if our dachshunds always empty bowl is any indication, they also love the way it tastes too.
Frequently Asked Questions
What Is A Dachshund?
A dachshund (German for "badger dog"), also known as a Weiner dog or a sausage dog, is a small hound dog that was originally bred to hunt badgers and other burrow-dwelling animals like rabbits and hares.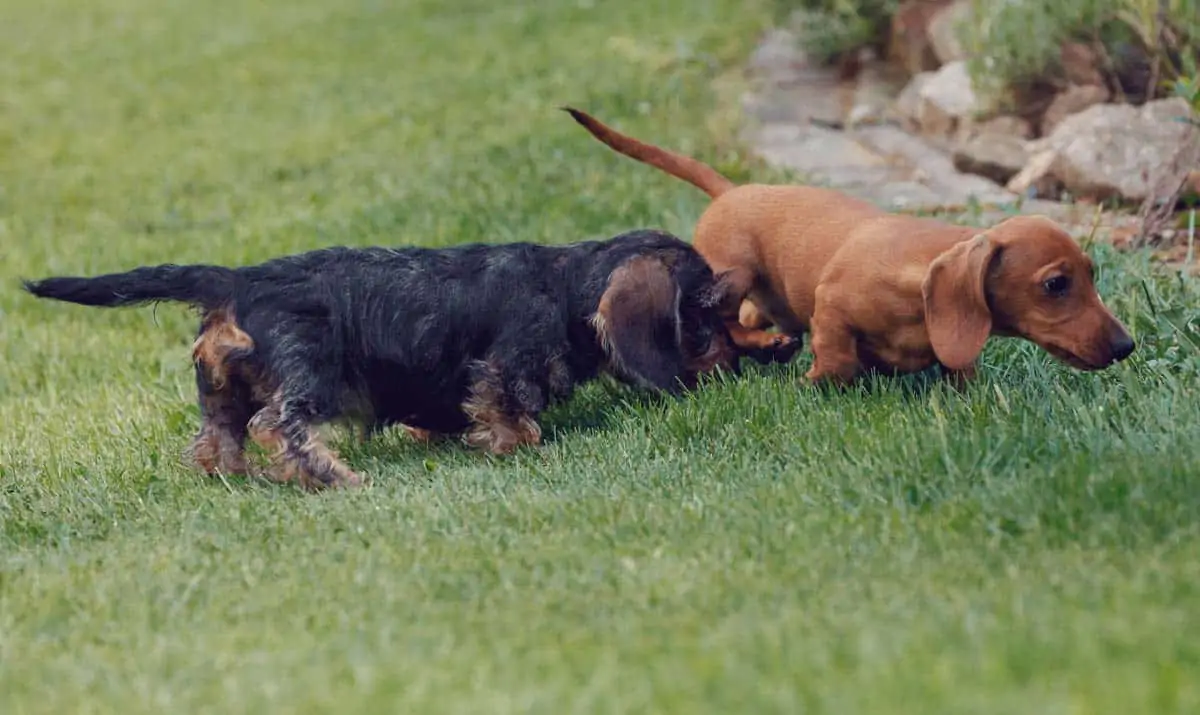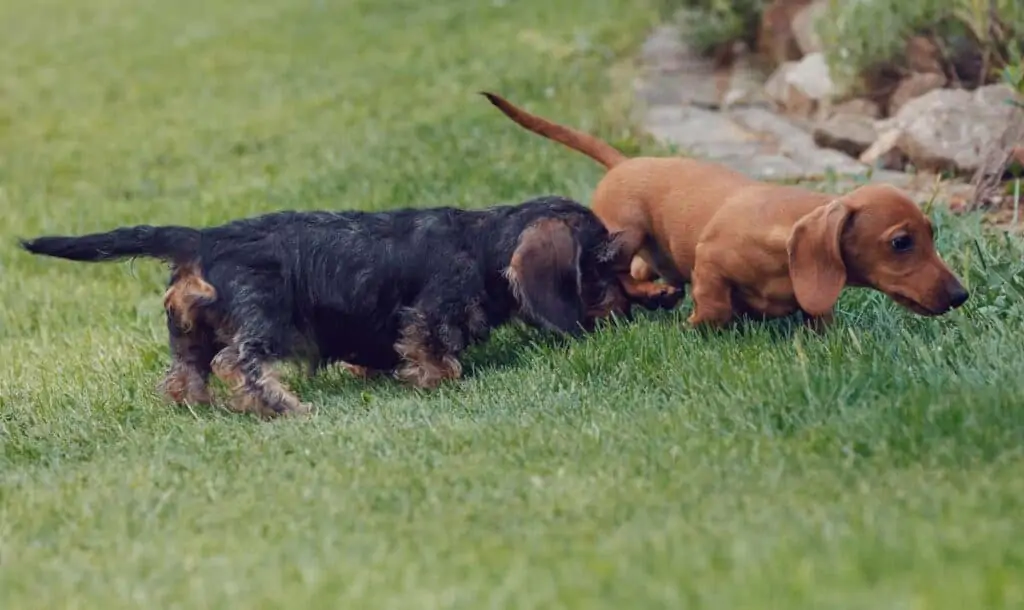 They are primarily known for, and received their nickname because of their short satire (which is due to them having short front and rear legs) and an elongated backbone.
While they're incredibly playful, because they were bred for the hunt Dachshunds can also be stubborn and single-minded, which can make them difficult to train.
Because they were bred to track and chase small prey, they are also predisposed to chasing birds, squirrels and tennis balls, all of which they will happily pursue with a rare and purposeful determination.
Even though they are usually devoted to their owners and love to bask in their affection, dachshunds can be aggressive toward strangers and people they don't know and aren't the best dogs to have around small children, as sudden movement and perceived threats can easily trigger defensive behavior.
However, if children are used to dogs and know how to behave around them, dachshunds and children can form incredibly tight and long-lasting bonds with each other.