Best Dog Harness For Hiking [Quality and Budget]
Spending time in the great outdoors is a wonderful way to let off some steam, feel close to nature and forget about the problems of everyday life.
What better way to spend your weekends than on a hike with your best friend, your dog.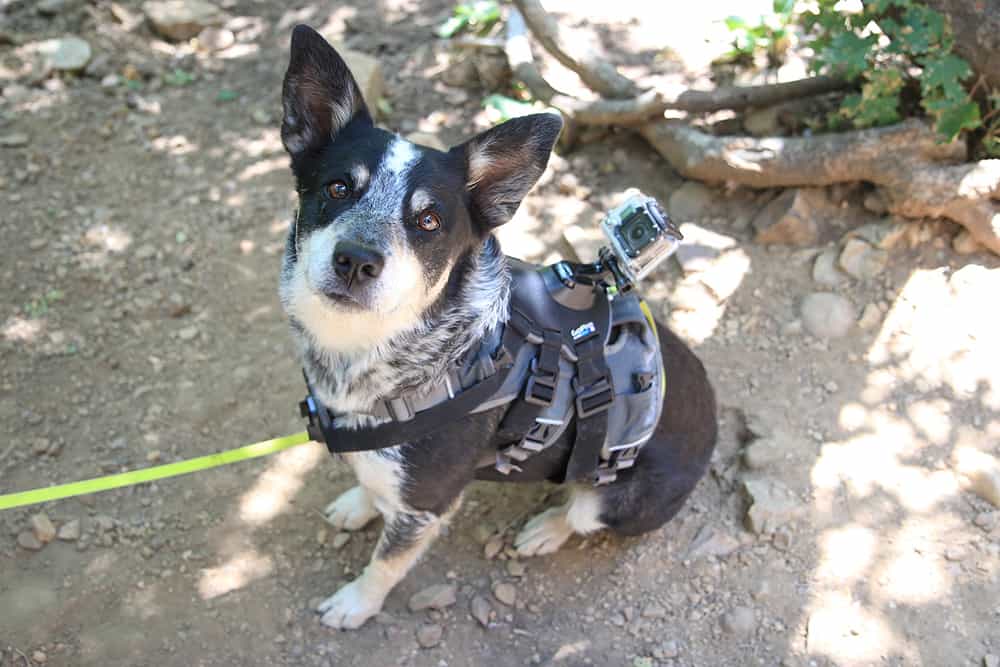 If you regularly enjoy taking your dog on hikes, then you will know how important it is to have all of the essentials with you.
But, have you ever thought about using a harness for hiking? (You can also carry a dog in a backpack carrier if they want the luxury hiking experience)
A harness is a much safer way to walk with your dog, and can keep them protected from the elements when on a hike.
In addition, leashes attach much more easily to a harness, and they can have reflective materials to help you find your dog in the wild.
A harness also makes it feel like your dog is walking freely, and is not restricted in any way by a tight collar or leash, which can make the hiking experience much more enjoyable for them whilst they explore the outdoors with you.
You will only want the best for your furry companion, and who could blame you? That is why we have gathered the best dog harnesses for hiking, and have found our top pick.
The best dog harness for hiking is the ThinkPet Harness. This harness is designed for outdoor adventures, and long hikes with your furry friend.
With sizes from small, all the way up to extra, extra large, you can find one of these harnesses to fit any dog.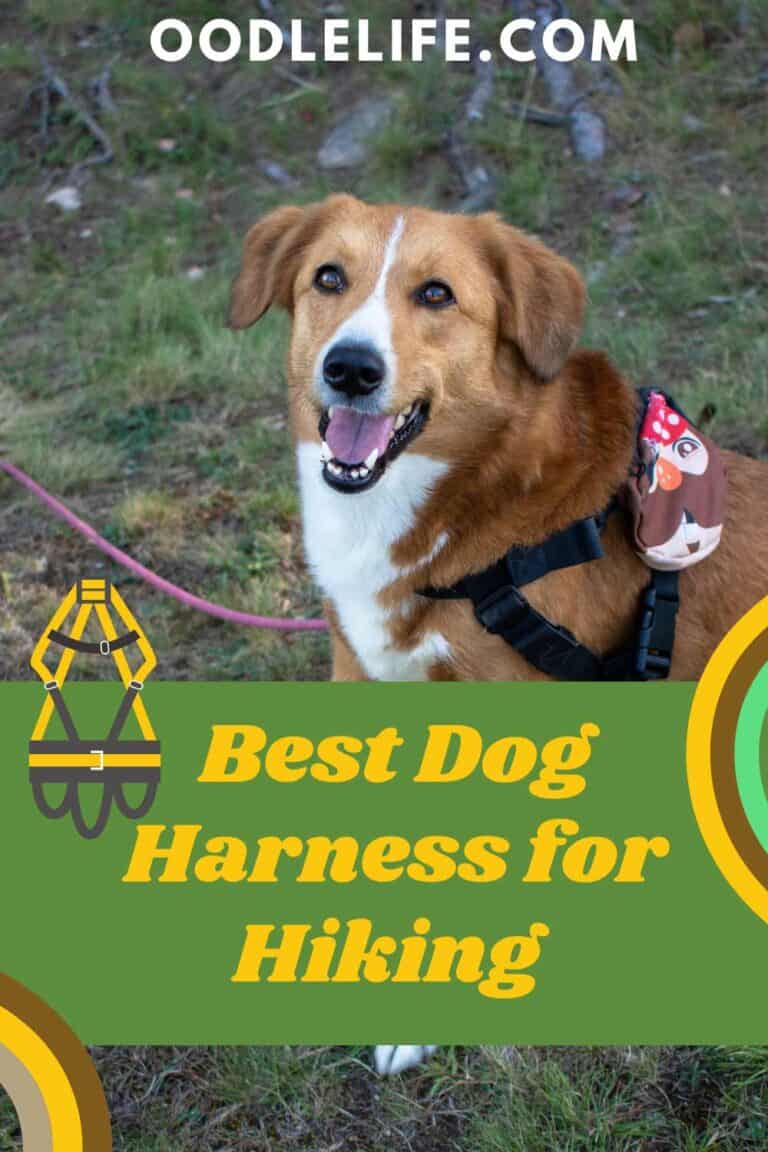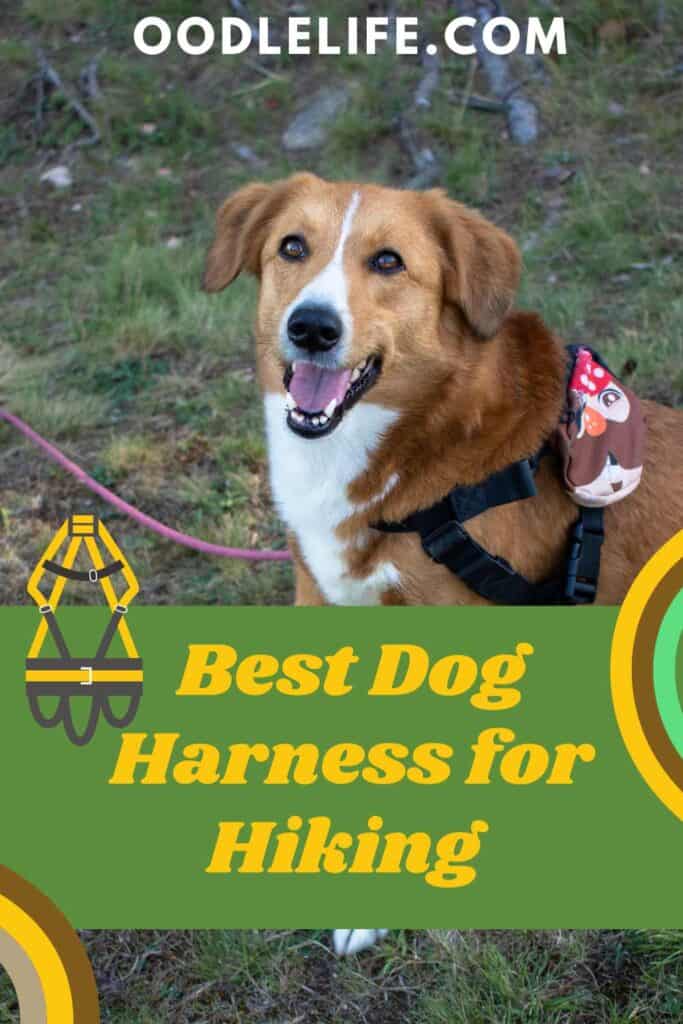 What is even better is that it comes in a variety of bright, eye catching colors so that you never lose sight of what is important…your dog!
In addition, this hiking harness is durable and escape proof, made from a comfortable yet breathable fabric perfect for your furry friend.
The buckles are easy to adjust, and easy to lock in place, and the harness is made with widened straps to make pulling pressure more evenly distributed and will never cause any discomfort for your dog.
The padded material offers extra protection, whilst the mesh allows for proper ventilation and comfort. With fluorescent straps, you can easily see your dog in any conditions, making it perfect for hikes.
Even better, this harness has both a front clip and a back clip for your convenience, and better control over walking your dog.
If you are searching for the perfect hiking harness for your dog, then look no further. ThinkPet No Pull harness is the essential dog harness for hiking.
Available in sizes from small to extra extra large, you will be sure to find the exact fit for your dog!
There are also 10 different, bright colors to choose from to ensure that your dog is always visible when out in the wild, making this the perfect harness for adventure.
It is also highly durable and robust, made of premium materials that are resistant to wear and tear, whilst also being easy to put on.
Never worry about your dog slipping out of its harness again with its lock design for safety, and comfortable, adjustable fit.
In addition, the widened straps make pulling pressure much more evenly distributed to prevent choking and pulling. The harness is also highly breathable, with a mesh inner layer for ventilation and comfort.
The ThinkPet hiking harness is also very reflective, and has attachments available on the front and back for your convenience.
Pros:
Adjustable size
Includes front and back clip
Padded material
Breathable
Available in 5 sizes
Comes in 13 bright colors
No pull harness
Reflective straps
Soft padded handle for extra control
Cons:
Sale
ThinkPet No Pull Harness Breathable Sport Harness with Handle-Dog Harnesses Reflective Adjustable for Medium Large Dogs,Back/Front Clip for Easy Control L Green
Large Dog Harness- Large size: chest girth 17-35 inch, neck girth 18-26 inch. Recommend chihuahua, havanese, corgi, pug, puggle, labrador, shiba, collie, springer and more. The dog harness for large dogs no pull is perfect gift for Thanksgiving, Christmas, New Year, etc.
Durable & Escape-proof Harness- This pet harness features premium nylon that makes the harness robust against wear. Quick snap buckles make it easy to wear and off. Lock design ensure safety. Widened straps make pulling pressure evenly distributed to prevent pulling and choking.
Padded Breathable Dog Vest Harness- Extra thick yet breathable inner layer of soft mesh optimized for skin ventilation and pet comfort. The mesh lining of the dog harness for large dogs prevents injuries and offer maximum protection.
Reflective Harness for Large Dogs- The padded dog harnesses for large dog no pull is equipped with fluorescent straps around, improves visibility in the dark. Ideal for everyday walking,night running,hiking,training,hunting,outdoor adventure and more.
No Pull Dog Harness with Handle- This dog harness no pull own two metal leash D-rings. The BACK clip for casual walking and jogging while the FRONT clip is no-choke design, stopping pulling on walk, perfect for dog training or working. The padded soft handle for extra control to lead your dogs.
If you want a harness that is designed for hiking, then you cannot go wrong with Ruffwear.
The clue is in the name, this harness is perfect for the great outdoors, and built to last. It is super lightweight, durable, and made for outdoor adventures.
With easy on and off, and side release buckles, the Ruffwear harness is simple to get on your dog, and sturdy.
There is one lease attachment point on the back for more guidance and control when walking and hiking with your dog for your convenience.
There are additionally 4 points of adjustment for a more customized and comfortable fit, with an easy stash pocket for ID tags or doggie waste bags.
With reflective strips, your dog will be easy to see day and night!
There is even a safety light loop for you to add a beacon light to find your dog in harsh conditions if needed, along with a choice of bright reflective fabrics!
Pros:
Lightweight
Comes in 2 color options
Low profile construction
Durable
Back attachment
Customizable fit
Bright, visible, reflective fabric
Has safety light loop
Debris resistant
Convenient pocket
Cons:
Only 1 leash attachment point
Only for larger dogs
RUFFWEAR, Hi & Light, Everyday Lightweight Dog Harness, Trail Running, Walking, Hiking, All-Day Wear, Twilight Gray, Large/X-Large
Low profile construction: Super lightweight, durable, and made for neighborhood strolls and all-day outdoor adventures; Side release buckles for easy on and off
1 leash attachment point: Sturdy anodized aluminum V-ring centered on back for gentle guidance and control when you're on the go
Customizable fit: 4 convenient points of adjustment for full range of motion; Easy access stash pocket for storing ID tags and dog waste bags
Easy to see, day and night: Bright, easily visible fabric with reflective trim helps your dog stand out against any landscape day and night; Features safety light loop (Beacon light sold separately)
Debris resistant liner: Designed to help shed dirt and fur to keep the harness cleaner longer; Ideal for very small dogs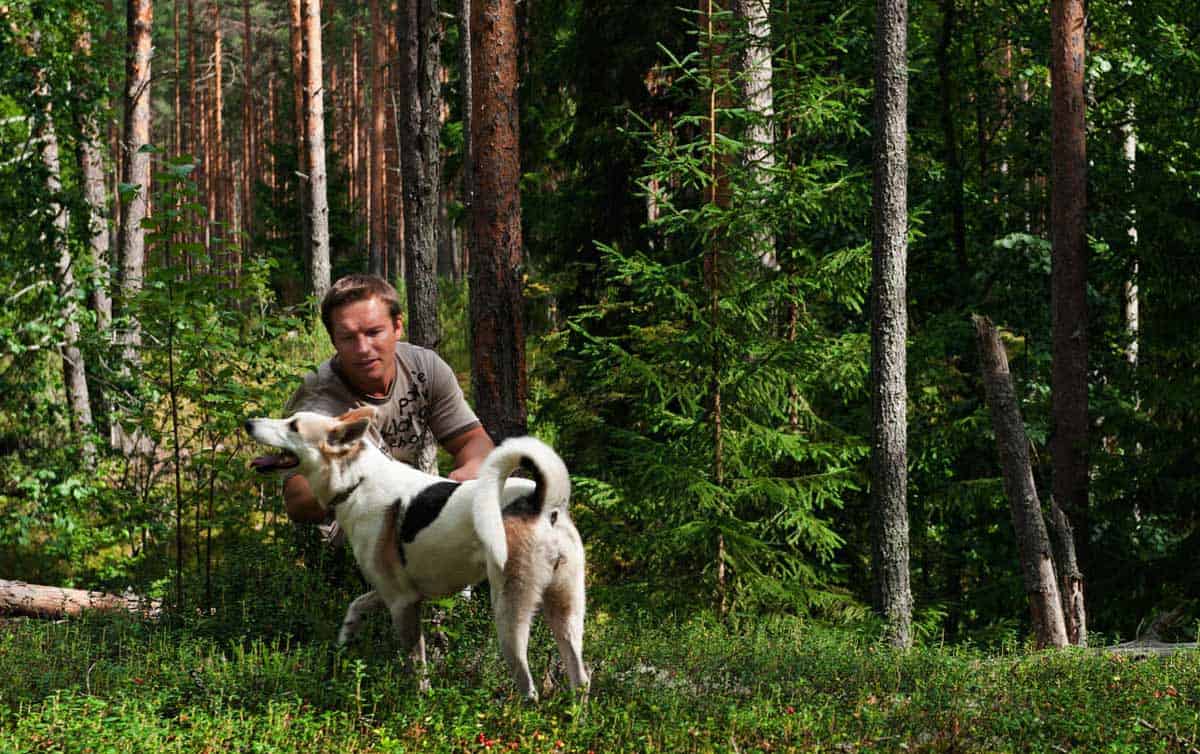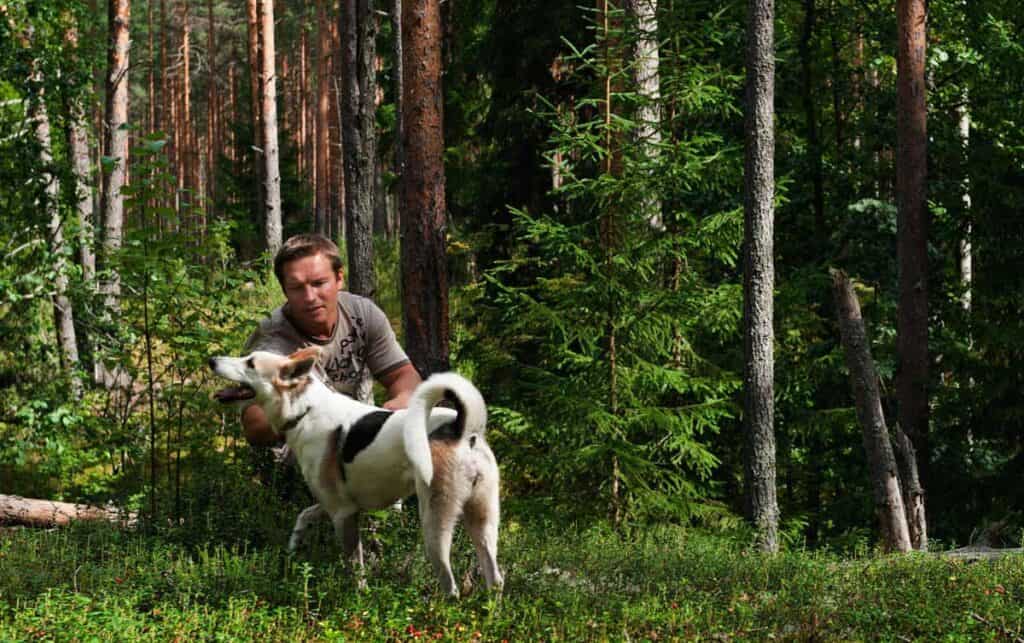 BarkBay offers great quality dog accessories at affordable prices, and their No Pull dog harness is no different.
This harness comes in four different size options from small to extra large, and 10 colors and patterns to choose from!
This harness is very breathable, and constructed of air technology mesh materials to keep your dog cool on those long, hot hikes.
With anti-chafe padding and no rip nylon, you are sure that this harness will last.
There is also a no pull front attachment, along with a D ring on the back for more control when walking with your dog, confident in the fact that there will be no pain or choking due to pulling.
The BarkBay No Pull harness is also easy to put on and take off, with fully adjustable straps for the perfect fit.
With ultra reflective strips, a top easy lift handle and a pocket for ID tags, this harness is an essential that you will want on your next hike!
Pros:
Comes in 4 sizes
Available in 10 bright colors and designs
Breathable
Anti-chafe padding
Both front and back ring included
Easy to adjust
Reflective strips
ID tag pocket included
Easy lift handle included
Cons:
Not suitable for larger dogs
Lift handle is too small
BARKBAY No Pull Dog Harness Large Step in Reflective Dog Harness with Front Clip and Easy Control Handle for Walking Training Running with ID tag Pocket(Orange,L)
BREATHABLE DOG HARNESS:Constructed from air technology mesh material that is breathable to keep your dog cool on hot days,No Rip Nylon and Anti-Chafe Padding,Perfect for running, hiking and walking.
GREAT FOR PULLERS: No pull Front leading halt ring for more control helping you train them to heel and to stop pulling! And D-ring on the back for more relaxed walks.Also with Anti-chafe padding, Pressure is Evenly Distributed to the Body to Prevent Pulling and Choking.
Easy to put on and take off on your dog hassle free,Unique Adjustable Strap Design for a secure, comfy fit,4 points of adjustment for a near custom fit.
Super bright reflective strips ensure a safe walk both day and night.
ID Tag Pocket Keeps your pet safe and ensures your pet gets home safely.
If you need a heavy duty, durable and reliable dog harness for hiking, then we have got you, and your dog covered.
The Idepet Dog Harness is a great option for hiking in the outdoors with your pet.
Available in 3 sizes, this cost efficient dog harness is reinforced for strong, larger dogs.
With a front clip on the chest to stop pulling, and 2 D rings on the back, you will have full control over your hikes, not your dog.
This harness is also designed for no slipping, sliding or escaping as the buckles can be fully adjusted to fit perfectly around your dog's shape. This is also extra safe for hikes in remote locations!
The material is high quality, durable, scratch resistant and tear resistant, whilst also being padded and soft for breathability and comfort. This lightweight harness will never weigh your dog down.
With reflective straps and an easy to put on design, this harness is a great option.
Pros:
Cost effective
Reflective
No pull harness
Fully adjustable
Heavy duty
Comes in three sizes
Rings on both front and back
Durable and scratch resistant
Sponge padding for comfort
Lightweight and breathable
Cons:
Not suitable for smaller dogs
No pocket/ ID tag pocket
Sale
Idepet Dog Harness Vest with Handle No Pull Adjustable Reflective Pet Harness Vest Easy Control for Small Medium Large Dog Training Walking Hiking Black (M)
【NO PULL DOG HARNESS】--Idepet front clip dog harness provides a more comfortable alternative to collars and prevents injuries to the neck,spine and windpipe.3 sturdy metal leash attachment points reinforced with webbing(1 D-Ring on the chest to stop dog pulling for more control,and 2 D-Rings on the back for more relaxed walks.
【NO SLIPING,NO ESCAPING】--Unlike other brands' harness with adjustable strap buckle which will be loose in using and increase the risk of dog slipping and escaping from the harness,Idepet adjustable dog harness uses pin buckle design to ensure your dog safety and creates a custom fit for your dog.
【HIGH QUALITY】--Made of stylish,durable,scratch-resistant oxford material outer layer.Breathable and comfortable lightweight mesh lining with soft sponge padding in chest and belly.
【EASY TO PUT ON OR TAKE OFF】--Easy on easy off design makes putting it on your dog hassel free.Loose one side 2 pin bucks to take off;Remembering the pin hole you pin last time,you can put on the harness quickly and suitably.
【SAFETY DESIGN】--Reflective straps ensure your dog's safety while out for a walk.With a sturdy handle on the back,you can control your dog directly by your hand.
If you are looking for a cheap, yet good quality harness for hiking, then BarkBay has the harness for you.
The BarkBay No Pull harness is available in 4 different sizes, and ten color choices that are all bright and easily visible.
In addition, this harness is made of lightweight, strong and durable materials for no chafing, escaping or discomfort.
With a no pull front ring, you can gain more control over your dog, and your dog can enjoy a little more freedom with the back D ring, too.
With an easy to put on design, this harness is simple, but effective. Its straps are fully adjustable for a more custom fit, whilst the harness also has an easy lift handle to maneuver your dog better.
With reflective strips and secure strapping, you can relax and unwind knowing your dog is safe and by your side on your hikes!
Pros:
Comes in 4 different sizes
Available in 10 colors/patterns
Lightweight
Anti-rip, durable design
No pull front ring and D ring on back
Anti-chafe padding
Easy to put on and pull off
Ultra reflective strips
Easy lift handle
Cons:
Easy lift handle is very small to grab
No pocket
Cheap materials
Best Dog Harness For Hiking Buyer's Guide
What to look for in the best dog harness for hiking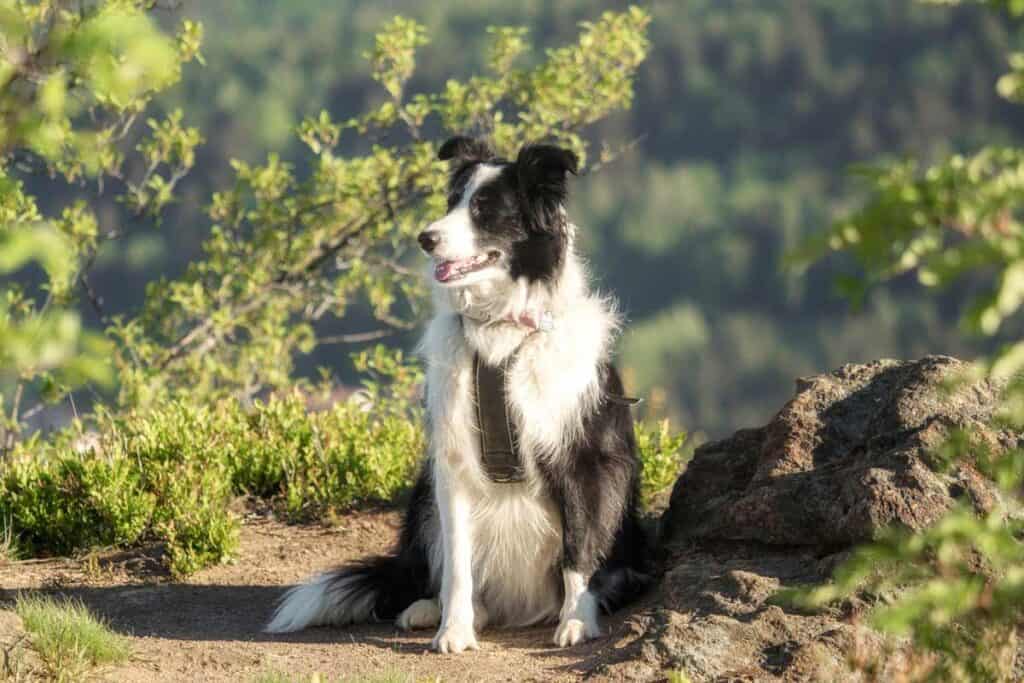 When purchasing a dog harness that is suitable for hiking, you will want to ensure that you have made the right choice for your dog and for you.
The most important thing to check is whether it will fit your dog. Dog harnesses come in a range of different shapes and sizes, and so you will need to ensure that the one you choose will fit comfortably on your dog.
You can do this by measuring across your dog's chest and checking that measurement against the dimensions of the dog harness online.
If the harness is too tightly fitted to your dog, then it may cause some discomfort when hiking, or they may not want to move in it.
That being said, you can adjust the straps to be a little tighter to your dog, or looser if needed.
The best way to check if the harness will fit is to measure the back length of your dog from the base of its neck to its tail to check with the desired harness.
You will also want to measure the girth of your dog's neck, where the collar sits, and the girth of the rib cage to ensure the perfect fit.
You can also purchase harnesses with a front or back attachment.
Front attachments work to discourage pulling, whilst keeping the dog close to you, whereas back attachments give the dog a little more freedom and makes it feel as if they are off a leash.
In addition, some harnesses have the option for both to be used.
As you want to use the harness for hiking, you will want to make sure you have a harness that is made of suitable materials.
For instance, you may need a waterproof harness, or one that can be machine washed after long hikes in the great outdoors.
Additionally, if you live in a hotter environment, then you may want a more lightweight material, whereas colder climates may need thermal harnesses.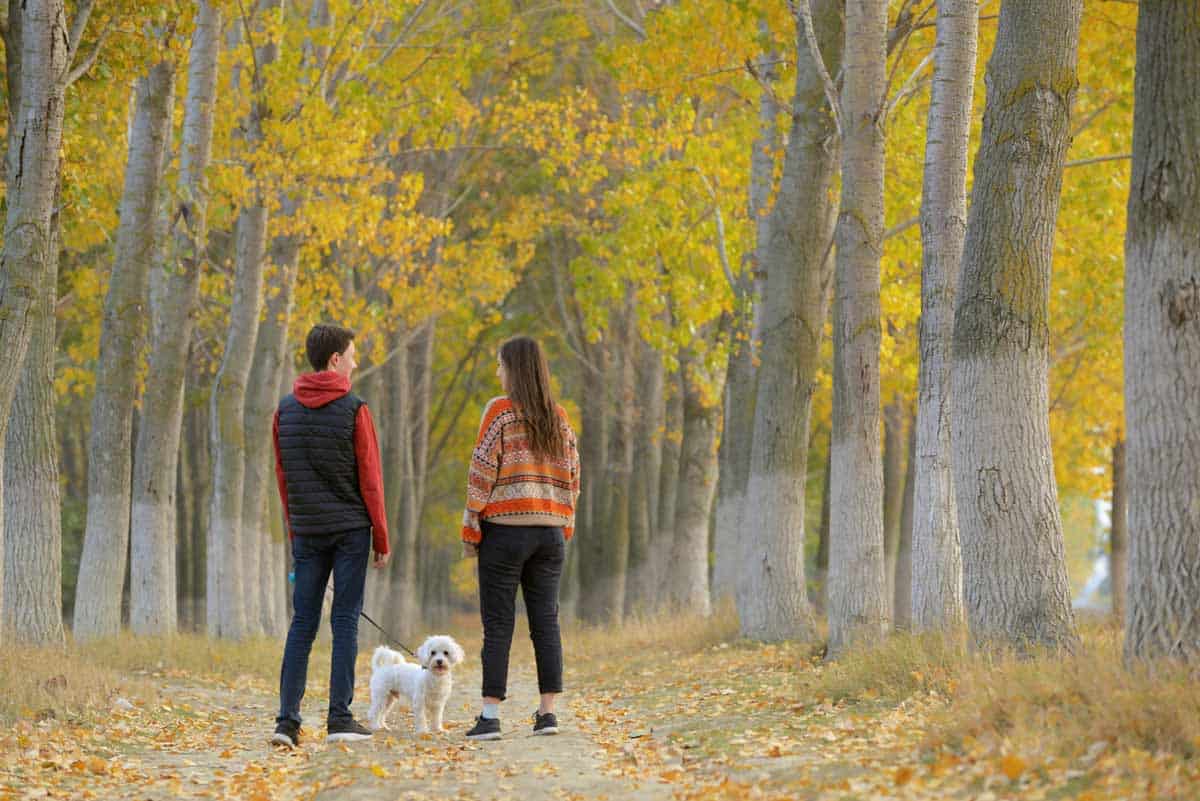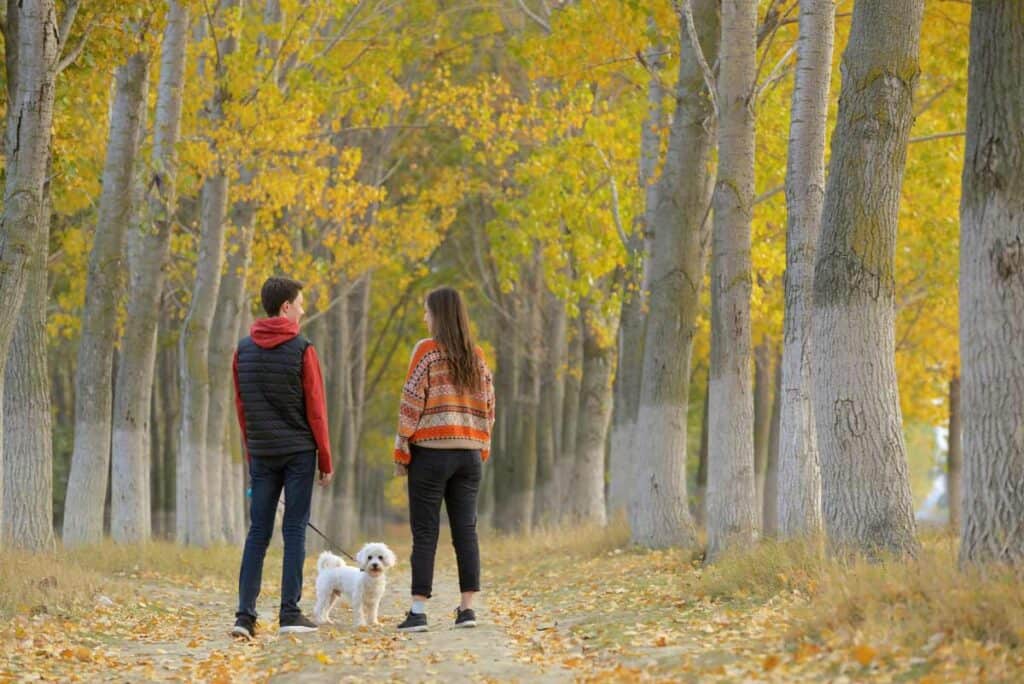 You should also think about whether your dog will go swimming when you go on your hikes, which means you do not want a heavy harness that will weigh them down, or take a long time to dry.
If hiking in remote areas, you will benefit from a harness with bright colors, reflective materials or even bells so that you can locate your dog with ease.
Bright colors are best for finding your dog in snowy conditions, whereas reflective collars and harnesses are great for nighttime, but you could also use bells to find your dog, whilst warding off bears in the wild.
Frequently Asked Questions
How do I put on my dog's harness?
How you attach your dog's harness will actually depend on the type of harness that you are using.
However, we do have a guide for most standard dog harnesses, which will help you understand how they are worn.
The first step is to stand or kneel behind your dog and get them to wait in a standing or sitting position. They cannot be lying down as this will make it super difficult for you.
There will typically be a loop for your dog's head, so locate this on the harness and place it over the head.
With the harness over the head, you should be able to see the D ring (for the leash) on your dog's back. The biggest loop of the harness should go on first.
Next, you can slip your dog's front leg through the first hole of the harness, and loop the rest of the harness around the ribs.
Then, buckle up the harness, and ensure both front legs are in the correct position. You may have to adjust the strap to fit your dog, and ensure that it is not too tight or too loose when buckled up.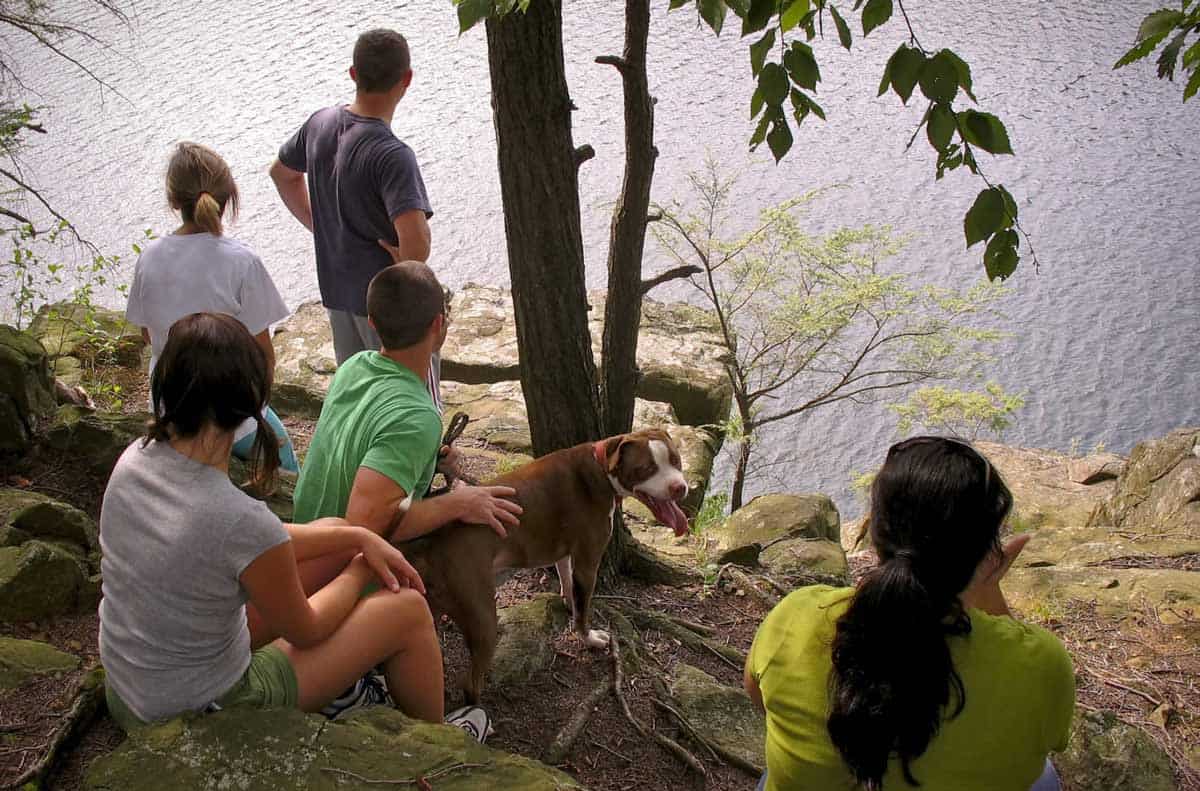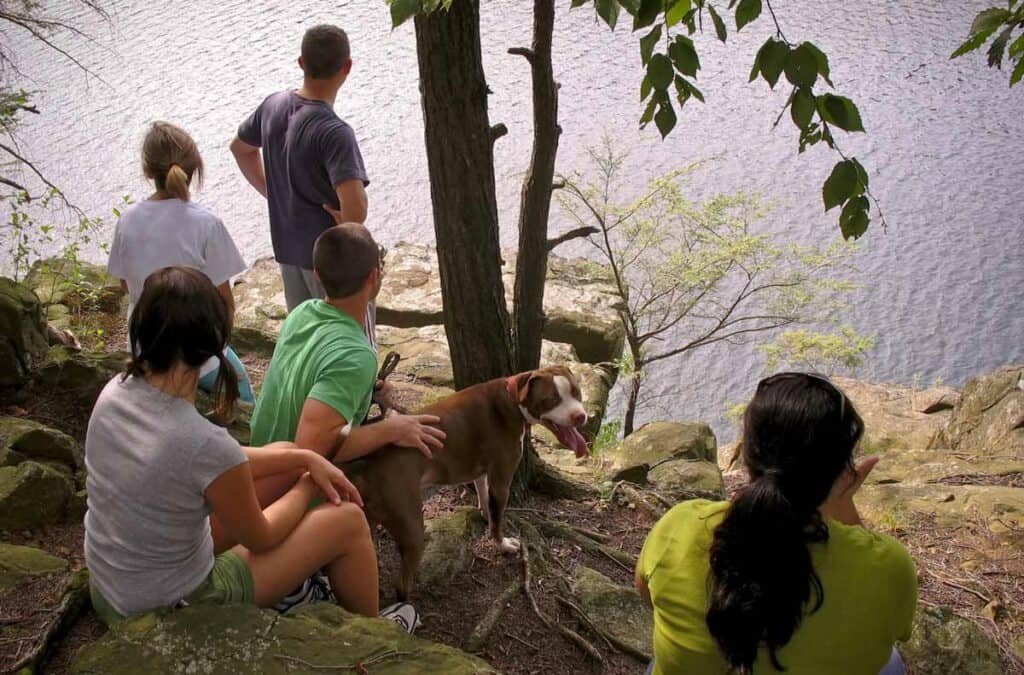 Is a dog harness or a leash better?
If your dog is a little excitable when walking, it can be hard to control them.
When wearing a leash, a dog can pull, wriggle, and wrap around you, or get tangled in another dog's leash pretty easily.
In addition, they can pull to go forwards, which will choke them and may actually hurt them if the leash is attached to the collar around their neck.
This is why dog harnesses are a much better choice.
The harness attaches around the body, and the leash is then attached to the back of the harness.
With a harness, your dog cannot wriggle out of its loose collar or get out of it, which overall gives you much greater control over your dog when walking or hiking. It also reduces the risk of your injuring yourself while hiking with a dog.
Dogs cannot pull as much in a harness, which will in time teach them that pulling gets them nowhere, and they will eventually stop pulling on the leash.
Another advantage is that with a harness, you can lift up your dog much easier, or give them a little assistance if they struggle to get up quickly.
You can also attach a dog seat belt to the back of the harness when riding in the car, and your dog will be perfectly protected in the harness in the event of an accident, as the belt will hold them back by their whole body, rather than their neck- which could cause a serious injury.
When it comes to whether a leash or a harness is better, it really depends on what works for you and your dog, however, a harness is much more widely considered the best option for you and your dog's wellbeing.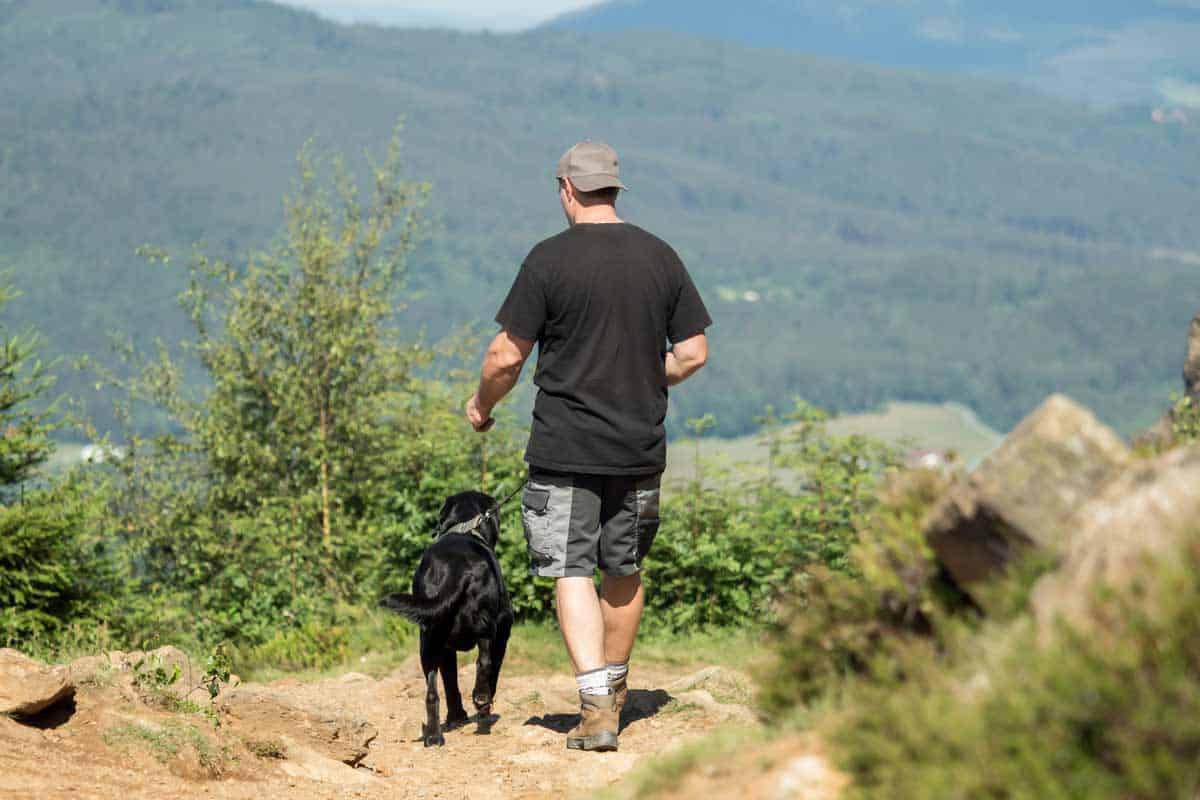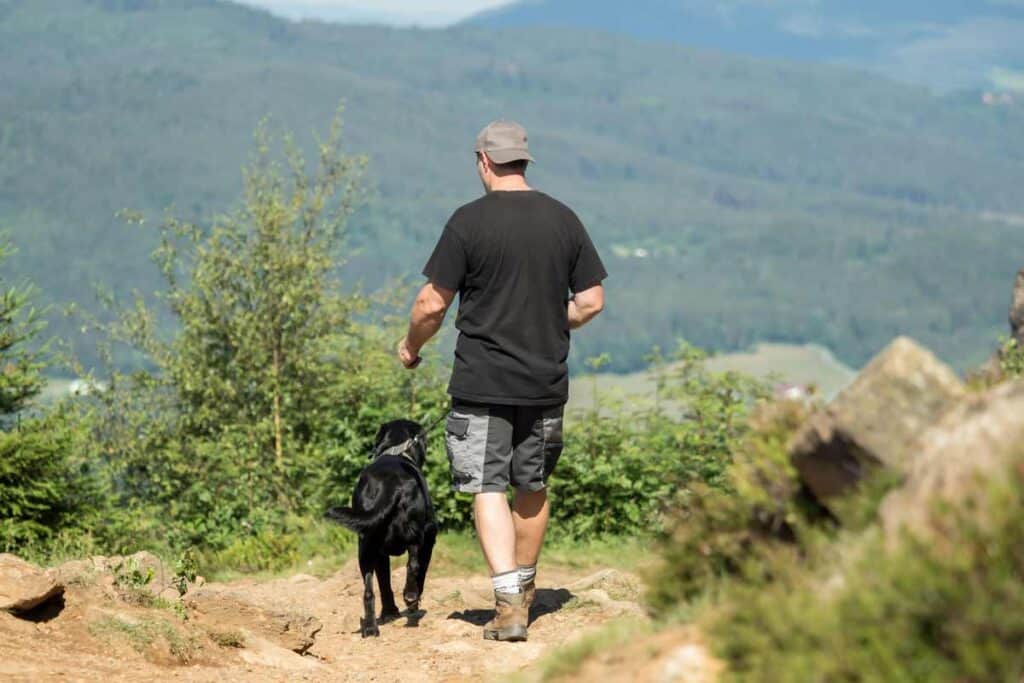 Do dogs pull more with a harness?
Some people believe that when a dog is wearing a harness, they are more prone to pulling, which is not actually true.
Having your dog wear a harness is actually proven to give you more control, and decrease the chance of pulling.
In addition, if your dogs is still learning to walk properly, and is prone to pulling, then having a leash attached to a harness is far better than having it attached to their collar, as they can pull too hard and choke themselves.