The 11 BEST Dog Shampoo Choices (2023 Update)
Pet parents often ensure they keep their dogs in the best health and cheer possible. To do this, they provide a wholesome and nutritious diet, regular exercise, mental stimulation, and grooming.
However, they tend to overlook the importance of a good bath. A thorough bath with the right products helps maintain a healthy coat, contributing to the dog's overall health.
As dog experts writing for millions of dog owners every year, we get asked all the time about which specific products are best. It is normal to want to find budget-friendly products but ALSO look after your dog's coat like a pro. Below we detail 9 commercial and 2 DIY options in detail. Just want the best? Here are the best dog shampoos for 2023.
Famous and Puppy Friendly
Buddy Wash Dog Shampoo & Conditioner for Dogs, Lavender & Mint, 16 ounce
4Legger Organic Oatmeal Dog Shampoo with Aloe and Lavender Essential Oil - All Natural Safely Soothe, Condition and Moisturize Normal to Dry, Itchy Sensitive Skin - Made in USA - 16 oz
SENTRY Oatmeal Flea and Tick Shampoo for Dogs, Rid Your Dog of Fleas, Ticks, and Other Pests, Hawaiian Ginger Scent, 18 oz
Burt's Bees for Dogs Natural Oatmeal Shampoo with Colloidal Oat Flour and Honey| Oatmeal Dog Shampoo, 4 Ounce Dog Shampoo to Soothe and Cleanse Dogs Skin and Coats
Buddy Wash Dog Shampoo & Conditioner for Dogs, Lavender & Mint, 16 ounce
4Legger Organic Oatmeal Dog Shampoo with Aloe and Lavender Essential Oil - All Natural Safely Soothe, Condition and Moisturize Normal to Dry, Itchy Sensitive Skin - Made in USA - 16 oz
SENTRY Oatmeal Flea and Tick Shampoo for Dogs, Rid Your Dog of Fleas, Ticks, and Other Pests, Hawaiian Ginger Scent, 18 oz
Famous and Puppy Friendly
Burt's Bees for Dogs Natural Oatmeal Shampoo with Colloidal Oat Flour and Honey| Oatmeal Dog Shampoo, 4 Ounce Dog Shampoo to Soothe and Cleanse Dogs Skin and Coats
A good bath does not just clean dirt; it also moisturizes the skin, making it healthy. Also, like human shampoos, different doggy shampoos are available on the market, formulated for special needs.
These include shampoos to get rid of ticks and fleas, whitening shampoos for white-furred dogs, and shampoos for puppies with sensitive skin.
Keep reading this article to know what to look for when buying a dog shampoo and our top 11 picks.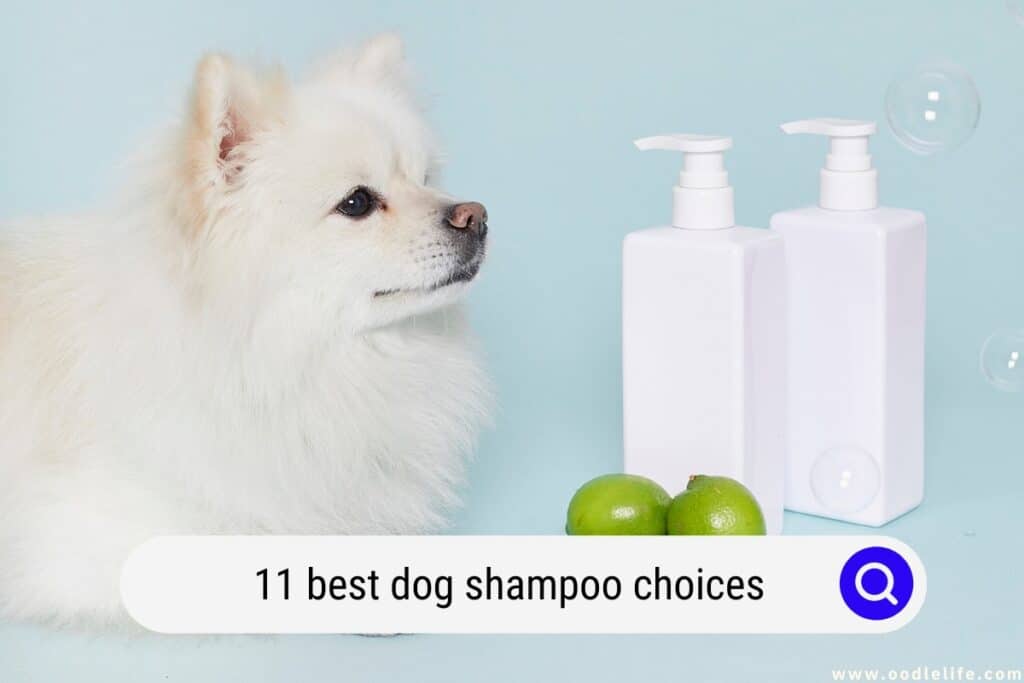 Things To Consider When Buying A Dog Shampoo
Not all shampoos are alike, and the one best for your dog will depend on several factors.
Let's take a look at them below:
Puppyhood
If you have a puppy, it is better to have a shampoo specifically designed for them. The best dog shampoos are not just gentle on the fur and skin, many are also made with a no-tear formula, so they are gentle on the eyes too.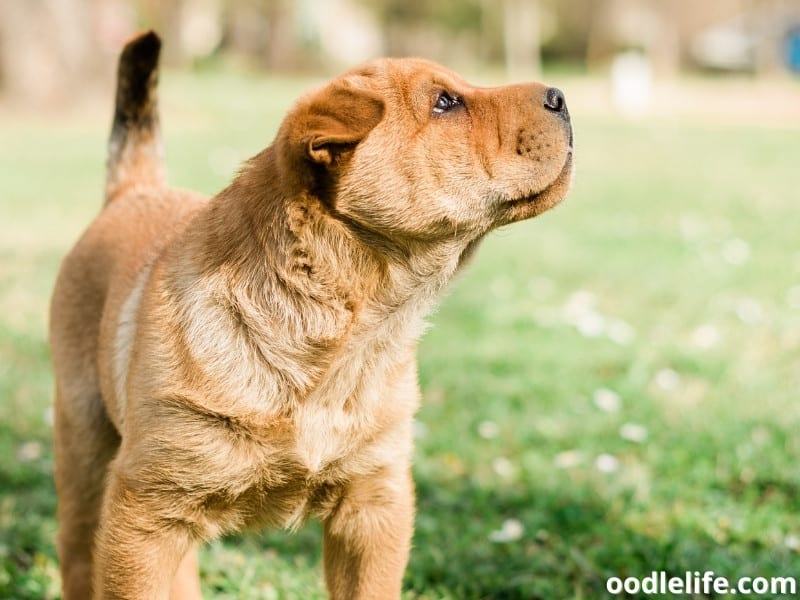 Breed
Different dog breeds have different grooming needs. The Kennel Clubs suggest shampoos formulated for specific breeds to make grooming easier and keep your pup in good health.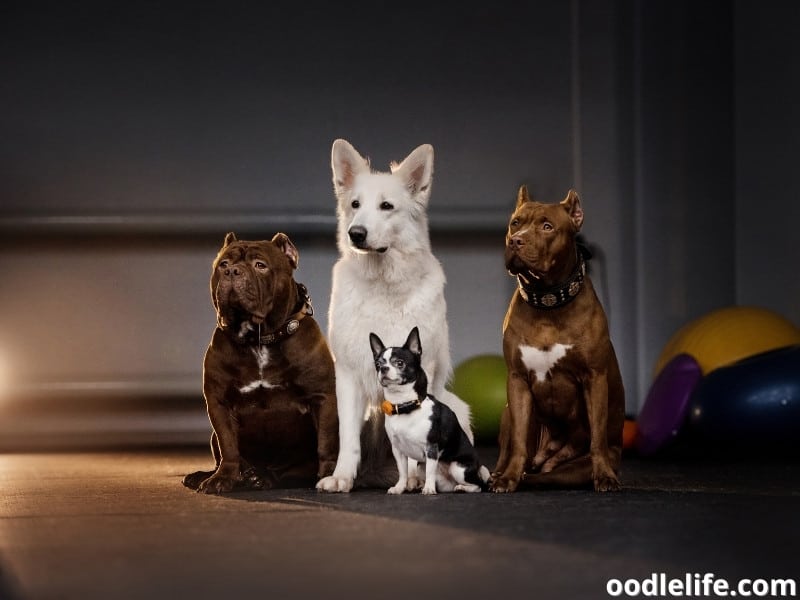 Coat Type
Grooming needs like brushing and bathing differ for varying coat types. While a single-coated dog will have fewer grooming needs, a double-coated dog will need more intensive grooming.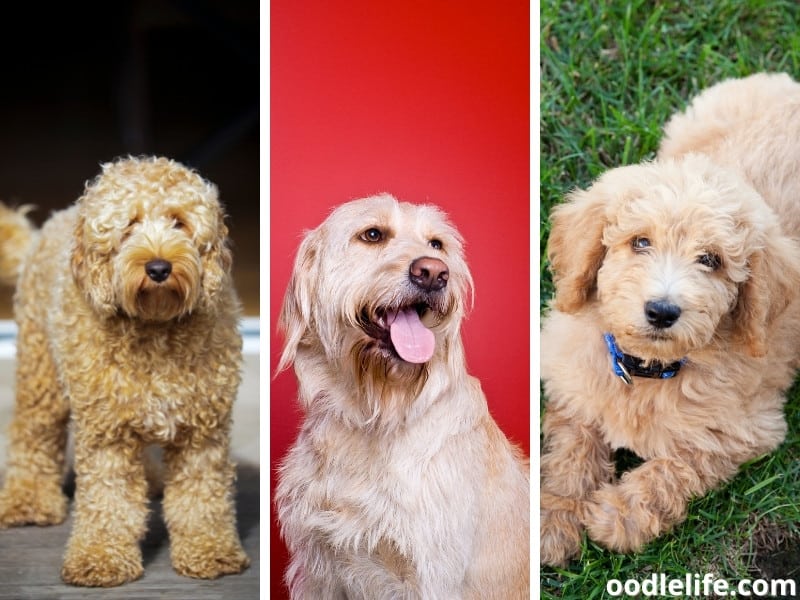 Skin Conditions
If your dog has skin issues like dry, flaky, or itchy skin, you will need to opt for hypoallergenic or moisturizing shampoos available on the market. Use shampoos with natural ingredients and avoid the ones with chemicals. However, consult a veterinarian if your dog's sensitivity seems to worsen despite all the precautionary measures.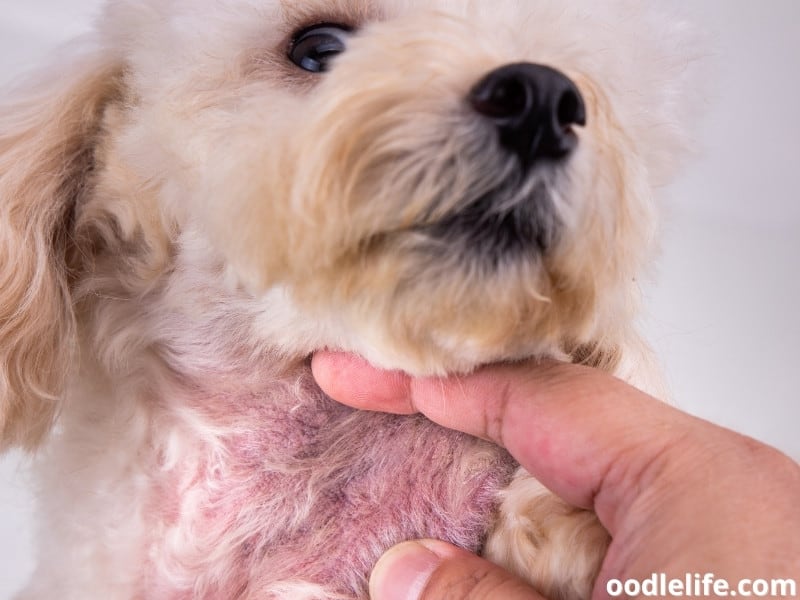 Fleas And Ticks
If your dog has flea and tick issues, you can supplement your other preventive measures with flea and tick shampoo. Although shampoo alone cannot help eliminate these pests, you can use it in conjugation to help effectively remove them.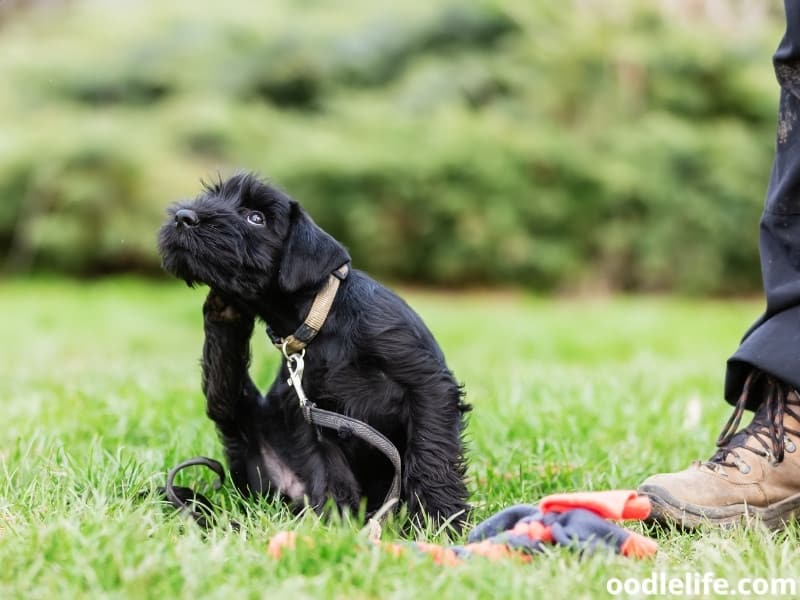 Shampoo Ingredients
Many shampoos have harsh ingredients like dyes, parabens, and alcohol. They can affect the skin and lead to dehydration, itching, and other skin conditions. It is always better to use shampoos with natural ingredients like honey, aloe, and oatmeal.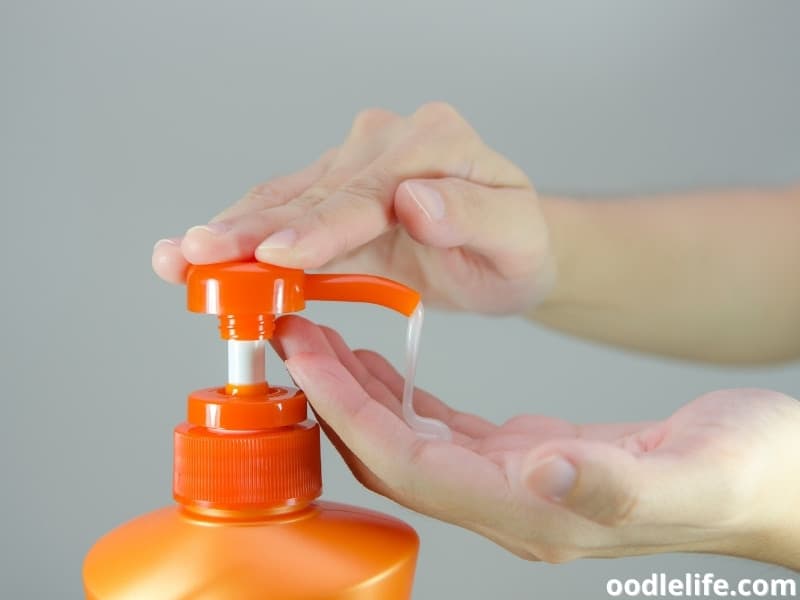 Odor
Dogs can find their way to the nastiest stuff, making it unpleasant to be around them. So it is important to use deodorizing shampoos. However, ensure you avoid synthetic odors as they may cause allergic reactions.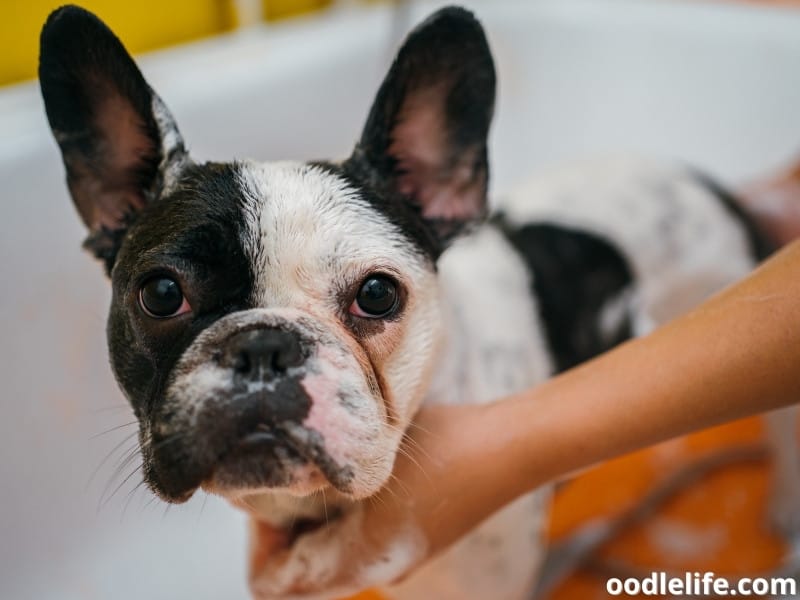 Shine
A lustrous coat is pretty and also a sign of a healthy dog. Often, a poor diet or health condition can take a toll on the dog's coat. Choose a nourishing shampoo packed with proteins, minerals, and vitamins to nourish your dog's coat.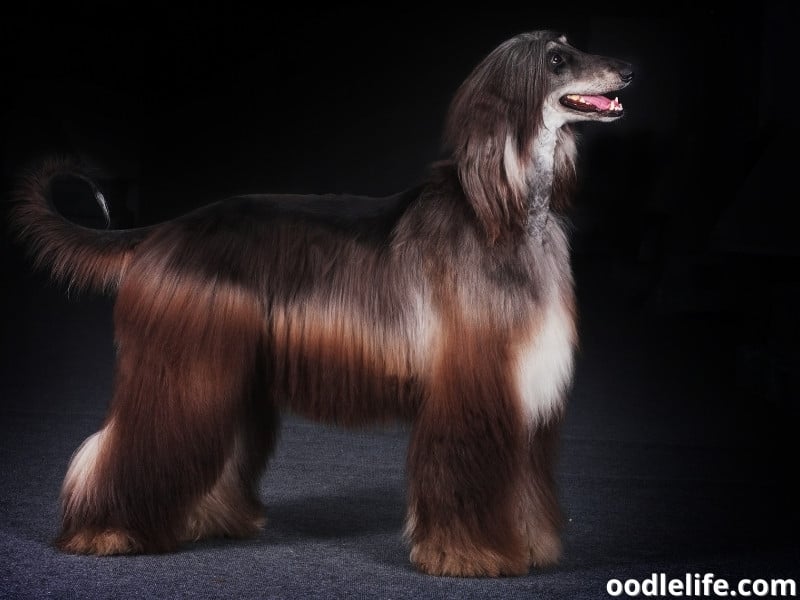 Color
If you have a white or light-colored dog, you might want to try specialty shampoos designed for whitening and brightening. These shampoos help prevent the coat from yellowing and add shine and luster.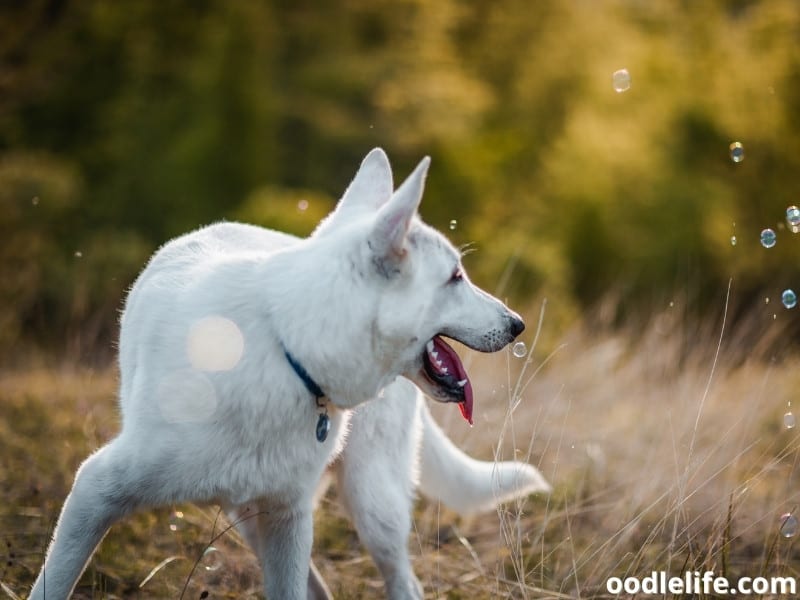 Tangles
If your dog's hair gets easily tangled, consider shampoo and conditioner for frizzy and dry hair. Try moisturizing shampoos that will restore moisture and conditioners. These will aid in detangling and help replenish natural oils.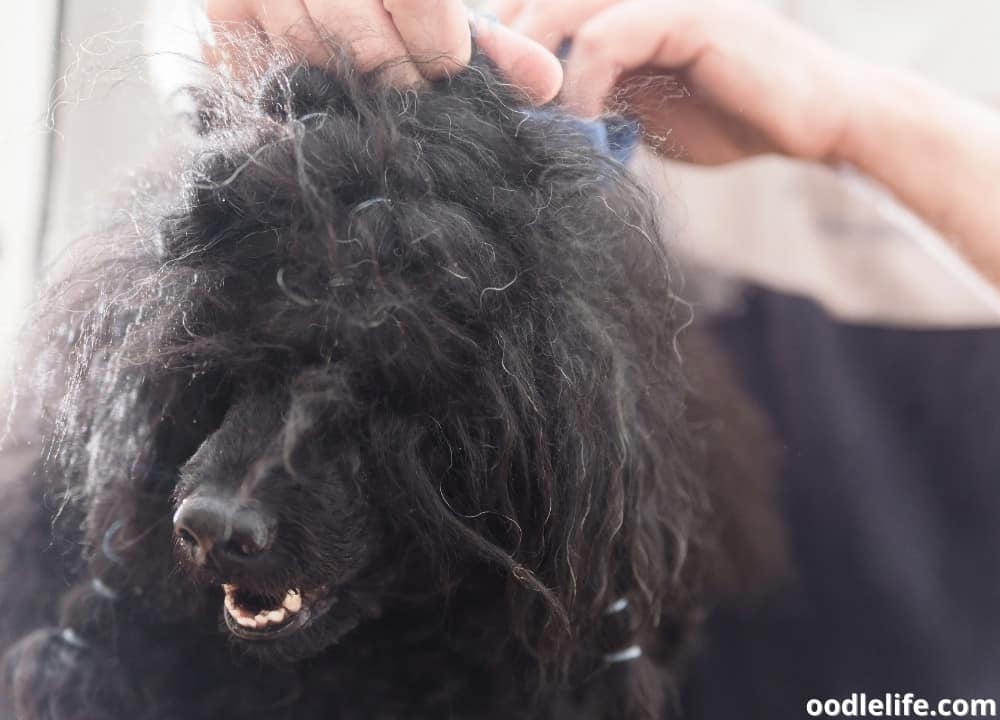 11 Best Dog Shampoos
To help you choose the best shampoo for your fur baby, we have compiled a list of market-available and homemade shampoos that will clean and soothe your pet's skin and coat.
Market-Available Shampoos
1. Buddy Wash
This 2-in-1 shampoo and conditioner comes in various scents like lavender and mint, rosemary and mint, and green tea and bergamot. So you can choose the scent that you are most comfortable with.
Buddy Wash Dog Shampoo & Conditioner for Dogs, Lavender & Mint, 16 ounce
DOG SHAMPOO AND CONDITIONER – Pet shampoo & conditioner made in the USA with ingredients from the garden
WITH HYDRATING OILS – This 2-in-1 pet wash cleans and moisturizes with herbs and botanical extracts such as lavender, mint, sage and tea trea oil.
EASY PET GROOMING FOR DOGS – Dirty dogs don't stand a chance. One application means easy, gentle, and safe dog grooming that leaves your dog soft, fluffy and smelling great.
SOOTHING & SAFE SHAMPOO – Dog shampoo with a soothing formula safe for frequent use.
SPECIALLY FORMULATED – Made with a coconut base, aloe vera and vitamin E to nourish skin and make coats velvety soft.
The two best qualities of the shampoo are that it is alcohol and soap-free. So you do not have to worry about dehydrating your dog's skin. The shampoo is very gentle, with a coconut base, so you can use it on dogs with sensitive skin.
The shampoo lathers up easily, is easy to wash off, and leaves the fur soft and silky.
The shampoo-conditioner formula contains aloe vera, essential oils, botanical extracts, and other ingredients that make bathing a soothing and relaxing experience for the dog. Certainly one of the best dog shampoos available.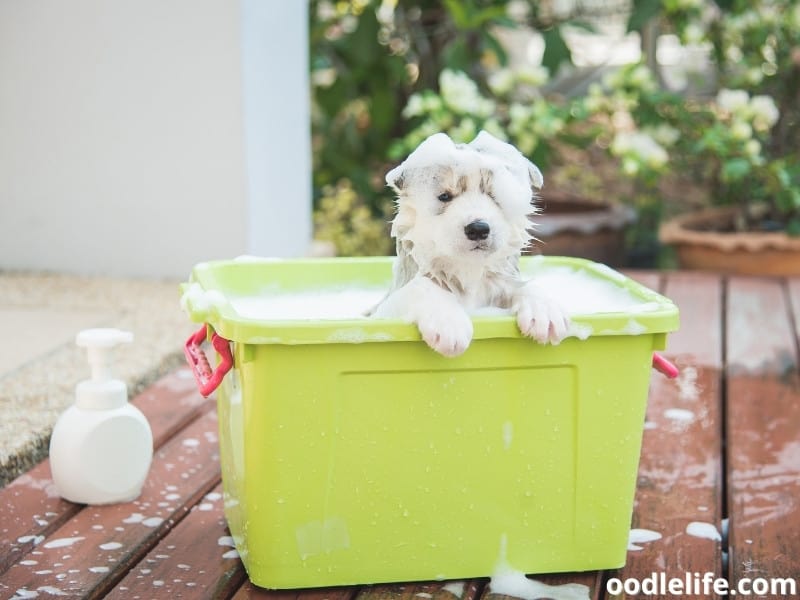 2. 4-Legger Dog Shampoo
This USDA-certified organic dog shampoo is made using natural ingredients. The shampoo is prepared in small batches and does not use chemicals.
4Legger Organic Oatmeal Dog Shampoo with Aloe and Lavender Essential Oil - All Natural Safely Soothe, Condition and Moisturize Normal to Dry, Itchy Sensitive Skin - Made in USA - 16 oz
🌾 USDA ORGANIC OATMEAL DOG SHAMPOO TO SOOTHE AND RELIEVE DRY AND ITCHY SKIN - 4-Legger oatmeal dog shampoo with all natural organic non-GMO oat kernel extracted oatmeal. Far superior to low cost colloidal oatmeal shampoo for dogs it retains all of its moisturizing properties to improve skin tone and add shine to coat
🐶 HOLISTIC VETERINARIAN RECOMMENDED HYPOALLERGENIC ORGANIC DOG SHAMPOO - 100% natural, mild and gentle dog oatmeal shampoo for dry itchy skin will gently clean and moisturize while nourishing your dog's coat using our premium oatmeal, soothing and calming lavender essential oil, aloe vera, coconut oil, jojoba oil, and olive oil
🍃 NO ARTIFICIAL INGREDIENTS OR SYNTHETIC CHEMICALS - Our gentle dog shampoo is plant based and proudly handcrafted in the USA with no artificial preservatives or harmful ingredients. Detergent-free, sulfate free, and paraben free - a truly all natural safe and non-toxic healthy bath. Safe for frequent use and pets of all ages - from puppy to cat
🌎 ALL NATURAL INGREDIENTS - 100% biodegradable made in small batches in the USA using sustainably sourced ingredients, organic non-GMO oatmeal, cruelty free, Aand vegan. Naturally reduce skin irritation with great smelling lavender essential oil
🐾 WAGGING TAIL GUARANTEE - Easy to lather and rinse concentrated holistic shampoo will not strip the natural oils from your dog's coat. No artificial thickeners that add toxicity to your dog's bath. A little goes a long way to get rid of that wet dog smell!
With ingredients like coconut oil, lemongrass, and aloe vera, the shampoo soothes irritated skin, deep cleans, and imparts a pleasant smell. It also contains organic oils that make the fur healthy and is perfect for dry and flaky skin.
The shampoo is ideal for both white-furred dogs and dogs with colored coats. It brightens white furs and adds shine to colored coats.
Besides relieving skin issues, the shampoo also gets rid of the wet dog smell.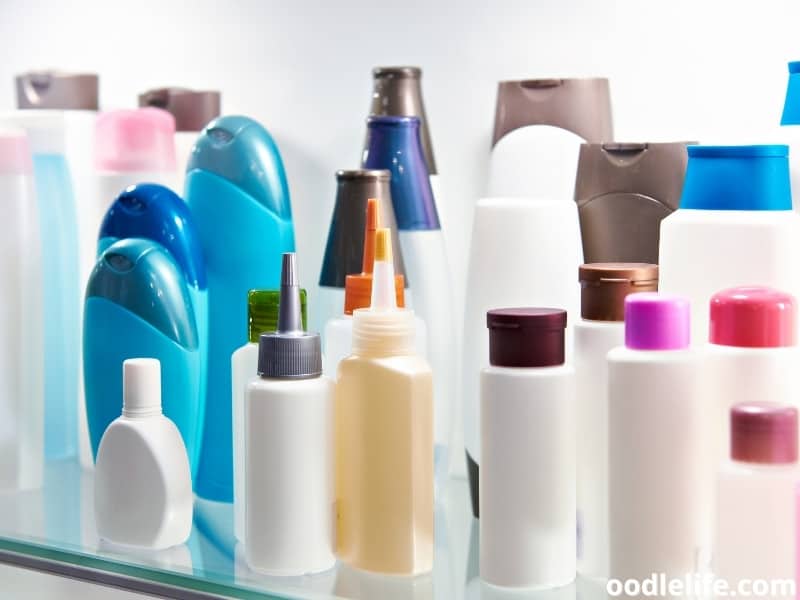 3. Sentry Flea And Tick Shampoo
If you are unable to free your dog of nasty pests, try the Sentry flea and tick shampoo. You can use this shampoo on dogs over 12 months of age. This product's conditioning formula makes it ideal for dogs with skin sensitivities.
Sale
SENTRY Oatmeal Flea and Tick Shampoo for Dogs, Rid Your Dog of Fleas, Ticks, and Other Pests, Hawaiian Ginger Scent, 18 oz
CLEANS AND CONTROLS: SENTRY oatmeal shampoo cleans, deodorizes and conditions your dog's coat, and is also pH balanced. It can be used on dogs and puppies 12 weeks of age and over.
IDEAL FOR DOGS: This rich, conditioning formula with oatmeal kills pests that can harm your pet. Ideal for dogs with sensitive skin. Not recommended for use on cats or kittens.
RID YOUR DOG OF FLEAS: SENTRY Flea and Tick Oatmeal Shampoo for dogs and puppies has a great Hawaiian ginger fragrance. This tried-and-true formula kills fleas and ticks for up to ten days. It even kills the deer ticks that may carry Lyme disease.
FLEAS: Fleas are insects that can start your pet scratching with one bite. They have exceptional jumping skills, leaping vertically up to seven inches to hop on a host to feed and lay their eggs — up to 5,000 flea eggs in a female's lifetime.
TICKS: Ticks are parasites that belong to the arachnid family (like spiders and mites) and live in wooded or grassy areas where they attach themselves to pets walking by. Female ticks find hosts to feed, mate and lay eggs upon, while the males generally occupy hosts for mating purposes.
The shampoo has oatmeal and not only cleans but also conditions and deodorizes the dog's coat. It is also pH-balancing, so you do not have to worry about itchy skin.
It is a tried-and-true formula that gets rid of ticks and fleas in under 10 days, including the ones that cause Lyme disease.
One notable feature of the shampoo is the soothing Hawaiian ginger fragrance that most dog parents love.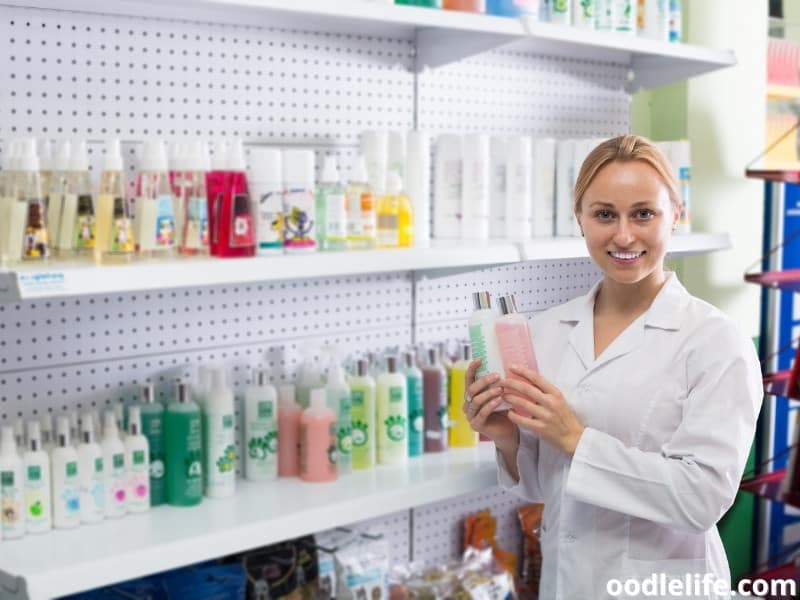 4. Pure And Natural Pet
The dog shampoo is organic and hypoallergenic and USDA-certified. The natural shampoo has no additives or preservatives and is free of chemicals, chemical foaming agents, and dyes.
Sale
It has ingredients like aloe water, jojoba oils, calendula, and organic Castile soap that soothes irritated skin and is gentle and safe for your dog's skin. It is great for dogs with seasonal allergies and is also perfect for puppies.
The shampoo is pH balanced and free from formaldehyde, sulfate, and paraben. It is ideal for puppies and dogs with allergies or itchiness. The shampoo moisturizes the skin, does not strip it of its natural oils, and soothes irritated skin, all while making the fur soft and shiny.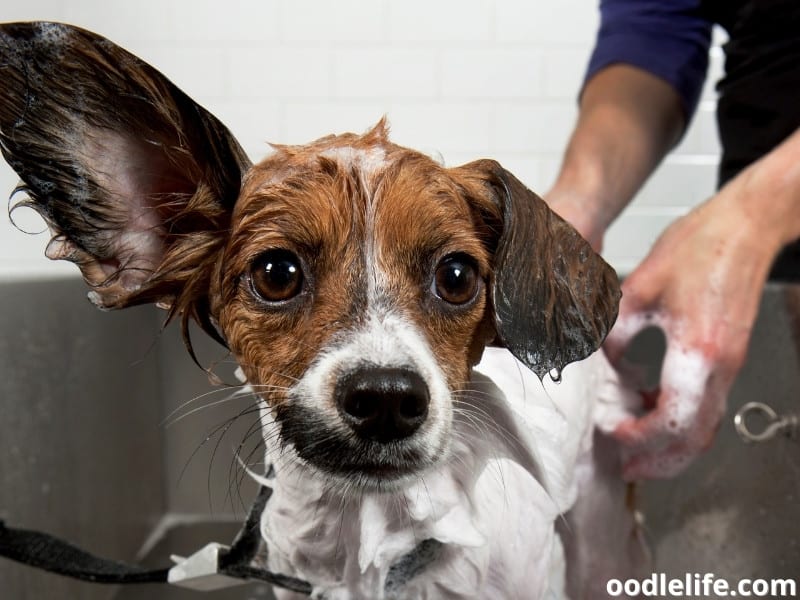 5. Burt's Bees Oatmeal Shampoo For Dogs
The shampoo is great for dogs with sensitive skin and is reasonably priced. The shampoo is gentle with natural ingredients like beeswax and colloidal oatmeal that clean, nourish, and moisturize the dog's skin and leave a pleasant oatmeal scent. However, it does not cover the doggy smell.
Sale
Burt's Bees for Dogs Natural Oatmeal Shampoo with Colloidal Oat Flour and Honey| Oatmeal Dog Shampoo, 4 Ounce Dog Shampoo to Soothe and Cleanse Dogs Skin and Coats
DID YOU KNOW DOG SKIN DIFFERS FROM HUMAN'S - Dogs' skin is less acidic than human skin, so human shampoos destroy a dog's skin protective barrier, leaving your pet vulnerable to itchy flaking
SOOTHES AND SOFTENS - Burt's Bees Oatmeal Shampoo cleans, soothes, softens, and conditions your dog's dry skin and coat
MADE WITH THE HIGHEST QUALITY INGREDIENTS - This gentle formula includes ingredients like colloidal oatmeal, honey, and beeswax for sensitive skin
SUITABLE FOR ALL DOGS AND PUPPIES - This mild tearless shampoo is pH balanced especially for all dogs and puppies
100% SAFE - Veterinarian recommended formula, free of fragrances, sulfates, colorants, and harsh chemicals
The shampoo also has honey that moisturizes the skin and makes the fur soft and silky. It is pH balanced and retains the skin's natural oils. The shampoo does not contain any harsh chemicals and does not wash away topical flea and tick treatments.
It is ideal for dogs with minor skin problems like eczema.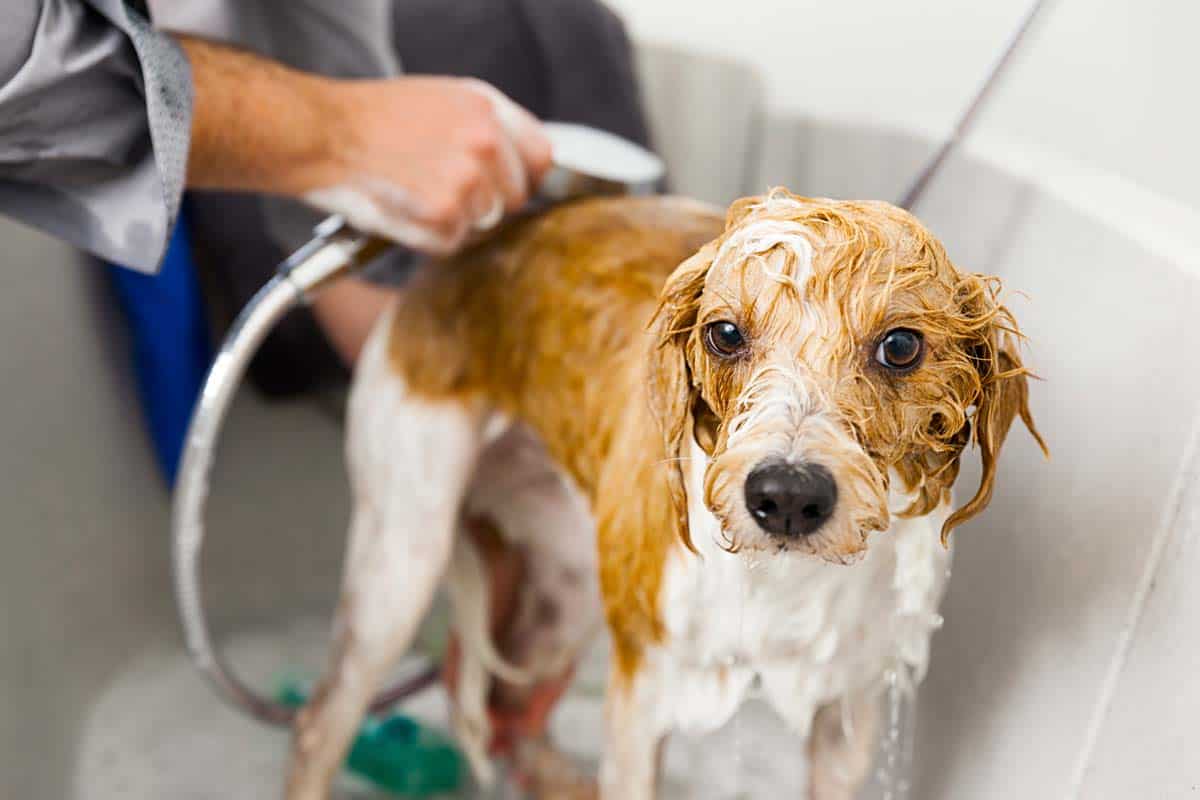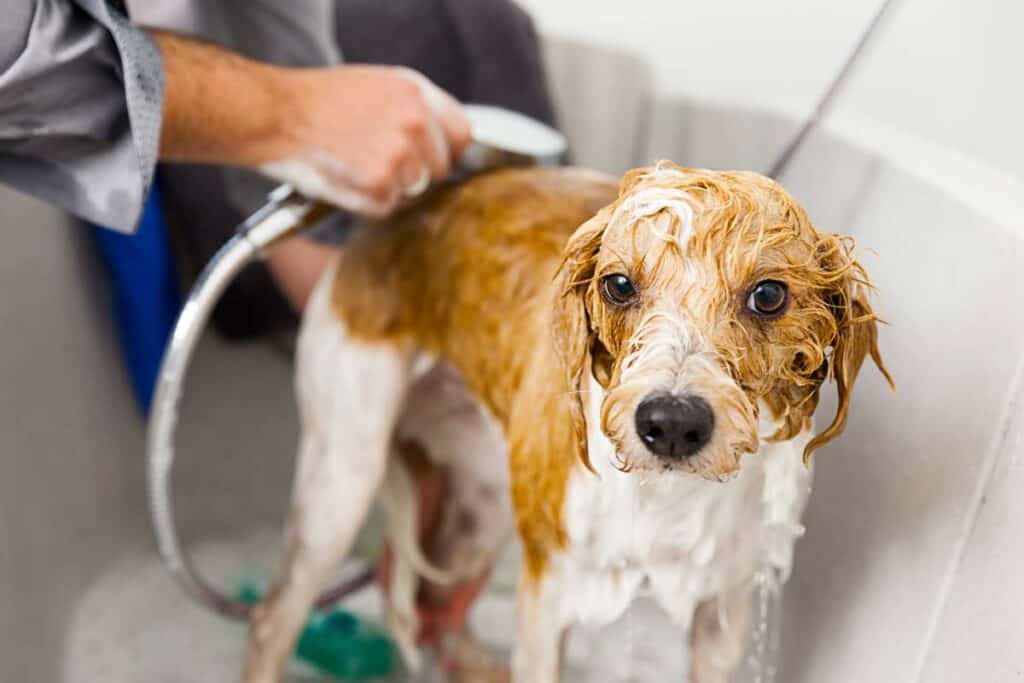 6. Earthbath Oatmeal And Aloe Pet Shampoo
Another shampoo that is perfect for dogs with sensitive skin, it is made from natural ingredients. It is hypoallergenic and addresses itchy, flaky, and dry skin. It will take care of all minor skin issues like brittle and dry coat and skin, bacterial dermatitis, dandruff, and skin allergies.
earthbath Oatmeal & Aloe Pet Shampoo - Vanilla & Almond, Itchy & Dry Skin Relief, Soap-Free, for Dogs & Cats, 100% Biodegradable & Cruelty Free, Give Your Pet That Heavenly Scent - 16 Fl. Oz (2 Pack)
ADDRESS DRY, ITCHY, AND FLAKY SKIN - Colloidal Oatmeal and Organic Aloe Vera help combat skin irritation, promote healing, and re-moisturize sensitive, dry skin
BRILLIANTLY CLEAN & SOFT - This luxurious shampoo is soap free and pH-balanced to clean and deodorize safely and thoroughly, leaving your pet's coat and skin plush and smelling better than ever before
SAFETY FIRST - Our Oatmeal & Aloe, Vanilla & Almond Shampoo will not wash off topical flea applications. Safe for all animals over 6 weeks old
KNOW WHAT YOU'RE GETTING - What goes into our products is just as important as what doesn't. This product contains no soap, gluten, DEA, parabens, synthetic dyes, sulfates, or phthalates, and is animal cruelty free, for a better bath every time!
100% MONEY BACK GUARANTEE - We are so sure you will love this product that we will refund your money if you are not satisfied for any reason. You have nothing to lose
It is one of the best shampoos for dogs with sensitivities and puppies.
The shampoo is pH-balanced, soap-free, and chemical free. So, you can be sure you are not subjecting your dog to synthetic dyes, paraben, perfume, DEA, gluten, and phosphates.
Its ingredients, like oatmeal, aloe, vanilla, and almond, will soothe the skin and moisturize it to make it more supple. The shampoo lathers well, is easy to wash off, and imparts a refreshing smell that does not overwhelm.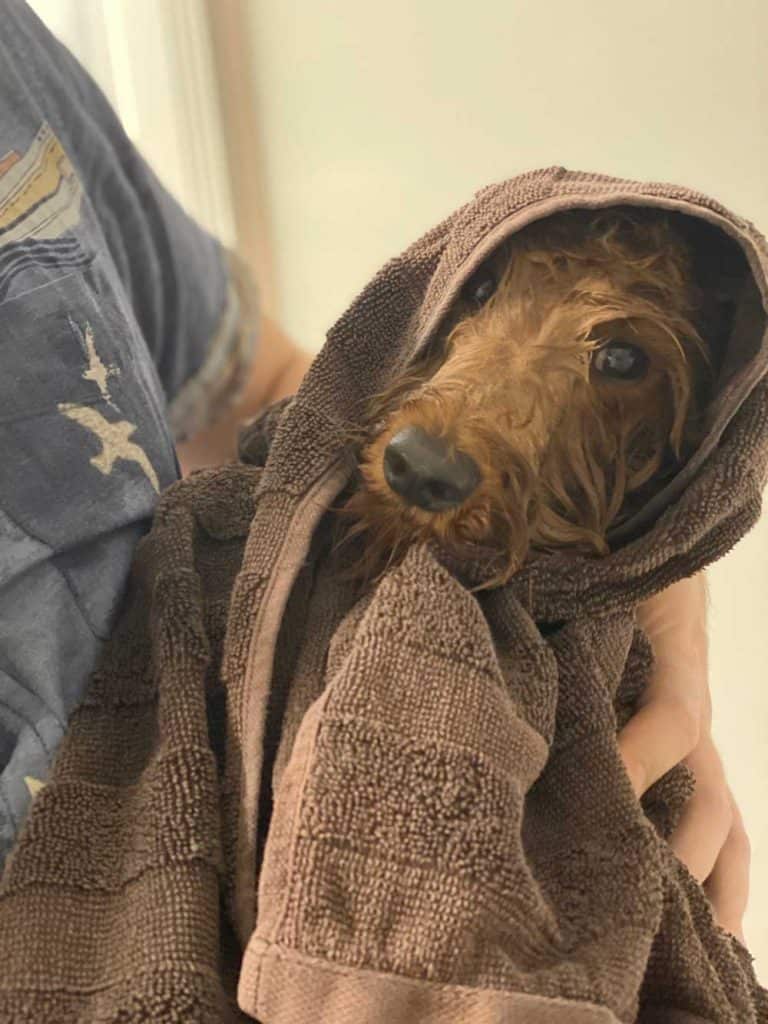 7. Furminator deShedding Shampoo
The shampoo is very moisturizing, and its natural ingredients promote a healthy coat and skin and reduce shedding. It has omega-3 and omega-6 fatty acids from sunflower, safflower seed oils, and cranberry. It also contains vitamin E, proteins, and aloe vera. All these ingredients make the shampoo non-irritating and hypoallergenic.
The non-drying formulation keeps the skin moisturized and supple. The key is to apply the shampoo and leave it on for 5 to 10 minutes. After you wash your dog, you will notice tufts of hair in the bathtub, and later when you brush the coat, the remaining dead hair will also come loose.
You can complement the shampoo with the company's conditioner for better results.
8. Begley's Waterless Pet Shampoo
If a full bath is not possible or the dog is averse to bathing, this no-rinse waterless shampoo is perfect. Made from natural ingredients, the shampoo is safe to use and readily biodegradable.
Begley's Natural No Rinse Waterless Pet Shampoo, Bathless Cleaning, Deodorizing, and Odor Removal for a Shiny, Fresh Smelling Coat - Effective for Dogs, Puppies, and Cats - Fresh Lavender Scent
ALL-NATURAL FORMULA. Safe to use and readily biodegradable, this 16-ounce bottle of pet shampoo is developed using natural ingredients. There are no caustics, dyes, synthetic fragrances, parabens, phthalates, chlorine, formaldehyde, triclosan, or phosphates used, ensuring it won't create any irritation to you, your pets or the environment.
WATERLESS SHAMPOO. Saving time and cleaning efficiently, this waterless shampoo is the perfect way to furnish your pet with a fresh-smelling, shiny coat without having to deal with water. It's a great solution in between trips to the groomer and for pets who dislike bathing.
EASY TO USE. Simply spray your pet's coat liberally and wipe treated area with damp cloth, working well into fur. To avoid getting in your pet's eyes, spray onto damp cloth and apply to head and face. Allow the shampoo to dry, then brush and groom as usual. Repeat process for heavily soiled or foul-smelling areas as needed.
CHOICE OF SCENTS. To accommodate everyone's taste, Begley's Natural Waterless Pet Shampoo is available in four wonderful scents – lavender, citrus, oatmeal mango and tee tree. All scents come from natural essential oils without the use of synthetic fragrances.
ENVIRONMENTALLY FRIENDLY. Actor, author and environmentalist Ed Begley, Jr. – working with industry leader Lab Clean LLC – set out to develop natural household products that are plant-based, sustainable, and biodegradable without sacrificing on performance. Each Earth-responsible product is individually designed and tested to perform equal to or better than its corresponding non-green alternative.
It does not contain harsh chemicals like parabens, caustic, formaldehyde chlorine, phosphates, or other synthetic ingredients that are bad for the skin.
The shampoo cleans and deodorizes and, at the same time, moisturizes the skin. It won't cause any allergic reactions or skin irritation, either.
Spray the shampoo on the dog's coat and wipe it with a damp cloth. The shampoo has enzymes and biosurfactants that work on proteins, starch, and fats.
The shampoo comes in 4 amazing scents—citrus, lavender, tea tree, and oatmeal mango. So, you can decide on the one that suits your taste. The shampoo is beneficial when a dog has undergone surgery, and the treated area has to be kept dry.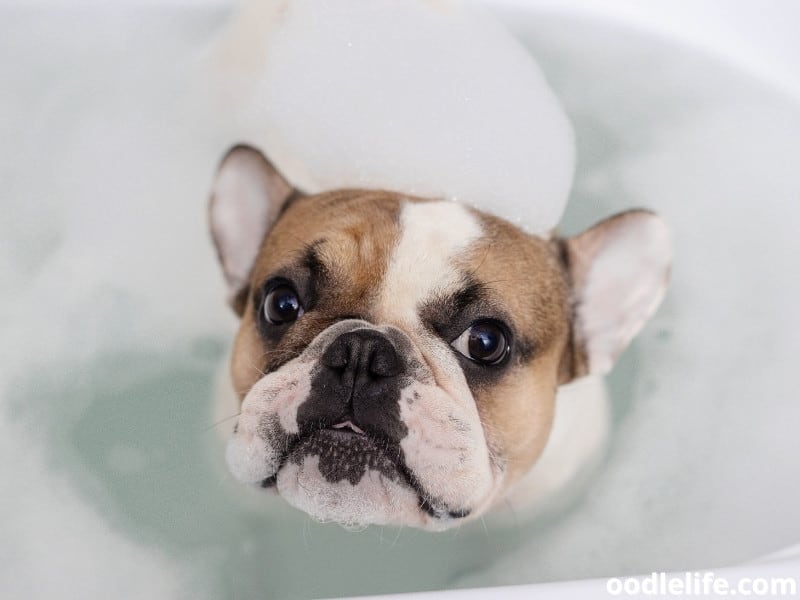 Dog Shampoo Substitutes
If you ever run out of dog shampoo or do not trust the market products, here are 3 alternatives to help you clean your dog thoroughly and more naturally.
9. Dish Soap
You might wonder how a product that is designed to eliminate grease can be gentle for your pup. However, the age-old technique is used because it is not harsh on animals. It is why wildlife rescue organizations use dish soap to clean up after spills and other disasters.
However, opt for dish soaps that are designed to "not harm hands," like Dawn. Also, do not use concentrated soap. Dilute it with water and white vinegar, ideally using ¼ cup soap, ½ cup white vinegar, and 2 cups water.
Apply the solution to your dog's coat and lather it gently. Wash off thoroughly. It is a safe shampoo; however, avoid getting it in the eyes, nose, and mouth.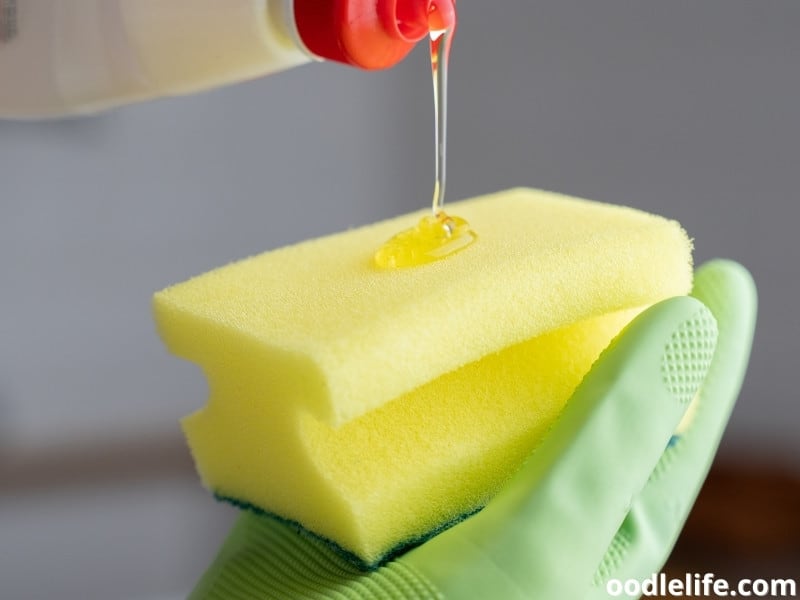 10. Baking Soda
Another pantry ingredient that you can use to clean your dog is baking soda. It will wash away dirt and grime and remove the bad doggy odors, leaving the coat smelling fresh.
You can use it as a dry shampoo and rub it over your dog's coat, or create a shampoo with oatmeal. To prepare the shampoo, you will need 1⁄2 cup baking soda, 1 cup raw ground oatmeal, and 4 cups of water. Apply the mixture to the coat and gently work it until it spreads all over the skin.
Rinse it off with clean water.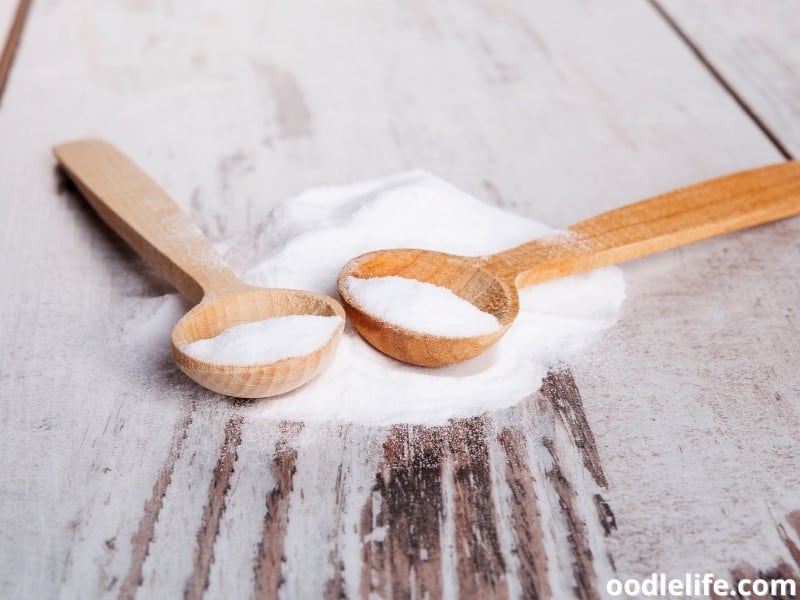 11. Cornstarch
As already mentioned, baking soda is an excellent dry shampoo. However, there is one more alternative—cornstarch.
Just sprinkle it on the dog's coat until you have a ghost version of your dog. Now, brush thoroughly so it spreads evenly and the excess comes off.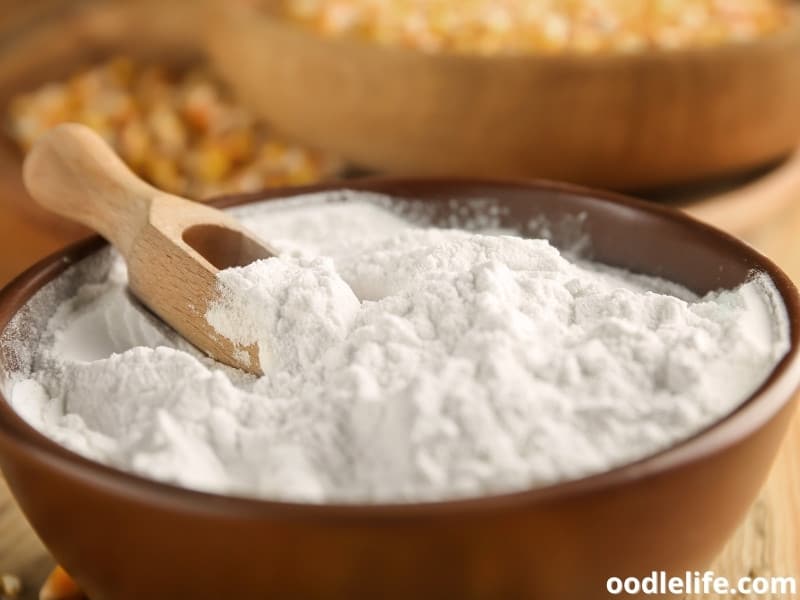 Conclusion
Bathing is an important part of your defense arsenal against illnesses, foul odors, and fleas and ticks on your dog. Regular bathing is necessary to keep your dog in optimal health.
But what if it does more harm than good? With the market flooded with chemical products, you need to be cautious when buying products for your fur baby.
We hope this list of 11 best dog shampoos will help you keep your dog clean without causing any side effects.