Best Food For Yorkies (5 Best Picks for Healthy Yorkshire Terriers)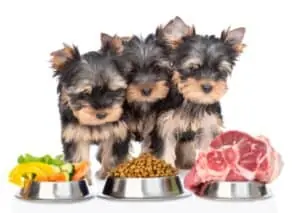 As our furry friends cannot speak to us, it is really important to understand their individual needs through other means.
Finding the best food for any dog is difficult enough, but Yorkshire Terriers can be even more complicated.
Due to their size, Yorkies are prone to having teeth problems as a result of their tiny jaws. This can create overcrowding, which makes the food stuck between the teeth and can cause havoc in their little mouths.
It's also important to find a food that will not upset your little one's stomachs, which can often be so sensitive. Not only that, but Yorkies can be unbelievably picky eaters.
We may think we know what is best for them in terms of flavor and benefiting their health, but it could easily taste disgusting to your dog, and they simply won't eat it.
Don't fret, because we have found the 5 best foods for Yorkies that are sure to satisfy your pup's needs and taste buds.
We have also included a handy buyers' guide and FAQ for any unanswered questions.
In a rush?
Our top pick is Hill's Science Diet Adult Perfect Weight Small & Mini in the chicken flavor.
Whilst it is advertised for helping dogs lose weight, which is vital for small and mini dogs, this food also helps to maintain a healthy weight for those who are either of a good or underweight size.
This kibble is extra small – perfect for a Yorkie's tiny teeth and mouth – and is made with all-natural ingredients. If you want kibble to maintain the health of your Yorkie, Hill's Science is for you.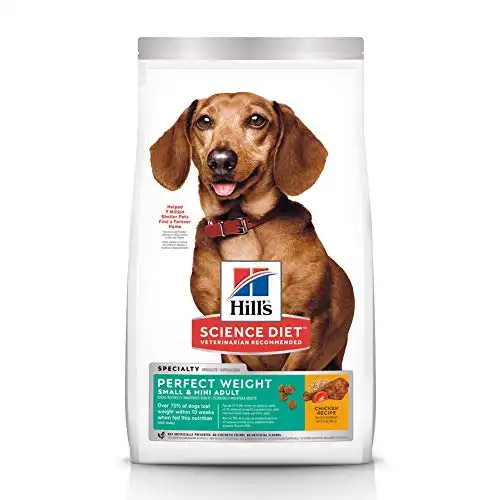 This Hill's Science dog food is ideal for small dogs who need a balanced and healthy weight.
The extra small kibble is designed for a small jaw and mouth and is made in the USA with all-natural ingredients, featuring a chicken flavor.
Whilst helping dogs lose or maintain weight, this food also helps to maintain lean muscle – something Yorkies often lack due to their fast metabolisms.
As Yorkies are notoriously picky eaters – whether this is due to the taste, size of the kibble, or teeth problems – this food will ensure to maintain a stronger weight for their little muscles.
Due to their small size, it is also easy for them to gain weight if they like their food, so this dog food will help to manage that.
Hill's Science is veterinarian approved and recommended, especially for those with weight issues due to excessive eating or health problems.
This food is not recommended for puppies or pregnant or nursing dogs.
Pros:
Helps to lose and maintain weight and builds lean muscle
Small kibble size
All natural ingredients and made in the USA
Cons: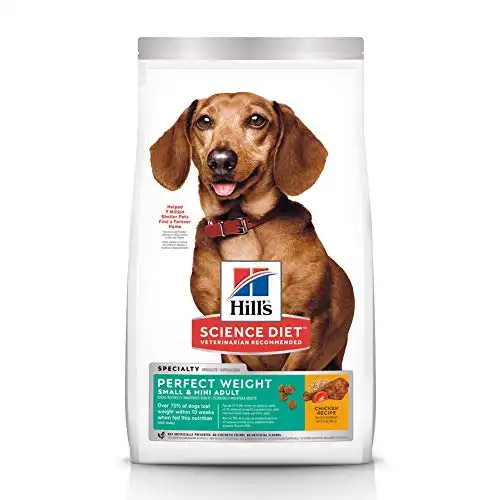 We earn a commission if you make a purchase, at no additional cost to you.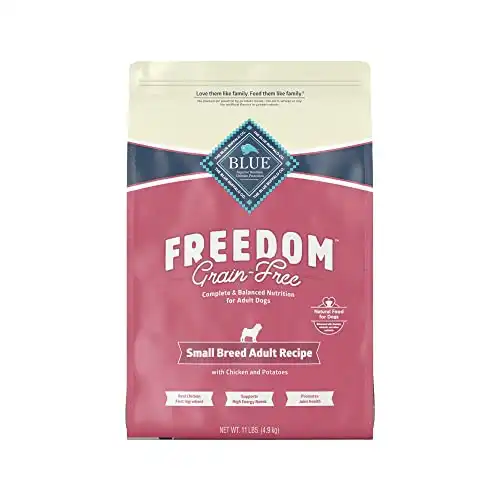 This 100% grain-free formula is made with chicken, peas, carrots, and other high-quality ingredients.
This Blue Buffalo food has small kibble for smaller jaws and uses a unique formula to ensure smaller dogs get the nutrients they need.
This includes omega 3 and 6 fatty acids for their skin and coat, and enough protein and carbohydrates to maintain energy.
Fruits and vegetables are involved within the kibble to ensure a balanced diet that is also tasty for the dogs. This is a high-quality dog food brand and formula and designed for adult small breeds.
It is therefore not recommended for puppies or larger dogs, as they could choke on the smaller kibble.
As it is gluten-free, this does make the food more expensive but is ideal for those with gastrointestinal issues.
The lack of grain is substituted by carbohydrates. Gluten isn't bad for dogs, so if your dog is not gluten intolerant then this is not an essential purchase. 
Pros:
Range of protein and carbohydrates
Grain free, ideal for dogs with gastrointestinal issues
Small kibble size for small jaws
Cons:
Not a necessary purchase for dogs who can tolerate gluten
Blue Buffalo Freedom Grain Free Recipe for Dog, Small Breed Chicken Recipe, 11 lb
$47.99
$43.98 ($4.00 / lb)
STARTS WITH REAL CHICKEN: A recipe that starts with real chicken as the first ingredient, this dry dog food features the high quality ingredients you'll feel good about feeding your best friend...
GRAIN FREE SMALL BREED DOG FOOD: BLUE Freedom grain free dog food for small breed dogs is specifically formulated to meet the unique energy requirements of smaller breeds; Plus, it contains omega 3 &...
ANTIOXIDANT-RICH LIFESOURCE BITS: A precise blend of antioxidants, vitamins and minerals carefully selected by holistic veterinarians and animal nutritionists to support immune system health, life...
A NATURAL DOG FOOD: BLUE dry dog food is made with the finest natural ingredients enhanced with vitamins and minerals; BLUE contains NO chicken (or poultry) by-product meals, corn, wheat, soy,...
Contains one (1) 11lb bag of BLUE Freedom Grain Free Natural Adult Small Breed Dry Dog Food, Chicken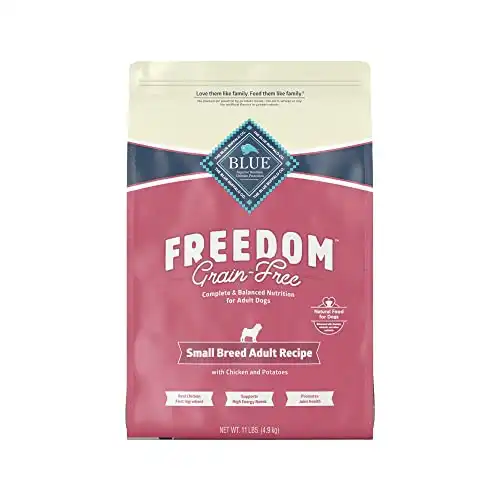 We earn a commission if you make a purchase, at no additional cost to you.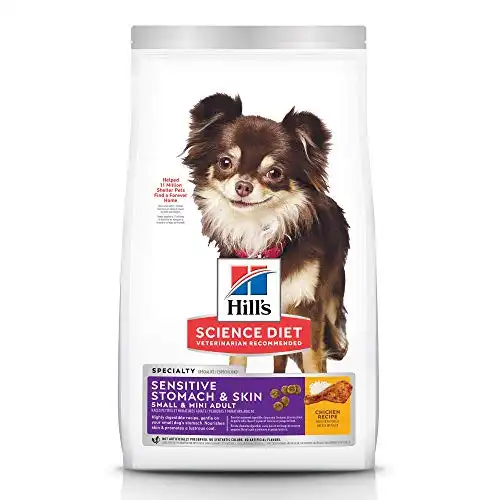 Another Hill's Science product, this dog food is designed for small and miniature breeds with sensitive skin and stomachs.
This tiny 3mm wide kibble is full of necessary vitamins and omega 6 fatty acids to promote a healthy coat and skin.
These acids are ideal for a dog who has a smelly coat, even after washing, as it may require a change of food.
The balance of nutrients is designed specifically for small dogs so they are not missing out on the essential vitamins and minerals that larger dogs benefit from with their food.
The ingredients also include antioxidant benefits, which are ideal for those with sensitive stomachs or gastrointestinal issues.
If this food works for your dog, it could easily save hundreds of dollars on vet fees. This dog food is made in the USA with all-natural ingredients and is veterinarian approved. 
Pros:
Ideal for dogs with stomach and skin problems
Small kibble for small jaws
All natural ingredients, made in the USA, and veterinarian approved
Cons:
Chicken flavor may not be a preferred flavor for some dogs
Hill's Science Diet Dry Dog Food, Adult, Small & Mini Breeds, Sensitive Stomach & Skin, Chicken Recipe, 15 lb Bag
$59.99
$54.99 ($3.67 / lb)
This dry dog food uses prebiotic fiber to feed your small dog's microbiome for optimal digestive health
Vitamin E, omega 6 fatty acids and other nutrients in smaller kibble help nourish skin and promote a lustrous coat
Dog food formulated with little dogs in mind to provide an optimal balance of nutrients specifically for miniature and toy breed dogs
Precise balance and highly digestible ingredients for sensitive stomachs and for dogs with sensitive skin
Made with natural ingredients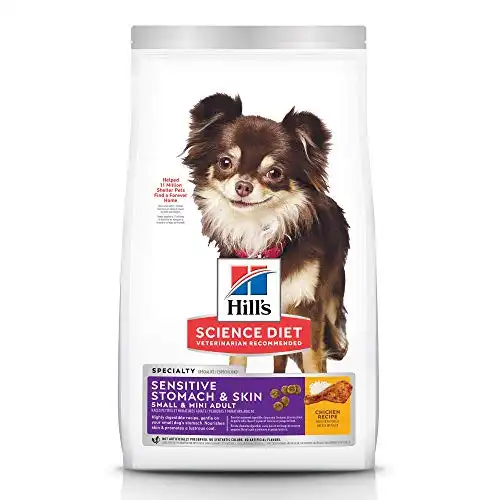 We earn a commission if you make a purchase, at no additional cost to you.
The Nula dry dog food is a grain-free salmon and red lentil recipe for small dogs.
As there is no grain in this food, the formula is balanced with amino acids and low carbohydrates to maintain a healthy weight whilst satisfying any sensitive stomach.
The seafood flavor may be preferred by some dogs to meat flavors, though it has the potential to leave a smellier breath.
The kibble size is small and also includes miscanthus grass for extra fiber, which is also beneficial for those with a sensitive stomach and potentially loose stool.
To help further with food digestion, this dog food includes BC30 probiotic – a good supplement for supporting a healthy gut and improving metabolism.
Due to their size, Yorkies tend to have a fast metabolism that can often be confused with a lack of hunger.
The Nula dog food works to regulate their metabolism to ensure their hunger is satisfied and the owner's concerns are dealt with.
This formula also has a balanced calcium rate, which is best for Yorkies who often have teeth issues.
Fortunately for the owner's benefit, the fishy odor can be canceled out by the zip-lock bag closure. 
Pros:
Grain free
Small kibble for small jaws
Balanced formula to focus on metabolism and sensitive stomachs
Cons:
Some dogs may not like the fishy taste
Fish flavor may cause smelly breath, which regular tooth brushing can get rid of
Nulo Small Breed Grain Free Dry Dog Food With Bc30 Probiotic (Salmon And Red Lentils Recipe, 11B Bag)
GRAIN-FREE recipe contains no corn; wheat; soy; white potatoes; tapioca; artificial colors, flavorings or preservatives. Based in Austin, TX and proudly made in the USA.
HIGH MEAT/LOW CARB proprietary formula 84% animal-based protein for more amino acids and better flavor. Nulo FreeStyle also uses fewer carbs and low glycemic ingredients like lentils, sweet potato and...
SMALLER KIBBLE SIZE promotes proper chewing, less choking and better digestion. Miscanthus grass provides natural fiber to satisfy the faster small breed appetite without overfilling the smaller...
PROMOTES WEIGHT MANAGEMENT through reduced carbohydrate intake and L-Carnitine supplementation. Dogs that maintain an ideal body weight live almost 2 years longer than overweight dogs.
PATENTED BC30 PROBIOTIC supports healthy gut flora to aid tiny tummies in food digestion. This lactic-acid producing bacteria also helps regulate metabolism, which runs faster in smaller dog breeds.
We earn a commission if you make a purchase, at no additional cost to you.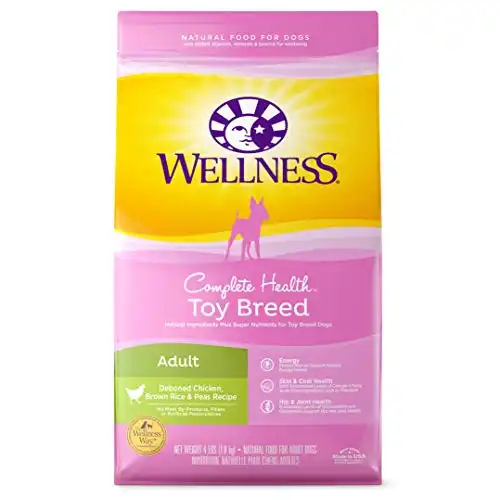 The last recommended dog food on our list, the Wellness Complete Health is high quality and wholesome recipe for small dogs.
With no artificial preservatives and non-GMO ingredients, this food is designed with dog's health in mind.
Each ingredient works as a necessary nutrient, such as omega-rich flaxseed for a healthy coat, spinach for immunity, and protein from quality chicken.
Probiotics and omega fatty acids also help a healthy heart, skin, energy, and digestive system. The kibble is small, and the brown rice ingredient helps to regulate upset or sensitive stomachs.
Whilst this bag only comes in a 4 pounds size, this helps to maintain the freshness of the product and does not let food go to waste if your dog doesn't like it.
This dog food is made in the USA from globally sourced products and ingredients.
Pros:
Beneficial for the heart, skin, coat, and digestive system
Small kibble for small jaw
Made in the USA with local ingredients
Cons:
Only comes in 4 pound size, but this helps maintain the freshness
Wellness Complete Health Toy Breed Dry Dog Food with Grains, Chicken & Rice, 4-Pound Bag
PROTEIN RICH TOY BREED ADULT DRY DOG FOOD: Nutritionally dense crunchy kibble with ingredients such as chicken, brown rice and peas for whole body health
ALL NATURAL: Created by nutritionists, veterinarians and animal lovers, our recipes provide an ideal balance of nature's finest ingredients, carefully selected to nourish and sustain your dog's...
SUPPORTS HEALTHY BODY WEIGHT AND IMMUNE SYSTEM: Supported by antioxidants for strong immune systems, probiotics for digestive health, vitamins for healthy eyes and teeth, taurine for healthy heart,...
NO CORN, WHEAT, OR SOY: Toy breed adult dry dog food doesn't contain poultry by-products, wheat, wheat gluten, corn, soy, artificial colors, or preservatives
MADE IN USA: Using only the finest globally sourced ingredients, we prepare each of our diets in our own state of the art facility; recipes crafted with wholesome, non-GMO ingredients chosen for their...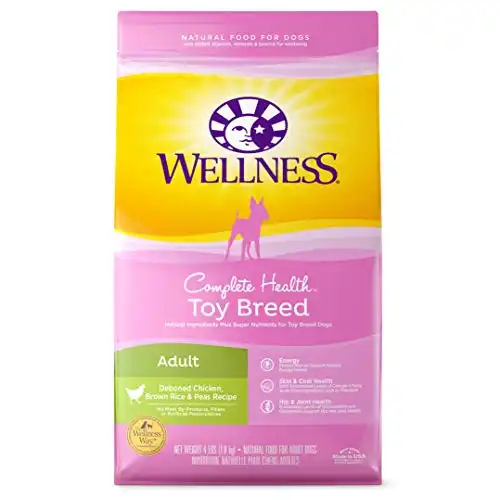 We earn a commission if you make a purchase, at no additional cost to you.
Best Food For Yorkies Buyer's Guide
What to look for in dog food for yorkies
Yorkshire Terriers are known for being picky eaters for several reasons: their teeth, their fast metabolism, and they can be just generally picky.
Because of this, it is important to invest in food that will benefit your dog and supply them with all of the nutrients without breaking their teeth or affecting their sensitive stomachs.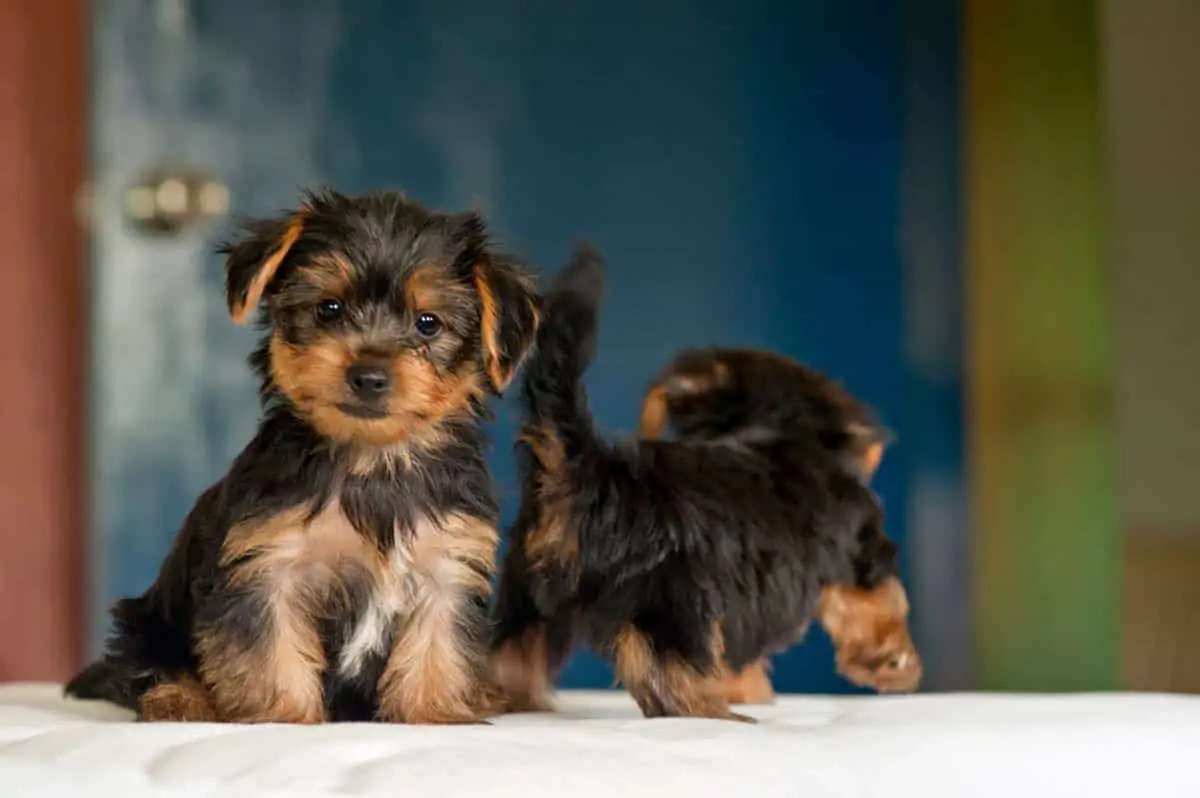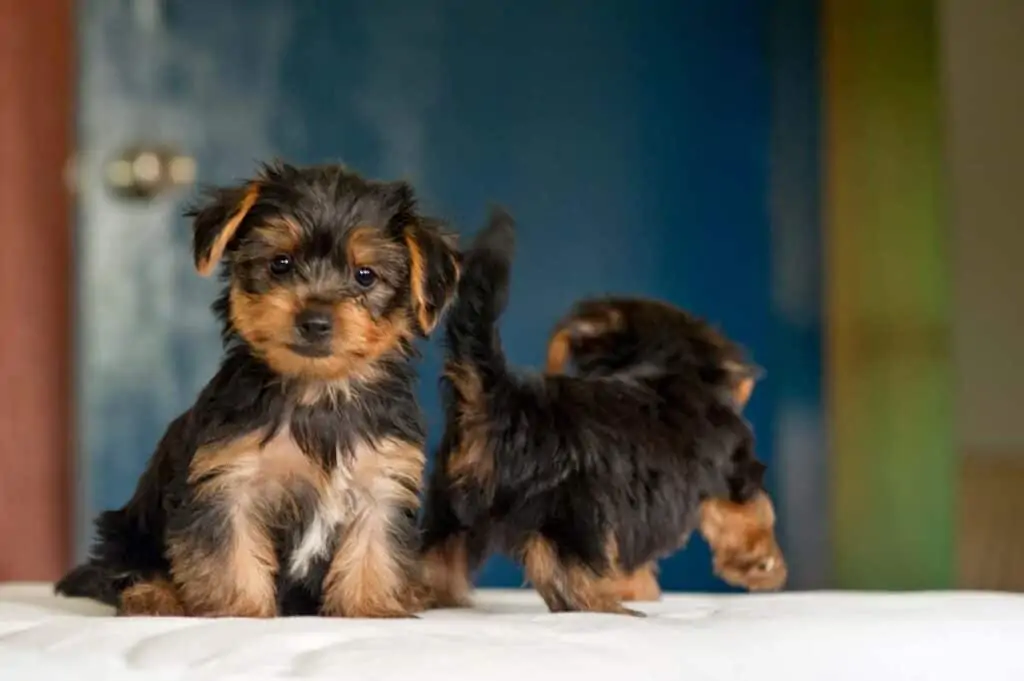 Unfortunately, food shopping for a dog is all about trial and error. Each dog is different and will have individual needs, so it isn't entirely possible to say which brand or product is guaranteed to be perfect for your dog.
The foods we have recommended are the most popular and tick the necessary boxes.
When getting dog food, it is worth checking with your vet to see the requirements your dog may need. If they are showing signs of a sensitive stomach, a grain-free diet may be beneficial to them.
If they have weight issues or a health problem that causes weight gain, a diet plan will be more suitable.
It is best to buy products with natural ingredients with no artificial flavorings or GMO ingredients to offer the highest quality.
Whilst humans may be able to eat the occasional unhealthy meal, dogs cannot, as they require consistency.
We can eat different foods in every meal, but a dog must have something to adjust to as a result of the health problems that are at risk.
Nutrients such as omega fatty acids, antioxidants, and calcium are ideal for supporting a healthy coat and skin, the digestive system, and teeth.
Teeth problems in yorkies
Yorkshire terriers have tiny jaws, which means their teeth can often overcrowd.
This overcrowding means food can get stuck easily, and if the food isn't removed this can cause plaque build-up.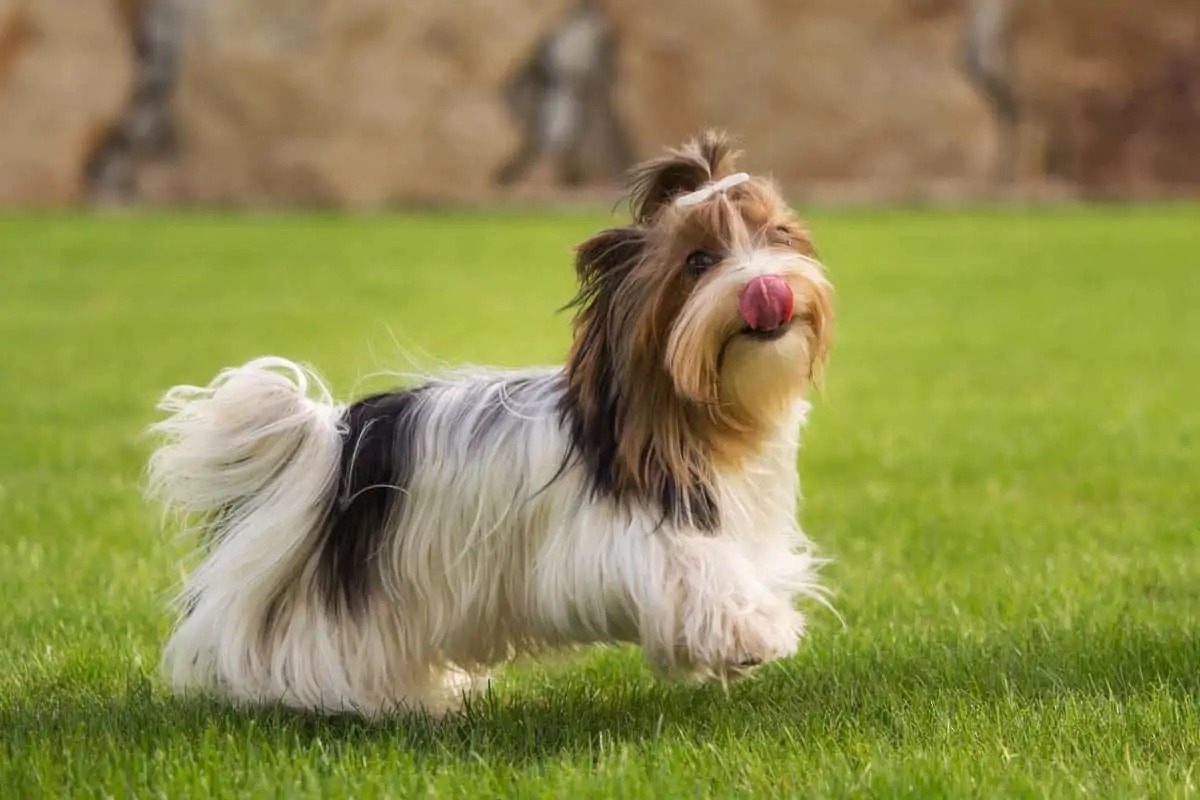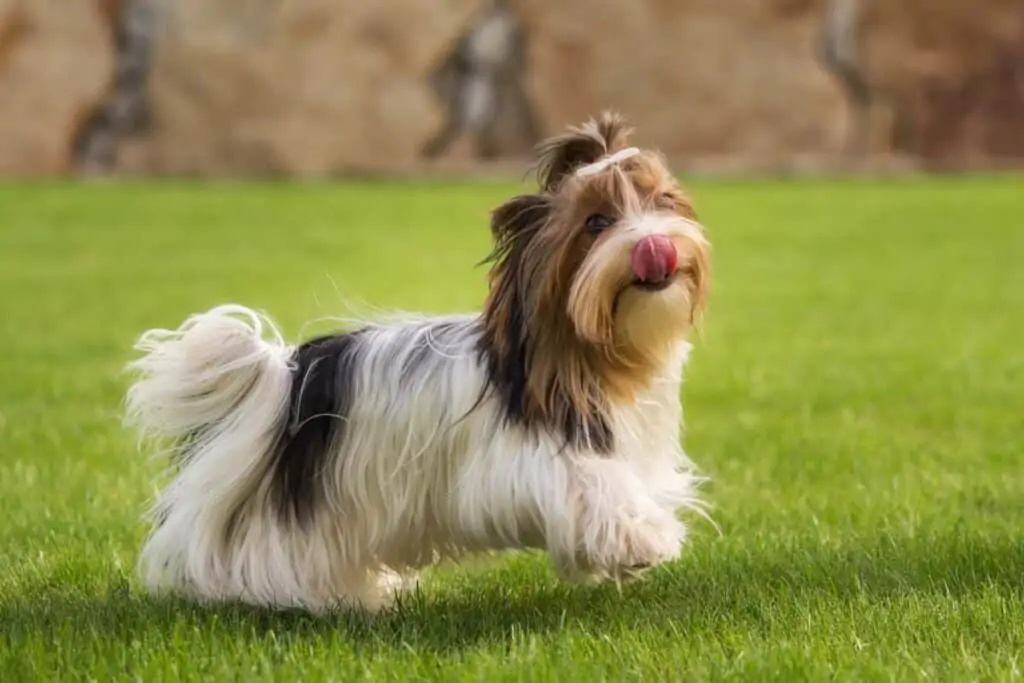 This plaque can turn into tartar, which can, unfortunately, lead to gum disease. To combat this, make sure to brush their teeth regularly and make trips to the vets. (Can gum disease kill dogs? – The answer is… sometimes)
Small kibble is best for their tiny jaws so they can build up the strength of their teeth without struggling to eat.
Quality dental chews are also great for removing and preventing plaque as well as strengthening the jaw.
Investing in good-quality food may be more cost-effective than multiple vet trips and possible tooth extractions. 
If your dog suffers from bad breath, consider changing its diet. If this does not work, make a trip to the vets to see if your dog has a problem.
Halitosis, bad breath, can be caused by diabetes, digestive issues, respiratory issues, or even picky eaters.
Teeth pain can easily be misconstrued as picky eating – if you notice a disinterest in food from your Yorkie, a vet trip may be necessary. 
Tips for changing up a Yorkie Diet
When looking to change your dog's food for whatever reason, make sure to make this transition gradual.
It's easy enough to give them their new food and assume they will like it, but they need time to adjust.
Over a period of 7 days, mix their old food with new food gradually, adding more and more each day until it is completely new food.
Without this transition, your dog can develop an upset stomach and it may put them off the new food completely.
For Yorkie puppies, dog food designed specifically for toy breeds or puppies is ideal as the kibble size is small enough for them to eat – while providing the nutrients a Yorkie needs for a long lifespan.
Toy breed puppies such as Yorkies are susceptible to hypoglycemia, where the sugar levels are abnormally low. This is because their size renders them unable to store food the same way an adult or larger dog can.
It is recommended to feed them 3 to 4 small meals a day to combat this and to ensure enough glucose for their brains.
For older Yorkies, they can stick to whatever food they have adjusted to, just be careful to watch their weight as they may require a diet option.
Frequently Asked Questions
What is the best food to feed a Yorkie?
This ultimately depends on the needs and requirements of each dog.
Generally speaking, it is vital to stick to food with small-sized kibble to prevent teeth problems.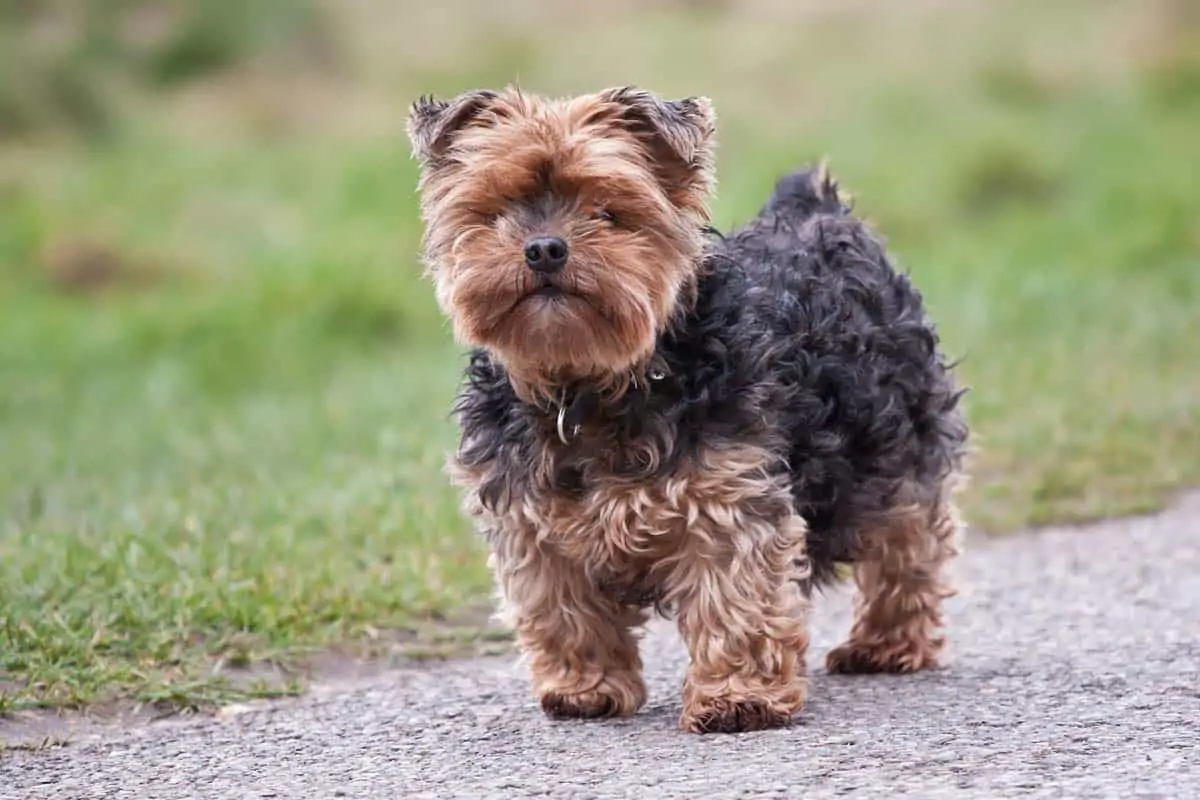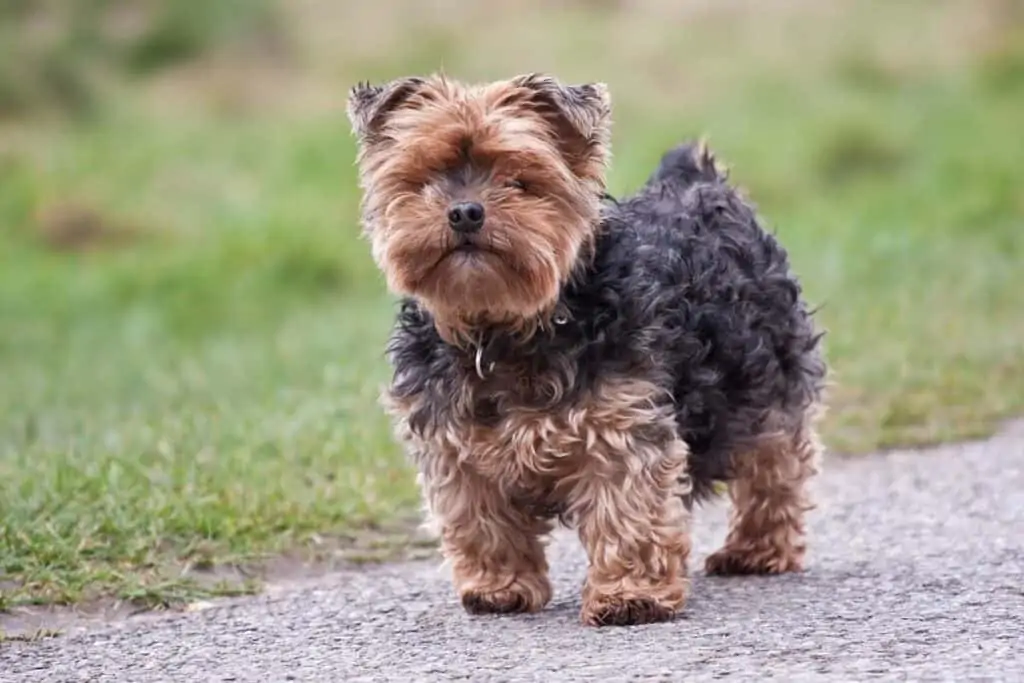 It is best to choose formulas with all-natural ingredients that are packed with nutrients and fatty acids to support their digestive system, coat and skin, teeth, and their metabolism.
Remember, finding the right food for your dog is based on trial and error, so make sure to stick to a good regime to help them adjust.
What human food can my Yorkie eat?
Yorkies can eat certain grains such as whole-grain pasta and brown rice – top tip from us is to have cooked rice stored in the freezer for when your dog has an upset stomach, as the rice is full of fibre that they could be lacking in their diet.
They can eat dairies such as yogurt and cheese but in small doses, as they may not be able to tolerate the dairy.
Embedding tablets in a small block of cheese is a great way to medicate your dog. As you can imagine giving a small dog a tablet is an art form!
They can eat various bits of meat from leftovers, sparingly of course, and can eat some fruits such as apples.
Carrots are also great for dogs – we recommend freezing a carrot and giving it to them to chew when you are out of the house. This is a good distraction and it strengthens their teeth.
You can also put carrot pieces into a frozen Kong for the same result.
What should I not feed my Yorkie?
Whilst Yorkies can eat just about anything in small amounts, dogs must avoid fruit such as raisins, grapes, and citrus.
They cannot eat chocolate, large amounts of dairy, raw meat or egg, spicy or sweet food, onions, and garlic.
These can all cause upset stomachs and even permanent damage. Also make sure to avoid spoiled food and kibble, as well as food with small raw bones as they could choke.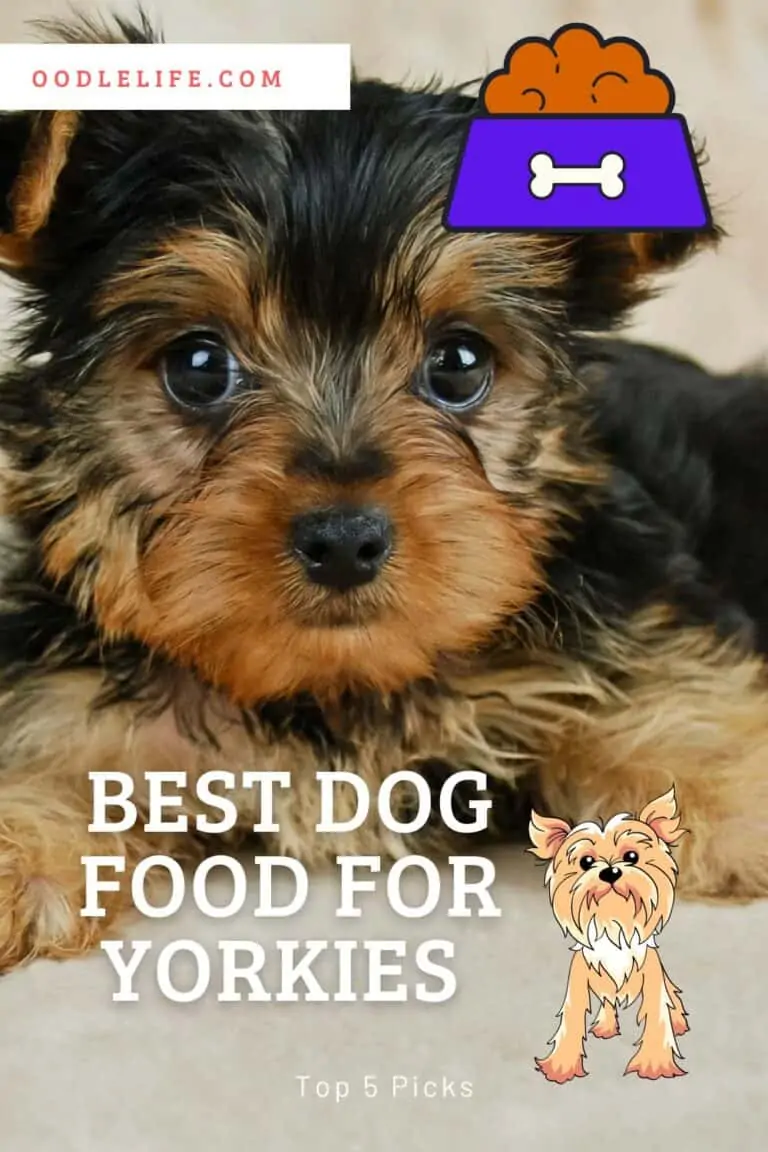 What kind of meat can Yorkies eat?
Yorkies can eat almost every kind of meat (even pork) in small amounts, just make sure the food is not too seasoned and is not undercooked or raw.
Also, cut the meat into smaller pieces to prevent choking. Try to avoid feeding them the skin of meat, as this is very fatty and could inflame the pancreas.
Should Yorkies eat wet or dry food?
Both wet and dry food offer different benefits, but for Yorkies it is best to stick to dry food to support the strengthening of their teeth and jaw.
Wet food does not work as well as kibble to prevent plaque build-up. Wet food, however, can be mixed in with dry food to help with the taste for those picky eaters. 
Are vegetables good for Yorkies?
Vegetables contain all the necessary nutrients that benefit dogs the same way it does humans.
They contain antioxidants, probiotics, fatty amino acids, fiber and more that helps to improve the quality of your dog's diet and health.
Fortunately, most dog foods come with vegetable ingredients, but if you want to give them extra veggies on the side, you can. Dogs can eat bell peppers, and even asparagus.
Just make sure to clean the vegetables properly and cut them into small pieces to prevent choking (especially for chunky vegetables like carrots).
Try to avoid too much carbohydrates such as raw white potatoes, as this can affect the digestive and urinary systems and can actually be toxic to dogs.
Cooked potato is better as the toxic solanine levels are reduced, but still give small portions.