Best Cockapoo Breeders in Connecticut (Updated 2023) 
Cockapoos are charming, often comedic companions. They have the happy-go-lucky behavior and hypoallergenic quality of Poodles and the affability of Cocker Spaniels.
No wonder they're such popular family dogs.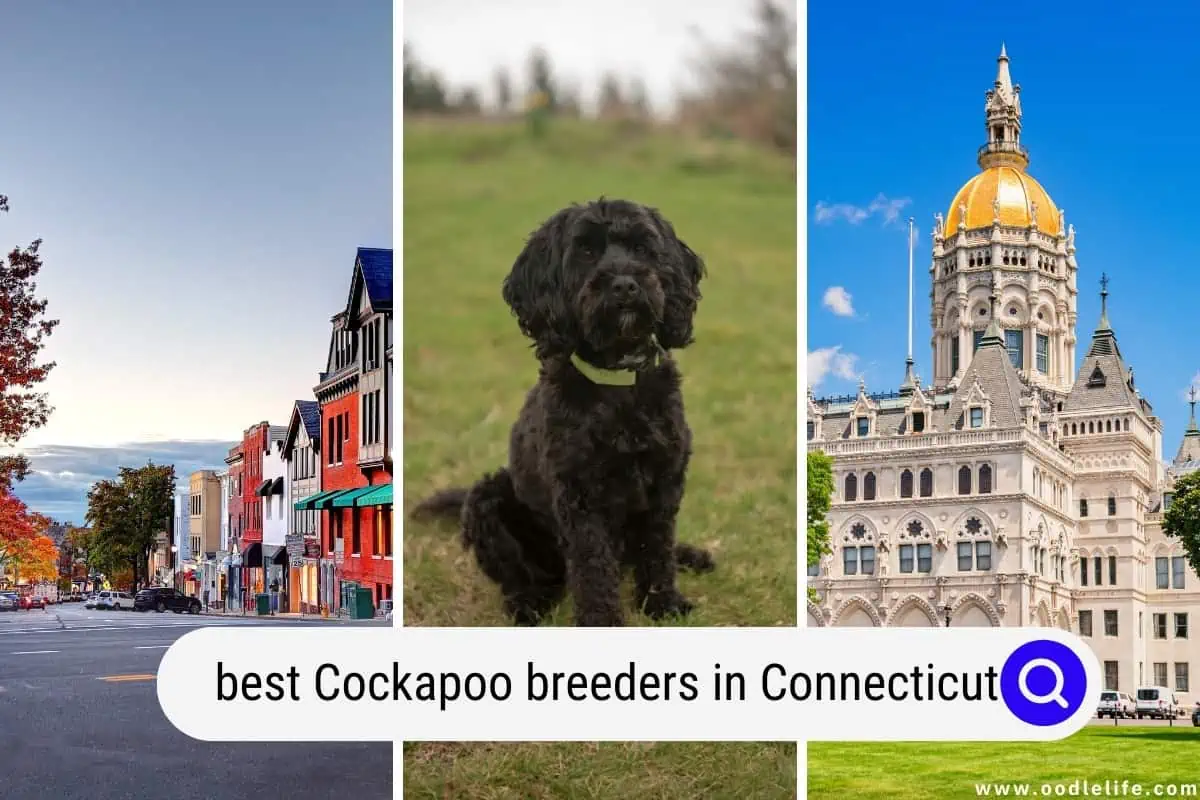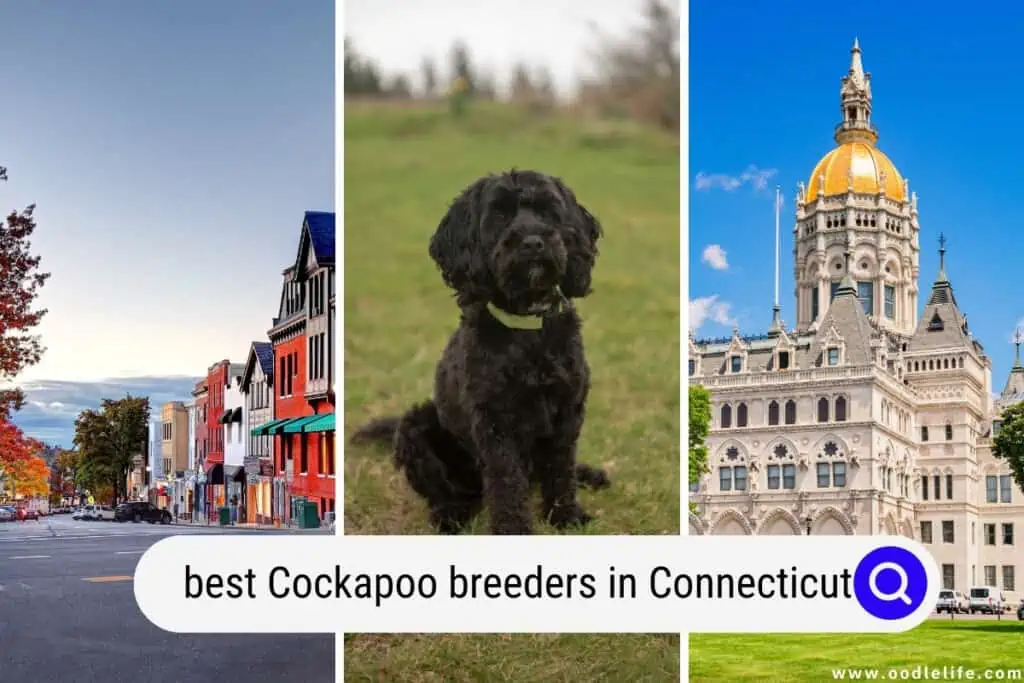 $300 2023 Discount!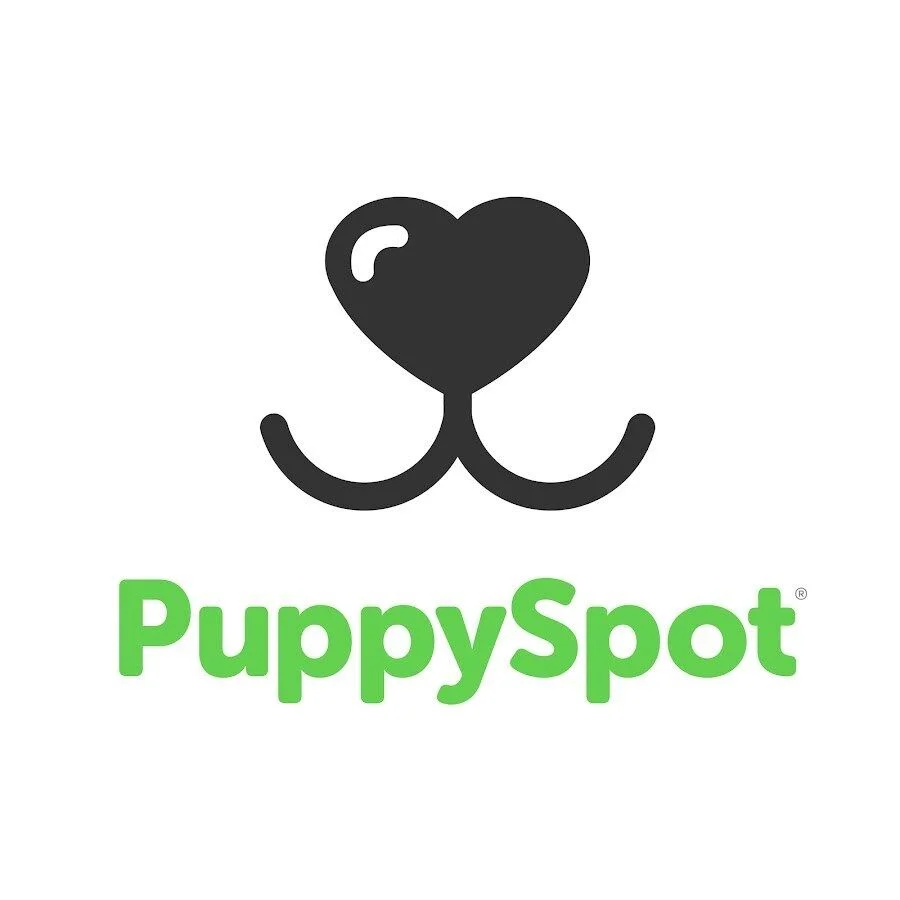 PuppySpot Adoption
PuppySpot is a reputable dog marketplace where you can browse and find compatible puppies right from the comfort of your home. They have placed over 200,000 puppies into homes in the US!
Click through and use the code PUPPY300 for $300 off any puppy adoption.
See Puppies and Save $300
But finding a breeder you trust is crucial to finding the right Cockapoo puppy for your family. Here are some of the best Cockapoo breeders in Connecticut.
1. CT Breeders
CT Breeders is a Cockapoo breeder in Connecticut with over 40 years of breeding and training experience.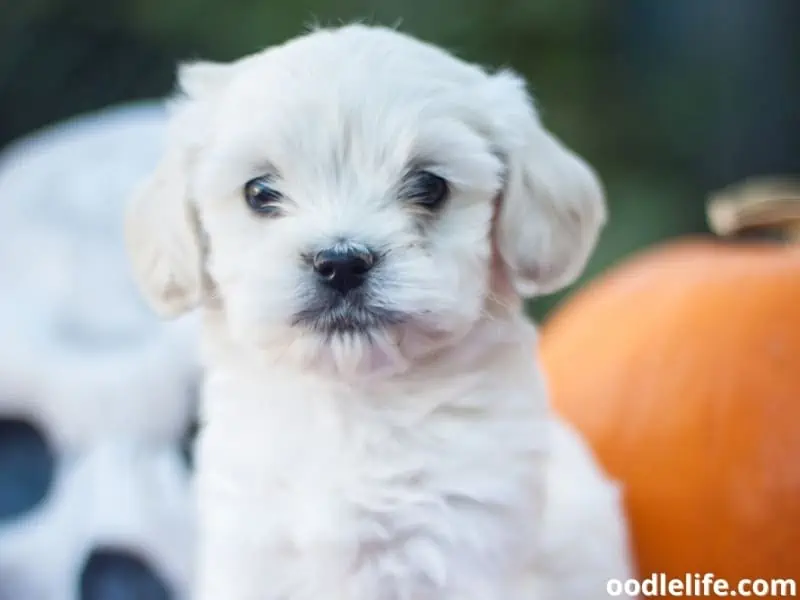 They are passionate about dogs, and their mission is to help every visiting family find a puppy that's suitable for them.
Their thorough vetting process ensures they carefully curate their selection of dam and stud dogs with particular emphasis on canine health and temperament. The result is high-quality designer dogs.
They arrive at your home with complete paperwork and a comprehensive vet check behind them.
But CT Breeders' involvement doesn't stop there. They understand that for first-time Cockapoo owners especially, taking on a puppy can be a significant adjustment. Accordingly, CT Breeders keeps in touch and offers their clients advice on everything from appropriate food selection to training tips and grooming knowledge.
Contact Details:
Website: https://ctbreeder.com/
Phone: (203) 939-1964
Email: [email protected]
Location: Norwalk, Connecticut
2. Coastal Cockapoos
Coastal Cockapoos is a small hobby breeder. But that's no reason to write off this Cockapoo breeder in Connecticut. What they don't know about the Cockapoo fits on the back of a postage stamp.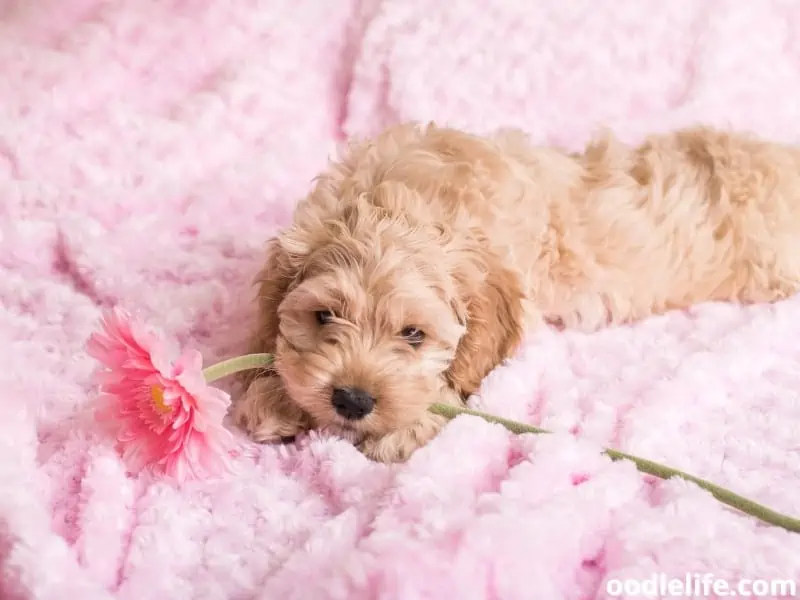 Coastal Cockapoos pride themselves on producing healthy, loving Cockapoo companions. They rigorously DNA test their dogs for inherited complications, like knee and joint issues, to ensure you get the healthiest dog possible.
This means their puppies are marginally more expensive than other breeders, but you save money on vet bills in the long run.
Coastal Cockapoos is so confident in their puppies' health that their contract includes a one-year health guarantee. Dog owners who use Coastal Cockapoos' recommended vitamin supplement as part of their feeding regime have that guarantee extended to two years.
All their puppies enjoy being raised in a family environment. This ensures your puppy gets extensively socialized and acclimatized to various household noises, like vacuum cleaners and passing cars. That allows you to take home a well-adjusted, adaptable puppy.
Before leaving, Coastal Cockapoos ensure their puppies receive their first round of vaccinations and a deworming course.
Contact Details:
Website: https://www.coastalcockapoos.com/
Email: [email protected]
Location: Stonington, Connecticut
This highly recommended breeder may not be producing puppies at the moment, reach out to them and let us know if you have any luck!
3. KMJ Kennels
This Cockapoo breeder in Connecticut is an accredited breeder with the American Cockapoo Club, so you know you're getting a quality puppy.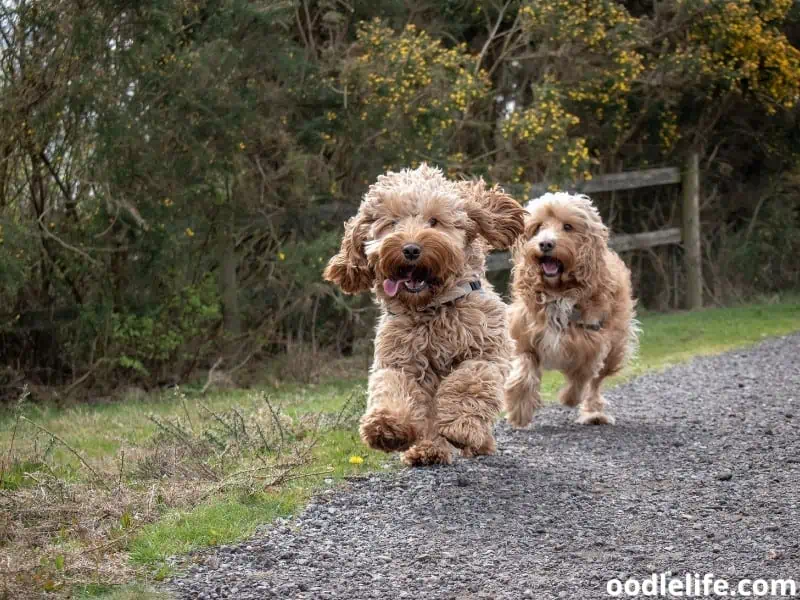 The American Kennel Club doesn't recognize most hybrid dogs because there's too much variety within generations to meet breed standards. So many of the more popular hybrids, like Cockapoos, have offshoot clubs that provide standards a reputable breeder must meet.
Based in Windsor, CT, all the KMJ Kennels puppies grow up in a family environment to ensure appropriate socialization and exposure to as many situations as possible. That includes becoming familiar with children and other animals. 
KMJ Kennels carefully selects its breeding dogs for health and temperament. They run extensive genetic profiles to eliminate the chances of problematic inherited conditions, especially regarding their eyes and hips. So, in addition to a well-adjusted puppy, you can rest assured that the dog you bring home is healthy.
Contact Details:
Instagram: https://www.instagram.com/kmjkennels/
Phone: (860) 305-1230
Email: [email protected]
Location: Windsor, Connecticut
4. The Dog House
While not strictly speaking a Cockapoo breeder in Connecticut, The Dog House is another excellent way to find a Cockapoo puppy.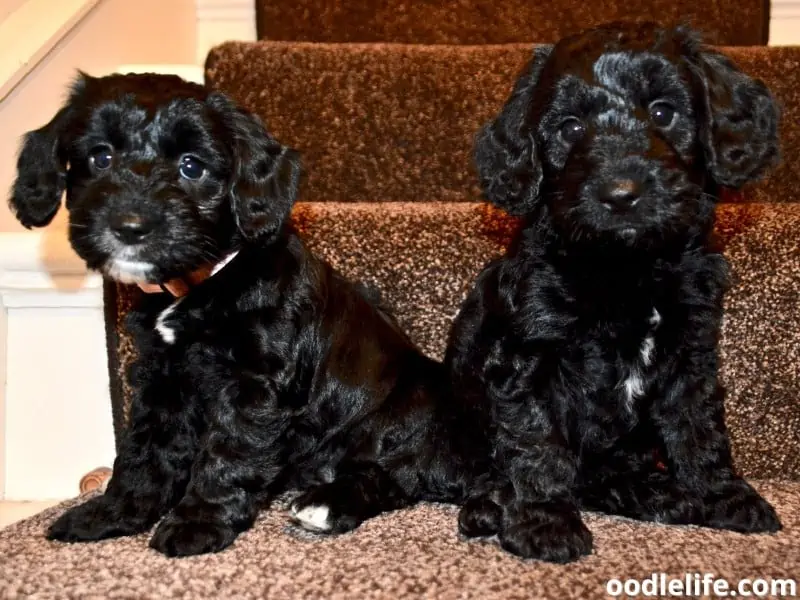 The Dog House helps connect prospective dog owners with reputable breeders and often temporarily houses puppies until they find a permanent home.
They cater to a variety of dogs, from Dachshunds to Dalmatians and Cockapoos. Consequently, they have years of experience ensuring the dogs in their care are well-socialized and receive appropriate stimulation.
They can also help you find a Cockapoo puppy that meets your particular family's needs. They take extreme care to ensure the quality and health of the dogs they help rehome.
Contact Details:
Website: https://ctdoghouse.com/
Phone: (860) 648-1514
Email: [email protected]
Location: Manchester, Connecticut
5. Uptown Puppies
Uptown Puppies is another resource that can help you find a Cockapoo puppy. They work with Puppy Spot to match owners with Cockapoo puppies across the state.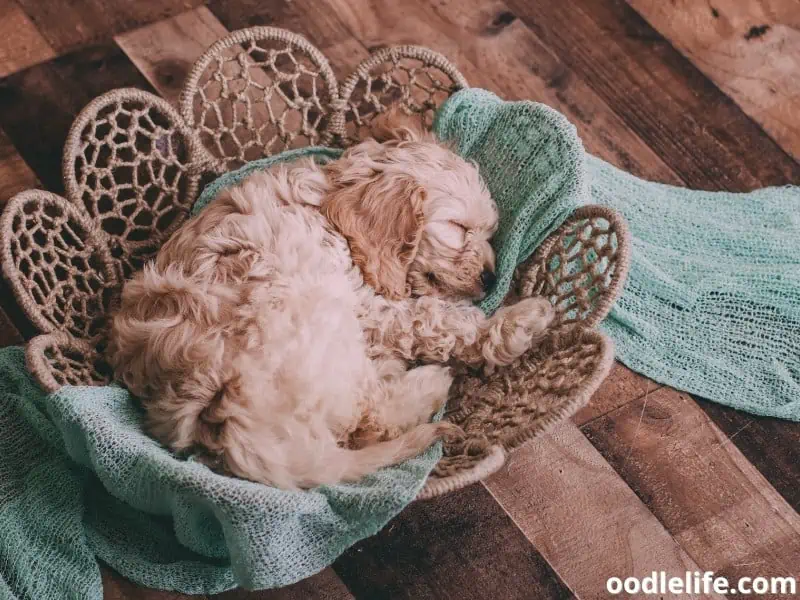 But they don't pair owners with any puppy. All breeders and their dogs are carefully vetted by Uptown Puppies. Breeders must meet ACC standards and prioritize their dogs' health and temperament.
Uptown Puppies has a vast knowledge of many dog breeds. They can advise you on what to look for when gauging dog health and happiness, as well as training and grooming techniques.
They make an excellent middle ground for potential Cockapoo owners who find that the only Cockapoo breeders in Connecticut are too far away to visit in person.
If you do have a particular breeder in mind and they meet Uptown Puppies standards, they can put you directly in touch with the breeder and eliminate the need to run relays between you.
It's an excellent way to narrow down the search for a quality Cockapoo puppy while still buying from breeders you feel you can trust.
Contact Details:
Website: https://uptownpuppies.com/
Email: [email protected]
Location: Connecticut
6. Poodle Rescue Connecticut
Finally, another alternative to Cockapoo breeders in Connecticut is the Poodle Rescue.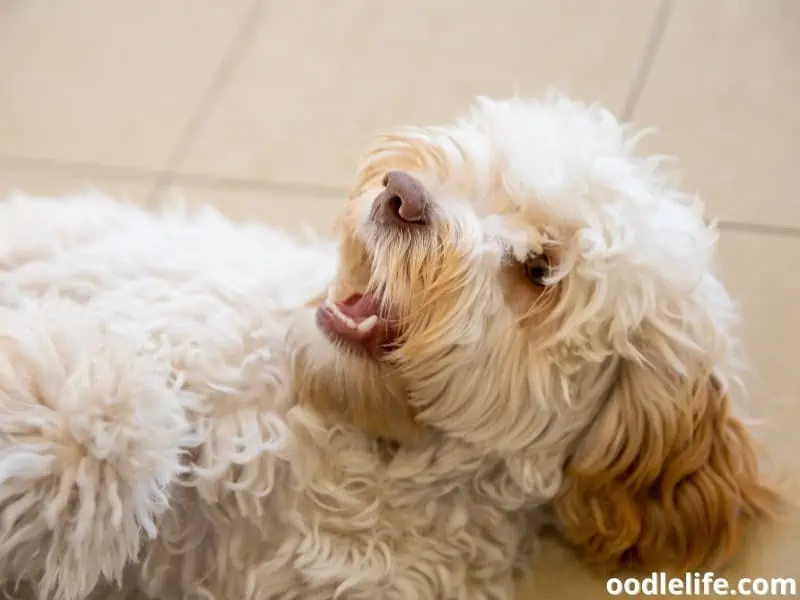 It can be difficult to find reputable breeders in Connecticut, and the Poodle Rescue is an excellent resource. It's run by knowledgeable volunteers who are passionate about the dogs in their care.
Despite the name, they often receive Cockapoos and other Poodle mixes because of the breed's Poodle heritage.
These dogs range in age from puppyhood to seniors, and their needs are equally varied. Understandably, not all families feel equipped to handle rescue dogs, especially if they come with trauma. It's important to remember that these Cockapoos get rehomed for as many reasons as there are owners.
Some may well be traumatized. But others might need rescuing if a former owner died or could no longer afford them.
It's entirely possible to find a well-socialized and adjusted dog at the Poodle Rescue. It just takes a bit of extra care and attention.
Additionally, these dogs get a comprehensive vet check to help catch any potential problems you should know about.
Contact Details:
Website: https://www.poodlerescuect.org/
Phone: (203) 729 – 8846
Email: [email protected]
Location: Naugatuck, Connecticut
Conclusion
Sometimes it can feel like reputable Cockapoo breeders in Connecticut are like hens' teeth. But they do exist.
The trick is to do your research into the breed and know what questions to ask. The best breeders are always candid about the screening tests they run and their adoption process. So, pay extra attention to health problems endemic in Cockapoos, and don't feel shy about asking about the breeding dog's familial line.
Other resources are always available if you need help finding a breeder you like. Connecticut has several organizations designed to cut down on the research required from you and put you in contact with reliable Cockapoo breeders.
The important thing is that you find the Cockapoo puppy that's right for you and your family.