6 Best Cockapoo Breeders in Michigan 2023
Michigan is home to about 10.05 million people, making it the 10th most populous state. With such numbers, it's unsurprising that The Great Lakes State is dotted with plenty of man's furry friends. Some surveys found that more than 40% of households in Michigan own a dog.
Among the lovely dog breeds in Michigan is the Cockapoo. Thanks to their tiny sizes and friendliness, Cockapoos thrive in many homes. But where should you get your Cockapoo?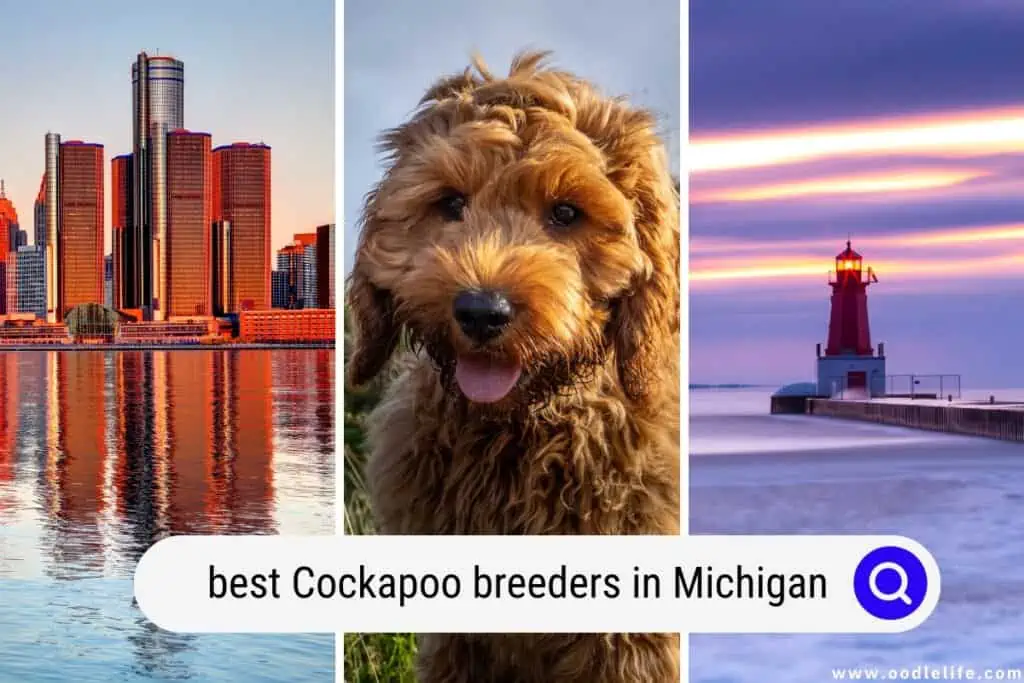 $300 2023 Discount!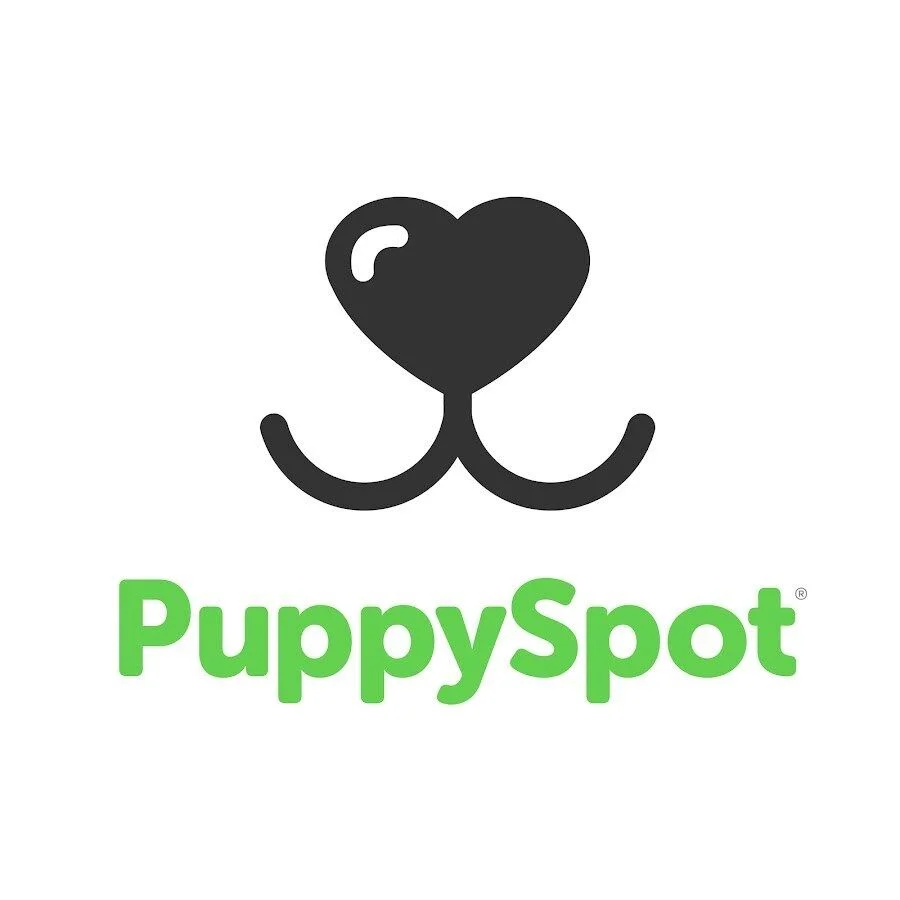 PuppySpot Adoption
PuppySpot is a reputable dog marketplace where you can browse and find compatible puppies right from the comfort of your home. They have placed over 200,000 puppies into homes in the US!
Click through and use the code PUPPY300 for $300 off any puppy adoption.
See Puppies and Save $300
Ethical Cockapoo breeders in Michigan should be your priority if you want a healthy addition to your family. Here are a few ethical Cockapoo breeders to get you started.
1. Big Bang Poodles
Becky of Big Bang Poodles is a breeder and professional groomer of Cockapoos. She breeds and raises her puppies from her house and ten acre-farm in Northern Michigan alongside her family. They keep their puppies happy, well-socialized, engaged, and healthy.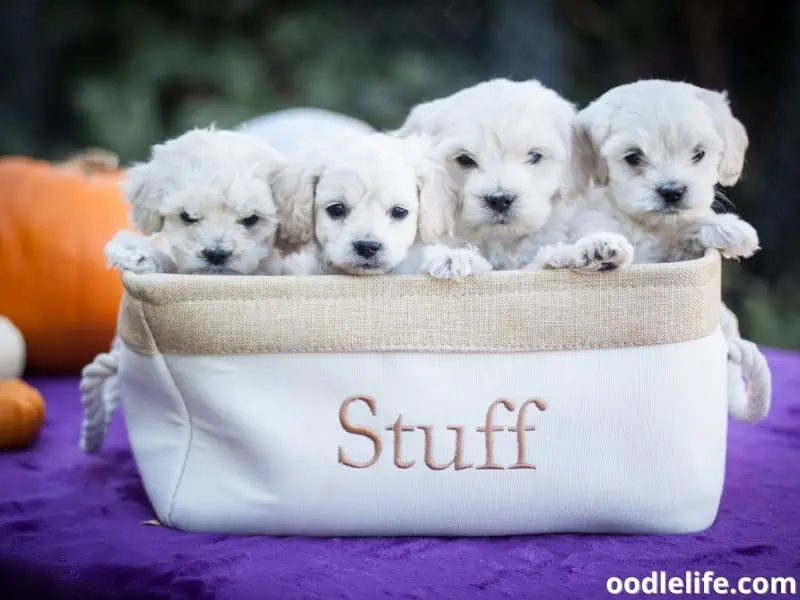 The health of the puppies at Big Bang Poodles starts with the genetic testing of the parent breeds. Further testing is done when pups are born and extends to the puppies' duration in Becky's care.
Since they test breeding parents thoroughly, Big Bang Poodles offers a two-year health guarantee for life-threatening genetic conditions.
The breeder doesn't spare expenses when feeding puppies. They feed their Cockapoos healthy food and treats to provide the required nutrition as they grow.
Socialization for the puppies at Big Bang Poodles starts in their early days. Each puppy receives Early Neurological Stimulation and scent introduction to help them grow into healthy dogs. They are also trained with the Puppy Culture method to prepare them for their new families.
Contact Details:
Website: https://bigbangpoodles.com/
Phone: (231) 357-6361
Email: [email protected]
Location: Mancelona, Michigan
2. Robbin's Treasures
Robbin's Treasures is a small-scale breeder based in Howell, Michigan. They have bred dogs for close to two decades, all the while maintaining high ethical breeding standards.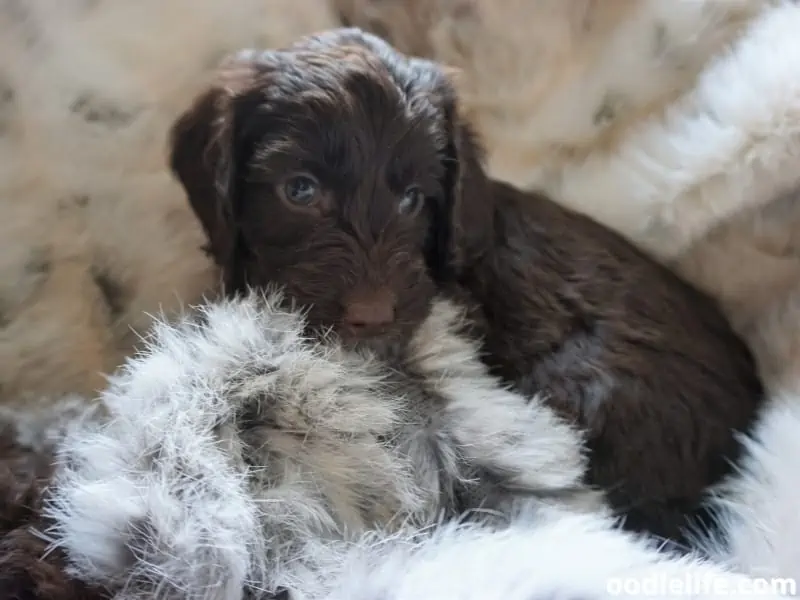 Gina Jurries, the force behind Robbin's Treasures, breeds first-generation Cockapoos from healthy parents without known heritable genetic conditions.
They breed and raise the puppies in a family with children, love, space, and the smells of home for the first eight weeks to ensure they are well-socialized and ready to join their forever families. In addition to socialization, each of their Cockapoo puppies begins potty and crate training.
They also start learning basic manners to build a foundation for further training after you've adopted the puppy into your home.
Each puppy comes with a three-year health guarantee for genetic conditions. They are also up-to-date with deworming and vaccinations by the time they're eight weeks old.
Contact Details:
Website: https://www.robbinstreasures.com
Phone: (734) 260-3241
Location: Howell, Michigan
3. Franny Cockapoos
Franny Cockapoos is one of the top Cockapoo breeders in Michigan, specializing in first-generation Cockapoos. This breeder, headed by Tom and Elyssa, works with their family to raise socialized and healthy puppies on their 8-acre farm.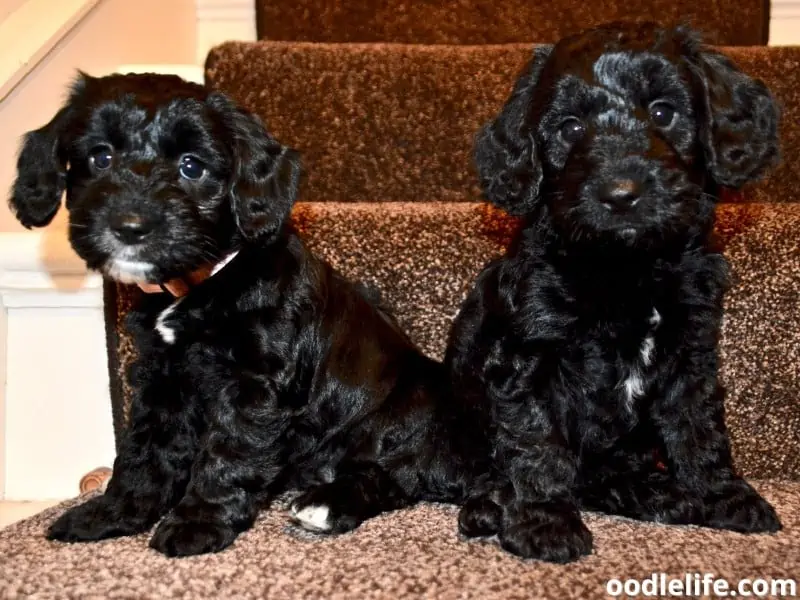 Being a responsible breeder, Franny Cockapoos genetically tests the parent breed to ensure they do not have any genetic conditions that could be life-threatening to their puppies. All their parent breeds are AKC registered.
Each puppy receives standard care, including deworming, immunizations, and a two-year health guarantee for life-threatening genetic conditions. They also come with registration papers and up-to-date health records to help you keep up with your pup's current health status and any required future vet visits.
Franny Cockapoos don't just vet their breeding parents. They also vet potential buyers thoroughly to ensure they're a good fit for their puppy. And, since the Franny Cockapoos family has military veterans, they have a 5% discount for veterans and military families that buy puppies from them.
Contact Details:
Website: https://www.frannycockapoos.com
Phone: (517) 745-4963
Email: [email protected]
Location: Grass Lake, Michigan
4. Great Lakes Cockapoos
A dog that can transition seamlessly to a new family is every dog owner's dream. That's why Great Lakes Cockapoos focus on breeding Cockapoos surrounded with family love and care.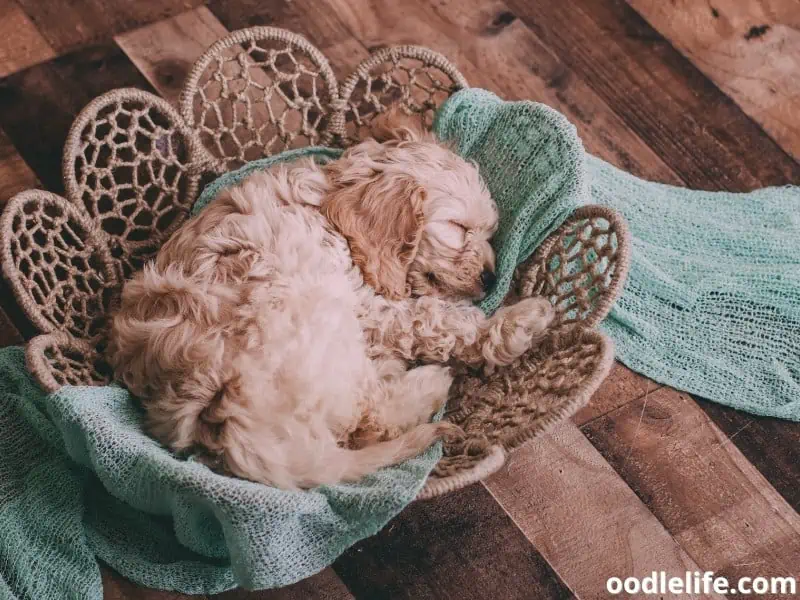 They work with guardian families to expand their breeding program without resorting to unethical pet mill activities. Through guardianship, Great Lakes Cockapoos maintains access to healthy breeders who stay in families where they are loved and well taken care of.
They start socializing the puppies within the first two weeks of birth and expose them to early neurological stimulation to help them adjust and tolerate stressful situations.
By the time the puppy is eight weeks old, they've grown accustomed to the daily household noises (and perhaps chaos), so your new puppy won't be stressed when you vacuum your floors.
On the health front, Great Lakes Cockapoos provide NuVet supplements to help the puppies' immune systems.
This Cockapoo breeder delivers puppies to their new families with a one-year health guarantee for any congenital disorders and two years if you keep up NuVet supplementation.
Contact Details:
Website: https://www.greatlakescockapoos.com
Phone: (810) 730-1092
Email: [email protected]
Location: Northern Michigan
5. Brisa Cockapoos
Brisa Cockapoos is the place to go if you're looking for Miniature Cockapoo breeders in Michigan. The breeder is a member of the American Cockapoo Club, which maintains the highest standards of responsible breeding.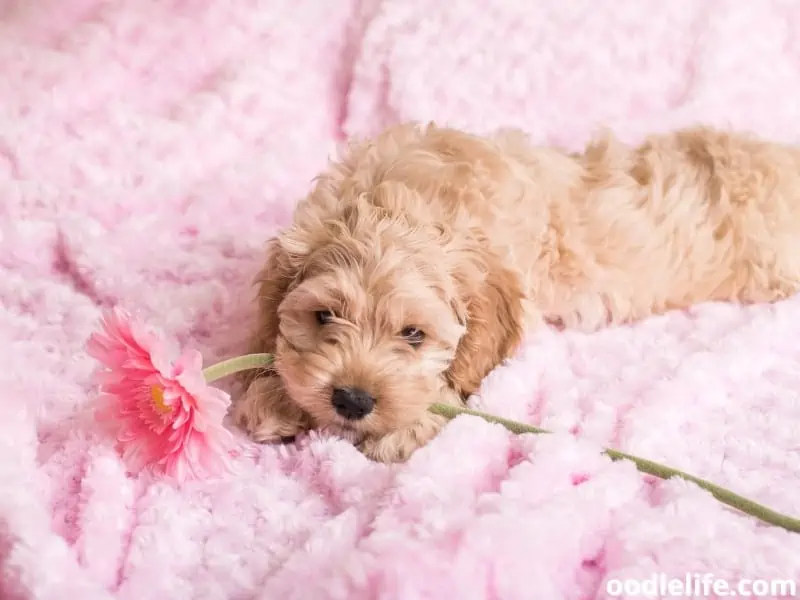 All their puppies are registered with the club, and you'll receive registration information for every puppy you adopt from Brisa Cockapoos.
Due to the high breeding standards, Brisa Cockapoos offer a health guarantee against hereditary defects for up to two years after the puppy's birth.
They require you to continue caring for your puppy by providing the necessary immunizations and NuVet vitamins during the guarantee period. In addition, you must have the puppy evaluated by a qualified vet within three days of receiving your puppy.
Their ethical breeding standards in raising healthy puppies extend beyond the dog's adoption into their forever home. Brisa Cockapoos requires notification before euthanizing a dog you purchase through them unless that dog has a fatal health problem.
Contact Details:
Website: https://www.brisacockapoos.com
Phone: (810) 728-1859 or (810) 793-5751
Email: [email protected]
Location: Columbiaville, Michigan
6. Crockett Doodles
Crockett Doodles differ significantly from the other breeders in this list. Instead of being a family breeder living with their puppies, Crockett Doodles is a network of family breeders who undergo a rigorous application process to become part of Crockett Doodles' breeder network.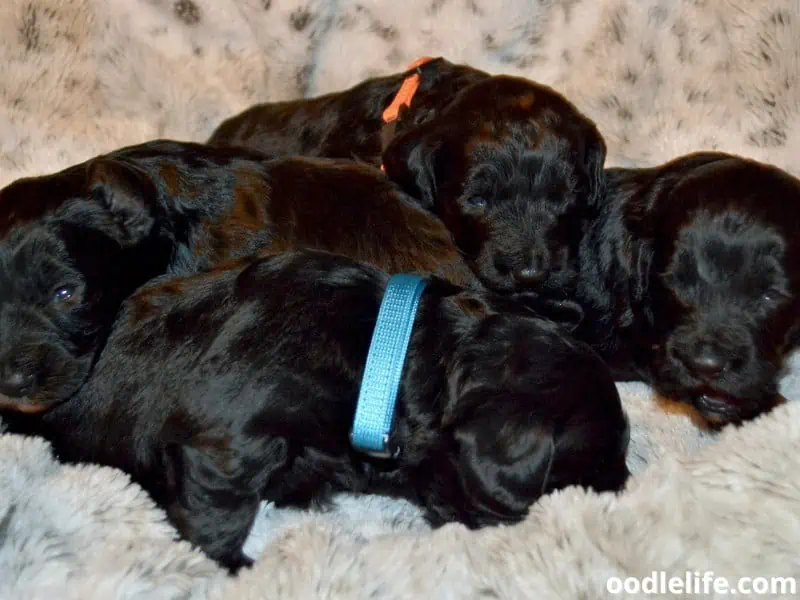 Crockett Doodles also holds the families in their breeder network accountable for vet visits and responsible breeding, which includes breeding only when there's a demand for puppies and only when the mother is ready to breed.
They're based in South Carolina but have family breeders and deliveries for Michigan families looking for Cockapoos.
Like other breeders on this list, each puppy grows up surrounded by family and the sounds of a normal home, allowing for socialization and an easier transition when you adopt your furry friend. They also watch the puppies for the first 8-10 weeks, depending on each puppy's needs.
During these eight weeks, the puppies receive the required vaccinations and deworming. They also microchip each puppy.
When you pick your puppy up for adoption, you'll receive a full disclosure of its health status and a health guarantee.
Contact Details:
Website: https://www.crockettdoodles.com
Email: [email protected]
Location: Based in Greenville, South Carolina, with partner homes in Michigan and the Midwest 
Get a Healthy Cockapoo From a Reputable Breeder
Finding the best cockapoo breeders in Michigan requires thorough research. The breeder should care for the puppies and their parents as if they were their family, test parents to prevent transmission of life-threatening genetic disorders, offer critical vaccinations and vet care, and provide a health guarantee for all their puppies.