Best Small Dog Crates for Dog Owners (2023) 
Small dog crates are about more than safely transporting your pet to the vet and back. They offer your dog a place to feel safe, sleep and even hide toys.
Crates can also play a vital role in training your dog to follow orders, which is why it is imperative that they are comfortable.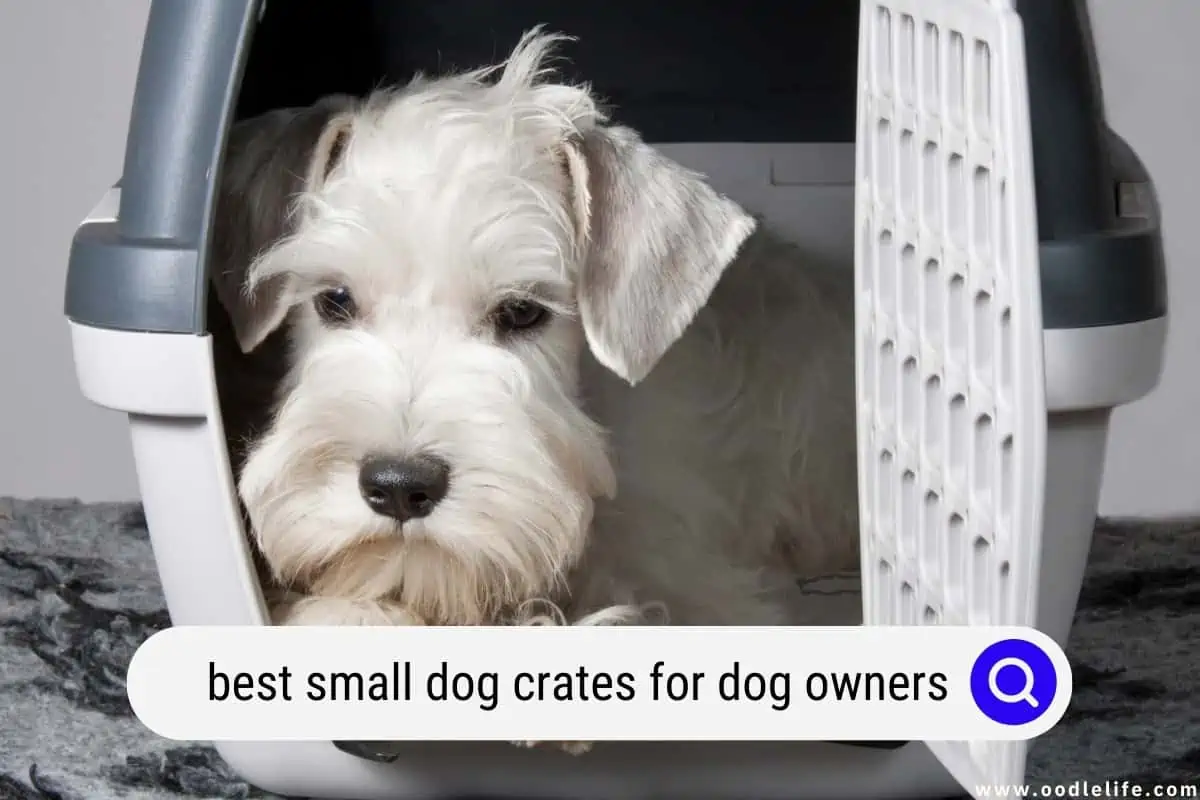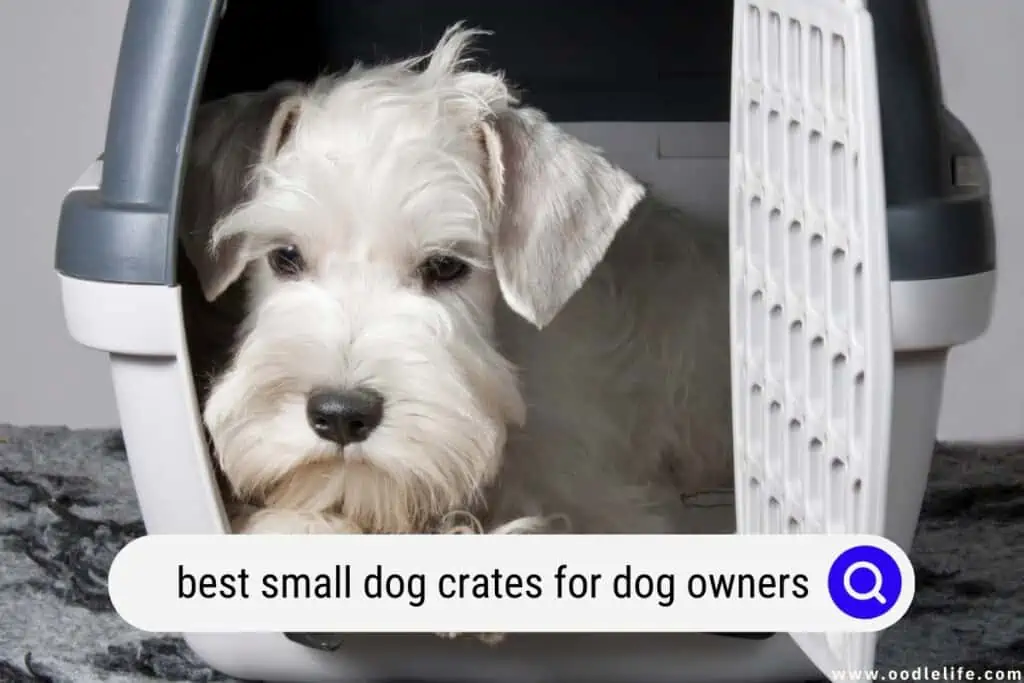 We'll talk you through some of the best small dog crates, but first, what should you look for in a crate?
How Big Should a Small Dog Crate Be?
When researching small dog crates, ensure that the carrier you purchase is the right size for your dog. What constitutes a small dog can vary wildly, especially when you consider toy and teacup dog breeds.
The rule of thumb is that you need the crate to be big enough for your dog to stand up and turn around. If you aren't sure what that equates to numerically, vets advise measuring your dog from nose to tail and adding four inches.
It's tempting to buy a larger crate than you need when picking up a puppy. However, that can be a problem. Most dogs are burrowers and thrive in smaller, more confined spaces.
Giving them too much space can make a dog nervous, especially in unfamiliar environments.
The other drawback to a larger-than-necessary crate is that it risks accidents. Typically, dogs don't eliminate in the space where they sleep. If there's too much space, your dog may create a separate area for defecating.
This is especially problematic with puppies initially trained to use a pee pad. In particular, it means that housetraining may take longer than anticipated. 
With that in mind, it is likely that you will need to buy more than one small dog crate in your dog's lifetime.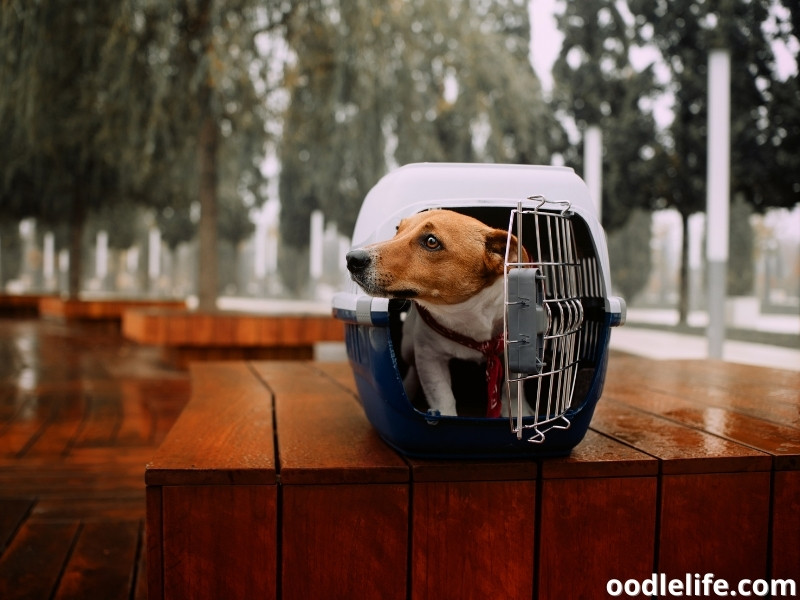 Best Small Dog Crates Available
Here's a round-up of some of the best small dog crates on the market:
AmazonBasics Premium Folding Soft Pet Crate
This small dog crate comfortably accommodates dogs that weigh up to 30lbs. It's a soft-shelled carrier, which makes it ideal for traveling in cars or airplanes.
AmazonBasics Premium Folding Portable Soft Pet Crate - 36', GREY
Soft-sided carrier crate for pets that collapses down easily for storage
Made with durable polyester and PVC material
Well-ventilated with multiple screened panels for your pet to look out of
Includes plush fleece-covered pet bed for comfort while on the road
Accessory pockets on the top and sides for storing treats, toys, and more
We earn a commission if you make a purchase, at no additional cost to you.
The mesh window allows your dog to survey their surroundings. There are two entrances to the crate. A side-entrance that dogs can use to enter the crate voluntarily or for owners to guide the dog into before travel.
Alternatively, a top-loading door helps owners bundle more reluctant dogs into this carrier.
While the fabric is durable, it's still quite soft. This makes it easy to fold up and store when not in use, but it also means this crate isn't suitable for aggressive chewers or dogs who chew their surroundings when nervous.
Another downside is that there's no handle, which makes it difficult to use if you and your dog need to navigate through an airport.
But for a comfortable, durable crate for traveling short distances, the AmazonBasics small dog crate has lots to recommend it.
Petmate Vari Kennel
When it comes to airplane travel, many owners favor soft-shell crates. But we've used the Petmate Vari Kennel for years because we prefer the extra protection offered by hard plastic shells.
Petmate Vari Kennel Heavy-Duty Dog Travel Crate No-Tool Assembly, 24" Long, 10-20 lb, Taupe/Black
TRAVEL KENNEL: This small dog travel kennel features tie-down strap holes, wire vents for ventilation a raised interior to keep pets safe and comfortable Perfect for dogs 10-20 lbs Measures: 24"
AIRLINE-ADAPTABLE: This extra large dog crate meets most airline cargo specifications Made with heavy duty recycled plastic material The travel crate features an easy-open front latch to quickly...
KENNELS HOUSES: Crate kennel training is vital for dog safety comfort We provide traditional travel carriers, wire training exercise kennels, play pens, barn-style dog houses more
Petmate: For over 50 years, we at Petmate are passionate about our dogs, cats furry friends in general Starting with the very first dog kennel, we've produced plenty of eco-friendly products that pets...
JUST FOR PETS: Petmate makes a variety of pet products for dogs, cats, chickens other small furry friends Check out our brands such as Aspen Pet, Arm Hammer, Booda, Chuckit, Jackson Galaxy more
We earn a commission if you make a purchase, at no additional cost to you.
The Petmate Vari Kennel comes in several sizes and colors. It's airline-approved, so you won't have any trouble using it to travel cross-country. However, it's worth conferring with your airline first as some companies require you to meet extra security standards, like holding the crate sides in place with ties.
The other thing to recommend Vari Kennel is its durability. All our dogs munched on the sides in puppyhood and never did more than dent the plastic. It's a crate built to last.
It's also affordable, so you won't mind the expense when you need to resize for a full-grown dog.
The cave-like interior appeals to dogs' preferences for dens, and a well-trained crate dog will soon feel at home in this kennel.
If your dog doesn't sleep routinely in their kennel, it can be awkward to store. It's bulky and can take up closet space. It's possible to disassemble it, but the reassembly can be time-consuming.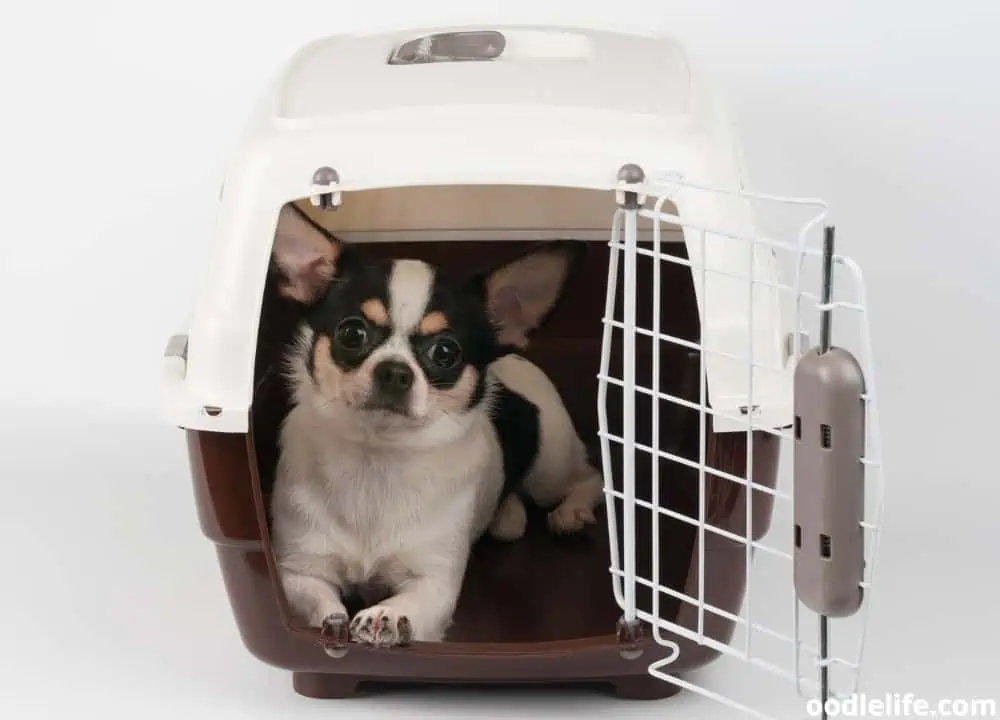 Midwest Life Stages Wire Crate
Midwest Life Stages Wire Crate is another excellent small dog crate for dog owners.
It's particularly well-suited to crate training since you can set it up without taking up excess space. There are also several entrances to accommodate small dogs of varying sizes.
You may want to put a blanket or mat inside for additional comfort. And as this small dog crate is affordable, the additional cost of dog bedding isn't too noticeable.
The Midwest Life Stages crate can also work as a means to transport your dog, but it lacks a handle, so it may be more convenient to leave the carrier permanently set up in your car.
Importantly, the crate does require some assembly. Many customers found the set-up intuitive, but reports vary.
Assembly aside, it's a durable crate that can foster denning instincts in your dog. The rounded corners and secure entrances help keep your dog safe and comfortable.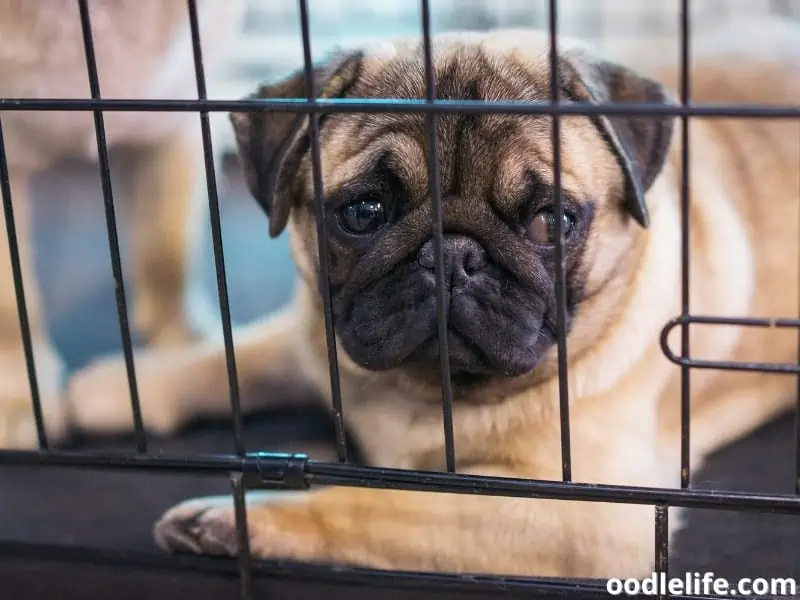 Petsfit Portable Mini Dog Crate
The Petsfit Portable Mini Dog Crate has a lot going for it. It's a soft-shelled small dog carrier with an escape-proof side entrance. When not in use, the door can be left down to act as a play mat and encourage your dog's interaction with the crate.
Petsfit Foldable Portable Soft Dog Travel Crate Kennel/Cat Crate/ Pet Kennel for Small Dogs
[Size Instructions] The dimensions of our pet crate is 19.5 inches in length x 20 inches in width x20 inches in height which is suitable for small size pets for them to play around and take rest. The...
[Soft Crate Design] Petsfit pet crate has a round arched front door with side square doors. The other side has a mesh window with curtains for visibility and air circulation. It also has a pouch...
[Sturdy and Portable] We have a newly upgraded hexagonal structure grid and lockable zippers that dogs can't easily chew to bits. Also the stronger metal zipper presented gives less chance of damage...
[Recommended for Training Pets] If you are trying to train your pet to be in a space for a brief or longer period of time, or to keep your baby secure and safe when the situation warrants, we suggest...
[Different Color & Warranty] This product is a Gray A crate. The difference between the Gray A and the Gray B is that Gray A changes the way of opening the front door - the downward door, it can be...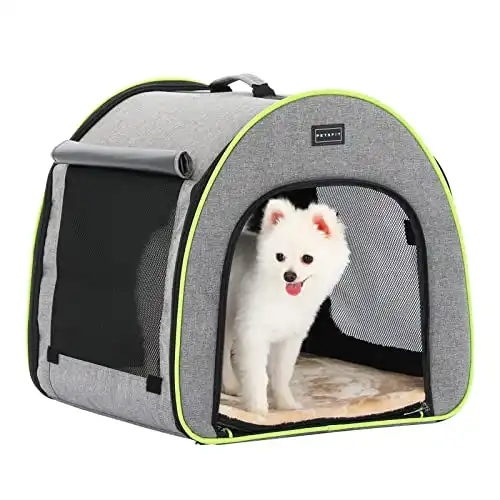 We earn a commission if you make a purchase, at no additional cost to you.
There's also a mesh window on the side that allows your dog to view their surroundings. However, some dogs may find this disconcerting, especially if they travel badly, so we appreciate the choice to include a roll-down cover for the window.
The soft-shell construction makes this dog crate easy to store and travel with. It's also made of durable material, so provided you don't live with an over-eager chewer, it should hold up to years of extensive use.
We think this is the ideal crate for owners who want to crate train small dogs. It's sturdy, comfortable, and has a cave-like interior that facilitates burrowing.
There's no assembly needed to set up the crate, and it folds easily into a case for easy storage. And while it's more expensive than the other crates here, we think it's worth the expense.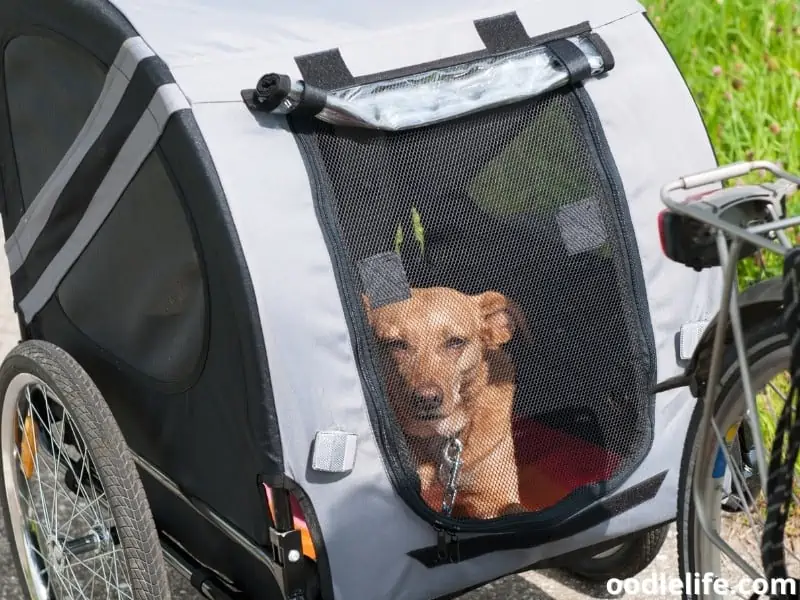 2PET Folding Soft Dog Crate
The 2Pet small dog crate has a variety of uses. Like other soft-shell crates we have discussed, the mesh sides make it suitable for traveling.
2PET Foldable Dog Crate - Soft, Easy to Fold & Carry Dog Crate for Indoor & Outdoor Use - Comfy Dog Home & Dog Travel Crate - Strong Steel Frame, Washable Fabric Cover, Frontal Zipper Smal...
ALL-IN-ONE FOLDABLE DOG CRATE – If you're looking to buy a foldable dog crate that combines all the functionality with a touch of class & innovation, 2PET Fold-A-Crate is the perfect choice –...
STRONG STEEL TUBES DESIGN – Unlike many other flimsy & makeshift dog crates out there, Fold-A-Crate uses a strong yet lightweight steel tube design that can be folded/unfolded in a jiffy –...
WASHABLE SOFT FABRIC COVER – The steel frame is covered with a water resistant, soft Oxford 600D fabric cover (a nylon variant) that is fully removable & machine washable – The new & improved...
PERFECT VENTILATION, MESH PANEL WINDOWS – Thanks to the well-designed bone-shaped windows & mesh panels, this foldable dog crate maintains perfect natural ventilation – This kennel comes with a...
MEASURE YOUR PET: Correctly measure your pet so it could fit comfortably in the crate. This crate is intended for small dogs up to 15Lbs in weight. ALWAYS CHECK THE REFERENCE CHART IN THE IMAGES TO...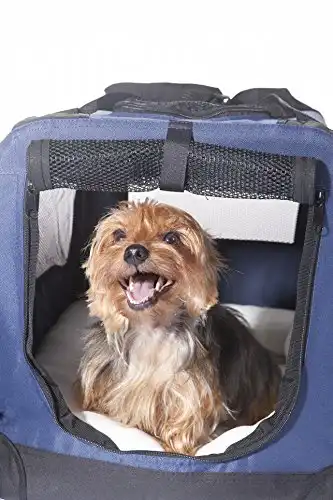 We earn a commission if you make a purchase, at no additional cost to you.
There's a top-loading entrance for dogs that are skittish about their crate and a side entrance for less anxious dogs. The side entrance can also be left open when not in transport, which is an excellent way to help your dog develop positive associations with their carrier.
Another benefit of the 2PET Folding dog crate is that the zipper is difficult to chew. The external position of the zipper prevents your dog from chewing it from the inside and jamming the teeth.
There are also three mesh windows, ensuring the crate is well-ventilated.
It comes in a variety of sizes and colors. This model comfortably holds dogs that weigh up to 15lbs. We also appreciate that when you purchase the carrier, some of the money goes towards dog shelters.
While it's one of the more expensive small dog crates on this list, it's durable, comfortable, and easy to store. In other words, once you've bought this crate, you shouldn't need to replace it unless your dog outgrows it.
Carlson Foldable Single Door Dog Crate
Carlson Foldable dog crates come in several sizes, including one for small dogs. It's made of lightweight steel that weighs 12 pounds when collapsed. It's heavier than some crates but not unmanageably so.
We appreciate that the base cleans easily. We also like the rounded corners ensuring your dog's safety.
There's a multi-point locking system on the door, which is ideal for puppies who like to wriggle around. Even the most determined canine can't get out with the door locked. And while there's ample room for a small dog to stand up and move comfortably around the crate, there isn't excessive room, ensuring you won't have to worry about in-crate accidents.
Because the crate collapses, it's easily portable. As with other metal carriers, it isn't usable once collapsed. If you need a small dog crate for traveling, you'll need to consider a different model.
The metal pan in the crate's bottom washes easily and resists stains. There are several models in different colors, but customers find the paint chips quickly. For a longer-lasting and better-looking crate, we recommend sticking with the unpainted metal.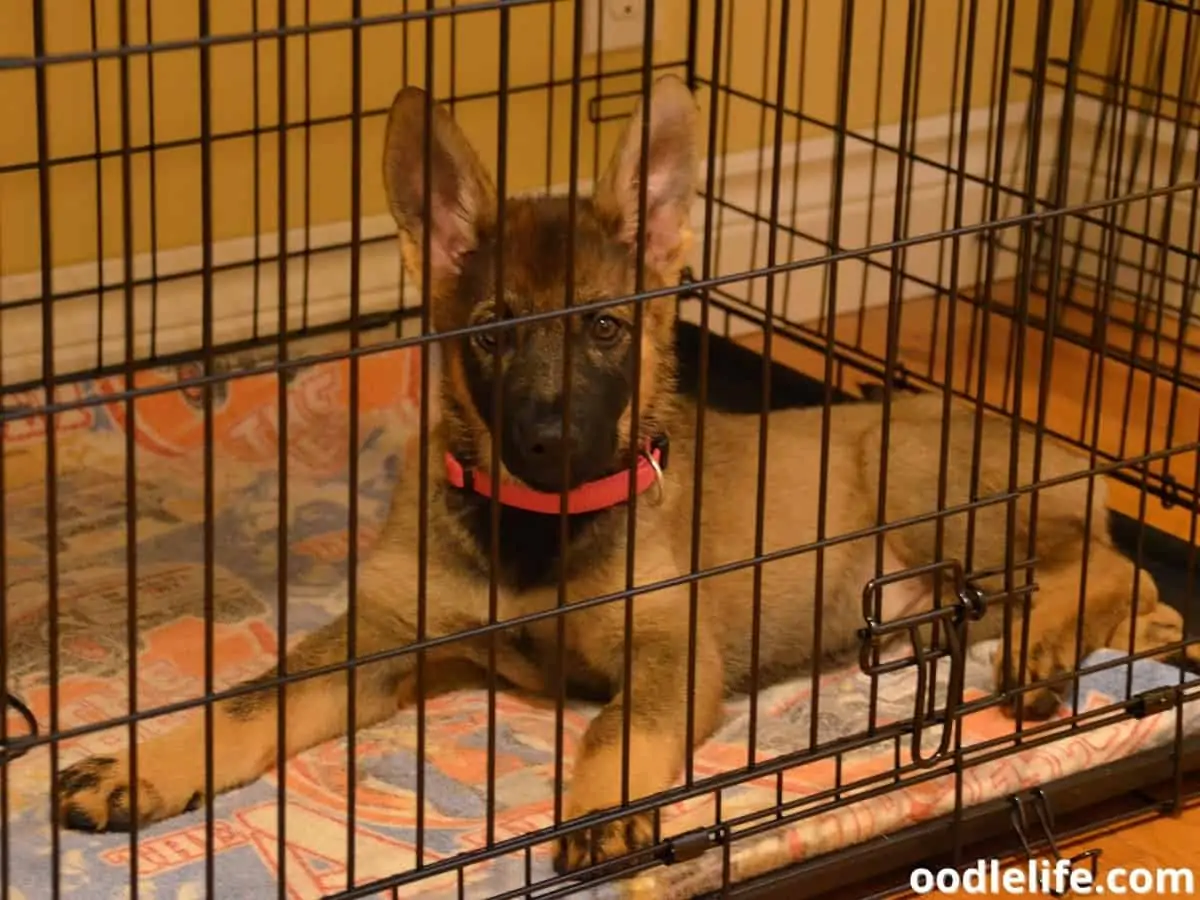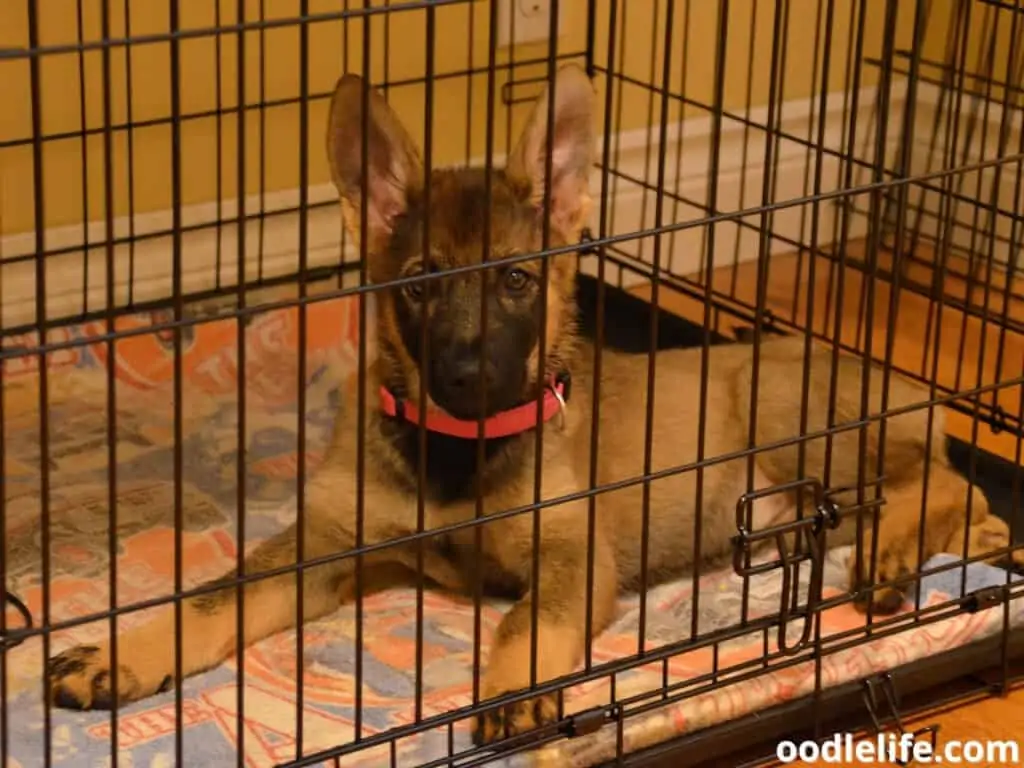 EcoFlex Small Dog Crate
EcoFlex's small dog crate is another great crate for small dogs. The majority of dog crates are designed for utility rather than aesthetics. That means you often sacrifice a corner of the house to the dog and accept that animals and handsome furniture pair badly.
ECOFLEX Dog Crate - Russet Small
Made of ECOFLEX, a non-toxic recycled plastic-wood polymer composite material that won't warp, crack or split
Spindles made of stainless steel tubing and a stainless steel latch; double latches on large and X-Large crates
Easy, no-tools assembly.
For dogs up to 20lbs
Inspiring your pet style
We earn a commission if you make a purchase, at no additional cost to you.
The EcoFlex crate redresses that balance. It's a smart-looking crate for a small dog and doubles as an end table. It's made of non-toxic material that is safe for your dog and can blend in with your furniture.
It accommodates dogs up to 20lbs and requires minimal assembly.
However, this isn't a dog crate you can transport. It's designed to be part of your house. So, you will need a second carrier if you plan to travel with your dog.
That's not necessarily a problem, but given the price of the EcoFlex crate, it can be frustrating.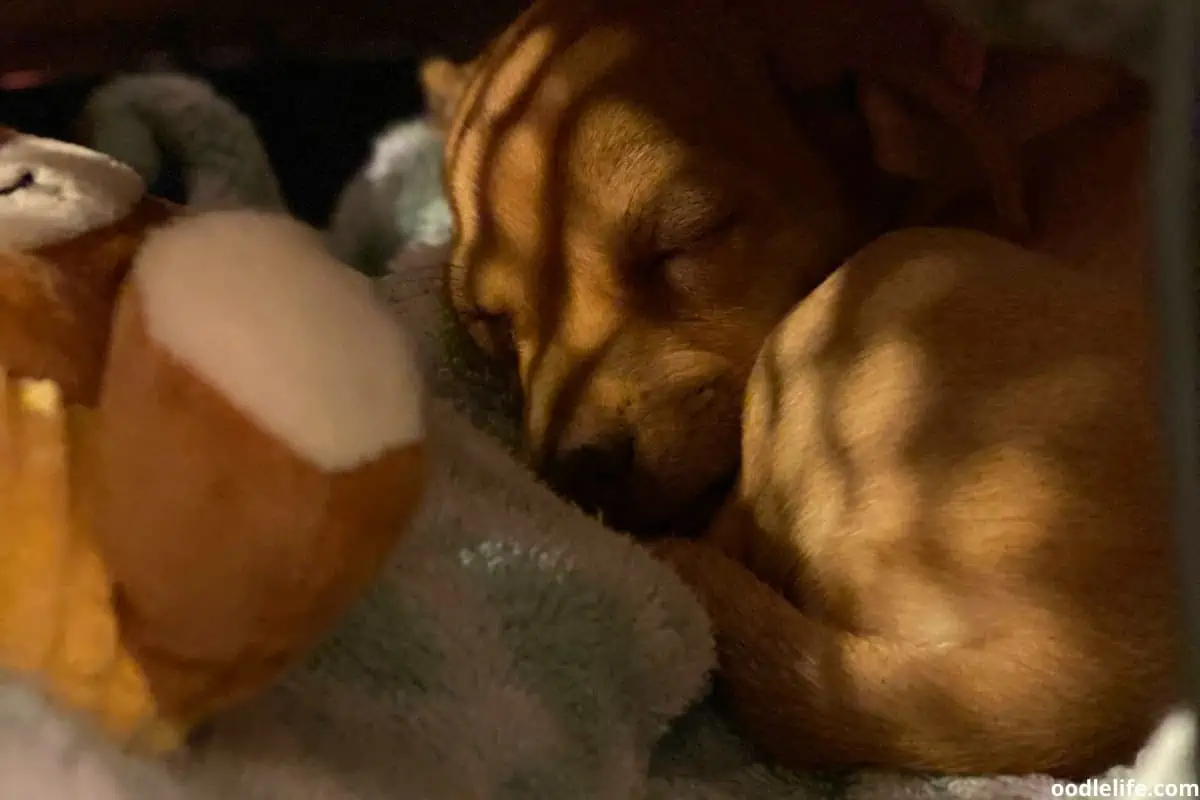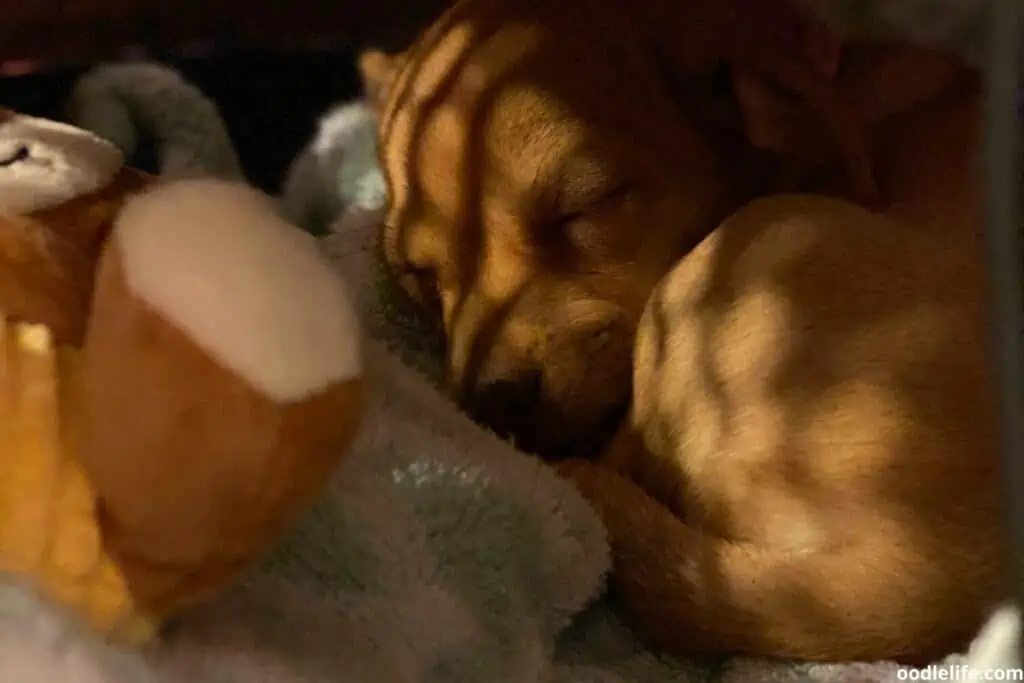 Summing Up
There are lots of small dog crates for dog owners to choose from. What you decide on depends on the kind of crate you want. Some are ideal for training, while others are better for transport.
Whatever you choose, you must size the crate correctly. You need something large enough for your dog to turn around comfortably in but not so big that they soil their sleeping quarters.
Of course, whatever you choose, it needs to be resistant. The last thing you need is to buy a second crate because an overzealous puppy gnawed their way through the first one.