The Best Dog Shampoo With Coconut Oil (DIY?) (2023)
We all love our fluffy companions and want nothing but the best for them. The best food, the most delicious treats, long walks, exuberant playtime, and plenty of love is what we strive to provide daily.
When it comes to bathtime and grooming, the choice of shampoo should also be the best. Human shampoo is often too acidic with chemicals that dry the coat and skin of our beloved furry family members. Dog shampoo with coconut oil offers many excellent benefits, such as a conditioned coat, soft skin, and a natural pest repellent.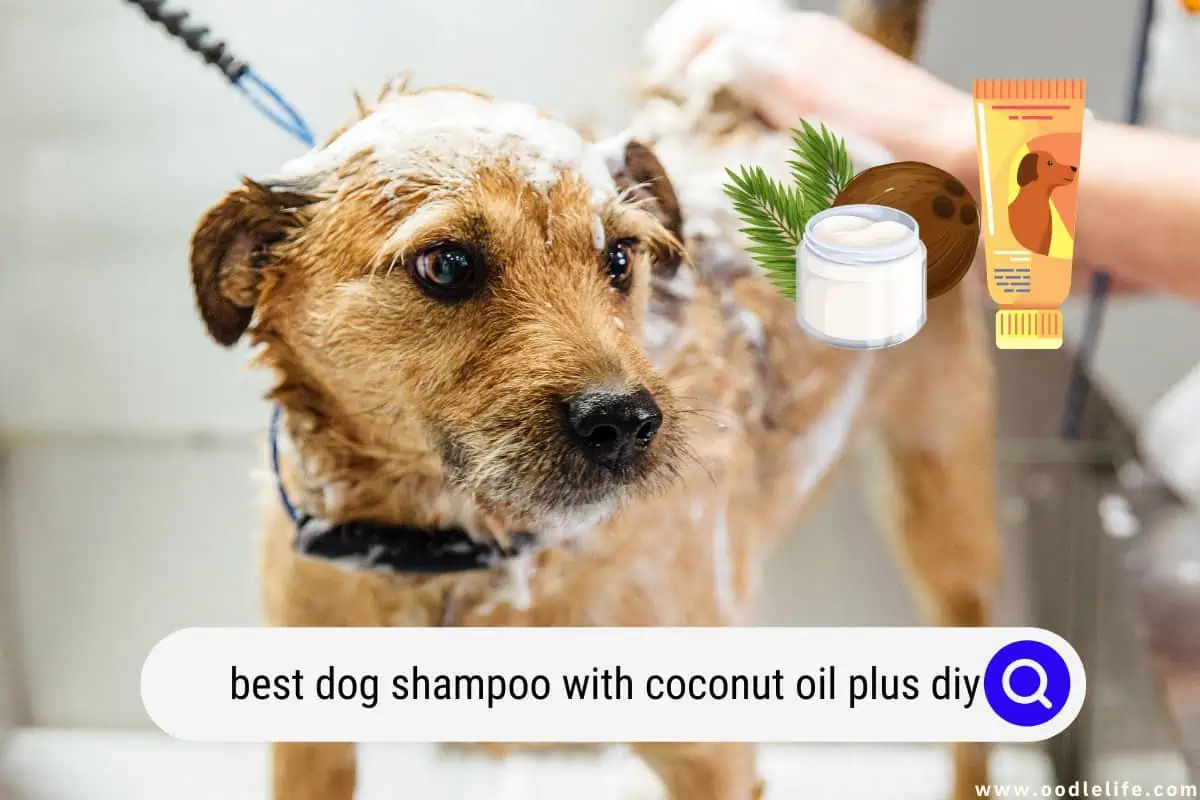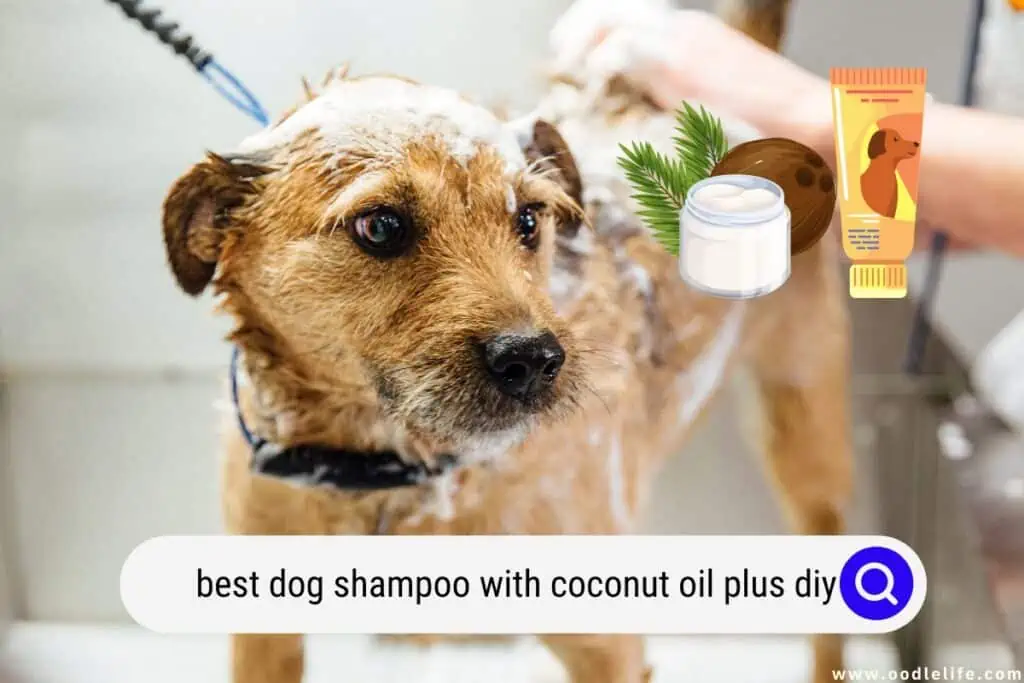 Health Benefits of Topical Coconut Oil
Humans have used coconut oil topically as a miraculous cure-all for conditions ranging from eczema to increasing collagen production for decades. Somewhere along the line, someone used coconut oil on their dog with some pretty impressive results.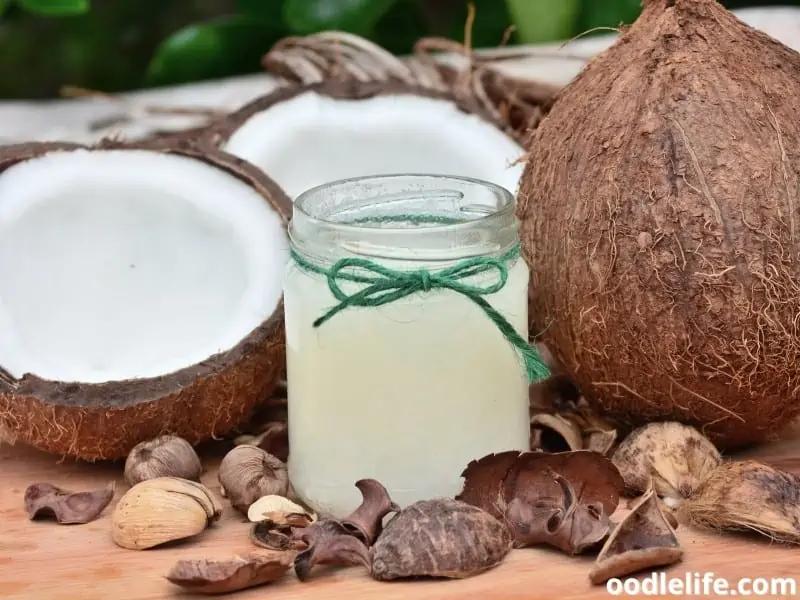 Coconut oil has antiseptic properties, helps with the matting of hair, provides an excellent skin conditioning treatment, conditions the hair shaft for softness and shine, and soothes skin irritations.
Coconut Oil As a Flea Repellent
Coconut oil is proven to be effective as a natural deterrent on pets against blood-sucking pests such as mosquitoes, flies, and fleas.
Every dog scratches now and then, but constantly chewing at its back, tail, or legs, along with scratching at its neck and sides, may be a sign of fleas biting.
If your pet rolls over on their belly for rubs – and what dog doesn't – look closely at the belly area for sore, red spots or specks that look like pepper. Both signs indicate fleas have taken up residence in your pup's coat.
Dog shampoo with coconut oil provides a natural repellent for pesky fleas. It also soothes those itchy bites and irritated skin, leaving the coat with a clean scent and silky softness.
Always consult your veterinarian for a complete flea control and prevention program.
Coconut Oil Shampoo as a Coat Conditioner
Shampoo manufactured for human use can be harmful if used on your dog. The pH of a dog's skin is neutral or even mildly alkaline ranging from 7-7.5. Human skin is much more acidic, with a pH of 5.2-5.5.
What this all means is that human shampoo is formulated for humans.
Using human shampoo strips away the protective barrier on your dog's coat, leaving them vulnerable to skin infections.
A dog shampoo with coconut oil is specially formulated to clean the coat and skin, remove odors, and soothe any skin irritations.
What Coconut Oil Shampoo to Use?
Perusing the aisle or online selection of dog shampoos is overwhelming. Every label is designed to catch your eye and entice you with exotic scents and guaranteed silkiness.
BioSilk Coconut Oil for Dogs
Have you ever used BioSilk on your hair? This version is formulated especially for the pH of our canine companions, offering soothing coconut oil to condition the skin and coat. With over 4,600 reviews and an average of 4.6 stars on Amazon, this lightly scented dog shampoo with coconut oil is an easy selection.
BioSilk for Dogs Silk Therapy Shampoo with Natural Coconut Oil | Coconut Dog Shampoo, Sulfate and Paraben Free Natural Shampoo for Dogs, 12 Fl Oz Made in The USA
RESTORES MOISTURE — Silk and enriching vitamins work together to help restore moisture to your dog's coat. Before you know it, your pup will have the beautiful, silky-smooth coat you've both been...
BIOSILK THERAPY — Made with the same classic ingredients as the original BioSilk line for humans. BioSilk for Dogs is proud of our coconut dog shampoo for dogs that cleans, hydrates, and restores...
WITH NATURAL COCONUT OIL — Nourishing coconut oil moisturizes skin, hydrates fur, and leaves behind a silky smooth coat that everyone can enjoy. Both dogs and owners will love the feeling and light...
MADE IN THE USA — Proudly made in the USA, this shampoo for dogs includes high quality ingredients for a dog shampoo you can trust, providing you with only the best dog shampoos on the pet market
100% SAFE — No parabens or sulfates, and pH balanced for dogs, this coconut dog shampoo is safe for you to use on your dog regularly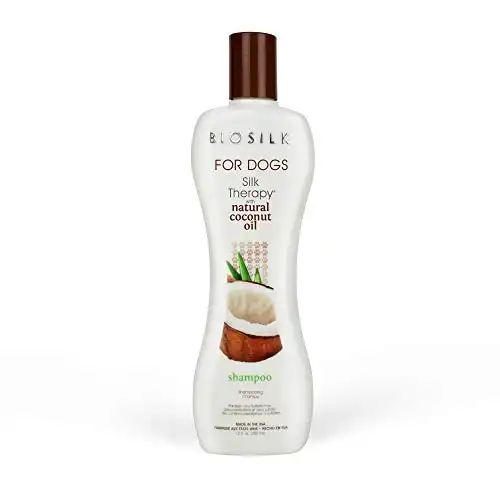 We earn a commission if you make a purchase, at no additional cost to you.
Restores Moisture – silk proteins and coconut oil combine to provide luxurious moisture to your pup's skin and coat. Silky soft fur is on the horizon.
Biosilk Therapy – Just like the human version, just formulated for dogs.
With Natural Coconut Oil – Coconut oil moisturizes the skin and hydrates the coat, leaving a soft coat just begging for a rub. The light, clean scent is right for those late-night couch snuggles.
Made in the USA – Made with pride in the USA with the highest quality ingredients you can trust.
100% Safe – with no sulfates or parabens and pH perfectly balanced, this shampoo for dogs with coconut oil is safe for regular use.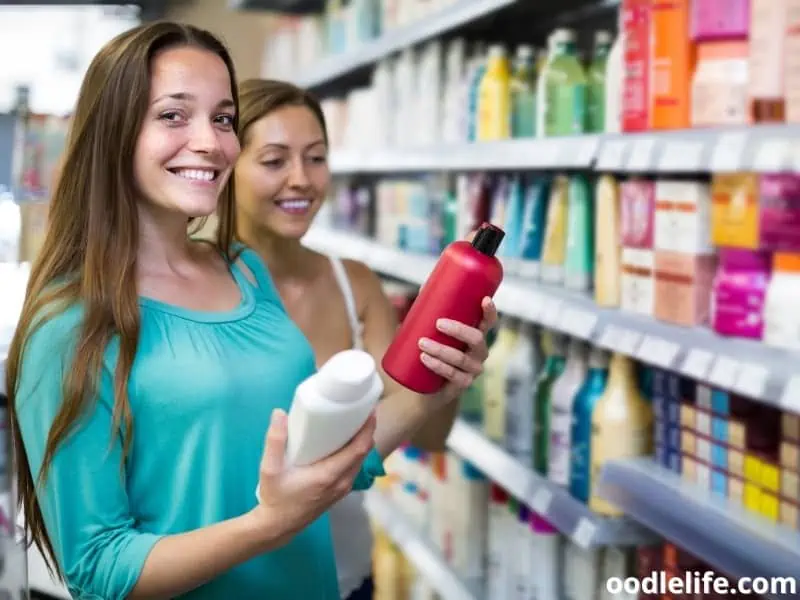 Burt's Bees Charcoal & Coconut Oil Shampoo for Dogs
Burt's Bees is a brand recognized for its skincare and human hygiene products. The grooming line for dogs is just as recognized among pet owners. This deep-cleaning shampoo for dogs with coconut oil will remove tough stains and odors from your dog's coat, leaving them clean, fresh, and smelling good.
Burt's Bees for Dogs Care Plus+ Natural Deep Cleansing Charcoal & Coconut Oil Shampoo | Dog Shampoo to Naturally Purify and Replenish Dog's Skin & Coat | pH Balanced for Dogs - Made ...
DID YOU KNOW DOG SKIN DIFFERS FROM HUMAN'S - Dogs' skin is less acidic than human skin, so human shampoos destroy a dog's skin protective barrier, leaving your pet vulnerable to itchy flaking
NO. 1 PET GROOMING BRAND IN THE USA*-See why millions of pet parents entrust their pet's health and hygiene to Burt's Bees for Pets.  This natural shampoo for dogs is no exception
DE-ODORIZES STINKY DOGS - This deep cleaning dog shampoo includes charcoal for deodorizing smelly dogs
SUITABLE FOR ALL DOGS - This gentle shampoo is ideal for all dogs and puppies and is pH balanced specifically to dogs' skin to retain their moisture barrier. It is especially best for dogs with dry...
NO SULFATES, COLORANTS, ADDED FRAGRANCE OR HARSH CHEMICALS - This dog dandruff treatment formula is free of fragrances, sulfates, is colorant free, and harsh chemicals. That's what makes Burt's Bees...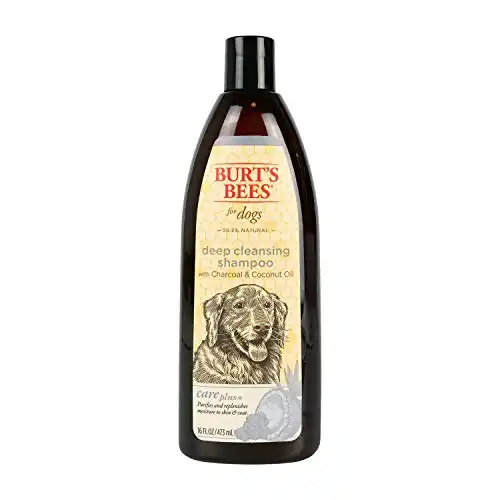 We earn a commission if you make a purchase, at no additional cost to you.
#1 Pet Grooming Brand in the USA – Burt's Bees is a renowned brand with natural ingredients. The Burt's Bees for Pets line displays high reviews across multiple consumer sites.
The Ultimate Cleansing Shampoo for an Extra Dirty Dog – This deep cleaning shampoo with charcoal and coconut oil cleans even the dirtiest coat without damage or harsh chemicals. Bring on the dirt and shampoo your way to a squeaky-clean pup.
Made with the Highest Quality Ingredients – The purifying charcoal pulls toxins and impurities from the skin and coat. At the same time, coconut oil replenishes and moisturizes it.
Suitable for All Dogs and Puppies – The ingredients are effective but gentle, making it safe to use on your fog at any stage of life, from puppyhood to senior citizen.
100% Safe – The formula is pH balanced, especially for dogs, and is veterinarian recommended. It contains no fragrances, sulfates, colorants, parabens, or harsh chemicals.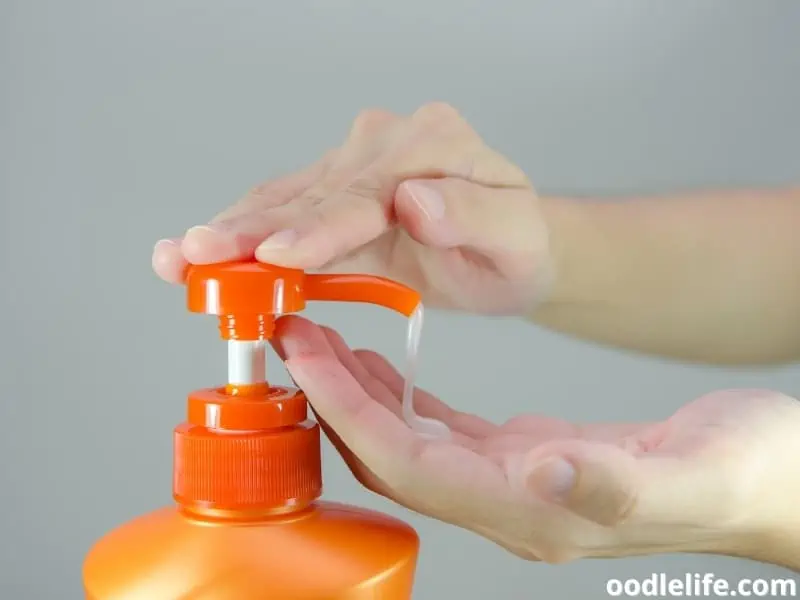 Palmer's for Pets Deep Conditioning Coconut Oil Shampoo
In business for over 175 years, Palmer's name is synonymous with Coconut Oil personal care products for humans. The Palmer's for Pets Deep Conditioning Coconut Oil Shampoo brings the same natural ingredients and performance that the Palmer name is known for.
Palmer's Coconut Oil Moisturizing Nose & Paw Swivel Stick for Dogs | Fragrance Free Cocoa Butter Nose & Paw Balm Swivel Stick with Monoi Oil & Sweet Almond Oil - 0.5oz
PALMERS COCOA BUTTER NOSE & PAW DOG BALM STICK – Now pets can enjoy the skin soothing quality of Palmer's Cocoa Butter with their very own dog balm for nose & paws
MADE WITH COCONUT OIL, MONOI OIL, & SWEET ALMOND OIL – This dog nose and paw balm from Palmer's is made with soothing ingredients to moisturize dog noses and paws and provide 24 hour moisture
FOR DRY & ROUGH DOG NOSES & PAWS – Keep your dog's nose and paws soft and moisturized with the easy to use Palmer's Coconut Oil Formula Nose & Paw Swivel Stick
TRUSTED PALMERS BRAND – For over 175 years, Palmer's brand has cared for your skin. Now the same high quality products are available for your pets
SAFE FOR DOGS – This dog grooming product is made without any parabens, phthalates, or gluten. It is also cruelty-free and created with plant-based ingredients so you can feel good about the...

We earn a commission if you make a purchase, at no additional cost to you.
With over 1,400 reviews averaging 4.5 stars, this dog shampoo with coconut oil is a good choice for bathing your pet.
Palmer's Coconut Oil Deep Moisturizing Dog Shampoo – the skin-soothing, quality Palmer's ingredients are now available for your dog. Clean and moisturize your pet from head to toe without compromising.
Made with Coconut Oil, Monoi Oil, and Sweet Almond Oil – High-quality ingredients that work together for healthier skin and coats. No harsh chemicals or heavy perfumes.
For Dry Skin and Coats – Dry, patchy skin and itchy spots are soothed with Palmer's coconut oil, monoi oils, and sweet almond oil. Fur begins to regain softness and shine after the first use.
Trusted Palmer's Brand – Palmer's brand has been in the coconut oil business for over 175 years. Now your pet can benefit from the same high-quality products and ingredients.
Safe for Dogs – Formulated without parabens, phthalates, or gluten, our Deep Conditioning Coconut Oil Shampoo for Dogs is also cruelty-free. Developed using plant-based ingredients, you can be confident using this shampoo on your pet.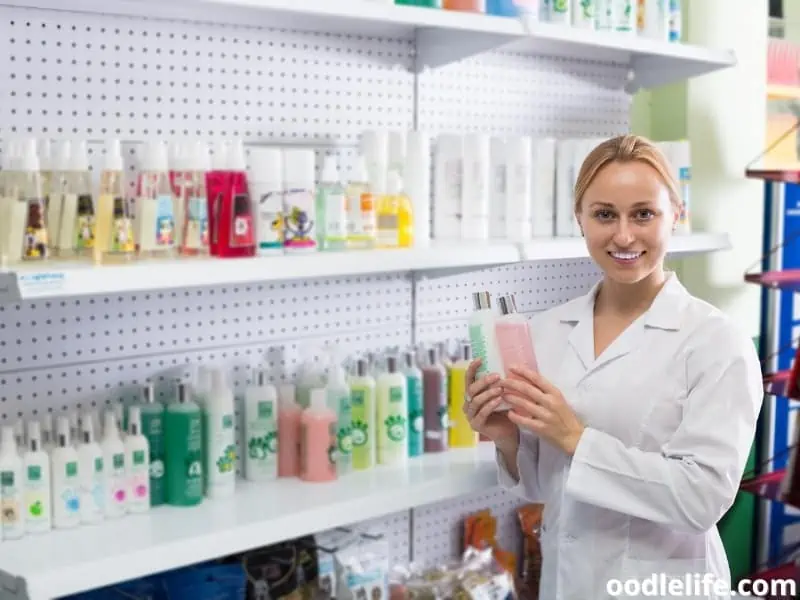 If buying commercially manufactured shampoo isn't in your wheelhouse, try blending your own with this quick and easy recipe. Depending on the size of your dog, these four simple ingredients can be doubled (or even tripled) to make a larger amount.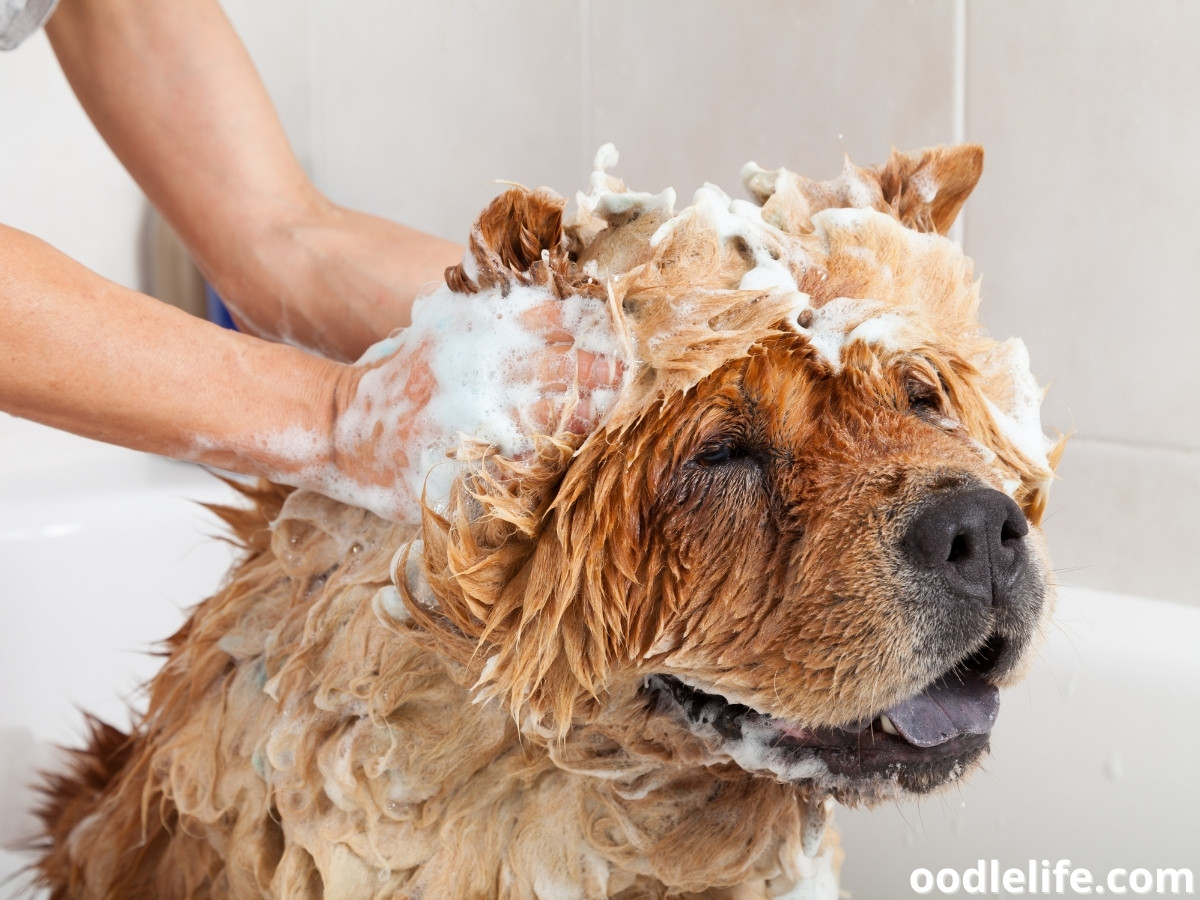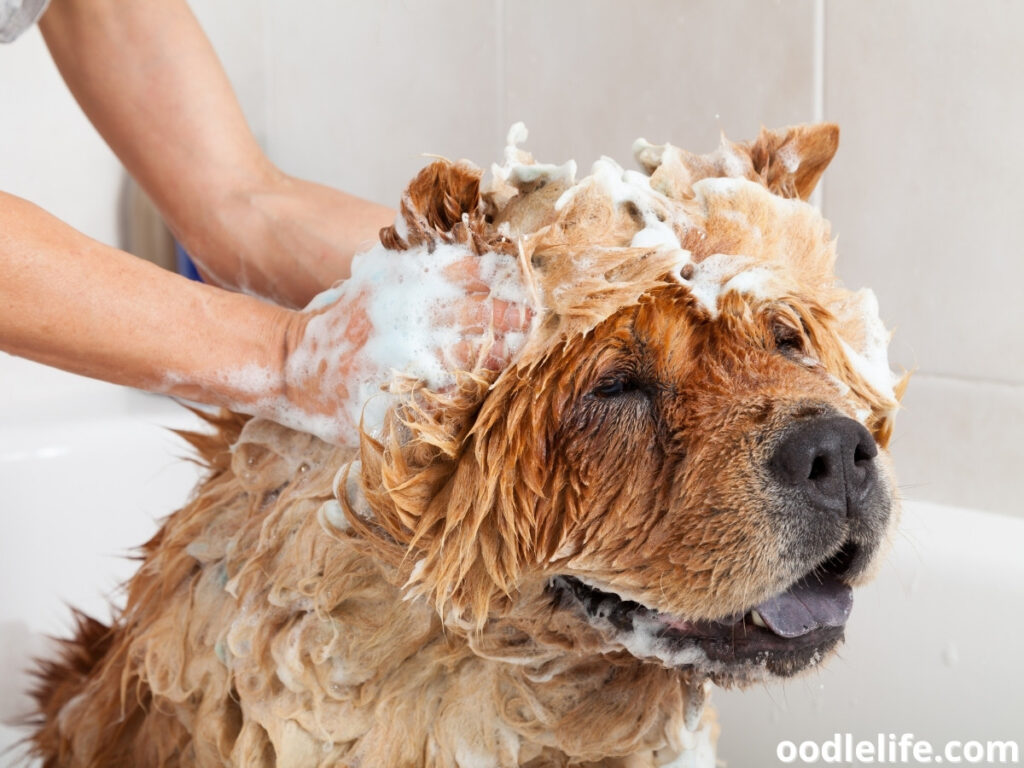 Pint-sized pup? Cut the recipe in half.
In a large squirt bottle or empty squeeze bottle, mix:
Mix all of the ingredients by gently shaking the container. The coconut oil may need to be warmed slightly to liquefy it for mixing. Wet your dog and apply the shampoo, creating a cleansing lather.
Rinse and repeat if necessary.
The Wrap on Coconut Oil Shampoo for Dogs
Coconut oil does more than just add shine and moisture to your pup's coat. Other benefits of coconut oil include flea-deterrent properties, skin infection treatment, and soothing itchy, irritated patches.
While no shampoo takes the place of professional veterinary care, these shampoos can help your pup bathe their way to a clean, itch-free place.