5 Actually Good Dog Water Bottles for Hiking (2023)
If you're shopping for dog water bottles for hiking, you may be overwhelmed by the options. How do you know which products are the best?
We did the legwork and found the five best water bottles for dogs that actually work.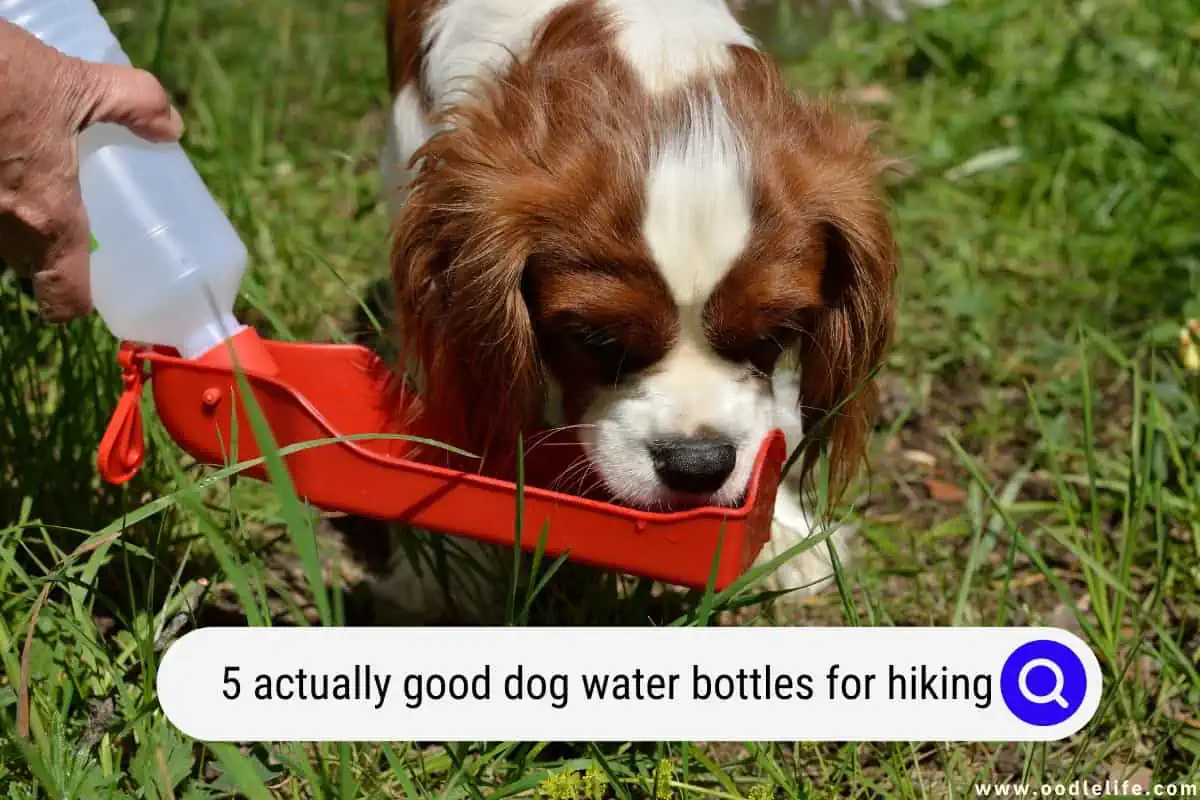 Keep reading for reviews of our top picks!
MalsiPree Dog Water Bottle: Best Overall
One of the most popular dog water bottles for hiking is this MalsiPree plastic bottle. It's an affordable option on this list but still impressively durable. The design is simple, with a spoon-shaped dispenser that you can hold in front of your dog for them to slurp.
MalsiPree Dog Water Bottle, Leak Proof Portable Puppy Water Dispenser with Drinking Feeder for Pets Outdoor Walking, Hiking, Travel, Food Grade Plastic (19oz, Blue)
✅ No Water Waste: Unused water can go back into the container easily by pressing the water key.
✅ Leak Proof: Silica gel seal ring plus lock key design, make sure the pet water bottle doesn't leak at all. No worry to get everywhere wet or waste water any more.
✅ Durable & Safe: The portable dog water bottle made of high quality food grade material, make sure your pet completely safe when they use our dog water dispenser bottle
✅ Portable Doggie Water Bottle: Reasonable capacity, enough for outdoor walking, hiking and traveling. Compact size make sure you can put it in your bag easily, or take it on your hand by the...
✅ Easy to use: One hand operation, press water key to fill water, release to stop water, very easy to feed your pet with MalsiPree water bottle for dogs.
We earn a commission if you make a purchase, at no additional cost to you.
It uses food-grade plastic and a clever design.
The MalsiPree features a button you press to let the water flow, but the drain can also suck water back so you don't have to waste any! It also has a leak-proof switch for extra security, preventing water from seeping out if it's upside down.
This 19-ounce bottle is a reasonable capacity, offering plenty of water for many people and dogs. And it comes in pink and turquoise! It fits in cup holders and has a comfortable wrist strap, so you can bring it anywhere.
While the others on this list offer more lightweight features or more durable materials, the MalsiPree combines all the best aspects of the products below for a lightweight and high-quality product.
Key Features:
Water-locking feature
19-ounce capacity
Fits in cup holders
Button for dispensing and saving water
Durable plastic design
Comfortable wrist strap
Safe and healthy materials
Pros:
Easy to use
Durable but lightweight
Simple and convenient
Cons: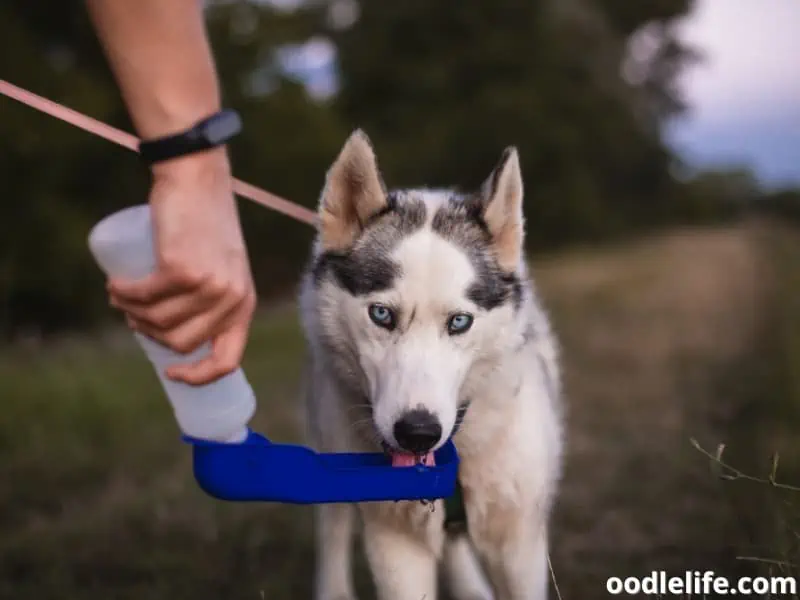 SOICTA Portable Dog Water Bottle: Best Budget Pick
If you want an affordable product that will still make it easy and convenient to hydrate your dog on hikes, this low-cost water bottle is for you. The SOICTA has a clever foldable scoop-shaped bowl your dog can drink from.
Portable Dog Water Bottle for Walking 19 OZ or 12 OZ Portable Pet Water Bottles for Puppy Small Medium Large Dogs Water Dispenser Dog Water Bowl Dog Accessories
Foldable Creative Design: The foldable dog water dispenser holds more water and provides a larger drinking trough while saving space.
Double Leak-proof Design: The portable dog water bottle comes with silicone rubber sealing rings and waterproof keys, the perfect solution for leaking water.
Controlling the Water: The simple one-touch release function allows easy control of the amount of water dispensed. The specially designed valve will deliver almost all the water into the bottle.
Easy to Carry - the nylon lanyard makes it easy to carry and the reasonable size of the bottle makes it easy to put in your bag, perfect for walks and short trips.
Safe & Healthy: 19OZ water bottle for puppy small medium large dog is made from high quality food-grade materials and is eco-friendly and environmentally friendly. Completely removable and easy to...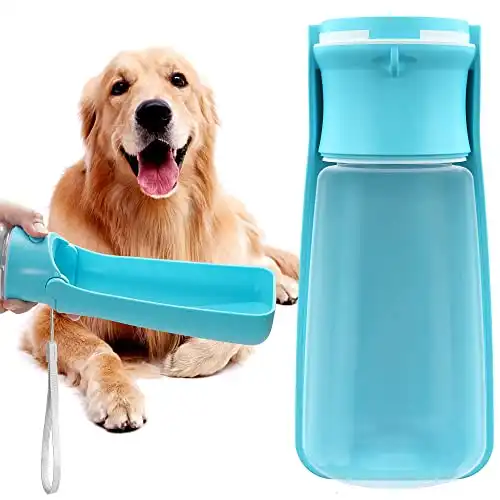 We earn a commission if you make a purchase, at no additional cost to you.
The silicone flap folds over the bottle, so it doesn't take up space when not in use. It features a comfortable wrist strap, ensuring you can carry it on a long hike without experiencing strain. The drain and locking features work both ways.
That means you can dispense with a button and suck water back into the bottle, so you don't waste anything!
You can buy the SOICTA in several sizes, but the 19-ounce is the most important, and it comes in pink and blue. This product is very similar to our number one pick but doesn't have the same level of quality, making it an excellent budget pick.
Key Features:
Clever foldable design
Double leak-proof design
Comfortable wrist strap
19-ounce capacity
Large drinking trough
Pros:
Affordable
Easy to use
No wasted water
Cons:
PupFlask Large Dog Water Bottle: Best Durable Option
If your dog loves some chilled water, the PupFlask bottle is the best choice. The stainless steel design is super durable and keeps the water at a pleasant temperature, even after hours.
PupFlask Large Dog Water Bottle | 27 or 40 OZ Stainless Steel | Convenient Dog Water Dispenser | Puppy Travel Water Bowl | Portable Pet Water Bottle | Leak Proof Bottle Perfect Size For All Dog Breeds
HAPPY, HYDRATED PETS make the best traveling companions, and the PupFlask goes wherever you and your furry friend venture. Reversible leaf-shaped bowl lays flat over bottle when not in use.
QUICK & EASY TO USE — Quickly flip up the silicone top to create a large cup, easily flip the silicone top back down when finished drinking. No wasted water, no messy, no extra bowl necessary.
PERFECT SIZE - Holds 27 oz fresh water in a durable stainless steel bottle. The thick, extra large silicone cup quickly provides your pups with fresh water when travelling, walking, or any other...
100% FOOD SAFE AND ECO-FRIENDLY MATERIALS - 100% food grade silicone bowl cup. Odorless, and never holds a smell after use. Our extra large silicone collapsible cup for dogs, safely provides your pets...
WORLD CLASS CUSTOMER SERVICE & 100% SATISFACTION - If you have ANY issues in the first 30 days, Tuff Pupper will REPLACE OR REFUND at no cost to you. All of our products include a hassle free Lifetime...
We earn a commission if you make a purchase, at no additional cost to you.
With a silicone dispenser that folds over, the PupFlash is comfortable to carry and easy to pour water into when your dog gets thirsty. It comes in four color options and two size options (27 and 40 ounces).
The cute leaf-shaped dispenser is comfortable for most dogs, but it doesn't hold as much water at once as other options on this list. It's ideal for a quick sip of water, as you need to hold the bottle for your buddy to drink.
It's dishwasher-safe and made from healthy materials, so your pet won't ingest harmful chemicals. One of the best aspects of this bottle is the soft shoulder strap, allowing you to carry it comfortably for hours without a backpack or bag.
Key Features:
Foldable leaf-shaped dispenser
Tough stainless steel design
Large shoulder strap
27-ounce capacity
Waterproof drain lock
Pros:
Surprisingly lightweight
Durable and long-lasting
Easy to use
Cons: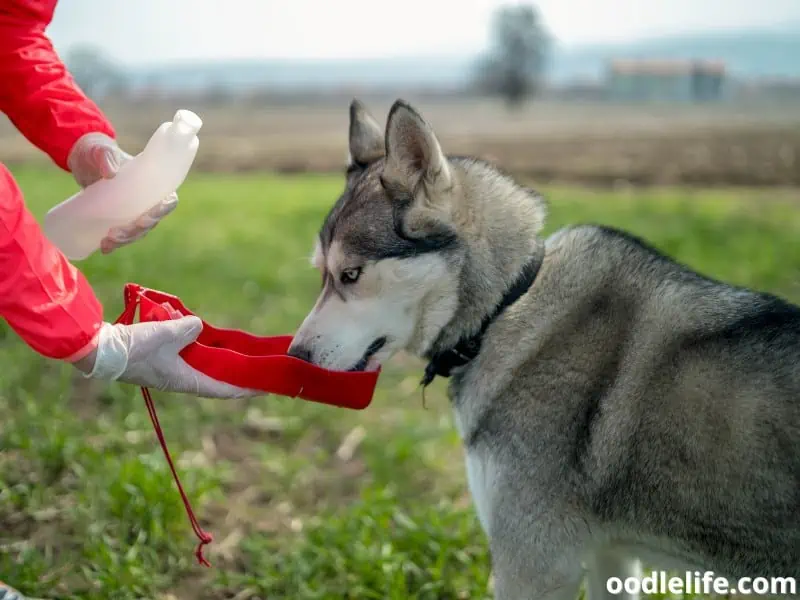 lesotc Upgraded Pet Water Bottle: Best Flexible Option
This dog water bottle is one of the most compact and flexible options on the market. If you want something you can jam into the side of your backpack and fold up so it fits anywhere, this is the best option. It has a stand-alone bowl dispenser that is easy and comfortable for your dog to drink from.
lesotc 2022 Upgraded Pet Water Bottle for Dogs,Dog Water Bottle Foldable,Leak Proof Dog Travel Water Bottle,Dog Water Dispenser,Lightweight & Convenient for Outdoor Walking,Hiking,Travel,BPA Free
It's Easy to Use: With its exclusive patented design, the U2mug dog water bottle is a two-in-one solution that combines a water bottle and bowl. The foldable cap doubles as a bowl, so you no longer...
No Water Leakage: The top rotational buckle is designed to ensure that water does not spill out or return to the bottle. The idea is to prevent the remaining water in the bottle from getting...
Safe and Lightweight: The compact dog water bottle is made of LDPE stock, while the water bowl is produced with food-grade silicone. It's BPA-free, odorless, environmentally friendly, and recyclable....
Large Capacity: With a volume of 18 oz / 520 ml, this dog water bottle provides safe, fresh, and healthy water for your furry friend anytime, especially during travel, trekking, and other outdoor...
Friendly Reminder: Before filling the water bottle, make sure the drinking water is clean and hygienic to avoid drinking contaminated water. Choose the correct size and color before placing your...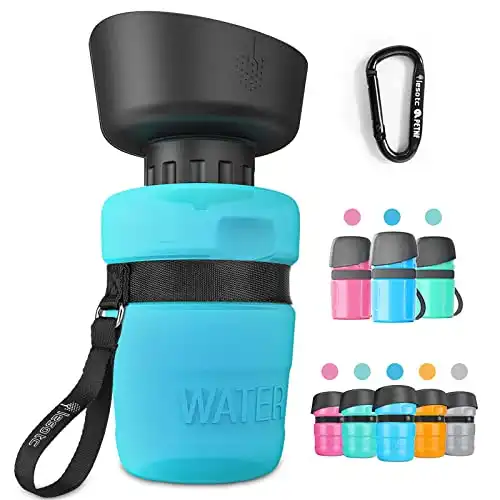 We earn a commission if you make a purchase, at no additional cost to you.
The bowl is flimsy to allow it to be folded over or squeezed, but it's still long-lasting and made from premium materials. For many hikers, this one is an ideal pick because it's easy to pack and carry but is durable and comfortable enough for dogs to drink from.
It's a stand-alone design, so you put it on the ground and fill it so your pet can drink from it without your help. What's more, it's super easy to clean, is made from safe materials, and comes in four color options.
Key Features:
Foldable stand-alone bowl-shaped dispenser
No water leakage
18-ounce capacity
Durable design
Comfortable hand strap
Pros:
Flexible and foldable
Comfortable bowl for drinking
Super lightweight
Cons: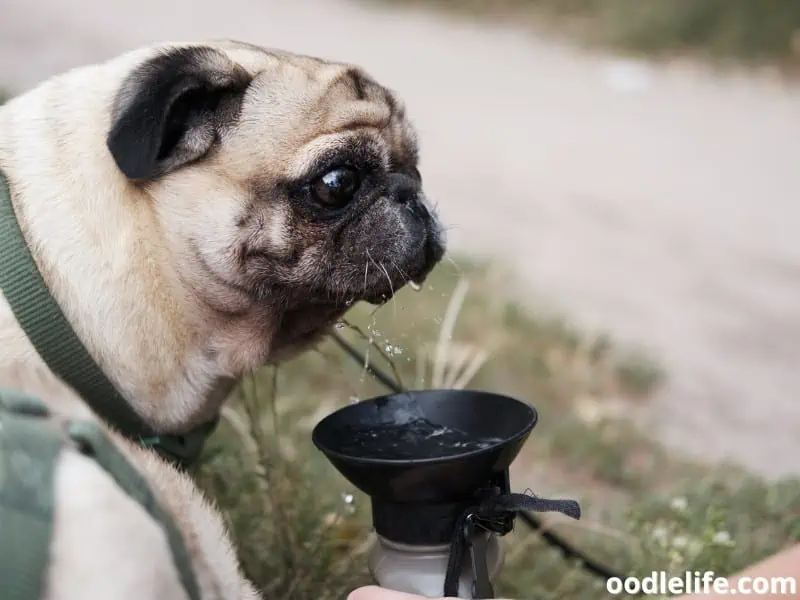 Springer Lilac Mini Water Bottle: Best Size Options
This adorable water bottle comes in three sizes: mini, classic, and growler. It's sold in a variety of fun colors, and the bowl-shaped dispenser on top is comfortable for dogs to drink from.
Springer Dog Travel Water Bottle | As Seen on Shark Tank | Patented, Leak-Proof, Portable Water Bottle for Dogs | BPA-Free 15oz Mini Lilac
MADE FOR THIRSTY PETS: Springer, formerly Highwave, created the Classic dog water dispenser for any adventure whether it's going on walks, hiking, or road trips. Our 22 oz pet water bottle can...
LEAK-TIGHT: Our dog water bottles feature a leak-tight shut off valve so you can feel confident storing water for your favorite pet without it leaking. This bottle will also fits into any standard car...
EASY TO USE: Gently squeeze our doggie water bottle and water will fill the bowl. Release your squeeze to return water back to the bottle. If you have an especially thirsty pup, or plan to be out for...
BPA FREE & DISHWASHER SAFE: This dog water bottle dispenser is BPA Free as well as food and dishwasher safe. All pieces can be cleaned by using the dishwasher, top rack only, or by hand washing.
HEALTHY HAPPY PETS: Springer created this outdoor dog water bottle to provide safe access to fresh clean water for your pet and is the best alternative to public water bowls.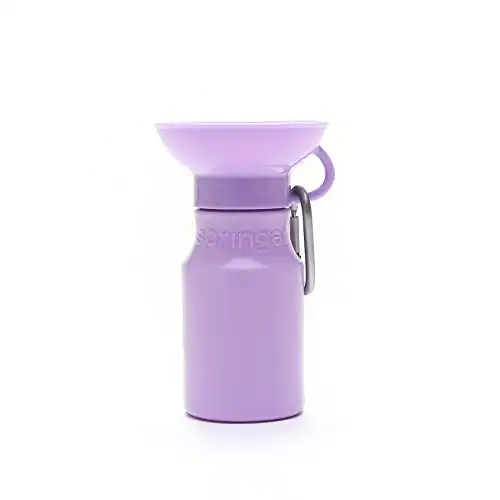 We earn a commission if you make a purchase, at no additional cost to you.
It's perfect for hiking because it comes with a carabiner clip you can attach to your backpack or belt. And the leak-tight designs ensure no water is wasted!
The mini bottle is ideal for small breeds, while the growler is a top choice for the thirstiest of dogs. You can fill the water bottle and then stand it on its own so your dog can conveniently drink without you holding it.
Key Features:
Carabiner clip
BPA-free and food safe
Fits in cup holders
Leak-proof spout
Stand-alone bowl-shaped dispenser
15, 22, and 44-ounce options
Pros:
Easy to clean
Comfortable for dogs to drink from
Three size options
Cons: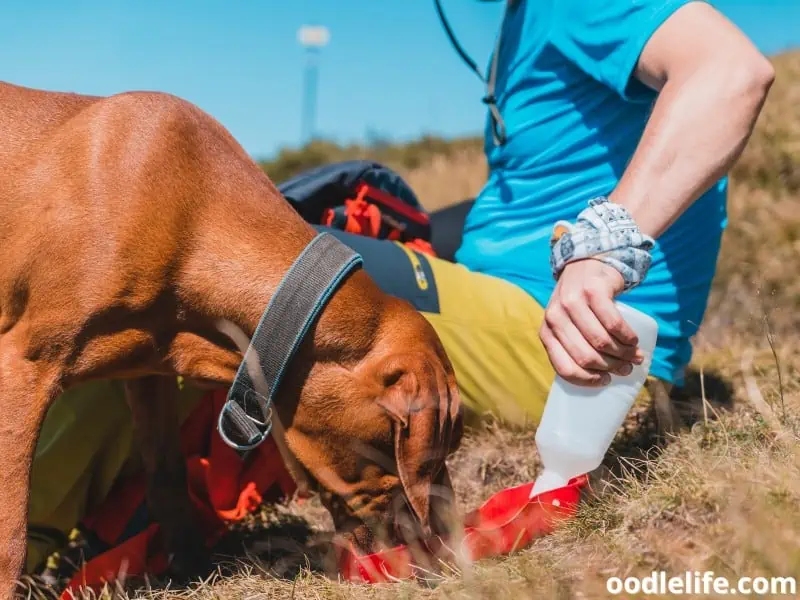 Buying Guide
Not all dog water bottles for hiking will be the right product for you. Below are some considerations to keep in mind when selecting one for your pet:
Weight
Some people will be okay with carrying a hefty water bottle for their pet if it helps keep the water cold and refreshing. However, taking a heavy item on long, rigorous hikes can be challenging and draining after a while.
Consider how much extra weight you're willing to carry. Remember, most dogs don't appreciate cold water like humans, meaning a heavy option may be unnecessary.
Capacity
Is your dog a thirsty canine? How long is your hike? Are you sharing the water bottle with your pup? The answers to these questions will help you determine the proper capacity.
The size and stamina of your dog will also play a factor. Most people want large bottles, but if your pet only takes a few sips on your hikes, getting one with massive capacity may not be necessary.
Strap or Clips
If you don't hike with a backpack or bag, holding the bottle in your hand the entire time can be annoying. Many dog water bottles come with a wrist strap or carabiner clip to make them easier to carry. If this is an essential feature, choose one with a strap or clip that suits your hiking gear.
Dispenser
The water bottles on this list have different dispensers that allow the dog to drink comfortably. Some are mini bowls, while others are more spoon-like.
Most dogs will happily drink from any dispenser they can, but if your pet is particular about what they drink from, ensure you choose a product with a suitable dispenser.
Material
Lastly, some materials are more durable than others. Stainless steel may last longer and withstand more damage, but flexible materials like rubber can be more comfortable for carrying and packing. 
And plastic bottles fall in the middle and are super easy to wash. No material is better than the other; it depends on your preferences and hiking habits.
Final Thoughts
Dog water bottles for hiking come in all shapes and sizes, so choosing the best option is difficult.
But we strongly recommend the five options above, as they are all durable, effective, and safe. Some bottles use harmful chemicals or are awkward to use, but these five options are perfect for hiking!
Hopefully, one of these bottles makes your hikes more enjoyable for you and your dog. Canine hydration is essential!