5 Best Dog Whitening Shampoos (2023)
There's something about a dog with a bright white coat that stands out amongst the rest. The one downside to having a dog with white fur is that it can quickly get dirty and start to look dingy rather than pearly white.
Luckily, dozens of great dog brands have created shampoos for dogs that take that dull white coat and turn it back to a shiny white. If your dog's white coat looks more like mop water than snow, investing in a high-quality dog whitening shampoo is something you'll want to consider.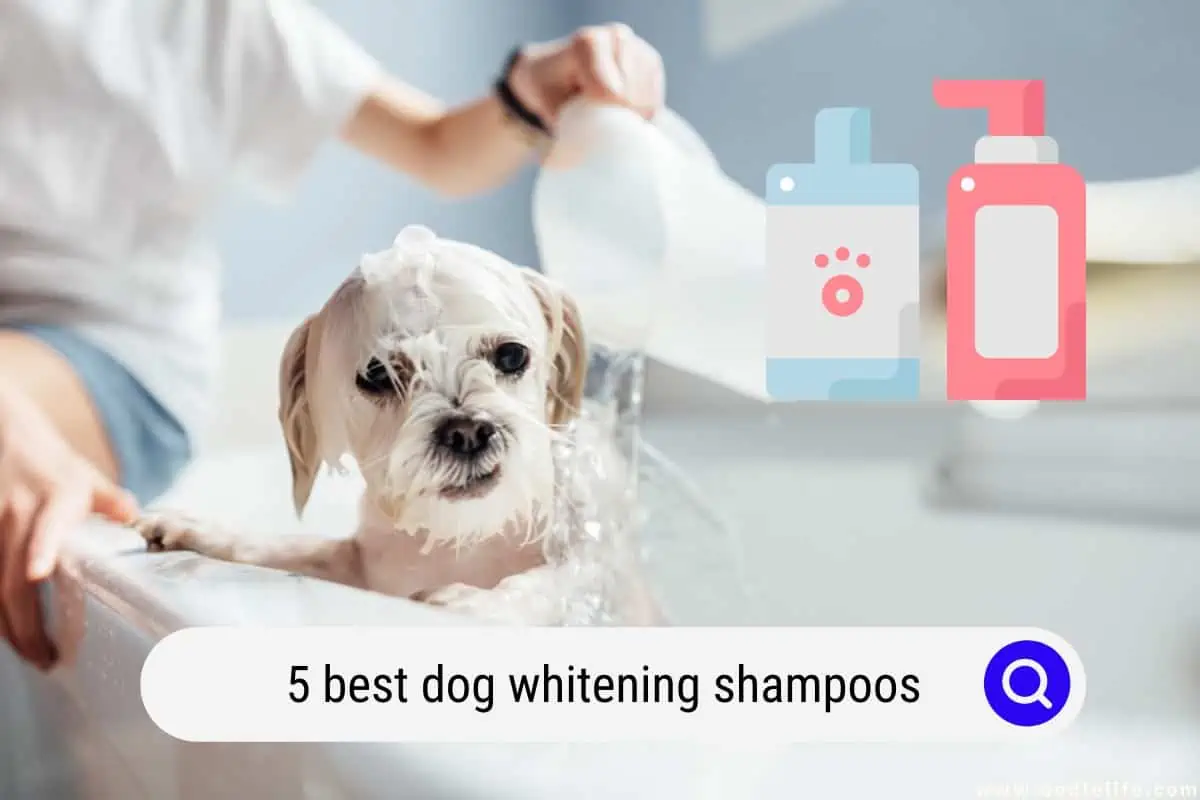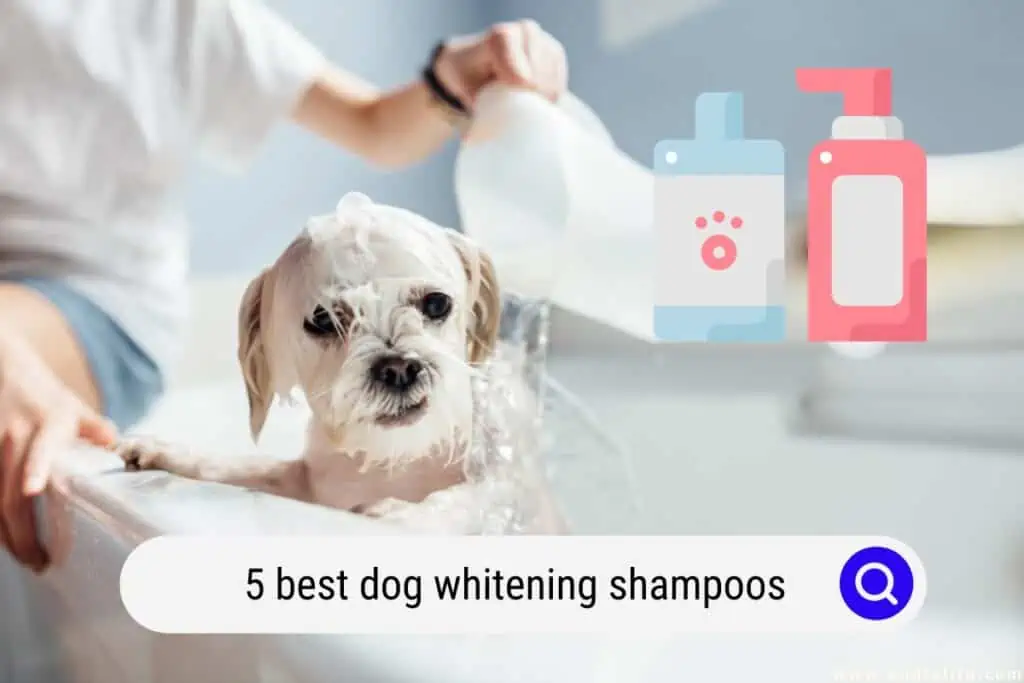 Why You Might Use Whitening Shampoo on Your Dog?
You might choose to use a whitening shampoo on your dog for several reasons. Maybe they rolled around in the dirt outside, and a regular dog shampoo just isn't doing the trick to get the stains out of their fur.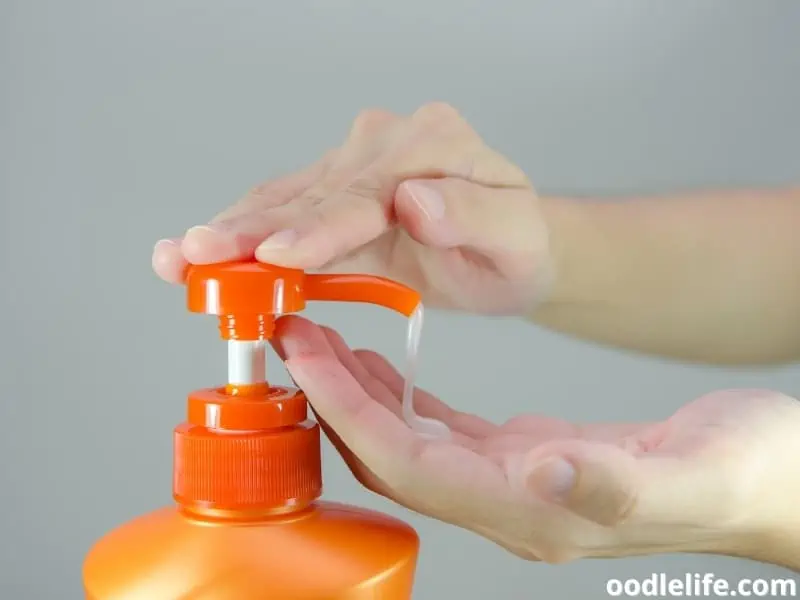 Or, maybe their fur looks dingier than usual, and you don't want to have a dirty-looking dog. The best part is that you can use these shampoos instead of traditional dog shampoo to maintain their beautiful white coat.
Is It Safe To Whiten Your Dog's Coat?
Before you freak out thinking that whitening shampoos are harmful to your dog, hear us out. There are specially formulated dog shampoos that help to whiten your dog's coat without bleach.
Overall, it's safe to whiten your dog's coat with these types of products. You'll want to double-check the product ingredients to ensure your dog doesn't have an allergy and follow the instructions properly. If you do this, it's perfectly safe to use dog whitening shampoos.
The Best Whitening Shampoos For Dogs
Not all whitening shampoos for dogs are created equal. If you're searching the internet for the best options but are coming up empty, we've got you covered. We did research and found five of the best dog whitening shampoos you can use on your furry friend.
1. Vet Recommended Extreme Whitening Shampoo
If you're looking for a great all-natural whitening shampoo for your dog, Vet Recommended Extreme Whitening Shampoo is one of the best options. The formula has no harsh soaps or detergents, making it safe for your furry friend.
Vet Recommended OMG Extreme Dog Whitening Shampoo (16 Oz /473ml) - Coconut Based 100% Safe - Free from Soaps, Detergent, Bleach & Fragrance - Make Your Dog's Coat Clean, Silky and Smooth. Mad...
SOAP & DETERGENT FREE: The OMG Extreme Whitening Shampoo brightens your pet's coat naturally without harsh soaps or detergents. Our whitening shampoo for dogs and cats is coconut based and is made...
FRAGRANCE FREE: Deodorize without artificial scents that irritate you or your pet. Simply use the Vet Recommended white coat pet shampoo maintain richness and brilliance of white and light coats in...
WON'T AFFECT TOPICAL FLEA TREATMENTS: Use with spot on flea treatments. Use the shampoo for white dogs as needed. You are also protected by our lifetime 100% Money Back Guarantee. No need to return...
FREE OF NASTIES: No Parabens, No bleach, No peroxide, No alcohol, No Gluten or animal by-products. We LOVE your pet as much as you do. Simply clean the white coat without stripping natural oils from...
FOR COLOR & WHITE COATS: Can also be used on all color coats. Eliminate the appearance of yellowing, stains and dingy fur while bringing out your pet's natural bright white coat.
We earn a commission if you make a purchase, at no additional cost to you.
The formula is made primarily with coconut but also includes other natural ingredients to provide a beautiful shine while softening and brightening their coat. The fragrance is minimal, but it does an excellent job of cleaning and whitening your dog's coat.
This Vet Recommended product is paraben-free, alcohol-free, and peroxide-free. You can use it on your dog without stripping the natural oils from their skin. It won't affect your dog's topical flea and tick treatment.
Something we aren't particularly a fan of is the price. The price isn't too terrible, but it is higher. You can use a small amount, which goes a long way when you're not bathing your dog that often.
Pros
It has no harsh cleaning agents.
It has a subtle scent.
You can use it with topical flea and tick medications.
Cons
It's a little on the pricier side.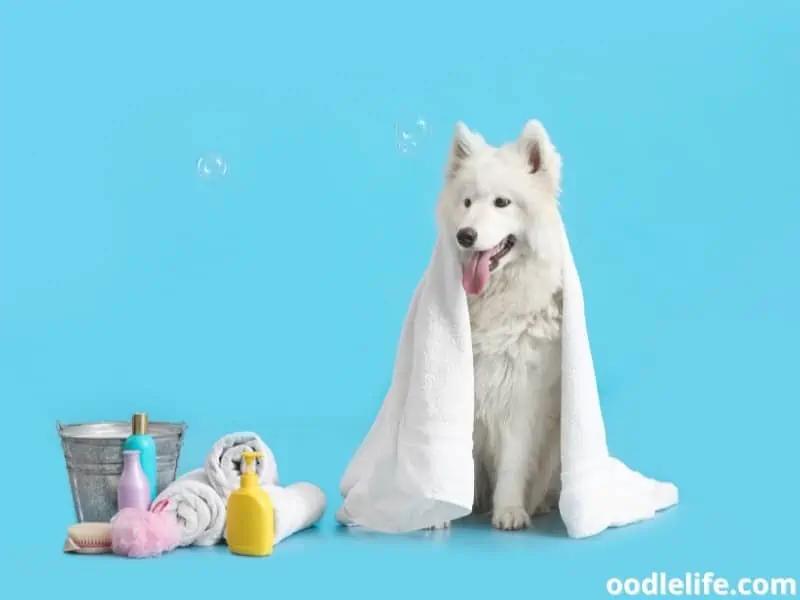 2. Wahl Whitening Shampoo
Wahl is one of the top dog grooming brands, and if you're interested in a whitening shampoo that will get your dog's coat pearly white again, then you'll love their whitening shampoo. This whitening shampoo's formula is at a much higher concentration than others, which is great because a little bit goes a long way.
Wahl Whitening Shampoo White Pear scent for Pets – Whitening & Animal Odor Control with Silky Smooth Results for Grooming Dirty Dogs – 24 oz - Model 820001A
Made in the USA - Our White Pear Brightening pet shampoo is pH balanced, alcohol free, paraben free, PEG-80 free and is highly recommended for brightening dirty animal coats while remaining pet and...
Less is More - Wahl has a higher concentration of our coconut derived sodding agent, which means you don't have to use as much as other dog shampoos. A little bit of shampoo goes a long way and...
Brightening Formula – This white pear scented pet shampoo is great for cleaning and whitening dirty and dull fur from short to long coats. The thick lather rinses off clean, brightens whites, and...
Allergy Friendly - Our dog icon, Rocket, was designed in the image of our family dog Cooper – a golden doodle, who has severe allergies. This is the only shampoo we have found safe and effective. He...
The Brand Used by Professionals - Wahl has been serving professional vets and groomers for over 50 years. clean, condition fur & hair for a smooth, soft coat. We are a company of animal lovers that...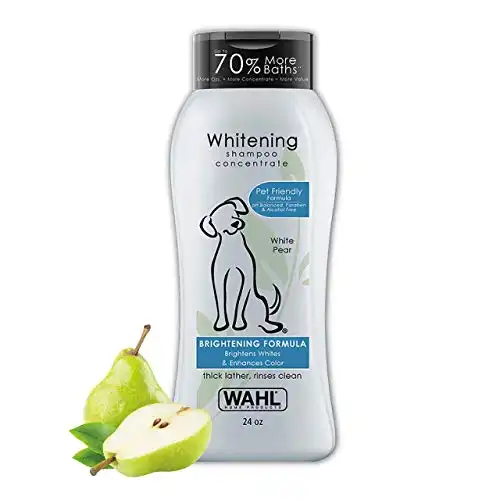 We earn a commission if you make a purchase, at no additional cost to you.
You'll get more shampoo for your money when a little bit goes a long way. We love this whitening shampoo because it's free of PED-80, a known skin allergen. Thanks to the gentle brightening ingredients, you should be able to use this shampoo on your dog without irritating its skin.
You'll notice a pearl scent with this shampoo which is an excellent change of pace compared to other whitening shampoos that boast a coconut oil scent.
The one thing to note about this shampoo is that the fragrance can be overpowering and irritating to dogs with sensitive or dry skin.
Wahl's whitening shampoo is best used on dogs with a thin or straight coat since it lacks a detangling agent. Using it on your curly or thick coat dogs might be more of a headache. The formula is alcohol-free, removes tough stains easily, and will leave your dog with a great white coat in no time.
Pros
A high-concentration formula.
Alcohol-free.
It removes stains fast.
Cons
It's not ideal for dogs with a thick or curly coat.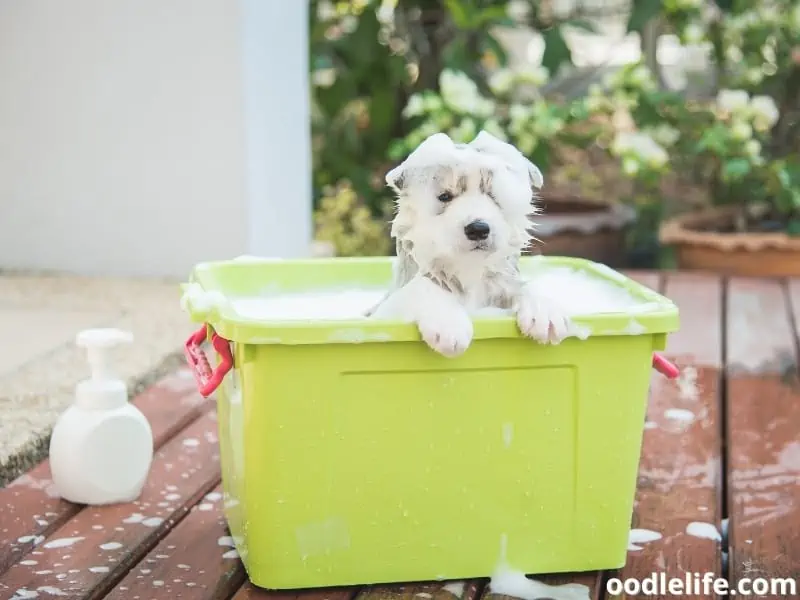 3. TropiClean Grooming Shampoo
TropiClean Grooming Shampoo is a great all-natural whitening shampoo. The main ingredients in the shampoo are coconut and awapuhi, similar to ginger. These ingredients work together to clean the coat, brighten the natural color, and remove dirt and stains.
TropiClean Awapuhi & Coconut Whitening Shampoo for Pets, 20oz - Made in USA - Whitens and Brightens All Coats
WHITENING & BRIGHTENING – TropiClean's whitening shampoo for dogs whitens and brightens white coats, enhances all colors and removes stains.
ELIMINATES DOG SMELL – Our shampoo for white dogs creates a lush lather with a refreshing and long last scent to reduce pet odor.
PET PARENT APPROVED – This moisturizing blueberry and oatmeal dog shampoo is derived from natural ingredients for a silky soft coat.
PET PARENT APPROVED – A gentle shampoo for white hair dogs that's paraben, dye, soap and cruelty free and suitable for use on dogs and cats twelve weeks or older.
TROPICLEAN – For a tropical experience, pair this with our tear stain remover wash and deodorizer for superior vibrancy.
We earn a commission if you make a purchase, at no additional cost to you.
Besides the two key ingredients, the solution is paraben-free, alcohol-free, and pH balanced to keep your dog healthy and clean. The scent is subtle, and your dog will start smelling fresher instantly.
We love that while this is considered a whitening shampoo, it's effective at cleansing all dog coats, regardless of color. It's also proven to work with all types of dog coats, whether they're thin or thick. Working on all dog coats means you can use the shampoo on all your dogs without purchasing several different shampoos.
A huge benefit of using this shampoo is that you can use it without worrying about whether it will cause your dog's flea and tick treatment to stop working. The one issue we have with the shampoo is the bottle. It has a squeeze top that's supposed to make things easier for you, but it doesn't work well, so you must spend more time unscrewing and screwing the lid on.
Pros
You can use it on all colors of dogs.
The scent is subtle.
It has all-natural ingredients.
Cons
The squeeze lid could be easier to use.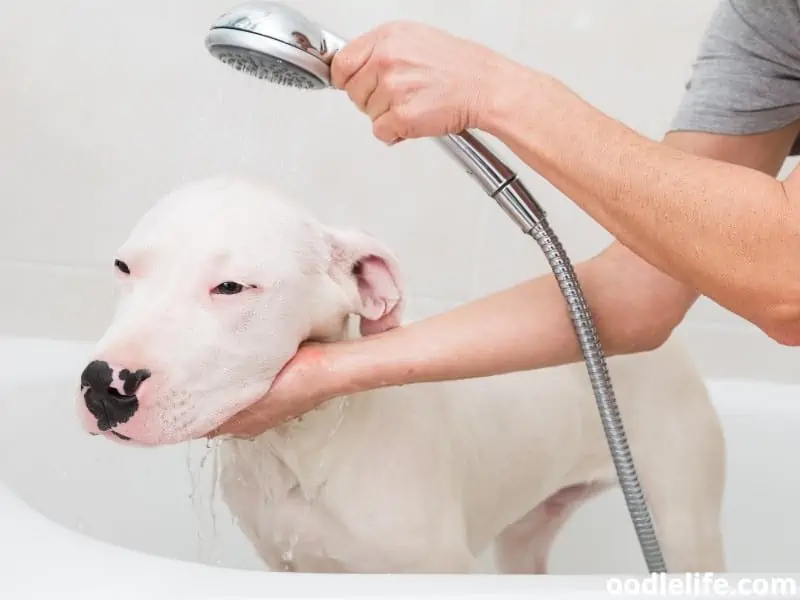 4. BioGroom Super White Coat Brightening Shampoo
Next up, we have BioGroom Super White Coat Brightening Shampoo. A huge draw to this brand of shampoo is that many professional groomers and breeders recommend this shampoo. The formula contains only all-natural ingredients and is pH balanced to keep your dog happy and safe throughout the cleaning process.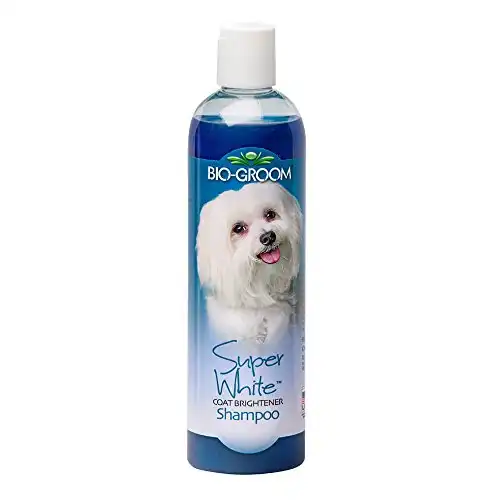 We earn a commission if you make a purchase, at no additional cost to you.
A benefit of using this shampoo is that even if your dog doesn't have an entirely white coat or features other lighter colors, it can still brighten their fur. We love the conditioning agents in the formula that helps detangle and smooth out any thick, matted, and curly hair without hurting.
One thing we noticed about this whitening shampoo compared to the other is that while it does clean and brightens, this one doesn't clean nearly as well. You'll still see a much brighter coat, but you might want to use another shampoo to cleanse your pup thoroughly.
There's a pleasant floral scent that shouldn't cause any irritation for you or your dog. You can use this alongside flea and tick medication without the stress of the product preventing that medication from working.
Another thing to think about when using this shampoo is that you can dilute it if you want. You can cut it with as much as eight parts water, and it will still be effective.
Pros
It brightens and detangles fur.
It's environmentally-friendly.
Groomers recommend the product.
Cons
It doesn't clean your dog as well as other brands do.
5. Chris Christensen White on White Shampoo
If you want one of the best dog whitening shampoos, Chris Christensen's White on White Shampoo is an ideal premium brand. They created it to combat yellow and dingy shades of white fur.
Chris Christensen White on White Dog Shampoo, Groom Like a Professional, Brightens White & Other Color, Safely Removes Yellow & Other Stains, No Bleach or Harsh Chemicals, All Coat Types, Made...
WHITE ON WHITE - Chris Christensen White on White Shampoo gets the yellow out! Unlike other whitening shampoos, White on White can be used on all coat colors!
TREATMENT SHAMPOO - This product is an optic intensifying treatment within a shampoo, removing all yellow stains with a lustrous sheen on darker colors.
SAFE - Contains NO bleaching agents, harsh chemicals or softening agents, Neutralizes unwanted stains that cleansing does not remove, Lasts up to 4 weeks and will not rub off on hands or clothing.
DIRECTIONS - Apply White on White directly to the coat. DO NOT DILUTE. Work into a lather, massaging product into the coat. Allow to remain in the coat for 2-10 minutes depending on the porosity and...
WHY CHRIS CHRISTENSEN - Chris Christensen developed the first true color correcting shampoo for canines and felines. White on White was a catalyst in the evolution of canine coat care. The momentum...
We earn a commission if you make a purchase, at no additional cost to you.
You can safely use this formula on all dog coats, and you'll see a glossy sheen on their fur once you get them out of the bath. It's a gentle formula with no harsh chemicals or harmful cleaning agents.
Chris Christensen's formula is ideal for dogs without a thick or curly coat since it doesn't have a conditioning agent. You can use it on your dogs' thick and curly coats, but you will need to use a conditioner and be sure to brush them thoroughly afterward.
Something to note about this shampoo is that it doesn't do well with super dark stains. The bright purple shampoo has the perfect tint to combat yellow, but if you use too much or leave it on too long, you might see some purple appear on your dog's fur. Also, if you consider a purple shampoo for your dog, take note that it has to be a formula specifically for dogs.
Pros
It combats yellow discoloration.
It's perfect for straight and thin coats.
It leaves a glossy appearance.
Cons
It can leave a purple hue on your dog.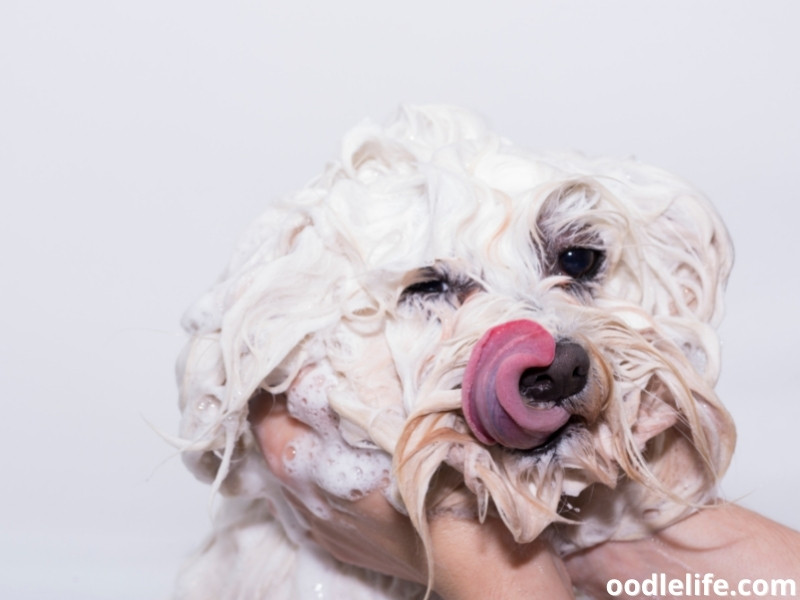 Final Thoughts
If your dog's beautiful white coat is looking less vibrant than usual, a whitening shampoo is a great tool you can use to get it back to looking new. When searching for a whitening shampoo, you'll want to choose natural and non-toxic ingredients.
Next time you want to whiten your dog's white coat, you can't go wrong with any of these five best dog whitening shampoos.