The Best Double Dog Houses (2023 Update)
If you have more than one dog, chances are you will need more than one dog house. It's not exactly fair to leave one pup out in the cold while the other one gets to be cozy! Not only that, but some dogs may prefer to cuddle up with their buddy.
You'll find a few excellent double dog house options on the market, with several styles and utilities.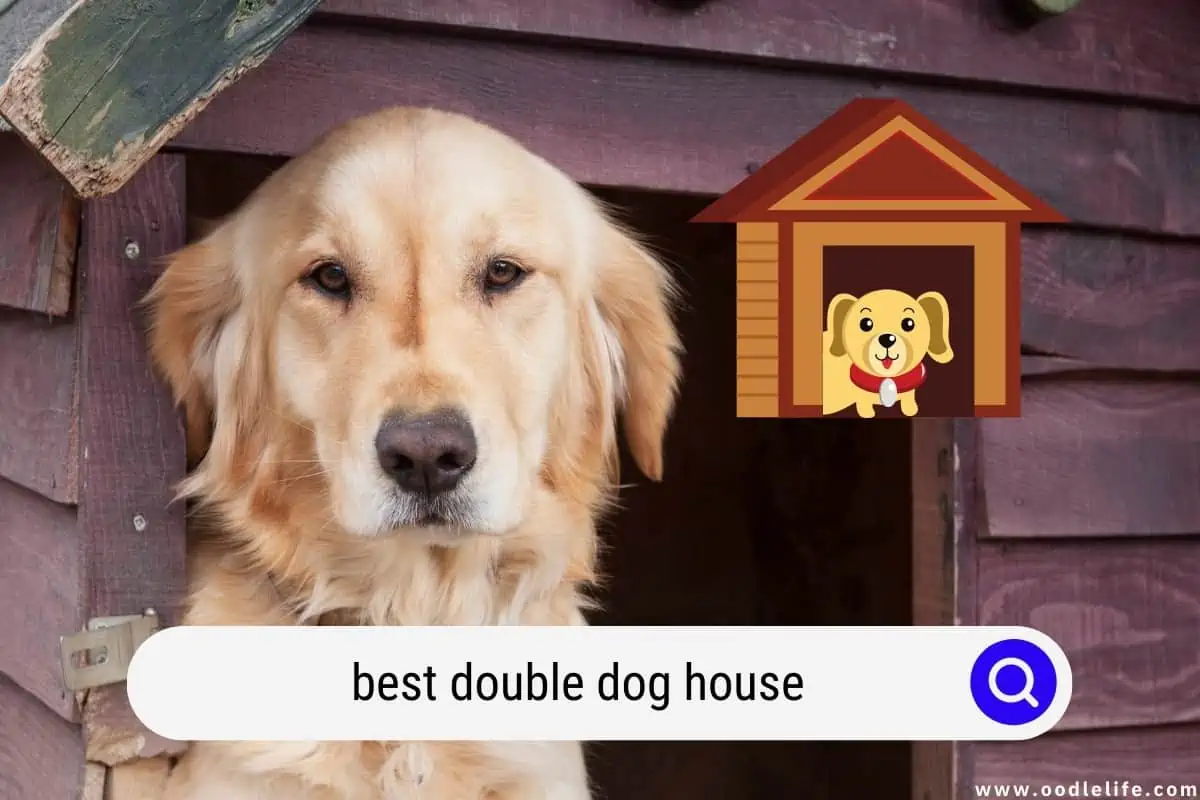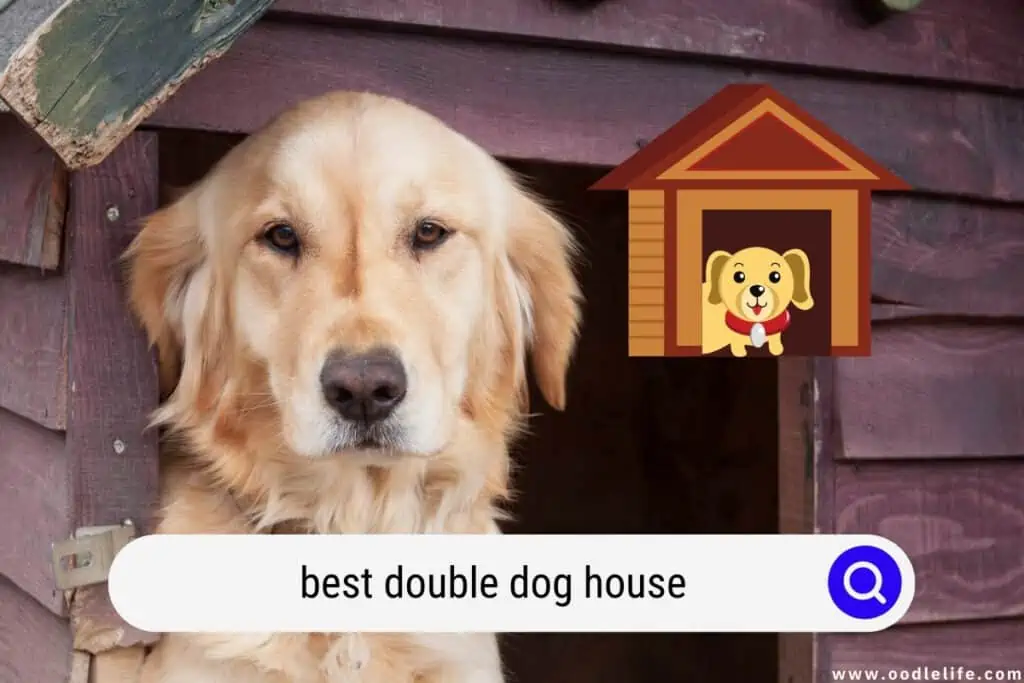 Best Double Dog Houses
Whether you're looking for something for indoors or outdoors, something permanent or travel, you can find several dog houses large enough to fit more than one of your furry friends.
PawHut Large Dog House With Porch Deck
This adorable double-door dog house offers a cozy space for your dogs to relax after a long day of playing fetch. This style comes in two color options: gray with white trim and natural wood with black trim.
PawHut 59″ L x 63.5″ W x 39.25″ H Wood Large Dog House Cabin Style Elevated Pet Shelter w/Porch Deck Natural
CABIN STYLE DOG HOUSE: This cabin style raised dog house is a fun and rustic addition to your backyard, patio, garden or inside house. Designed with porch and 2 separate living rooms, perfect for most...
DURABLE & STABLE: Made of solid fir wood in high stability. The dog home is secure for your lovely friends. Built-in slide out bottom tray for easy cleaning.
SPACIOUS PORCH: This dog enclousure features a spacious deck porch for dogs to lounge or take a nap in sunny day.
ALL-WEATHER CONSTRUCTION: The main living house of this dog house has a hinged roof to protect your pet during harsh weather. The roof can withstand most weather conditions, like rain, snow, sun, wind...
RAISED DESIGN: The elevated floor keep syour pet dry and warm, while also protecting your dogs from moisture. The open door has a vinyl curtain and side window to help eliminate drafts and provide...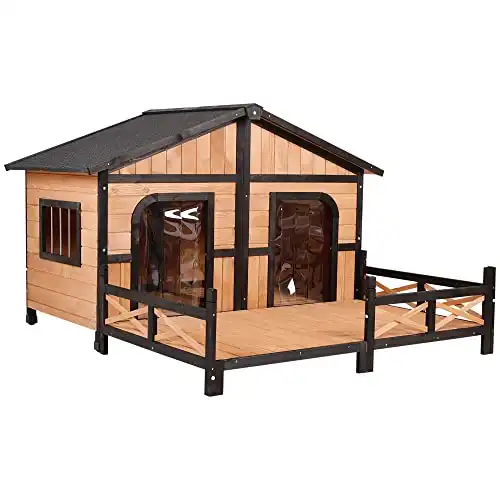 We earn a commission if you make a purchase, at no additional cost to you.
Measuring 59" x 64" by 39", this dog house can fit two medium-sized dogs up to 33 lbs comfortably. The interior features two separate living spaces with a door between them so each dog gets their own space but won't be lonely.
Other features of this double cabin include:
Two doors
Vinyl curtains to provide airflow while eliminating drafts
Slide-out tray for easy cleanup
Elevated to prevent moisture damage
Open porch space
A hinged roof that withstands all weather conditions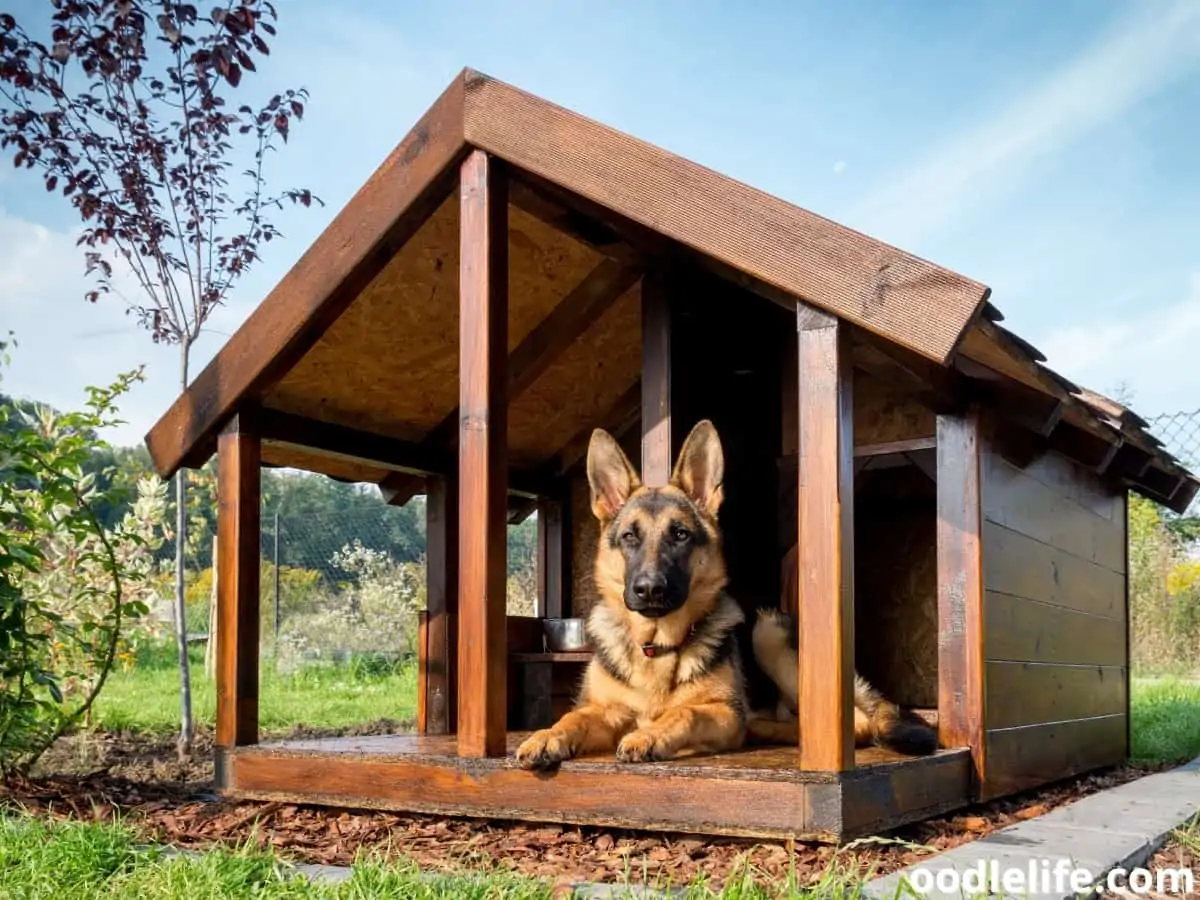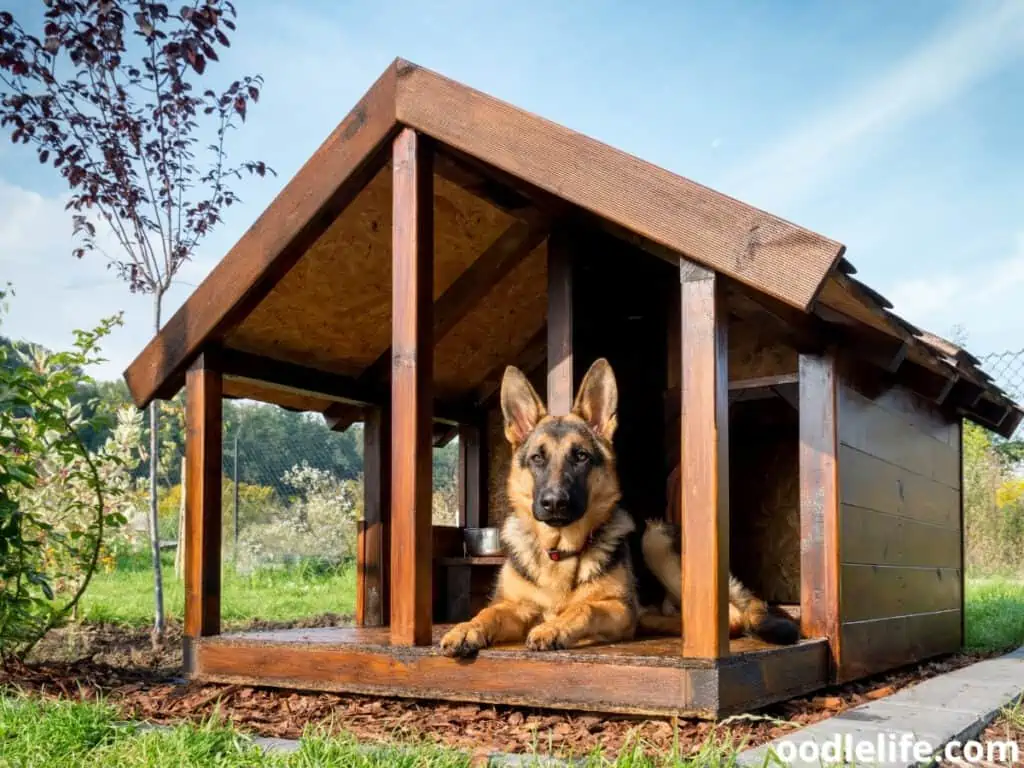 Tucker Murphy Natural Wood Dog House
If you're a fan of the cozy, rustic style, this is the perfect double dog house for your pups. Like the PawHut, the Tucker Murphy dog house features two doors, but no separation in the living area. At 47" x 24" x 32", this doghouse is best for two small dogs or one large dog, with a maximum total weight of 100 lbs.
This dog house also features:
Wind-resistant vinyl curtains
Elevated to prevent moisture
Covered porch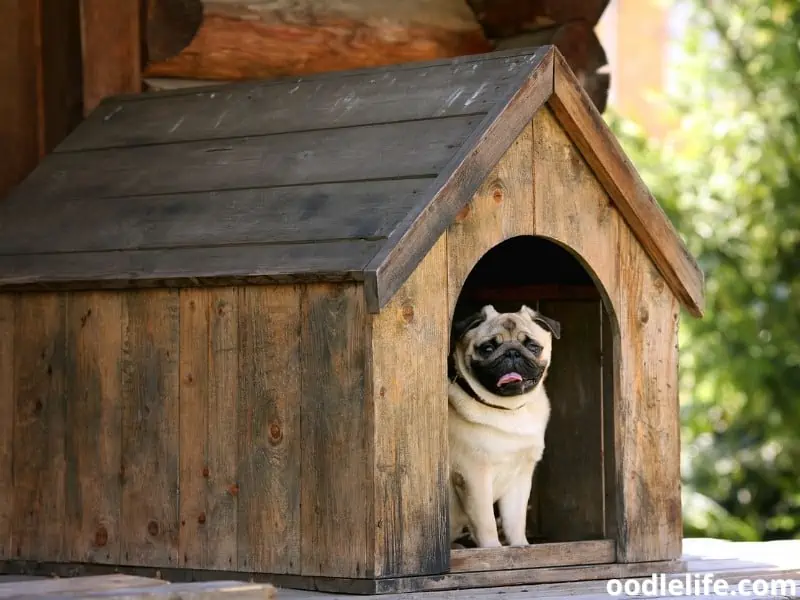 PawHut Wooden 2-Tier Raised Pet Shelter
The PawHut 2-tier doghouse is an adorable option for your outdoor spaces. The indoor space measures 46" x 25.25" x 37.5", with an extra deck space of 46" x 42.5". The balcony space is 25.5"x19.75" and can hold a dog up to 55 lbs.
PawHut 2-Tier Outdoor Dog House Cabin Style with Porch and Balcony, Wooden Raised Dog Shelter with Asphalt Roof, Side Window, for Medium, Large Sized Dogs Up to 55 lbs.
Roofed Porch: Features a porch, balcony, and house for a sunlit space with a view from above, a shady area with lattice fencing, and an interior. The porch and balcony upgrade this large dog house.
Reliable Material: This wooden dog house is constructed of solid fir wood, which is resistant to rain, and big enough for medium to large-sized dogs of up to 55 lbs.
Outdoor-Strong Design: The water-resistant construction and asphalt roof offer outdoor-strong protection for your furry family member.
Window Design: A window makes a major difference compared to three solid walls. The dog houses for medium dogs let your pet see out from their shelter, so they can set eyes on what's around them from...
Pet House Information: Overall Dimensions: 52" L x 50" W x 35.75" H. Main Living Dimensions: 42.5" L x 25.25" W x 32" H. Assembly Required. PLEASE NOTE: This item arrives in separate boxes and may not...
We earn a commission if you make a purchase, at no additional cost to you.
The interior space can hold two small dogs or one medium-to-large dog.
This country chic cabin also features:
A window with shutters
Easy-to-climb steps
Fir frame with a water-resistant coating
Elevated to prevent moisture damage
Aivituvin Wooden Dog House
Add a dose of cottagecore cuteness to your indoor or outdoor spaces with this Aivituvin Wooden Dog House. Best for small dogs but also good for cats, the lower space measures 20.3" x 17.4" x 11" and the top level measures 30" x 22.2" x 30.4". Each level holds up to 18 lbs.
Aivituvin Feral Cat House Outdoor Indoor Kitty Houses with Escape Door for Cats Insulated, Weatherproof Roof
Waterproof Asphalt roof and extend small roof of the door are perfect for indoor and outdoor use. Your pets will enjoy the sunlight .
100% solid Fir wood of this wooden pet house with water based painting. ECO-friendly to protect your small animals.
The Cats Condo designed with balcony,rest room and side stairs, provide comfortable playing and sleeping room.
Highest quality craftsmanship cat house Uniform surface,the floor is laying Flat.
Each part is stamped seperately, all the screw holes are aligned properly to be easy assemble.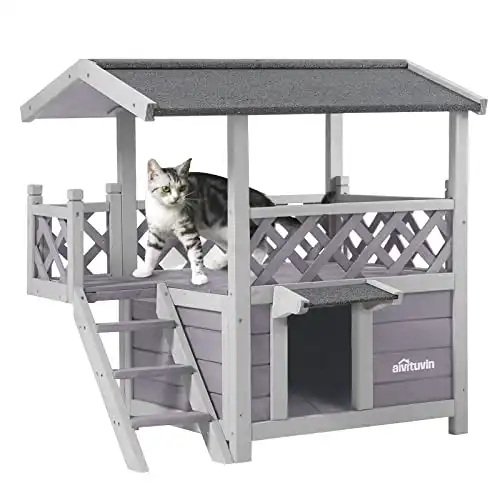 We earn a commission if you make a purchase, at no additional cost to you.
You'll also find this cottage offers:
Waterproof roof
Solid wood fir and water-based paint
Easy assembly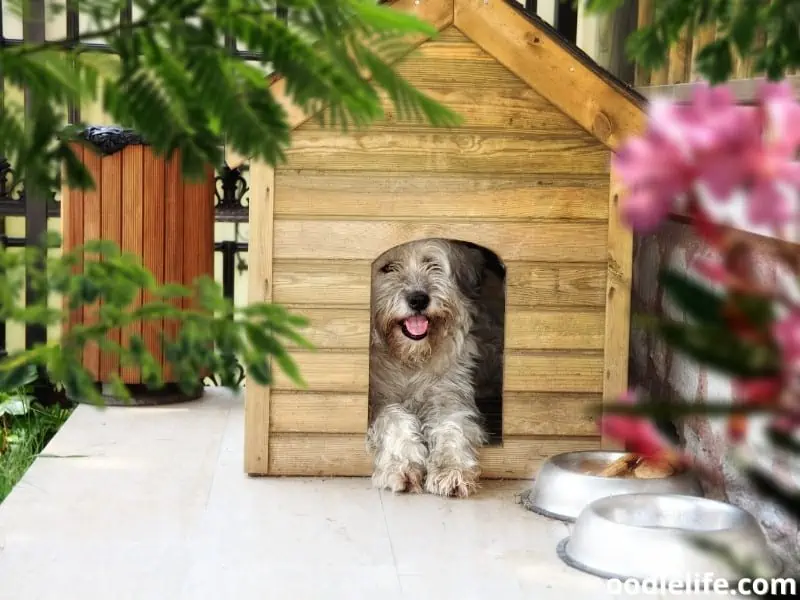 Suncast Outdoor Dog House
Easy to assemble and built to last, the Suncast Outdoor Dog House is a perfect compliment to your outdoor space. This spacious dog house can fit up to 70 lbs of dog, with dimensions of 38.5" x 33" x 32".
Suncast Outdoor Dog House with Door - Water Resistant and Attractive for Small to Large Sized Dogs - Easy to Assemble - Perfect for Backyards
OUTDOOR DOG HOUSE: Attractive dog house for pets up to 70 pounds is perfect for your backyard, patio and deck
DURABLE: Constructed from heavy-duty resin with a crowned floor to keep your pet safe from all weather elements
CONVENIENT: Dog house snaps together with ease, so your pet can enjoy their new home right away
BUILT TO LAST: The contemporary house design matches most outdoor décor, and it resists fading and washes easily for years of quality use
DOOR INCLUDED: Vinyl door (measures 11.75" x 20.5") provides additional security and insulation for your pet without obstructing entry or exit
We earn a commission if you make a purchase, at no additional cost to you.
This sweet dog house also includes:
Heavy-duty, weatherproof resin construction
Fade resistant and easy to wash exterior
A vinyl door for insulation
Easy construction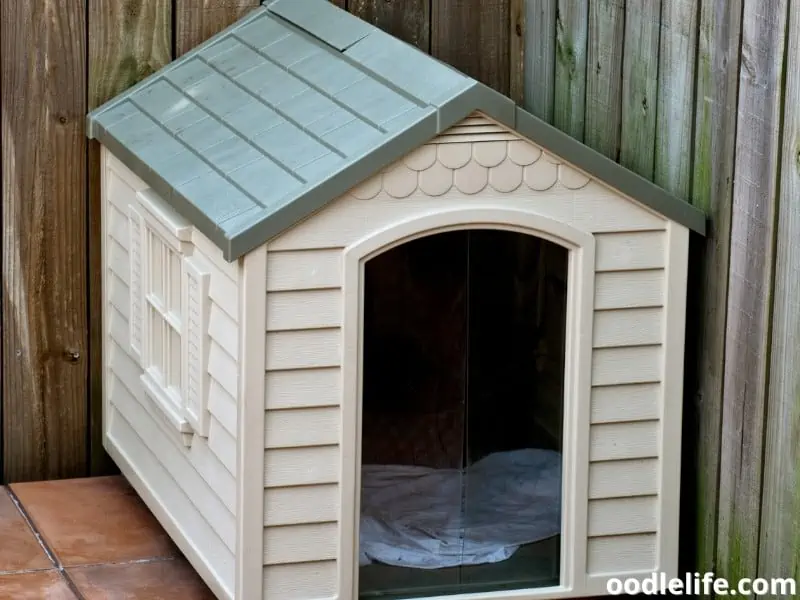 One for Pets Portable Double Pet Kennel
When traveling with your canine companions, it's nice to have a space to keep them contained while you're en route to your destination or if you need to step out of your hotel or Airbnb for a bit. This travel carrier is incredibly versatile; zip up the center compartment for separate spaces, unzip for more room, or separate the two sides into individual carriers. Best for small dogs, this carrier measures 20" x 20" x 39".
One for Pets Portable 2-in-1 Double Pet Kennel/Shelter, Fabric, Black/Royal Blue 20"x20"x39" - Car Seat-Belt Fixture Included (Black)
Travel Carrier: Built-in straps that allow safe connection to a seatbelt; Easy to set up and fold flat in seconds; Pad cover is removable and washable
Cat Travel Carrier: Pet carrier/dog carrier with multiple entrances; Interior hooks for hanging the hammock (Hammock is optional); Comes with an individual carry case for easy storage
Three ways to use the Double Kennel: 1) Use as two connected but divided compartments; 2) Use as one big space by unzipping the center zipper which divides the walls; 3) Detach the Double Kennel into...
Lightweight Travel Carrier: Lightweight and zippered mesh door in the front and at one or both ends. Size: Double: 20" x 20" x 39"
Dual Compartment Pet Kennel: Can be used as a pet kennel or pet cage indoors or outdoors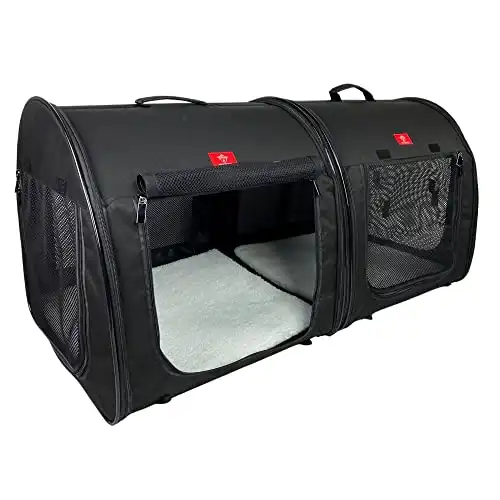 We earn a commission if you make a purchase, at no additional cost to you.
These two carriers also come with:
Build in straps to attach to a seat belt
Roll-up front and side doors
Pegs to secure the carrier into the ground
A water bottle holder
Washable pads and hammocks
A carrying case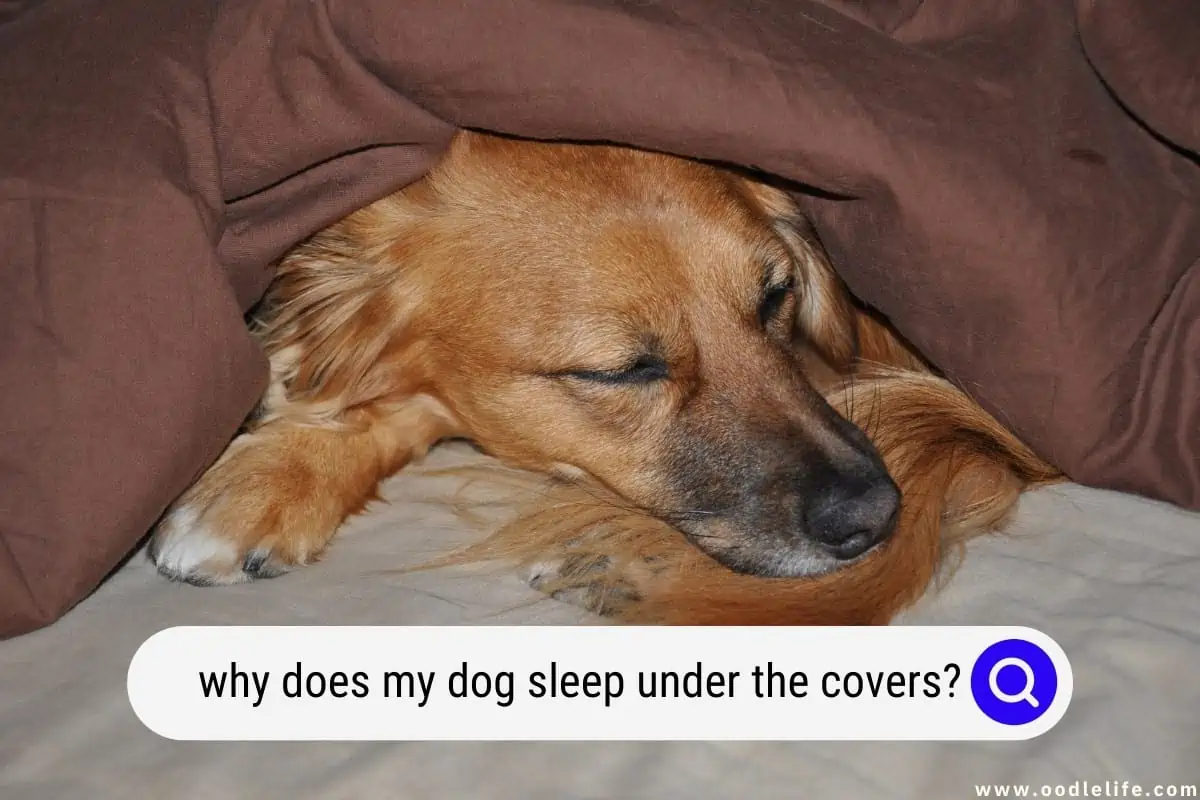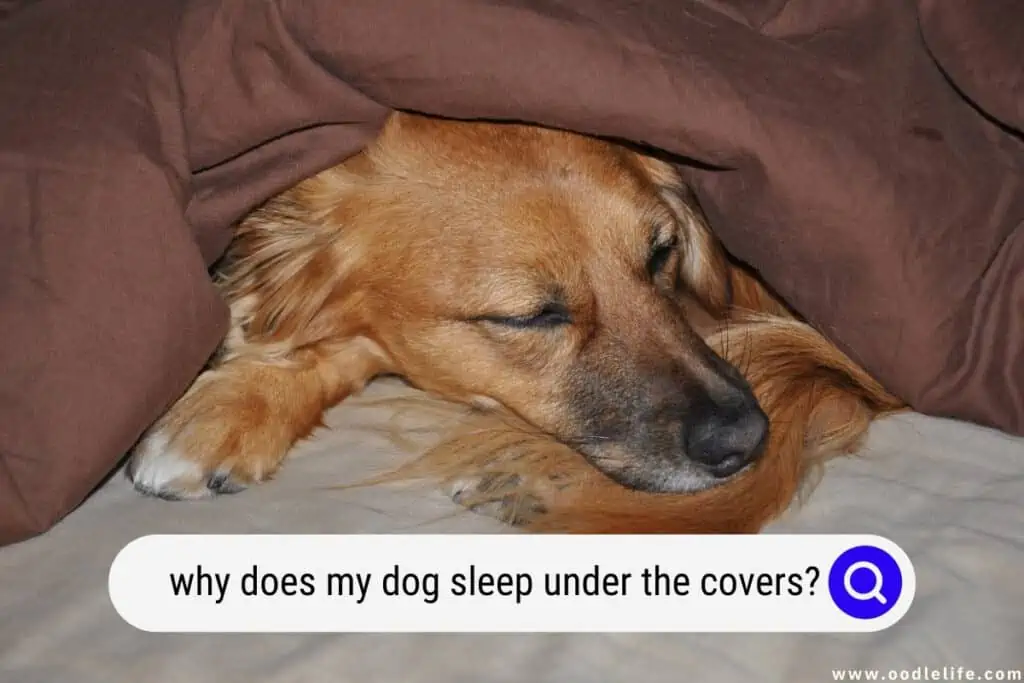 What Size Dog House Do I Need?
It can be hard to figure out exactly what size dog house your furry friends will be most comfortable in. It's easy to assume bigger is better, but this isn't always the case. Dogs often feel more secure in a cozy doghouse, and they're better for retaining heat than something larger.
Additionally, not everyone has the space for a puppy McMansion.
The Ontario SPCA and Humane Society offers an excellent rundown of dog house sizes on their website. They recommend first taking your dogs' measurements from their shoulder to the ground and calculating your doghouse dimensions like this:
Floor area: 36 square inches of floor space for every inch of height. For example, if you have a 12" tall Miniature Poodle, the area should be 432 square inches. You can determine square inches by multiplying the length and width of the dog house.
Height: Add two inches onto their height, measured from the top of their head to the ground. A 12" tall dog would need a 14" tall roof.
If you're looking for a space to shelter more than one dog, you'll need to add each dog's measurements together to get a proper idea of how much floor space you need. Two 12" dogs would need 864 square inches. For height, you'll take the measurement based off the calculation from the tallest dog.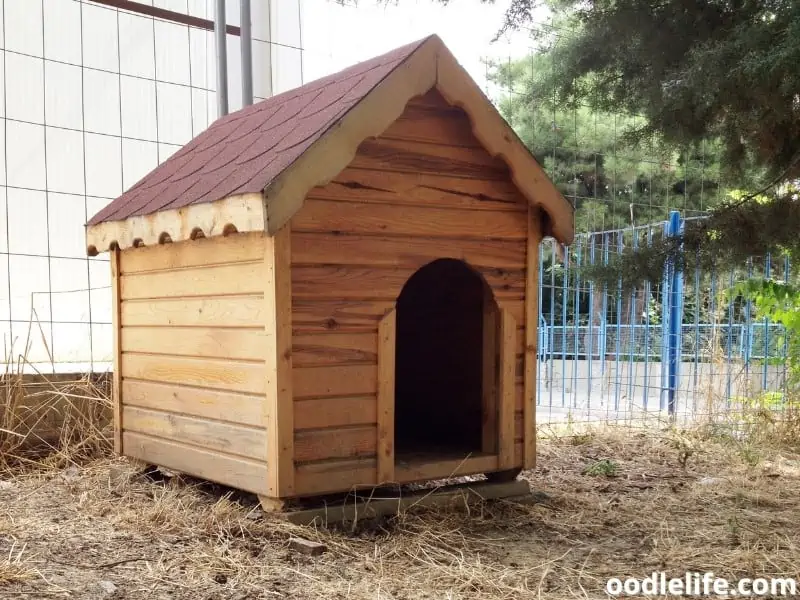 Things to Consider For Your Dog House
When you choose a dog house for outdoor use, there are several things to keep in mind to keep your pet safe and healthy. These may include:
Additional weather protection for the door, such as burlap or canvas, in colder weather.
Elevate the dog house to prevent moisture damage.
The outside should be weatherproof and paint should be non-leaded.
Wash or replace bedding materials every few weeks.
If your dog is not a breed bred for the climate you live in, be very cautious when sending them to their outdoor doghouse. Dog houses in colder climates may need to be insulated to be safe, and in hotter climates be sure to provide air flow and plenty of water.
Can I Build My Own Dog House?
If you have large-breed dogs, it may be difficult to find a dog house on the market big enough to fit more than one. However, if you're a do-it-yourself type of person, you may want to try building your own. You can find plenty of dog house building plans online.
Dog House Plan With Indoor and Outdoor Spaces
This 64-square-foot dog house plan is perfect for multiple large dogs. You can divide the indoor and outdoor space, and each area has a human-sized door for easy access to food and water dishes.
96 Square Foot Dog House
Need a little extra space? This 96-square-foot dog house plan offers your dogs spacious indoor and outdoor areas. Similar to the previous design, a people-sized door gives you access to all your dog's needs, while you can divide the rooms if you prefer to separate multiple dogs.
Conclusion
Several double dog house options are on the market for small and mid-sized dogs. If you're looking for something to shelter larger dogs, you may be better off building something or converting a shed. Whatever option you choose, make sure it's weatherproof for your climate and safe for your dogs so they can live long and happy lives.
For a look at other dog product reviews, click here.