Fence Height for German Shepherd
The American Kennel Club regularly lists German Shepherds in its list of most popular dogs in the world, and it's no wonder. This breed is known for its intelligence, loyalty, and athletic prowess, all qualities that make for a fun companion and a fantastic working dog.
Unfortunately for the homeowner, the GSD's smarts and physical skills can be a headache when trying to keep them confined to a backyard. Their energy is boundless (so to speak), which means it can be challenging for a GSD's human to keep up with their activity level.
So, how can you ensure your dog will be safe and protected in your yard? What do you do when your dog threatens an escape attempt? How do you know whether a fence is good enough for a German Shepherd's size and athleticism?
Though a 6-foot fence (182 cm) will probably do the trick, we recommend one that is 6- to 8-feet (182 to 213cm) high for peace of mind. Keep reading for some tips and tricks to secure the perimeter of your yard for your GSD.
How High Can German Shepherds Jump?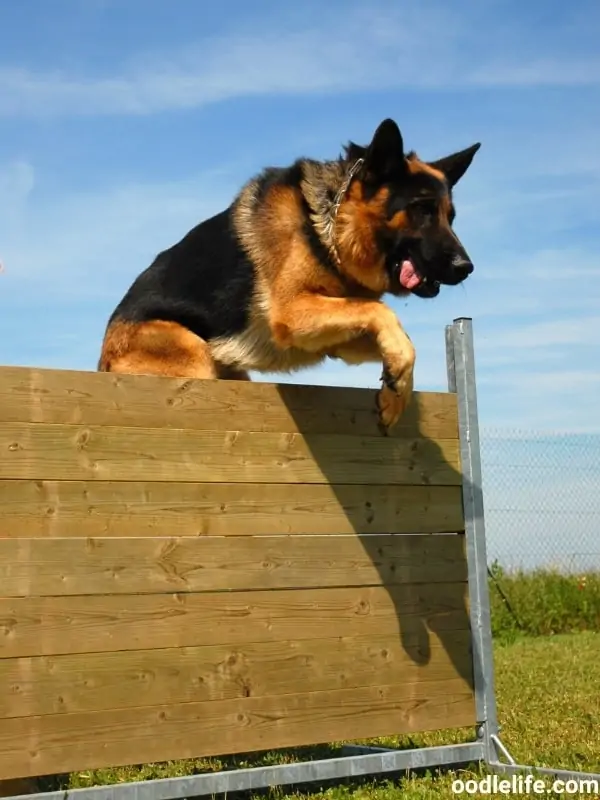 In the arena of dog sports, agility hurdles, and military training, a dog's ability to leap high into the air wows and delights us. But chances are, if you're reading this article, you have a beloved pet whose jumping you'd rather discourage!
As a general rule, most dogs can jump twice their height. Dogs who are particularly large or powerful may exceed this, especially if they're determined to escape their home turf for one reason or another.
The muscular working breed of a German Shepherd, at its medium-large size, can easily scale a 4-6ft fence. Given enough space to get a running start, they can sail over that and higher – especially if there's motivation on the other side, like a small animal or another dog they want to check out.
The average GSD weighs 50-80lbs, though they can reach upwards of 100lbs at full maturity. Their average height at the shoulder is 22-26 inches, meaning even on the lower end of the breed, they need at least a 50-inch-tall fence to contain them. A 6-foot (72-inch) fence is relatively standard in the industry and is probably your best bet to start.
The energy of a German Shepherd means you might have to take a few extra steps to make sure they don't take the leap over a fence line and go on a neighborhood adventure.
What Type of Fence Is Best for German Shepards?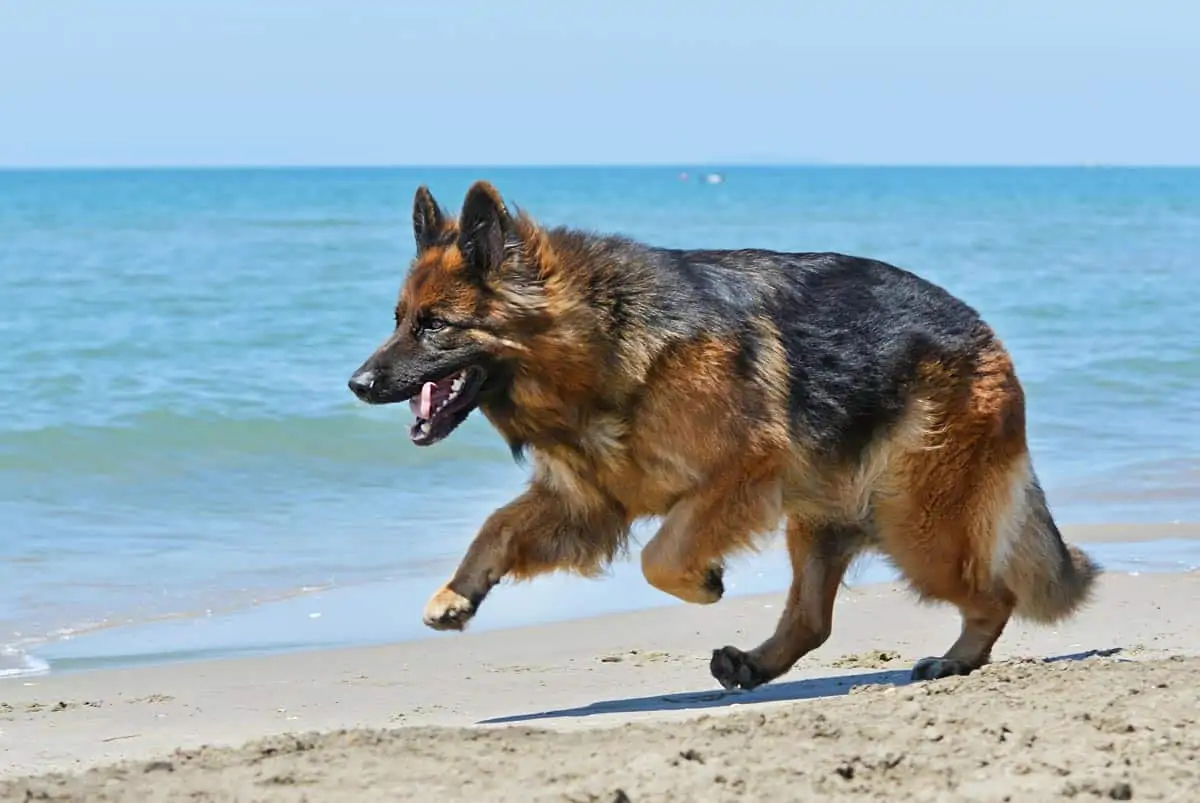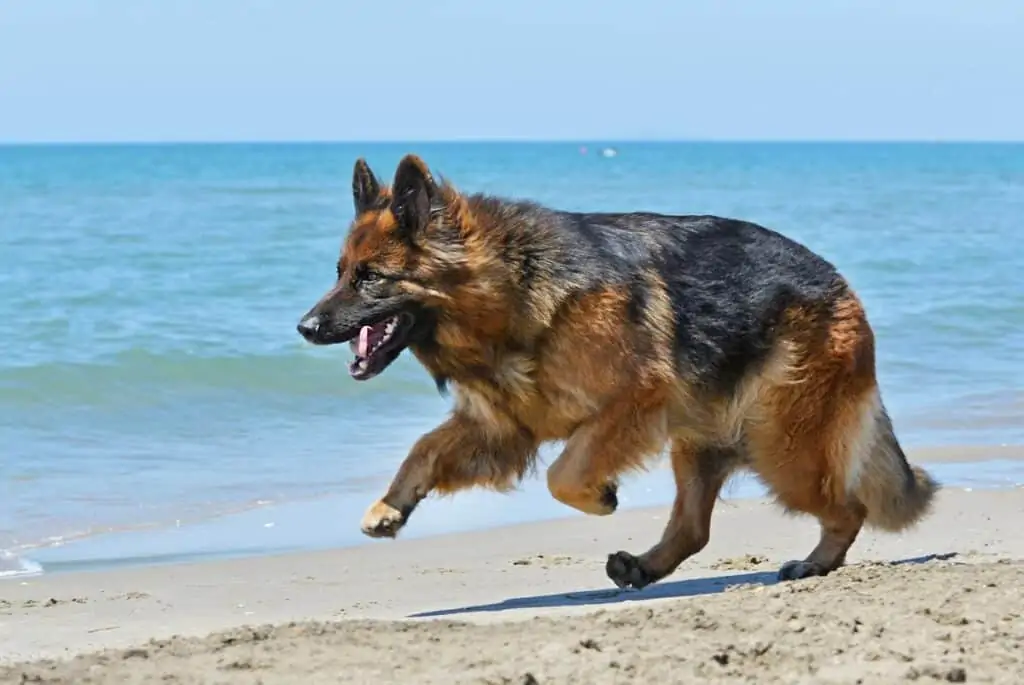 There are plenty of old-fashioned options for the German Shepherd owner who doesn't want an invisible fence. The trick is to ensure you use not just the proper height but the proper fence structure and materials, so your GSD doesn't revert to climbing in place of jumping. For example, a horizontal piece of wood or metal may appear as a convenient foothold to your dog!
Chain Link Fence
The classic chain link fence option is certainly one you might consider and one that's already in place in many yards. Though the chain link look is not visually appealing to everyone if built high enough, it has the potential to act as a barrier to your dog's jumping tendencies.
One reason chain link isn't the best option is that your dog can see directly through it, giving them lots of distractions and enticing reasons to attempt a jump over it. For the easily tempted dog, a more sight-proof option such as wood is probably better.
But the main reason to avoid chain-link is how easy it is to climb. The design of the interweaving wire is an inviting paw-hold for a curious German Shepherd with an escape plan. They can easily scale the fence as if it has steps made for them, and leap over the top with success.
For this reason, we don't recommend a chain-link fence unless you're willing to weave some plastic slats through the framework for climbing prevention.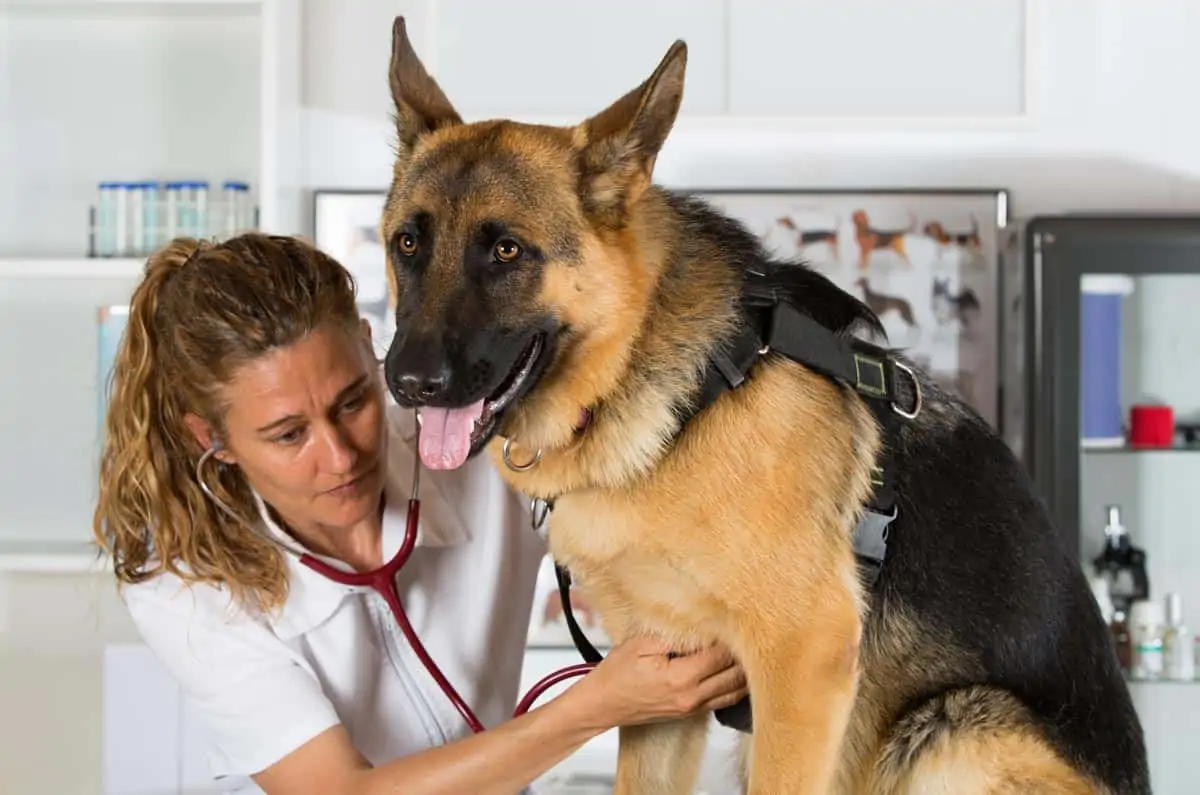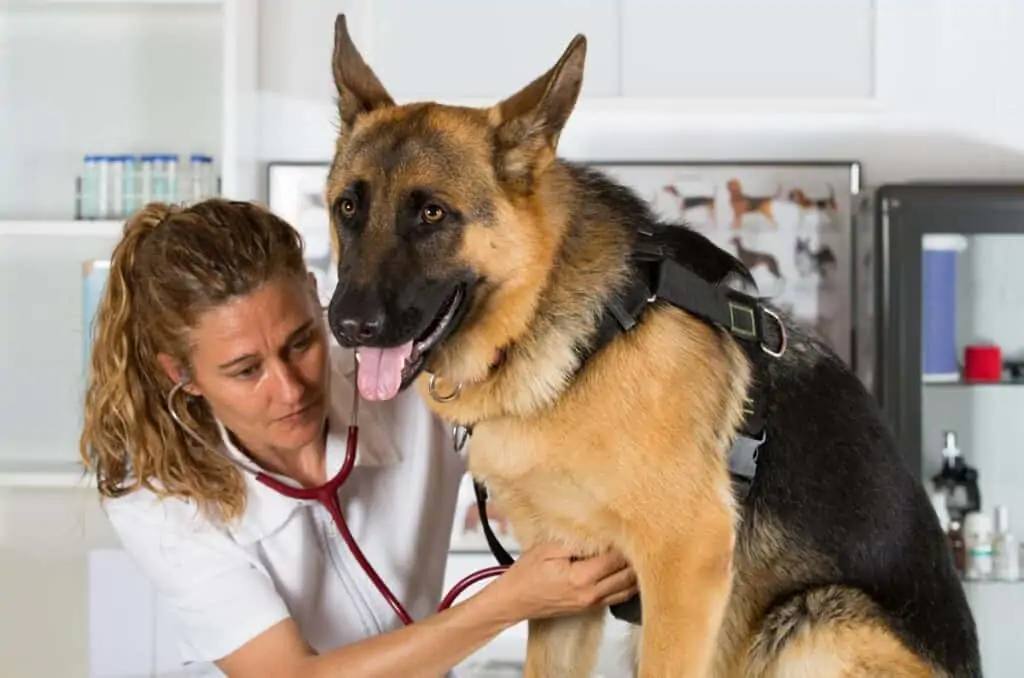 Vinyl Fence
Vinyl fencing is versatile and also has the advantage of being weatherproof. Construct your fence in any number of ways to prevent jumping temptations and update the look of your yard.
Metal Fence
A metal or wrought-iron fence is a particular style choice. Due to the heavy nature of the materials, this option can get pricey. If you decide to go with metal or iron, make sure you're ready for the commitment – and again, that it's constructed in a way to prevent your dog from climbing.
Wood Fence
The aesthetic of a wooden fence is more appealing to many homeowners than chain link or wire for its natural color and texture. One significant aspect of vertical wood slats is that it obstructs a dog's vision, so they can't get as easily distracted by the outside world.
Other Options
Alternative materials include PVC piping, grounded chicken wire (for dogs who tend to dig as well as jump), or an L-footer. If you enjoy the greenery, some well-placed trees or large shrubs can deter your GSD's jumping as well.
You can also add a dog proofer to an existing fence, which is an extra piece that attaches to the fence to add to its height. This addition is an excellent choice for yards that already have a fenceline installed, and the dog owner doesn't want to spend a fortune replacing their entire yard perimeter.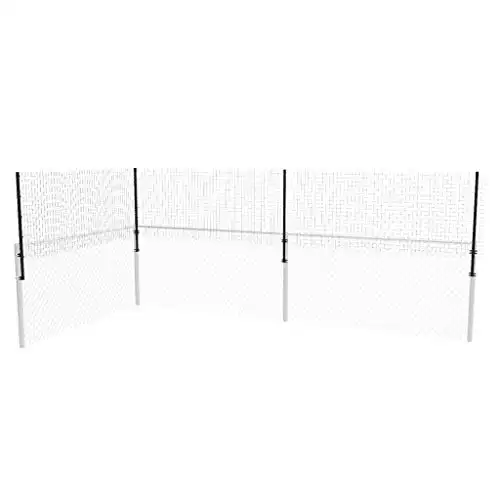 We earn a commission if you make a purchase, at no additional cost to you.
How Else Can I Avoid My German Shepherd Jumping Fences?
The time and cost involved in building a fence on your property can be prohibitive. In a situation where you can't put up a 6-foot fence – or at least not right away – you have other options to hold you over. Try these in the meantime:
Firm training with voice commands such as "no," "down," "off," "come," or recall.
A long lead attached to a tree or sturdy pole (though this is no substitute for regular exercise)
Clicker training as a proactive tool when your dog threatens to jump
Toys, snacks, etc. as a distraction from problem areas of an existing fence
Restricting your dog's backyard time so they don't have the opportunity to get too curious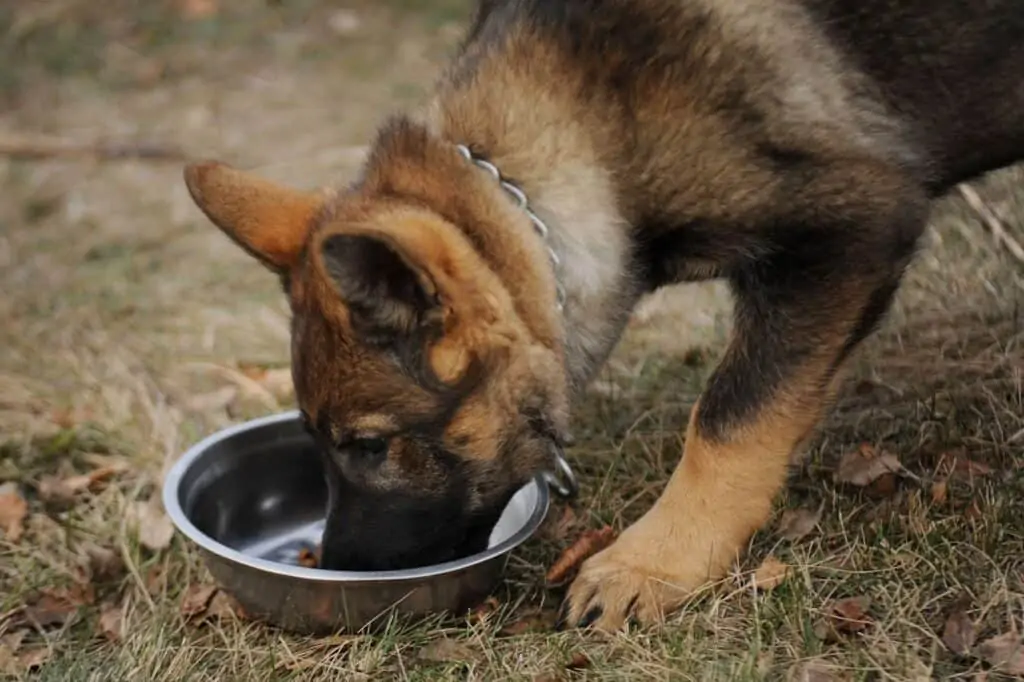 Parting Shot
The number-one way to ensure your GSD doesn't become a jumper is to fulfill their innate need to work and be active. Exercise them enough that they don't get bored, and it will remove or minimize their urge to jump to explore the world outside of your yard.