7 Best Golden Retriever Breeders In California (2023 Update)
Golden Retrievers are undeniably one of the most popular dog breeds in America. They're loyal, amiable, and adorable. But with great popularity comes great responsibility, and finding a reputable breeder is vital to ensuring your furry friend is healthy and well-cared for.
In this article, we'll cover everything you need to know to find the best Golden Retriever breeders in California. We'll discuss our selection criteria, highlight the top breeders in the state, and provide tips for choosing a breeder on your own.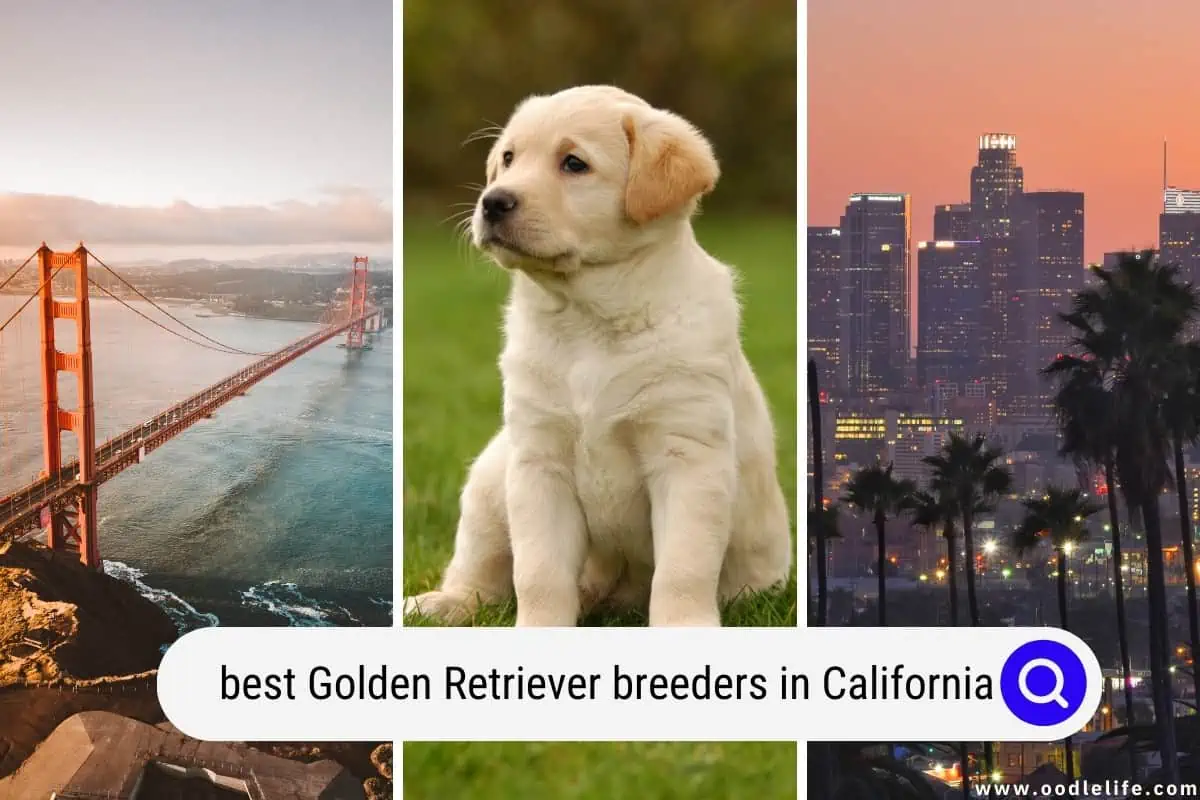 $300 2023 Discount!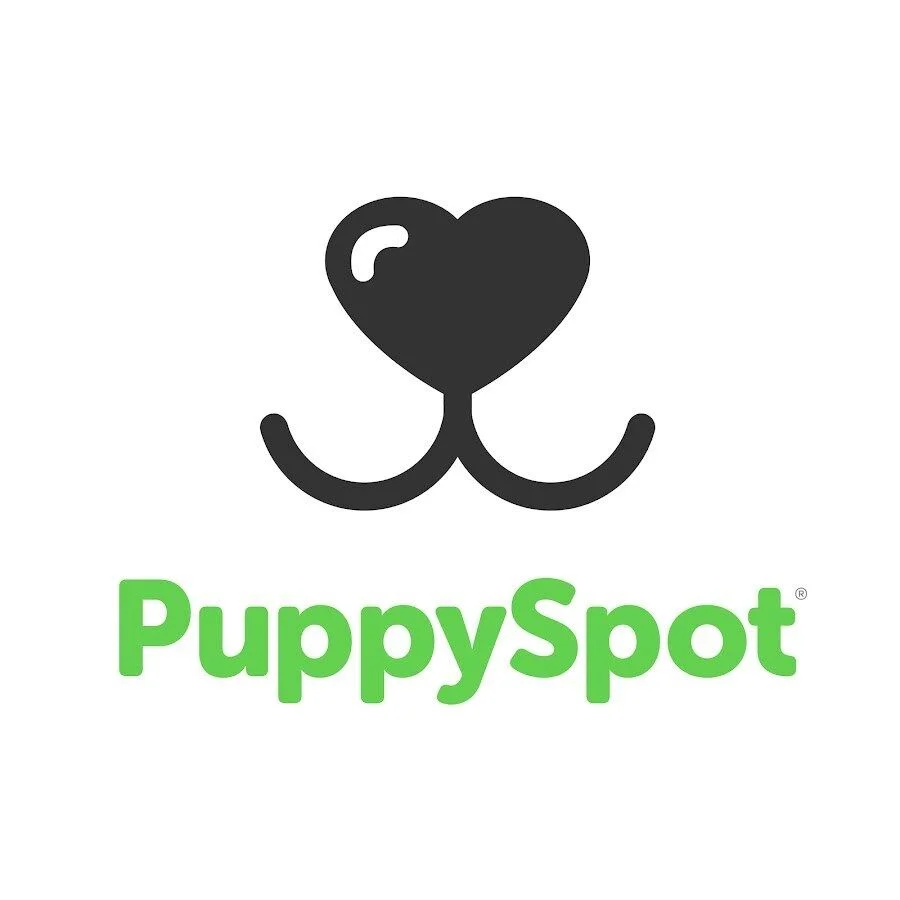 PuppySpot Adoption
PuppySpot is a reputable dog marketplace where you can browse and find compatible puppies right from the comfort of your home. They have placed over 200,000 puppies into homes in the US!
Click through and use the code PUPPY300 for $300 off any puppy adoption.
See Puppies and Save $300
So, get ready to find your new furry best friend from one of California's best breeders!
Criteria For Selection
We've been digging up the best breeders in the Golden State so that you can bring home a new furry friend with complete peace of mind. Here's what we sniffed out:
1. Prioritizing Health And Welfare
There's no need to play fetch with your worries when it comes to the health and welfare of your Golden Retriever. We've made sure only to include breeders who prioritize the well-being of their dogs with proper check-ups, vaccinations, and comfy living conditions. Your pup will be in good hands, guaranteed.
2. Experience And Expertise
Breeding Golden Retrievers is no walk in the park. That's why we only included breeders with years of experience and a deep passion for the breed. They have an established track record of success and know how to limit health hazards through meticulous breeding practices.
3. Reputation And Customer Reviews
When it comes to choosing a breeder, you want to make sure they're not barking up the wrong tree. That's why we've included breeders with a solid reputation within the Golden Retriever community and pawsitive reviews from satisfied customers. A reputable breeder will be transparent and answer any questions you may have.
4. Location And Availability
Let's face it; you want a Golden Retriever pup nearby and ready to go home with you. That's why we considered the breeder's location and availability of puppies. You'll want to work with a breeder who is accessible and easy to get in touch with.
Top Golden Retriever Breeders In California
1. Golden Retriever Buddies
Golden Retriever Buddies is a family breeder that has been breeding and raising top-quality, well-bred AKC Golden Retriever puppies for over 20 years. They understand that a Golden Retriever puppy is not just a pet but a cherished family member.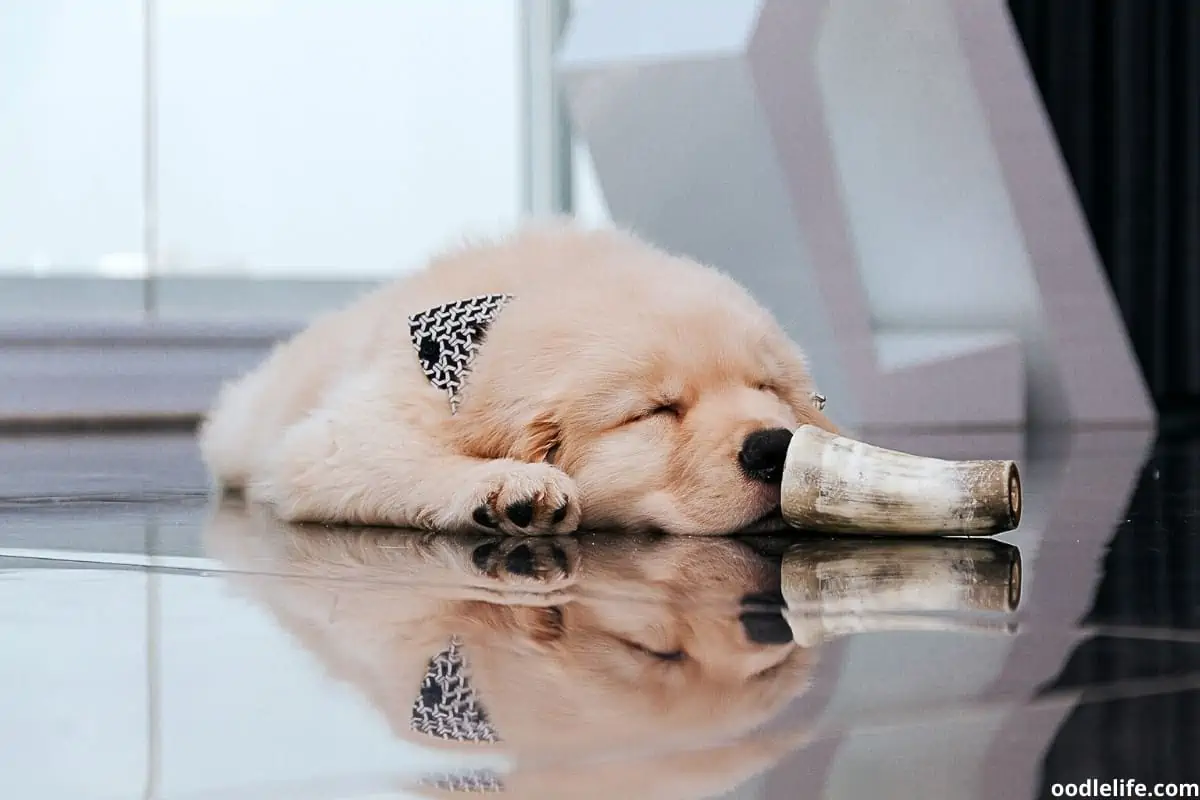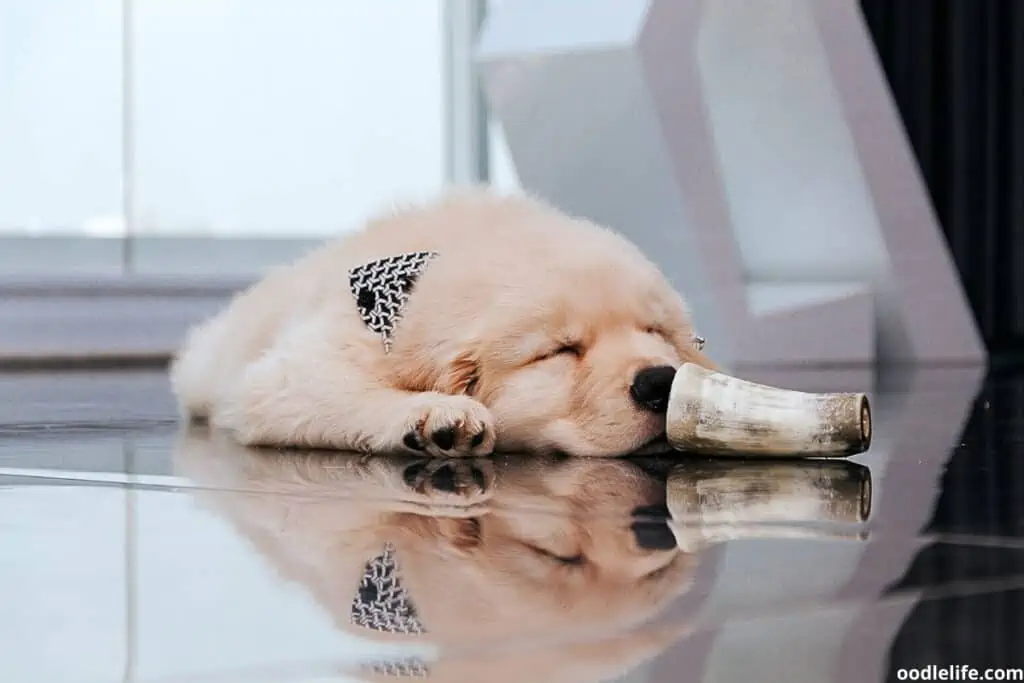 The health of your Golden is of utmost importance to Golden Retriever Buddies, and they take great care to ensure that their puppies are in the best possible condition. They emphasize the importance of exercise, grooming, immunizations, worming, and high-quality vitamins and probiotics. They give their puppies the best start in life and encourage their new families to continue the care with lots of love throughout their Golden's life.
Golden Retriever Buddies knows the importance of social interaction in a Golden's life. So, they gradually introduce their puppies to new people, other dogs, toys, and different environments to help them grow into confident and well-adjusted adult Goldens.
They also stress the importance of waiting until a puppy has completed all of their puppy shots before exposing them to other unvaccinated dogs or public areas.
Golden Retriever Buddies gladly serves California, Arizona, Utah, Nevada, and neighboring states, but they do not ship their puppies unattended. They offer a delivery service for an additional fee.
Contact Details:
Website: https://goldenretrieverbuddies.com/
Phone: (951) 906-5354
Location: San Jacinto, California
2. Golden Meadows
Golden Meadows is more than just a breeder of top-quality Golden Retriever puppies— it's a home where dogs are treated like family.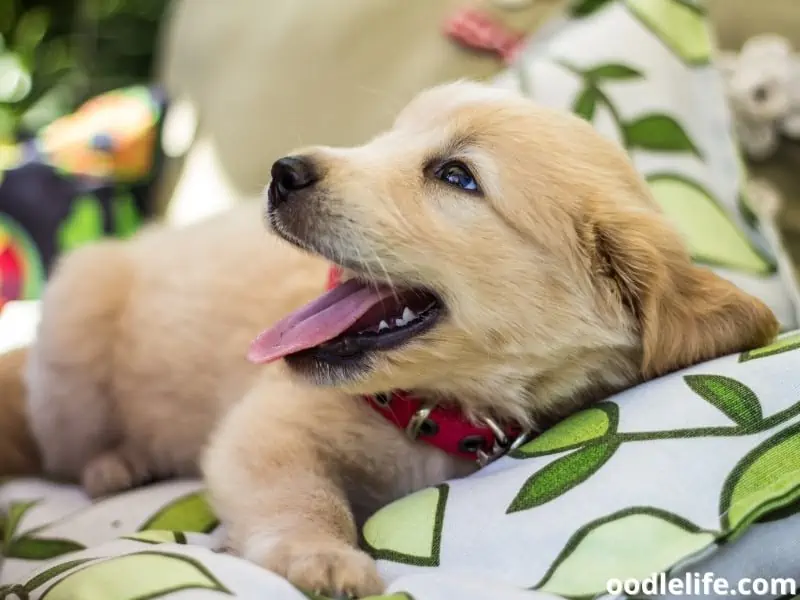 They take their breeding philosophy seriously, which calls for health testing and clearances to ensure the health and well-being of their puppies. But their care for their dogs doesn't stop there—they also provide spacious puppy yards, nursery buildings for training, and even a custom-built puppy training center for potty breaks, nap time, and learning manners.
At Golden Meadows, they don't just pamper their pooches with a certified dog groomer to keep them looking and feeling their best. They also take pride in their commitment to programs like the Canine Good Citizen (CGC) Program, which emphasizes responsible pet ownership and etiquette.
So, if you're looking for a breeder that genuinely has the best interest of their dogs at heart, Golden Meadows is the ultimate destination. With their state-of-the-art facilities, top-notch trainers and caregivers, and dedication to programs like the CGC, you can rest assured that their dogs are well-behaved and esteemed members of the community.
Contact Details:
Website: https://www.goldenmeadowsretrievers.com/
Phone: (805) 532-2216
Email: [email protected]
Location: Moorpark, California
3. Lucky Charm Golden Retrievers
Lucky Charm Golden Retrievers is a small-scale breeder in Southern California specializing in English Cream Golden Retrievers. They follow the Kennel Club of England's breed standard to make informed breeding decisions. This results in symmetrical, balanced, and powerful dogs with friendly and confident temperaments.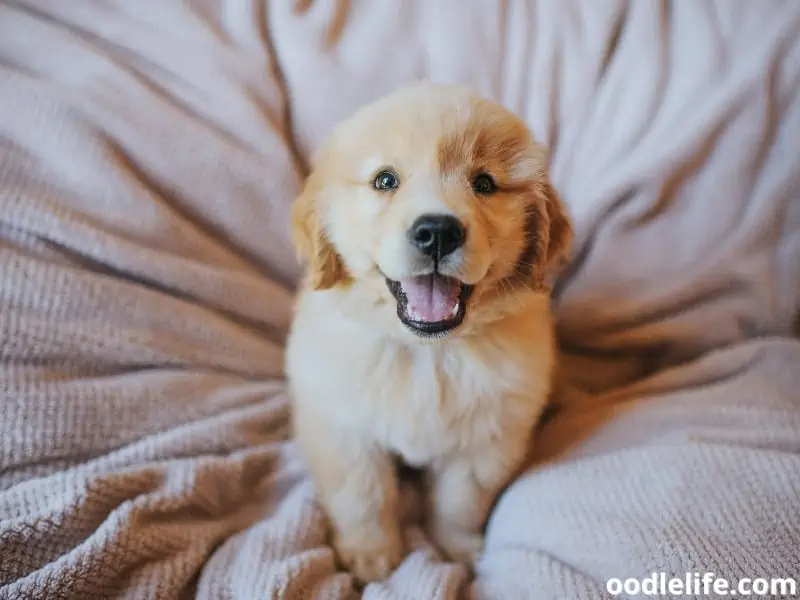 For Lucky Charm Goldens, health is a top priority. They undertake all necessary health testing and clearances to produce the healthiest puppies possible. They give the dogs high-quality food and proper care so that they develop into affectionate and intelligent Golden Retrievers.
The breeding philosophy of Lucky Charm Goldens is simple—breed for conformation, health, and temperament. Every year, they go to at least two shows to make sure their dogs are champions before they breed them. They interact with their puppies to learn their personalities and match them with the perfect families.
Moreover, Lucky Charm Goldens understands the importance of socialization and takes the necessary measures to expose the pups to various age-appropriate activities, noises, textures, and other safe outdoor activities. This socialization will help them become well-rounded and happy pets in their forever homes.
Overall, Lucky Charm Goldens gives their puppies and adult dogs the best possible care. They are confident about the soundness of their breeding program and back it up with a 1-year health guarantee.
While their puppies are not for breeding and sold with limited registration, Lucky Charm Goldens ensures they are happy, healthy, and well-adjusted in their forever homes.
Contact Details:
Website: https://www.luckycharmgoldens.com/
Phone: (909) 229-1136
Email: [email protected]
Location: Colton, California
4. Classic Heritage Golden Retrievers
Classic Heritage Golden Retrievers is a breeder passionate about English Golden Retrievers. They breed their dogs to the British Standard, which is different from the AKC standard for Golden Retrievers. The English type has a fuller head, rounder eyes, and a lighter color than the American type.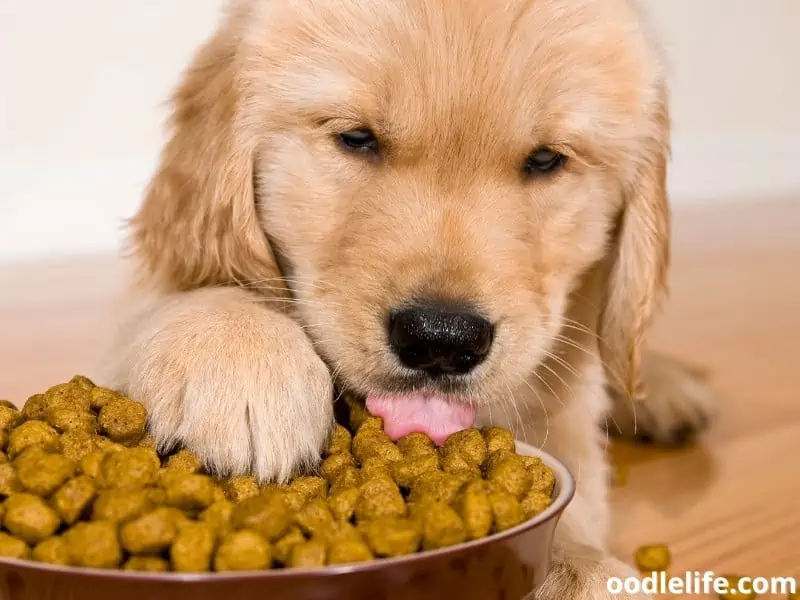 For Classic Heritage, raising English Golden Retrievers is a family endeavor. The breeder involves everyone in raising their animals, from the youngest to the oldest members of the family, and their kids help with showing the dogs and raising them. The puppies go home to their new families, well-socialized and loved.
The breeder is in Newcastle, northern California, near Sacramento and other communities like Roseville, Loomis, Folsom, Orangevale, Auburn, Lake Tahoe, and Reno. They also have a Southern California site in San Diego's North County, which is strategically positioned between Orange County and the Los Angeles area.
Classic Heritage Golden Retrievers prioritizes health and ensures the dogs undergo health testing and clearances. The breeder also provides quality care for puppies and adult dogs.
They ensure that their English Golden Retrievers are household dogs that enjoy time with their family. The breeder travels with puppies to deliver them to their new homes out of state.
Overall, Classic Heritage Golden Retrievers is a breeder committed to producing English Golden Retrievers of the highest caliber, each with perfect health, beauty, and temperament. They also place a high value on the welfare and socialization of their puppies.
Contact Details:
Website: https://www.classicheritagegoldenretrievers.com/
Phone: (916) 259-3887
Location: Newcastle, California
5. Stage Gulch Goldens
At Stage Gulch Ranch, Shayla, the breeder, grew up surrounded by animals and always knew she'd be back raising them one day. Little did she know that she'd be raising puppies too!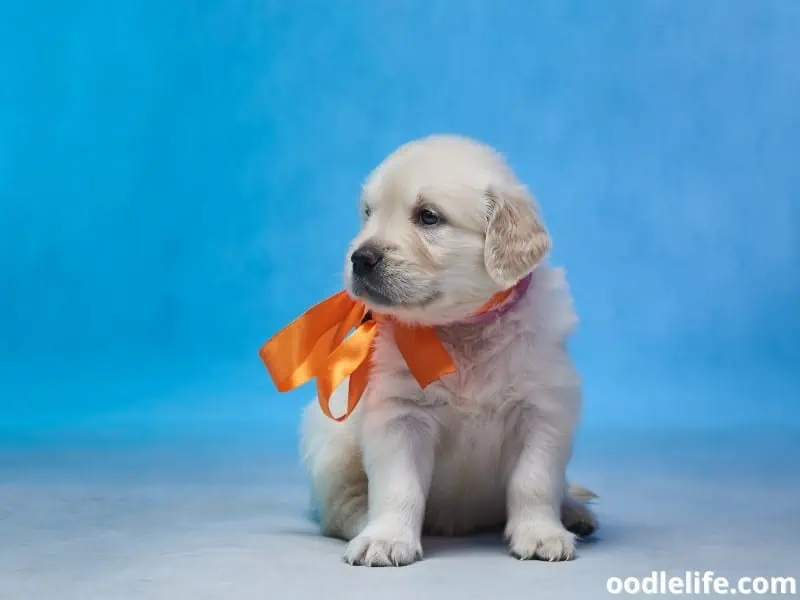 After obtaining her Master's degree in speech-language pathology, Shayla found Noam, the perfect dog to aid with her patient's therapy. Noam had a great temperament and was a regal and loving companion. As a result, Shayla started breeding Noam to preserve his legacy and to help others through therapy dogs.
Stage Gulch Goldens produce high-quality Cream Retrievers and raise their puppies using Puppy Culture and Avid Dog practices. They give Early Neurological Stimulation (ENS) and Early Scent Introduction (ESI), which strengthens their immune systems, stress tolerance and helps prevent behavioral issues.
In addition, they use OFA, PennHip, and FCI testing for the eyes, heart, hips, and elbows of their puppies and older dogs. They also carry out genetic testing to look for any flaws.
The breeder believes in socializing the puppies, which includes visiting nursing homes and mingling with the community. They believe in using their dogs for therapy and are working towards a future where all their dogs can help others.
Contact Details:
Website: https://stagegulchgoldens.com/
Phone: (707) 782-3309
Email: [email protected]
Location: Petaluma, California
6. Chadwick's Goldens
With over 20 years of expertise, Chadwick's Goldens is dedicated to giving customers AKC-registerable, microchipped puppies of the highest caliber. This sunny Southern California breeder offers amazing English Cream Golden Retrievers and American Standard Golden Retrievers from world-class championship lineages.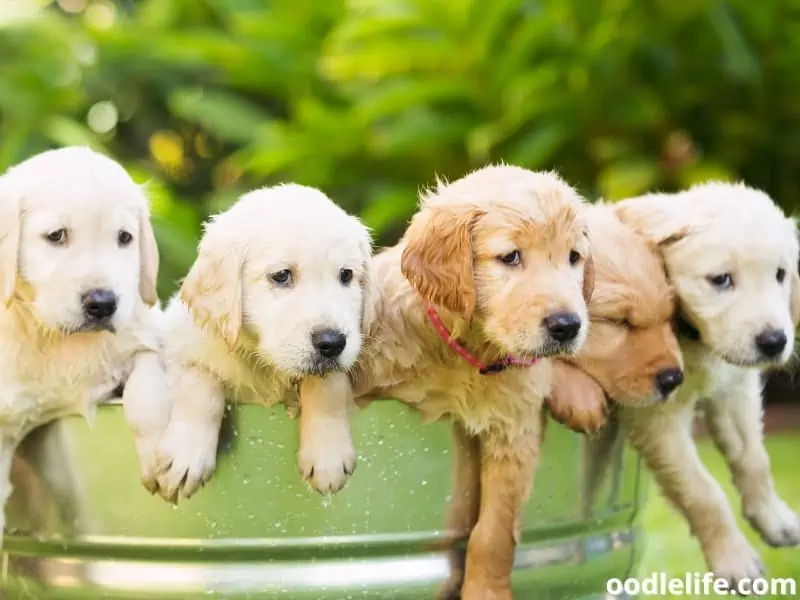 They use European Golden Retrievers in their breeding program because of their reputation for looks and health. However, they do not breed full American Goldens as they are at an increased risk of cancer.
They socialize their puppies with Toy Poodles, cats, and young grandchildren while raising them in a loving home. To ensure that their puppies grow up to be well-rounded companions, they give them lots of love and early socialization.
Chadwick's Goldens also takes great care to prioritize the health of their puppies and adult dogs. They conduct health testing and clearances to ensure the highest quality of care. They also require their buyers to wait until their pups are two years old before spaying or neutering them, due to the increased risk of cancer from early spaying and neutering.
If you're interested in purchasing a pup, Chadwick's Goldens asks for a $500 deposit to hold one. They give "picks" in the order of the deposits, with pups going home at 8 weeks. All of their puppies are fully vaccinated, wormed, vet examined, microchipped, and doggy-door trained.
With all the love and care that Chadwick's Goldens provides, your Golden is sure to show you a lifetime of love in return!
Contact Details:
Website: https://chadwicksgoldens.com/
Phone: (951) 756-1960
Email: [email protected]
Location: Hemet, California
7. Shadalane Golden Retrievers
Shadalane Golden Retrievers is a breeding program dedicated to producing high-quality Golden Retrievers with exceptional structure, attractiveness, intellect, and temperament. They collaborate with numerous established Golden Retriever breeders in America to integrate lineage with the best possible results and variety in a restricted breeding program.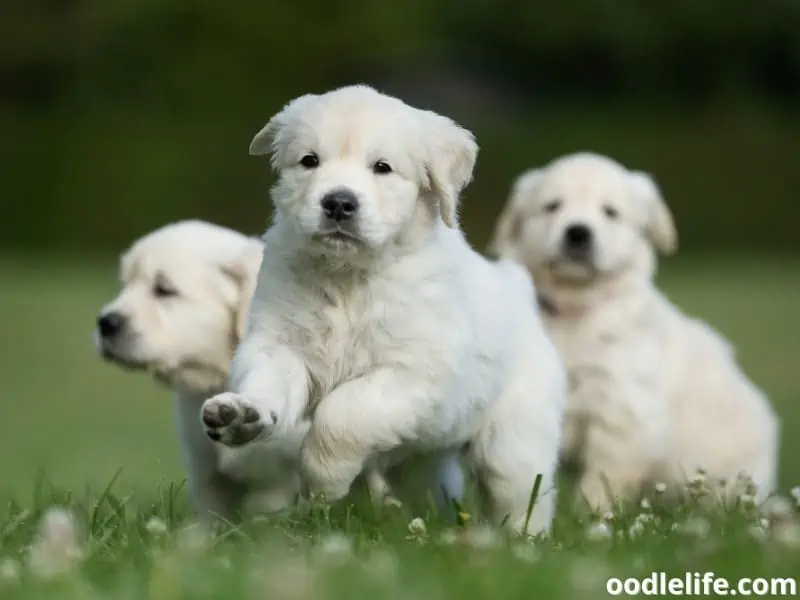 Shadalane also offers trained Golden Retriever puppies for families who do not have the expertise, patience, or ability to teach young puppies. In collaboration with the Puppy Training Academy, they have put together a highly successful training program with experienced trainers. This helps families lay a solid foundation through positive reinforcement training techniques.
They have also meticulously screened for the health of their dogs for several generations, and they remove any dog from their breeding program with any health issues.
They raise their pups in a family atmosphere, where they learn basic etiquette and house rules. They also offer the option of acquiring an older, trained Golden Retriever puppy or young adult for families who prefer to avoid going through the puppy stages.
Contact Details:
Website: https://www.shadalane.com/
Phone: (760) 295-2222
Email: [email protected]
Location: Vista, California
Conclusion
Choosing a Golden Retriever breeder is like choosing a partner—you want someone with a good reputation, health screening, and someone you can trust. Don't swipe right on just any breeder; take the time to visit their facility and meet their dogs in person. And don't be afraid to ask for references—it's not stalking; it's responsible dog ownership.