Best Goldendoodle Breeders in Maryland (2023 Update)
Since Goldendoodles are friendly, clever, loyal, and energetic, they are a favorite for many dog lovers. Furthermore, they're a perfect fit for allergic individuals because they have hypoallergenic coats. They also come in different sizes.
Locating a trustworthy Goldendoodle breeder is often the most challenging aspect of acquiring your new canine companion. When selecting a breeder, you must do your homework and learn as much as possible about each option.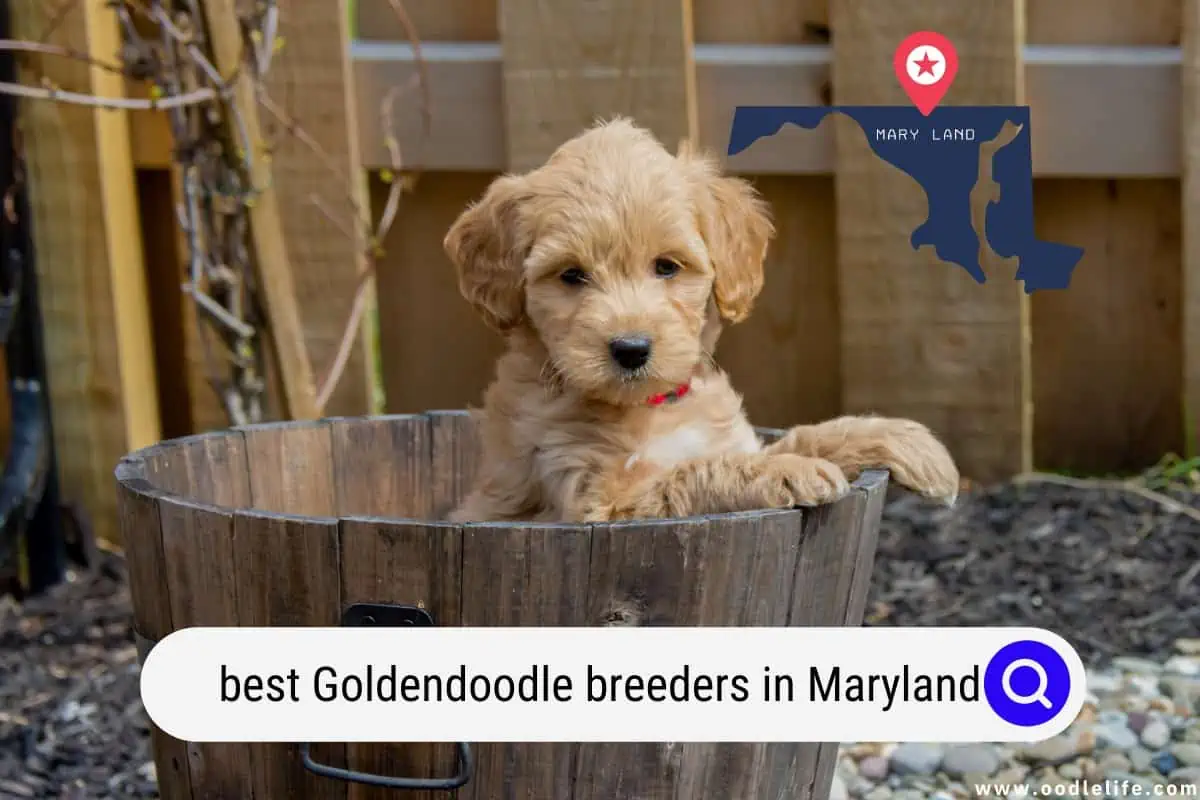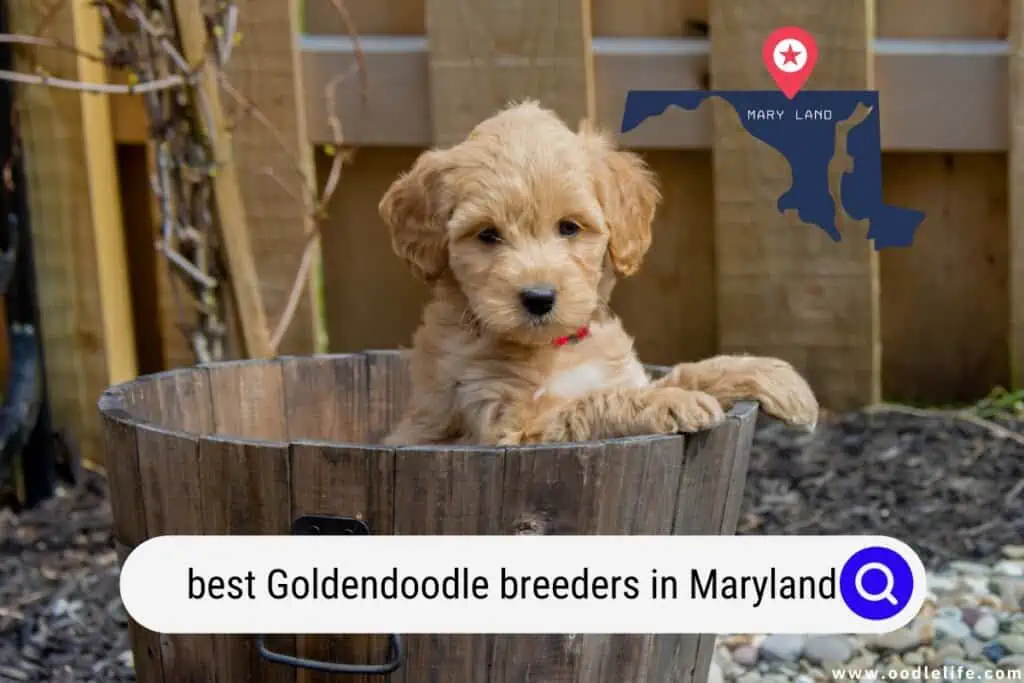 $300 2023 Discount!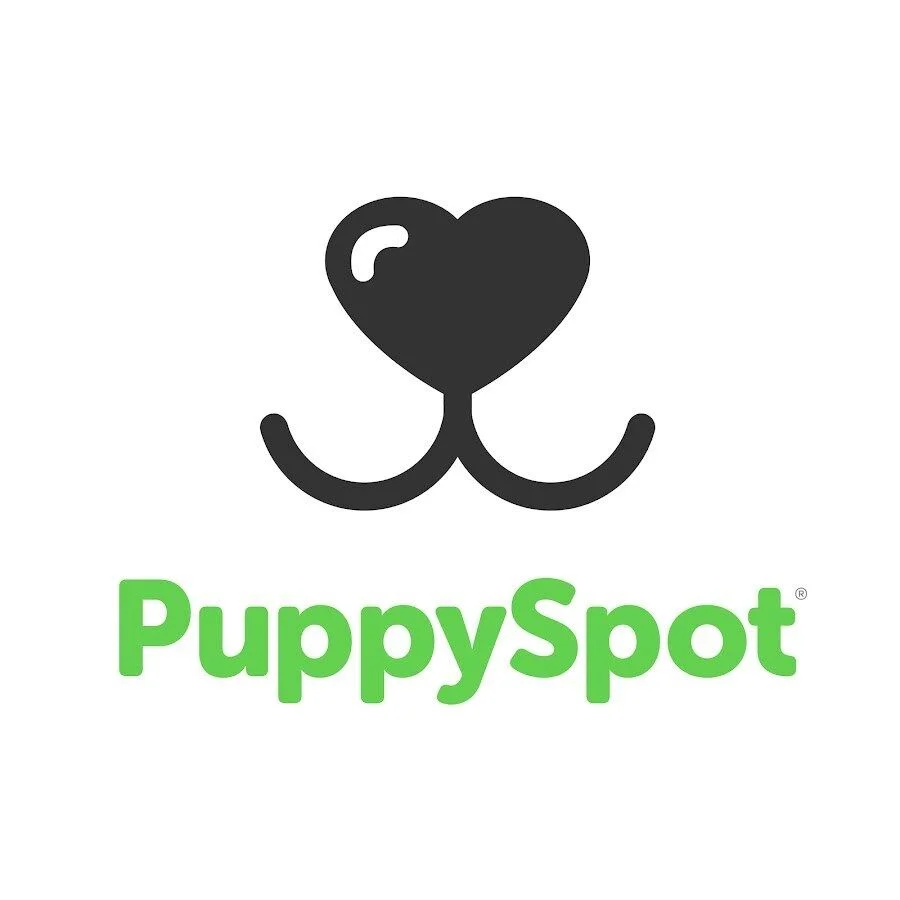 PuppySpot Adoption
PuppySpot is a reputable dog marketplace where you can browse and find compatible puppies right from the comfort of your home. They have placed over 200,000 puppies into homes in the US!
Click through and use the code PUPPY300 for $300 off any puppy adoption.
See Puppies and Save $300
To help you make the right choice, we've compiled the best Goldendoodle breeders in Maryland.
1. Maryland Doodles
Taking the first spot on our list, Maryland Doodles concentrate on producing full and Standard Goldendoodles. All their breeding parents are American Kennel Club-registered. Thus, you can be certain you're getting a healthy, well-socialized, and trained puppy.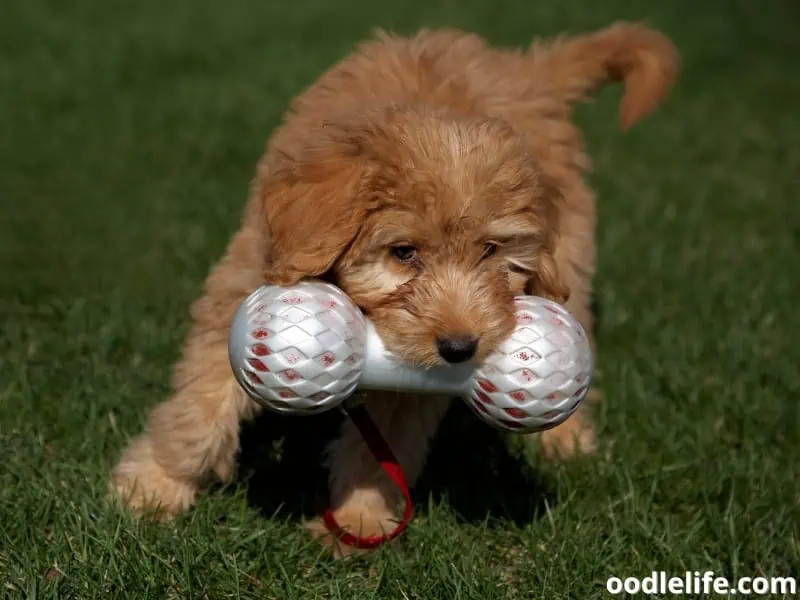 The breeder treats their puppies as part of a bigger family. They receive timely feeding, grooming, training, and socialization. As a family-run business, they've perfected the art of raising adorable Goldendoodle puppies for many generations.
The breeder introduces all its puppies to people and novel situations, which helps them adapt to their new homes without difficulties. They guarantee that each puppy qualifies as a family dog by letting kids interact with them when they're two weeks old.
They produce hypoallergenic Goldendoodle puppies, making them suitable for anyone with fur allergies. The high-quality care given to each puppy from birth ensures they'll grow up with pleasant personalities.
Contact Details:
Website: https://www.marylanddoodles.com/
Phone: (801) 860-1301
Email: [email protected]
Location: Hagerstown, Maryland
2. Curly Doodles
Curly Doodles primarily focus on producing F1B and multigenerational Miniature Goldendoodles. All their breeding parents have passed the Orthopedic Foundation for Animals' stringent health and genetics tests to rule out any possibility of passing down hereditary conditions to the puppies.
Curly Doodles has earned recognition for being a reputable breeder and holds the "blue ribbon breeder" title from the Goldendoodle Association of North America. Each puppy is observed during the first few weeks to determine the best family for their unique disposition.
They begin socializing their puppies at a young age to ensure they quickly adapt to new environments. The breeder allows the puppies to interact with individuals of all ages and other animals within the facility. All the puppies are vet-checked and have up-to-date vaccinations and deworming records.
They also come with 30 days of pet insurance.
The breeder microchips all puppies to ensure they can monitor their progress and guarantee they're safe. They will also give you food and water bowls, a leash, and a crate during adoption. Furthermore, they have a special section on their website covering post-adoption care in great detail.
Contact Details:
Website: https://www.curlydoodles.com/
Phone: (443) 621-9736
Email: [email protected] or [email protected]
Location: Taneytown, Maryland
The family-run business focuses on breeding F1B Miniature and Standard Goldendoodles. Everyone in the family has their contribution towards the puppies' rearing. They're a close-knit family with twenty-four grandchildren and great-grandchildren working together to breed healthy and happy puppies.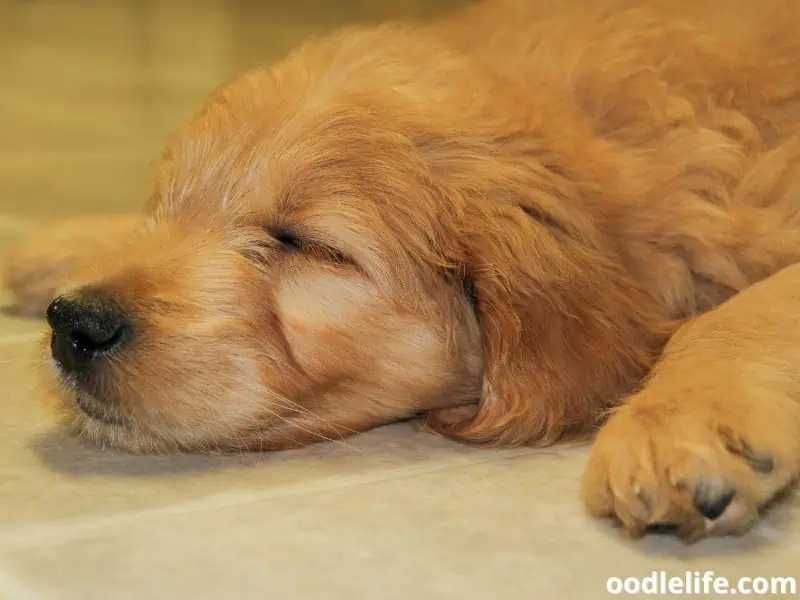 Currently, they're not permitting prior visits. The restriction ensures the breeding parents and their puppies have a peaceful and quiet environment. Instead, they update their website and social media platforms with new information as the puppies grow.
Puppies are put up for adoption once they've been vet-checked and have up-to-date vaccinations and deworming records.
Each puppy has a one-year health guarantee, a packet of dog food, a toy, or a blanket. Once you choose a puppy, you'll get a personalized puppy booklet containing useful tips on how to care for your new family member.
Contact Details:
Website: https://quailridgepoodlesanddoodles.com/
Phone: (301) 535-7906
Email: [email protected]
Location: La Plata, Maryland
4. Rocks and Roses Doodles
Rocks and Roses Doodles have been producing healthy, Miniature Goldendoodles for more than four years. They hold a blue ribbon under the Goldendoodle Association of North America for being a top-notch breeder. They nurture their Goldendoodle puppies in a family-home setting, affording them plenty of room to explore and play to their hearts' content.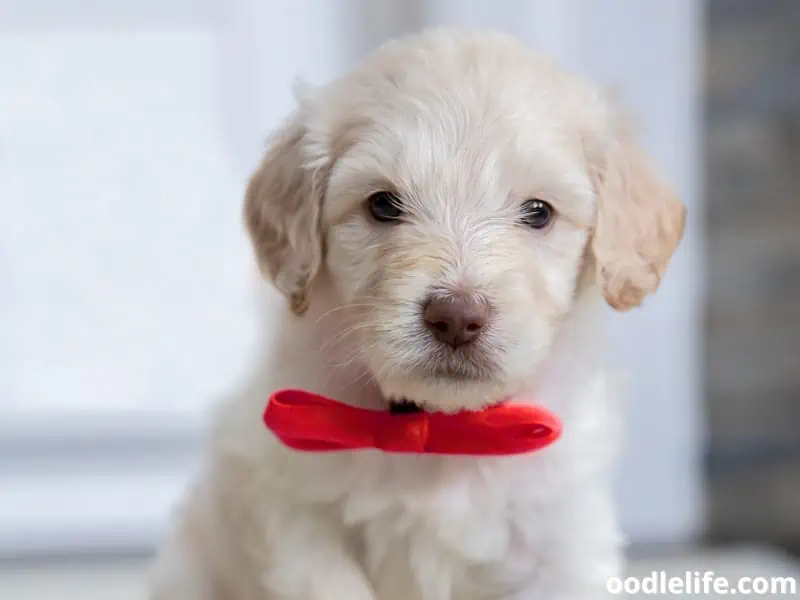 The puppies sleep in temperature-regulated spaces and receive the best possible care. Furthermore, the breeder feeds high-quality dog supplements to support healthy growth.
Rocks and Roses Doodles subject each puppy to fundamental puppy training. They also receive early neurological stimulation and various enrichment procedures such as puppy culture.
They adhere to strict breeding guidelines and don't offer their puppies until they're ten weeks old. Puppies from their litter are multigenerational, rendering their coats naturally hypoallergenic.
Rocks and Roses puppies come from healthy and reputable lineages. They spend much time and effort finding the ideal breeding parents for their program. The dogs undergo screening for genetic conditions that are prevalent in Goldendoodles.
Contact Details:
Website: https://rocksandrosesdoodles.com/
Phone: (410) 937-7221
Email: [email protected]
Location: Street, Maryland
5. Copper Oaks Mini Goldendoodles
Copper Oaks Mini Goldendoodles nurture their puppies at home, giving them unending affection and socialization. They can swim in the pool and even go to kid-friendly tea parties.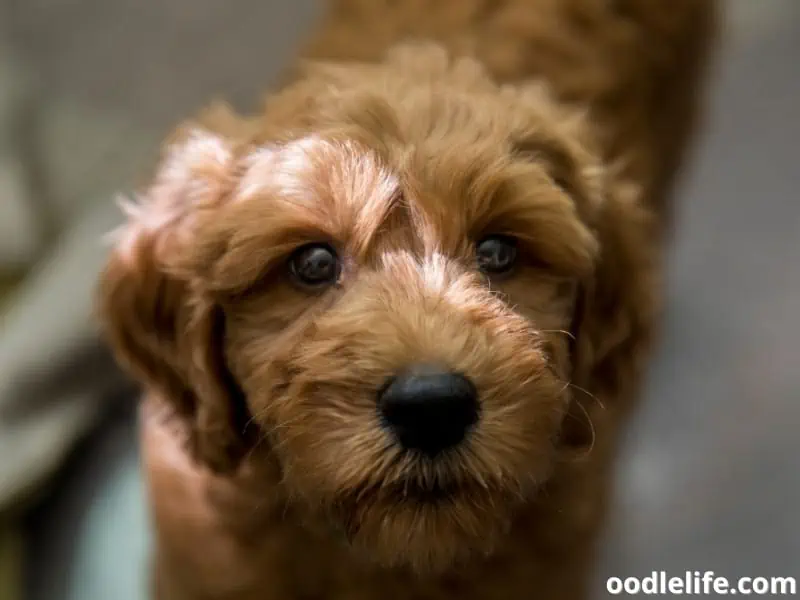 They mainly focus on breeding F1B petite and Miniature Goldendoodles. The breeder performs intensive genetic health tests on their breeding dogs to guarantee the puppies are free of heritable conditions. Before being placed into a new home, each puppy is vet-checked and has up-to-date deworming records.
Besides a two-year health guarantee and microchipping, each puppy is sent home with a blanket containing their mother's scent. The puppies also undertake early potty training in preparation for their adoption. Furthermore, their website has crucial information for first-time and future dog owners.
Contact Details:
Website: https://copperoaksgoldendoodles.com/
Phone: (240) 812-1021
Email: [email protected]
Location: Frederick, Maryland
6. Albark Kennels
Albark Kennels has been in business since 2004, producing happy and healthy Goldendoodle puppies. Their puppies have cheerful personalities because they nurture in a loving home environment. The family's kids actively care for the puppies, including feeding, playing, and interacting.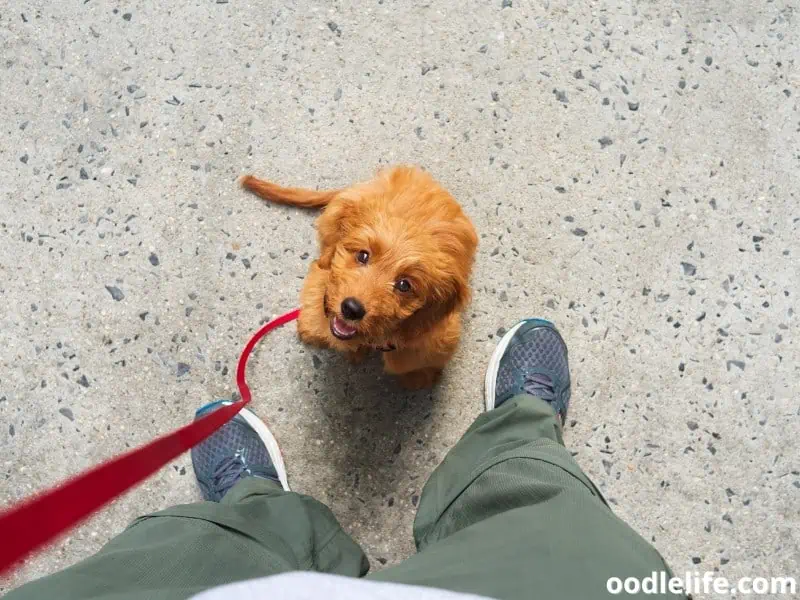 They primarily focus on breeding F1 and F1B Goldendoodle puppies. The puppies are vet-checked and fully vaccinated before they are ready for adoption. All their litters have puppies from healthy lineages.
Each of their breeding parents is subjected to thorough genetic screening to ascertain they're free of hereditary illnesses. They also undergo vet examinations to ascertain that their eyes, hearts, hips, and elbows are in good condition.
To achieve their goal of breeding perfect Goldendoodles, Albark Kennels prioritizes their puppies' physical and mental well-being.
Contact Details:
Website: https://albarkkennels.com/
Phone: (301) 501-7428
Email: [email protected]
Location: Oakland, Maryland
7. Upper Bay Goldendoodles
Upper Bay Goldendoodles are the newest breeder on our list, as their first Goldendoodles litter was made available in 2021. Even though they haven't been breeding for very long, their commitment, accreditations, and excellence overshadow their short history.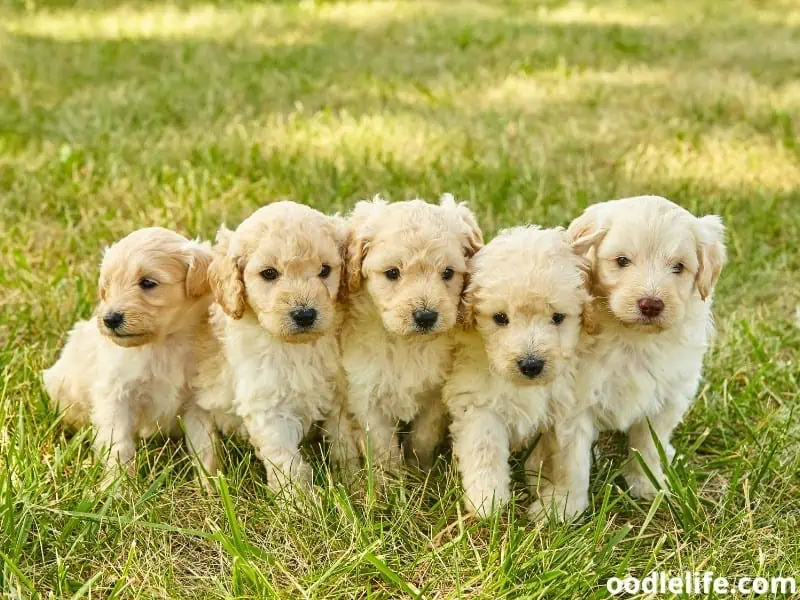 They rear all the puppies in their family home. The family had been longing to get into the breeding business for a long time. However, it wasn't until their four children had left the house that they decided to start looking into, reading about, and following other competent breeders.
Before breeding, they spend time researching and choosing their breeding parents. They then put them through rigorous genetic testing to guarantee that they produce healthy puppies.
They initiate their puppies too early for socialization to prepare them for their new homes. The Orthopedic Foundation for Animals (OFA) conducts genetic testing on puppies to guarantee their health. The puppies have up-to-date deworming medication before adoption.
They're also vet-checked and come with a 2-years health guarantee.
Contact Details:
Website: https://upperbaygoldendoodles.com/
Phone: (443) 807-0871
Email: [email protected]
Location: Street, Maryland
8. Watersedge Goldendoodles
As one of the best Goldendoodle breeders in Maryland, Watersedge Goldendoodles strives to produce healthy Goldendoodles. They treat every puppy like a family pet, just like the breeding parents. Everyone in the family has a role in overseeing each puppy's socialization, training, and nurturing.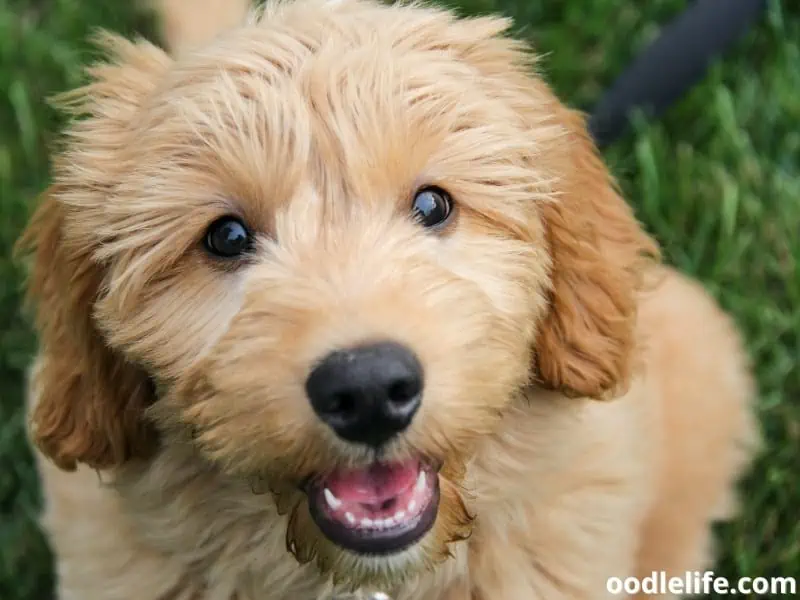 The family's commitment is breeding Goldendoodles so they can comfortably adjust to living in a lively and noisy home environment. They start the puppies with early puppy culture training and potty training to prepare them for their new homes. The family has used these breeding and training methods for almost six years.
While in their care, the puppies undergo periodic examinations to ascertain that they're healthy and will not present any complications in the future. Their website contains information about their breeding parents and available puppies for adoption.
Contact Details:
Website: https://www.doodlepuppies.dog/
Phone: ‪(443) 687-9361‬
Email: [email protected]
Location: Baltimore, Maryland
Final Thoughts
If you don't want an aggressive dog, a Goldendoodle is an excellent option. However, when buying a new puppy, you must take your time and investigate as many breeders as possible. The Goldendoodle breeders in Maryland on this list are good ones, but you should still research more about their practices.