7 Tested Homemade Dog Treat Recipes Without Flour
Nothing says "I love you" like a homemade treat. While many of us would like to offer our furry friends hand-crafted indulgences, the thought of making dog treats may seem daunting.
Certain frequently used human-friendly ingredients can sit poorly with dogs or cause adverse reactions. Though flour isn't lethal to canines, it can result in allergic reactions and stomach issues.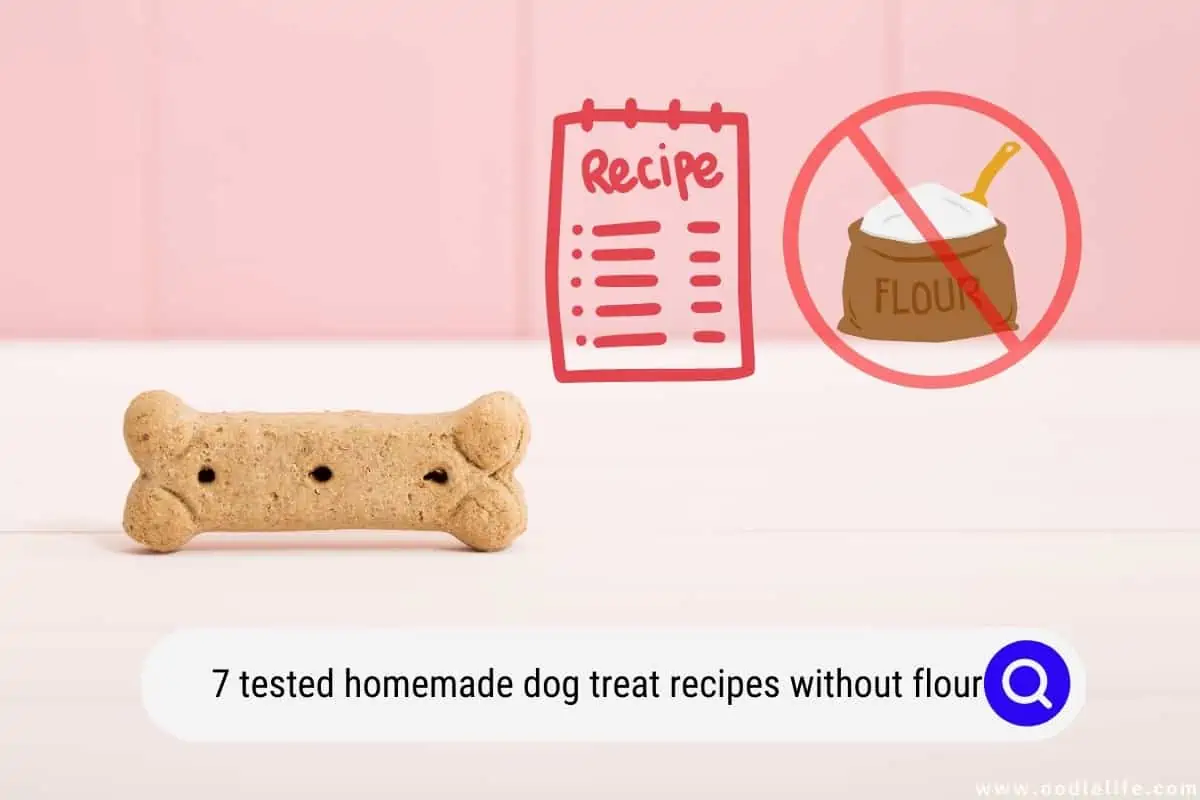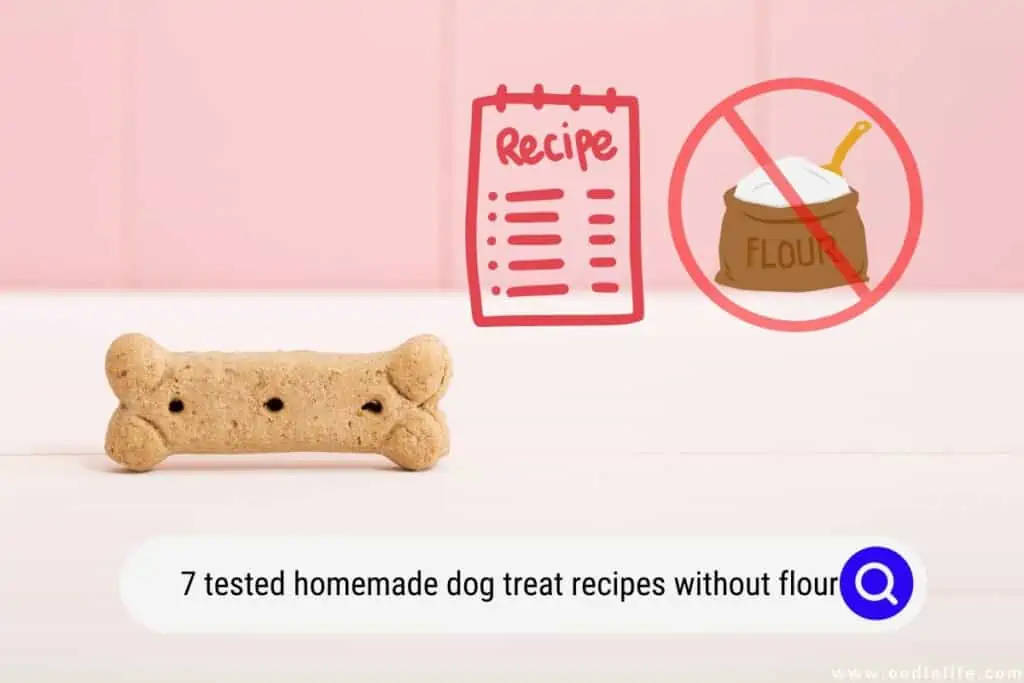 Fortunately, plenty of healthy, satisfying recipes for flour-free dog treats exist. Plus, many of the biscuits featured on this list use three ingredients or less. They are simple and nutritious, and dogs love them.
Read on for the best seven tested homemade dog treat recipes without flour.
1. Pumpkin Dog Treats Without Flour
These simple dog treats use four basic ingredients to craft a healthy treat for our furry friends. The biscuits are made entirely of simple pantry staples; you may be tempted to steal one for yourself before feeding the rest to your pup.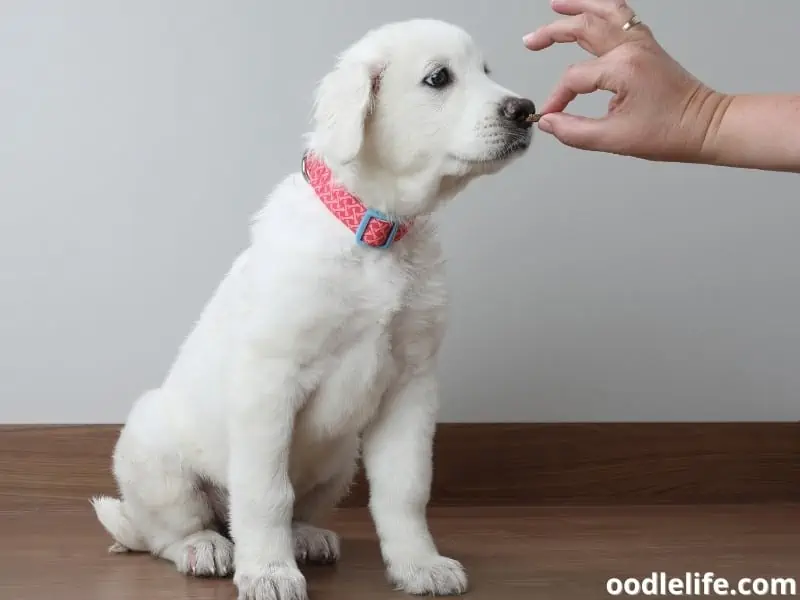 Before you set out to make pumpkin dog treats without flour, raid your pantry for these ingredients:
Quick oats
Cinnamon
Pumpkin puree
Applesauce
Besides providing the treats with flavor, these components contain vital nutrients essential for a pup's well-being. These tasty little biscuits add the following to your dog's diet:
Fiber
Vitamin A
Antioxidants
Vitamin B
Omega-6 fatty acids
Stored correctly, the treats last at room temperature for seven to ten days. Refrigerated, the biscuits remain fresh for up to two weeks. They can be kept frozen for up to three months.
Not only are the biscuits simple and healthy, but they also come together quickly. The whole recipe takes only 25 minutes to execute.
Check out the recipe here.
2. Pumpkin & Peanut Butter Dog Treats
The best dog treats are made from simple, organic ingredients. These pumpkin and peanut butter dog treats don't take your pup all the way back to their primitive wolf roots, but they come close.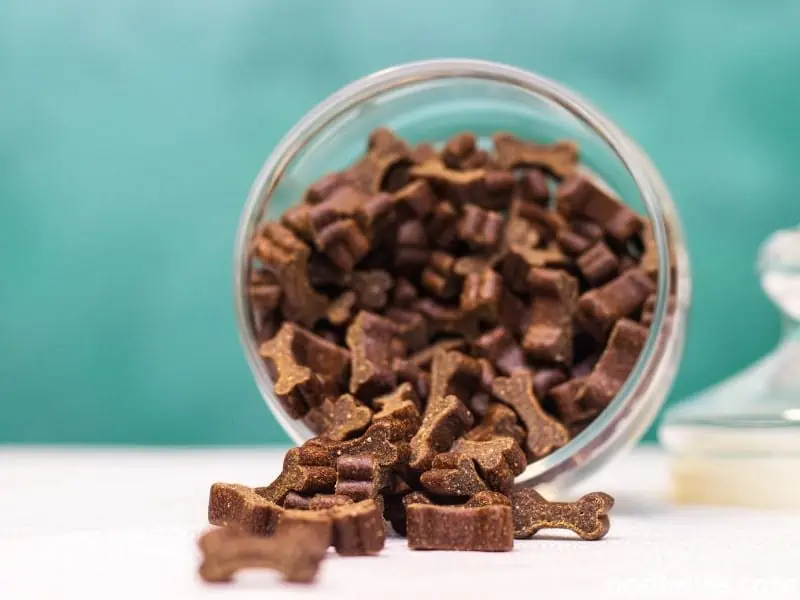 Dogs love pumpkin, and luckily the gourd is a healthy option for your furry friend. The fruit offers pups many nutrients vital to their well-being. Peanut butter affects dogs similarly; the hounds can't get enough of the sticky stuff, and it helps keep them healthy.
Sam Turnbull, the creator of the It Doesn't Taste Like Chicken blog, doesn't over-complicate her pumpkin and peanut butter dog treat recipe. Bakers turn the oats into a sort of flour to bind the pumpkin and peanut butter, making a thick dough.
The treats are vegan. Once the dough is made, you have a great deal of control over the size and number of treats you make. If your dog is bigger, you may opt to cut larger biscuits, or you could keep them small and simply give your friend more than one at a time.
These pumpkin and peanut butter dog treats need only 40 minutes to bake. They'll last for one week at room temperature, two weeks refrigerated, and indefinitely when frozen.
Click this link to check out the recipe.
3. Oatmeal Pumpkin Dog Treats
Pumpkin makes its third appearance on our list with these simple, nutritious, delicious oatmeal pumpkin dog treats.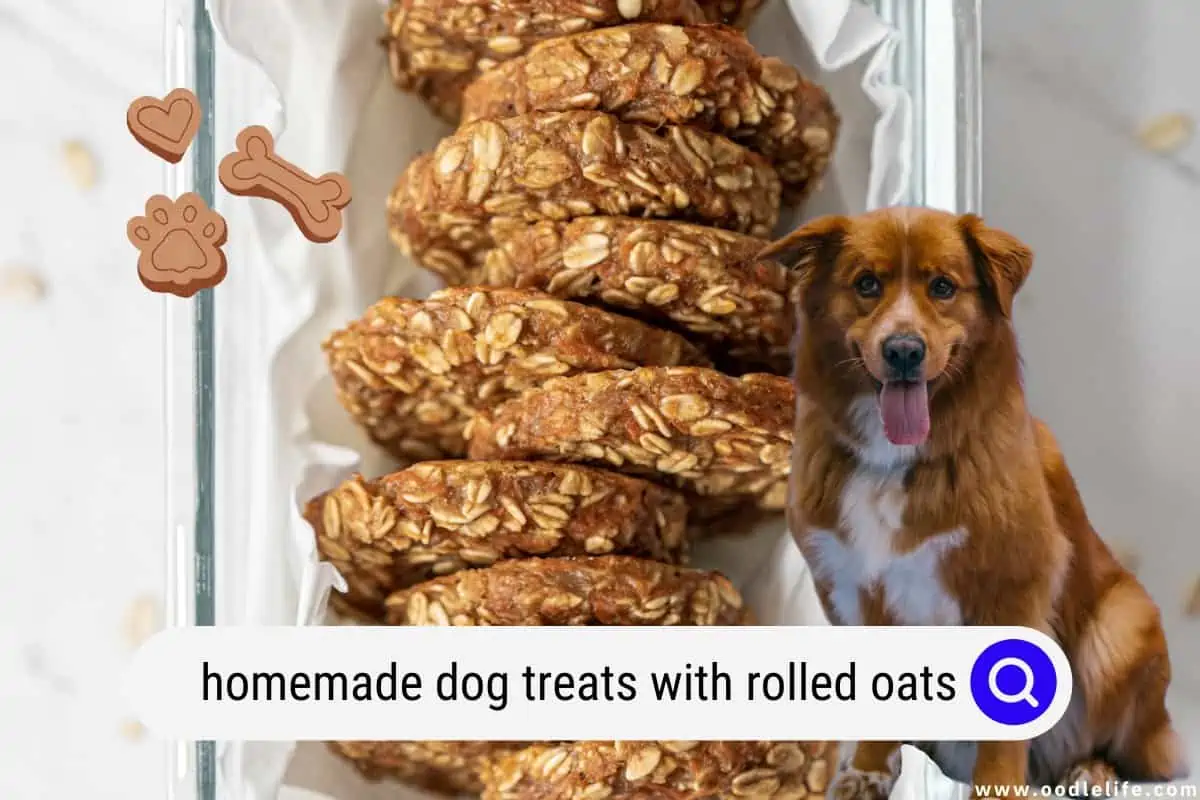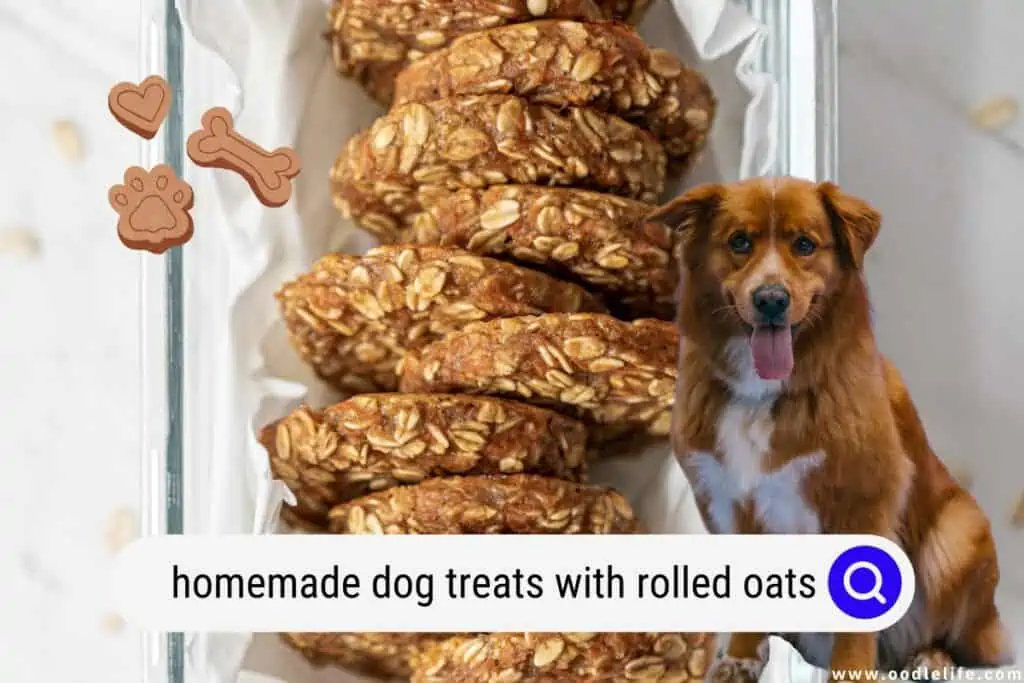 The recipe uses only three ingredients:
Be sure to use pumpkin puree and not pumpkin pie filling. Pumpkin pie filling contains spices that are dangerous to dogs.
The oats can be used whole or ground into flour for binding. Once you've mixed the ingredients, you shape the biscuits, bake, and that's it!
Bakers can decide exactly how fancy they want to make the treats. Artistic dog owners can create pup-centric shapes or other interesting designs. However, the artistically challenged can just make little treat balls.
Remember, your dog doesn't care; they just want that delicious biscuit.
Cheryl of Pook's Pantry painstakingly created the recipe to satisfy every canine taste. She assures bakers that even picky dogs and pups with delicate stomachs adore the treats. The blogger even provides recipe modifications for dogs with dental issues.
The biscuits last for a week at room temperature and can be frozen for longer life. The treats cook up quickly; the process takes 23 minutes from beginning to end.
Check out the recipe here.
4. 3-Ingredient Peanut Butter Banana Dog Treats
Flora and Vino's 3-ingredient peanut butter and banana dog treats are so full of tastes dog's love; your little buddy will have no idea they're eating something healthy.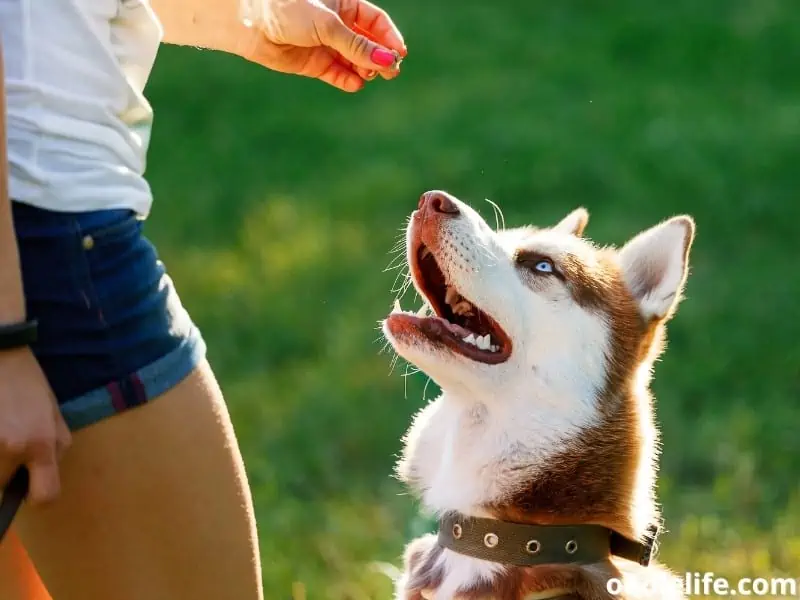 The biscuits use some breakfast staples you probably already have in your pantry. The recipe requires:
Peanut butter
Rolled oats
A very ripe banana
Bakers pulverize the rolled oats to create a stand-in for flour that binds the moist ingredients. Smash everything together, and you've got the perfect dough for doggy treats.
Dogs love the taste of peanut butter, and the oats and banana are mild enough that the spread's flavor shines through.
These treats provide dogs with the same nutrition we, as people, crave. The biscuits use simple, natural ingredients, so if the smell of the baking cookies tempts you, feel free to sample one.
Artistic bakers can have fun with the treats by shaping them for different seasons or events. However, those pressed for time can simply make round discs.
The treats are vegan, gluten-free, and low in sugar. They provide your pup with vital nutrients.
3-ingredient peanut butter banana dog treats last for a week at room temperature. Refrigerate the biscuits to give them a longer lifespan.
The cookies don't take long to make; the biscuits bake in 15 minutes but allow 15 cooling minutes before offering them to your four-legged friend.
Find the recipe here.
5. No-Bake Dog Treats
Delightful Mom Food's no-bake dog treats are perfect for hot summer days. These frosty treats are sure to delight your pooch and don't require any overuse.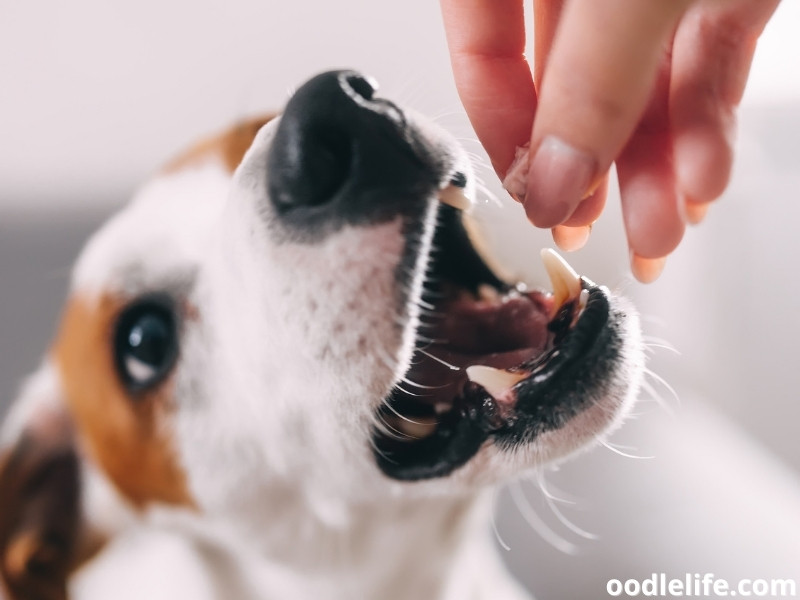 These biscuits use four ingredients:
Coconut oil
Peanut butter
Turmeric
Cinnamon
Each of the components provides vital nutrition to your pup. Among the treats, many benefits are:
Tumor prevention/reduction
Lowered inflammation
Lowers cancer risks
It helps prevent heart disease
Mitigates depression
Hormone regulation
Coconut oil by itself is a miracle substance for dogs; the lipid encourages healthy brain development, digestion, and a glossy coat. The oil fights candida, a form of yeast infection in pups.
You might expect a treat so full of nutrition and health benefits to be challenging to make.
However, these snacks couldn't come together more easily. Simply melt all the ingredients together, pour them into molds, and freeze. The preparation takes around five minutes; however, allow the treats at least 25 minutes to chill.
Keep the treats frozen until feeding them to your pup.
Follow this link to the recipe.
6. Grain-Free Pumpkin Coconut Dog Treats
Cassie from the Wholefully blog ushers in the return of pumpkin to this list. These grain-free pumpkin coconut dog treats require a little more work and a few more ingredients than previous entries, so they should be saved for special occasions.
Instead of grinding rolled oats to make grain-free flour, this recipe uses coconut flour. This ingredient is low in carbohydrates but rich in fiber and protein. The flour is widely available and can be purchased anywhere from Trader Joe's to Wal-Mart.
Besides coconut flour, these treats require:
Pure pumpkin
Peanut butter
Coconut oil
Eggs
Turmeric
Cinnamon
For a truly indulgent treat experience, bakers can top the biscuits with a glaze made from peanut butter and coconut oil.
These treats provide pups with essential nutrition, including:
Protein
Omega-3 fats
Fiber
Beta-carotene
These nutrients help keep your pup's coat shiny, encourage healthy joints, and serve as anticarcinogens.
The recipe yields 48 medium-sized dog treats. The biscuits last for a month at room temperature and a bit longer in the refrigerator.
Allow plenty of time to make these biscuits. They only take 10 minutes to mix but need 50 minutes to bake. They'll need to cool before you can package them.
Check out the recipe here.
7. Dog Popsicles
We finally veer away from peanut butter and pumpkin puree with these cool, healthy dog popsicles.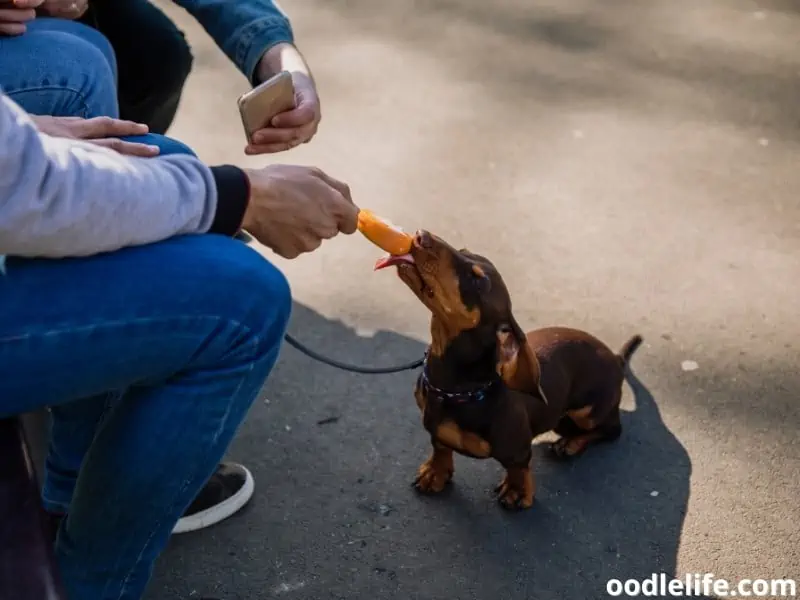 Nothing is more refreshing on a hot summer's day than an ice-cold popsicle. These treats allow your pup the satisfaction of that repast while only using dog-friendly ingredients. Even the culinarily challenged can make these popsicles; they require only two ingredients and very few minutes of your time.
Simply mix pureed carrot baby food and beef broth into a smooth fluid. Pour the resulting liquid into ice cube trays and freeze. Pop out a cube to offer your furry friend a frosty treat.
The recipe makes twelve cubes at a time. You can leave the popsicles in the ice cube tray; just be careful. The last thing you want is to accidentally put a beef broth and carrot puree ice cube into your lemonade.
Randi Dukes, the creator of the Dukes and Duchesses blog, suggests feeding the dogs their popsicles outside since their lack of opposable thumbs makes it virtually impossible to enjoy the treat without making a mess.
Find the recipe here.
Final Thoughts: Dog Treats Without Flour
Dog treats can be made quickly, easily, and with few ingredients. These recipes don't use flour and still provide pups with lots of essential nutrition and plenty of flavor. Roll up your sleeves, tie on your apron, and whip up some treats for your favorite furry friend.