Keep Dog IN Yard Collars (5 Best Picks)
Many dogs love spending time outside in yards and gardens, and time in a backyard can be a convenient way for pet owners to ensure their animals get enough exercise and stimulation. However, if you choose to let your dog into your yard, it is crucial to make sure that they don't escape for both their safety and the safety of others.
But if you aren't able to or don't want to install an actual fence or visible barrier, what is the best way to make sure your dog doesn't get loose?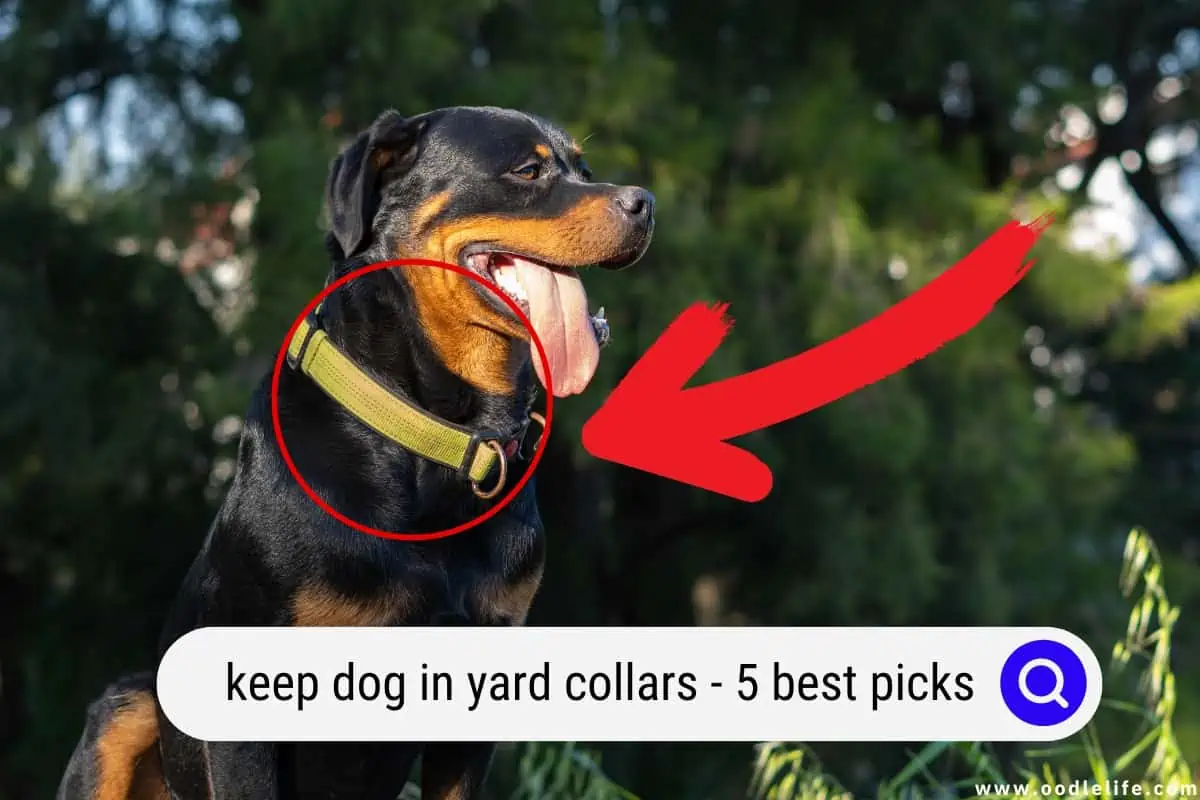 In this article, we will go over the ins and outs of shock collars and how to use them to keep your dog inside your yard. We will discuss the pros and cons of shock collars against other methods of obedience training and teach you how to use one safely with your dog.
Be sure to read all the way to the end to learn our top five picks for collars that will ensure your dog stays confined to your yard, with or without a physical fence! 
Live GPS Tracking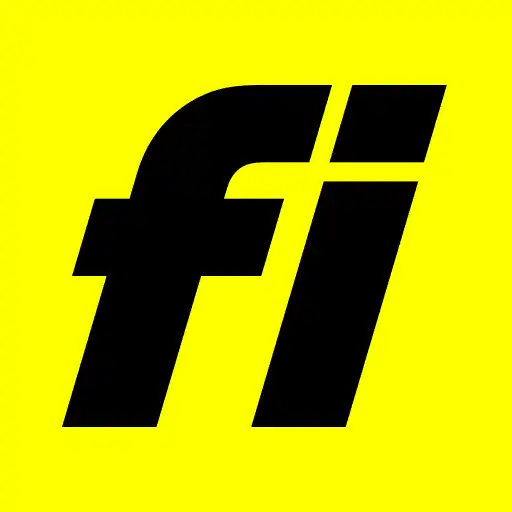 We earn a commission if you make a purchase, at no additional cost to you.
What Is a Shock Collar?
A shock collar is a tool used by dog owners and trainers all over to aid in teaching dogs obedience. They typically have prongs that touch the dog's skin and deliver a vibration or electric shock of varying strength when the dog performs an undesirable behavior.
How Do You Use a Shock Collar?
Using a shock collar correctly is all about trying to gently correct your dog's misbehavior rather than physically punishing them. When used in this way, electric collars can be an unmatched training tool that will help your dog learn obedience faster and more effectively than any other method.
What Are The Pros and Cons of Shock Collars?
In this section, we'll cover some of the pros and cons of shock collars to help you make an informed decision about which of the five is the best for you and your dog.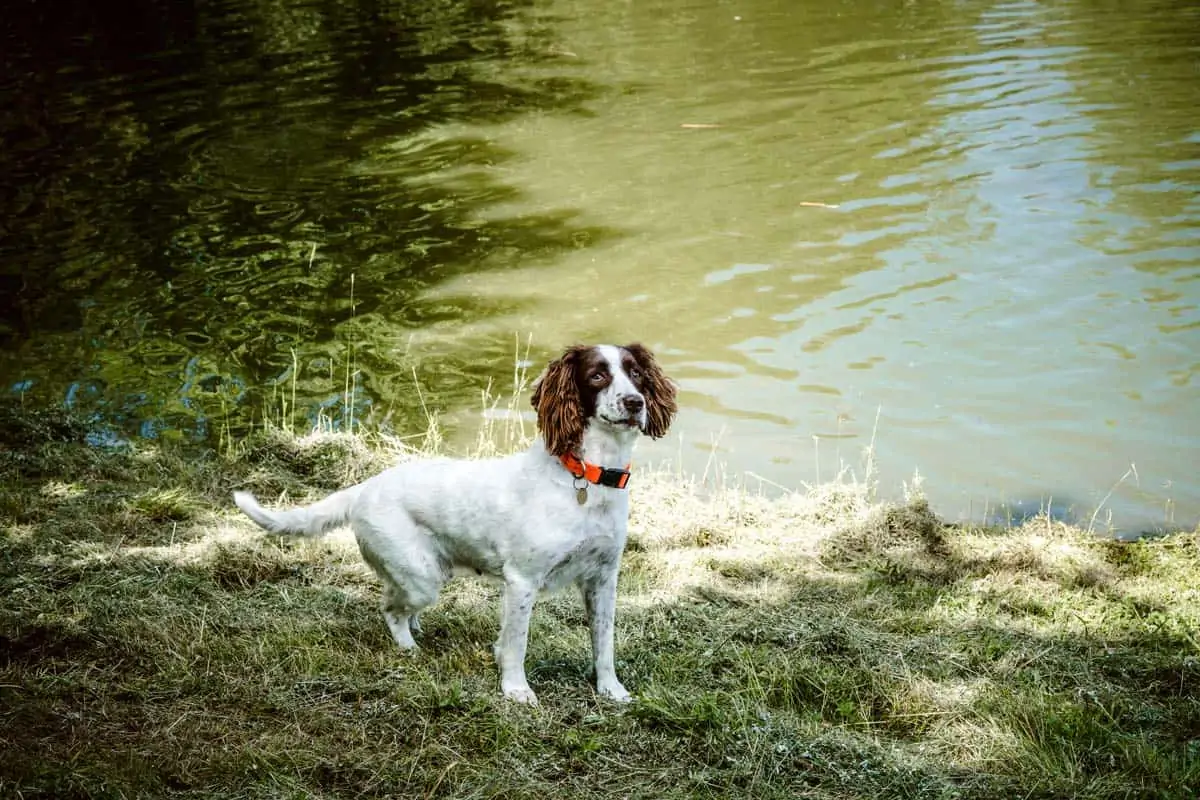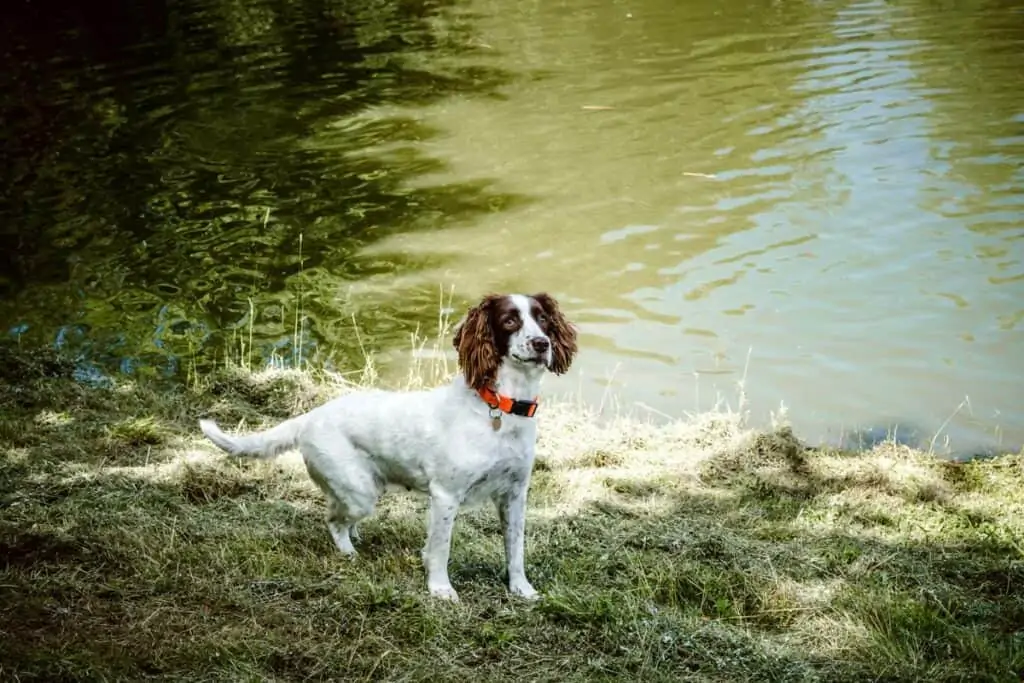 Pros
If a shock collar is used correctly, you will see the results of training almost instantaneously. If you don't have a great deal of time to commit to training your dog and need them to make immediate behavior adjustments, the shock collar is the best way to go.
Electric collars can vary in price, meaning that no matter how large or limited of a budget you have, you will be able to find an option that is affordable for you.
Cons
It is crucial to use a shock collar correctly if you choose to go this route for training your dog. When they are misused, your dog can end up injured or develop fear-based obedience, which will affect their personality and life in other unforeseen ways.
Injuries can include burning or irritation of the skin around the neck where the collar sits. Personality-wise, your dog could show signs of depression or anxiety due to shocks from the collar. This type of physical punishment for misbehaving may cause stress in your dog which can lead it to be more aggressive or reactive.
Our Five Best Picks For Shock Collars
This section will detail our top five picks for shock collars! Read on to learn the specifics of each option.
Pet Control HQ Wireless Pet Containment System
This collar is one of the more expensive options on the market, but its higher price point means that it comes with features that make it a top contender for the best shock collar to keep your dog contained in your yard.
Wireless Dog Fence System - Dog Fence Electric Shock Collar Training with Remote - Pet Containment System with Fence Wire Underground Perimeter - 1 Bark Collar Included
Wireless dog fence system: This wireless containment system is perfect for pet parents with large yards and complicated spaces. The combination of a wireless pet training system and custom above or...
Dual-zone wireless containment system: Enjoy the benefits of an easy-to-layout dog fence wireless system, along with 492 feet of 20 AWG inground, above ground, or underground electric dog fence wire....
Wireless dog collar fence system: Our wireless pet containment system can control up to 3 separate shock collars, with beep and vibration mode levels 1-10 that work wonders to perimeter train your...
Electric fence for dogs: This 12-hour electronic anti-bark collar features an 8-second safety shutdown switch that stops the shock for humane reasons. Additionally, this collar has long-lasting...
Versatile and adjustable underground dog fence system: The collar-receiver is lightweight, waterproof, and rechargeable, with an adjustable strap that fits dog neck sizes ranging between 8 - 27...
We earn a commission if you make a purchase, at no additional cost to you.
It comes with a wire that can be used to create an invisible fence based on your desired perimeter. The wire is nearly 500 feet long, meaning you can use it to border in an area as large or small as you like. It has a copper core and is insulated, meaning that it will stand up to any weather conditions.
It can be left above ground or installed underground.
The collar itself uses three different modes to get your dog's attention and correct behavior. It will start with a beep to alert them that they are approaching the perimeter. As they get closer, the beep will turn to a vibration.
Once they are at the fence or past it, the collar will begin a light static shock.
Each of the three modes (beep, vibration, and shock) is adjustable, and you can set them up to emit warnings on a scale of 1-10. Additionally, the collar features a long battery life that can go up to a week at a time without needing to be recharged.
This is an excellent option. If you have more than one dog, you need to contain using an electric fence. Up to three collars can connect to this containment system and protect your dogs from escaping into the neighborhood.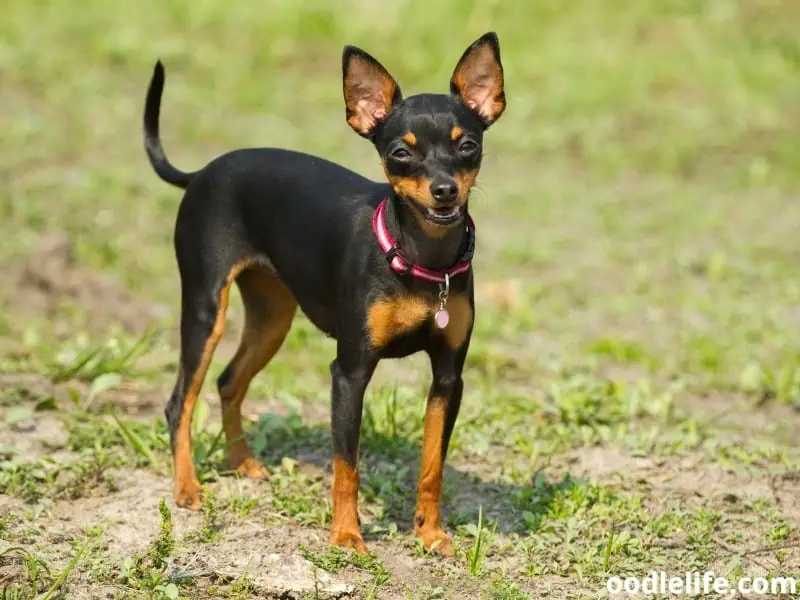 Underground Electric Dog Fence Premium
Our second pick also comes at a higher price point, but its extensive features make it well worth the extra upfront cost. This collar and fence combination comes in a variety of sizes up to 2,000 feet, making it the ideal choice if you have a large property or a wide area to which you need to confine your dog.
Underground Electric Dog Fence Premium - Standard Dog Fence System for Easy Setup and Superior Longevity and Continued Reliable Pet Safety - 1 Dog | 500 Feet Standard Dog Fence Wire
🎖️ Improved: The 2nd Generation eXtreme Dog Fence STANDARD GRADE Kit Covers Up to 6 Acres. The Updated Electronics are Designed for Compatibility with New Collar Options. 3 Antennas, 12x Battery...
🎖️ Waterproof and Submersible: Most Other Inground Dog Fence Systems Claim to be "Water Resistant". The eXtreme Dog Fence Includes a Collar Receiver that is COMPLETELY Waterproof, and Can be...
🎖️ Standard Fence Kit Includes: 20 Gauge High Tensile Boundary Wire with Heavy Protective Jacket, Digital Transmitter, Collar Receiver(s) w/ Battery, Training Flags and Splice Kits
🎖️ Guarantee: This Underground Dog Fence Includes a 1 Year Warranty. When You Register Your Fence, Your Warranty eXtends to 5 Years. This Fence WILL Contain Your Dog and has Been Manufactured for...
🎖️ U.S.A. : These Electric Fences for Dogs Are Proudly Manufactured in the Good Old United States of America. We are Standing By to Provide You Top Level Assistance and Support in Setting Up Your...
We earn a commission if you make a purchase, at no additional cost to you.
It is also compatible with collars for up to five dogs, making it an excellent option for the entire pack. We love that the collars are completely waterproof, meaning that if your dog loves to swim or be outside in the rain, the collar won't be damaged.
One downside of this pick is that it does not come with a remote control, so it may not be the ideal option if you want to use a shock collar for other types of training as well.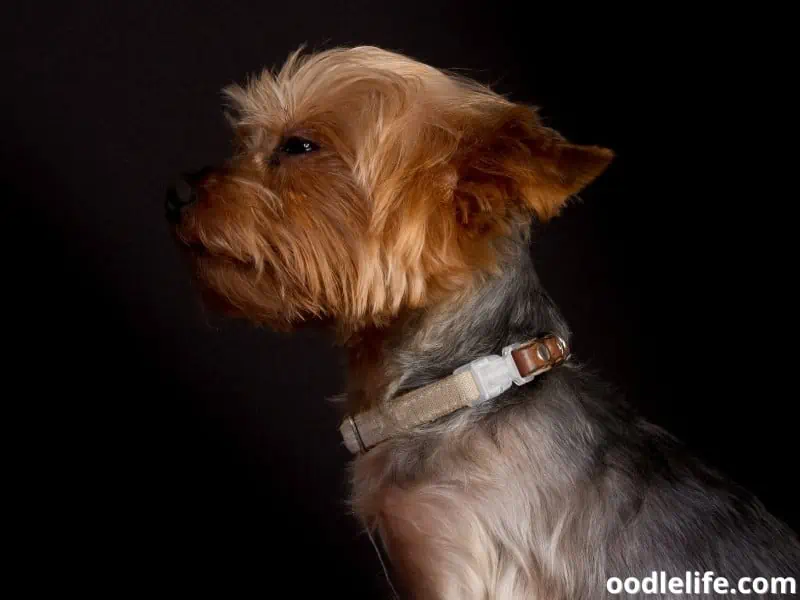 LovelyPez GPS Wireless Dog Fence
Instead of an underground cable that triggers a shock collar, this option works by connecting to GPS. You can program a radius of your choosing that can extend up to hundreds of acres. When your dog exits the area, it will receive a vibration or a shock.
These warnings are adjustable, with a total of fifteen settings.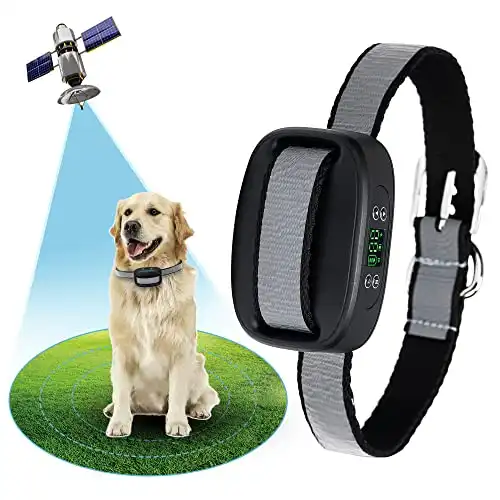 We earn a commission if you make a purchase, at no additional cost to you.
This is an excellent option if you have a large farm or field that you want your dog to be able to run in freely and safely. Because of the nature of GPS technology, it is less suitable for a smaller backyard.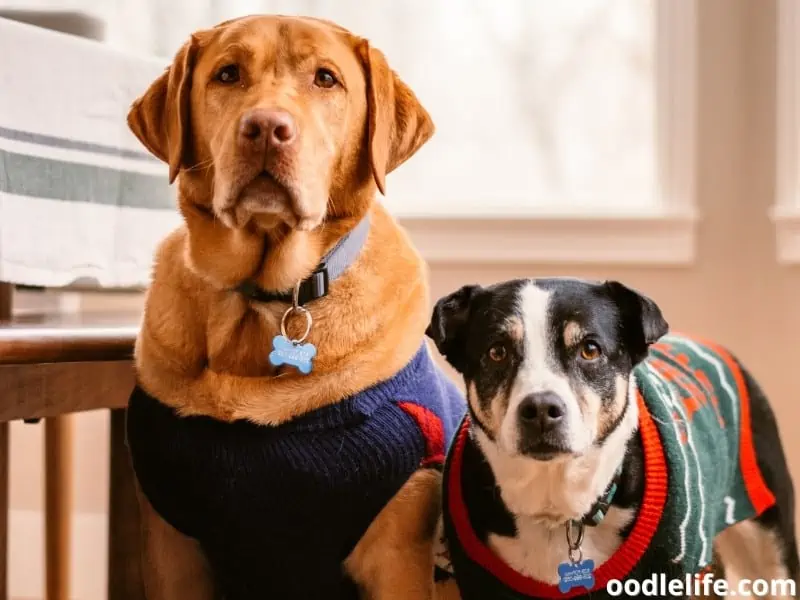 Pet Resolve Remote Dog Training Collar
This shock collar option does not come with an underground fence or GPS tracking capabilities. This may be a downside to some, but the advantage of this means that this shock collar is versatile for all types of training.
Remote Dog Training Collar, Vibrate, Waterproof, Rechargable
🐾 FANTASTIC NEW UPGRADE SINCE MAY Is your dog misbehaving and you want a well behaved pet with minimal fuss? Don't let your dog get side-tracked by other animals or misbehave in public. Teach your canine companion how to act properly with arguably the top training collar on the market!
🐾 SUPER LONG RANGE AND MEMORY; Super long 3/4 Mile range
🐾 VARIABLE SHOCK & VIBRATION LEVELS, ANTI BARK & LIGHT for NIGHT MODE; train up to 3 dogs at once (additional collars required) with up to 10 levels of continuous or momentary shock (hold down button to shock for 1 up to 8 seconds, ideal for emergencies!) vibrations, or beeps
🐾 WATERPROOF CONSTRUCTION; does your dog love to run outside or swim?Completely waterproof and can be fully submerged without damage!
🐾 LONG LASTING BATTERY & WARRANTY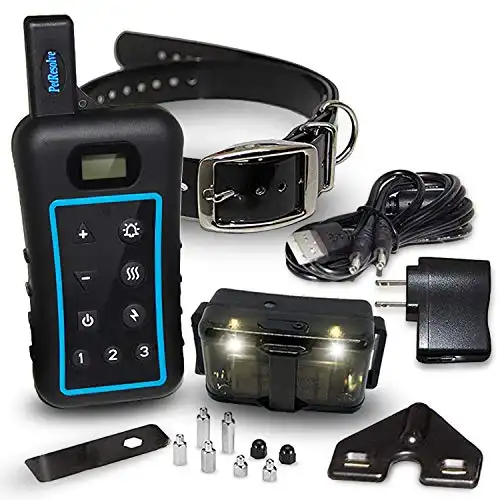 We earn a commission if you make a purchase, at no additional cost to you.
It has a long-lasting battery with three different training modes: beep, vibrate, and shock. It is fully adjustable and customizable, even coming with an option to shut off the shock feature completely.
It has a range of ¾ of a mile and comes with a built-in LED light to help you spot your dog at night.
Educator E-Collar Humane Dog Training Collar
The last shock collar to make our list is this option from the brand Educator. While it does not necessarily have all of the features that some of the other collars on this list contain, it has some unique qualities that set it apart and make it a great option to fit specific needs.
Educator E-Collar Humane Dog Training Collar with Remote, Features 100 Levels of Safe Stimulation
The Mini ET-300 one dog system with 1/2 mile range, small receiver for dogs 5 pounds and larger
Includes 1 Biothane dog collar (3/4" wide x 30" long), 1 RX-090 mini receiver (2" long x 1.5" wide x 1" high, 2.4 oz.) and 1 Mini ergonomic "stopwatch" transmitter (2.6" diameter x 1.1" thick x 4.5" high) well-suited for small hands or in situations where discretion is important
Delivers a tapping sensation similar to vibration, but more intense, making it an effective addition to the stimulation
A Pavlovian tone feature provides an effective addition to the stimulation
User-selected stimulation levels range from 1 to 100 with additional boost stimulus selectable from 1 to 60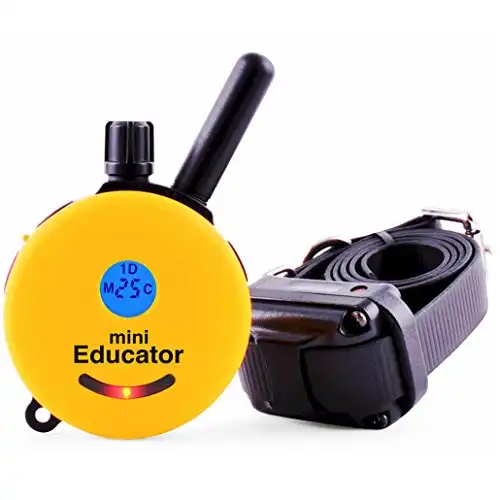 We earn a commission if you make a purchase, at no additional cost to you.
For example, its tiny receiver fits dogs as small as five pounds. Additionally, the shock and vibration settings are some of the most customizable of any e-collar on the market, with a range of 1-100 stimulus settings.
Additionally, the transmitter is both waterproof and sink-proof, meaning it will float if you happen to drop it in a lake or pond. It also has a rapid charge time, charging entirely in a matter of two hours.
Final Thoughts
Keeping your dog confined to a measured area outside is necessary for keeping them and your neighbors safe. If you don't have a physical fence as a boundary, a great alternative is to invest in a collar that pairs with an electric fence.
Now you have all of the information you need to make an informed decision about which shock collar you should buy to keep your dog inside your yard. Have you used one of these collars before to keep your dog contained outside? What was your experience with it?
Let us know in the comments section below!