The 5 Best E-Collars for Dogs 2023 (Working and Training)
You may be interested in getting an E-Collar for your dog if you're training them for anything from hunting ducks to behaving in the yard. Training any puppy or dog has its challenges, but some more so than others.
Just teaching your canine companion the basics requires all your attention and effort. You have to be consistent and stern, yet positive. It's a tricky balance, and that's just with an average dog learning average tricks.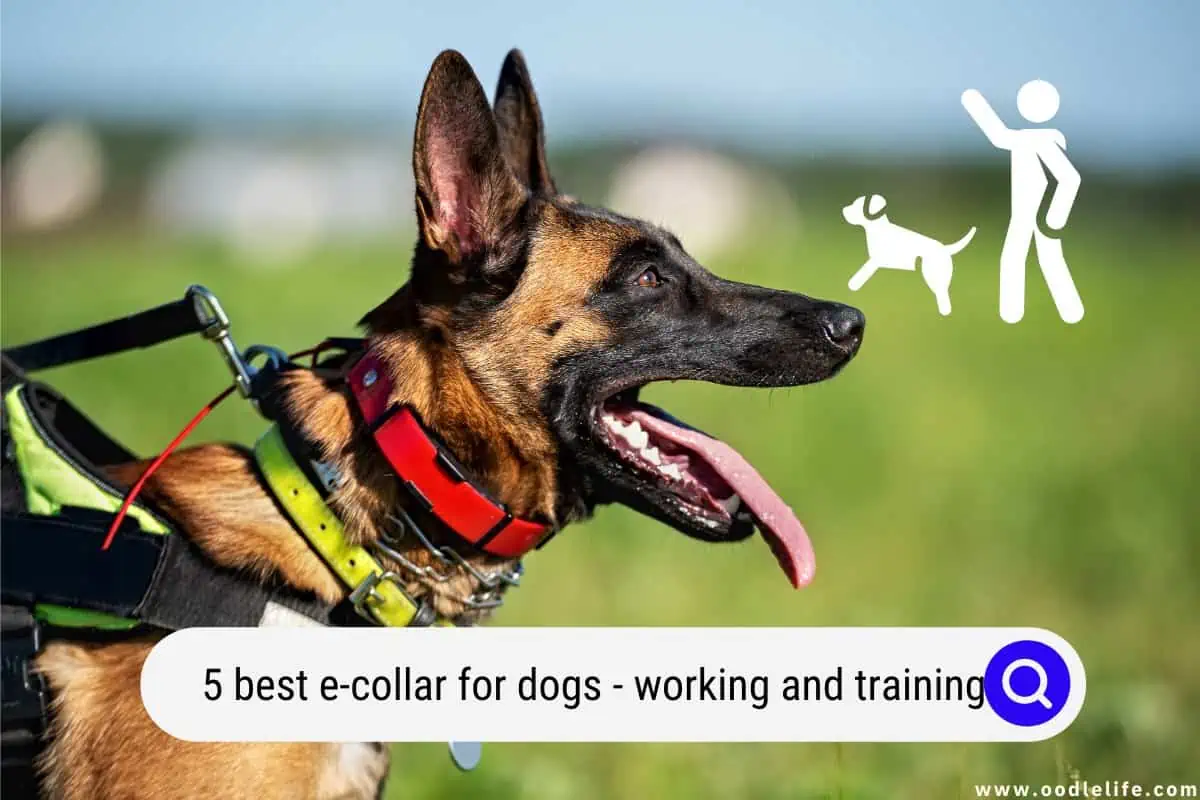 If your dog is particularly stubborn or strong-willed, it may feel hopeless.
Before you give up completely, you can try training with an E-Collar. You'll still have to maintain a balanced, consistent demeanor with your dog, but training will be so much easier for you. Let's look at the 5 best E-Collars for dogs, whether they're working dogs or doing basic training.
What Is an E-Collar?
First things first, what is an E-Collar? An E-Collar, or electronic collar, is similar to a shock collar but not the same. It's a collar with a receiver attached to it that goes around your dog's neck.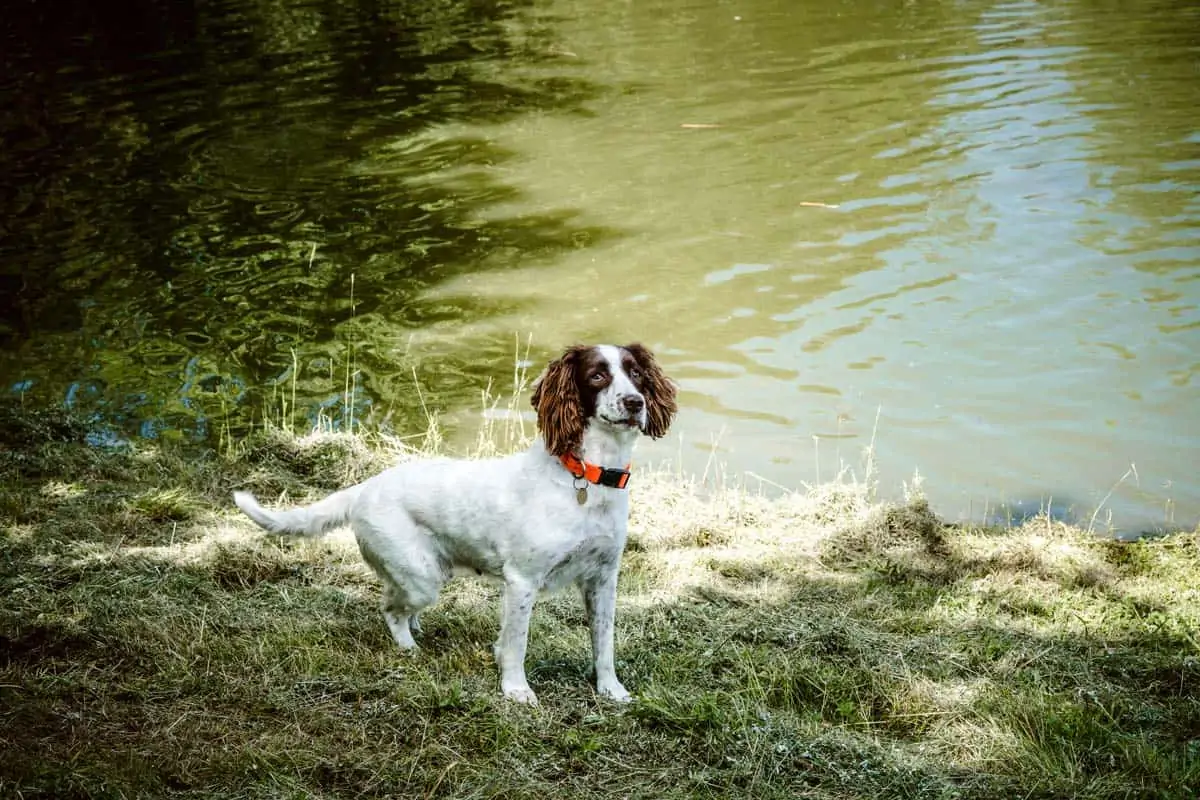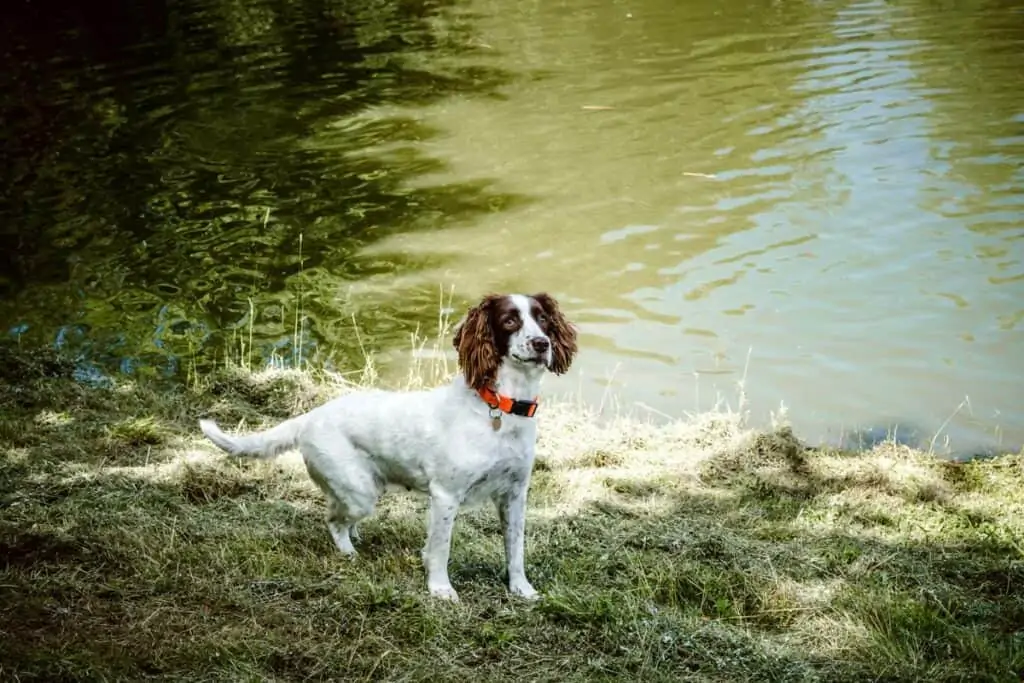 There's a wireless remote that controls it, which you hold in your hand.
The design resembles a shock collar, but E-Collars don't shock your dog. These collars modify your dog's behavior through mild electronic stimulation. Simply put, they vibrate.
You can adjust the vibration levels, but even the highest setting causes no pain to your dog, just discomfort.
5 Best E-Collars
Now that you know what they are, I can show you which ones are the best and why. There are a lot of E-Collars on the market, so there is a lot to sort through.
I compared different attributes and used personal experience to put this list together. I had to think about the price, durability, range, and any other cool features before making the final decisions.
I'll break down the pros and cons of each collar, so you can make the best decision for yourself. This way, it'll be easier for you to choose, especially if you need a more specialized collar. There's no such thing as being too informed.
1. SportDOG Brand 425X Remote Training E-Collar
The SportDOG 425X gives you the most bang for your buck. It's a well-rounded collar that offers a multitude of useful features for a reasonable price. This collar has a 500-yard range and can survive up to 25 feet underwater.
SportDOG Brand 425 Remote Trainers - 500 Yard Range E-Collar with Static, Vibrate and Tone - Waterproof, Rechargeable - Including New X-Series, Black (SD-425X)
500 YARD RANGE: e-collar that can support training up to 3 dogs with the same remote with purchase of additional collars (SDR-AXS). For dogs 8 pounds or larger with neck sizes 5" - 22"..Product...
NO LOOK OPERATION: Designed for ease-of-use and no look operation while offering more levels of stimulation which allows for more customized training.
TONE, VIBRATE, AND STIM: This electric e collar offers 21 levels of static stimulation with medium/high ranges. Option to train with vibration (buzz) and tone (beep), too.
WATERPROOF: Submersible to 25 feet using DryTek technology.
RECHARGEABLE BATTERY: Lithium-ion batteries charge in 2 hours and last 50-70 hours per charge. System has low battery indicators.
We earn a commission if you make a purchase, at no additional cost to you.
SportDOG markets this as a collar for hunting or sporting dogs, but its versatility makes it an excellent choice for any dog. It has a quick charge and long battery life. There are 21 different vibrational levels, allowing for more precision in your training.
The 425X can handle training for up to three dogs, as long as you buy extra collars. The only downsides are that it's not always obvious how to operate it, and there are cheaper E-Collars out there. To their credit, they do give you a user manual, and it's worth what you pay.
Pros:
Weatherproof.
Long-lasting battery.
Can support training up to 3 dogs.
Cons:
Pricey.
Can be confusing to operate.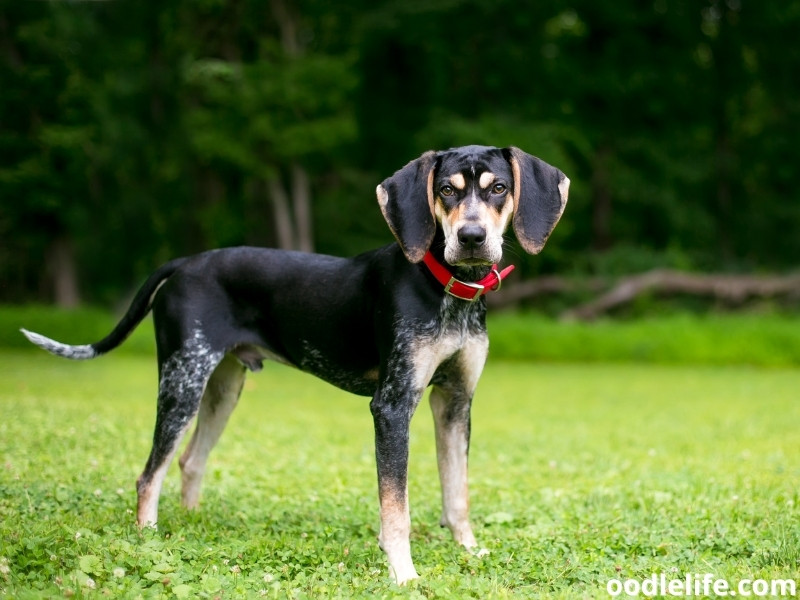 2. Garmin Delta Sports Pro Hunting Dog Collar Bundle
The Garmin Delta Sports Pro is a durable collar that comes with a ton of features. It has a ¾ mile range, can survive up to 30 feet in the water, and can even float. It has a simple design that makes it easy for you to use with one hand.
Garmin Delta Sport Pro Hunting Dog Collar Bundle - Water-Resistant, Long-Lasting Dog E-Collar + Handheld Device with Teacher's Pet Dog Training Clicker for Positive Reinforcement
Garmin Delta Sport Pro Bundle Contains: 1 Water-Resistant, Long-Lasting Dog E-Collar + 1 Handheld Device with 1 Teacher's Pet Dog Training Clicker for Positive Reinforcement
Rugged, Ergonomic Design: The Sport PRO is easy to operate with 1 hand, so you can keep your eyes on your dog at all times, even while switching between stimulation levels and dogs. The quick turn...
Multiple Training Methods: Choose from 10 levels of continuous and momentary stimulation or a tone and vibration setting for up to 3 dogs (additional dog devices required; sold separately). You can...
Built-in BarkLimiter with Settable Levels: Sport PRO features a built-in BarkLimiter with settable levels. You set the level and increase it as needed, adjusting the correction to the optimum level...
Tough, Water-resistant, Long-lasting: Both the handheld transmitter and the dog device collars are designed to withstand all the blows, bumps and sloppy conditions of training and hunting. The dog...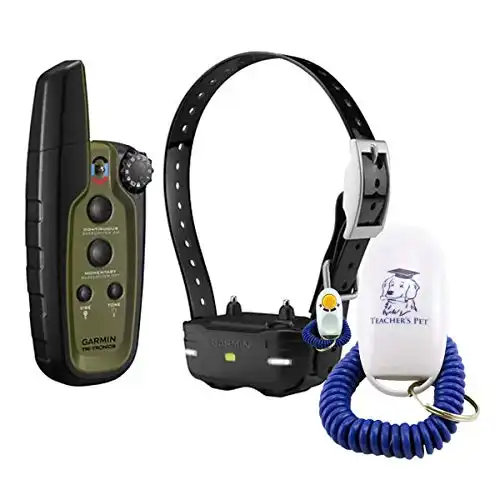 We earn a commission if you make a purchase, at no additional cost to you.
The remote's heavy-duty antenna helps eliminate the chance of damage. There are 10 different levels of vibration and three different types of training modes. The remote can handle sending commands to three dogs at one time.
You can switch the collars to the anti-bark mode when you're not training. They also come with an LED nightlight that you can operate over long distances. The one downside is that it's quite an investment.
Pros:
Easy to use.
Bark-limiter.
High-range .
Cons:
Expensive.
Fewer vibration levels.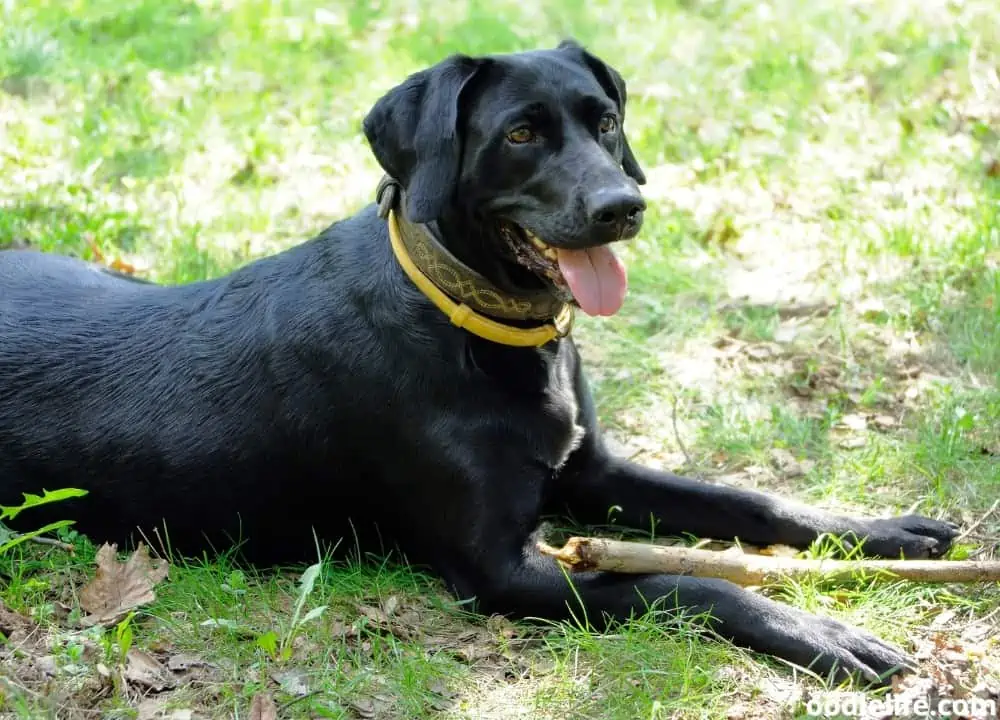 3. PetSafe Remote Training Collar
The PetSafe remote training collar is a medium-range collar that works well for medium and large dogs. It has a 300-yard range and is waterproof. It has a quick-charge battery that lasts for up to 40 hours with normal use.
PetSafe Remote Training Collar - 100 Yard (300 FT) Range - Collar Fits Medium or Large Dogs - Choose from Tone, Vibration, or 15 Levels of Humane & Safe Static Stimulation for Training Off Leash D...
OFF-LEASH TRAINING: Safely train and correct your dog's unwanted behaviors the moment they happen within a 100-yard range using a lightweight digital remote and collar
3-IN-1 STIMULATION: Every dog is different – choose between audible tone, vibration and 15 levels of static for comfortable training (includes a safety lock feature for higher levels)
PERFECT SIZE REMOTE: The digital remote is waterproof, easy to read, has tactile buttons and is comfortable to hold for long periods of time
LONG LASTING BATTERY and QUICK CHARGING: Remote and collar charge within 2 hours, has up to a 40-hour battery life and includes a quick-charging cable
WATERPROOF AND LIGHTWEIGHT COLLAR: The adjustable training collar is made of comfortable polyester that fits dogs 8 lb and up with neck sizes 6-23 in; not for puppies under 6 months
We earn a commission if you make a purchase, at no additional cost to you.
There are three different training modes: tone, vibration, and static. The static mode has 15 different levels with a safety-lock feature. The remote's display is digital, which makes it easy to use but also makes it easier to get damaged.
Pros:
Digital remote.
Quick charge.
Lightweight.
Cons:
Not for dogs under 8 pounds.
Not as durable.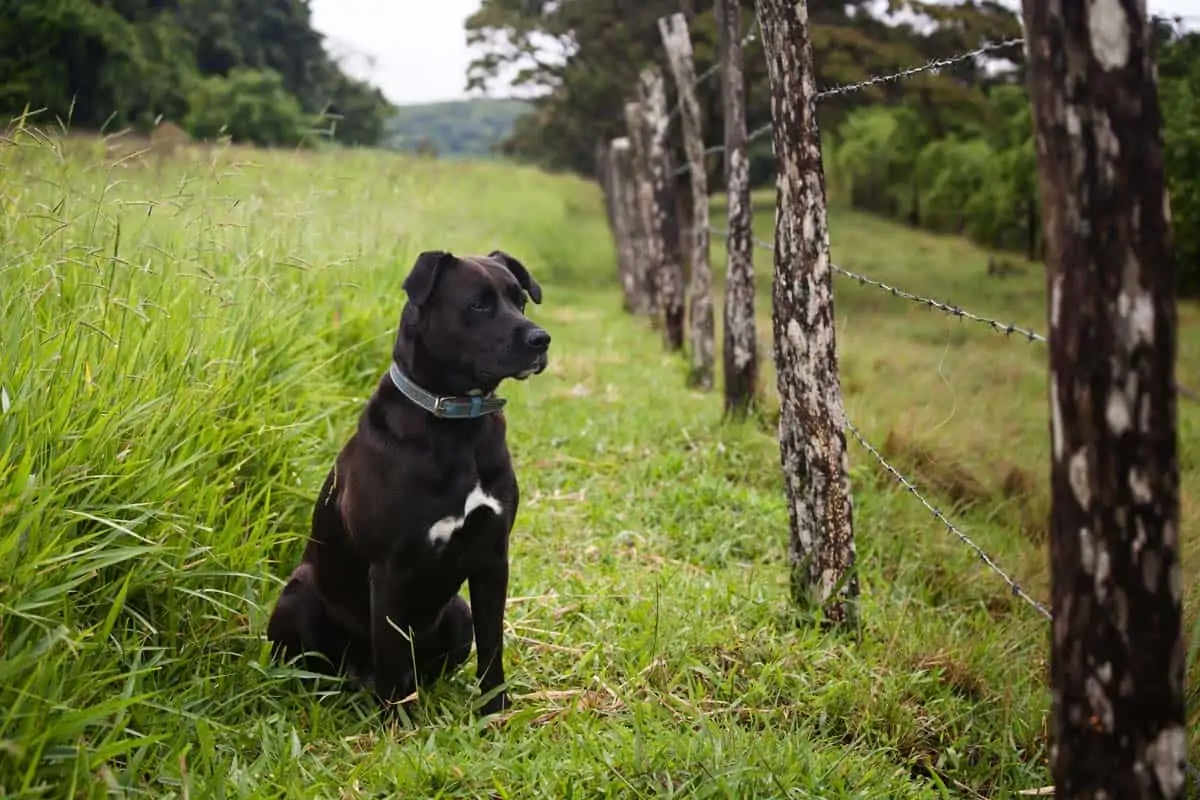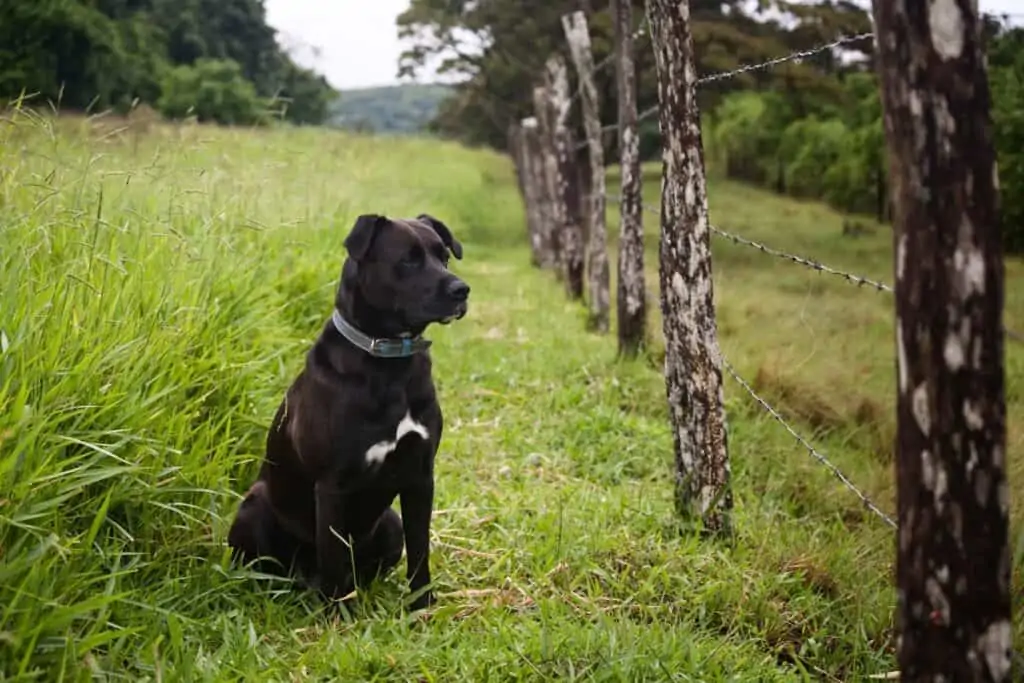 4. Dogtra 1900S
The Dogtra 1900S comes in a variety of colors. It also comes in a kit that has multiple collars if you need that. This sleek and durable collar has a range of ¾ mile and is waterproof.
Dogtra 1900S Ergonomic 3/4-Mile IPX9K Waterproof Remote Dog Training E-Collar
SEAMLESS DESIGN: The 1900S receiver is sleek and slim, which allows the strap to wrap around the receiver and your dog's neck seamlessly
IPX9K WATERPROOF CERTIFIED: The 1900S come with a durable receiver that is IPX9K waterproof certified
3/4-MILE RANGE: The range of this training e-collar is perfect for simple to complex training commands for your dog. With a range of ¾-mile, this e-collar is perfect for serious obedience, hunting, and K-9 training.
PRECISE CONTROL: With 127 correction levels, you'll have no problem finding the perfect level for your dog with the gradual and precise correction control. The LCD screen is bright and easy to read
CORRECTIONS: This e-collar has two different correction types. The first correction type is a Nick (quick ½-second) and the second correction type is a Constant (up to 12 seconds).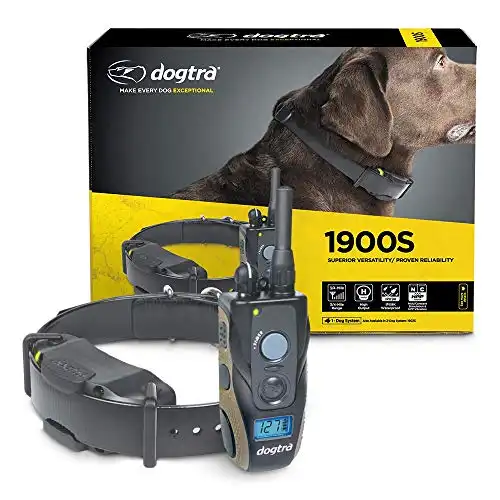 We earn a commission if you make a purchase, at no additional cost to you.
It's actually IPX9K waterproof certified, which makes it very durable.
There are 127 vibration levels on this bad boy. That makes it easy to find the perfect correctional level for your dog and gradually increase or decrease the power. This collar has three types of correction alerts: a nick, a constant, and a high-performance pager.
Pros:
127 levels.
Long-lasting.
Waterproof.
Cons:
Expensive.
Remote is large.
5. Petrainer PET998DBB Training Collar
This is the collar for you if you're looking for the cheapest collar that still does what you need. The Petrainer Collar blasts its signal up to 330 yards away and is 100% waterproof. It has 100 levels of vibration and static stimulation.
Petrainer Shock Collar for Dogs - Waterproof Rechargeable Dog Training E-Collar with 3 Safe Correction Remote Training Modes, Shock, Vibration, Beep for Dogs Small, Medium, Large
Expert dog training control:Our E: Collar is used by expert trainers and first time pet owners; With 0: 100 levels of vibration, static, and standard beep training modes, we promise you can find a...
Freedom to roam:Have wireless control of your pet up to 330 yards;Easily train your dog in the backyard or in the park; With a long battery life, you are ensured to effectively train your dog.
Adjustable for all size dogs:Adjustable training collar ranging from 14-25 inches; We guarantee that it will fit your small, medium, or large size dogs.
Waterproof:Petrainer's E-collar is 100% waterproof, so your pet can always enjoy the water.
Rechargeable:Save time by charging your rechargeable receiver and transmitter simultaneously.
We earn a commission if you make a purchase, at no additional cost to you.
Petrainer designed it with newbies in mind, so the buttons are easy to learn and use. Because it's cheaper, it's not going to be as durable as other collars, though. The battery's charge won't last as long either. There's nothing fancy on this one, but it gets the job done.
Pros:
Cheap.
100 vibration levels.
Waterproof.
Cons:
Not as durable.
Smaller signal range.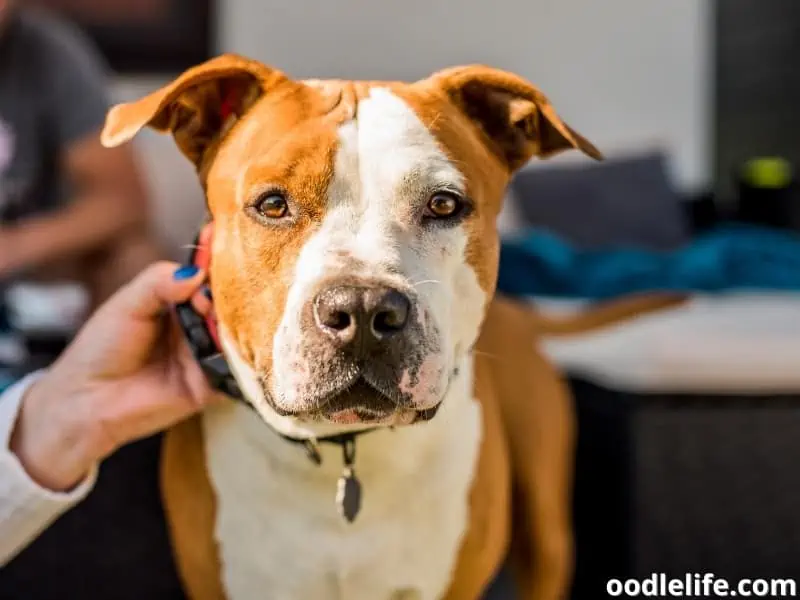 What To Look For?
Here are some things to keep in mind when searching for the best E-Collar for dogs. You can use this list to choose from the ones I chose or to branch out on your own. Either way, you'll be more informed.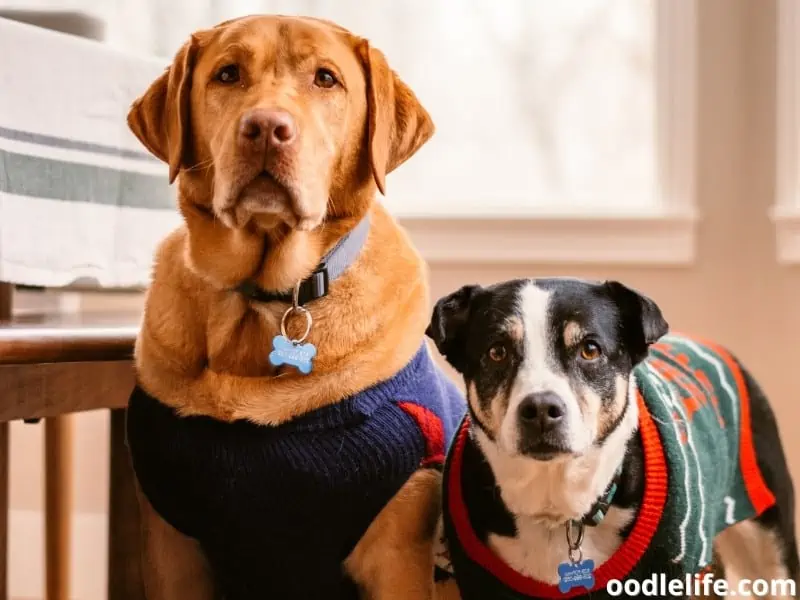 Keep in mind what kind of dog you have and how you plan to train them.
High-Range
One of the most relevant qualities to me is how far a collar can reach. It's not the first thing I check for, but it does help me make decisions when I'm stuck between two. This may not be a pertinent feature if your dog is going to stay in the yard.
If you plan on working or hunting with your dog, you'll want a high-range collar. The farther away you can be and communicate with your dog, the better.
Weatherproof
Finding a weatherproof collar shouldn't be difficult. It's worth checking to make sure the collar has this feature, though, no matter what your dog does.
Being weatherproof and water-resistant contributes to the collar's durability. Durability contributes to the collar's cost-effectiveness.
Affordable/Valuable
This is where you really want to think about what you'll be using the collar for and how long. If you're not sure an E-Collar is going to work for you, you may want to buy a cheap one. Cheap ones won't last as long, but you won't have invested so much money if it doesn't work.
If you have the funds and want to commit to using an E-Collar, you can invest in a more expensive collar. Usually, when something costs more, it'll last longer and will have more features. That's not always true, but most of the time it is. It's about finding a balance.
Vibration Mode
Some E-Collars don't automatically come with vibration modes. Most of them do, but it's still worth checking before you buy. There will be some variation in these modes as well.
You may want a collar that has 37 modes, or you may want one that only has three.
I personally think the more, the merrier. Having more vibration modes allows you to be more precise in your training and communication.
Light Source
This isn't a necessary feature to have, but it is a cool one to have. With some collars, it's like giving your dog its own flashlight. Who doesn't want their dog to have a flashlight?
Conclusion
These are the 5 best E-Collars for dogs whether they're working or training. The best collar overall is the SportDOG 425X, which gives you the most value for your money. It has a nice balance between durability, range, extra features, and price.
Using an E-Collar is entirely safe when you use it correctly. It offers you a necessary opportunity to train more stubborn or strong-willed dogs. Training allows you to build trust and respect with your dog.
It also allows you to create a safe and healthy environment for them and you.
All of these collars can technically be adjusted for small, medium, and large dogs. They may not work as well for small dogs, though, so you may want to check out the best E-Collars for small dogs.