Best Labradoodle Breeders in Michigan (2023 Update)
Labradoodles are a cross between the beloved Labrador Retriever and a Poodle. The "Doodle" craze, consisting of various dog breeds crossed with a Poodle, started over a decade ago.
Due to selected breeding for temperament and trainability, breeders of the Labradoodle cross withstood the fad phase. The result? Furry companions that are low shedding, incredibly loyal, and brilliantly clever.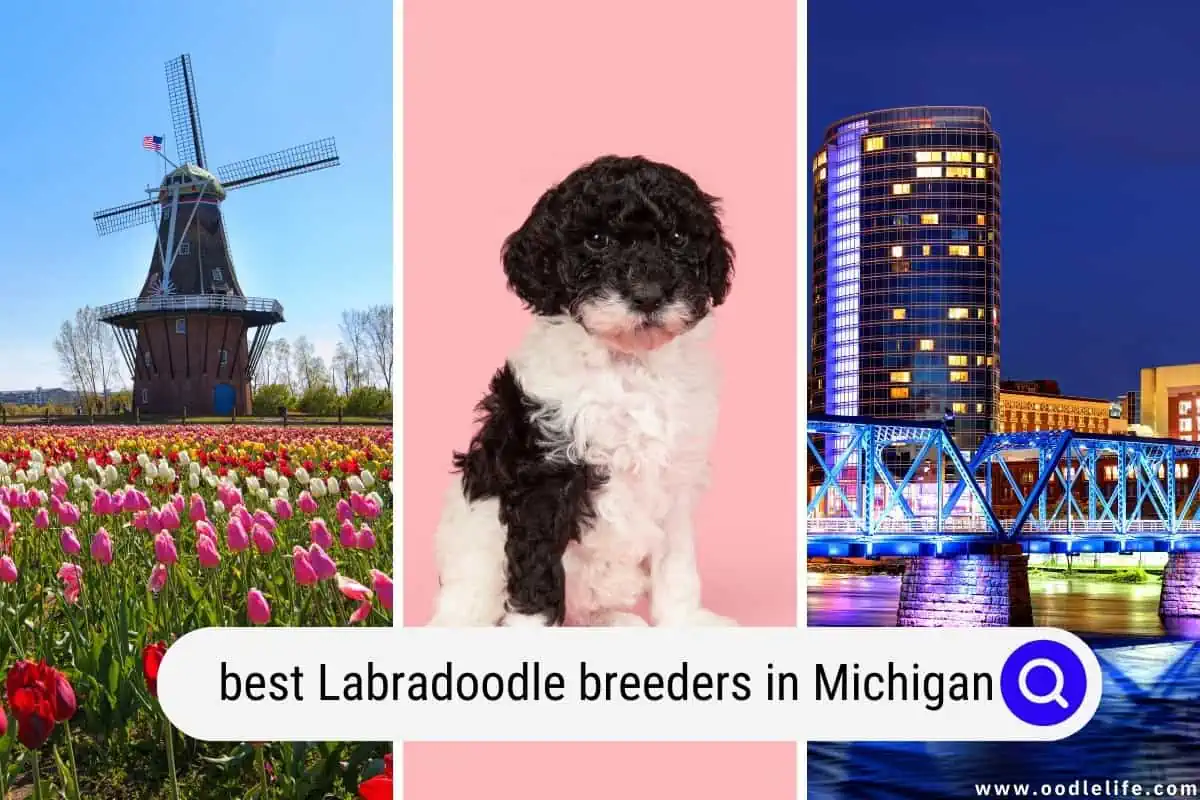 $300 2023 Discount!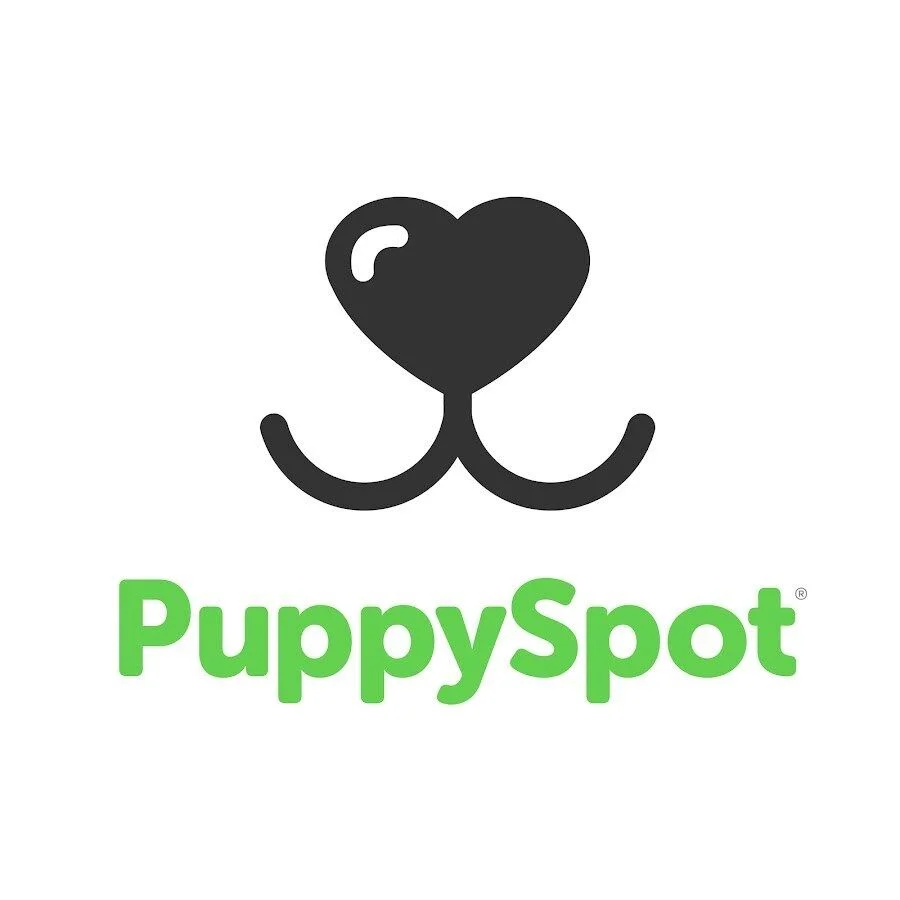 PuppySpot Adoption
PuppySpot is a reputable dog marketplace where you can browse and find compatible puppies right from the comfort of your home. They have placed over 200,000 puppies into homes in the US!
Click through and use the code PUPPY300 for $300 off any puppy adoption.
See Puppies and Save $300
Labrador Retrievers are one of the most popular dog breeds in America. With an adult weight of 55-80 pounds and height of 21.5 inches to 24.5 inches, they are excellent-natured with high intelligence and loyalty packed into an energetic fur coat. 
Poodle is one of the most recognizable breeds of dogs. Miniature Poodles are affectionate, joyful dogs that exhibit loyalty and intelligence. Adults often stand between 10 and 15 inches tall and weigh between 10 and 15 pounds thanks to their short, curly coats that shed very little.
Labradoodle Size and Characteristics
Labradoodles originated in Australia, developed by a dog trainer looking to for a hypoallergenic cross with high intelligence to use as a guide dog. The Labradoodles of today are a result of those early trials.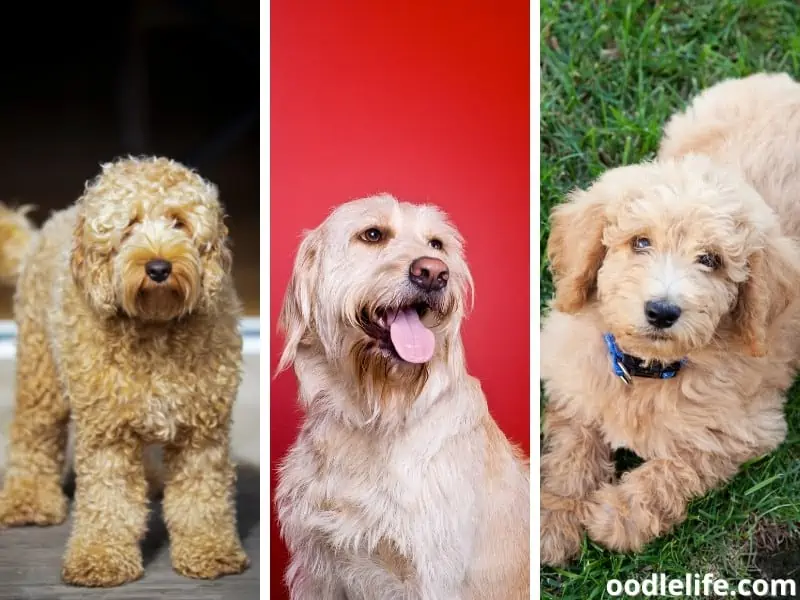 Labradoodle sizes vary depending on the size of the Poodle parent. A Miniature Poodle parent results in an adult Labradoodles weighing 30-35 pounds. A Standard Poodle parent results in a Labradoodle weighing 45-60 pounds. 
Coat characteristics depend on parental genetic input. Labradoodles have smooth or straight coats, wiry or fleece coats, and curly or wool coats. While not entirely non-shedding, Labradoodle owners experience lesser allergens, especially with curly or wool-coated companions.
Labradoodle Temperament, Trainability & Care
Labradoodles display high levels of intelligence with a keen sense of loyalty and adoration for their family. They can be protective but are generally an outgoing breed known for playful antics and a love of adventure.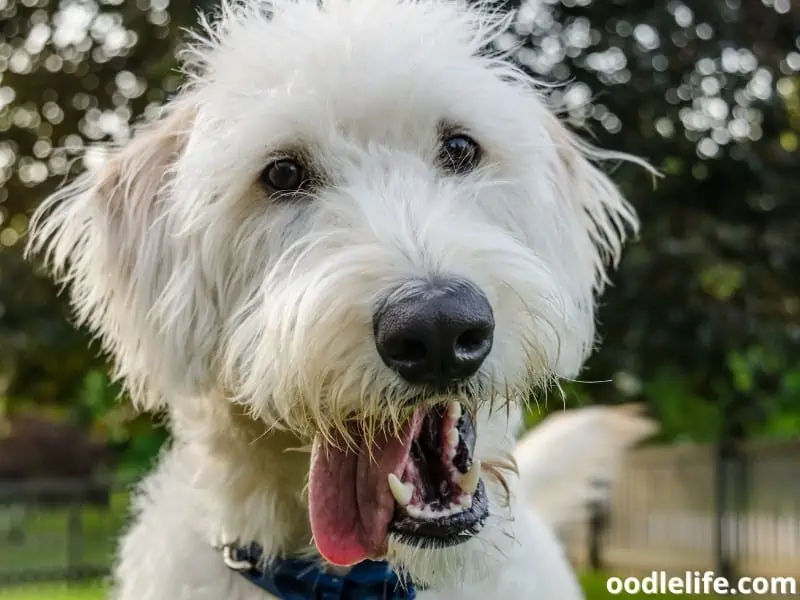 Labradoodles with heavier fleece trait coats or fully curly-coated coats require regular brushing and visits to the groomer. A straight or wiry coat requires bathing and brushing on a less frequent basis.
1. Jubilee Labradoodles
In the Irish Hills between Detroit and Kalamazoo, Jubilee Labradoodles have been breeding dogs for over ten years on their 12-acre farm. As owner-recommended breeders, they have a 4.9/5 star review rating on Google.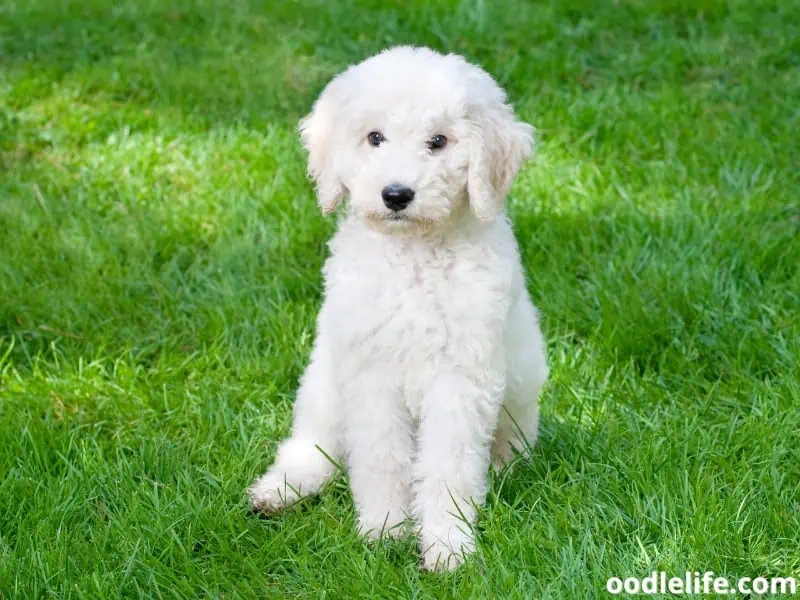 Showcasing Australian Labradoodles, Jubilee puppies are bred for a refined bone structure, excellent temperament, genetic health, and beautiful, soft coats. Jubilee Labradoodle parents undergo comprehensive genetic testing to ensure the health of parents and subsequent litters.
Litters are planned twice per year, and a $500 non-refundable deposit must be placed on the waiting list. Puppies are born in a home environment, socialized from birth, and are exposed to noise, adventures, and plenty of fresh air and playtime.
Upon pickup at 9 weeks, your puppy will be spayed or neutered, microchipped, receive age-appropriate vaccinations, and a puppy care package goes with you. With each puppy purchase, Jubilee provides a 3-year health guarantee.
The care pack includes a bag of puppy food, a sample of vitamins, a Snuggle Puppy to ease separation, a puppy blanket and bed, a Poochie potty training bell, collar, leash, and toys, and promotional Jubilee gifts.
Breeder Details:
2. All Star Breeders of Labradoodles
Nestled on 80 acres of land for their dogs to explore and grow, All Star Breeders owners, Carl and Monique Algera, invite you to peruse their breeding program and photos of puppies past and present.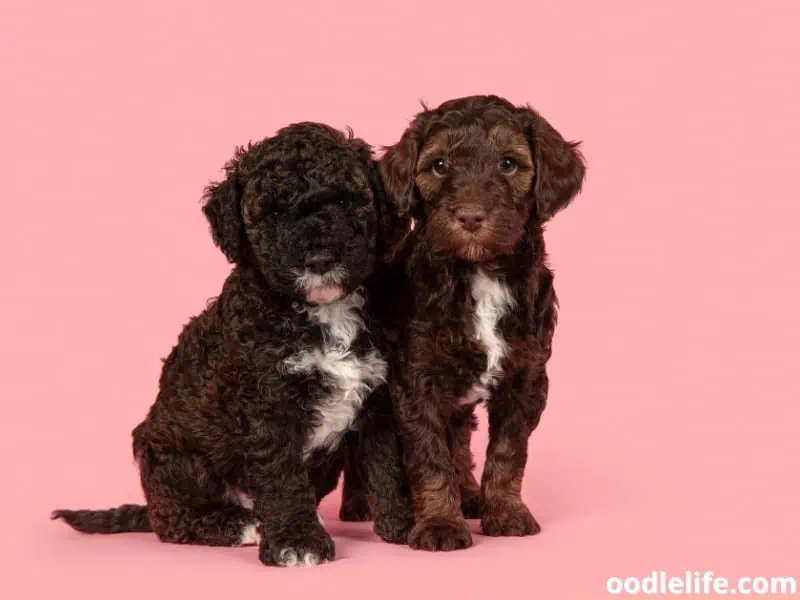 With 15 years of experience and an average 4.8-star customer rating, All Star is a proud member of the Worldwide Australian Labradoodle Association (WALA).
All Star Breeders utilizes "guardian" families that care for dogs in their breeding program to ensure loving family environments. Due to the limited number of litters annually, a $500 deposit places your name on a waiting list. Puppy updates are available on the Facebook page, and potential parents can interact with prior customers.
Parent dogs undergo extensive testing for genetic health. Puppies receive age-appropriate vaccinations, worming, and a microchip. Puppy Culture and Early Neurological Stimulation (ENS) begins at three days of age for a well-socialized and cognitively sharp adult dog. 
Breeder Details:
3. South Mitten Australian Labradoodles
Rated with 5-stars from over 23 customers, South Mitten Labradoodles has over three years of experience raising puppies in their home as part of their family.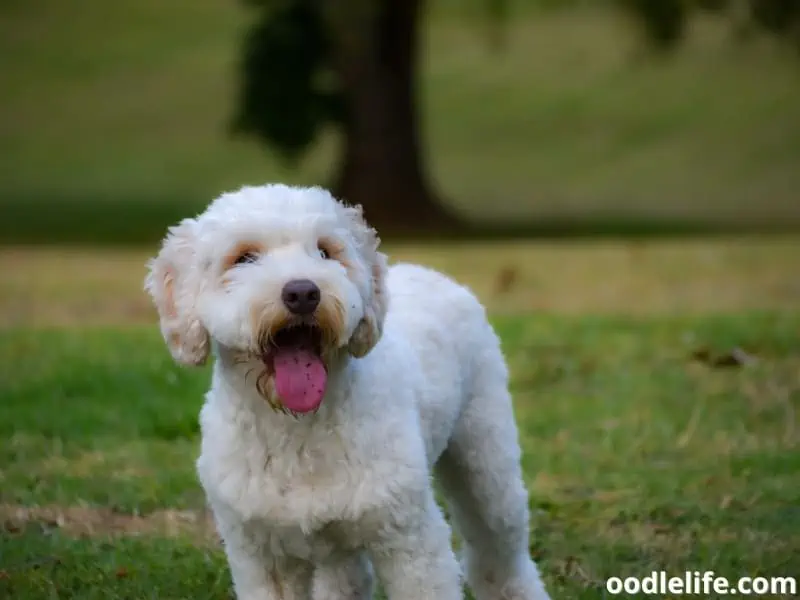 As recognized members and awarded breeders of the Australian Labradoodle Association (WALA), they have a small, personalized breeding program for Miniature and Small-Medium sized Labradoodles. With only a few litters planned per year, there is an application process and a $500 non-refundable deposit to be placed on a waiting list.
Adult dogs in the breeding program undergo extensive genetic testing to ensure the health of litters, and any puppy has a two-year health guarantee. Puppies undergo Early Neurological Stimulation (ENS), basic manner training, and early outdoor potty training.
South Mitten works with potential homes to determine the best fit for both the puppy and the owner. A spay/neuter contract is required.
When you pick up your puppy at eight weeks, your new family member will have age-appropriate vaccinations, a microchip, and its own puppy package with toys, a scented Snuggle Blank, a collar and leash, and a sample of food to ease the transition.
Breeder Details:
4. Acme Creek Labradoodles
With over thirty years of experience as both a breeder and veterinary technician, Acme Creek Labradoodles boasts a 4.9-star rating on Google from happy customers. Their breeding dogs are tested through Embark Genetics Testing for 160 diseases and are fully DNA tested.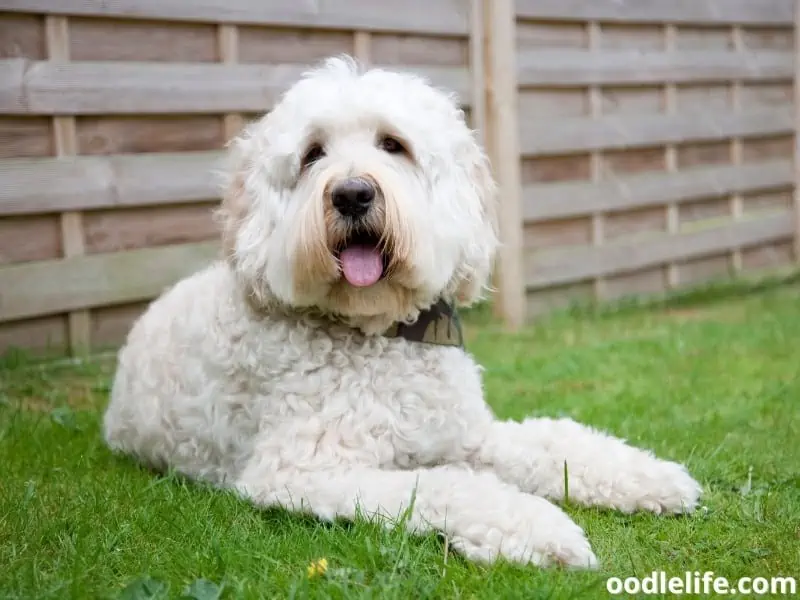 Litters are carefully planned, resulting in only two per year. To be placed on a waiting list, simply fill out an application with information regarding your lifestyle, preference in a puppy, and questions about the home environment. Once submitted, a $500 non-refundable deposit will hold your spot on a waiting list.
Acme Creek breeds Miniature and Medium Labradoodle puppies with soft, curly coats. Socializing begins almost immediately, and they are raised in a family environment.
Puppies are given a full veterinarian exam, age-appropriate shots, de-worming, and first grooming appointment. Puppies can be picked up in person, or air transport can be arranged for an additional fee. Your puppy will have a full two-year guarantee and come home with a scented puppy blanket, a small bag of food, and be fully socialized.
Breeder Details:
Conclusion
As superb family dogs and friends, Labradoodles combine the best qualities of the Labrador Retriever and the Poodle.
A Labradoodle is an excellent choice for senior pet owners or households with young children due to their trainability and disposition. They are highly intelligent, affectionate, and devoted creatures. The low shedding of many Labradoodles contributes to the appeal of this breed.
Whether you are merely interested in learning more or want to talk about upcoming litters, breeders are happy to meet with you and offer information about their breeding program and how a Labradoodle can be the perfect fit for you.