8 Best Shih Tzu Breeders in Texas (2023)
The compact, fluffy, and adorable-looking Shih Tzu is one of the top favorites for families and individuals who want to experience having a dog. They have the looks and the personality that jive with all household members.
This breed was originally bred in China for royalty. They enjoy getting cuddled and pampered while enthusiastically giving out puppy kisses to their owners. Shih Tzus are playful and mischievous sweethearts, and they love the attention their human families shower them with.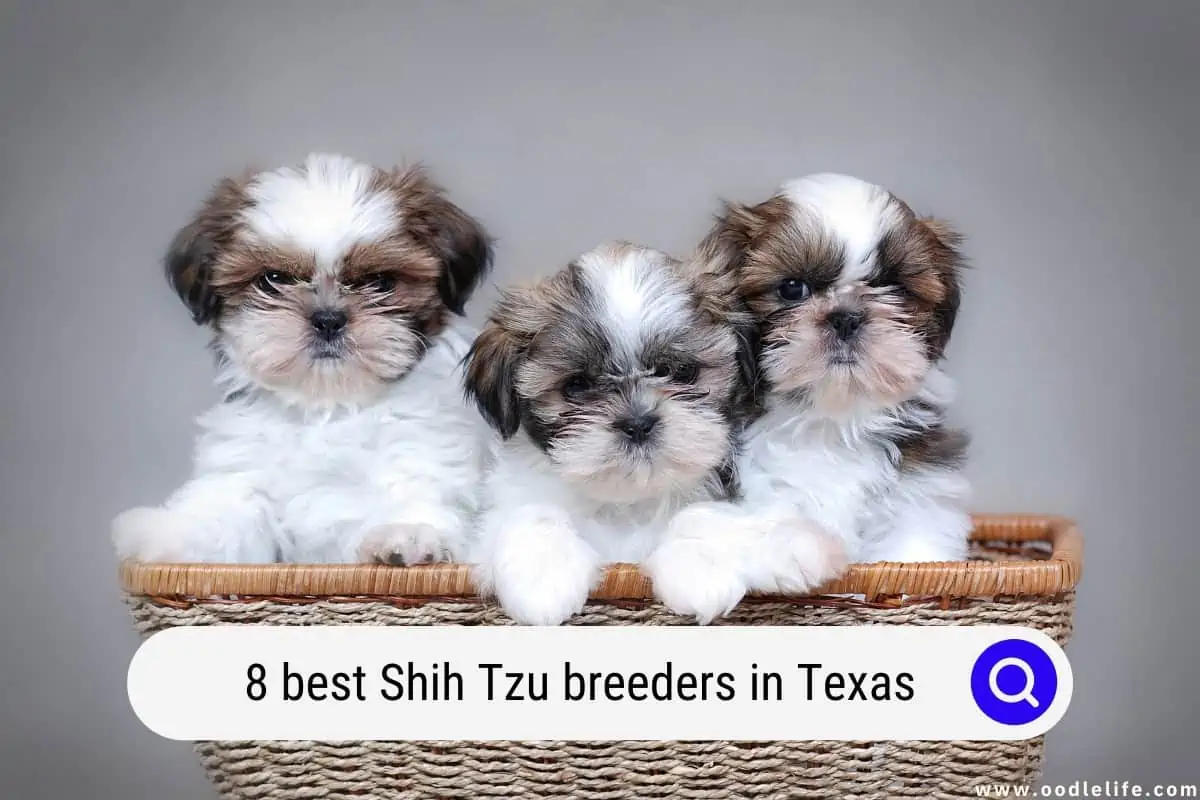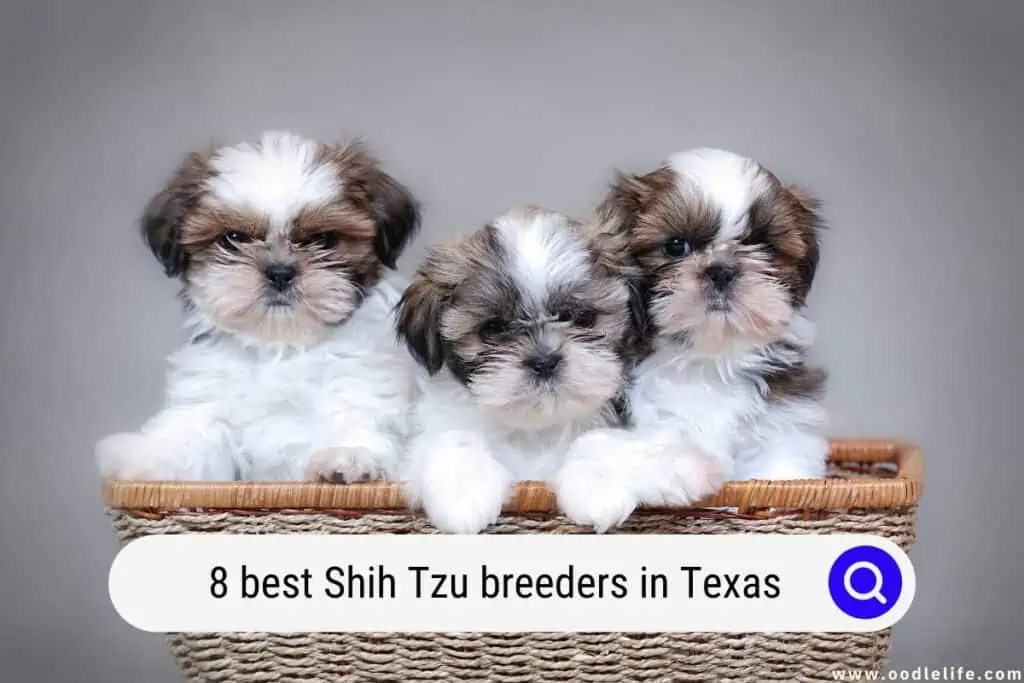 $300 2023 Discount!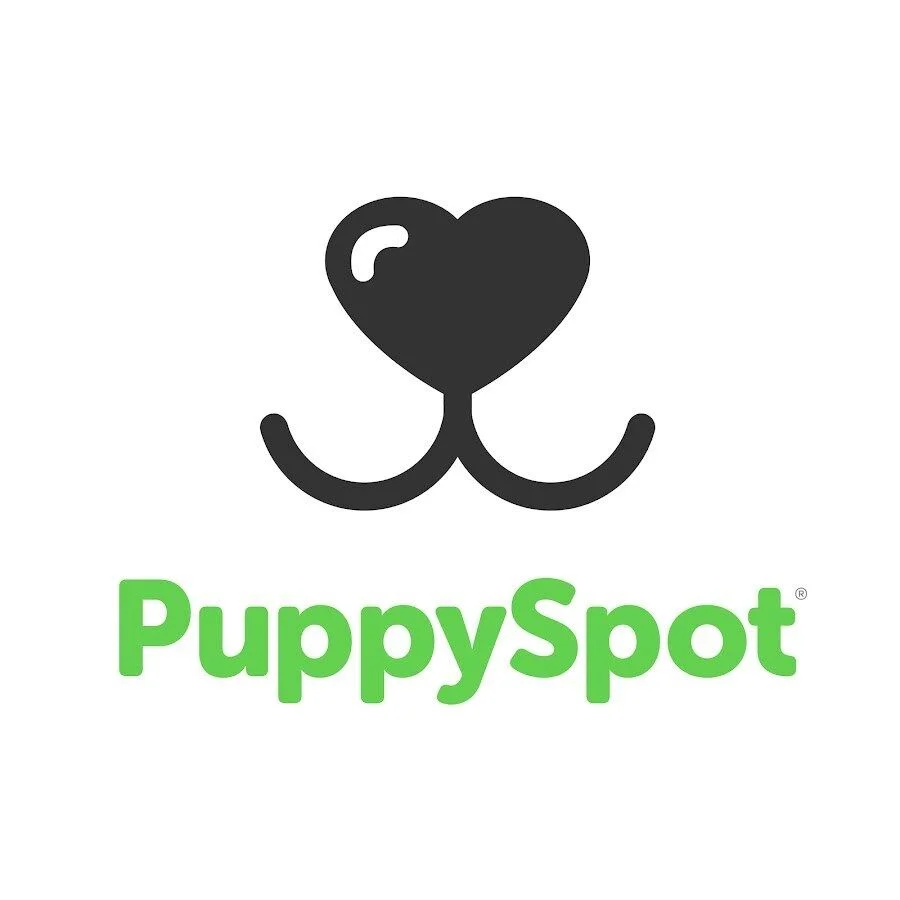 PuppySpot Adoption
PuppySpot is a reputable dog marketplace where you can browse and find compatible puppies right from the comfort of your home. They have placed over 200,000 puppies into homes in the US!
Click through and use the code PUPPY300 for $300 off any puppy adoption.
See Puppies and Save $300
There is a steady demand for Shih Tzus, especially among apartment dwellers. If you want to bring home this breed to become part of your family, make sure you get one from a reputable, established, and trusted breeder.
And if you are in Texas or nearby states, you can get the job done by finding the best Shih Tzu breeders in Texas with this list.
Best Shih Tzu Breeders in Texas 2023
1. Lotus Shih Tzu
Breeder Since 2009
Arguably one of the best Shih Tzu breeders in Texas, Lotus Shih Tzu takes pride in all their champion Shih Tzus who come from champion pedigrees.
The breeder limits the breeding to a few litters per year. Yes, despite being able to produce beautiful puppies, Lotus Shih Tzu is not a commercial breeder.
Being involved in conformation shows since 2009, this breeder raises all their AKC dogs in their home, where they shower the pups with love and attention and pamper them. The breeder offers the pups neurological stimulation from days 3 through 16. This is one of the practices that contribute to this breeder's success.
This puppy encouragement has helped yield Shih Tzu pups with better cardiovascular performance, improved stress-coping mechanisms, more potent adrenal glands, and better resistance to diseases.
The breeders keep the pups in an environment that allows them to socialize, so moving to their forever homes won't be a difficult transition.
The Lotus Puppies
The Lotus Puppies is an AKC breeder of merit and part of AKC's bred with H.E.A.R.T program. They are also a member of the American Shih Tzu Club and the Trinity Valley Shih Tzu Club, so you can expect the puppies to be of high-quality caliber.
You can rest assured knowing that the puppies have excellent temperaments and great health. The breeder's partner vet works with them to provide their age-appropriate vaccinations and deworming.
All Lotus puppies come with a 1-year health guarantee which covers genetic defects. And when it is time to pick up your puppy, it comes home with its puppy kit to ensure a seamless and effortless transition.
Contact Details:
Website: https://www.lotusshihtzu.com/index.html
Phone: (903) 624-9197
Email: [email protected]
Location: Denison, Texas
2. Karyon Shih Tzu
About Karyon Shih Tzu
Karyon Shih Tzu under Pat Fletcher is one of the best Shih Tzu breeders in Texas, with 36 years of experience. She is a member of the American Shih Tzu Club and the Trinity Valley Shih Tzu Club.
She is an AKC breeder of merit and has produced championship-winning pedigrees. Every time she enters her Shih Tzus in conformity, obedience, and agility events, she brings home a prize and recognition.
Some of the accolades she has won are Top Winning, Top Producing, Group Winners, National Shih Tzu Specialty Winners, and Best in Show Dogs in the United States and abroad.
Contact Details:
Website: https://www.karyonshihtzu.com/
Email: [email protected]
Location: Weatherford, Texas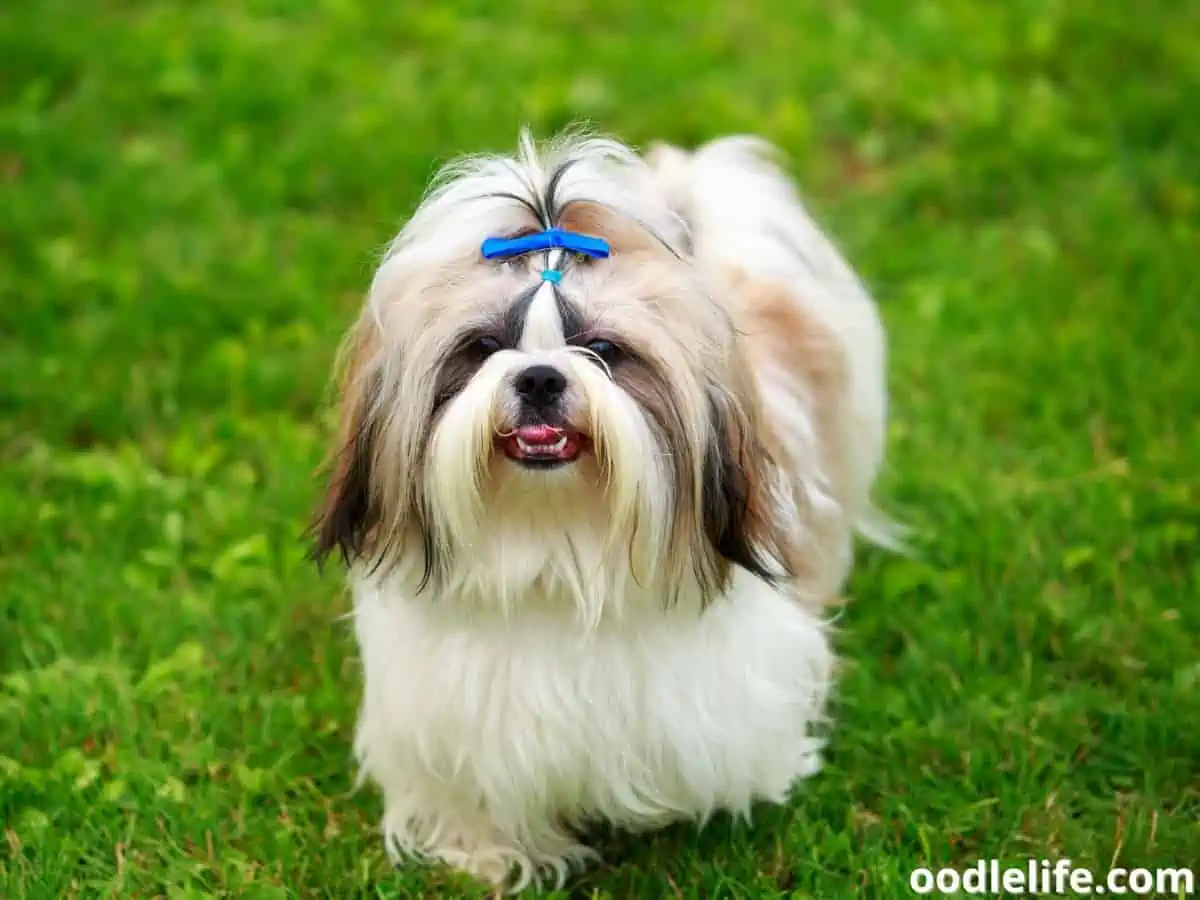 3. Divine Design Shih Tzu
Purchasing a Puppy
All the dogs from Divine Design Shih Tzu are AKC registered. This breeder is thoroughly AKC inspected and compliant.
And when you decide to bring home a puppy from this breeder, you have to settle for a contract that offers limited AKC registration. This means they are only sold for the sole purpose of being pets and companions and not for breeding.
You also have to be willing to fulfill your side of the contract when your Shih Tzu comes of age because the Divine Design Shih Tzu breeders sell the pups only on a spay/neuter contract. Complete AKC registration is available but only to extensively screened and established Shih Tzu breeders.
All the Divine Design Shih Tzu puppies come with a one-year health guarantee. On the release day of the puppies, all accepted new parents need to pick up the pups personally.
This breeder is against shipping puppies. Arrangements can be made for a pet nanny to deliver the puppy to your location.
Puppy Pricing
Divine Design puppies are priced individually. The price is dependent on factors like color popularity, color rarity, gender, size, demand, conformation to the Shih Tzu standard, and the overall appearance and the pup's overall attributes.
Committed individuals need to settle the $400 deposit to hold their puppy. You can pay the deposit 10 to 14 days after the litter is born, assessed, and priced. Once the breeder updates the pups as "available" on the website, you can place your deposit or reservation fee.
Contact Details:
Website: https://www.divinedesignshihtzu.com/
Phone: (817) 808-1577
Email: [email protected]
Location: Burleson, Texas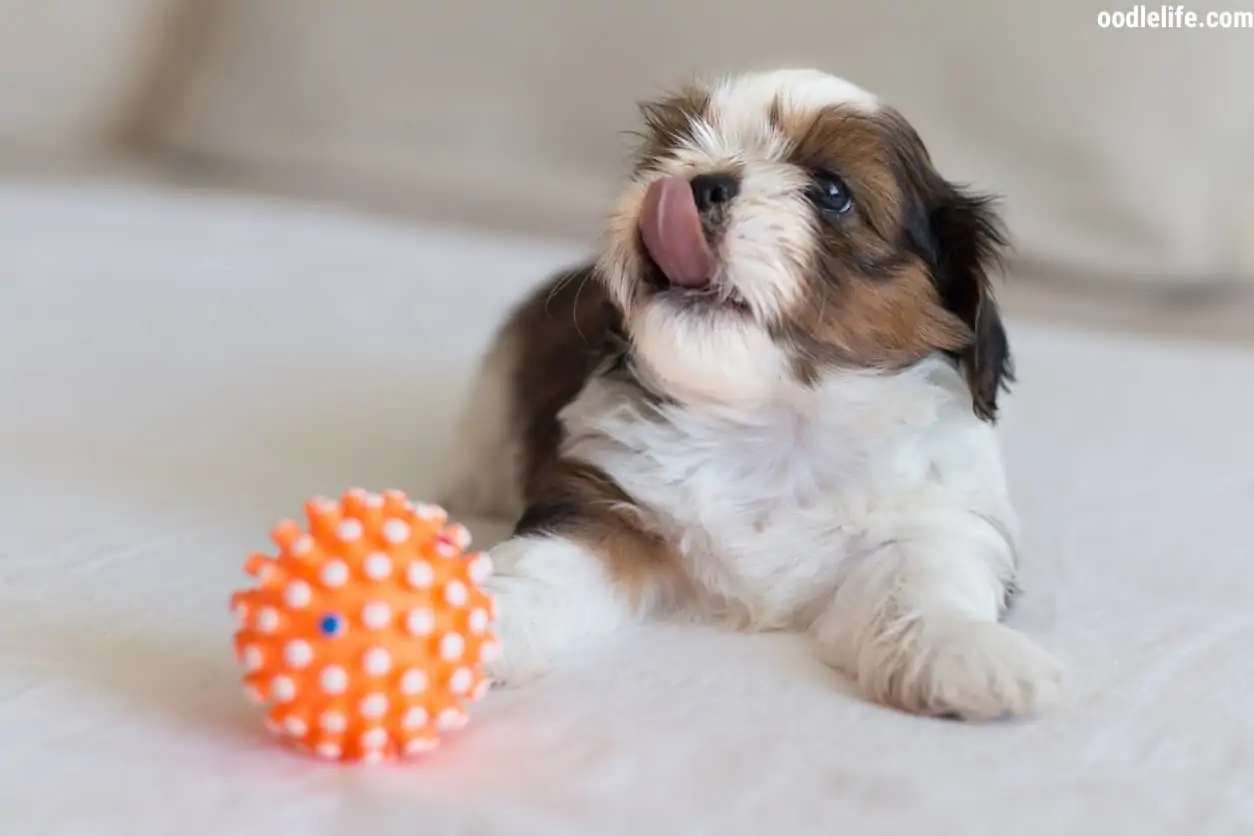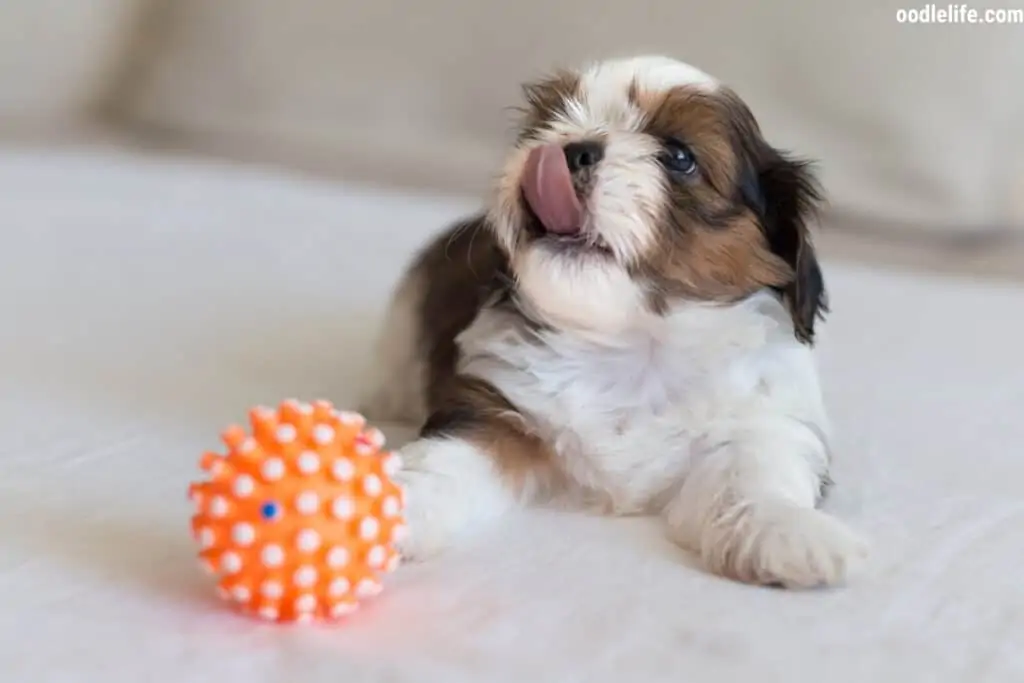 4. Precious Tzu Crew
Be Part of the Crew
Precious Tzu Crew is a small and in-home breeding program, by choice, so every puppy and dog can receive undivided attention, care, and love. The goal of this breeder is to share the joys of having a Shih Tzu as part of the family.
This hobby Shih Tzu breeder in Texas raises and keeps her dogs inside her home. This allows her to introduce the pups to socialization at an early age to make their transition to their forever homes easier.
Also, the puppies' health is an utmost priority. To ensure that the puppies have the best genetic health, Precious Tzu Crew makes it a practice to have all her adult dogs and breeders genetically tested before breeding. Note that the breeding is carefully planned to ensure that the breeding dogs and the pups are in top shape.
The vet visits the puppies frequently to ensure they receive their age-recommended vaccinations, deworming, and health checks. And when they go home with their new parents, these microchipped pups bring home a one-year health guarantee, a food starter bag, and a blanket with their mother's scent.
Enrichment and Socialization
Aside from early socialization, the breeders at Precious Tzu Crew also train the pups on how to potty outside. They train the pups to drink from their drip bottles.
The breeders incorporate enrichment training like Touch Desensitization, Grooming Desensitization, and Household Desensitization from an early age. They socialize the pups with adult dogs and other dogs. They ensure the pups enjoy human interaction and help them with confidence building.
The pups learn the commands "leave it" , "off", "sit", and "no biting or chewing". They get familiar with puppy pads and name recognition. The breeder exposes them to various surfaces, sound stimulation, basic manners, and initial house training too.
Contact Details:
Website: https://www.gooddog.com/breeders/precious-tzu-crew-texas
Location: Baytown, Texas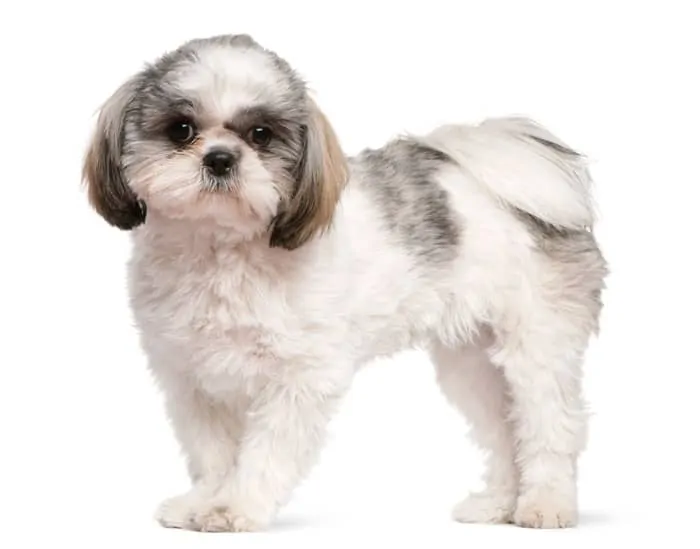 5. Shih Tzu Pups Texas
Available Puppies
This breeder is proactive in posting the details of available puppies on their website, so interested families need to add their site to their favorites, so they can stay updated on the new litter.
The website also includes information on the pups' parents, so you can set at least the basic expectation, especially when it comes to appearance.
Shih Tzu Pups Texas conveniently has a "Get Quote" option on the site, so you can easily inquire about the pricing and other relevant information on how to purchase a puppy from this breeder.
Contact Details:
Website: https://shihtzupupstexas.com/
Phone: (972) 562-8595
Location: McKinney, Texas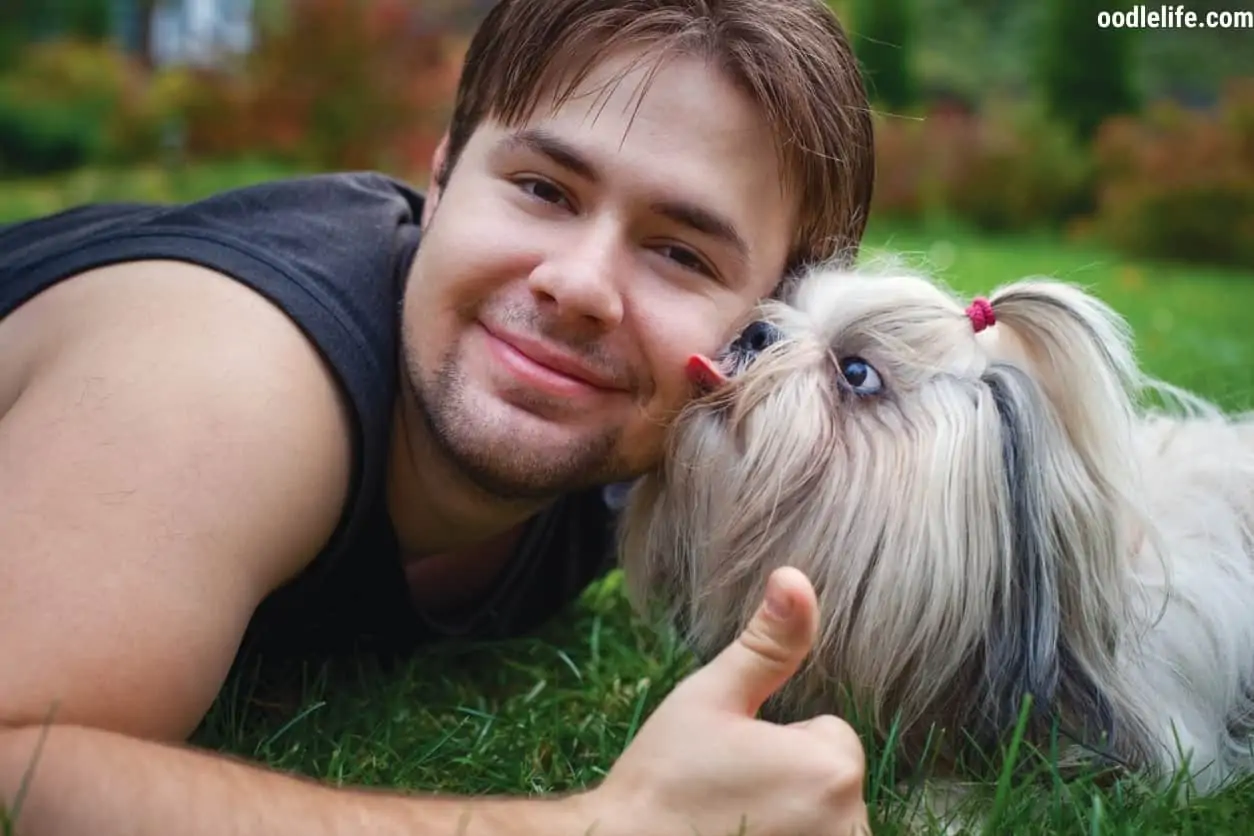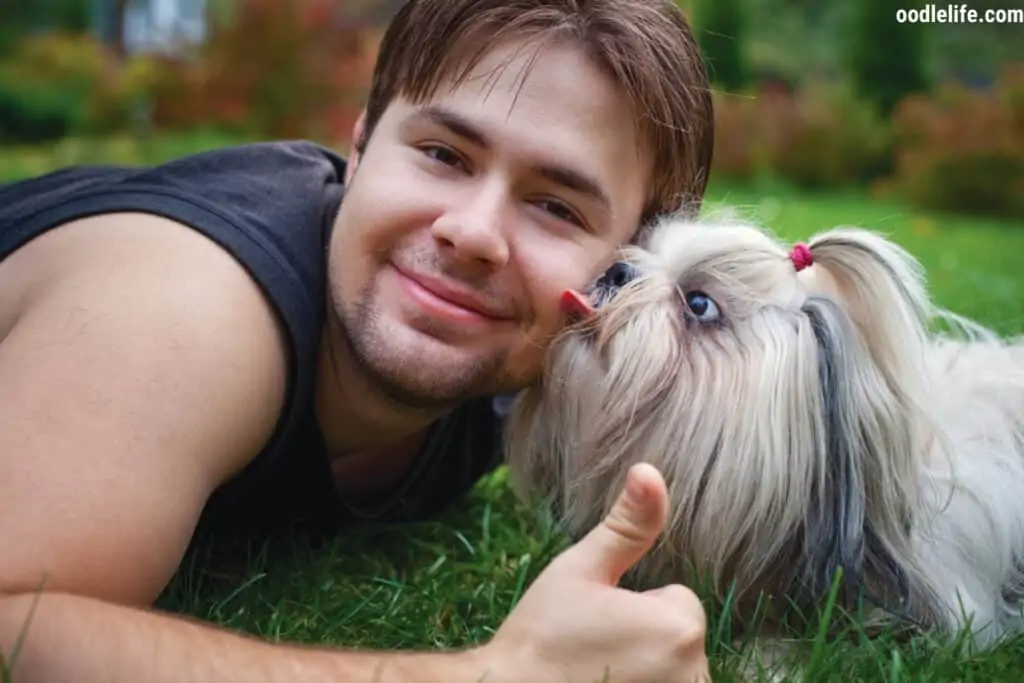 6. Smith Shih Tzu
Meet Ann Smith
Ann Smith is the woman and breeder behind Smith Shih Tzu, located in Troy, Texas.
With the help of her family, she is entirely and impressively hands-on when it comes to raising the puppies, including monitoring their health and development.
Ann works closely with her partner vet to ensure that their breeding efforts are productive, ethical, and successful. And Ann's active family members socialize with the pups from a young age. They interact with the pups daily, so they know that engagement and touch with humans and other animals is a norm in their lives.
The breeders also guide the Shih Tzu mothers well. As a result, they are more attentive and loving to the pups. Both the mother and pups stay in a calm and safe environment, which plays a significant role in making this happen. Smith Shih Tzu has certainly created a homey, welcoming, and stress-free setting.
And so far, this has contributed to puppies with a pleasant temperament.
Special Breeding Program
What makes Smith Shih Tzu's breeding work unique and successful is their limited litter. Yes, they can decide otherwise, but Ann is keen not to overbreed.
They always treat the breeding dogs well and ensure they will forever spend their lives in Ann's home. Even after the birth of a litter, they do not neglect the parents, specifically the mommy Shih Tzus. Instead, the breeder provides them with more attention, ensuring that they are comfortable and happy.
Contact Details:
Website: https://www.gooddog.com/breeders/smith-shih-tzu-texas
Location: Troy, Texas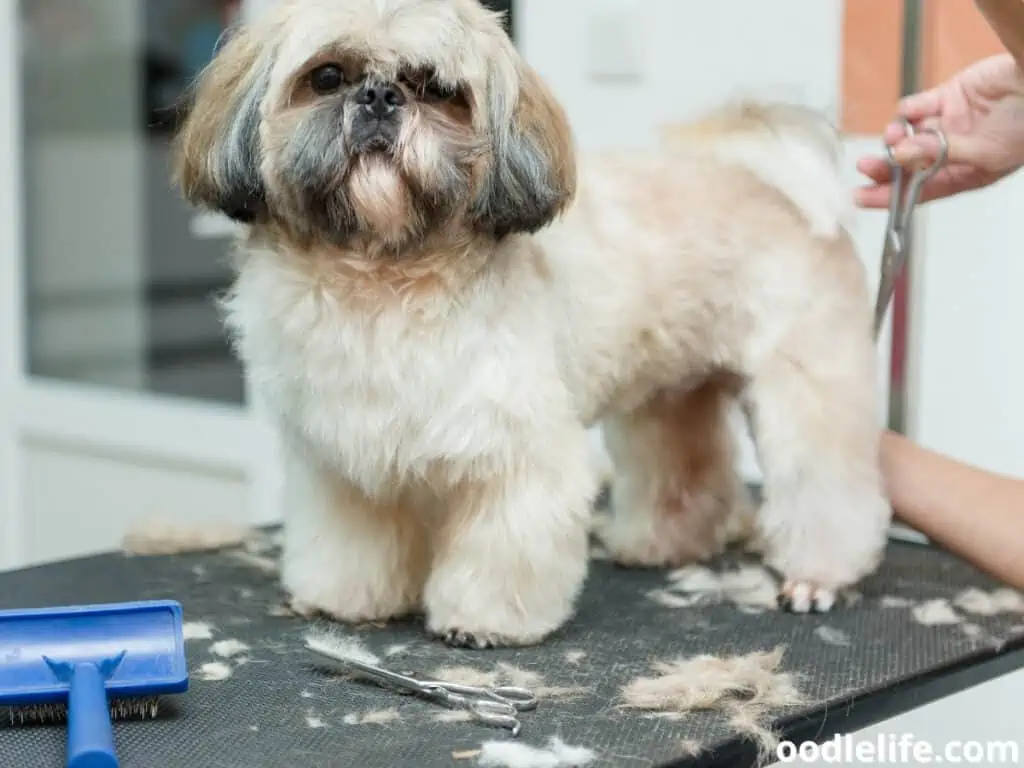 7. Pure Beauty Shih Tzu Pups
Pure Beauty and Love
The breeder at Pure Beauty pampers all the pups with attention, cuddles, and plenty of kisses.
Her ultimate goal is to find families that can offer the pups the love and attention they deserve and keep them safe even when they become senior Shih Tzus.
This breeder and her family make every effort to ensure that the environment is stress-free and secure for the tiny explorers. They also introduce them to socialization as early as possible.
When it's time for the puppies to go home to their forever homes, they bring with them their puppy starter kit. Also, new owners will have peace of mind knowing that these adorable pups have already received their age-appropriate vaccines, deworming, and flea and tick prevention doses.
Since Pure Beauty Shih Tzu Pups is not a large facility, they do not allow tours, and they schedule visits strictly by appointment only.
They advise new owners to pick up their puppies, but they can deliver the pups if you stay within 8 miles. The breeder does not ship the puppies.
Adoption Application
Adopting a Shih Tzu from Pure Beauty Shih Tzu Pups is seamless. The breeder has made a fair process so as not to discourage anyone from opening their homes. You can both adopt Shih Tzu puppies and adult dogs.
They have a puppy application exclusively for those who want to bring home a pup. And they have a dog application for those who want to foster or adopt an available adult Shih Tzu.
Regardless, all interested adopters will have to go through extensive screening to ensure that they can establish a perfect match between human and dog.
Contact Details:
Website: https://purebeautyshihtzup.wixsite.com/purebeautyshihtzupup
Phone: (210) 286-0933
Email: [email protected]
Location: San Antonio, Texas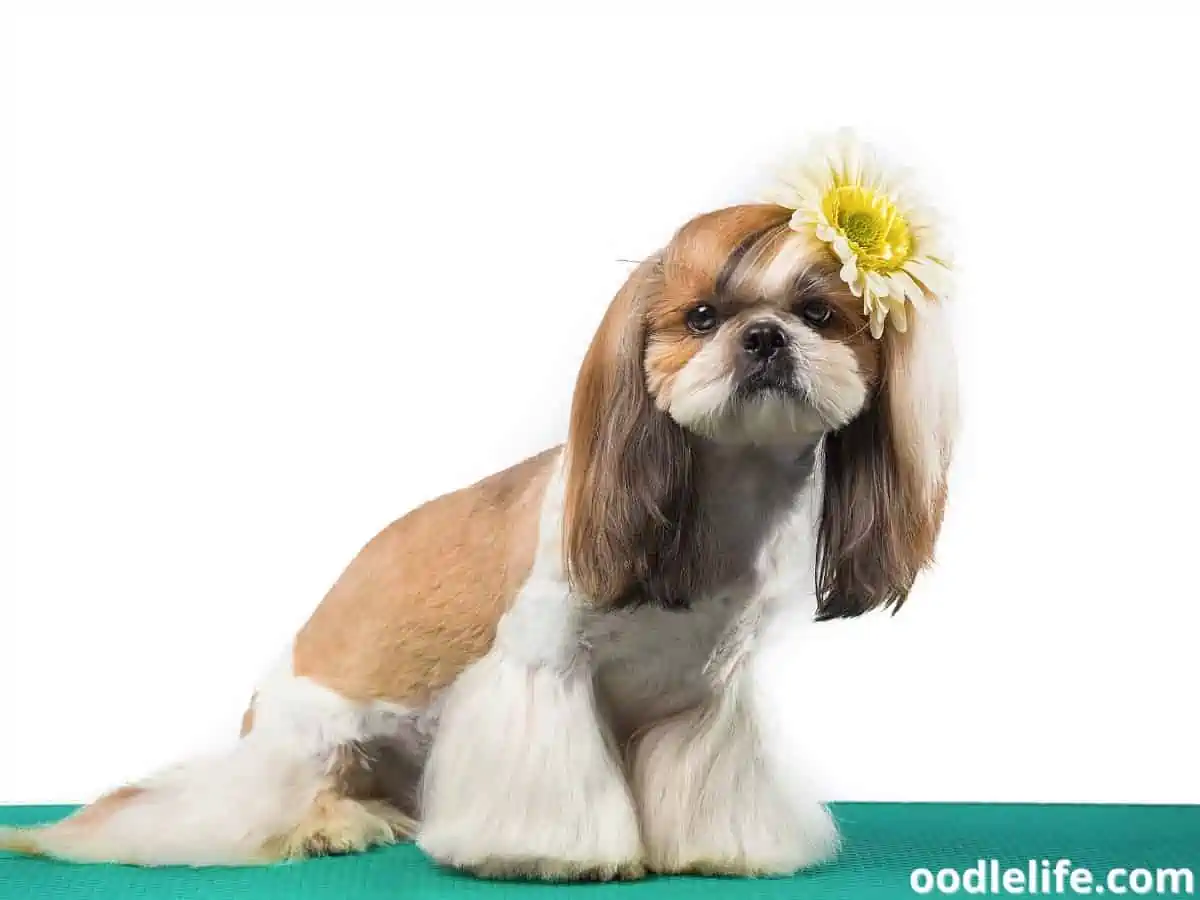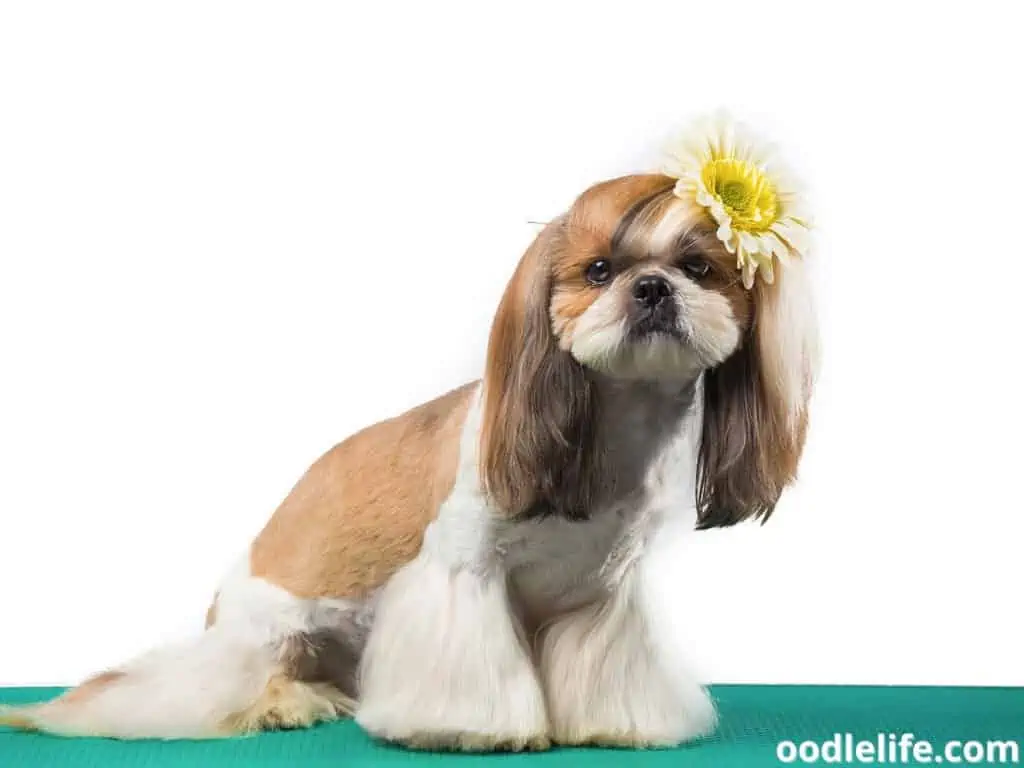 8. Faith's Little Angels
Getting to Know Faith's Little Angels
A recent transition occurred in Faith's Little Angels leadership with the primary breeder passing on the business to his father.
This change will in no way affect the ethical breeding that this home breeder practices or the quality of the Shih Tzu pups. Offering AKC Shih Tzu puppies and the occasional Shichon, Mal-Shi, Bichpoo, Shihpoo, and Sheepadoodles, Faith's Little angels send all their puppies to safe and loving homes.
From birth, they constantly shower the puppies with love and attention. Pups and dogs alike are free to roam on the breeder's Texas property. The breeder never puts them in cages unless they need to visit their veterinarian or if they need to travel to their new homes.
Faith's Little Angels does not sell to breeders. With the constant presence of backyard breeders and those breeding without enough knowledge and compassion, this breeder doesn't want any dogs to be treated inhumanely.
Contact Details:
Website: https://www.faithslittleangels.com/
Phone: (682) 500-0679
Email: [email protected]
Location: Lipan, Texas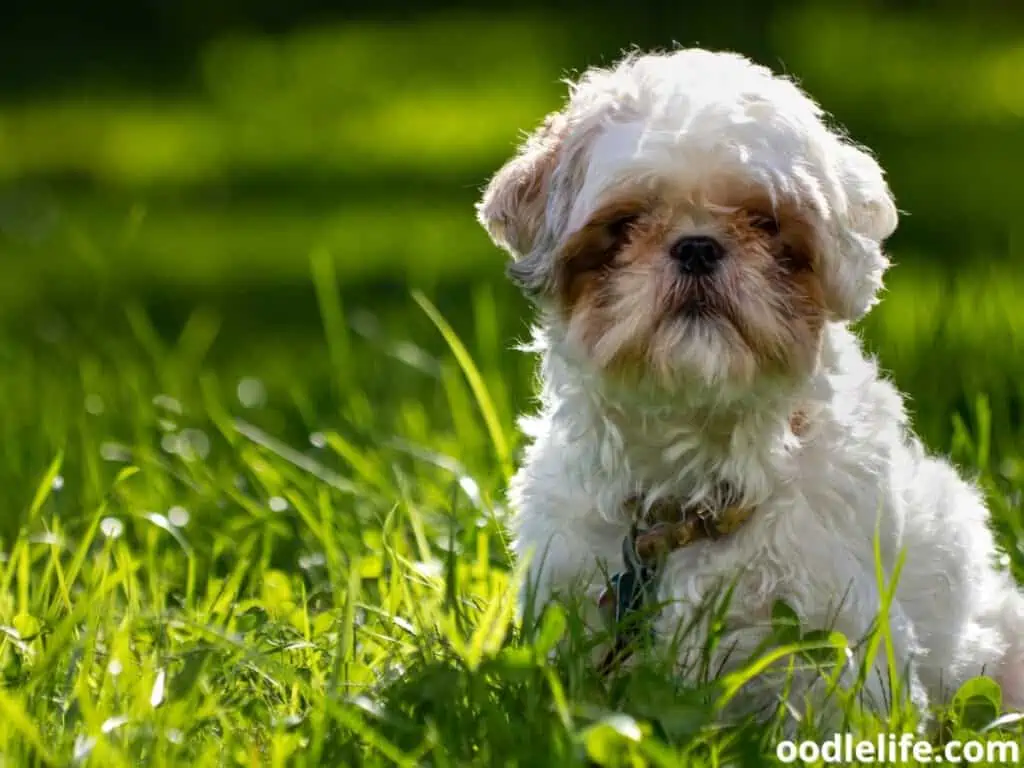 Conclusion
Shih Tzus are the complete package of fun, beauty, and character. Don't settle for anything else, and don't sacrifice the value and health of your future Shih Tzu just for a lower price.
Get in contact with any of these best Shih Tzu breeders in Texas and have your very own royalty dog in no time.