Top Dog Muzzle For Barking 2022 (Safely)
Having your dog bark endlessly at strangers as they walk past is frustrating and embarrassing.
While this is simply a way for your dog to communicate with you, it can disrupt other people's lives. Because of this, you may have entertained the idea of getting a dog muzzle.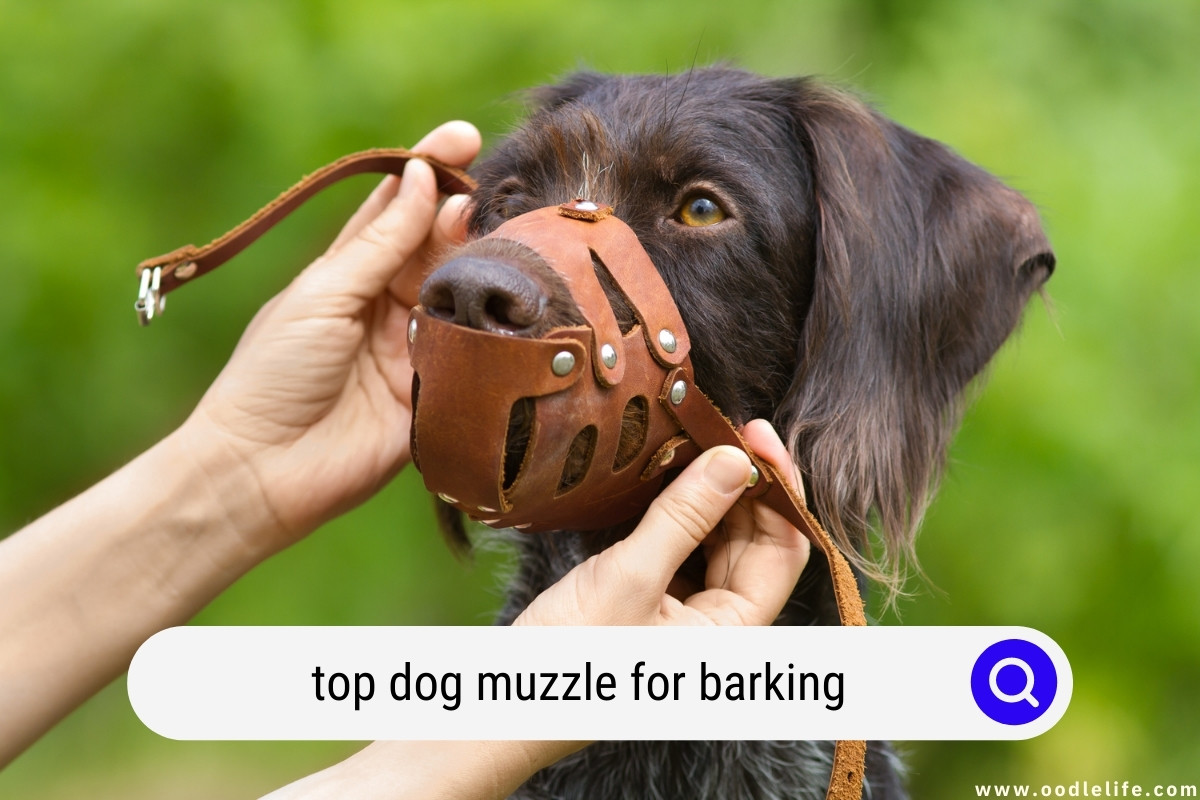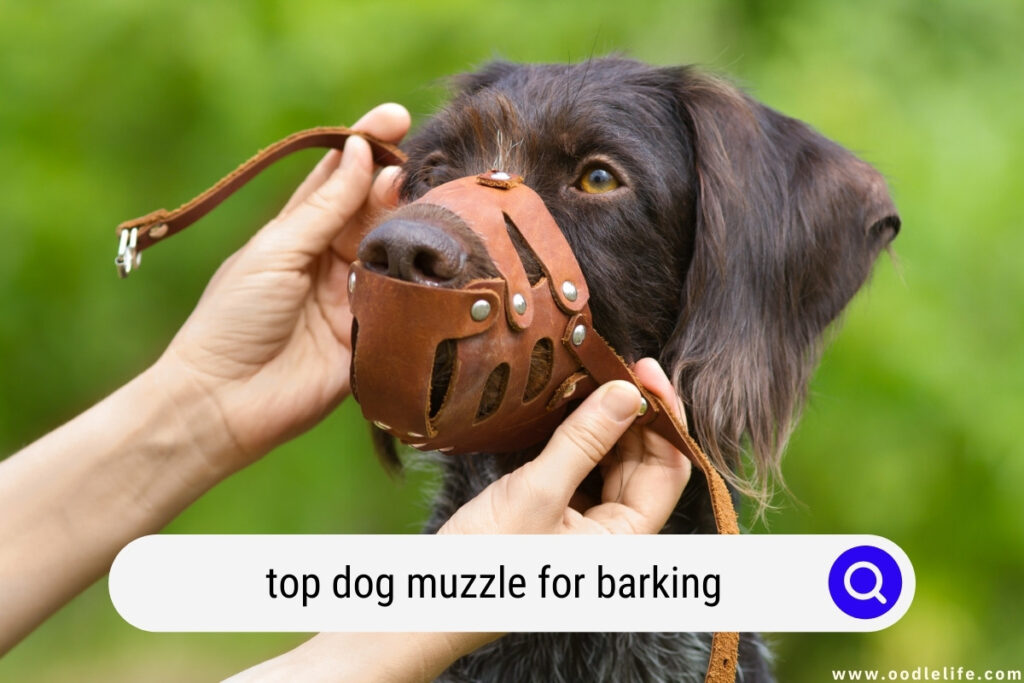 Muzzling your dog is a hot topic as many people view it as an unnecessary act. However, if a dog muzzle gets used appropriately, it can be a helpful tool for any dog owner. This is why dog owners need to be educated on muzzlers before they need one.
It is essential to find good educational articles on the topic. Finding a pet store, veterinary, or pet care professional who can provide you with the needed information is also beneficial. Be careful about misinformed people who can dissuade you with the wrong information.
Reasons Your Dog May Bark Excessively
Dogs are driven by instinct. Understanding some of the reasons they bark may help you help them stop barking.
1. Excitement
Barking due to excitement is a common dog trait. Mature dogs will bark only for occasional excitement. Puppies, on the other hand, can be easily excited.
This will cause them to bark at everything new. The best way to prevent excited barking is to walk your dog along familiar paths. Also, other forms of exercise to burn off excess energy will help.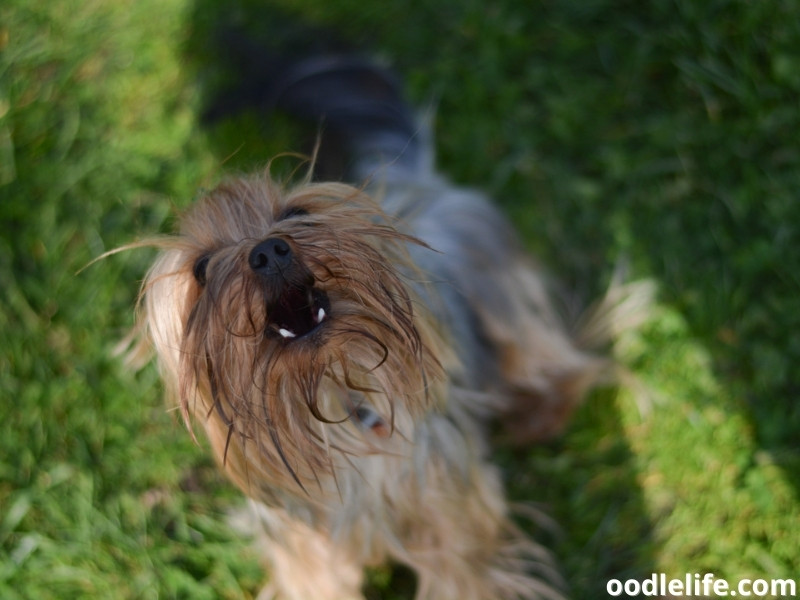 2. Protectiveness
If your dog senses danger, it will bark to warn you. This is why you should check to ensure there is no imminent danger. Dogs have more developed senses of smell, sight, and hearing.
Your dog may be sensing the actual danger that you cannot see.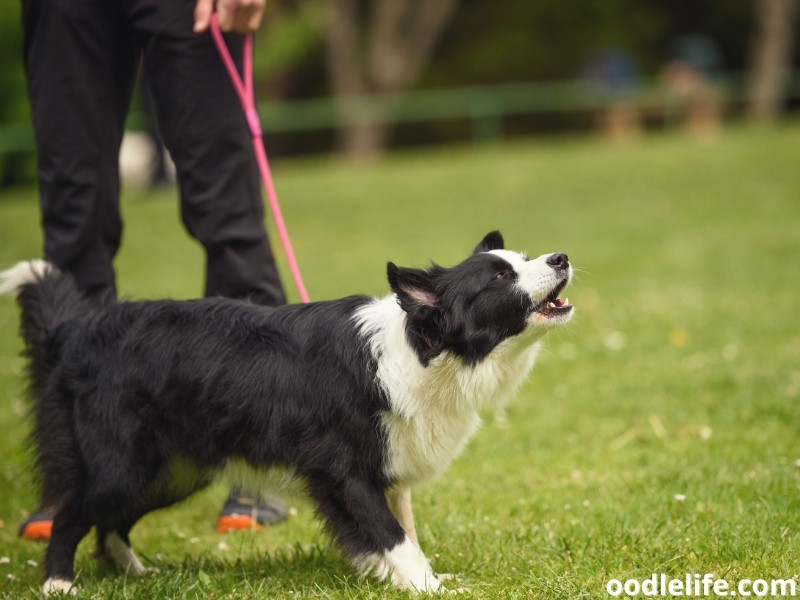 3. Territorial Tendencies
All animals love to protect their perceived territory. Your dog may sense other animals around and want to mark their territory. Sticking to a familiar path will keep territorial barking to a minimum.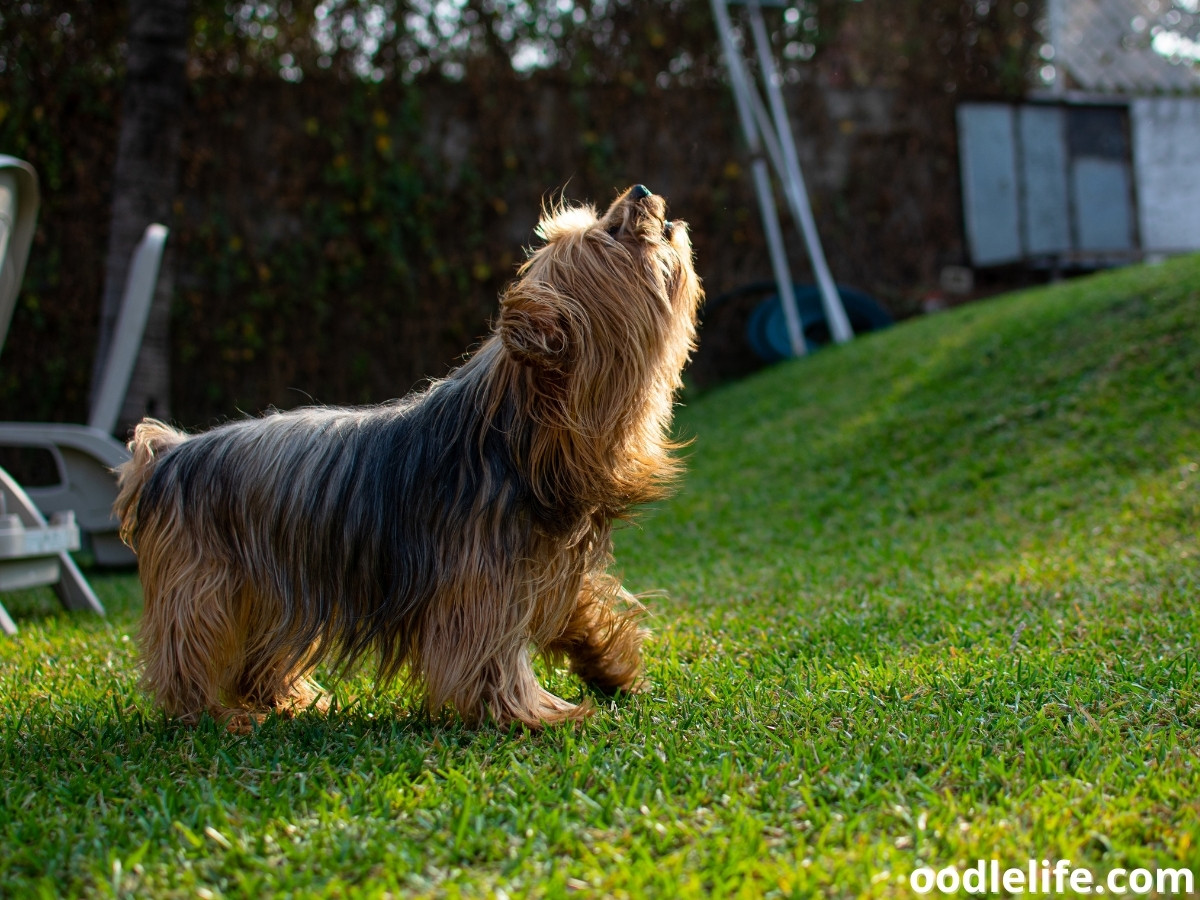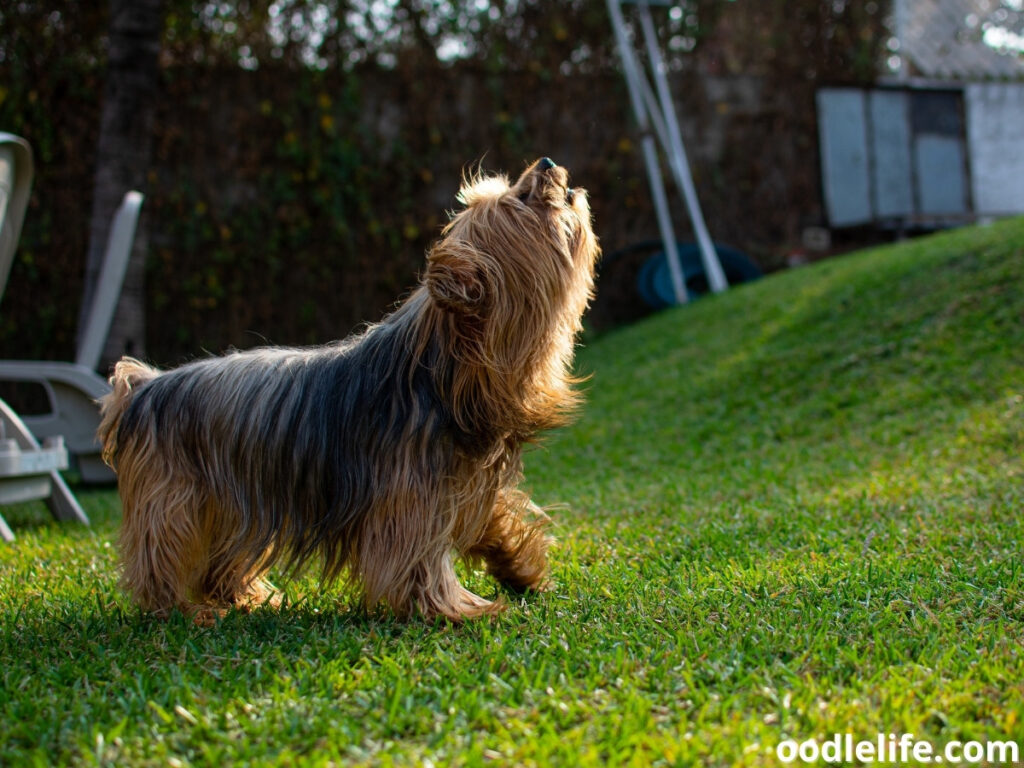 4. Anxiety and Frustration
Every dog can get frustrated, anxious, and stressed from time to time. These emotions come from illness, fatigue, confinement, etc. They will bark and whine excessively if that is the case.
Be sure to check on your dog's mental and physical health constantly.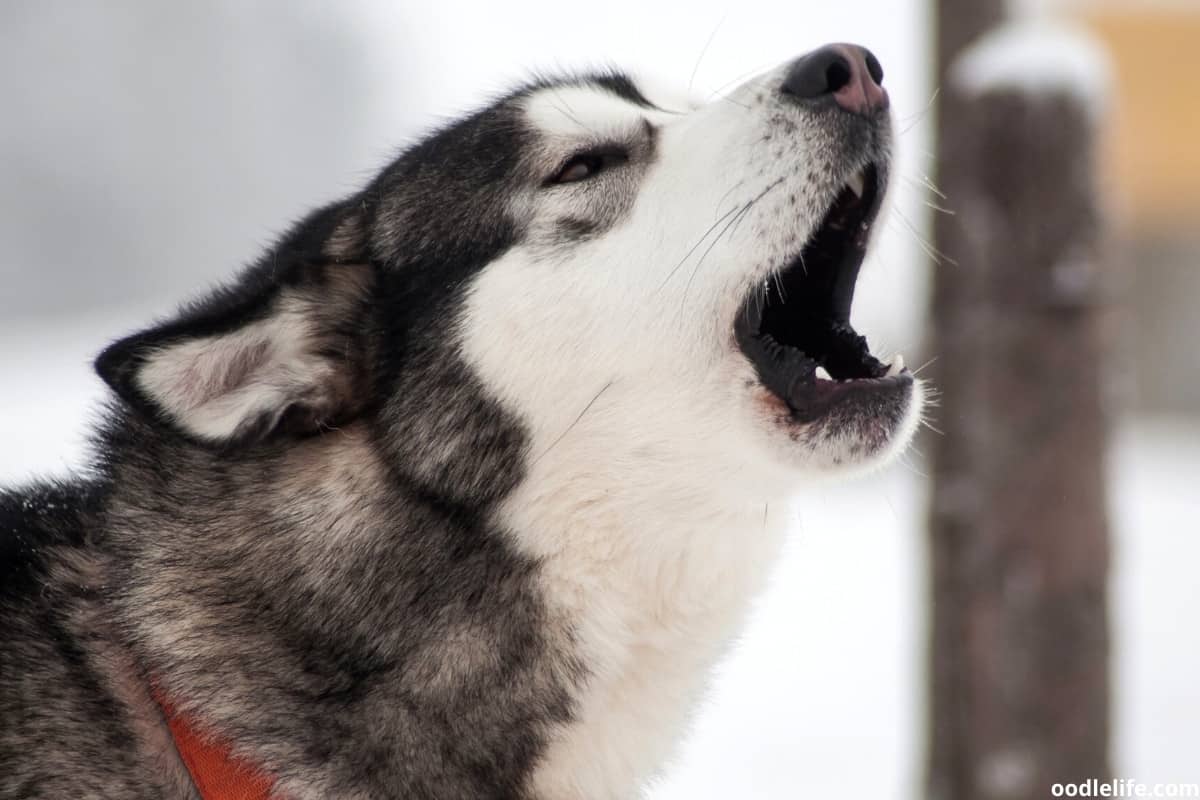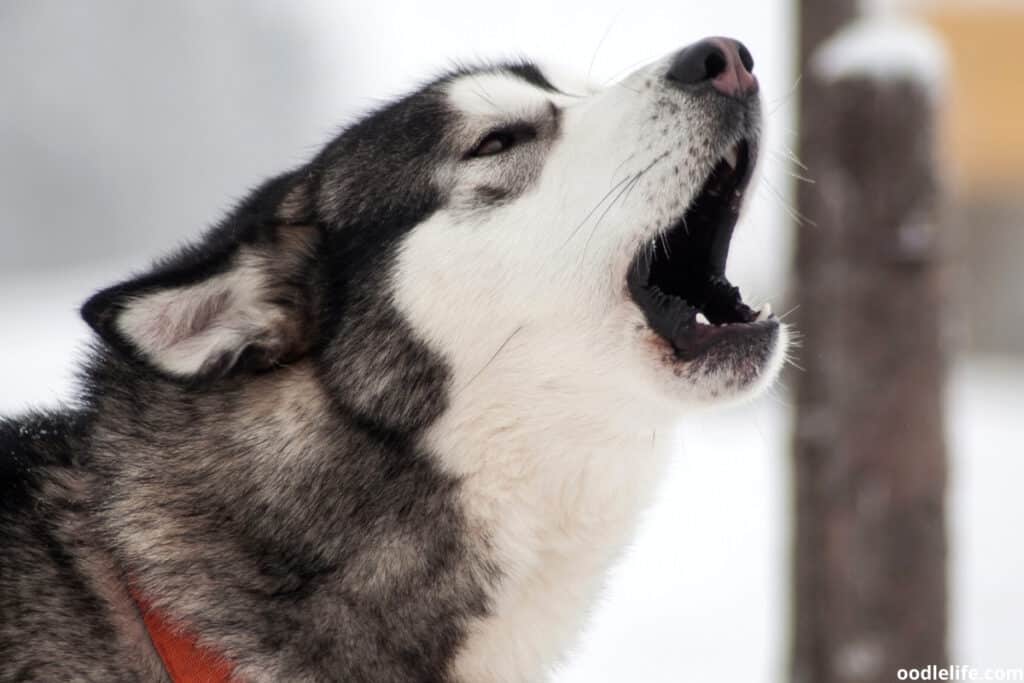 Why Can Bark Muzzles Be Dangerous?
Bark muzzles have gotten a lousy rapport because they can:
Prevent the dog from panting to cool down.
Cause suffocation if the dog needs to vomit.
Prevent eating and drinking.
Cause your dog to strangle themselves if left unattended.
The solution offered for this is a muzzle with more space which will limit your dog's bark. Doing so allows your dog to pant when needed.
Dog muzzles can stop dogs from barking for the period they wear the muzzle. Additionally, wearing a dog muzzle may help keep your dog calmer. A good muzzle will allow your dog to pant freely while preventing barking, biting, and chewing on inedible things.
Muzzles do not bring about permanent behavior change. A good dog trainer will help your dog learn not to bark excessively. However, a safe bark muzzle works for short, supervised amounts of time.
Top 5 Bark Muzzles in 2022
To get the correct muzzle for your dog, ensure you get it in the accurate size. Ensure you read through the sizing instructions of each muzzle before purchasing online. Here are some of the top dog muzzles for barking:
1. Baskerville Ultra Dog Muzzle
If you are looking for the perfect muzzle to prevent your mid-sized dog from barking, try the Baskerville Ultra Dog Muzzle. It is a soft, lightweight muzzle made from rubber and gentle on your dog's snout.
BASKERVILLE Ultra Dog Muzzle- Tan Size 4, Perfect for Medium Dogs, Prevents Chewing and Biting, Basket allows Panting and Drinking-Comfortable, Humane, Adjustable, Lightweight, Durable
SOFT & LIGHTWEIGHT rubber basket design gives all-around mouth protection allowing canines unrestricted eating, drinking and panting while preventing biting. Used for safe socialization, safe handling during vet visits, grooming or dog travelling.
EXTREMELY TOUGH AND DURABLE made of a malleable thermal plastic rubber which can be heated and shaped for a personalized tailored fit around dog's snout, including broad nosed dogs. Gives all around protection for biting or snappy dogs.
SAFE & SECURE ergonomically designed safety strapping ensures muzzle will remain securely in place and features two attachment points using an attachment loop designed to attach to your dog's regular collar and an optional, removable over-head safety strap
ADJUSTABLE & COMFORTABLE Neoprene padded lining for added comfort and fully adjustable neck and head straps with pre-holed webbing for a quick and secure fit.
DOG FRIENDLY – allows canines to drink, pant and be rewarded and treated. Perfect for daily dog exercise and walks
The muzzle is made with tough, malleable, and durable thermoplastic rubber. It can be heated and shaped to fit your dog's snout. It is perfect for both broad and narrow-nosed dogs and gives all-around protection for biting dogs.
Pros:
Adjustable neck and head straps for perfect customized fitting.
Comfortable, neoprene-padded lining.
Ergonomic design for safety and aligned attachment on dog collar.
Optional, removable over-head safety strap.
Fits both broad and narrow-nosed snouts.
Allows for drinking, panting, and treats.
Cons:
Pricier than other muzzles.
Only fits medium-sized dog breeds.
Comes in only two colors; tan and black.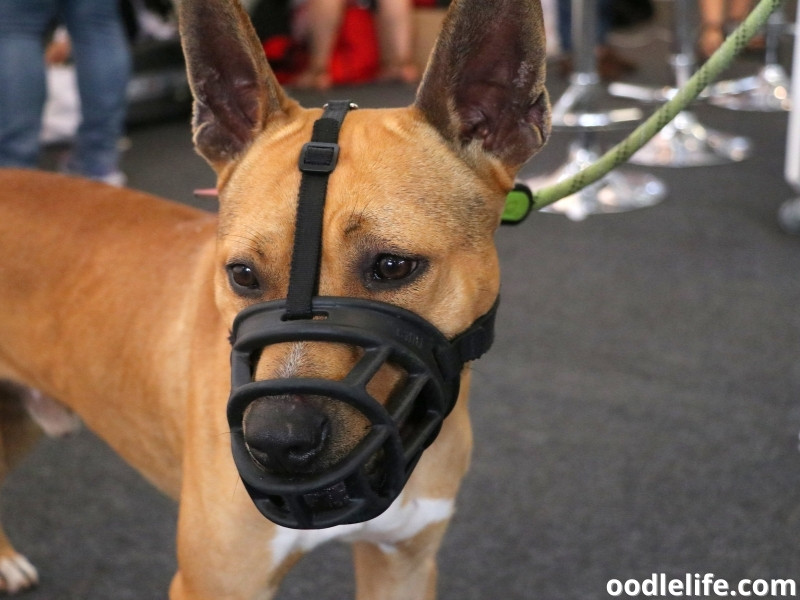 2. Crazy Felix Nylon Dog Muzzle
The Crazy Felix Nylon Dog Muzzle is a simple and gimmick-free muzzle. It still manages to do everything a dog muzzle should do. It comes in a wide range of sizes and is very affordable.
Sale
Nylon Dog Muzzle for Small Medium Large Dogs, Air Mesh Breathable and Drinkable Pet Muzzle for Anti-Biting Anti-Barking Licking (M, Grey)
Dog Muzzle for Scavenging: Thanks to the closed part under the chin, once properly in place, our Crazy Felix dog muzzle is highly effective at preventing your dog from eating, biting, chewing, licking, and scavenging, which will give your dog all-around protection and keep your dog safe and healthy. Ideal for Vet visits, Grooming, Nail Trimming, and Outside Walking. (Note: Not applicable to fierce dogs.)
Comfy Mesh Muzzle for Dogs: Due to the lightweight and breathable material, your dog will get used to the soft muzzle as quickly as possible and in most cases simply does not notice it. Adjustable at snout and neck strap keep the muzzle tight enough to control his bite, but loose enough to allow freedom to pant and yawn. In addition, you can also easily put it in a pocket.
Humanized Dog Muzzle: The front part of the dog mussel is opened, which allows your dog to pant, drink, and be rewarded with snacks. Made of long-lasting reinforced nylon stitching and non-sticky hair material, the muzzle for dogs provides the ultimate comfort for your pet.
Stable Dog Mouth Cover: Adjust the strap, button the buckle, and finish. It only takes 10 seconds to wear the muzzle. The design that almost covers half of the dog's head makes it difficult for the dog to tear it off. By selecting the right size, dog muzzles will remain securely in place and feature easy to fit and secure Lock-on buckle and a unique anti-slip design.
MUZZLE for MEDIUM DOGS: This secure muzzle is ergonomically designed for dogs with a long snout, not suitable for short snout dogs such as Pit Bull and Boxer. Size M is suitable for snout circumference between 8¾" and 10¼". Please measure twice before buying. The medium dog muzzle is fit for Doberman, Husky, and so on. If you have any problems with sizing, we are happy to help you.
The muzzle is durable and breathable due to reinforced nylon. It offers all-around muzzle protection, making it highly effective at preventing barking, biting, and chewing. This makes it perfect for reactive dogs or those pesky vet visits.
It also has a one-year warranty and a money-back guarantee.
Pros:
It is durable due reinforced nylon stitching.
Very affordable.
Perfectly suited to long-snouted dogs.
Has a wide variety of sizes and colors.
Has an adjustable snout and neck strap to help create the perfect fit.
Comes with a 100% money back & lifetime guarantee if you're not satisfied and a one-year warranty.
Is dog-safe and allows for drinking, snacking, and panting.
Cons:
Not suitable for short-snouted dogs.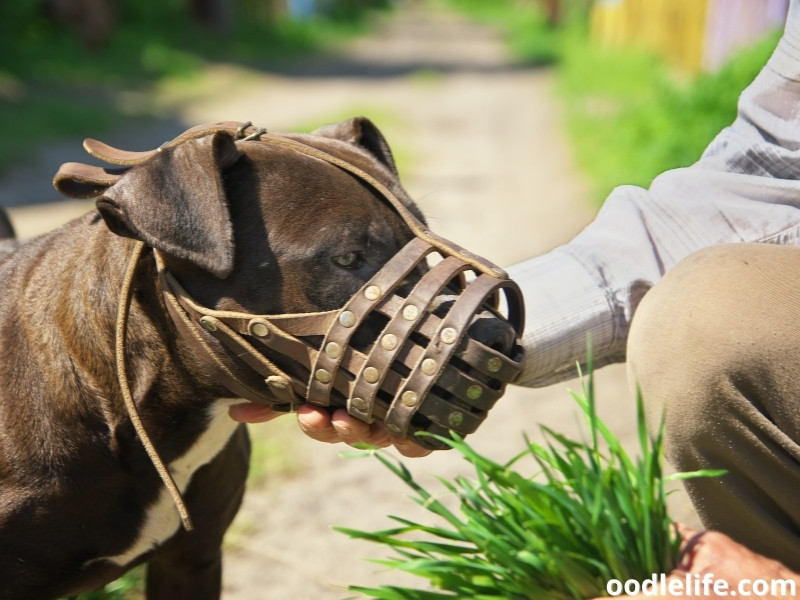 3. Barkless Dog Muzzle
A perfect muzzle to use with a collar, the Barkless Dog Muzzle is a great alternative to the first two. It is made of a flexible silicone basket, making it comfortable and secure. It comes in 2 colors and various sizes that depend on your dog's snout size.
Sale
BARKLESS Dog Muzzle,Soft Basket Silicone Muzzles for Dog, Best to Prevent Biting, Chewing and Barking, Allows Drinking and Panting, Used with Collar
Flexible Silicone Basket: Tough & durable material, yet the material is soft on your dog
All-Around Protection: The basket design gives an all-around cover of the dogs' mouth, in that way the dogs can keep away from biting and barking or eating dirty foods. You can get rid of the annoyance that your dog chewing your leather seat in your car
Safe & Secure Muzzle: The safety strapping ensures the muzzle will always remain securely in place and features two additional points of secure attachment. The secure loop attaches to your dogs regular collar, while the overhead strap connects directly to the rear strap. You will never worry about it falling off
Breathable & Lightweight: it allows the dog to drink, eat and pant, meanwhile it is a lightweight, quick fitting muzzle
Measure Your Dog Before Buying: Please refer to our size guide listed in product picture 2, 3 and our description. we recommend you to measure twice before buying. If you have any question about sizing, you are welcome to contact us by providing youe dog's measurement, we will help you to pick an ideal size for your dog
Pros
Made of tough and durable silicone material.
It is breathable and lightweight.
Comes with safety straps that ensure the muzzle will always remain securely in place.
Easy to clean.
The silicone material is also bite-proof and odorless smell.
Cons
Comes in only two colors.
The straps may tear because of their material.
4. Mayerzon Dog Basket Muzzle
The Mayerzon Dog Basket Muzzle, is a simple rubber basket muzzle. It has a breathable, hollow design and comes in various sizes for every dog. Mayerzon offers a 12-month warranty and 60-day money-back guarantee in case you are not in love with the product.
Sale
Dog Muzzle, Breathable Basket Muzzles for Small, Medium, Large and X-Large Dogs, Stop Biting, Barking and Chewing, Best for Aggressive Dogs (Small, Black)
Tough yet Soft: Made of a pliable Non-toxic rubber, The Basket Muzzle is extremely tough, durable, and soft to touch, and it can be widened or narrowed if needed.
Secure and Adjustable Fit: Adjustable nylon neck strap allows you to quickly adjust fit size for your dog.
Breathable Hollow-out Design: Your dog can pant, drink and even be fed treats through the Muzzle due to the wide holes of the basket muzzle. This design allows for maximum ventilation to prevent your dog from overheating, and make it possible for you to feed treats.
Soft and Comfortable: Rubber basket design gives all-around mouth protection,Does not discomfort the dog's mouth and hurt to the skin.
Satisfaction Guarantee: We offer 12 Months Warranty and 60 Days Money Back Guarantee. When you receive your muzzle, make sure that it is large enough to allow your dog to pant and that it is secure. We are happy to take returns on muzzles that are in like-new condition. Just buy with confidence.
Pros:
Has wide holes for ventilation.
The rubber basket design gives all-around mouth protection for your dog without compromising comfort.
It is dog-safe and allows for panting, snacking, and drinking.
Comes with adjustable nylon neck-straps for a customized fit.
Made of tough yet safe plastic that is durable and dog-friendly.
Packed with a detailed manual to ensure ease of use.
Cons
Some customers say that the muzzle runs big and advise you to size down.
Owners of large dogs say that the straps are easy to rip.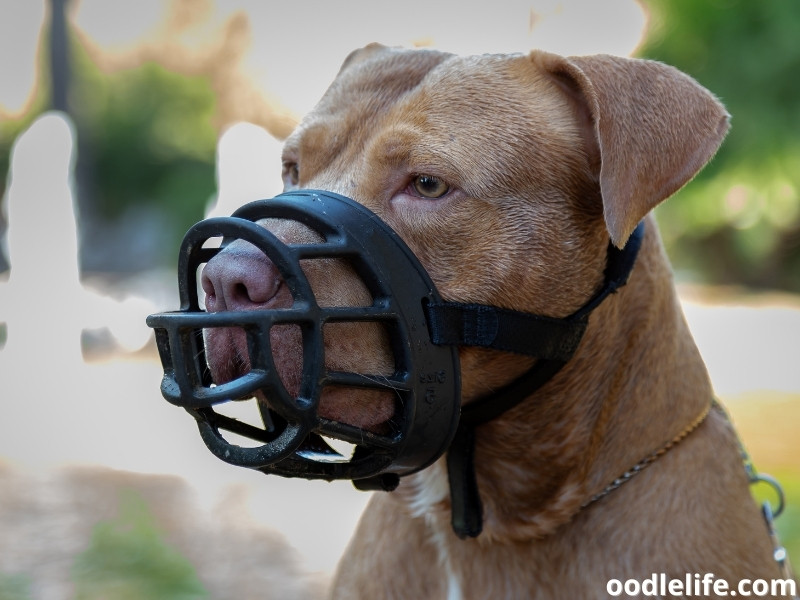 5. GoodBoy Gentle Muzzle Guard
If you are looking for a cloth muzzle, the GoodBoy Gentle Muzzle Guard is a perfect fit. It is a comfortable, machine-washable muzzle with easy-click straps. Goodboy stocks the muzzle guard from sizes small to extra-large and in three colors.
Gentle Muzzle Guard for Dogs - Prevents Biting and Unwanted Chewing Safely – New Secure Comfort Fit - Soft Neoprene Padding – No More Chafing – Training Guide Helps Build Bonds with Pet (M, Pink)
Updated - Easy to Measure for Accurate Size – Simply follow the guide on Picture 3 to learn how to measure your new muzzle to get the right size for your dog. The adjustable strap makes it easy to get the best fit for your dog's snout and mouth. Customer support is here to help with any sizing questions or issues.
Bonus Connection Strap for More Secure Fit – For dogs who need more time adjusting to their new muzzle, we've added a bonus connection strap that goes over their head for a secure fit that no dog can get out of.
Improved design to prevent biting, barking, and unwanted chewing – This muzzle is great for limiting your dog's ability to bite, chew and bark while still allowing your dog to breathe, pant, and drink water. It's a humane choice for preventing unwanted biting or chewing. See our images for examples.
Comfortable Neoprene Padding. Zero Chafing – Save your dog from painful chafing and rough straps. Most muzzles are painful and can rub your dog's skin raw. GoodBoy makes a comfy, humane muzzle that keeps your dog happy.
High Quality Sliders. No Cheap Buckles – The sliders ensure that your dog can't loosen the straps while giving you more control over the exact fit. Plus, loose ends can be secured with a hook and loop fastener, unlike with buckles.
The GoodBoy Gentle Muzzle Guard is designed well and is considered aesthetically pleasing by many. We can follow the instruction manual, making it a good gift option.
Pros:
Has a bonus connection strap for a more secure hold.
Allows for panting and drinking while preventing biting and chewing.
Comfortable neoprene padding that prevents chafing.
Simple and easy to use.
It is well-priced.
Cons
If it is not secured well, the dog can break the straps and stitch open..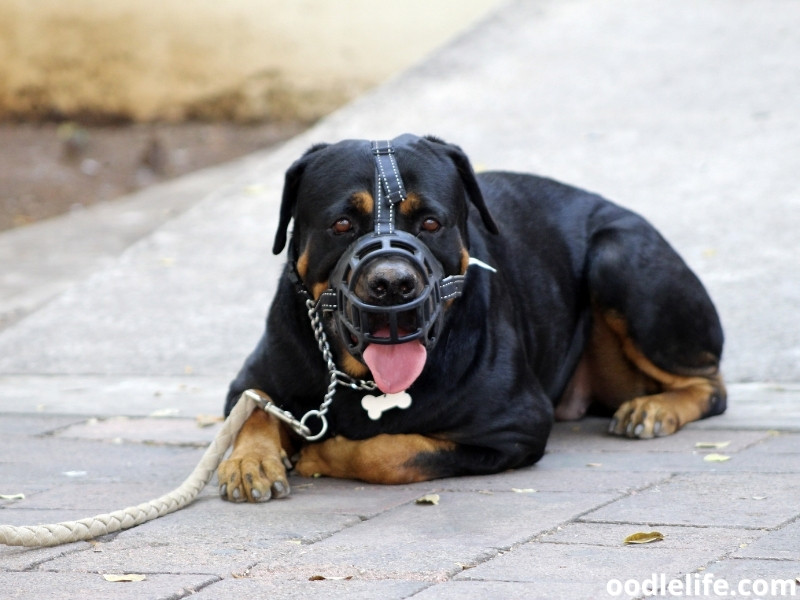 Top Dog Muzzle for Barking Summary
After reviewing many dog muzzles in the market, these five surpassed our criteria. This table gives you an overview of all their prominent features:
| | | | | |
| --- | --- | --- | --- | --- |
| Baskerville Ultra Dog Muzzle | Crazy Felix Nylon Dog Muzzle | Barkless Dog Muzzle | Mayerzon Dog Basket Muzzle | GoodBoy Gentle Muzzle Guard |
| Sturdy and Durable | Affordable | Made of durable and rugged silicone material | Well ventilated and breathable | Aesthetically pleasing design |
| Comfortable and Adjustable | Has a one-year warranty | Lightweight and breathable | Made of tough and durable plastic | Easy to use and comes with manual |
| Customizable to a perfect fit | Wide variety of sizes and colors | Easy to clean | Is soft and comfortable around dog's mouth | Comfortable, neoprene padding |
| optional, removable over-head safety strap | Durable and breathable | Comes with safety straps | Has an adjustable fit around the neck | Has a bonus connection strap |
| Affordable | Only suited to long-snouted dogs | Only stocked in two colors | Sized from Extra small to Extra large | Well priced |
| Quick release buckle | | Straps may tear easily | Comes in black and red | |
| Slightly pricey | | | Straps are easy for larger dogs to break | |
| Fits only medium-sized dogs | | | | |
Conclusion
Whatever muzzle you choose to help your dog's excessive barking must be measured to fit their face well. Ensure that you monitor your dog at all times when they are muzzled. Muzzling is a temporary fix and should be accompanied by training for a better-behaved pup.
If you are unsure about the health and safety of your dog in a muzzle, contact your vet immediately.