Best Beach and Surf Dog Names (Actually Good)
If you love surfing, spending time on the beautiful ocean coastline, and are planning to get a furry companion soon, chances are you're looking for that perfect name.
Choosing dog names is always a big, fun affair. What cute yet clever moniker can I give my brand new friend? With so many options, it can be hard to narrow it down and decide.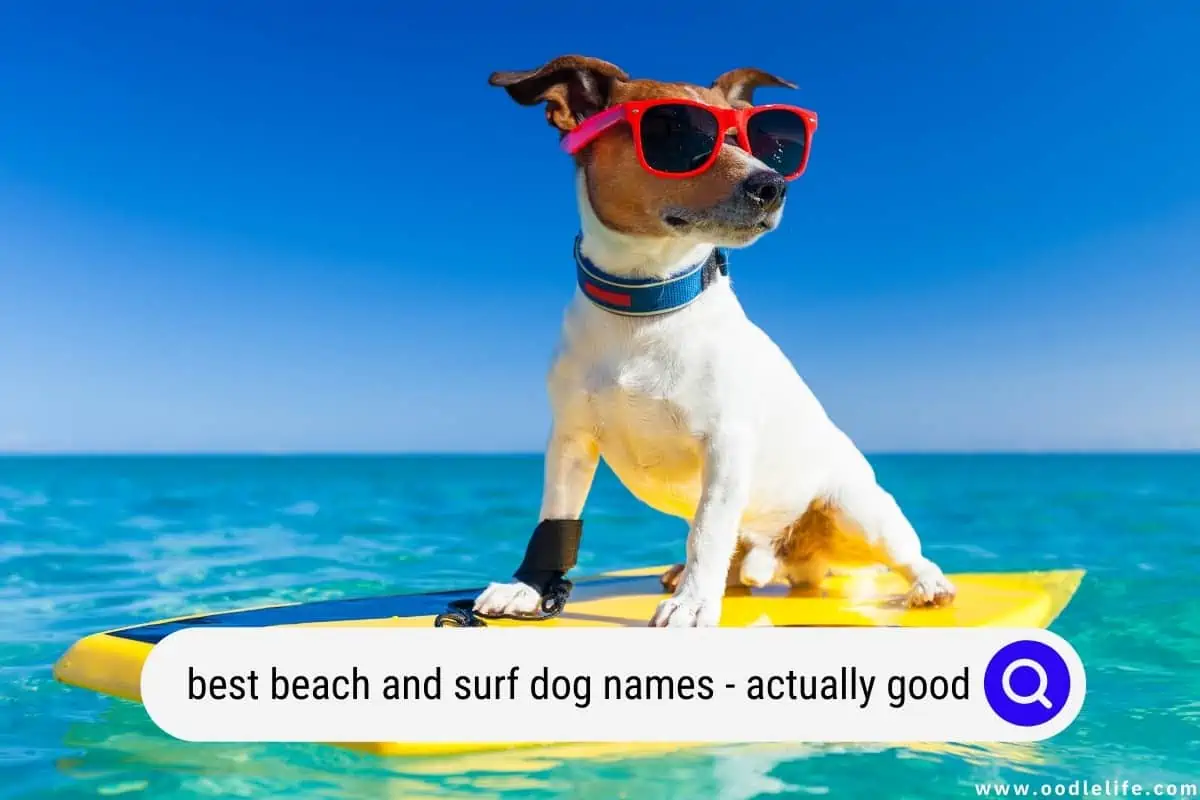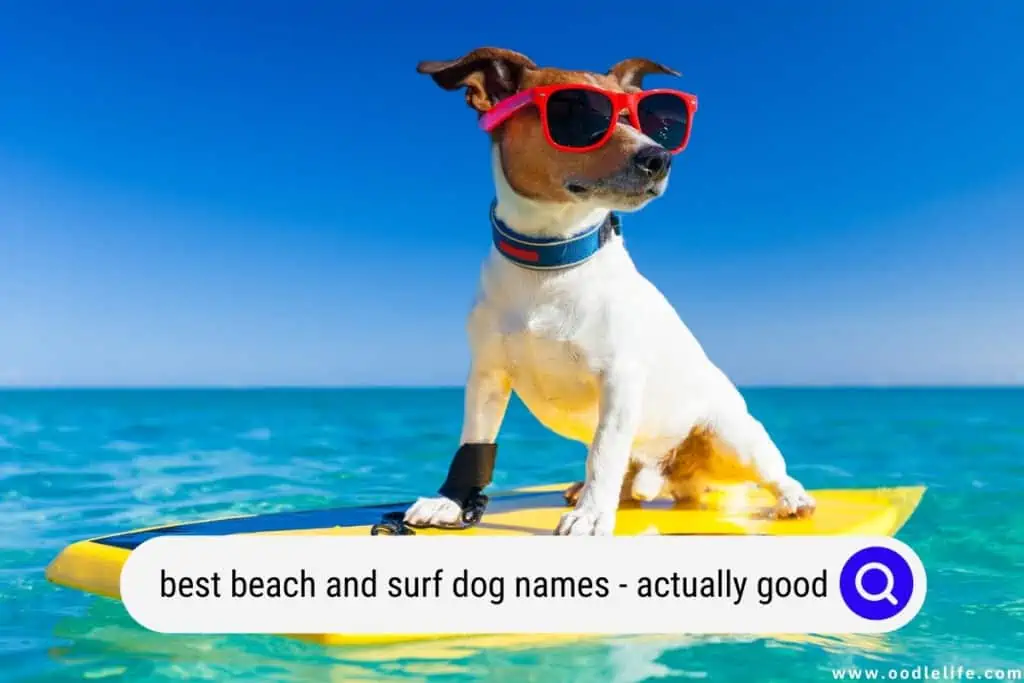 The name needs to be just right and fit the dog's personality. Something that can help you slim your choices is using factors from your life to help choose, so your pooch's name may match your lifestyle. 
So, if you love the ocean, and the beach and plan on making many memories with your new pup there, these 60 unique best beach and surf dog names will make you smile. 
Names for Boy Surfer Dogs 
Now we present the 30 best names for boy surfer/beach-loving good boys.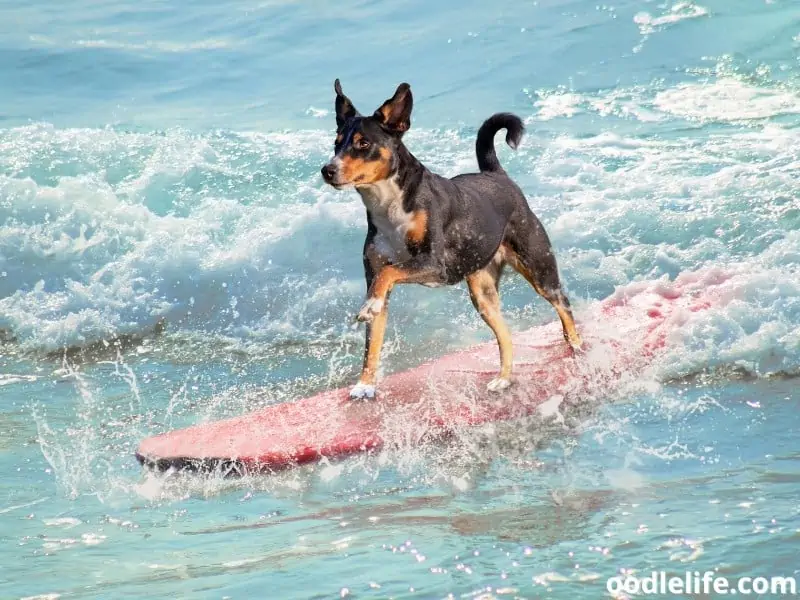 Triton. Triton is a classy name, and it was one of the sea gods in Ancient Greek mythology. 
Poisedon. Poseidon is another sea god from Ancient Greek mythology, the big Kahuna! 
Captain. While he's not the captain of a ship, Captain can be an appropriate sea-themed name for a dog who loves the water. 
Atlas. 'Atlas' means a book of maps and charts and can be a name that suggests great and faraway adventure for your canine friend. 
Neptune is the name of the sea god in Ancient Rome mythology.  
Nemo. A fun name for your pooch if you love the movie "Finding Nemo" which has all of its magic occur in the ocean. 
Riptide. Name your canine after a scary, awesome wave! 
Tsunami. A fitting name for a pet who loves the tide! 
Ocean. Simple and fun! 
Kahuna. This means that your dog is the master of the ocean and the waves! 
Thunder. Perfect for a cool dog. 
Maui. In honor of the Hawaiian island, this name is short, classy, and beachy. 
Flounder. Flounder can be a fun, creative name, with its namesake being the little flounder from Disney's "The Little Mermaid." 
Wilson. Nothing more than a "Castaway" reference that will still resonate and make strangers smile. 
Kona. After the Hawaiian island, this name is unique and super beachy! 
Jaws. A classic homage to the 1975 movie, Jaws will be a fitting name for your pooch who loves the ocean. 
Hamilton. No, not talking about the musical. Hamilton, as in Bethany Hamilton, the famous female surfer who lost her arm in a shark attack and returned to professional surfing. A great way to honor an unforgettable figure in surfing. 
Cruiser. Is your dog cruising for bruising? Hopefully not, but Cruiser is still an awesome name if your dog will be surfing those waves. 
Sailor. If your dog isn't a captain, Sailor is a close name that doesn't go overboard. 
Crew. A cool, unique name that still honors love for the ocean.  
Compass. Since every sailor needs a compass, you'd be truly lost without your furry companion. 
Blackbeard. This name is unique for your dog, but sure to let all passersby know where his loyalty lies – the ocean. 
Revenge. This name might be less obvious but is inspired by many pirate ships throughout history, where the word "revenge" was common in the title. 
Dune. To honor the dunes, Dune is a fitting name for a dog who loves to dig through the coastline. 
Cooper. Another pirate-themed name, coopers were members on the ship who would make barrels to store supplies like food, water, and other necessary items. Calling your pup Cooper will have a unique connection to the ocean.  
Gunner. Yet another pirate-themed name, Gunners were members on pirate ships who were responsible for defending it with cannons when it came to enemy ships. 
Blue. This name is sweet and simple; the ocean is vastly blue and beautiful, and this name is catchy and classy for a boy dog. 
Quint. While your dog won't have any interactions with sharks, this name is taken from "Jaws" and will be a quiet, classic reference to a super cool dog.  
Hooper. Also from "Jaws," Hooper is another nice nautical-themed name for your new friend.  
Brody. Oops, we did it one more time! Brody also has a clever ring to it and isn't too obvious. It's a subtle, nice name for your dog that will spend time in the ocean with you.  
Names for Girl Surfer dogs
Here are the 30 best beach and surf dog names for your female pups.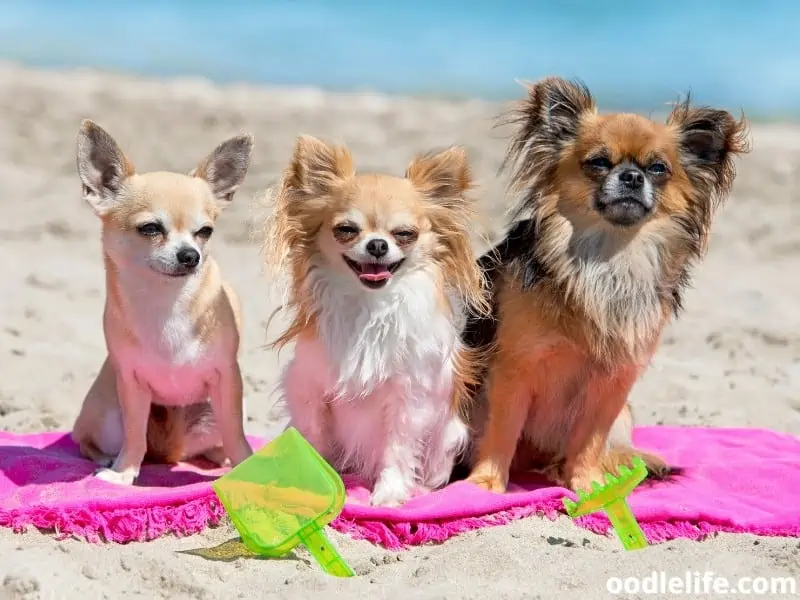 Ariel. What better namesake than the mermaid from Disney's "The Little Mermaid."
Pearl. A reminder of how our dogs are better than any hidden treasure! 
Amphitrite. For those who love Greek mythology, Amphitrite is the wife of Poseidon and can be fitting for a dog destined to rule the sea. 
Moana. Moana means "ocean" and is also the hero of Disney's "Moana." 
Shrimp. Shrimp is funny if your dog is a little smaller and is just a cute, endearing name for your ocean-loving pup. 
Anchor. Ocean-themed that reminds you that you'd be lost without a lovable dog to anchor you to what matters.  
Shelly. It has to be said – with so many beautiful shells on that beach, Shelly is an easy name to give to your ocean-loving dog. 
Sandy. If your dog loves to play in the sand, Sandy is a cute, classic name to use. 
Coral. The ocean is home to some beautiful coral, and what a cute simple name to honor your dog. 
Pebbles. There are so many little rocks on the beach that just makes Pebbles a good name for a dog who loves to adventure. 
Sunset. Sunsets are beautiful, and because your dog is too, it makes sense to use the name "Sunset."
Dusk. Dusk is another great name – oceans are beautiful in the nighttime, and you'll probably want to take dusk out around dusk anyway. 
Scallop. Another shell-related name Scallop is a creative name for a new, adventurous little puppy. 
Island. Island is a rarer name for a dog and talks of the adventures and discoveries you'll someday make together. 
Dory. Who could forget the forgetful, lovable Blue tang from Disney's "Finding Nemo"? Dory is great for a dog who loves to play at sea, and younger kids will love the homage to their favorite character. 
Bubbles. Bubbles is a perfect name for a dog that'll be frolicking in the ocean.
Rhonda. From the Beach Boys' song, "Help Me, Rhonda", this name is simple and not too obvious, but has a connection to the beach and the ocean. 
Aqua. Aqua is a delightful name for any female puppy to remind us of the ocean's beauty.  
Lei. While not about the ocean directly, "lei" is based on the beautiful flower necklaces worn throughout the islands of Hawaii.
Nymph. Nymphs were beautiful women in Greek mythology that lived in the ocean. 
O'Malley. We can't leave the pirate-themed names to the boys! O'Malley can be adorable, but a different name for your girl dog comes from Grace O'Malley, a famous rebel female pirate that ruled the seas during the reign of Queen Elizabeth I. 
 Reef. After the colorful, diverse coral reefs, Reef is a short, simple name for a dog that loves the ocean. 
Harbor. If your pup loves the ocean and might find her way on some ships, Harbor is a great way to honor that.  
Squid. Squid is a lovely little nickname for your pup that loves venturing into those waves.  
Crest. The arch of a wave is one of nature's greatest sights, and the sight of your puppy is no different.  
Pisces, like the name of the constellation, can be fitting for a puppy who has her sea legs. 
Kailani is a Hawaiian name meaning sea and sky.  
Calypso, an island nymph from Greek legend, is a cute, tropical name for your new adventurer.  
Onda means wave in Spanish, making this a classy, simple name for your pup.  
Nerissa comes of Greek origin and means "from the sea." 
Conclusion
A dog's name can be an important choice, and we hope the names above helped you narrow down that perfect name for your ocean-loving puppy. 
We strived to find names that owners would actually use, unlike other names that are out there. These surf dog names are creative without being cringey, and we hope you enjoy them as much as we do.