What Size Crate for a Maltipoo? [3 Best and Maltipoo Crate Training Basics]
The Maltipoo is a mix between a Poodle and a Maltese. Their inheritable traits include floppy ears and a curly coat, playful personality, and affectionate nature.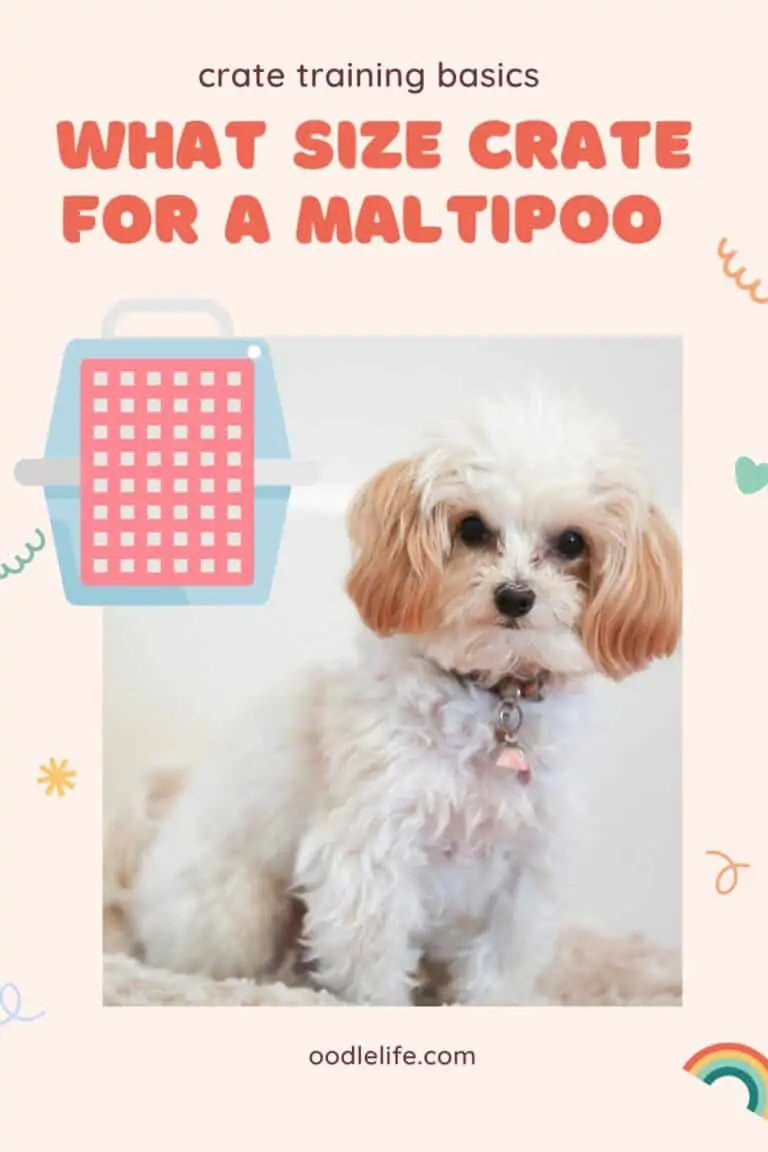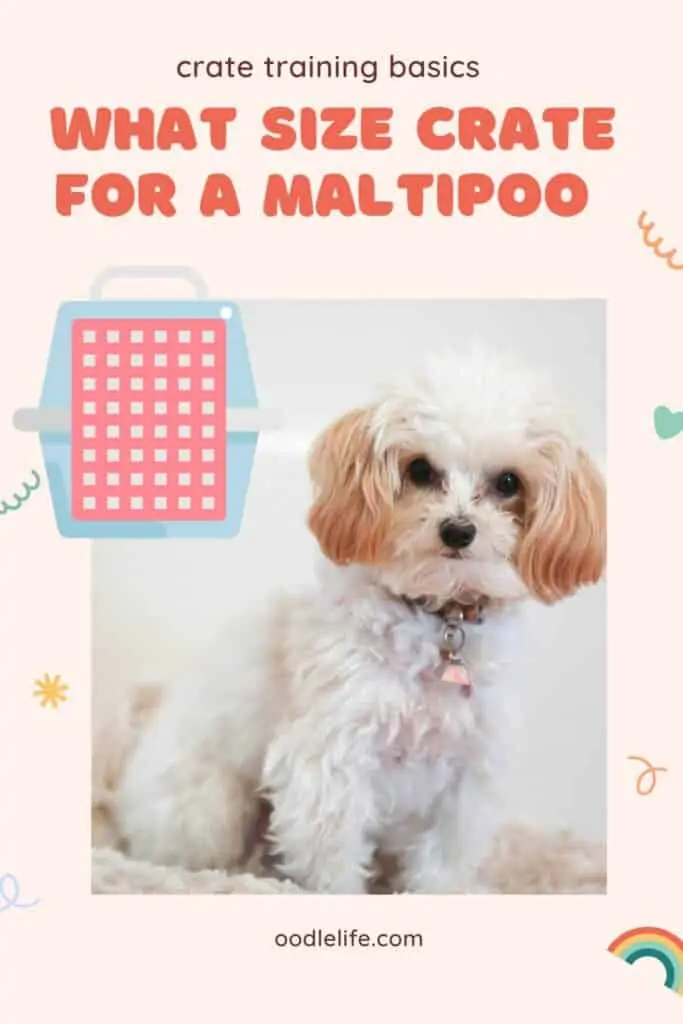 They adapt well irrespective of whether you live in an apartment or a bigger family home. As Maltipoos are instinctively friendly, they make an excellent addition to multi-pet households.
However, they don't do well when left alone. You'll want to consider this before you bring home a Maltipoo.
Like most pets, a Maltipoo will require a crate-whether it is for short-distance transport like to the vets or longer trips away from home. Not to mention crate training!
If you're wondering what size crate suits a Maltipoo, we're here to help. Got no time? Pick up a 19 inch crate – here are our three favorites.
Basic All Rounder
Midwest Foldable Wire Crate
Best All Rounder
Petsfit Travel and Home
Style
2PET Single Foldable Crate
Basic All Rounder
Midwest Foldable Wire Crate
Best All Rounder
Style
2PET Single Foldable Crate
Understanding Dog Crates
It's worth noting that a dog crate isn't a cage or a place to keep your pet trapped. It isn't used to punish your canine friend either. Instead, dogs view these as personal spaces.
A sanctuary of sorts.
Crates are also beneficial during the early puppy training stages. If you've ever shopped for a crate, you'll know that they vary in size and material.
Each crate type serves a purpose, though. Therefore, choosing the appropriate size crate is essential. Here's how to determine the correct crate size for your Maltipoo.
Best Crate for Maltipoos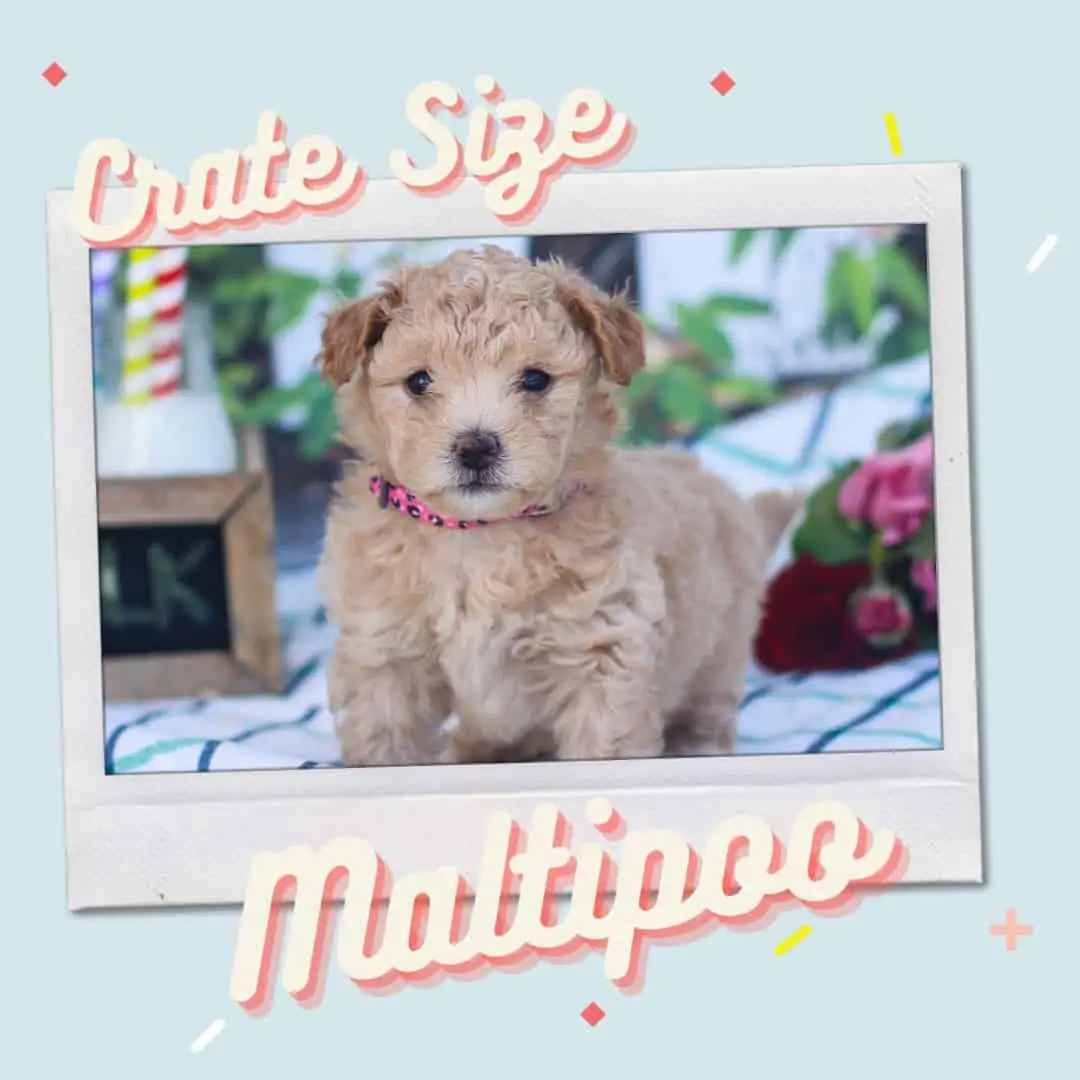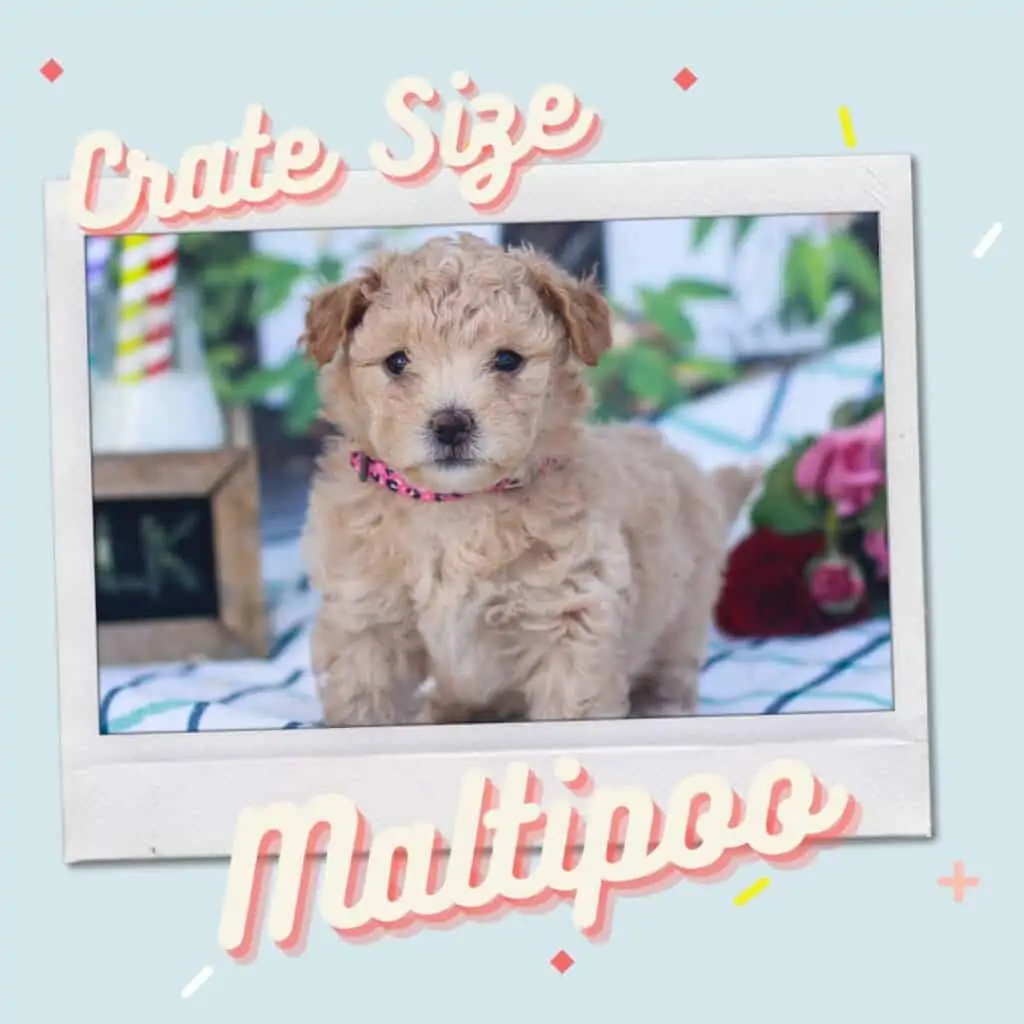 When seeking the best crate size for Maltipoos, you must consider various factors.
Your dog's genetic background, along with nourishment, will influence its growth potential. You'll want to consider a suitably sized crate for your dog-something that will last from when he's a puppy to when he's fully grown.
When you're considering crates, you need to understand space. Your pet should have sufficient space to stand up without touching the crate's top. They should also be able to turn around, lay down on their stomach and side without bumping into the crate's sides.
While it's essential to give your dog sufficient space, you shouldn't leave too much room in their crate either. After all, crates should simulate a den-like experience for your pet. Having too much room in a crate can be the cause of anxiety in a dog.
A 19-inch crate will suffice as the bare minimum for most Maltipoos. However, if your Maltipoo's lineage shows a medium or larger-sized poodle, consider a slightly bigger crate.
Petsfit Travel Pet Home Indoor/Outdoor for Dog Steel Frame Home,Collapsible Soft Dog Crate with Mat
$90.00
$76.85 ($76.85 / Count)
PETSFIT portable dog crate allows you to easily create a warm home in any place for your pets, not to lock up your dog. Thickened plush mat that can be cleaned for many times and can keep warm,...
If you carefully look at the details of our portable dog crate, you will find that we use double stitches to strengthen and reinforce the seam on cloth covers, especially at the bottom, which can...
Our whole-pipe-support design will be more sturdy and safe, which will not collapse when the dog leaning over the pipe with feets. As long as the spiral tube is rotated down, the portable dog crate...
3 mesh doors of portable dog crate will be more ventilated, can provide your pets good view, reduce pet anxiety. What is more, you will no more worry about dog hairs flying everywhere.
Sizing of portable dog crate perfect for most of cats and dogs-24inch fit for small dogs, like Bulldog, Dachshund,Papillon Dog; 30inch fit for medium dogs, like Beagle, Poodle; 36inch fit for Collie,...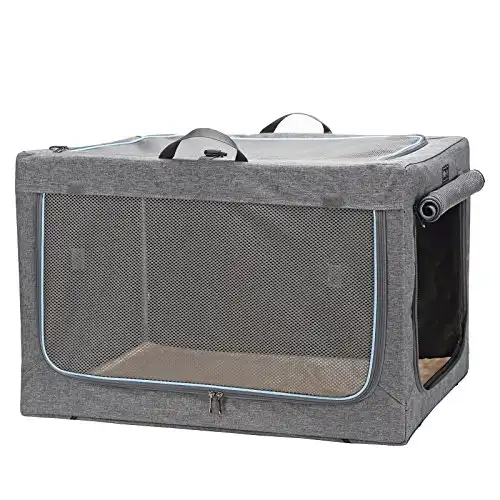 We earn a commission if you make a purchase, at no additional cost to you.
You may need to consult your dog's vet or breeder for information on your dog's background and probable size once it's fully grown. At this point, you'll need a 24 or 30-inch crate for an average Maltipoo.
If you're crating a puppy, you might want to buy a crate with dividers. This will permit you to block off a crate segment while the puppy is still growing and expanding the accessible space as your pet matures.
If you buy a smaller crate while the puppy is young, you might have difficulty locating a crate that suits your tiny puppy. Remember, the Maltipoo breed can be relatively tiny at the puppy stage.
If you typically leave your dog in the crate for prolonged periods, you might need a slightly bigger crate, so your pet can go to the bathroom and access water.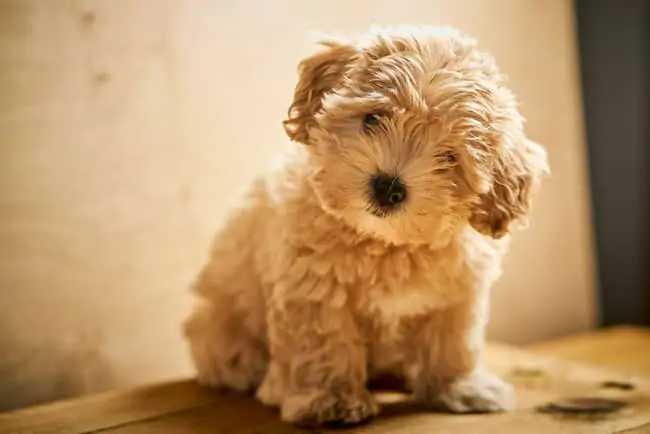 Types of Dog Crates for Maltipoos
Common types of crates for your pet, each with its merits and drawbacks, are:
Wire Crates
They're perhaps the most widely-used kind. Wire style crates typically feature one door on the front side. However, some models have doors on the roof and side for superior access. Pet owners prefer these when their selection criteria include collapsible crates for portability.
They can be slightly heavy, particularly the bigger-sized ones. Therefore, if you go on numerous trips with your Maltipoo, consider obtaining a second lighter-weight dog crate for travel purposes.
Wire crates are a good option for budget-conscious pet owners who don't want to buy another when the puppy attains adulthood.
Pros
Cons
Plastic Crates
If travel is a primary factor when selecting crates, pick a plastic one. They're easily transportable and extremely light, making them ideal for travel. They have decreased visibility, a feature that helps dogs remain calm. They have a more den-like atmosphere, allowing your pet to feel at home even though their environment is new. Furthermore, they're more sheltered, so they're suitable for cold climates.
Pros
Cons
Plastic crates are not well ventilated. Lack of air circulation can leave your pet feeling hot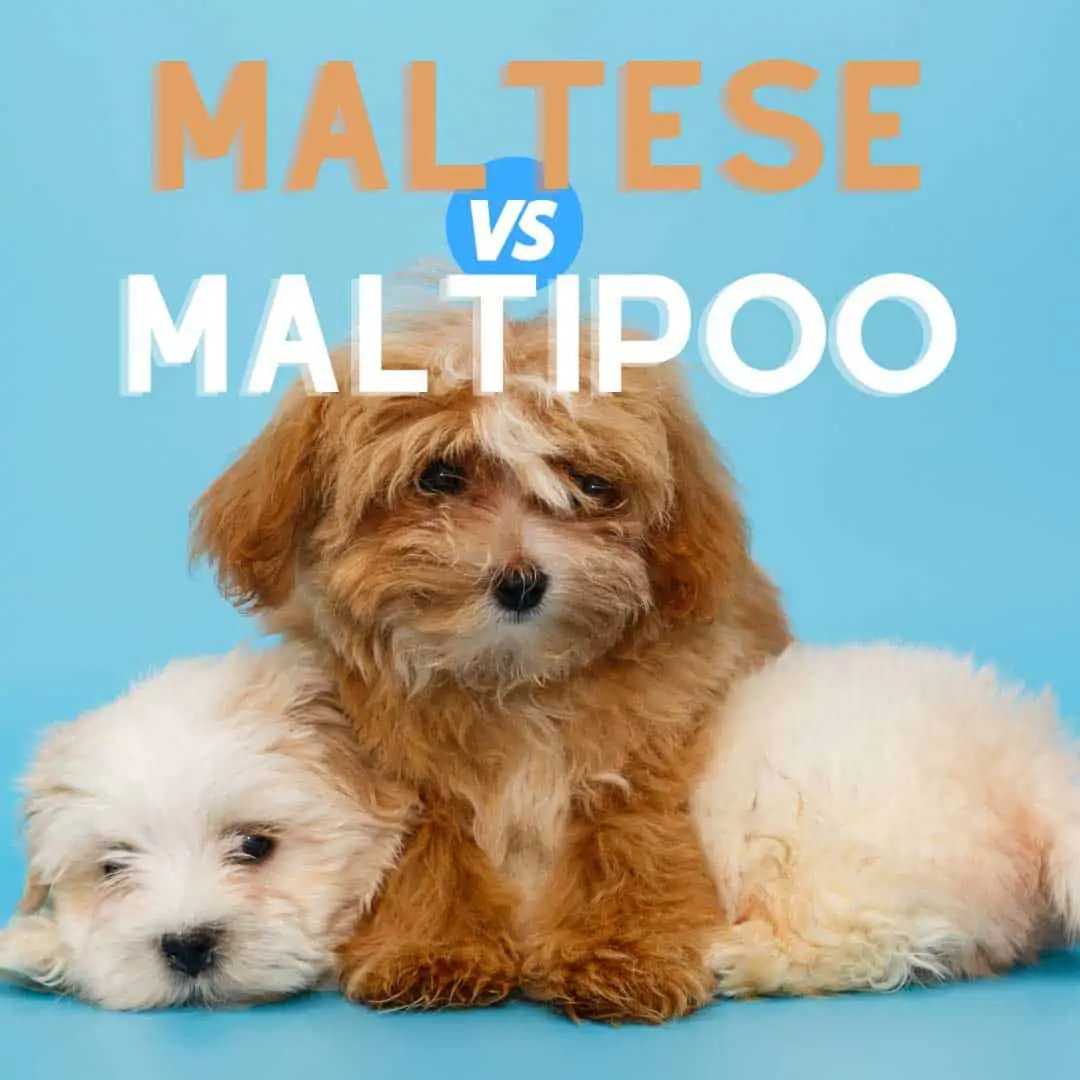 Heavy-Duty
If you own a destructive Maltipoo, this crate will come in handy. These crates are suitable for diggers and heavy chewers. Although they can be costly and unattractive, they're worth it.
Pros
Cons
Soft-Sided Crates
These are best for pets that take regular trips with their owners. They don't have a cage-like impression, so they can be a good option if you consider appearance a priority. They are practical and portable, a bonus for any pet owner. They're collapsible, expandable, mesh-heavy (for warmer climates), or fabric-heavy (colder temperatures), depending on your needs.
Since Maltipoos are small-sized dogs, they're perfect for soft-sided crates. Imagine trying to carry a German Shepherd or Labrador in one of these! Another appealing feature is that they're machine-washable, so you can simply toss them into a regular wash cycle without worrying about the how. However, the soft material implies that it isn't the sturdiest type of crate.
They're best for occasional trips instead of a permanent home. In the same breath, these aren't a good option for destructive dogs.
Pros
Cons
What to Consider When Looking for a Maltipoo Dog Crate
A crate is essential for training your dog. It also doubles as a suitable shelter. If you're seeking a Maltipoo crate, you'll need to recognize the type that will be comfortable for your pet. Consider these factors:
Size
A significant factor worth considering is the size of the crate. Keep in mind that there is no predictability in adult size for designer breeds as the pup can go on either parent. For instance, a Maltipoo with a Toy Poodle parent will be much smaller than a Miniature Poodle. If your Maltipoo is a puppy, you must identify how big it might get when fully grown. If it's mature, you're at an advantage because you'll know its size already.
If you're buying a crate for a puppy, ensure the space is sufficient for playing and tossing because puppies tend to be restless and playful, unlike mature pets.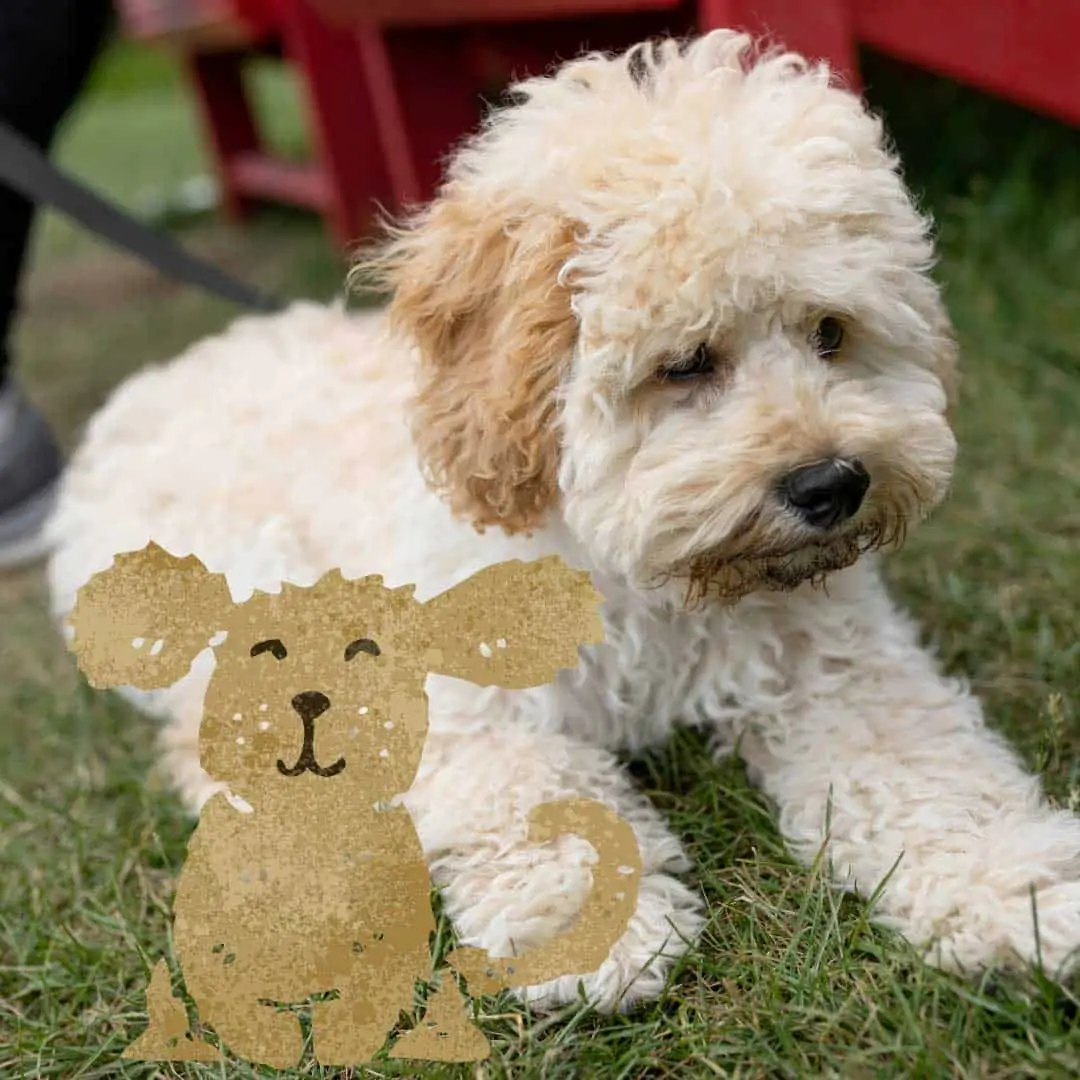 Material
Dog crates can be metal, fabric, mesh, or a combination. The material you select will depend on your intended purpose, where you'll store it, and your pup's personality and quirks.
Dividers
If you intend to crate a puppy, you should check crate brands with dividers. Some crates, such as plastic, don't have this option. Buying a larger-than-necessary crate can cause your pet to become anxious. However, if you're uncomfortable with the idea of your cuddle buddy in a crate, try an expandable soft-sided one.
Bedding
Most dog crates have uncomfortable bottoms, especially if you're considering metal or plastic. They're designed to be easily cleanable rather than luxurious. This is why most pet owners will need to purchase bedding separately, even if the crate is intended only for short-distance travel. You wouldn't want your canine friend to have joint problems, now would you?
Furthermore, barebone crates can leave your pet vulnerable to colder temperatures. If you intend to use your Maltipoo's crate for more than training, you might want to add a dog bed. This means you'll need to buy a slightly bigger crate to ensure your pet has sufficient movement space once you've added the bed.
Easy Maintenance
Your pet can become smelly, and the odor can linger in your home. It is therefore essential to clean your pet's crate frequently. Find a crate with removable parts for ease of maintenance.
Crate Purpose
You need to identify the crate's purpose. That is, will you use it for simple house training, or will the crating take place long term? Will you travel short or long distances? Will it be out on the porch or indoors? The function of the crate will influence your crate selection.
Water Access
If you crate your pet for extended periods during the day, he'll require water access. In this case, you'll need to fix water bottles to the crate's sides or the door. Ensure the crate you pick has such provisions.
Covering
Some dogs might exhibit anxiety while crating, so a crate cover can help reduce this.
Crate Training a Maltipoo
There are various benefits for crate training a Maltipoo. Numerous owners use a crate when potty training their puppy, teaching them to use the bathroom outside. Others crate them while they're away or for the night to prevent destructive behavior around the home when they can't supervise.
Whatever your reasons for crating, your pet's crate should be a place of comfort and safety. To ensure crating success, never use it as punishment.
Remember, training can take weeks or days, depending on your pet's temperament and previous experiences. Keep these two factors in mind while training your pet, and note that the crate must be associated with something pleasant. Also, training must occur in a series of steps. Don't move too fast.
Cautions When Crate Training Your Maltipoo
It's worth noting that a crate isn't a magical solution to undesirable dog behavior. If misused, your dog could feel frustrated and trapped when put in a crate.
Don't use the crate as punishment because your pet will associate it with fear and decline to enter.
Don't leave your Maltipoo in the crate for extended periods. Crating your dog the whole day denies him sufficient exercise and human interaction. Consequently, they can exhibit anxiety or depression. You might need to alter your schedule, take your pet to a daycare facility, or hire a sitter.
Puppies below six months shouldn't remain in a crate for over three or four hours because they can't control their bowels or bladder for such a duration. The same applies when house training adult dogs.
Crate your Maltipoo until he can be in the house alone without being destructive. You can graduate your pet from a crate to an enclosed section in your home, for instance, the kitchen, until you're ready to give them access to the entire house whenever you're away. The crate must comprise a comfortable bed with the door left open, so your pet can enter when they require a safe place.
Challenges to Expect When Crate Training
Whining
If your pet cries or whines at night while in the crate, it might be hard to determine whether they want to leave the crate or use the bathroom. If the whining persists after you've ignored them for a couple of minutes, see if they need a walk. Observe their response when you use the phrase associated with using the bathroom. If you're sure this isn't the case, just ignore it until the whining stops.
Separation Anxiety
Trying to use the crate to remedy separation anxiety won't address the issue. A crate might prevent destructive behavior in your dog, but your pet might sustain an injury when trying to escape. You can only resolve separation anxiety through desensitization procedures and counterconditioning. You might want to seek professional advice from an animal specialist as well.
Bottom Line
Once you've decided to crate train your Maltipoo, you must determine the type of crate to purchase and how huge it should be. Purchasing the wrong crate could disrupt the training program. We hope that these guidelines will show you where to start.