21 Best Gifts for Cockapoo Parents [Cockapoo Lovers Gift Guide]
Whether you need Cockapoo gifts for an owner (or a dog), there's a long list to sort through when finding the perfect gift. But we're going to round that list down and present the best gifts for cockapoo dog lovers (and for cockapoos).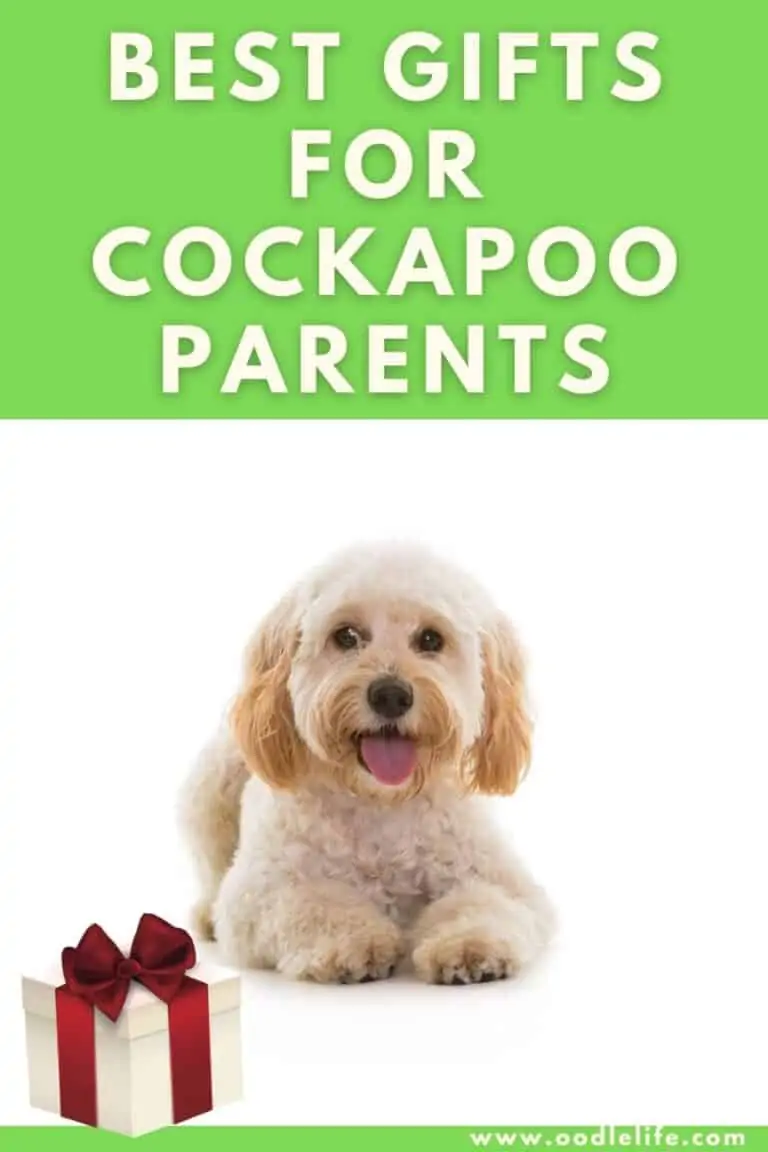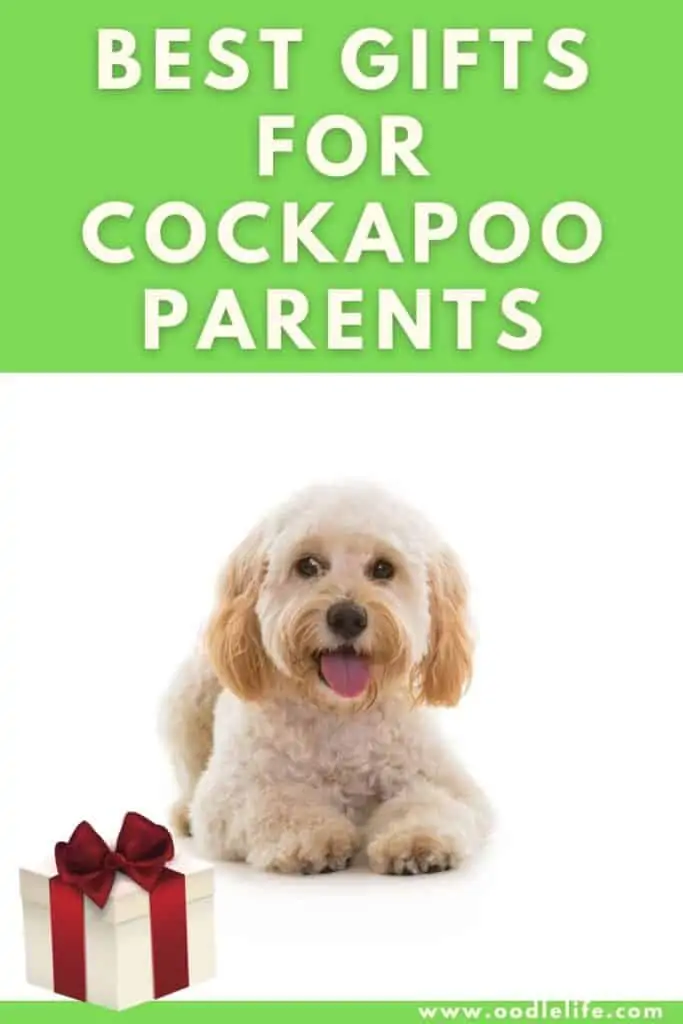 Mugs for Cockapoo Parents
We earn a commission if you make a purchase, at no additional cost to you.
First up on our list is for coffee drinkers and tea sippers. For the proud cockapoo parents, what better way to start your day than proclaiming your love of cockapoos and coffee? You'll find plenty of dog lover or dog parent merchandise, but you can take it one step further by adding the breed name.
We found this Cockapoo Mom Mug with a simple, modern design that will fit into anyone's mug collection. The Cockapoo Dad Mug is also available.
Cockapoo Desk Sign
JennyGems Cockapoo Sign - All You Need is Love and a Cockapoo, Cockapoo Moms, Cockapoo Lovers, Cockapoo Gifts, Cockapoo Dogs, Cockapoo Accessories
SIZE AND QUALITY: Stand up sturdy wooden sign measures 6 x 5 x 1.5 Inches. Hardware is included and attached for the sign to easily be hung on the wall or sit freely on a table or shelf.
GIFT IDEAS: This meaningful sign decor makes the perfect gift idea for the CockaPoo lover, friend or mom in your life and for yourself.
PURPOSE:Wood plaque signs and signage are perfect gifts. Meaningful quality keepsake unique novelty.
PHOTO PROP: Perfect prop for taking a picture of your beloved Cocka Poo dog.
USES AND DECOR:Wooden box sayings and quotes signs with words look cute as novelties in living rooms, family rooms, a basement, in groups, groupings, wall art, in a photo shoot, as a prop, with...
We earn a commission if you make a purchase, at no additional cost to you.
For cockapoo owners who want everyone to know (but hope someone else will bring it up first, just to be polite), give them a cockapoo sign. Measuring 6 x 5 x 1.5 inches, you can set the sign on a desk, shelf, or entryway table. It says the message loud and clear, but the size it's subtle enough that it won't overwhelm any surface space.
Cockapoo Street Sign
If you want to mark your dog's territory the human way, why not try a custom cockapoo street sign? Then, you can decorate your home with a reminder that it will always be your dog's place too. Of course, it's bolder than a desk sign, but we know cockapoo owners want to show off their cockapoo love.
Hanging Ornament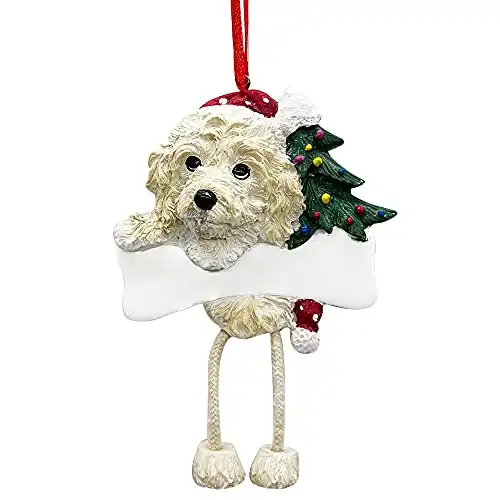 We earn a commission if you make a purchase, at no additional cost to you.
If you want cockapoo gifts that will warm the heart while keeping a tight budget, a cockapoo ornament is a fun idea. It's small, making it easy to stuff in a stocking or a suitcase (if you're visiting from afar).
If you want an ornament you can personalize, check out this cockapoo ornament with dangling legs, which features a spot for you to add a name or date. The cockapoo owner will have a commemorative gift hanging from the tree, and the cockapoo will have something new to sniff.
If you are in the Christmas spirit – consider a xmas bandana for your Cockapoo!
Cockapoo Blanket
Blessliving Fuzzy Dogs Blanket for Kids Adults Cute Puppy Fleece Blanket Reversible Animal Pattern Sherpa Throw (Cockapoos,Twin, 60 x 80 Inches)
SIZE: 4 sizes to choose from. 50"x60", big enough for one person as a throw, covers feet up to shoulder level. 60"x80" twin size, covers your whole body, and is big enough for more than one person to...
MATERIAL: Its reversible feature allows it to be used from both sides-one ultra soft white polyester sherpa lining and the other, printed flannel fleece.
COMFY WARM: Sherpa side is so fluffy and instantly warm to the touch, and colored side is super smooth and cool to the touch. Held up perfectly in the washing machine.
HEMMED EDGES: Product is sewn around the edges, making it strong and lasting longer. This blanket will be a perfect addition to your home, but also makes a great gift for your loved ones!
MUTIFUNCTION: Suitable for the couch, daybeds, nursery or porch sitting, toddler beds or as a nursery blanket.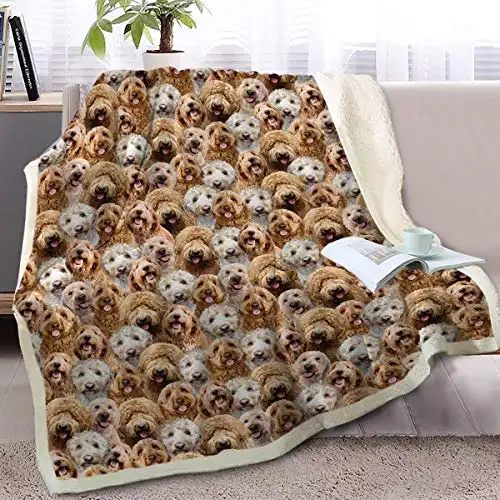 We earn a commission if you make a purchase, at no additional cost to you.
If you want to surround yourself with Cockapoo faces, the Bless Living sherpa throw can cozily warm dog owners and cockapoos. The blanket is reversible in case you want to take a break from the crowd of cockapoos. The best part is that it's machine washable.
If you want the throw for a bed, it's available in twin, queen, and king sizes. The throw is 50 x 60 inches, a perfect size for snuggling on the couch with a furry friend.
Book and Plushie Set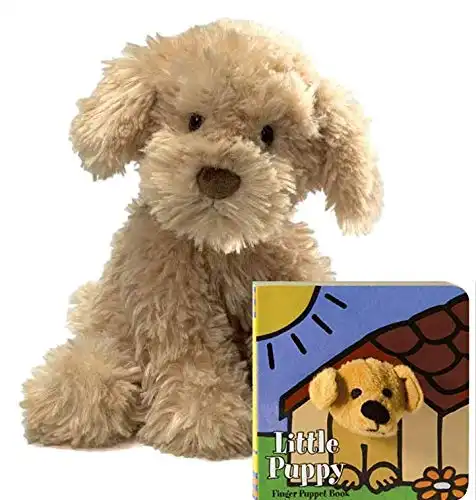 If you're seeking cockapoo gifts for younger kids, there's nothing more charming than the GUND Nyla cockapoo plushie paired with a board book. Of course, you can purchase the Nyla plushie separately. But the Little Puppy Finger-puppet board book is irresistible for young dog lovers.
Magnetic Bookmark
You can please book lovers and dog lovers with a cockapoo magnetic bookmark. Readers misplace paper bookmarks. If you lose your bookmark to the floor, it can be a hazard if your cockapoo discovers it's chewable. But with a magnetic bookmark, readers never lose their place, and the bookmark doesn't wander off.
Tote Bag
For a cockapoo owner who appreciates a handy, tuck-away bag, we suggest gifting a cockapoo tote bag. While the adorable image might not lessen the weight, it will make whatever they're carrying a lot cuter.
For carrying groceries, dog treats, or whatever they need an extra bag for, a tote bag is a fun way for owners to show their cockapoo love.
Toys
Cockapoos are an intelligent breed, which means they train more easily, but they also get bored. So giving the gift of distraction can be the greatest gift for both the owner and the cockapoo.
You can choose from soft and cuddly, interactive puzzles or chew toys. Interactive or puzzle toys help focus energetic cockapoos and keep them out of trouble. When selecting a toy for playtime, look for something durable.
If you DIY a dog toy, the materials need to be dog-safe because, at some point, even plushie friends might end up in the cockapoo's mouth.
Donate to a Cockapoo Rescue
Despite being a designer dog, some cockapoos haven't found their forever home. Donating to a cockapoo rescue center is a heartwarming gift for a cockapoo lover. While a dog owner cherishes their cockapoo most, it's a great idea to help other cockapoos. The cockapoo might not understand the gift, but a dog lover will appreciate it.
We have a list of the best Cockapoo Rescues to help narrow the search.
Treats
If your cockapoo is food motivated, they might ignore all the toys in the world in favor of one yummy treat. So although you might know a particular treat brand beloved by the cockapoo, you can also introduce something new.
Frozen Yogurt
Hot summer days can be a lot for furry cockapoos, but a sweet treat can help them beat the heat. You can DIY some sugar-free frozen yogurt using an ice cube tray. If you feel like experimenting, why not surprise the cockapoo with some fruit-infused frozen treats?
If it's for your cockapoo, you likely already know what food they prefer. However, if it's a gift for a cockapoo lover, ask the owner about the dog's favorite foods and what foods you should avoid.
You can also take this idea to the next level with a dog-themed ice cube tray. The silicone tray can also be used for baking and creating other treats.
When you're out of yogourt, your cockapoo will still appreciate cooling down with ice cubes. You can add cucumber or other refreshing fruit to add to the cool flavor.
Sweet Potato
Your cockapoo will drool over sweet potato treats. You can buy a bag of sweet potato treats or roast some strips yourself to create dried sweet potato chews.
Other Dog Treats
Does your cockapoo love peanut butter? Pumpkin? Or maybe they can't get enough sweet potato? It doesn't take much prep work to make delicious homemade treats your cockapoo will love.
For bakers seeking cockapoo gifts for dog owners, this is an easy way to put a little of yourself into the present.
For an extra homemade touch, use a cockapoo cookie cutter to shape the treats. You can also use the cookie cutter to shape other food, like meats or fish, that are safe for cockapoos.
If you know your way around the kitchen, we recommend gifting some peanut butter and pumpkin dog treats.
DIY Cockapoo Apparel
Do-it-yourself cockapoo gifts might take more work than store-bought, but owners and cockapoos will love the personalized touch.
Dog Leash or Collar
Creating a dog leash or collar is a gift that feels special. For example, you might choose a fabric with the owner's favorite character or the cockapoo's favorite snack.
Another option is choosing a theme for holidays. Pumpkins for Halloween, snowmen for the winter season, or sugar skulls for Dia de Los Muertos. If it's a birthday gift, why not decorate a leash or collar with images of candles and cake? For a Christmas present, you can add bells for the cockapoo to jingle all the way.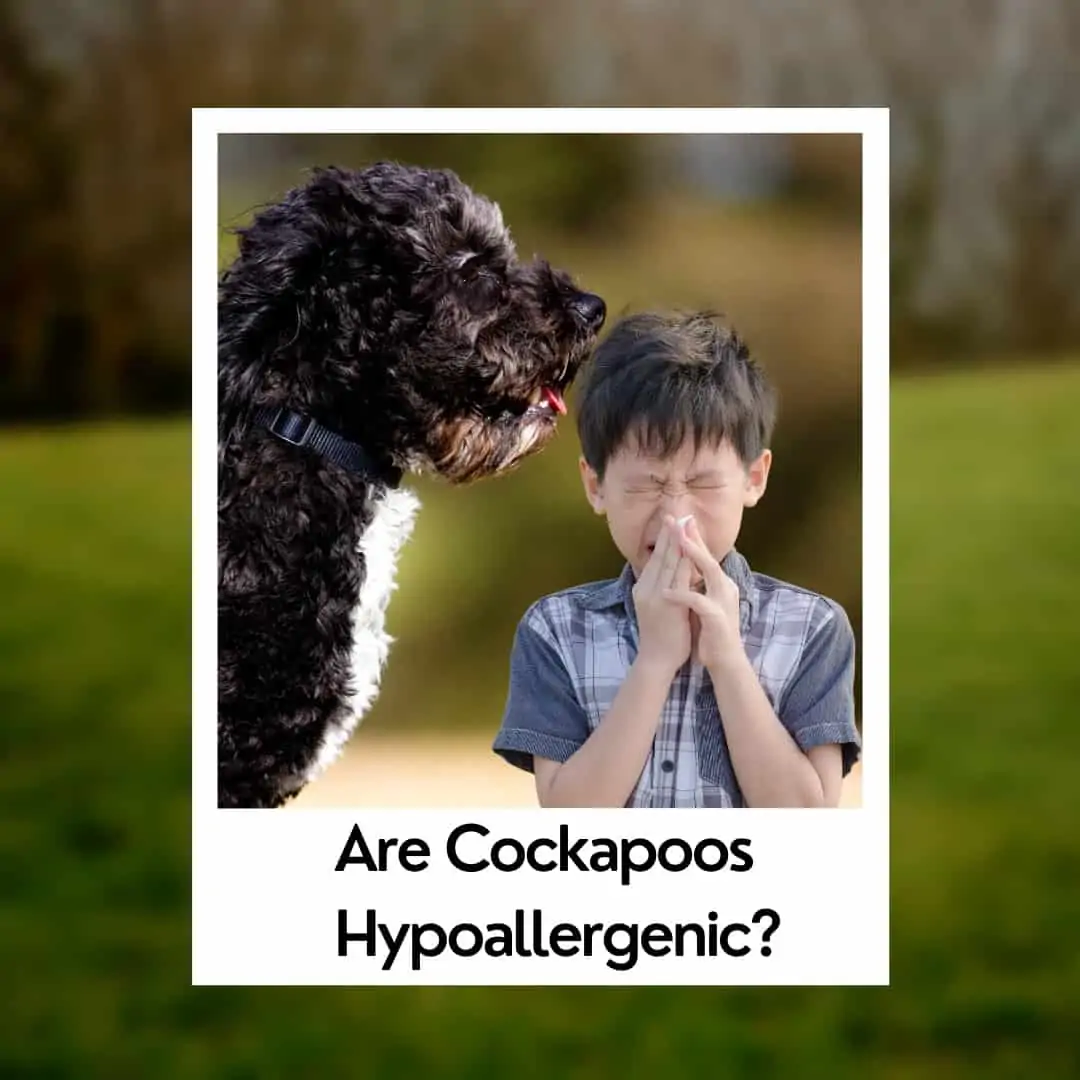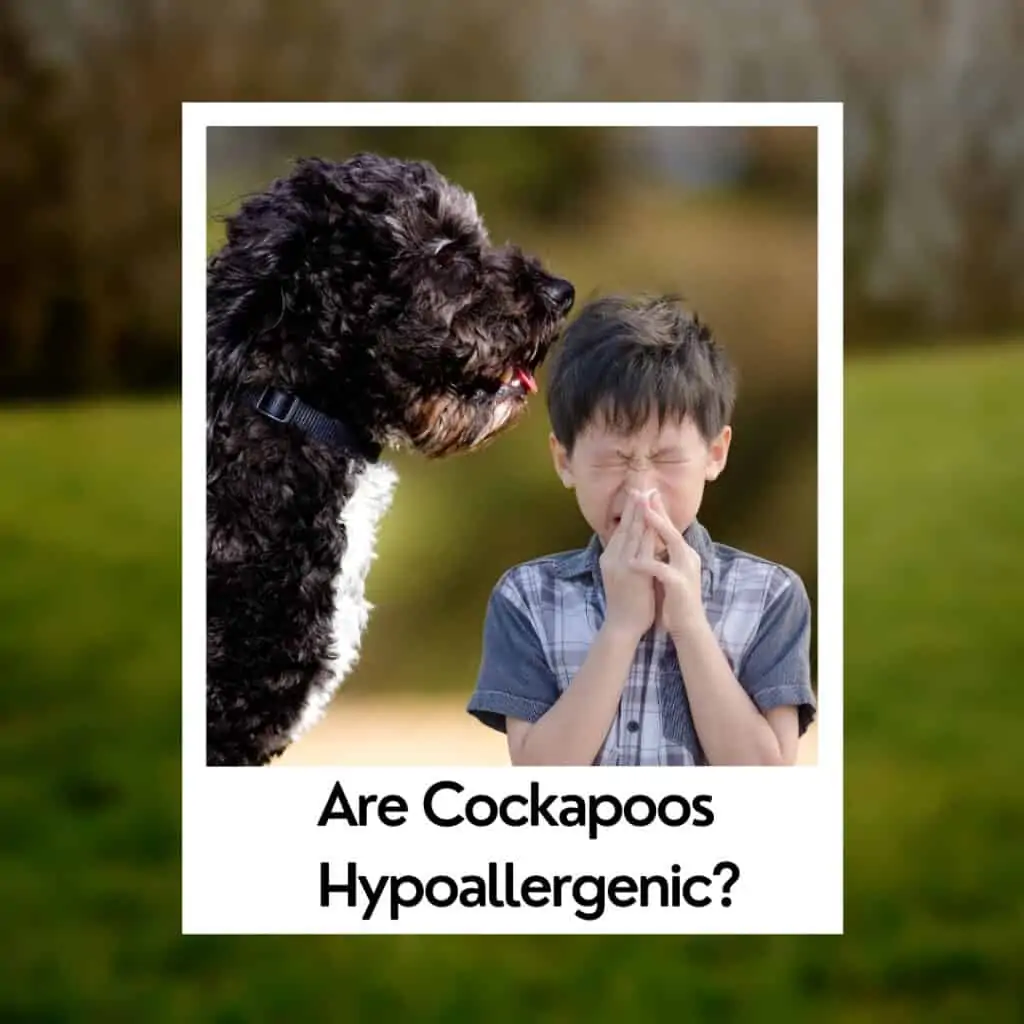 Clothing
Whether you're the sewing or knitting champion or you like to be crafty, homemade dog clothing is an adorable gift. The upside of it being homemade is that the fit is custom, making wearing it easier for the cockapoo.
Again, you can theme the outfit to match an occasion. For example, maybe you're crafty enough to make a dog Halloween costume? Or you can keep it simple with a cozy knitted sweater.
Suppose the cockapoo in question isn't interested in full-body outfits. In that case, you can make them a bandana or bows for their hair instead. Of course, we know cockapoo ears aren't technically pigtails, but there's nothing cuter than personalized hair clips.
Cockapoo Calendar
What's better than seeing your cockapoo every day? Well, no present can beat that, but seeing cute cockapoos on a calendar can bring a smile to any dog lover's face. But, of course, the best part of this gift is that they'll need a new one every year. So it can become a gifting tradition.
Cockapoo Coloring for Adults
We earn a commission if you make a purchase, at no additional cost to you.
Coloring books can help us tap into our creative side without stressing about craft quality. While the coloring book craze might have died out for some, for cockapoo owners who want more art in their life, gift them a Cockapoo colouring book.
Personalised Photo Frame
While these days, most photos are digital, there are a few memorable photos that are worth framing. So for cockapoo gifts that put that adorable face in glossy print, make it unique with a personalized frame.
Final Thoughts
Those are our suggestions for the best cockapoo gifts to please any cockapoo owner and their furry best friend. We hope our list has inspired you and that you can narrow down which gift best suits the owner or cockapoo you have in mind. So, which of our cockapoo gifts stood out for you?