How to Clean Cockapoo Ears – Definitive Guide and Top 3 Products
Cockapoos have marvelous floppy ears – that can get famously STINKY. The ear wax and debris that can build up for a Cockapoo can lead to stinky bacteria and infection. If the ears are left unclean, severe damage can occur!
There are a few questions that frequently pop up when it comes to grooming a Cockapoo dog or puppy. How to clean Cockapoo ears?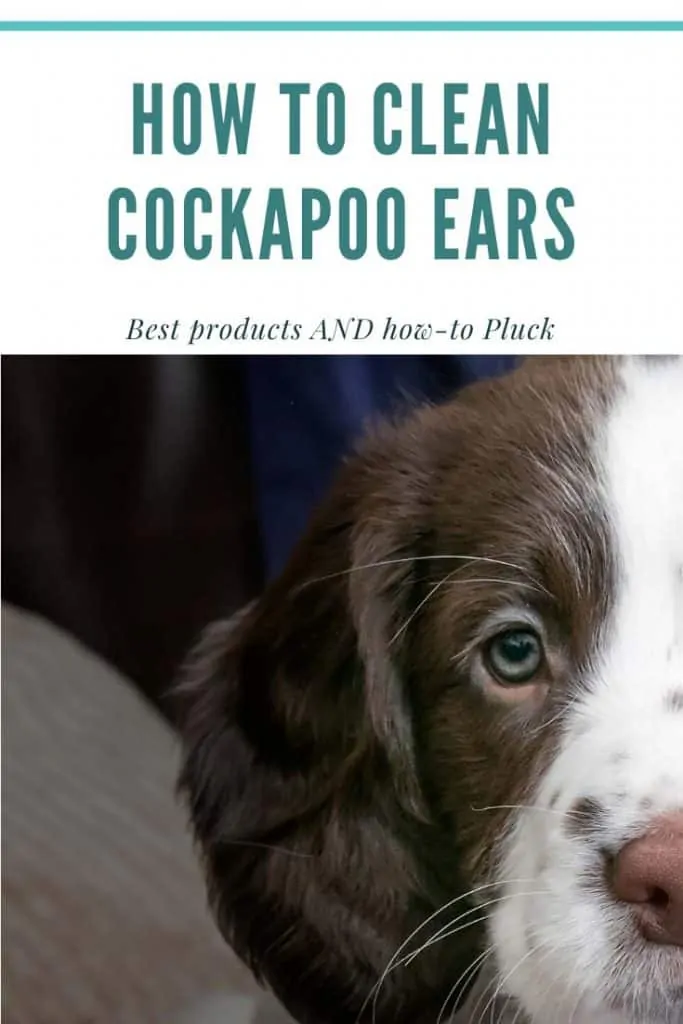 Poodle mix-breed dogs like the Cockapoo have a few unique quirks that make proper ear and eye care a must.
Luckily following a simple guide and using affordable but Cockapoo specific products can make the process a breeze.
Grooming a Cockapoo at home is very simple, and this article will cover one of the most critical areas: the glorious Cockapoo ears and how to pluck or trim Cockapoo ears.
Why Cleaning Cockapoo Ears Is a Challenge
There are two main reasons that Cockapoo owners often encounter problems with their dog's ears. Both factors work against the Cockapoo and can result in ear build-up, dirt, and challenges.
The gloriously floppy and large Cockapoo ears can trap bacteria, fungi, yeasts, and other undesirable nasties. Having such distinctly large ears with super soft Cockapoo fur creates an ideal and broad area for bacterial growth. The body warmth of dogs and any moisture trapped really amplify the issue.
If the bacteria or yeasts get out of control, infection and painful problems can occur. It can also result in conditions that leave the Cockapoo very stinky.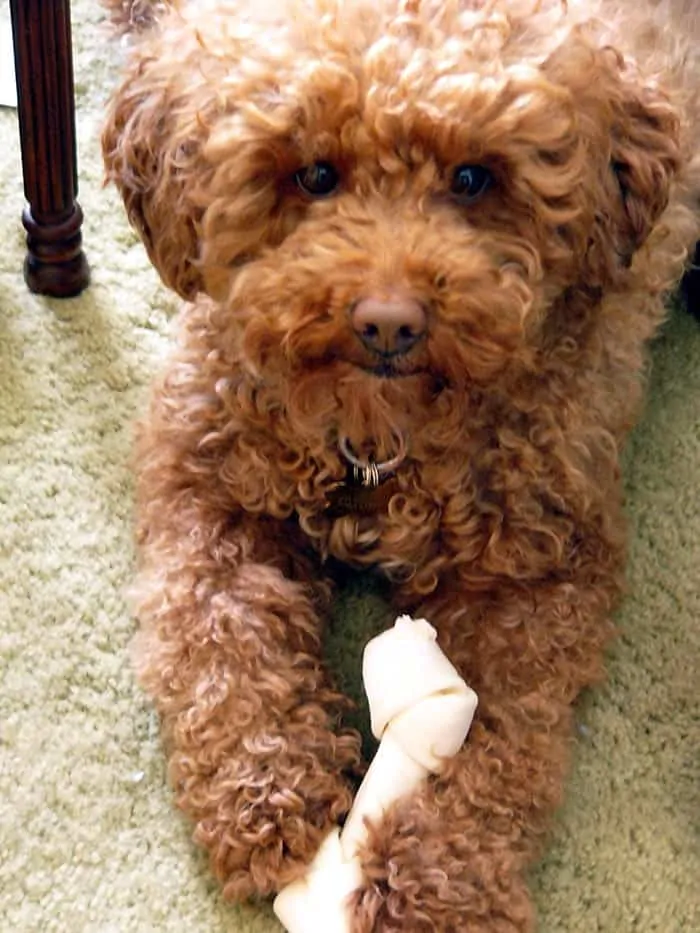 Poodle (and therefore Cockapoo) Ear Canals Are Narrow.
Another feature that does increase the necessity of specialized ear cleaning for Cockapoos is inherited from the Poodle. The Poodle has developed to have very narrow ear canals, with multiple folds of skin.
This means plenty of surface area for bacteria to grow and multiple. More bacteria? More problems. There is such thing as healthy bacteria that lives on the skin and around the ear (known as commensal bacteria). In general, the higher the volume of bacteria, the higher the risk of a medical or stinky ear problem for your Cockapoo.
Luckily routine and appropriate Cockapoo ear care will limit the problem. Even better – the process is simple and quickly completed DIY at home.
How to Clean Cockapoo Ears
The large Cockapoo ears are inherited from the Cocker Spaniel – and the shape is also influenced by the Poodle.
The large ears are referred to as Pendulous, which is a description of how the ear sits (droops).
Cleaning pendulous Cockapoo ears really boils down to two different processes. Physically cleaning the ears using a solution, and also preventative ear cleaning or plucking Cockapoo ear hair.
Step-by-Step How to Clean Cockapoo Ears
Your Cockapoo needs to be comfortable with its ears being touched.

Successful ear cleaning starts as a puppy, by desensitizing the Cockapoo to having its ears touched.
Frequently (gently) play with your Cockapoo puppy's ears.
Use treats if required to keep things positive and happy.
Massage the base of the ear also, as this motion will become important when cleaning the Cockapoo ears in the future

Make sure you are in a secure and calm place free from distraction. 

Pick a time where the Cockapoo is calm. Attempting to clean the ears in the middle of a fit of the zoomiesis a recipe for failure. 

Gently pull back the ears and inspect for any debris.

The central part of the ear cleaning is for wax and bacteria.
But look first for foreign objects.
Grass seeds, ticks, stones, even insects can be in the ears!

You will need a cotton swab (or microfiber cloth) and some gentle ear cleaner.

The most popular Cockapoo ear cleaning solutions are listed below.
It must be natural and use ingredients that do not irritate the surprisingly soft skin in the inner ear flap of a Cockapoo.

The neutral ear cleaner can be applied liberally to the ear canal using the applicator that tops the bottle.

Massage the base of the Cockapoo ear – expect some head shaking!

Wipe the ears out gently using cotton swabs. Wipe outwards, in a direction "away" from the deepest part of the canal. Use the cotton to wipe debris and wax away, do not advance it into the canal in error

You will only be able to clean the outer part of the ear safely at home.
Do not use human ear cleaner OR swimmer's ear recipes in dog ears.
Do not use alcohol-containing ear cleansers
If you suspect that there is an infection in the Cockapoo ear, it is unlikely to resolve just from routine ear cleaning. Consulting a Veterinarian will be necessary.
Deeper ear cleaning can be quickly and safely accomplished by a trained professional. Sometimes medicated drops or tablets may be required to be prescribed.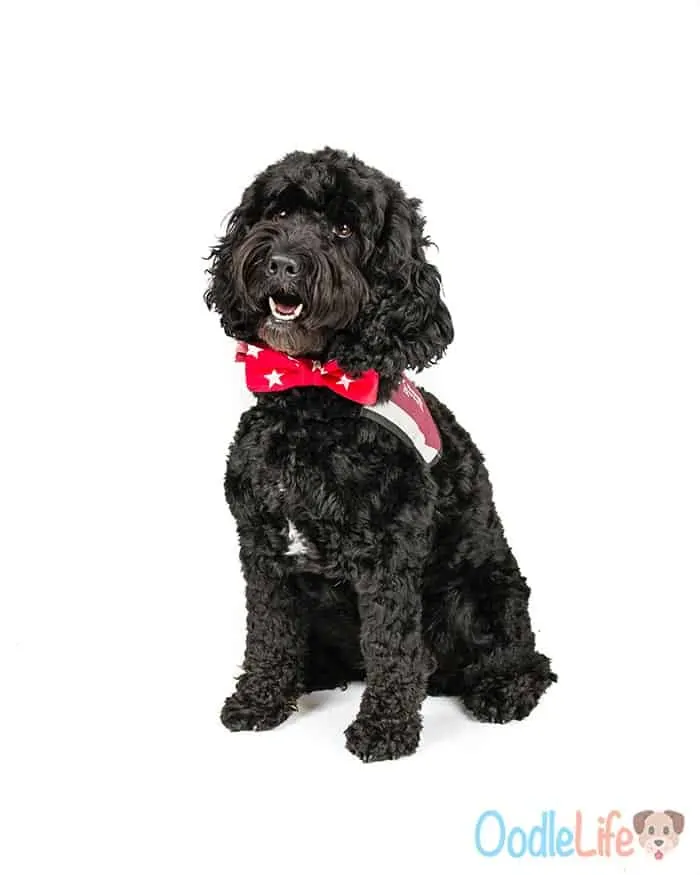 Picking the Best Gentle Ear Cleaning Solution for a Cockapoo
Picking the most suitable ear cleaning solution for a Cockapoo is essential. More so than other dog breeds, a Cockapoo might need frequent ear cleaning.
The detergent agent needs to be safe and non-irritating – but also needs to actually be effective. There is no point in using a cleaning agent that does not have excellent properties to reduce the bacterial volume.
The Best Cockapoo Ear Cleaning Solution
The hands-down best solution for regular use to clean Cockapoo ears is the Virbac Epi-Otic Advanced Ear Cleaner.
The alcohol-free formula is low pH (2.2), which gives it excellent properties to kill bacteria. For such a natural and skin-friendly solution is has a comprehensive ability to cut through and get a great clean.
Virbac Epi-Otic Advanced Ear Cleaner, 8 oz
Epi-Otic may be used for routine ear cleansing in healthy ear canal or prior to administration of other ear preparations
A mild alcohol-free cleansing and drying solution for routine maintenance of otitis externa
Epi-Otic has a low pH of 2.2 and contains no chlorhexidine or alcohol
Packaging May Vary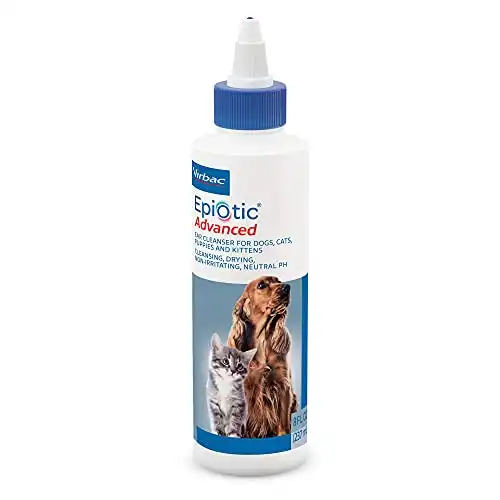 We earn a commission if you make a purchase, at no additional cost to you.
I like that the Virbac solution does not foam too much. Some ear cleaning solutions foam so much that I have trouble cleaning them away from wavy or curly dog hair. A distinct wavy coat is a common trait for Cockapoo and other Poodle mix breeds. It is really annoying to have to use a whole extra cleaning solution to clean away the detergent left from DIY Cockapoo ear care.
Positives for the Virbac ear cleaning solution include an excellent price point. It comes highly recommended by groomers and Vet techs. The hands-on experience I have had that it just feels natural to use – and does not stick too much in soft Cockapoo fur.
For some people, a negative can be the smell. It is a low odor, but not no-odor. Virbac's solution has a medical aroma. It is… inoffensive but is certainly not a perfume. I find the smell goes away by the end of the day – but if your dog spends time near a sensitive nose – just be aware that the ear cleaner is not perfumed.
A Popular Alternative Cockapoo Ear Cleaning Solution
If the idea of a Cockapoo ear cleaning solution is not for you – consider the popular and easy alternative. Grab some Cockapoo ear wipes!
Dog ear cleaner wipes are an easy solution for a dog that needs frequent ear cleaning. Sometimes owners keep these handy for travel either short term or in RVs.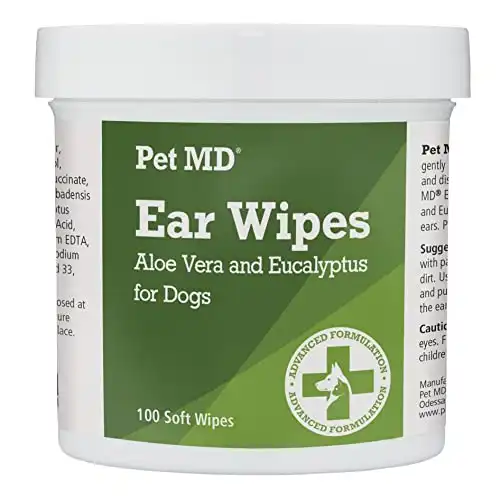 We earn a commission if you make a purchase, at no additional cost to you.
Pet MD are super popular for their pre-medicated and deodorizing ear wipes. I like the Pet MD wipes because they contain Aloe. This is both a common ingredient of natural (and efficient) dog grooming products – and because the wipes have a pleasant odor!
Aloe really is used as a base in some of the best grooming products. It is a featured ingredient in all of the best 4 shampoos for Cockapoos that we reviewed in detail. The power of Aloe!
Besides my not subtle love for Aloe containing products – it is the pleasant deodorizing smell of the wipes that really makes them a winner in my book. A positive is a fact that they are reasonably uniformly pre-medicated – just grab and go.
Two minor downsides to the Pet MD wipes that I found were that the size is not huge – the wipes themselves are small. I found it adequate to clean the ears – but perhaps if there was more debris, you would go through several wipes. The wipes are also sometimes difficult to separate from each other—a minor quibble but worth noting.
To figure out which approach works best for you (and your Cockapoo), give both methods a shot.
Do You Need to Pluck Cockapoo Ears?
There is a lively debate over whether or not to pluck the ear hairs of Cockapoos.
Plucking can remove excess hair that grows for many Cockapoos. Preventing hair overgrowth reduces the risk of excess bacteria and wax build-up. Fewer infections, less stinky Cockapoo ears.
The alternative to plucking is to trim excess ear hair. This approach is said to work well – and does de-bulk the excess hair that most Cockapoos grow in their ears. It does not remove all the hair at the base of the ear. This might leave some risk of ear build up and problems.
Plucking is safe and, if introduced correctly – is an easy DIY treatment. Many owners, groomers, and Vets advocate for occasional ear plucking as part of best care grooming. Check with your local animal experts, Vet, or groomer for their best advice if you are unsure.
Some lucky Cockapoos end up without excess hair growth in the narrow ear canal. This means they don't need plucking or even hair trimming. If your puppy falls into this category – they are fortunate, and you should be pleased! You will still need to use the gentle ear cleaner to clean the Cockapoo ears.
How to Pluck Cockapoo Ears
Plucking Cockapoo ear hair is surprisingly simple. All you need is ear hair powder and your hands. For routine plucking tweezers and other instruments are rarely required. They can be optionally used, but are by no means a necessity.

We earn a commission if you make a purchase, at no additional cost to you.
Choosing the right ear powder comes down to user experience and price. I and thousands of professional and DIY groomers use the extremely budget-friendly, pure, and long-lasting Gold Medal Groomers Ear Powder.
The more expensive alternatives do not offer any additional features. This value pack will last a long time and works well with fingers or with tweezers if desired. It dries the ears and is made with natural ingredients.
The process of using a Gold Medal Groomer Ear powder is as simple as shaking some powder into your hand. You then use your fingers to put some on the hair in the ear canal. Wham! The powdered hairs are easy to grip and remove even the frustrating superfine ear hairs.
Using ear powder to comfortable pluck ear hairs – pain-free – and prevent wax and bacteria build-up? Shockingly easy to accomplish.
Cleaning Cockapoo Ears Conclusions
The natural tendency for the build-up of wax and debris in Cockapoo ears means we need to take extra steps to keep their ears clean.
Failure to properly clean Cockapoo ears can result in infection, excessive build-up, and stinky Cockapoo ears.
Proper grooming consists of regular cleaning, and either ear hair plucking or trimming. DIY grooming for Cockapoo ears is safe and can be learned by most.
We are lucky that the best products needed to safely and efficiently clean Cockapoo ears at home are budget-friendly and straightforward.
More Cockapoo Articles
If you are welcoming a new Cockapoo puppy into your life – congratulations! Find out if dogs are scared of the dark or check out 35 indoor dog games to play with your new puppy! If you are looking for a cool (and not lame) puppy name – check out our list of actually good Star Wars names for dogs.