Stop the Shed – Best Brush for Labs [5 Best]
If you're the proud owner of a loving Labrador, we're sure you already know how energetic, kind-natured, and playful they are – not to mention their soft fur, which makes them totally adorable and cuddly!
As Labradors originate from Canada, they have something known as a 'double-layer coat, which consists of a coarser coat on top, and a softer coat underneath. This means that Lab coats can be prone to knots and matting, which can be painful for your pup to say the least.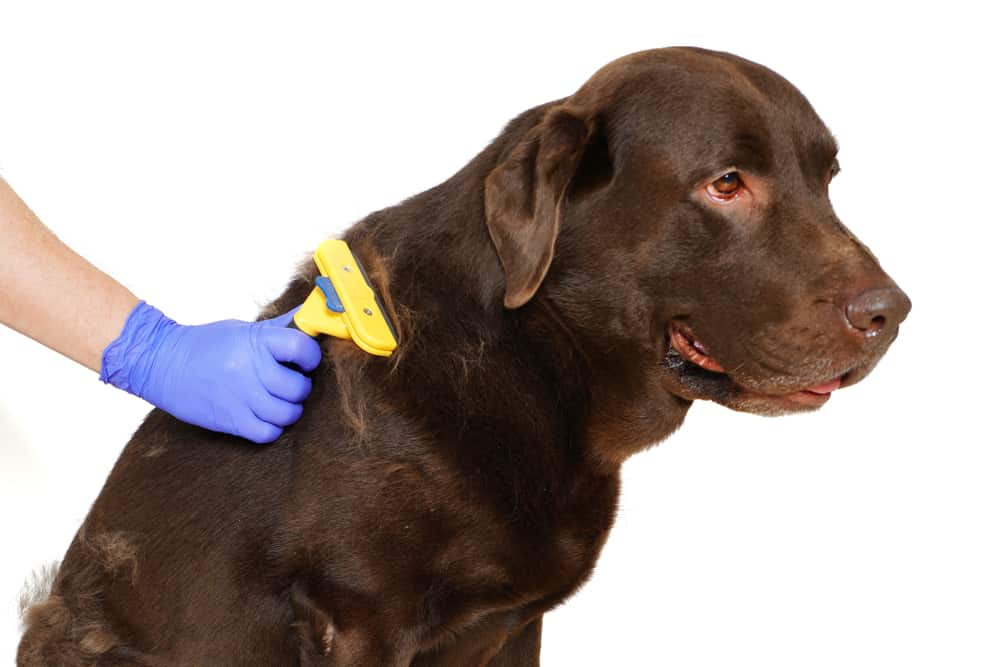 If you don't make sure that you regularly groom your dog, dirt, dead skin and bacteria are going to build upon their coat, which can cause all sorts of problems including rashes. On top of that, it can also cause matting, which could prevent natural shedding and cause overheating.
So, what can you do? Though you might be tempted to head down to your local pet store and pick up the first brush in sight, the best course of action is to purchase a brush that has been specifically designed to cater to the needs of your little Labrador.
This is where we come in to lend a helping hand. Below, you will find a review of the top five brushes suitable for Labradors, as well as a helpful buying guide to make sure that you make the most informed choice possible. Ready? Let's begin.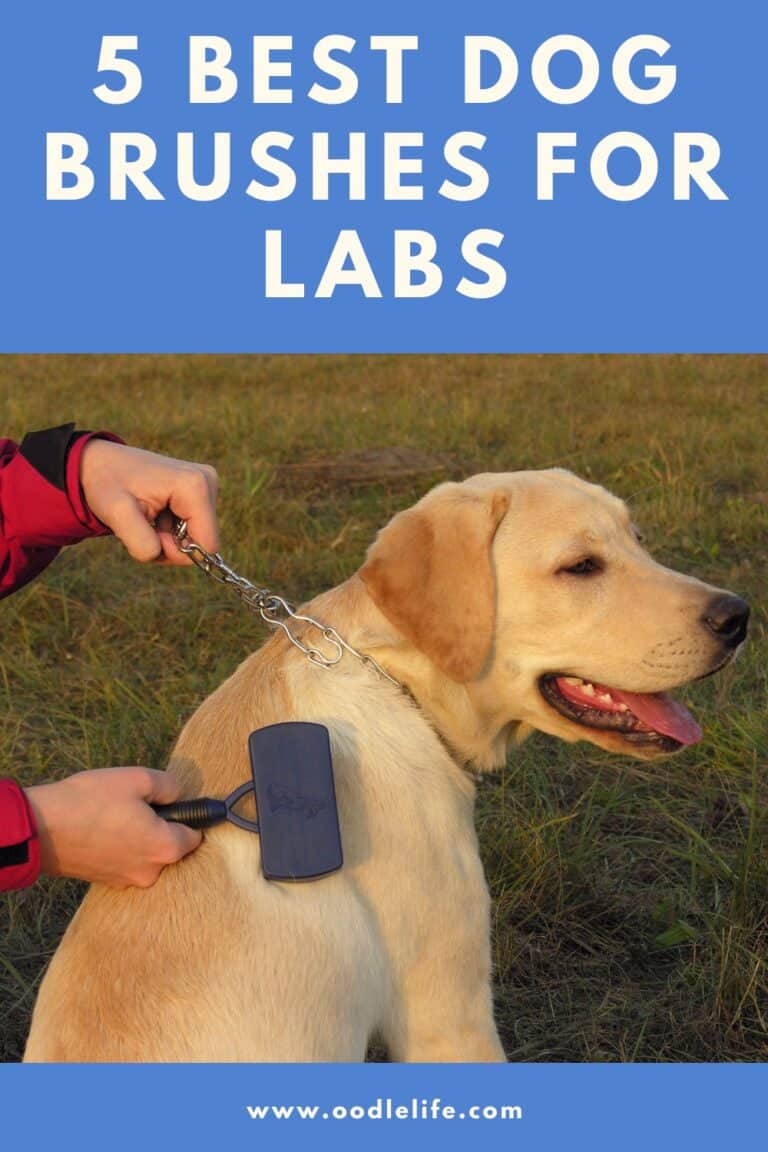 The Hertzko Self Cleaning Slicker Brush can be found in the grooming bags of Labrador owners around the world, so it should come as no surprise that it's our top pick!
The Hertzko Self Cleaning Slicker Brush will be able to gently remove loose hair from the undercoat of your Lab without tugging on their fur or scratching the skin. As you gently work through the fur, this slicker brush will remove tangles, dirt, and knots quickly and without causing discomfort.
The bristles of this brush feature fine bent wires that have been specifically designed to be able to penetrate deep into the coat, which will allow you to brush through the top coat of your Labrador and reach the undercoat. This will ensure you are able to thoroughly groom your dog without any missed areas.
Plus, once you're done giving your Lab their weekly brush, all you'll need to do is click the button located on the handle and the bristles will retract inside the brush. This will leave all of the excess hair on the surface of the brush, which will allow you to quickly and easily dispose of it, ready for its next use.
This brush has also been designed to massage the skin while grooming the fur, which will help to both maximize blood circulation and ensure that your dog is comfortable. If you're on the search for the best rush for weekly grooming sessions, then you won't be disappointed with the Hertzko Self Cleaning Slicker Brush.
Pros
Massaging – This brush will massage while grooming, which will help to raise comfortability so that your dog is relaxed and calm.
Fine bent wires – This brush will be able to brush through the topcoat to the undercoat, which is perfect for Labradors.
Cons
Bulky head – May be difficult to reach the inside of the legs.
Sale
Hertzko Self-Cleaning Slicker Brush for Dogs, Cats - The Ultimate Dog Brush for Shedding Hair, Fur - Comb for Grooming Long Haired & Short Haired Dogs, Cats, Rabbits & More, Deshedding Tool, Cat Brush
#1 Cat & Dog Brush - Voted best overall for 2022 by Spruce Pets; trusted by millions of pet owners
Effective - Reduces shedding, detangles, removes dirt & debris, keeps coat looking shiny and healthy
Versatile - Great for cats & dogs of all fur types
Easy to Clean - Simply retract bristles with the push of a button, then wipe away collected fur
Smart Design - Fine, angled bristles, ergonomic comfort grip, and push-button retraction make it easy to keep your pet looking happy & healthy
If you own a Labrador that is prone to excessive shedding, or you simply want to be prepared for the times when they do, the Furminator Undercoat Deshedding Tool is a tried and true favorite.
Specifically designed for larger dogs that have short hair, the Furminator Undercoat Deshedding Tool for Dogs is a great choice for Labradors, especially as Furminator specifies that this tool is for dogs over 50lbs.
Featuring a stainless steel dual design that can be switched depending on whether you want to brush long or short hair, this brushing tool will allow you to brush both the top and bottom coat of your Labrador safely and without causing any discomfort.
Upon use, the innovative design of this tool will be able to reach through the topcoat in order to remove loose undercoat hair. This will help to keep your dog comfortable, prevent overheating and reduce the chances of any dirt buildup.
The best part about this tool is that it is ideal for dogs who are shedding. This means that, when you use it, not only will it help to detangle the coat, but it will also be able to effectively lift away any loose hairs without cutting the skin or damaging the coat.
For convenience, this brush also features an ergonomic handle that will allow you to easily groom your dog's fur without having to worry about wrist strain, while the included 'Furjector' button will allow you to release accumulated hair quickly and without making a mess.
Pros
Ergonomic design – Ergonomic design of the handle ensures comfortable grooming and a reduced chance of any strain.
Ideal for dual-coats – Features a function that will allow you to switch from short to long hair, as well as a fur ejector button.
Cons
May not be suitable for regular grooming – This tool is specifically designed to help remove loose hair.
Sale
Furminator Undercoat deShedding Tool, for Large Dogs, Short Hair
FOR LARGE DOGS WITH SHORT HAIR: Designed especially for dogs that weigh more than 50 pounds.
CHOOSE LONG OR SHORT HAIR: Stainless steel deShedding edge reaches through topcoat to safely and easily remove loose hair and undercoatCHOOSE LONG OR SHORT HAIR: Stainless steel deShedding edge reaches through topcoat to safely and easily remove loose hair and undercoat.
REMOVES LOOSE HAIR: Will not damage the coat or cut the skin when used as directed.
FUREJECTOR BUTTON: Push to release hair with ease.
ERGONOMIC HANDLE: For comfortable, easy grooming.
Next up on our list, we have selected the DOLOMO Pet Grooming Glove, which is a great choice for those wanting an alternative to a traditional brush.
Whether you have a Labrador that doesn't like to be brushed, or you simply want to turn everyday grooming into a bonding session, then we think you'll love the DELOMO Pet Grooming Glove.
Featuring 255 silicone grooming tips, these grooming globes are able to emulate the feel of your hands, which means that you'll be able to effectively smooth away any built-up dirt, debris, and loose hair, while your pooch gets a relaxing massage.
The flexible design of the gloves will allow you to gently brush areas your dog might not let you with a traditional brush, such as the elbows and tummy area. Thanks to that, you'll be able to give your dog a full body brush to remove dirt, debris, and knots – and your Lab won't suspect a thing!
That's not all, either. This pet grooming glove from DOLOMO also contains kind-to-skin materials which won't cause any irritation to your dog's skin. The soft silicone bristles won't feel painful, tug at fur or scratch the surface of the skin, but will instead allow for a relaxing massage that will help to improve the bond between you and your dog.
Plus, to ensure that you're able to groom your pup with confidence, the glove comes with a wrist strap that can be adjusted for a snug yet comfortable fit, and you'll even get an additional glove upon purchasing, so it's great value for money, too.
Pros
Pair bonding exercise – This glove will help to strengthen your bond with your dog.
Gentle – the soft silicone bristles won't scratch or tug at the skin/fur, so your dog will stay comfortable.
Cons
Not great for shedding – This glove is designed to help relax the dog while brushing out dirt, so it might not be suitable for Labrador's that excessively shed their fur.
Sale
[Upgrade Version] Pet Grooming Glove - Gentle Deshedding Brush Glove - Efficient Pet Hair Remover Mitt - Enhanced Five Finger Design - Perfect for Dog & Cat with Long & Short Fur - 1 Pair (BLUE)
UPGRADE VERSION: With enhanced 255 silicone grooming tips, mimics the touch of your hand for a soft and relaxing massage; This flexible, slip-on grooming gloves allow you to brush away dirt and loose hair from cats and dogs
Hair Remover: Perfect for long, short and curly haired dogs, cats, horses, and other pets, grooming the hair quickly, gently and effectively; The shedding hair sticks to the glove, making it easy to peel and throw hair away
Bath Brush: Bathe the pets with this glove, which will clean the pet hair easily and give your pets a gentle massage without hurting their skin; Five finger design allows you to groom hard-to-reach places like tail or face
Skin-friendly: Free from any materials which could cause skin damage; Soft rubber ensure gentle massage and grooming without painful removing of fur or scratching the skin; One size fits all, it has adjustable wrist strap for a comfortable fit
What You Get: 2 blue DELOMO pet gloves (1 left-hand and 1 right-hand; The left-hand glove is customized for left-hander)
If you love your Labrador but can't stand the mess that comes along with grooming, then you might be interested in the Fur Sure Vacuum Brush Kit, which will clean up as you brush.
Ensuring that your home grooming sessions are as simple and stress-free as possible, this vacuum brush kit will easily attach itself to the nozzle of your vacuum. This means that, while brushing away dirt, debris, and loose hair from your Lab's coat, the vacuum will suck it up, so there will be no mess.
The included curry comb brush features soft yet firm bristles that will be able to penetrate through all coat types (including dual coats) to effectively remove all dirt, debris, dead skin follicles, and loose hair. The soft bristles will also massage the skin as your brush, so your Lab will feel relaxed.
In the kit, you'll get the nozzle connecter as well as two interchangeable brush inserts, while the universal vacuum adapter will be able to connect to nearly every vacuum on the market due to its compatibility with hoses that fall between 1 ¼ and 2 ¼ inches.
In addition to that, the brush features an ergonomic handle that is comfortable to hold for long periods of time and contoured, which will reduce the chances of any strain in the hand muscles or wrist. It also comes with a strap, which will allow you to use it with only one hand.
Pros
Ergonomic handle – The handle of this brush is comfortable to hold and features a strap for easy grip.
Low maintenance – This brush will attach to your hoover and suck up the hair while you brush your Lab!
Cons
Basic bristles – some users have stated that this brush struggles to sometimes reach the undercoat.
Fur Sure Vacuum Brush Kit for Home Pet Grooming and Cleaning Furniture and Carpet – Great for Medium to Large Sized Breeds and Cleaning Up After All Pets
HOME PET GROOMING MADE EASY: Connects to your vacuum to remove loose and shedding hair, dirt and dander. Includes two interchangeable brush inserts.
CLEANS GROOMS AND CONDITIONS: The Curry Comb Brush and the Bristle Brush inserts allow versatility to penetrate any coat type for skin deep penetration and thorough cleaning. Massaging action nurtures healthy coats and skin. Detangles hair as it cleans.
WORKS ON VIRTUALLY ANY VACUUM: Universal Vacuum Adapter Effortlessly Connects to Any Hose 1 ¼ - 2 ¼ inch
ERGONOMIC HANDLE: Comfortable, Contoured Grip Includes Strap, Allows for Secure One-Handed Grip
GREAT CLEANING VERSATILITY: easily removes animal hair, dust, dirt and debris from upholstery carpets and automobile seats and floors – reduces allergens.
If you're on a budget but still want to get your hands on a brush that will help to keep your Labrador's coat healthy, shiny and free from dirt, look no further than the Sharper Image dog Brush.
Ideal for tackling your Labrador's dual-coat, the Sharper Image Dog Brush will ensure that your four-legged friend is healthier and shinier than ever before, all while giving them a relaxing and calming massage.
It consists of a dual design that features pin bristles on one side, and softer bristles on the other. The pin bristles can be used to loosen and detangle the undercoat of your dog's fur, while the softer bristles can be used to brush the top coat of your Labrador.
Plus, for added convenience, the Sharper Image Dog Brush even comes with an ergonomic handle that will ensure a comfortable grip and confidence while brushing your pup. On top of that, it even comes with a helpful eyelet, which will make storage even easier.
Pros
Excellent value – This brush is ideal for those who are on a budget.
Suitable for Labrador fur – The dual design of this brush will allow you to reach both the top and bottom coat without any issues.
Cons
No strap – This brush does not come with a wrist strap.
How to Choose the Best Brush for Labs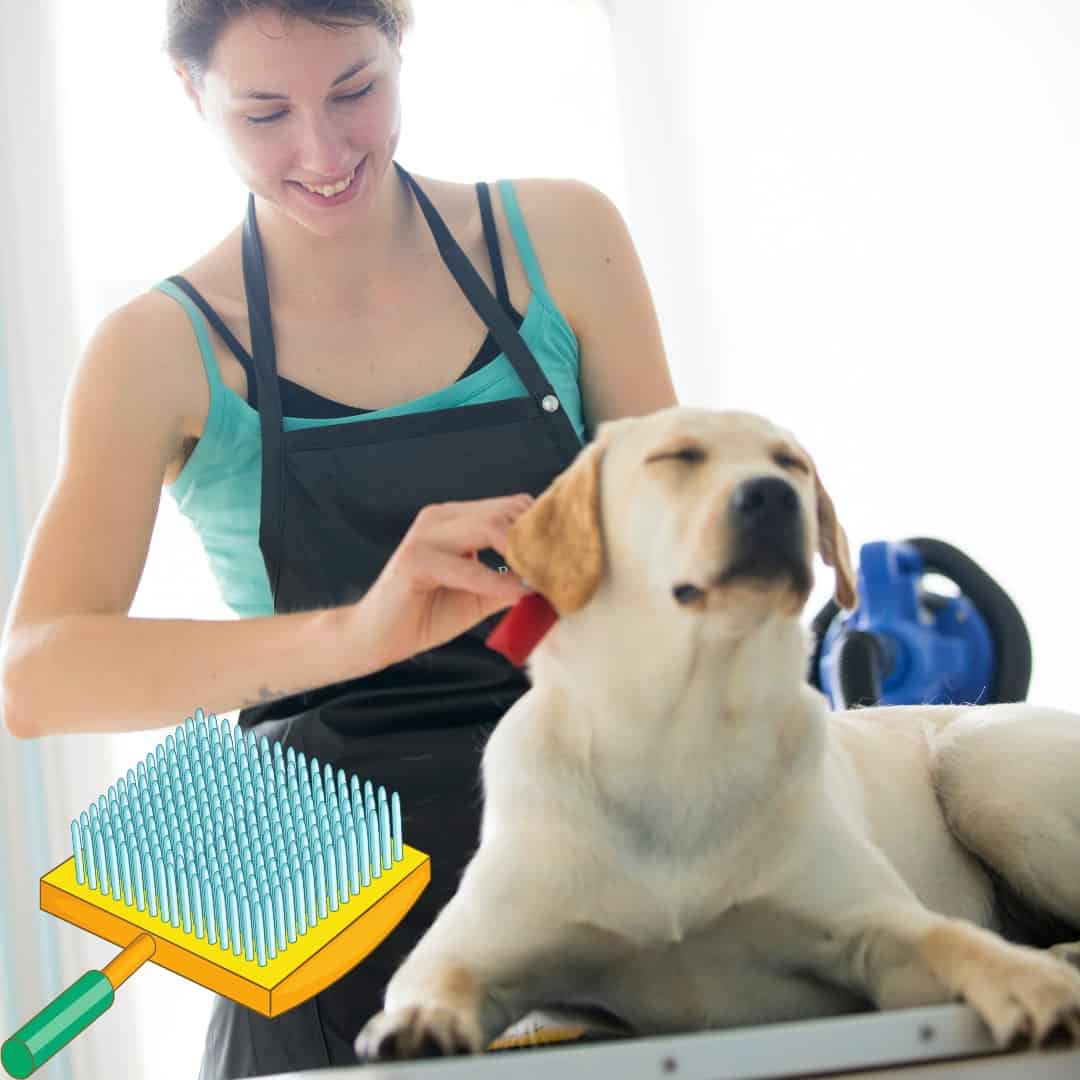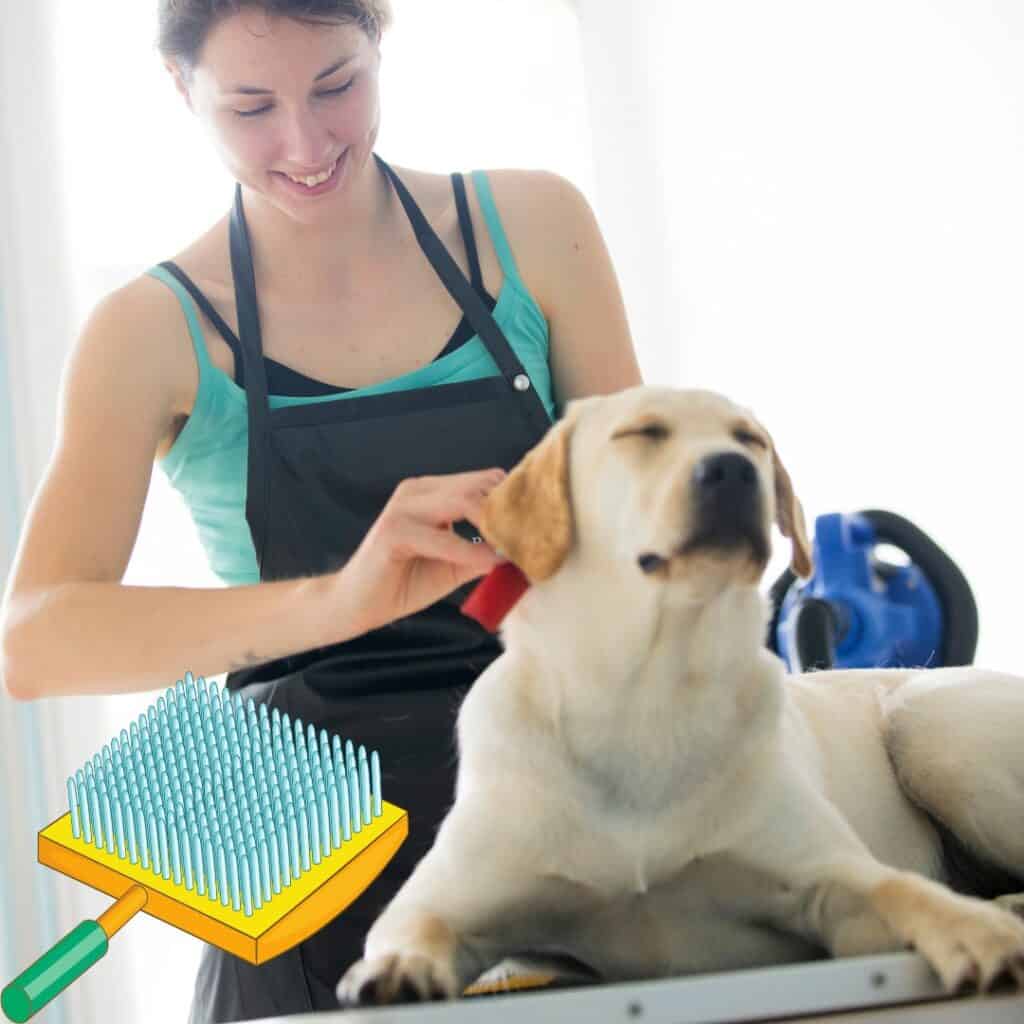 Self Cleaning Ability
As the owner of a Lab, we're sure that you're no stranger to stray hairs laying around your home!
So, when it comes to choosing the best brush for your dog, we recommend considering going for one that comes with a self-cleaning function, and the easiest indication of this are the bushes that have 'Self Cleaner' in their name.
As an example, many slicker brushes come with a retractable feature that allows the pins to be pushed back inside the brush when you're finished using it. By doing so, it means that you'll be able to easily dispose of the excess hair quickly and without damaging the brush.
By choosing a brush that is able to speed up the cleaning process and keep mess to a minimum, we're sure that you'll no doubt find your weekly grooming routine way less of a chore, and a lot more enjoyable, too!
Dual-Head
As your Labrador has a dual-coat, it only makes sense that you should consider investing in a dual-head design brush that will be able to target both.
Dual-head grooming brushes can come in a variety of different designs, although the most common type is the grooming brushes that come with soft bristles on one side (for the topcoat) and pin bristles located on the other side (for the undercoat).
By choosing a brush with a dual-head design, you'll be ensuring that the entirety of your Labrador's coat is kept healthy, knot-free, and better rid from dirt, no matter whether you're targeting the top or undercoat.
Ergonomic Handle
Last but not least, the next thing you'll want to keep an eye out for are grooming brushes that come with ergonomic handles, such as a curved design or rubber grip.
Not only will this help to prevent the chances of any hand or wrist strain from occurring, but it will also help you to give your Labrador a more thorough groom.
Frequently Asked Questions
How do you brush a Labrador?
Brushing a Labrador isn't so different from brushing any other type of dog.
Regardless of whether you've gone for a slick brush or a curry comb, you should always start the grooming session off by brushing in the direction of their coat. This will help to 'warm' your dog up and make them feel comfortable, as some dogs can get frightened of the brush.
Then, once you are confident that your dog is relaxed, you can then begin working the brush at the base of the tail, brushing backward over the areas you have already brushed. Then, once you've worked the hair against the natural lay of the coat, you can then go back over the coat, following its natural direction.
If you wanted to, you could then take a soft brush through the coat to help distribute natural oils, and then finish off by running a damp cloth or wipe over the coat to remove any stray hairs or dirt.
How often should Labs be brushed?
To ensure that your Labrador's coat stays in tip-top condition, it's important to make sure that you are scheduling in a brush at least once a week, although you might have to brush them more if you do something that might get the fur dirty, such as going on a long walk.
Not just that, but as Labradors have a natural double-coat, it means that they will shed twice a year, usually in the spring and right before the winter.
Shedding is important to the overall health of your dog's coat, so it's important to make sure that you are brushing your Lab at least once a week to help improve shedding and reduce the chances of knots or mats from forming.