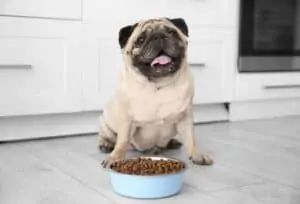 Providing the right food for our dogs is the highest priority.
Pugs are notoriously unique to feed due to the anatomy of their jaw and face, which means their requirements are slightly more specific than other dogs.
They are also prone to diabetes and obesity due to their couch potato trait.
The last thing you want is dog food that makes your pug overweight or sick. Of course, no dog food is universally perfect for every pug, but a successful dog food can save hundreds of dollars in vet bills.
Fortunately for you, you've come to the right place! We understand the importance of providing a high-quality, affordable dog food for our pug friends.
We have found the best dog food for Pugs that reach all of the nutritional requirements to keep your pug as healthy as possible!
Tailored specifically for Pugs over 10 months old, Royal Canin has created an ideal formula that tends to pug's specific requirements.
As one of the main issues with Pugs is obesity, this dog food is high in energy and low in carbs. The protein from chicken is ideal for improving the quality of muscle, which will help obese Pugs to lose weight and encourage activity.
As the size of kibble can also affect a pug's weight, this kibble is designed specifically for a pug's jaw and mouth characteristics. This is so they can comfortably eat the kibble without taking a long time or swallowing it whole, which also benefits the health of their teeth.
This dog food is filled with essential fatty acids including borage oil, fish oil, and zinc – all of which are designed to promote a moisturized and healthy skin.
This is ideal for Pugs who struggle with sensitive or dry skin. Likewise, the formula includes glucosamine and chondroitin which are essential for maintaining healthy bones.
For Pugs who struggle with a sensitive stomach or anal gland issues, this formula is high in fiber to promote a balanced gut. This also encourages firmer stool.
Whilst we're on the topic of bodily functions, this product is also balanced in minerals to improve the quality of the urinary tract function. Lovely!
Pros:
Made from a reputable brand that is vet-approved
High in protein and low in carbs to maintain a healthy weight
Filled with essential acids and minerals to promote healthy skin, bones, and gut
Cons:
Not appropriate for dogs younger than 10 months
Royal Canin Pug Adult Breed Specific Dry Dog Food, 10 lb. bag
$56.99
$46.99 ($4.70 / lb)
FORMULATED FOR PUREBRED PUGS: Royal Canin Pug Adult Dry Dog Food is designed to meet the nutritional needs of purebred Pugs 10 months and older
SPECIALIZED KIBBLE: Unique kibble design helps small dogs easily pick up and chew their food
SKIN SUPPORT: Reinforces the skin barrier with essential nutrients to support healthy skin and coat
MUSCLE SUPPORT: Adapted protein content and added L-carnitine maintain a Pug's muscle tone
WEIGHT MANAGEMENT: Helps provide weight control for Pugs prone to weight gain with an appropriately balanced formula for an ideal weight
We earn a commission if you make a purchase, at no additional cost to you.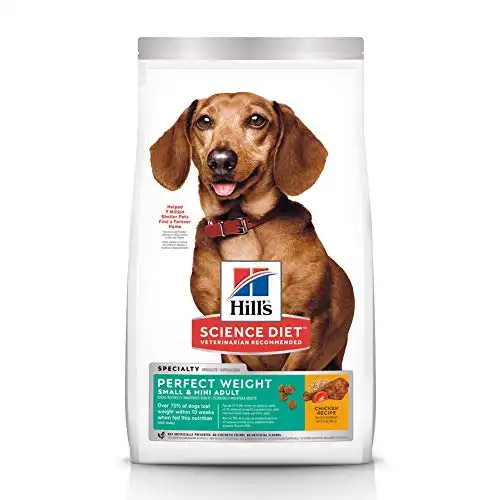 Hill's Science Diet food is designed specifically to help dogs lose weight and to keep healthy dogs at the same weight, and this dog food is no exception.
As Pugs are so prone to weight gain due to their lazy tendencies, controlling their weight is most important.
This dog food achieves its healthy weight goals by its high protein and high fiber formula that is low in carbohydrates. Made with natural ingredients and in the USA, the chicken is an ideal protein source for increasing energy.
Not only does it increase energy to help a dog lose weight, but it also improves the quality of lean muscle. This means the only weight loss is from the unnecessary weight, whilst the muscles remain strong.
The formula is also filled with coconut oil and prebiotic fibers including wheat which helps to promote a healthy gut. This, in turn, encourages a firm and consistent stool.
The kibble is designed to suit the jaws of small dogs, so they can eat comfortably which improves their oral hygiene.
What's more, Hill's Science Diet is a reputable brand that uses natural ingredients made in the USA. It is also veterinarian-approved.
Pros:
High in protein and fiber to promote weight loss
Made from natural ingredients and in the USA
Fibrous formula improves stool quality and sensitive stomachs
Cons:
Not suitable for puppies, pregnant, or nursing dogs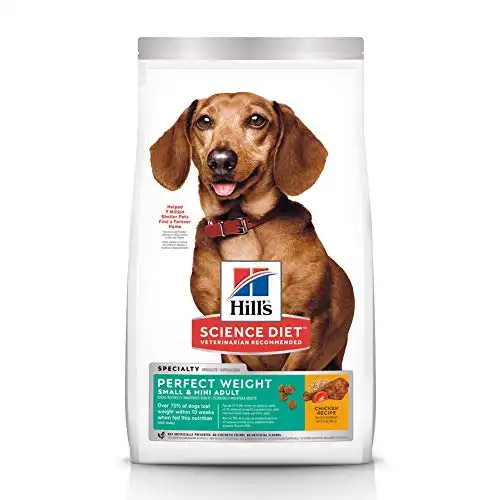 We earn a commission if you make a purchase, at no additional cost to you.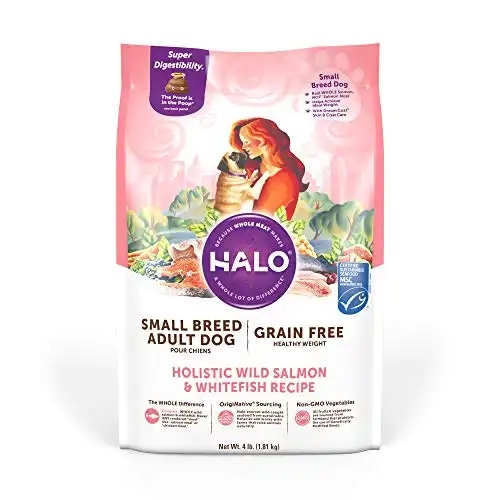 Halo prides itself on its sustainably sourced, made in the USA formulas. This wild salmon and whitefish dog food is made from sustainable fisheries and includes non-GMO vegetables. It's as natural as it gets!
The lack of artificial preservatives and ingredients means that the calorie count is low. Not only this, but the formula includes L-carnitine which is beneficial for increasing metabolism.
The mixture of protein from the fish and the L-carnitine is designed to help Pugs eat food regularly whilst increasing their energy levels to help them lose weight.
Filled with essential fats and acids, this dog food is packed with ingredients designed to provide support to the skin and coat.
It also includes antioxidants such as vitamin E which helps to improve the immune system. This is ideal in dog food, as the healthier the food, the more money saved on potential vet bills.
Designed for small breeds with small jaws, the kibble is appropriately sized to promote healthy oral hygiene and for easy digestion.
Pros:
Filled with natural and sustainable ingredients – eco-friendly and healthy
High in protein and fiber to increase energy and encourage weight loss
Formula includes antioxidants, vitamins, and minerals to promote healthy skin and gut
Cons:
Kibble may be too small for Pugs with large mouths
Halo Grain Free Natural Dry Dog Food - Small Breed Healthy Weight Recipe - Premium and Holistic Real Whole Meat - Wild Salmon & Whitefish - 4 Pound Bag - Non-GMO Adult Dog Food - Highly Digestible
4-lb bag of Halo Holistic Grain Free Wild Salmon & Whitefish Recipe small breed dog dry food: Salmon dog food made with real, wild-caught salmon and whitefish as the first ingredients and no meat...
High-quality ingredients: This dry dog food is cooked in the USA with high-quality ingredients for optimal nutrition and digestive support
Healthy skin and coat for dogs: Holistic dog food is formulated with Omega-fatty acids to support radiant skin and coat
Responsibly sourced: Halo Holistic uses MSC (Marine Stewardship Council) certified wild-caught salmon and whitefish, raised with no antibiotics or artificial feeds, and non-GMO ingredients.
Grain free dog food recipe made with natural ingredients plus added vitamins and minerals and no artificial flavors, colors or preservatives. Plus, our healthy weight recipe has reduced calories and...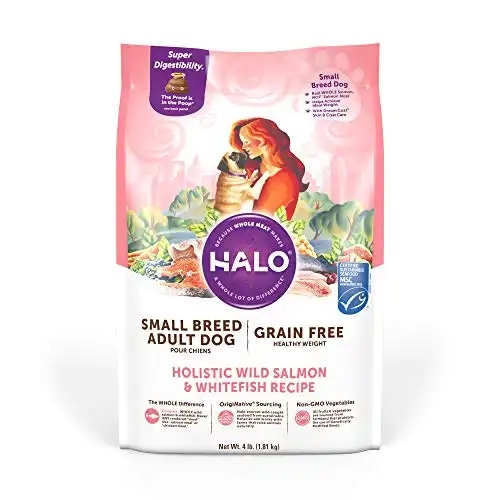 We earn a commission if you make a purchase, at no additional cost to you.
4. Wellness Natural Pet Food Small Breed Dry Dog Food
ACANA® Singles Limited Ingredient Dry Dog Food, Grain-free, High Protein, Lamb & Apple
ACANA Singles Lamb & Apple recipe now includes more meat with 65% grass-fed lamb ingredients, complemented with tasty, whole Red Delicious apples, providing your dog with the protein and nutrients they need in order to stay happy, healthy, and strong
RICH IN ANIMAL PROTEIN: Rich in protein from a single animal source, providing the nutrient-dense diet your dog needs, with no peas or plant-protein isolates
CIRCULATION & IMMUNE SUPPORT: Enriched with taurine and essential vitamins, minerals, and antioxidants to help support healthy circulatory and immune system functions
DIGESTIVE HEALTH: Superfood sweet potatoes are rich in fiber to help support healthy digestion, and overall gut health
WholePrey ratios of lamb, organs, and cartilage deliver nutrients, that help them be at their best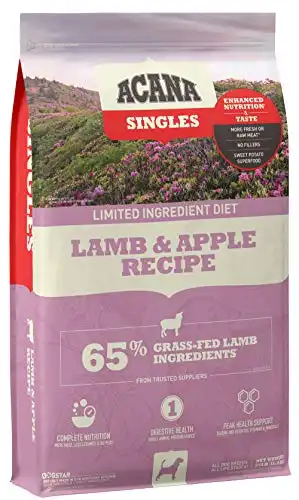 We earn a commission if you make a purchase, at no additional cost to you.
This dog food only includes ingredients that are globally sourced, non-GMO, and with nutritional benefits. This means there are no artificial ingredients that don't offer any benefits.
High in protein and low in carbohydrates, the chicken and turkey provide optimized energy for lazy Pugs.
The best dog foods offer a variety of antioxidants to improve and support the immune system. This product is no exception, as it includes spinach and blueberries.
Likewise, it is filled with essential fatty acids such as flaxseed and salmon oil to promote healthy skin and coat. If your pug struggles with a sensitive stomach or skin, this is ideal.
This formula is also grain-free, which is designed to benefit dogs with allergies and sensitive stomachs who may be allergic to barley or wheat. However, including cooked rice can be beneficial for Pugs with upset stomachs.
What's more, the formula includes glucosamine, taurine, and probiotics which help to promote a healthy heart. This subsequently encourages the dog to exercise more, eat more, and therefore lose unnecessary weight!
Pros:
Filled with antioxidants to improve a sensitive stomach
Grain-free for dogs with allergies
Includes taurine to support a healthy heart
Cons:
Whilst it is grain-free, it is manufactured in facilities that handle grain so there is a risk of cross-contamination
Wellness Natural Pet Food Complete Health Natural Grain Free Dry Small Breed Dog Food, Turkey, Chicken & Salmon, 4-Pound Bag
$20.99
$19.98 ($5.00 / lb)
GRAIN-FREE SMALL BREED ADULTDRY FOOD: High quality protein from turkey, healthy fats and fiber are expertly balanced to deliver a complete, grain free food packed with the nutrients your small breed...
ALL NATURAL: Created by nutritionists, veterinarians and animal lovers, our recipes provide an ideal balance of nature's finest ingredients, carefully selected to nourish, and sustain your dog's...
SUPPORTS HEALTHY BODY WEIGHT AND IMMUNE SYSTEM: Supported by antioxidants for strong immune systems, probiotics for digestive health, balanced nutrients promote optimal energy and omega fatty acids...
NO CORN, WHEAT, OR SOY: Small breed dry dog food doesn't contain poultry by-products, wheat, wheat gluten, corn, soy, artificial colors, or preservatives.
MADE IN USA: Using only the finest globally sourced ingredients, we prepare each of our diets in our own state of the art facility; recipes crafted with wholesome, non-GMO ingredients chosen for their...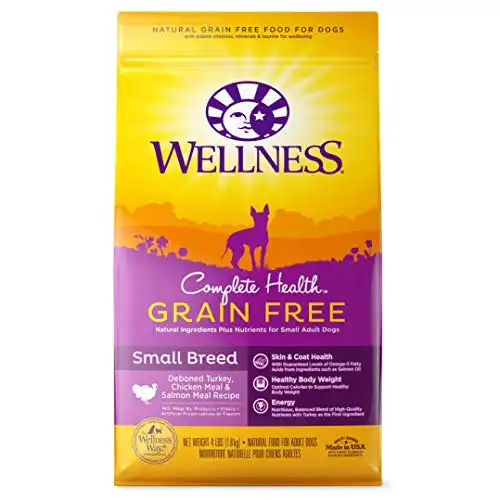 We earn a commission if you make a purchase, at no additional cost to you.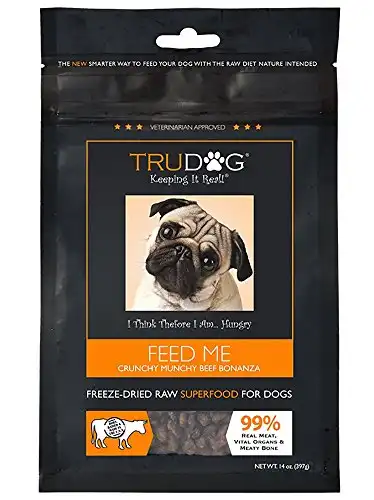 This dog food stands out as it is freeze-fried food made 100% from real food.
Including high-quality cuts of beef such as liver, fat, and kidney, this is ideal for those who prefer to feed their dogs a raw food diet. This formula doesn't include grains, preservatives, coloring, or fillers.
This is a highly nutritious dog food that is most beneficial for the laziest of Pugs. Not only will they enjoy the taste, but it will encourage them to be more active and take long walks.
All you need to do is add water to provide a moist and crunchy texture. Without the water, the small pieces will be too sharp and may be uncomfortable to eat.
This formula is unique as the all-natural ingredients are hypoallergenic and suitable for dogs of all ages. It also includes herring oil, which is a great essential fatty acid to promote a healthy skin and coat.
Pros:
Freeze-fried beef ingredients for an ideal raw food diet
Includes herring oil to improve skin and coat
High in protein to provide energy for lazy Pugs
Cons:
Expensive product may be unattainable for permanent use for some dog owners
TruDog Feed Me Crunchy Munchy Beef Bonanza Dog Food - Real Freeze-Dried Raw Beef Superfood - 14 oz - Rich in Protein - Includes Omega-3 - Grain Free - No Fillers, Preservatives, or Coloring
Made with 100% protein from animals: One 14-oz bag of Halo Meal Bites freeze dried raw dog food beef recipe contains grain free, tasty nutrition in every crunchy bite
Real, raw nutrition: Freeze dried to lock in the natural nutrients and flavors, this adult dog food is complete and balanced nutrition with exceptional taste.
Excellent source of energy: High levels of top-quality protein in this freeze dried raw beef dog food recipe give pups a boost of natural pep
Wholesome health: Dog food crafted with Vitamin C for dog immune support, fiber to support digestive health, and Omega-3 fatty acids to support healthy skin and coat for dogs
Fiercely fresh: Your dog's fave adult dog food stays crunchy with the easy-to-use resealable bag – plus, it's easy to transport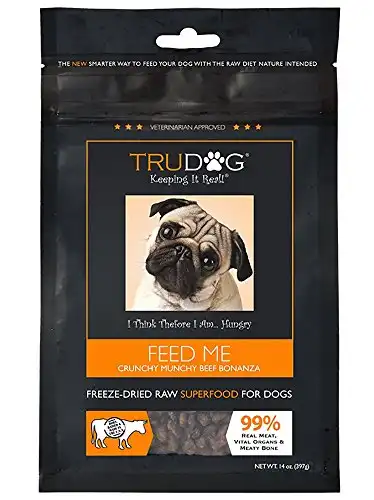 We earn a commission if you make a purchase, at no additional cost to you.
Best Dog Food For Pugs Buyer's Guide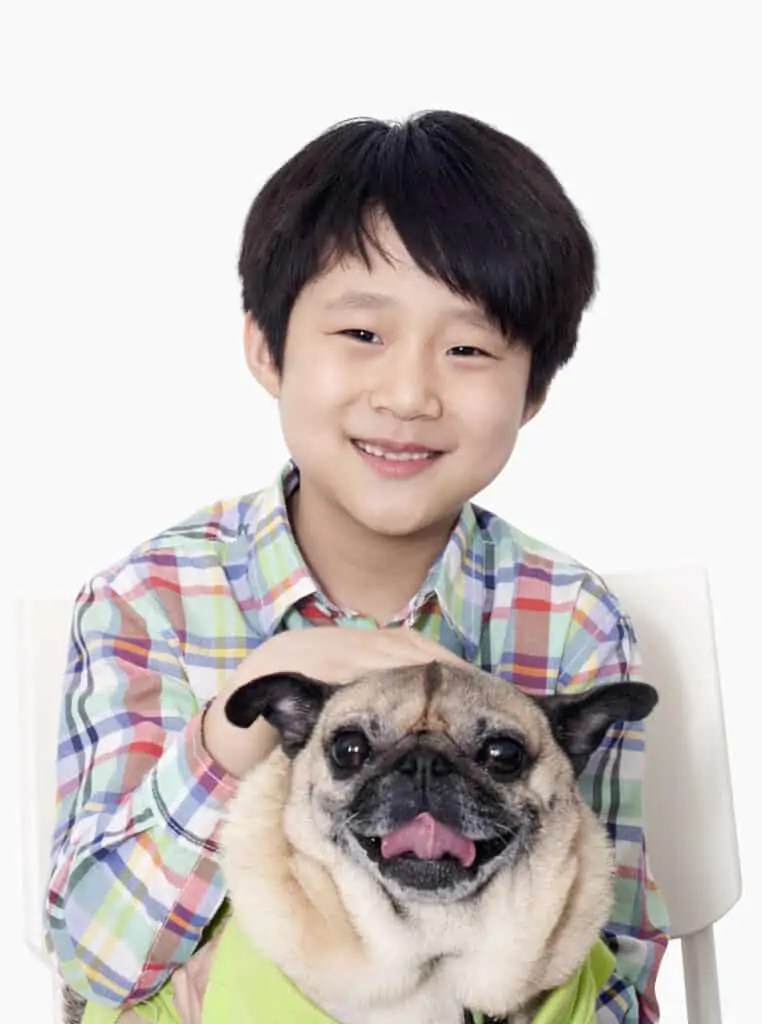 How to Transition Dog Food
Unlike humans who can eat whatever they want whenever they want, dogs aren't so easy to feed.
Changing your dog's diet by simply replacing the old food with new food can create an upset stomach. It may also form digestive problems in the future.
This is a mistake some owners often make. If you've recently started your dog on some new food and they aren't eating it, or if their stool is runny, the problem probably isn't with the new food. It's with the lack of gradual transition.
The best way to transition from old food to new food is to do it slowly over the period of a week. On the first day, give your dog 75% of their current food and 25% of the new food.
After each day, slowly increase the amount of new food and decrease the old food. By the end of the week, the food should be 100% of the new food.
This transition is not only important for their digestive system and stomach but will also provide answers for the owners.
If you have completed a gradual transition and your dog is experiencing side effects from their diet, this is a hint that the food is the problem.
Wet Food vs Dry Food
Transitioning wet food to dry food should be done with caution. Dogs generally prefer the taste of wet food due to the appealing flavors, so they are more likely to need a longer transition period to dry food.
In this case, keep mixing in a spoonful of wet food into the new dry food if they are struggling.
Dry food is mostly recommended by professionals for dogs, particularly small dogs. Small dogs like Pugs have smaller jaws, which means there is more chance for food to get stuck between their teeth.
If this is left uncleaned, it could lead to gum rot and tooth decay. Dry food works to prevent food from lingering in the mouth, unlike wet food which dogs essentially swallow (who can blame them?).
Dry food is the key to good oral hygiene. Not only does it prevent food from getting stuck between teeth, but chewing the crunchy kibbles improves jaw strength. As Pugs have characteristically small jaws due to their unique anatomy, this is essential.
Wet food is good for dogs who struggle to chew or drink water due to the high moisture content. It is also recommended for dogs who seem to have an endless appetite, as appears more filling to them.
However, wet food requires frequent teeth brushing to get clean away stuck food and get rid of bad breath.
How Much Pugs Should Eat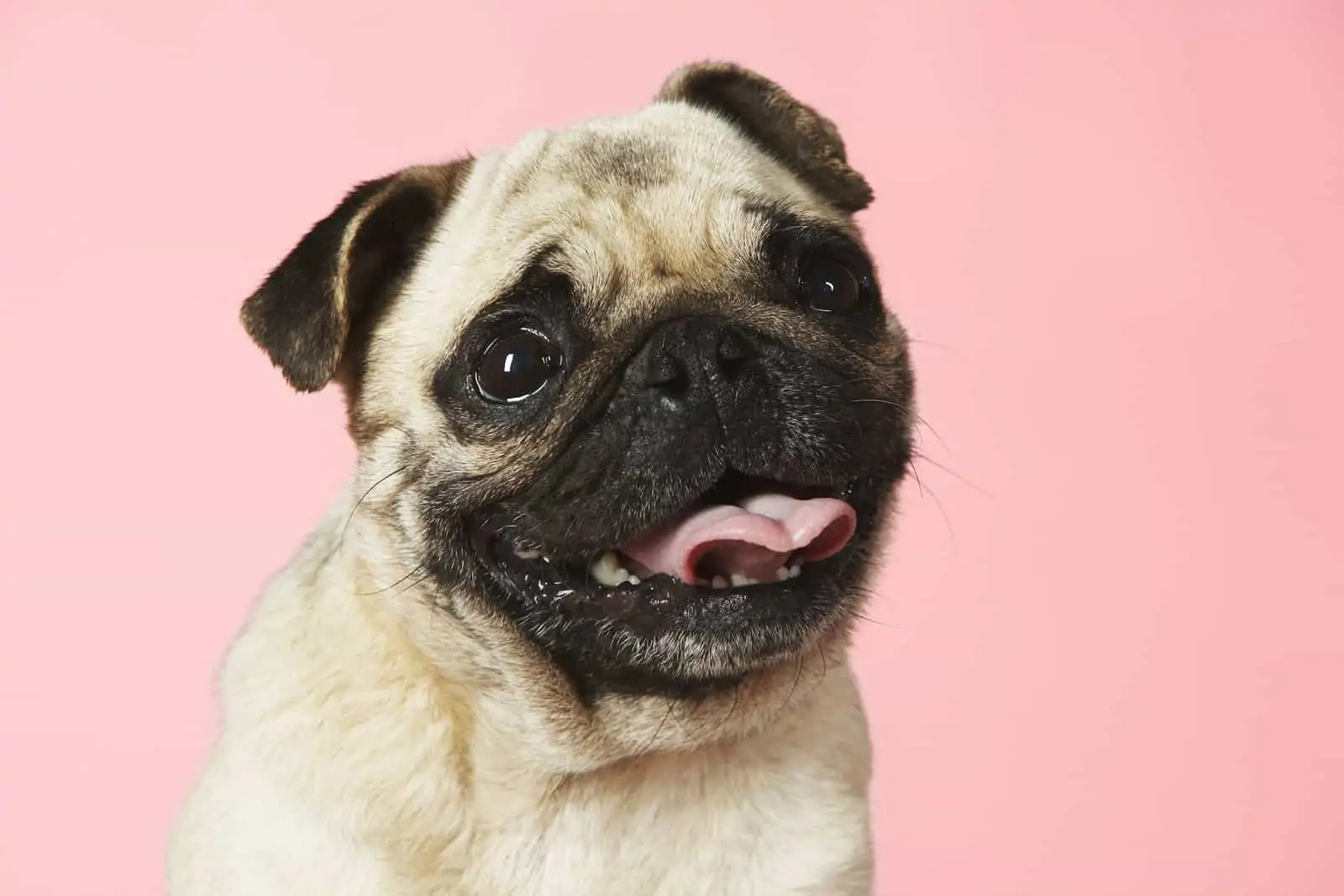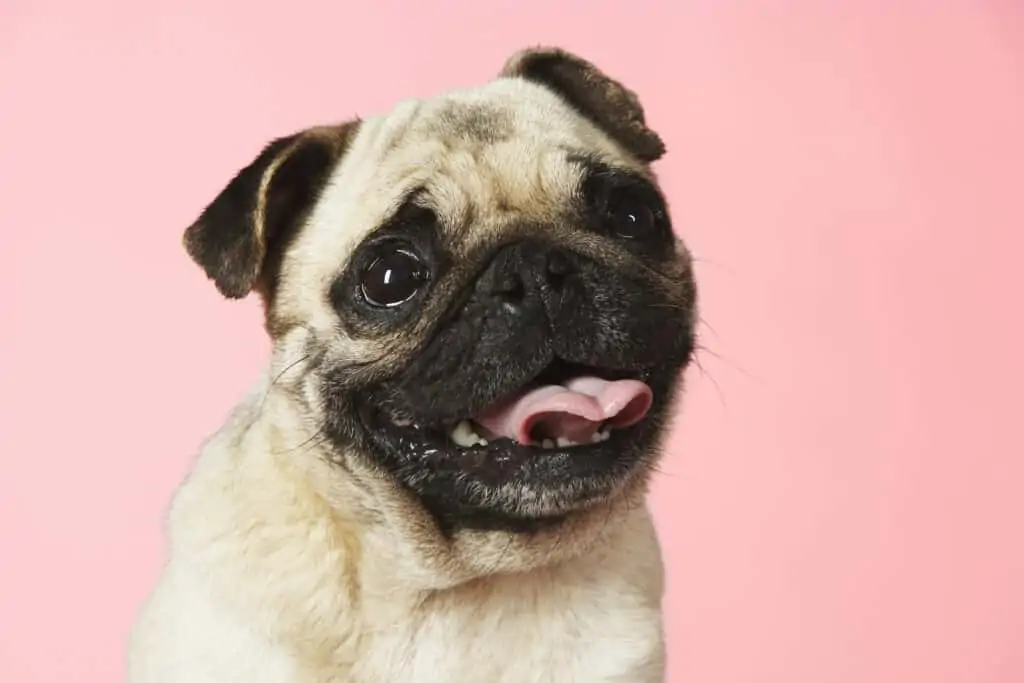 For pug puppies, the general rule of thumb is to feed them 3-4 times a day. They should be fed one ounce of food for every one pound of body weight.
Anything less will stunt their growth, and anything more will promote obesity. Puppy food is all about strengthening their muscles and bones, after all!
As they grow older, the number of meals per day should decrease slowly. By the time they are fully grown adults (over a year old), they should only have a meal for breakfast and dinner. Adult dogs should eat half of what they had as a puppy.
If you find that your pug is hungry even with their meals, this is probably a problem with the food itself. Cheap dog food, whilst friendly to your bank balance, is filled with fillers that don't offer any nutritional value.
It will fill them up quickly but for short periods of time. This can lead to weight gain, as owners will feel obliged to feed their dogs more food.
Nutritional Requirements
The key to good dog food for Pugs is a high protein, low carb diet. Pugs are notoriously lazy, so they need protein-based diets to increase their energy levels. The more protein, the more they will want to exercise and lose weight!
Whilst complex carbohydrates such as peas are fine in an ingredients list, simple carbohydrates may contribute to weight gain. As Pugs are prone to obesity, this should be avoided.
Vitamins, minerals, and fatty acids are all required to provide support to the skin, coat, gut, stomach, heart, and stool consistency. Look out for foods with fruits and vegetables such as blueberries and spinach, as these are useful antioxidants that promote a healthy immune system.
As we mentioned earlier, cheap dog foods include fillers that will fill a dog up for a short time. These fillers provide no nutritional benefits, and will actually make your dog hungrier.
Whilst it may be less financially viable for some, higher-quality foods that are more expensive will be more beneficial. It may even save you money on potential vet bills in the future from cheap food!
Frequently Asked Questions
Do Pugs need special food?
Whilst Pugs have a unique anatomy that means there are specific requirements that should be met, they don't necessarily need special food.
Unlike other dogs who have extremely specific requirements, Pugs don't generally need special food unless they have allergies.
We recommend looking for dry food that is high in protein and low in carbohydrates. As Pugs are naturally lazy, this can contribute to weight gain.
Foods that are high in protein will provide the pug with more energy, which will help with weight loss. The best sources of protein include chicken, turkey, beef, and fish such as salmon.
What food is bad for Pugs?
As with every other dog, there are many human foods that are unsafe and bad for dogs to eat. These include:
Grapes and raisins
Chocolate
Some nuts, such as macadamia nuts
Onions
Garlic
Tea and coffee
Avocado
Xylitol
Nutmeg
Alcohol
Citrus fruits including lemon and lime
Raw yeast dough
Should Pugs eat grain-free food?
There are advantages and disadvantages to grain-free dog food, so it all depends on the dog's specific needs.
If your dog has stomach issues that are linked to foods including grains, such as wheat or barley, this could be a sign of grain allergy.
However, grains such as rice can be beneficial for promoting a consistent and firm stool. It is recommended to keep up-to-date with your dog's stool consistency, as this is how dogs communicate with their owners about how their stomach feels.
Anything too runny or including blood should be checked with a veterinarian, who may recommend a different diet.
Why are Pugs so lazy?
Pugs were never designed to be working dogs like Labradors or Spaniels, so laziness is a natural trait that cannot be changed. It's what makes Pugs so appealing to those who work a lot and elderly people who cannot walk dogs frequently!
Historically, Pugs were owned and loved by Chinese emperors who lived in a life of luxury. Perhaps the lazy trait derives from Pug's historical tendencies towards the finer things in life!
Their laziness is what makes Pugs so prone to obesity and diabetes, which is why it is important to feed them the right type of food.
Diets that are high in protein are ideal for this, as they will give Pugs an energy boost to encourage them to go on their walks. This will help them to maintain a healthy weight, lean muscle mass, and bone quality!