The 9 Best Dog Food for Samoyed (2023 Update)
Samoyed is a well-loved dog breed for good reasons — they're gorgeous, cuddly, and have a personality that's hard to resist. But all that fluffiness comes with some special needs when it comes to their diet. Since Samoyeds are prone to weight gain, it's important to choose a dog food that is high in protein and low in calories.
You'll also want to avoid foods that contain too much grain, as this can aggravate a Samoyed's sensitive stomach.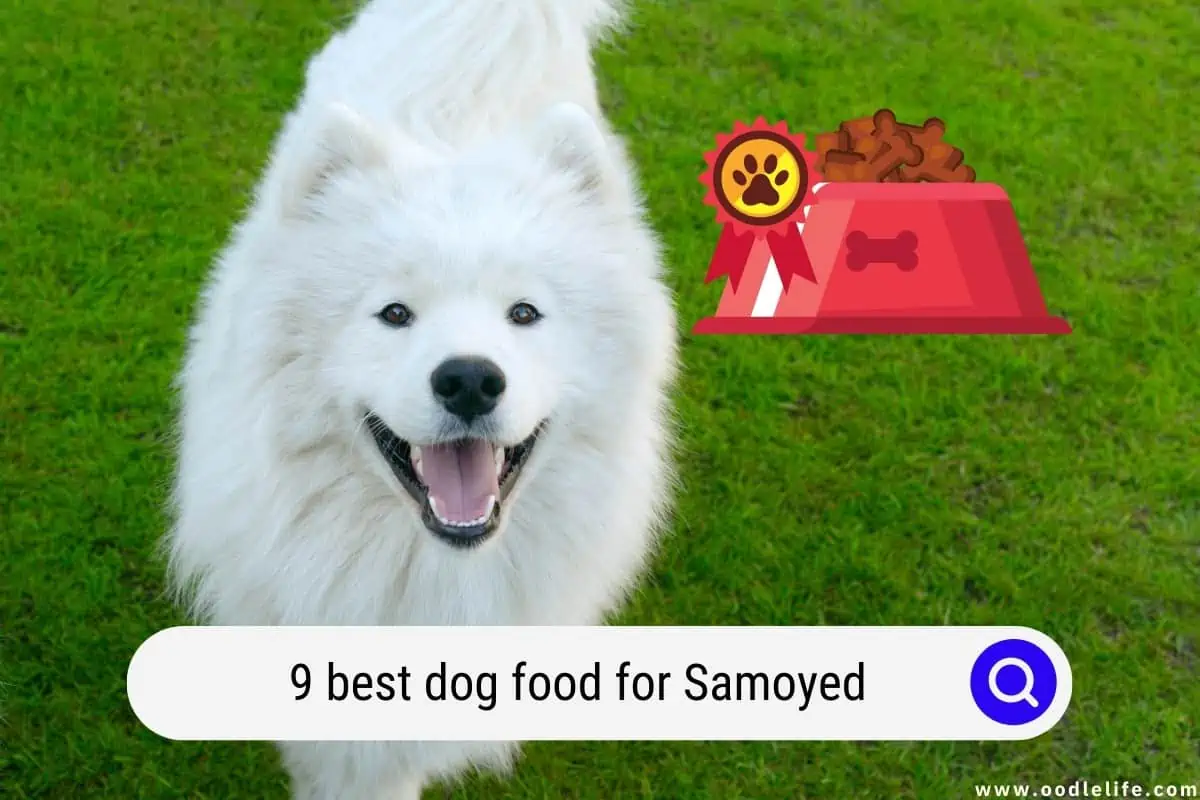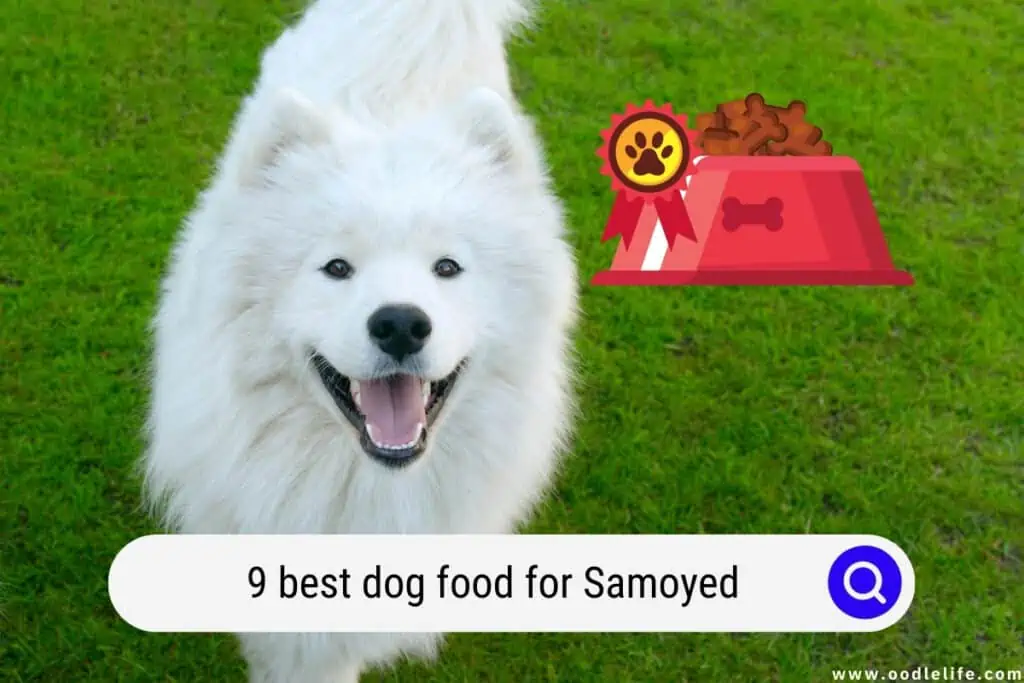 To help you discover the best dog food for Samoyeds, I've compiled a list of my top nine picks for this beautiful breed. I've included various options to suit different budgets and dietary needs, so you're sure to find the perfect food for your furry friend.
1. Blue Buffalo Wilderness High Protein Grain Free Formula
If you're looking for high-quality, grain-free dog food for your Samoyed, Blue Buffalo's Wilderness line is one to consider. Blue Buffalo makes their products with real meat as the first ingredient, providing your fur friend with the protein they need to maintain a lean and muscular body.
Blue Buffalo Wilderness High Protein, Natural Adult Dry Dog Food, Chicken 24-lb
$75.99
$68.99 ($2.87 / lb)
MORE CHICKEN IS COMING: An evolution of your dog's formula with more chicken than ever, plus wholesome grains
PACKED WITH REAL CHICKEN: A recipe made to satisfy your dog's natural love for meat, this high protein dog food features real chicken to help build and maintain lean muscle mass
HEALTHY INGREDIENTS: BLUE Wilderness grain free dog food, made with healthy carbohydrates including sweet potatoes and peas, helps fuel your adult dog's active lifestyle; It also contains omega 3 &...
ANTIOXIDANT-RICH LIFESOURCE BITS: A precise blend of antioxidants, vitamins and minerals carefully selected by holistic veterinarians and animal nutritionists to support immune system health, life...
A NATURAL DOG FOOD: BLUE dry dog food is made with the finest natural ingredients enhanced with vitamins and minerals; BLUE contains NO chicken (or poultry) by-product meals, corn, wheat, soy,...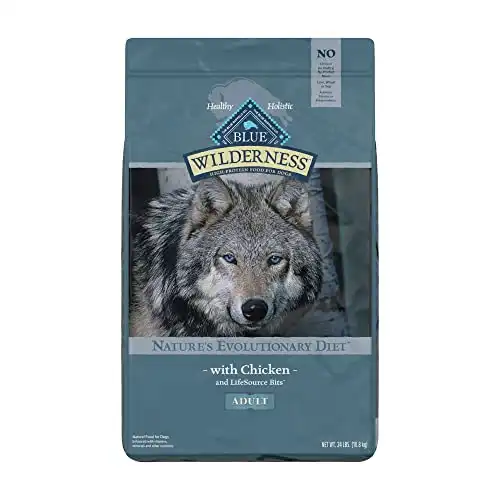 We earn a commission if you make a purchase, at no additional cost to you.
In addition, this product contains a blend of omega-3 and omega-6 fatty acids to help keep your Samoyed's coat healthy and shiny. Plus, it's free from colors and preservatives, something I always look for in dog food.
You have the option of chicken, salmon, or duck for the grain-free versions, but the chicken one is the most popular.
But regardless of the meat you choose, you won't get any artificial flavors, corn, soy, wheat, or meat by-product.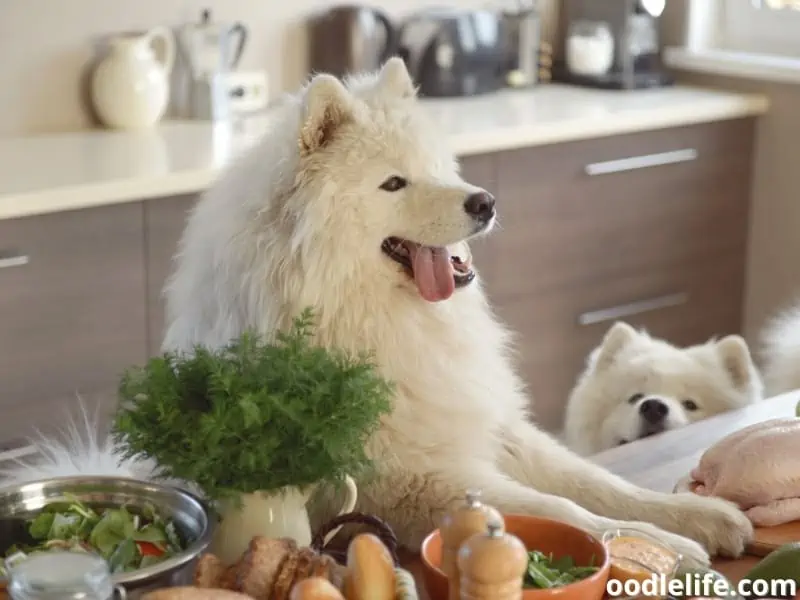 2. Merrick Classic Grain Free Dry Dog Food
Merrick's Grain Free Dog Food with Real Texas Beef + Sweet Potato is a unique, tasty recipe for your dog that includes 60% of its protein from real animal meat.
Merrick Dry Dog Food, Real Texas Beef and Sweet Potato Grain Free Dog Food Recipe - 22 lb. Bag
One (1) 22 lb Bag - Merrick Dry Dog Food, Real Texas Beef and Sweet Potato Grain Free Dog Food Recipe
Real deboned beef is always the first ingredient in this beef dog food crafted as a chicken free dog food with no poultry ingredients
This natural dog food grain free recipe contains 65% protein and healthy fat ingredients, and 35% produce, fiber, vitamins, minerals and other natural ingredients
With 60% of protein from animal sources, this healthy dog food offers the ideal combination of protein and healthy fats to help a dog maintain optimal weight and increased energy
High protein dog food with omega fatty acids to support healthy skin and shiny coat, plus glucosamine and chondroitin for dogs to help maintain healthy hips and joints
We earn a commission if you make a purchase, at no additional cost to you.
It has no grain, gluten, soy, wheat, artificial flavors, or any other kind of fillers. Instead of using grains as a source of carbs, Merrick opts for vegetables like sweet potatoes.
This recipe is also full of omega-3 and omega-6 fatty acids, which help keep your dog's coat and skin shiny and healthy, which is crucial for such an attractive breed.
Finally, if your Samoyed has hip or joint troubles, this is the perfect option, as it contains higher levels of glucosamine and chondroitin.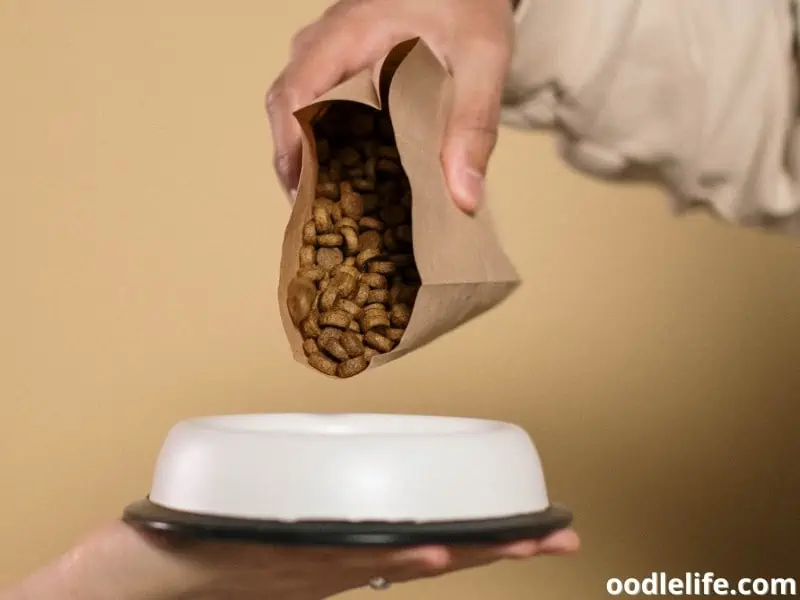 3. Purina ONE SmartBlend True Instinct Natural Turkey & Venison Adult Dry Dog Food
This high-quality food from Purina ONE is made with real turkey as the central ingredient and venison as a complementary element. When combined, your Samoyed gets the protein they need for a healthy heart and stronger muscles.
Purina ONE High Protein, Natural Dry Dog Food, True Instinct With Real Turkey & Venison - 36 lb. Bag
$59.68
$54.88 ($1.52 / lb)
One (1) 36 lb. Bag - Purina ONE True Instinct With A Blend Of Real Turkey and Venison Dry Dog Food
Real turkey is the number 1 ingredient in this dog food with venison to help deliver 30 percent protein that helps support strong muscles, including a healthy heart
Natural dog food with added vitamins, minerals and nutrients and with no poultry by-product meal or artificial flavors or preservatives
High protein dog food with 100 percent nutrition for adult dogs, 0 percent fillers. Every ingredient has a purpose
Premium dog food with omega-6 fatty acids to help support his healthy skin and radiant coat and with four antioxidant sources to support a strong immune system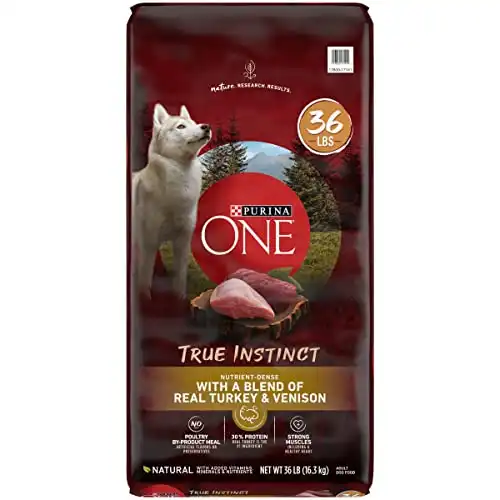 We earn a commission if you make a purchase, at no additional cost to you.
Purina ONE's dog food is a high-quality option because they ensure 0% fillers, so your dog will be guaranteed a natural, healthy, and nutritious meal.
This particular item from this popular brand contains omega-6 fatty acids and four types of antioxidants, which help support healthy skin and a healthy immune system overall.
Reviewers have claimed many other positive benefits of Purina ONE's SmartBlend, including aiding in issues like gas, allergies, stomach issues, and food pickiness.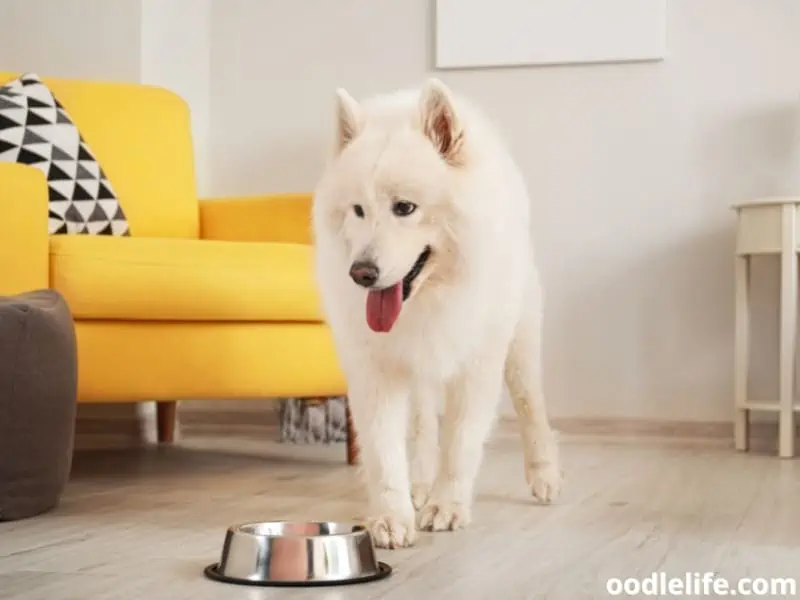 4. ORIJEN Original Recipe High-Protein Grain-Free Dry Dog Food
If you're on the hunt for a reliable source of healthy protein, consider ORIJEN's Original Recipe. It stands out because not only do they use real meat with no meat by-products or unnecessary fillers but ensure the best type of fresh meat and protein products. In particular, ORIJEN will include free-range chicken, cage-free eggs, and wild-caught fish.
ORIJEN Dog Original Recipe, 13lb, High-Protein Grain-Free Dry Dog Food, Packaging May Vary
ORIJEN Original dog food delivers a diet rich and varied in fresh, whole animal ingredients from free-run chicken and turkey, wild-caught fish, and cage-free eggs
With 85% quality animal ingredients, ORIJEN nourishes dogs according to their natural, biological needs
Using fresh and raw animal ingredients, including meat, organs, cartilage, and bone, ORIJEN is the Biologically Appropriate, grain-free diet that dogs have evolved to eat
Our Fresh Regional Ingredients are supplied by people we know and trust, and are delivered to our kitchen fresh or raw, in their most natural and nourishing form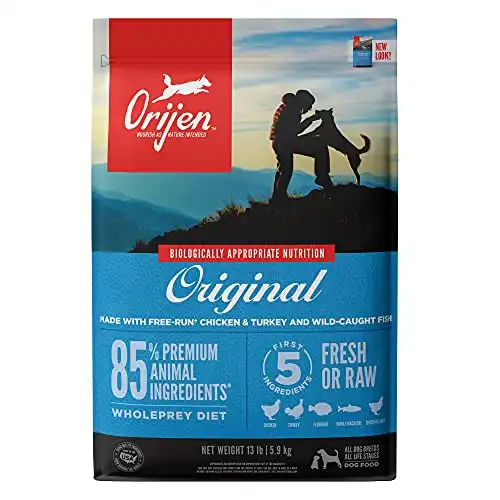 We earn a commission if you make a purchase, at no additional cost to you.
They also make sure to include the parts of animals that humans may not always prefer but dogs love, such as cartilage, bone, and organs.
That is why instead of 30% or 60% protein, this dog food has an impressive 85% protein makeup. So, your dog will be sure to get the protein macros and all the vitamins and minerals that come with it.
Best of all, dogs seem to love the taste!
However, given the high amount of protein and fresh, raw ingredients, there may need to be a slightly transitioning period between this food and your pet's previous diet to avoid any stomach issues.
5. Taste of the Wild High Pacific Stream Smoked Salmon Canine Recipe
Taste of the Wild's smoked salmon grain-free formula is one of the best dog food for Samoyeds because it has enough protein to support healthy joints, bones, and muscles, all while tasting delicious.
Taste of the Wild Pacific Stream Grain-Free Dry Dog Food with Smoke-Flavored Salmon 28lb
Taste of the Wild Pacific Stream with SMOKE-FLAVORED SALMON dry dog food; REAL FISH is the #1 ingredient; high-protein (32%) to help support bones, joints and LEAN, STRONG MUSCLES
Nutrient-rich and provides the energy to thrive; vitamins and minerals from SUPERFOODS; omega fatty acids for healthy SKIN and COAT
Each serving includes high levels of species-specific, K9 Strain PROPRIETARY PROBIOTICS — plus antioxidants and prebiotics — to help support healthy digestion, immune system and overall health and...
FAMILY-OWNED and MADE in the USA using quality ingredients from trusted domestic and global sources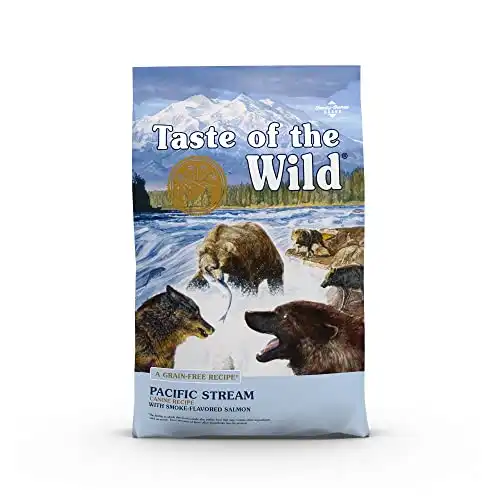 We earn a commission if you make a purchase, at no additional cost to you.
In addition to the 32% protein that primarily comes from authentic fish, Taste of the Wild's option incorporates lots of nutrients, minerals, and vitamins from fruits and superfoods. These include sweet potatoes, peas, lentils, raspberries, blueberries, and tomatoes.
You'll also get to treat your dog to omega fatty acids and healthy antioxidants that help with digestion and the immune system.
It's grain-free, and dogs typically love the taste, which is helpful if you have a particularly picky dog. However, remember that the canola oil ingredient may be upsetting to some pooches.
6. Hill's Science Diet Dry Dog Food
Samoyeds tend to overeat, which can cause or worsen their sensitive stomachs. In that context, Hill's Science Diet dry dog food is one of the best options for Samoyeds with particularly sensitive stomachs or skin.
Hill's Science Diet Dry Dog Food, Adult, Sensitive Stomach & Skin, Chicken Recipe, 30 Lb Bag
$86.99
$79.99 ($2.67 / lb)
This adult dry dog food promotes digestive health while nourishing skin
A source of prebiotic fiber to support a balanced gut microbiome in your grown dog
This dog food is formulated to be highly digestible for optimal nutrient absorption & easier stool pick-up
Packed with vitamin E & Omega-6 fatty acids to help your grown dog get a lustrous coat and healthy skin
Made in the USA with global ingredients you can trust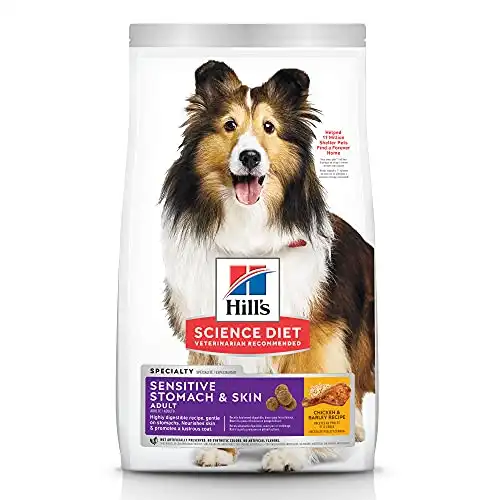 We earn a commission if you make a purchase, at no additional cost to you.
The formula includes a prebiotic fiber that aids in digestion and nutrient absorption. It contains omega-6 fatty acids and vitamin E, which work together to promote healthy skin and a beautiful coat.
Moreover, if you're someone who cares deeply about sheltered pets finding a home, you'll be happy to know that Hill's Science company partners with pet shelters to help as many pooches get new families.
Still, there are a few complaints about this food. In particular, some owners report there has been a recent, slight change to the formula. Nevertheless, Hills Science tends to stick with science-led nutrition, which works best for most Samoyeds.
7. ACANA Singles Limited Ingredient Diet Grain-Free Dog Food
Like Hills Science above, the ACANA Singles recipe is another excellent choice for Samoyeds who need to go on a bit of a diet.
ACANA® Singles Limited Ingredient Dry Dog Food, Grain-free, High Protein, Lamb & Apple
ACANA Singles Lamb & Apple recipe now includes more meat with 65% grass-fed lamb ingredients, complemented with tasty, whole Red Delicious apples, providing your dog with the protein and nutrients they need in order to stay happy, healthy, and strong
RICH IN ANIMAL PROTEIN: Rich in protein from a single animal source, providing the nutrient-dense diet your dog needs, with no peas or plant-protein isolates
CIRCULATION & IMMUNE SUPPORT: Enriched with taurine and essential vitamins, minerals, and antioxidants to help support healthy circulatory and immune system functions
DIGESTIVE HEALTH: Superfood sweet potatoes are rich in fiber to help support healthy digestion, and overall gut health
WholePrey ratios of lamb, organs, and cartilage deliver nutrients, that help them be at their best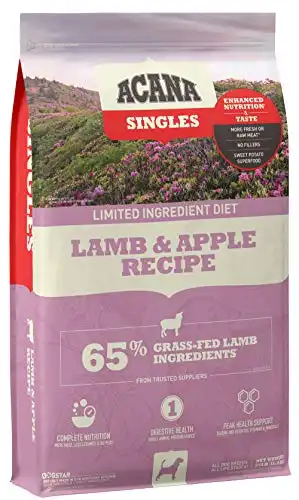 We earn a commission if you make a purchase, at no additional cost to you.
They have several options that will be tasty for your furry friends, such as lamb & apples, duck & pear, beef & pumpkin, and pork & squash.
Each of these foods is made with a single source of protein and a few secondary sources of healthy fats and carbohydrates. That makes it much easier for dogs with sensitivities to digest and absorb the nutrients they need.
ACANA's product comes in several flavor options and is perfect if your dog is allergic to other more common meats, like chicken.
As a bonus, ACANA Singles also includes freeze-dried liver for flavor and added nutrients.
8. Royal Canin Nutrition Dog Food
Getting dog food made specifically with your pet's size in mind is ideal because it means that what they eat will have all the proper nutrients in the right proportions.
Royal Canin Medium Breed Adult Dry Dog Food, 30 pounds. Bag
$99.99
$67.99 ($2.27 / lb)
MEDIUM BREED DOG FOOD: Royal Canin Medium Breed Adult Dry Dog Food is precise nutrition specifically made for dogs 1–7 years old weighing 23–55 lb
IMMUNE SUPPORT: A blend of prebiotics and antioxidants for dogs supports natural defenses for immune support
SKIN AND COAT HEALTH: Optimal levels of EPA and DHA maintain healthy skin and a healthy dog coat
HEALTHY DIGESTION: Easy-to-digest proteins and a balanced supply of fiber promote dog digestive health
SPECIALIZED KIBBLE: Palatable, medium breed adult dog food has an exclusive kibble design to encourage chewing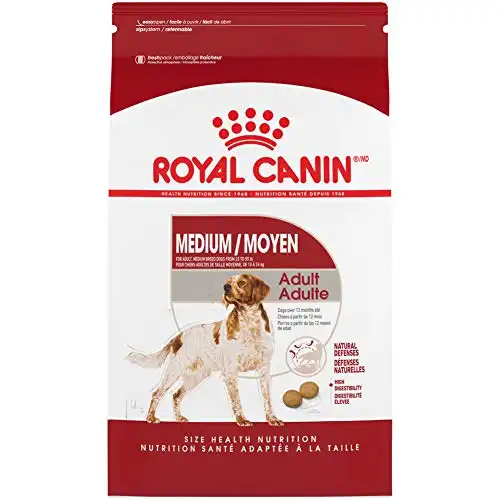 We earn a commission if you make a purchase, at no additional cost to you.
That is where Royal Canin comes in, as Samoyed's are medium-sized dogs, and they have a formula specifically for medium-sized dogs.
So, if you have a Samoyed between 25 and 55 pounds and one to seven years of age, this might be the perfect dog food for them.
Like some other options on this list, this tailored dog food ensures a healthy coat, a strong immune system, and smooth digestion.
However, keep in mind this Royal Canin product contains by-products, corn gluten meal, and wheat, which are a few components that some owners prefer to avoid.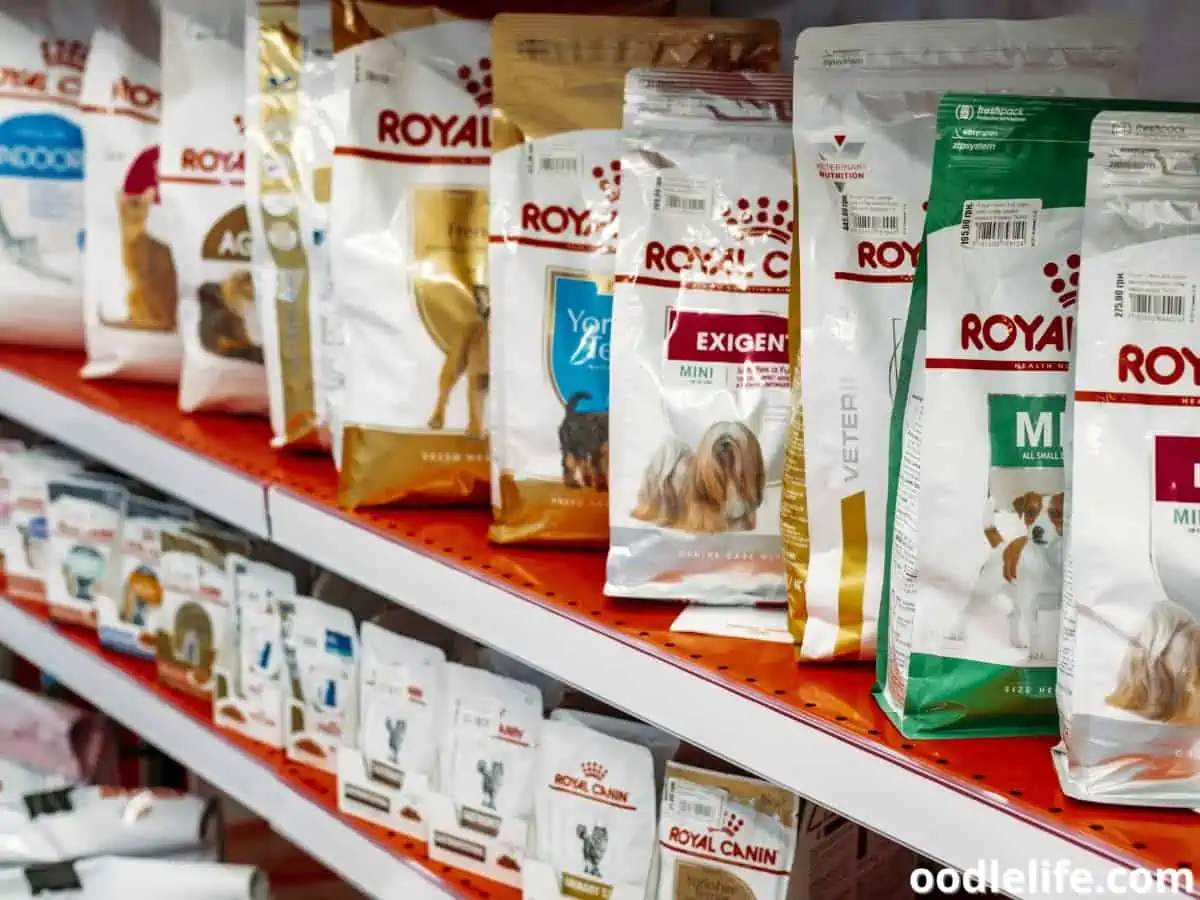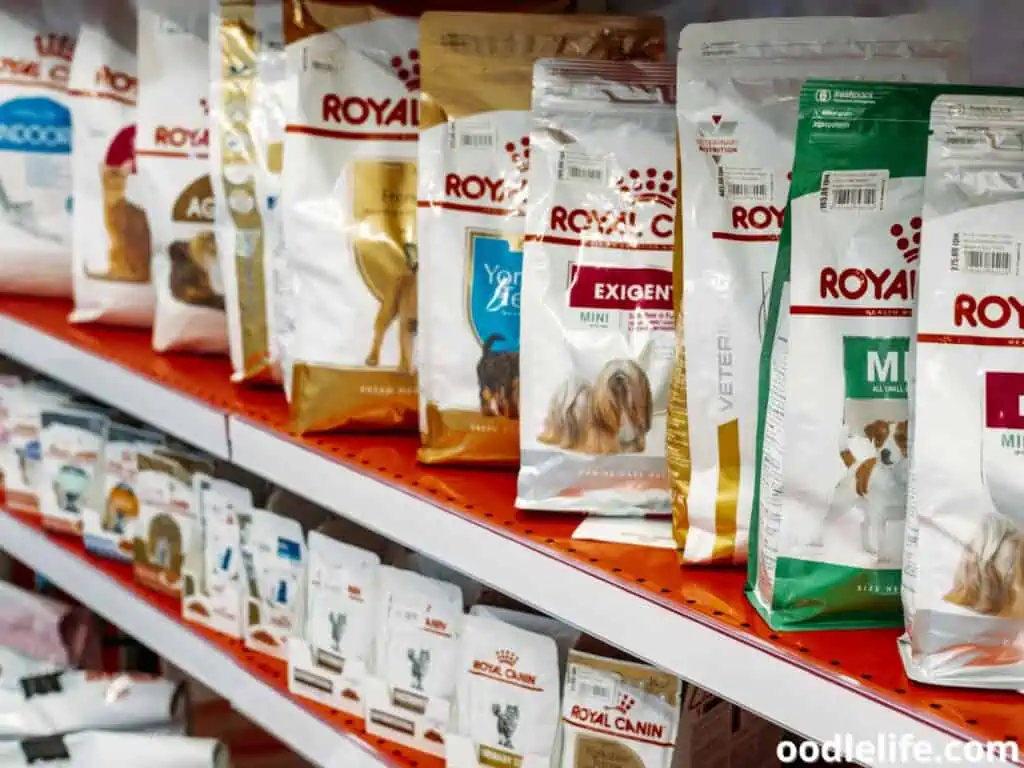 9. Nulo Adult Trim Weight Management Cod & Lentils Recipe
Last but not least is Nulo's adult trim cod & lentils dog food which is high-protein, grain-free, and made without soy, corn, wheat, preservatives, or artificial flavors and colors.
Nulo FS Adult Dog GF WT MGMT COD 26LB
COD & LENTILS RECIPE - Ensure proper weight levels with Nulo Freestyle All Breed Trim Dog Food. Using L-Carnitine for weight management support, and no artificial colors, flavors, or preservatives. 26...
PROTEIN RICH FOR LEAN STRONG MUSCLES - Our premium dog food contains 74% animal-based proteins with no plant protein concentrates, which assists in moting and maintaining your dogs' lean muscle...
UNBEATABLE NUTRITION - Our meat protein-rich, GanedenBC30 biotic, low-carb, small kibble formula is crafted for every adult breed, Large or small, ensuring your hound receives nutrients necessary for...
PROMOTES WEIGHT MANAGEMENT - Featuring L-Carnitine, an amino acid that aids in the metabolism of fats, to help boost your pet's metabolism and help maintain a healthy weight.
MANUFACTURED IN THE USA - Based in Austin, TX, Nulo Pet foods contains no corn, wheat gluten, soy, artificial preservatives, colors, or flavoring.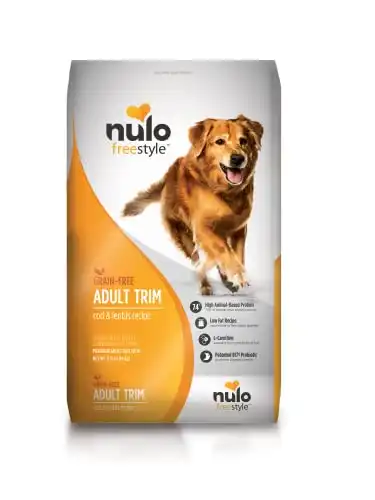 We earn a commission if you make a purchase, at no additional cost to you.
The protein amount in this product is impressive—at 74%—and it includes probiotics to support suggestions and a low-carb formula to support a trimmer, stronger figure.
What's more, you'll find omega-3 and omega-6 for a healthy coat and skin, vitamins E and C for immune support and calcium, and phosphorus to support strong bones and teeth.
Ultimately, this formula provides everything your Samoyed needs and nothing more. Users of Nulo's cod and lentils recipe report increased activity and energy in their pets.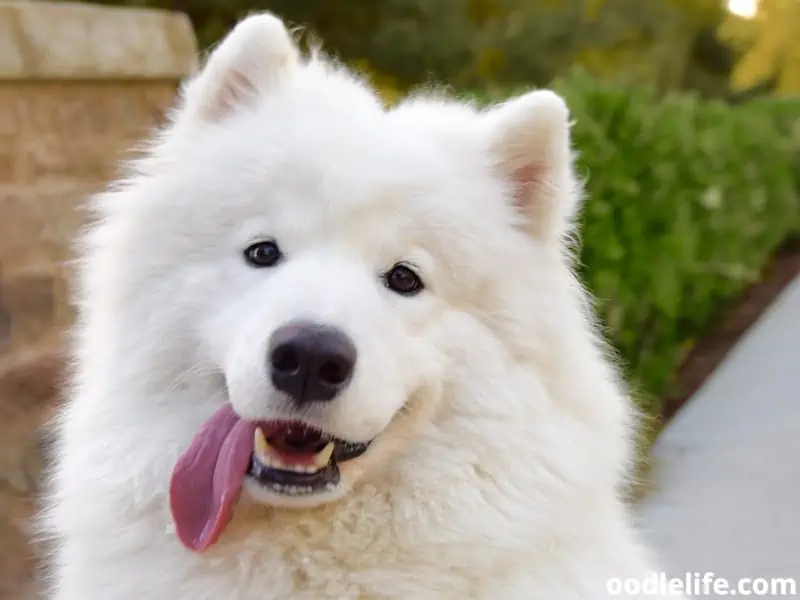 Final Thoughts
So there you have it—the nine best dog food for Samoyeds. If you want to ensure that your Samoyed is getting all of the nutrients they need, any one of these food formulas will do the trick.
Just remember to always consult with your veterinarian first to make sure that the food you're considering is best for your pup's individual health needs.