Best Dog Proof Kitchen Trashcan (How to keep dogs out of trash)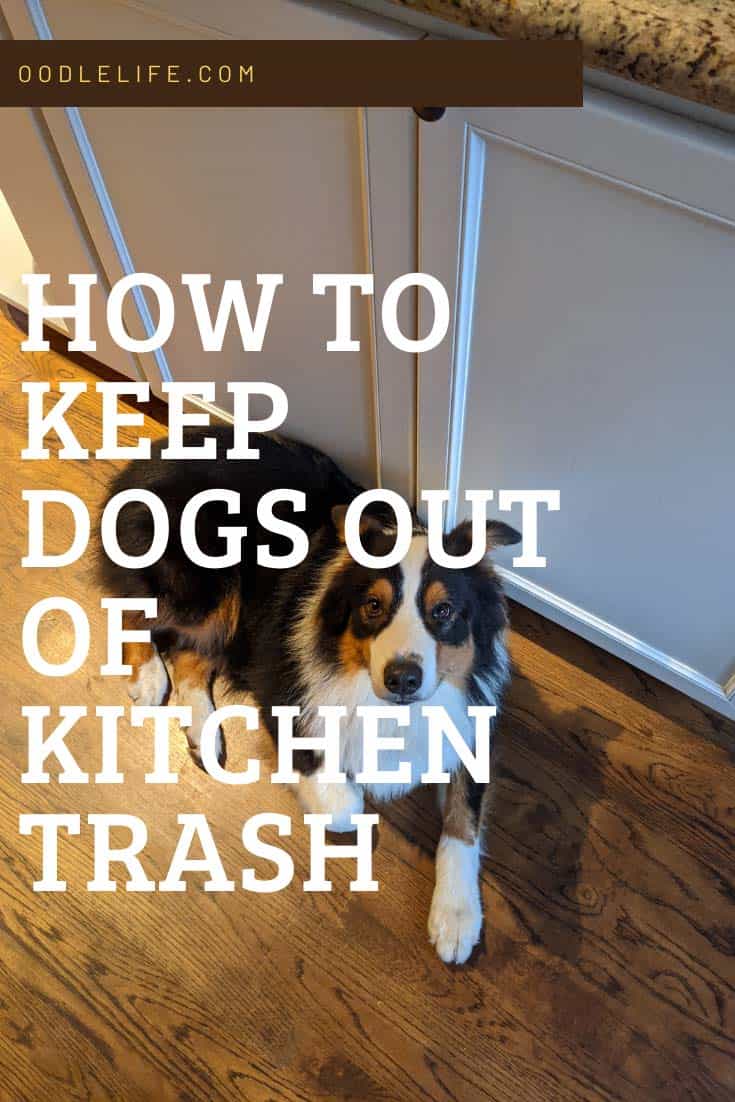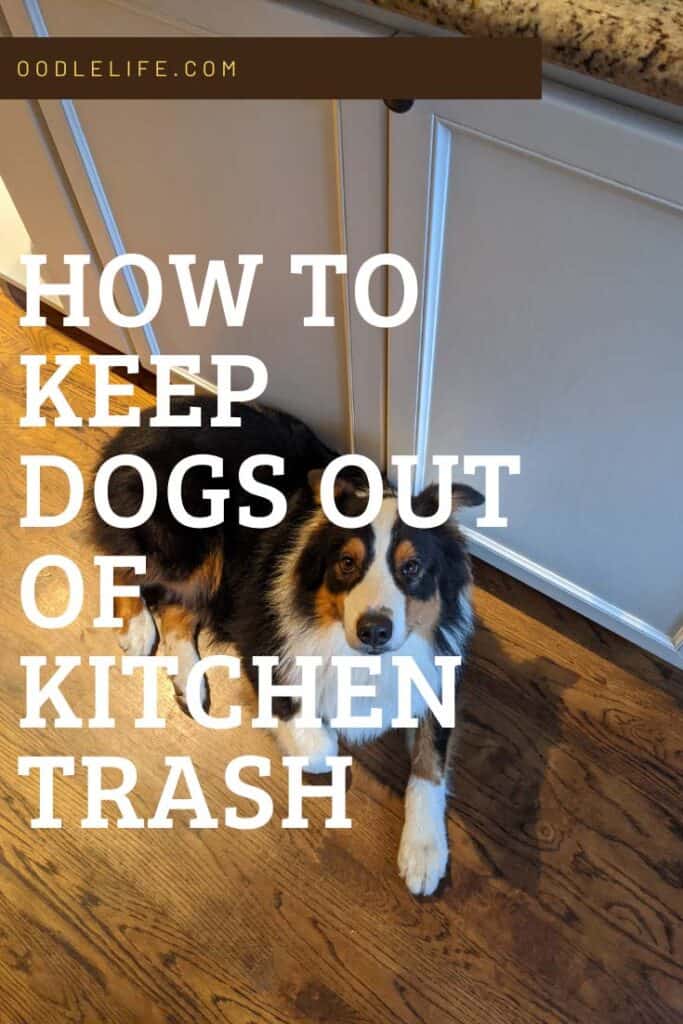 Best Overall
iTouchless 13 Gallon Pet-Proof Sensor Trash Can with AbsorbX Odor Filter Kitchen Garbage Bin Prevents Dogs & Cats Opening Lid, Stainless Steel plus PetGuard
Quality Smell Blocking
simplehuman 50 Liter / 13 Gallon Semi-Round Kitchen Step Trash Can, Black Plastic With Secure Slide Lock
Secure and Touchless
iTouchless 13 Gallon Wings-Open Sensor Trash Can with AbsorbX Odor Filter and Pet-Proof Lid, Stainless Steel, Automatic Touchless Garbage Prevents Dogs & Cats Getting in kitchen-waste-bins
Budget Friendly
Glad Stainless Steel Step Trash Can with Clorox Odor Protection | Large Metal Kitchen Garbage Bin with Soft Close Lid, Foot Pedal and Waste Bag Roll Holder, 20 Gallon
Best Overall
iTouchless 13 Gallon Pet-Proof Sensor Trash Can with AbsorbX Odor Filter Kitchen Garbage Bin Prevents Dogs & Cats Opening Lid, Stainless Steel plus PetGuard
Quality Smell Blocking
simplehuman 50 Liter / 13 Gallon Semi-Round Kitchen Step Trash Can, Black Plastic With Secure Slide Lock
Secure and Touchless
iTouchless 13 Gallon Wings-Open Sensor Trash Can with AbsorbX Odor Filter and Pet-Proof Lid, Stainless Steel, Automatic Touchless Garbage Prevents Dogs & Cats Getting in kitchen-waste-bins
Budget Friendly
Glad Stainless Steel Step Trash Can with Clorox Odor Protection | Large Metal Kitchen Garbage Bin with Soft Close Lid, Foot Pedal and Waste Bag Roll Holder, 20 Gallon
Dogs love smells, and bins smell. That's why they love to go through the trash!
You come home to find that someone's toppled over the trashcan in the kitchen; there's trash all over the floor, and the kitchen reeks of last night's leftovers. Who could have done this? Could it be a mysterious trashcan-hating ghost, or is the mess caused by your beloved dog?
They look so innocent with those big and beautiful puppy eyes?
We all pretend to believe that our beloved dog is the most well-behaved one on the face of the Earth. The odds of our dog being the one who toppled over the trashcan versus a mysterious trash loathing ghost are pretty slim (close to none; okay, there are none).
Buying a pet-proof trashcan might seem like an extravagant buy. It might even seem like an impossible find to get a truly dog proof bin to some pet owners. However, the manufacturers have listed and are coming out with 'pet-proof' trashcans.
You're probably asking yourself: What makes a trashcan pet-proof? What features should one have? Which features should I look for in particular? Do they come in different styles particularly if the bin is on display?
What Makes a trashcan Pet Proof?
The question is, what differentiates the trashcan you already have from one explicitly designed for mischievous or curious pet owners? Let's evaluate the trashcan you already have:
It's designed to collect trash. That's it. A pet-proof trashcan, on the other hand, is designed:
Sturdy and durable
Heavy and strong
Firmly adherent
Odor proof
Motion sensors (if you're feeling fancy)
Four Best Dog Proof Kitchen Trashcans in 2020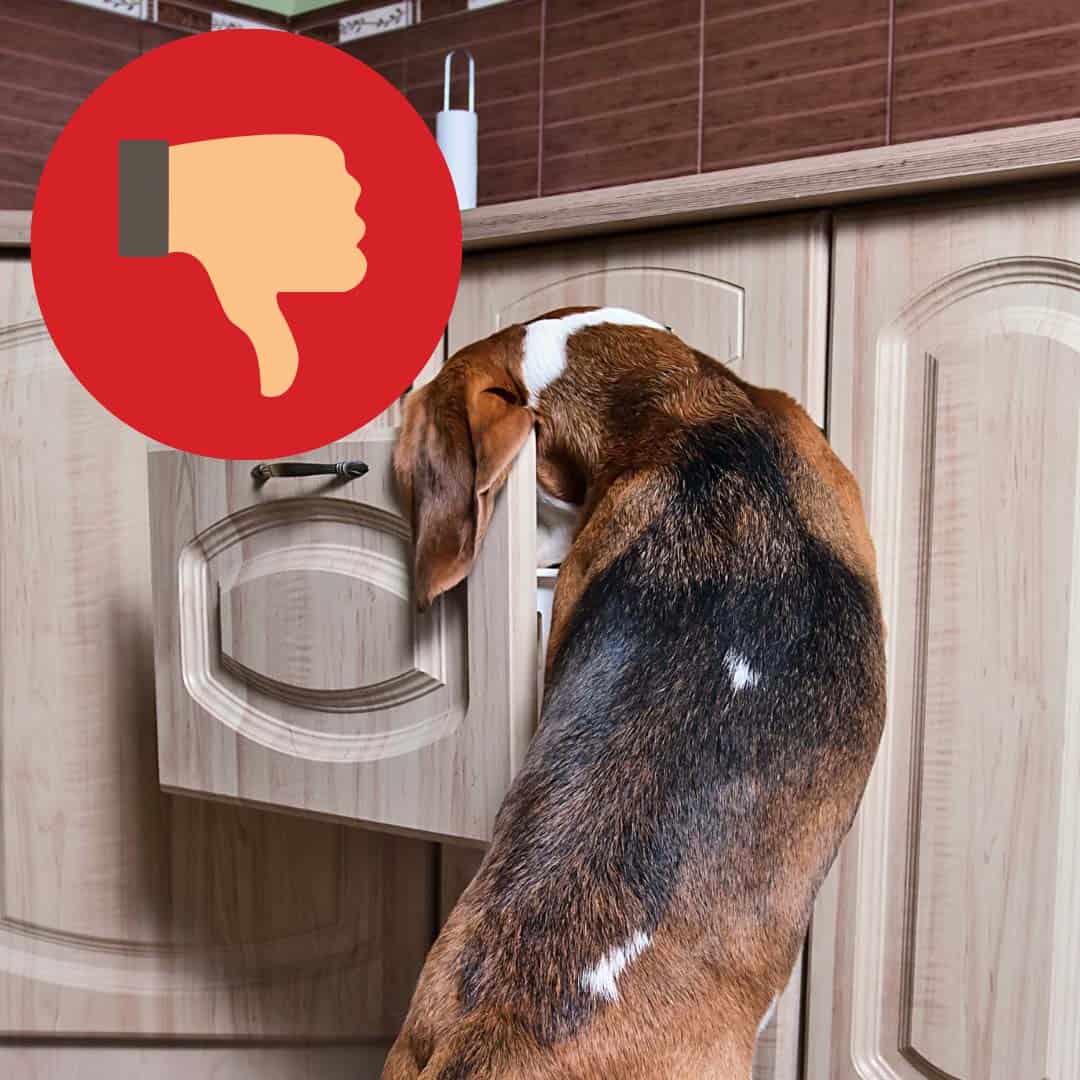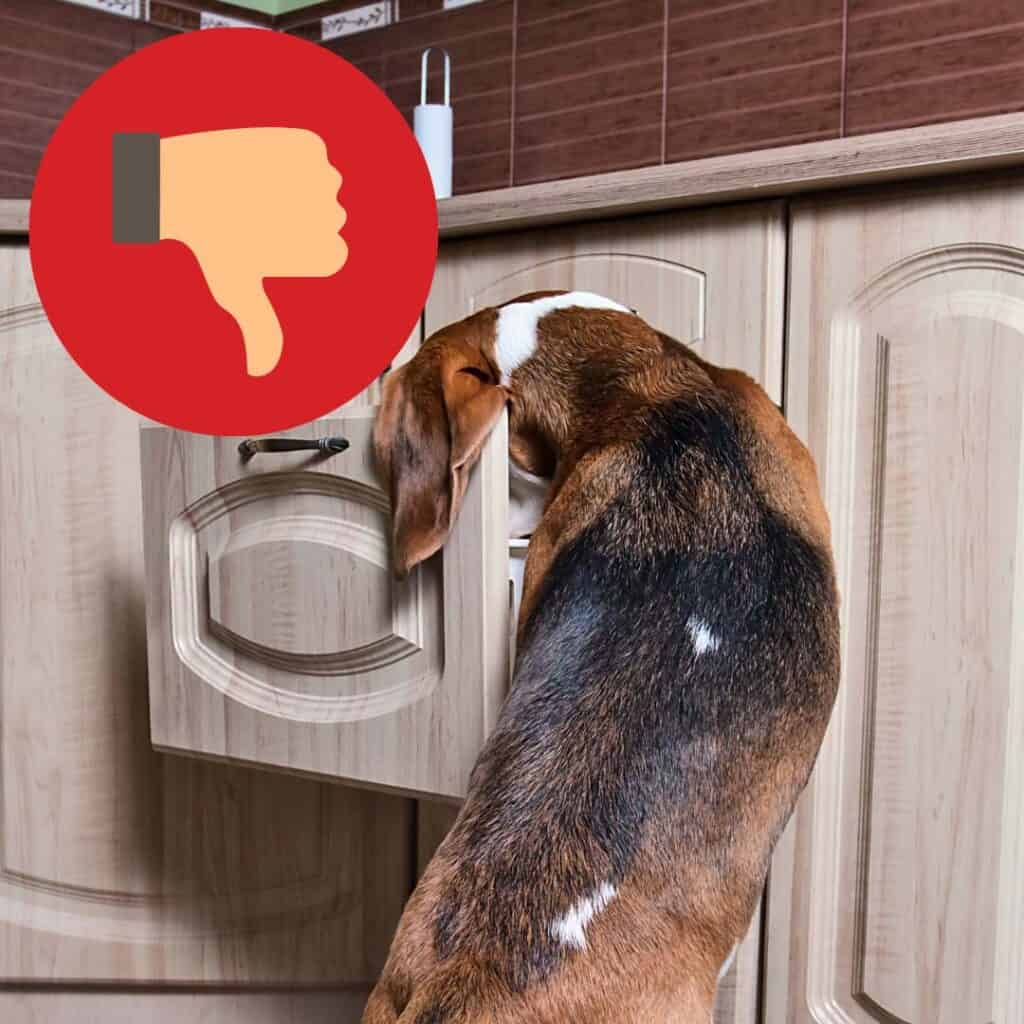 Best Pick: iTouchless 13 Gallon Pet Proof Sensor Trashcan
The iTouchless sensor-activated trashcan comes with a range of features that makes it ideal for pet owners. From its sensor-activated lid opening to its sleek design and extensive capacity, we're starting this list off with one of our absolute favorites (and for a good reason, too!).
iTouchless 13 Gallon Pet-Proof Sensor Trash Can with AbsorbX Odor Filter Kitchen Garbage Bin Prevents Dogs & Cats Opening Lid, Stainless Steel plus PetGuard
UNCONDITIONAL PROMISE – Your 100% satisfaction is assured and backed by a Full-Service Manufacturer's Promise for two years, including Dedicated Customer Support (see user manual for details)
100% TOUCHLESS – Just the motion of your hand opens the lid automatically! It's the hygienic and convenient choice.
STOP TRASH ODORS + IMPROVE AIR QUALITY – 1 AbsorbX Natural Activated Carbon Odor Filter is included to absorb and neutralize trash odors, for a healthier and fresh and clean smelling home
2 POWER OPTIONS – Powered by batteries (not included), or optional AC Adapter (sold separately, see other product variation) for battery-free power
BEAUTIFUL STAINLESS STEEL – Fingerprint-proof surface is easy to clean. Modern design is perfect for any kitchen or office décor
The trashcan comes with carbon filters installed into its body, referred to as AbsorbX technology, which keeps odors from coming out of the bin and evoking curious pets towards it. However, should your pet even reach the bin, odds are they won't be able to open it by gnawing at its lid?
Why? The trashcan has motion sensors activated to identify hand movements and open it's lid when prompted. The battery-operated trashcan (sold separately without an adaptor) can be switched off while going out. Further restricting your pet from opening it.
The iTouchless sensor-activated trashcan comes with an all parts warranty for two years. This warranty includes each part of the trashcan's functioning and performance – call it a steal for the price point!
Measured at 32.2 x 12.5 x 12.5 inches and weighing 8 pounds when empty, the iTouchless sensor-activated trashcan takes up little space in your kitchen (or could be used as a trashcan anywhere).
Pros
Sleek design
Unconditional warranty
Motion-activated
AbsorbX technology
Cons
Battery and adapter not included
Long-lasting simplehuman Step Trashcan
A hundred and fifty thousand steps a day translates to twenty steps a day for the next twenty years. Why do the math on a post about pet-proof trashcans? Because that's the number of steps, simplehuman has guaranteed consumers it's trashcan is engineered to withstand with its pet-proof step trashcan.
simplehuman 50 Liter / 13 Gallon Semi-Round Kitchen Step Trash Can, Black Plastic With Secure Slide Lock
5-YEAR WARRANTY - We use the best materials and solid engineering so our products will last in tough environments like your home — for years.
CODE P CUSTOM FIT LINERS – Enhance your trash experience with extra-strong and durable trash bags that fit this can perfectly for a cleaner trash experience.
LOCK THE LID SHUT - A slide lock securely locks the lid to help keep pets and curious children from getting into the trash.
STRONG STEEL PEDAL - Engineered to last 150,000 steps - that's more than 20 steps a day for 20 years.
SILENT CLOSE LID - Patented lid shox technology controls the motion of the lid for a slow, silent, quiet close – no banging or loud noises.
The brand, simplehuman, has a reputation for manufacturing consumer-friendly products for pet-owners with curious canines looking to snoop through the trash. Spoiler alert: they won't find anything in there.
What do we love about the product? The design is semi-round, sleek, with a plastic body and a step lock made out of steel. The brand features specially designed fit-lining for the trashcan. To top it all of, the brand has a 5-year warranty for product features and functions.
The pet-proof trashcan measures 14 x 18.9 x 26.5 inches and weighs 7 pounds when empty. It takes up minimal space around the house – you won't even realize it's there! However, the product hasn't been explicitly marketed for pet-owners. Making the trashcan designed for anyone with or without a canine companion.
Pros
Step lock mechanism
Five-year warranty
Sleek design
Cons of the simplehuman
Plastic body
A genius pet could get in
No touch – iTouchless Wings Open Sensor Trashcan
If there's ever been a product that's been specifically designed and marketed at pet owners, it's this one. The iTouchless wings-open sensor trashcan features a pet guard making it manufactured specifically for pet owners who yearn for a day to come home from work without the trash being littered all over their kitchen floor.
iTouchless 13 Gallon Wings-Open Sensor Trash Can with AbsorbX Odor Filter and Pet-Proof Lid, Stainless Steel, Automatic Touchless Garbage Prevents Dogs & Cats Getting in kitchen-waste-bins
UNCONDITIONAL PROMISE – Your 100% satisfaction is assured and backed by a Full-Service Manufacturer's Promise for two years, including Dedicated Customer Support (see user manual for details)
100% TOUCHLESS & HYGIENIC – Just the motion of your hand opens the lids automatically! Avoid exposure to the ilness-causing germs and bacteria that live on trash can surfaces; it's the hygienic and convenient choice. Wings open style has low clearance so it fits under kitchen countertops. The two low clearance lids open quickly for easy clean up in seconds.
PETGUARD STOPS PETS GETTING INTO THE TRASH – The patent-pending PetGuard lock feature makes it easy to keep pets out of the trash, even when you're not home. ABS plastic lid
STOP TRASH ODORS + IMPROVE AIR QUALITY – 1 AbsorbX Natural Activated Carbon Odor Filter is included to absorb and neutralize trash odors, for a healthier and fresh and clean smelling home
2 POWER OPTIONS – Powered by batteries (not included), or optional AC Adapter (sold separately, see other product variation) for battery-free power
However, other features of this product make it ideal for homes and not just pet owners. For example, the design is made of stainless steel, measuring sleek, and looking stylish to be kept in any corner of the house without taking up too much space, making it blend in with the decor.
As with the other iTouchless trashcan on this list, this one comes with AbsorbX odor-resistance technology. Basically, several carbon filters are inserted into the trashcan body to keep foul smells from coming out of the bin. Also, it keeps in VOCs and bacteria.
The wings are sensor-activated. Your pet can't get to the lid with its paws, but you can move for the lids to open up using hand movements. The only con would be the price point on this device compared to other iTouchless trashcans – this one's a bit steep.
Pros
Great design
Two-year unconditional warranty
Pet guard
Available in multiple colors
Cons
Simple GLAD Stainless Steel Step Trashcan
13 gallons or 20 gallons? Step or sensor-activated? GLAD has you covered on all fours (quite literally at that). The GLAD stainless steel step trashcan is a god-send for pet owners who have had it up to here with trash being littered all over the kitchen floor. No more cleanups because your curious dog went out looking for the Chamber of Secrets via your kitchen trash.
Glad Stainless Steel Step Trash Can with Clorox Odor Protection | Large Metal Kitchen Garbage Bin with Soft Close Lid, Foot Pedal and Waste Bag Roll Holder, 20 Gallon
20 gallon capacity – fits 50% more trash compared to a standard 13 gallon/ 50 liter can. Take fewer trips taking out the trash! For use with any "black bag" with capacity of 20 gallons or larger - perfect for large families
Cloroxtm odor protection – provides protection of the lid and the lid frame by inhibiting the growth of odor causing bacteria for the life of the can
Rear bag compartment – Convenience of storing extra bags right behind the trash can - dispense easily from the sides without having to move the can
Bag rings - keep the bag slack neatly tucked in while securely keeping your bag in place and preventing the bag from falling in
Soft-close lid – designed with a controlled and quiet lid closure so there's no banging each time the lid closes
Measuring in at 16.4 x 14.15 x 29.15 inches and weighing 12 pounds when empty (owing to its sturdy body), the GLAD waste management solution admittedly is bigger than the other designs mentioned here.
However, the company in itself has worked with manufacturing waste solutions for a long time. Coming up with some of the most durable, affordable, and advanced trash bins. Taking out the trash isn't rocket science, but it could be made even more comfortable with the GLAD stainless steel step trash can; the bags are attached to the opposite surface of the trashcan, the lid is retractable for easier removal, and the trash bin can hold 50% more trash than other designs.
GLAD has also patented its own odor-resistant mechanism for its products, including its stainless steel step trash can. The technology has been raved over by consumers who recall having to face foul smell from their kitchen with previous trash cans.
All in all, we're hooked over the GLAD trashcan. Is there something we would want to have modified? The design could have been made to be sleeker, but all in all, it's a great product.
Pros
Five-year warranty
Durable
Strong
Step-lock mechanism
Cons
It might look out of place
Not the sleekest design
Features to Look Out For
Having had gone over our list of top four pet-proof trashcans, it's time to determine which one would be more suited for your use. Here are a few of the features you should look out for:
Hygiene Control
We get it – you don't want to have to retake the trash out each time you come home just because your pet couldn't keep still. Between training your dog to lose its sense of curiosity and updating your trashcan, you'll probably choose the latter.
For an ideal trashcan, hygiene control is mandatory – not just for a pet-proof one. Your trashcan is home to bacteria and odor. Finding a trashcan with filters inserted into it to keep smells coming out and a design to keep trash from spilling everywhere is ideal.
This could come as motion-activated or step-lock designs, making storing the trash in the bin easier or any trashcan with a lid.
Sturdy but Sleek
Finding the ideal trashcan seems to come at a compromise, but it doesn't have to. You don't have to settle on a trashcan that looks out of place for your modern kitchen out of necessity. Manufacturers come up with newer and better designs on a daily. Most feature varied colors, varied materials, and different designs for all pet owners.
Heavy
Your dog might have outgrown its years as a puppy and are now larger dogs who can topple over anything in their path. Therefore, a trashcan needs to stand upright, being heavy (without being too heavy) for your pet to topple it over.
Why is Your Pet Going Through the Trash?
At the end of the day, the question arises: What's there about the trash that my pet can't seem to get over? There could be either one of two things:
They're bored
They're hungry
You might leave for long hours during the day, leaving your pet at home alone. While this is often an unavoidable situation, your dog will inevitably get bored – and perhaps make their way through the house, looking for anything that entices them. Unfortunately, to us, a trash can gives off smells that may be irresistible to a puppy.
The smell coming from the trash can or the fact that many bins are open from the top make them prime targets for canine to scavenge in and inevitably topple over. Before they move onto the next best thing.
Secondly, your pet might just be hungry. Again, if you're going for long hours during the day, your pet might find themselves looking for something to eat on their own. They'll probably end up at the trashcan where there's an odor of food coming from.
The solution:
Buy your pet several toys to keep them occupied
Invest in time-sensitive food dispensers
Dispose of dog poop by flushing down the toilet to minimise odour and also keep the environmental impact as low as possible
Conclusion
And there you have it! Our top four picks for the best pet proof trashcans, features of each, pros and cons, plus all the reasons why your pet might be scavenging through the trash in the first place.
Your pet might be scavenging through the trash either out of boredom or because they're hungry. In any case, a pet-proof trashcan is an excellent buy for pet owners who can't take and then retake the trash out each day – no matter how adorable their pet is.
There are several key features to look out for; design, durability, warranty, added features, and price points. All of which make certain trashcans more preferable for some people over others. At the end of the day, it's up to what you want best for your home and your pet that matters!