Best Brush for Doodles (and The ONE Detangle Spray You Must Have)
Non-shedding, hypoallergenic, single coat. In the last ten years Poodle mix dogs (Oodle or Doodle dogs) have become insanely popular. These affectionate teddy bears require a little DIY grooming and home maintenance. Luckily with the right choice of quality tools, at-home brushing and grooming is simple.
The most important grooming kit you will need for a Doodle dog is a top quality slicker brush. We also cover the best comb, detangling spray – and how to get the best value without blowing up your budget.
Pros:

Professional groomer quality

German made steel

Perfect for coat maintenance

Pros:

Decent build quality

Slicker density high

Good for thick coats

Pros:

Perfect for detangling

Helps with every brush

Quality Lifetime steel
Nothing Compares
Pros:
Professional groomer quality

German made steel

Perfect for coat maintenance
Budget Pick
Pros:
Decent build quality

Slicker density high

Good for thick coats
The Perfect Comb
Pros:
Perfect for detangling

Helps with every brush

Quality Lifetime steel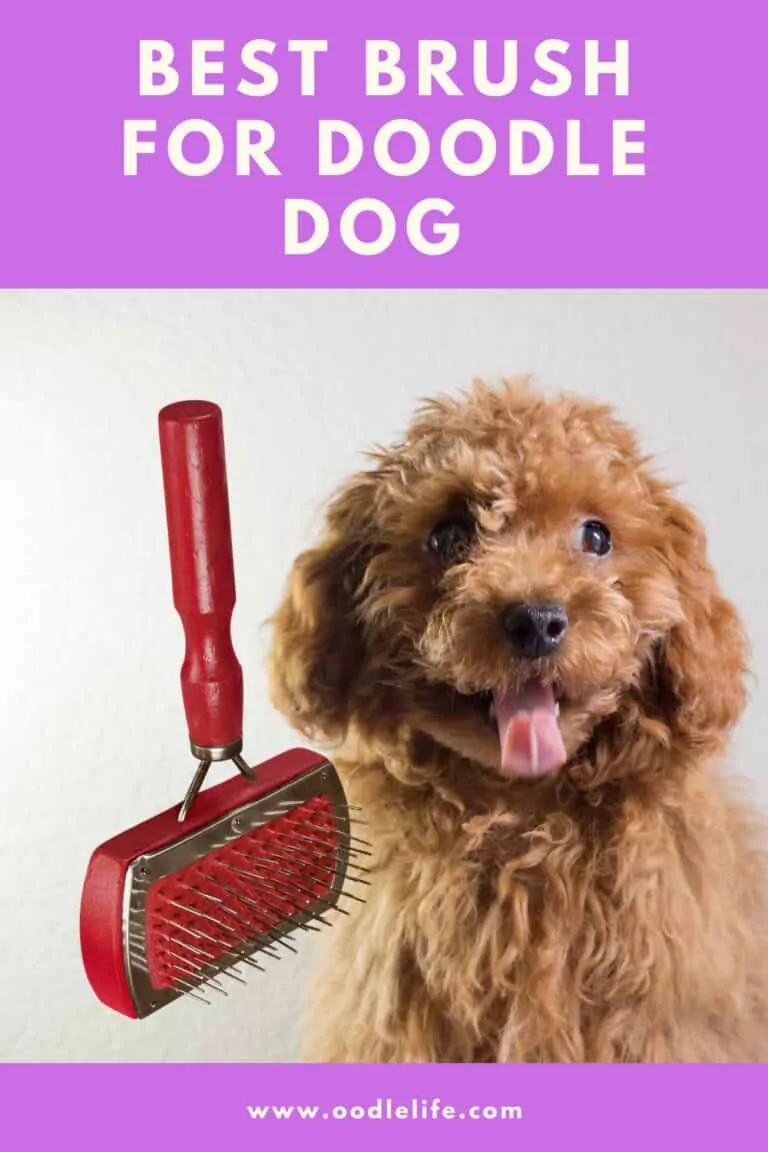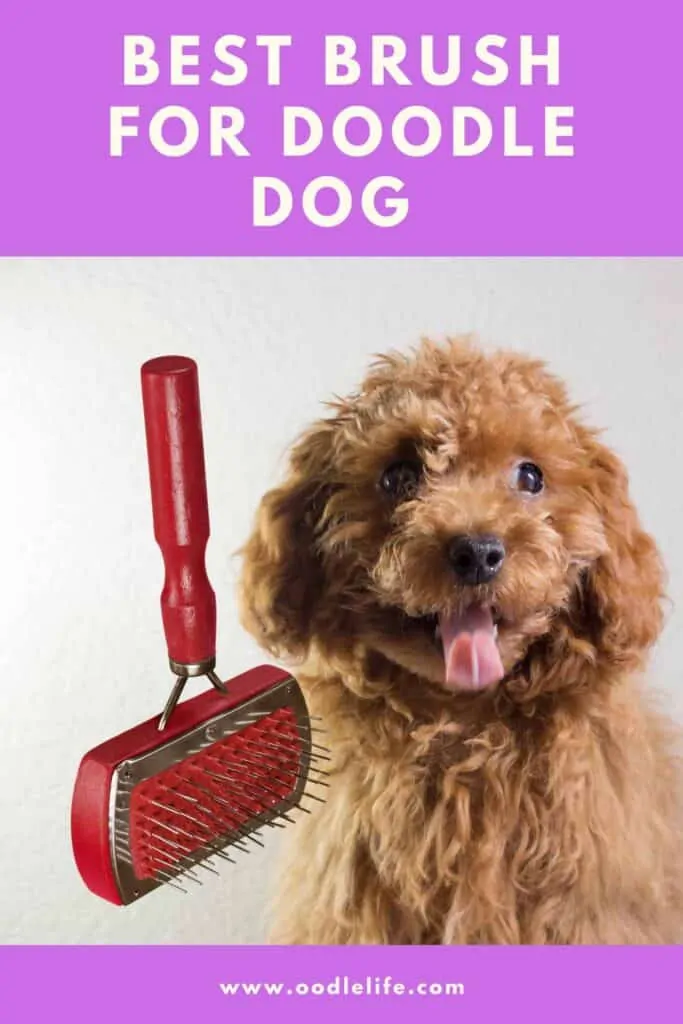 Why Doodle Dogs Need Special Coat Care
Families with young children are now often looking to bring home a doodle dog. In short, doodle dogs are a mixed breed – marrying a poodle with other breeds like a Labrador or Cocker Spaniel to make a Labradoodle or Cockapoo.
This often contributes to their cute looks and gentle nature. When bred with a similarly smaller dog or Toy Poodle, it also results in short stature. Some Doodle dogs are very large (like the Bernedoodle or energetic Goldendoodle)- but many are tiny.
Some dog lovers have even noted that doodle dogs are hypoallergenic, making them a suitable breed for most families with younger children or pet owners with allergies.
But cute as they may be, it's essential to keep your doodle dogs well-groomed. This is due to the doodle's breed type, and being part Poodle, a doodle's fur typically grows into soft and tight curls.
When left unattended, a doodle's fur tangles and becomes matted quickly. Thankfully, an easy way to keep your doodle groomed is to brush its fur often.
But when you're bombarded with thousands of products promising you excellent results for your doodle dog, how will you know which to pick?
Well, fret not, because we've picked out some of the best brush picks for doodle dogs that would help make grooming your doodle less of a nightmare. To further ease your job, we've also found the one extra spray you'll need for all your doodle grooming woes.
Here are the best brushes that you can find in the market for doodle dogs today without further ado.
The Best Slicker Brush: The Chris Christensen Slicker Brush
The Chris Christensen Big G Slicker Brush is a large slicker brush that features long and dense pins to help comb through thicker coats. It even promises to have 40% more pins than its predecessor – the Big K.
Chris Christensen Big G Dog Slicker Brush, Groom Like a Professional, Fluff Detangle Style, Saves Time Energy, Made in Germany, Coral, Large
GROOMERS MIRACLE BRUSH - Best slicker brush for removing matts, fluffing and brushing your dog. A fantastic de-shedding tool Premium "comfort glide" pins will not scratch your dog. 30% more pins than other premium brands this brush does more work with less effort. Ergonomic handle with fantastic comfort grip. Will not slip out of your hand. Makes grooming easier for both home groomers and salon groomers alike.
GROOMGRIP - The unique GroomGrip rubber coating is great for using in the bath to prevent the brush from slipping in your hands and its ergonomic handle will help prevent brushing fatigue.
DOG BREEDS - It is the best dog slicker brush for Poodles, Goldendoodles, and Labradoodles because of its ability to remove tangles and mats with ease. Fluff, detangle and style with one tool. Available in three sizes to fit your breed and size of dog.
SIZING - Baby - Head: 2 3/8" x 2 3/8". Body: 7 3/8", Medium - Head: 2 3/8" x 3 3/4". Body: 7 3/8", Large - Head: 3 3/4" x 3 3/4". Body: 8"
WHY CHRIS CHRISTENSEN - It all started in 1996 when Chris Christensen developed the first true color correcting shampoo for canines and felines. White on White was a catalyst in the evolution of canine coat care. The momentum that followed has allowed Chris Christensen Systems to bring you the finest grooming products ever available in the dog show and pet care worlds.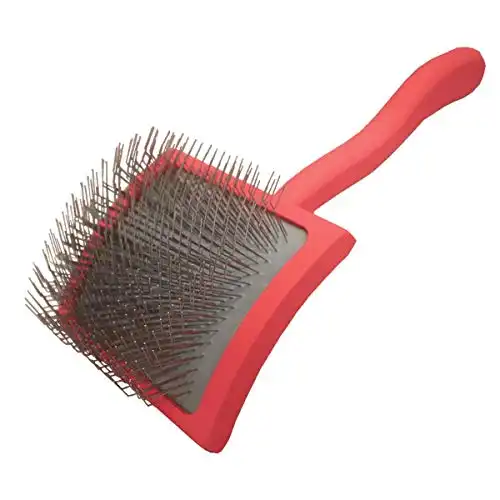 We earn a commission if you make a purchase, at no additional cost to you.
Ergonomically designed with an extra-long handle, the Chris Christensen Big G Slicker Brush has a curved back to give you precise control. This roughly translates to you can brush through your dog's coat in every direction you'd like (although go smoothly and find the most comfortable angle).
Why we liked it:
We particularly liked the Chris Christensen Big G Slicker Brush because it featured denser bristles to reach larger surfaces of our doodle's coat. This allowed us to comb through our dog's fur in half the time, and it worked perfectly over thick, long coats.
The pins on the slicker brush were also great to help fluff up a doodle's fur, making it easier to shape their heads after every grooming session. Despite its steep price, we thought this slicker brush was well worth the money, given the convenience of brushing our pup and the brush's quality.
Doodle breeds the Chris Christensen suits
Bernedoodle coats
Cockapoo coats
Cavapoo (Cavoodle) coats
Maltipoo's (but buy the smaller size)
Labradoodle coats (curly and wavy – just a comb if it is a straight coat)
The Best Steel Comb: The Andis Steel Comb
Steel combs are ideal picks when you're looking to give your pets a finishing touch during a grooming session. The 7½ inch Andis Steel Comb features dual-sided teeth to help you comb through your pet's fur, removing any loose dirt or hair along the way.
The Andis Steel Comb is ideal for dogs, its custom blunt end milled teeth make it a versatile steel comb.
Andis (Pet) 7-1/2-Inch Steel Comb ,Silver
Eliminates tangled, dirty and loose hair
Stimulates the skin and hair follicles
Perfect way to end and provide volume
Lightweight for fatigue
Ideal for cats and for dogs of all sizes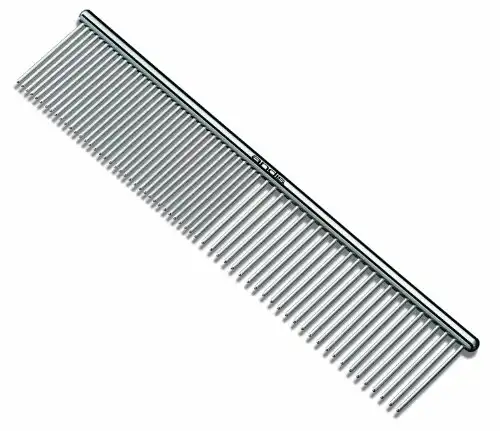 We earn a commission if you make a purchase, at no additional cost to you.
Why we liked it:
We liked the Andis Steel Comb for its versatility and lightweight construct. Made of stainless steel, the Andis Steel Comb was sturdy to hold as we brushed the unavoidable tangles and dirt caught in our dog's coat. Measuring at 7½ long, we could easily reach deep into its skin to stimulate the hair follicles.
We got to choose between brushing with the fine teeth or coarse teeth thanks to its dual-sided design, which was a feature we appreciated. It really made the comb more versatile. It was also incredibly useful for finishing touches, and we could easily fluff our pooch during its routine grooming.
The Best Self-Cleaning Slicker Brush: Hertzko
The Hertzko Self-Cleaning Slicker Brush is the ideal slicker brush for both small and giant breed dogs. Featuring fine bent wire bristles, the slicker brush makes it easy to detangle your pup's fur without hurting their skin.
Hertzko Self-Cleaning Slicker Brush for Dogs, Cats - The Ultimate Dog Brush for Shedding Hair, Fur - Comb for Grooming Long Haired & Short Haired Dogs, Cats, Rabbits & More, Deshedding Tool, C...
$29.99
$16.49 ($16.49 / Count)
#1 Cat & Dog Brush - Voted best overall for 2022 by Spruce Pets; trusted by millions of pet owners
Effective - Reduces shedding, detangles, removes dirt & debris, keeps coat looking shiny and healthy
Versatile - Great for cats & dogs of all fur types
Easy to Clean - Simply retract bristles with the push of a button, then wipe away collected fur
Smart Design - Fine, angled bristles, ergonomic comfort grip, and push-button retraction make it easy to keep your pet looking happy & healthy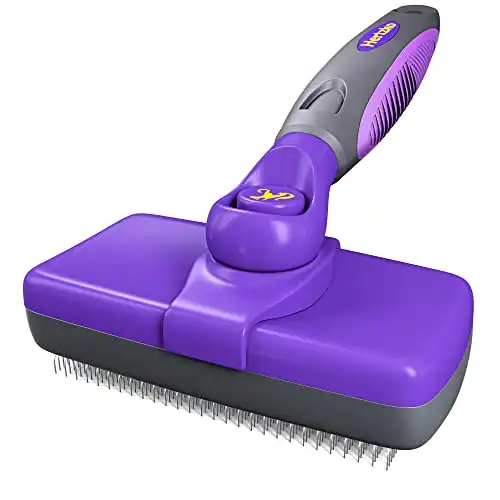 We earn a commission if you make a purchase, at no additional cost to you.
It's designed with an anti-slip and comfort grip handle to preventing fatigue in your hand as you brush your doodle's coat to remove any loose hair or trapped dirt. The Hertzko Self-Cleaning Slicker Brush is also ideal for use on cats.
Why we liked it:
We can't rave more about how great the Hertzko Self-Cleaning Slicker Brush is. It did great in detangling our dog's fur, reaching deep within its coat to remove any matted hair or trapped dirt. Because the bristles were made of fine bent wire, we noticed that not only did it not hurt our dog, but our pup enjoyed being brushed.
Above all, the best part of the Hertzko Self-Cleaning Slicker Brush was the self-retracting bristles that worked at the touch of a button. This made cleaning a breeze as we could lift away all the brushed fur after a grooming session, preparing the slicker brush for the next use with ease. The retractable bristles also made transporting the slicker brush safer, as we didn't have to worry about bending the bristles during storage. The Hertzko Self-Cleaning Slicker Brush is also highly affordable, making it our list as one of the best brushes for doodle dogs.
A Smaller Brush for All-Round Needs: The Chris Christensen 16-mm T-Brush
If you're looking for a smaller brush that could serve for all-round pet grooming needs, the Chris Christensen 16-mm T-Brush will make the ideal pick.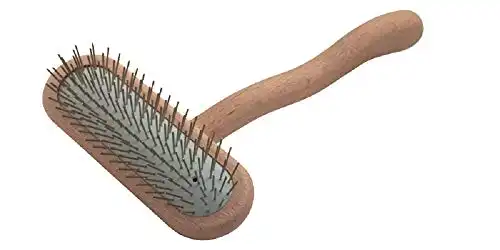 We earn a commission if you make a purchase, at no additional cost to you.
Featuring an ergonomic handle design to reduce hand fatigue while brushing, this T-brush is an excellent help in detangling dog fur without hurting the skin of your pets.
The Chris Christensen 16-mm T-Brush is also made of long stainless-steel bristles. You can reach deeper into the coat of your pets to remove any trapped dander or relief your pet of the discomfort of matted fur.
Why we liked it:
Unlike most small brushes, the Chris Christensen 16-mm T-Brush featured long bristles that we found were most helpful in brushing and grooming our doodle.
Made of stainless steel, these bristles are known to be long-lasting and extra sturdy even during storage.
Despite its high price tag for a small brush, the Chris Christensen 16-mm T-Brush proved to be excellent in detangling our pet's fur without doing damage to their skin.
We noticed how much more our dogs enjoyed being brushed, which was a plus considering how brushing also results in softer and shinier fur.
Ultimately, this was a tremendous small brush to work around both the dog's body and the smaller areas such as its paws, and we recommend it to everyone looking to own a versatile brush for their pet.
The One Spray You'll Ever Need TropiClean Tangle Remover Spray.
To make brushing out tangles and matted hair a breeze, TropiClean has created the rinse-free TropiClean Tangle Remover Spray. Made with no alcohol, no paraben, and is dye-free, this tangle remover spray aims to keep groom time a pain-free experience for you and your pets. Detangling sprays are SAFE and often recommended by Veterinarians and universities.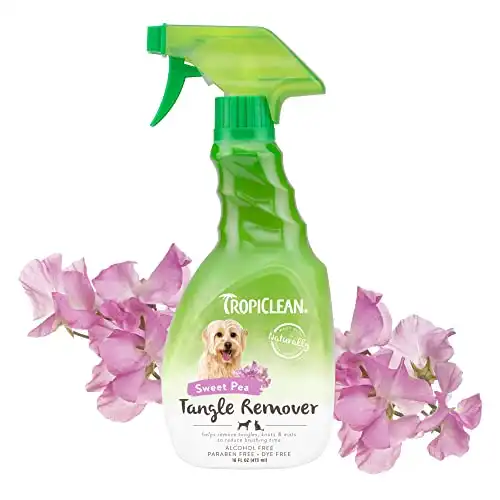 We earn a commission if you make a purchase, at no additional cost to you.
It's made of naturally derived ingredients and features a gentle floral scent to keep your pets fresh and cuddly after grooming. Over time, the TropiClean Tangle Remover Spray also helps make your pet's fur frizz-free, leaving behind softer, healthier, and shinier coats.
Why we liked it:
The TropiClean Tangle Remover Spray helped us breeze through grooming our dogs without having to worry that we might hurt them during brushing. We particularly loved the rinse-free formula and how the product made detangling our doodle's fur so much easier as we worked our brushes through its skin. Being able to brush easily and NOT have to shower the dog after was very helpful.
It was heartening to know that the product was made alcohol, dye, and paraben-free for pet owners. We can spritz the spray as much as needed without worrying about the presence of any harmful substances.
The TropClean Tangle Remover Spray also came with a faint scent of sweet pea leaves, keeping our dog smelling fresh post-groom, yet it wasn't too strong to serve any discomfort to our pets.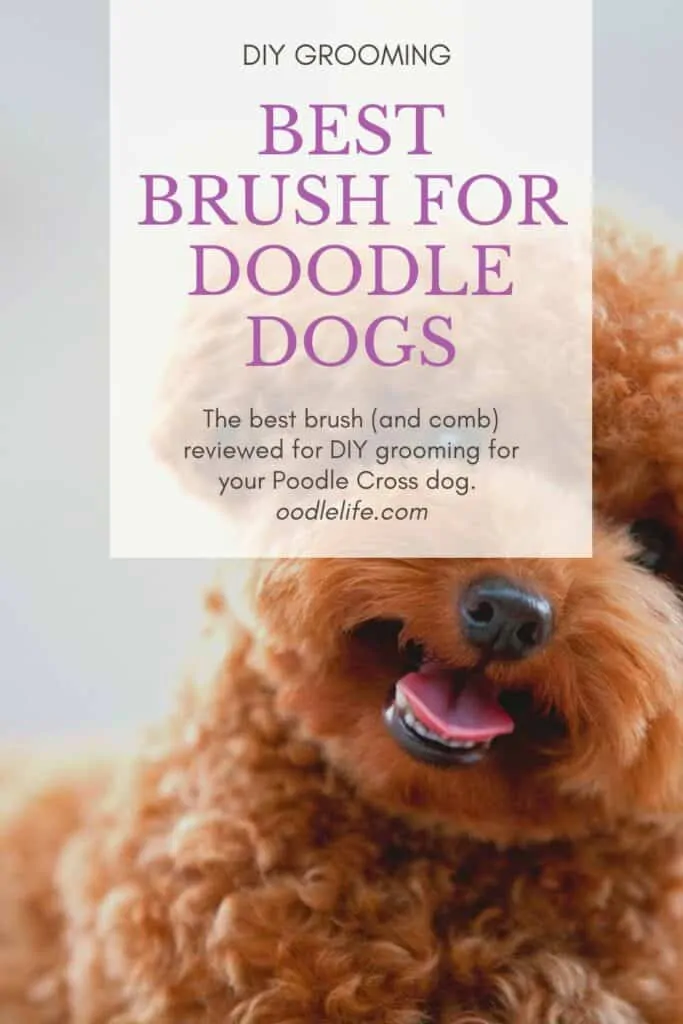 Final thoughts on Best Brush for Doodles
We understand how confusing it may be for first-time owners to pick the best brushes for your doodle dogs as there is a massive variety around. However, the truth is that caring for your doodle dog's fur doesn't have to be a difficult task.
Basically, it's always important to run through a series of trial and error to determine which brush will work best for your dog. Be sure to brush your doodle as often as possible to avoid getting their fur in tangles, and brush gently so you won't hurt them by accident.
Sometimes, your doodle's coat may change as they grow from a puppy into an adult dog, so a change in grooming approach may also be needed to accommodate these shifts. Learn the age at which Doodle coat changes from puppy to adult coat here.