Best Weighted Vests for Dogs [5 Best + DIY]
When you bring a new dog home, that dog becomes your responsibility. One of your responsibilities is getting your dog to exercise. It can be challenging to get your dog involved in strengthening exercises like resistance training and weight pulling. You need the right tools for the task.
This is where weighted dog vests come in. They are crafted to provide resistance and are amazing tools for exercise, training, and building muscles.
When Should You Use a Weighted Vest?
A weighted dog vest is manufactured for training and exercise, but its uses aren't limited to these two activities. Weighted vests can be used to soothe and calm a dog. If your dog is high-strung or has a nervous temperament, it can be quite challenging to keep it calm.
The key here is to be able to recognize your dog's anxiety and stress so that you can use a weighted vest before they get even more agitated. Weighted vests for dogs are similar to weighted blankets for people which help them feel more comfortable, secure, and calm.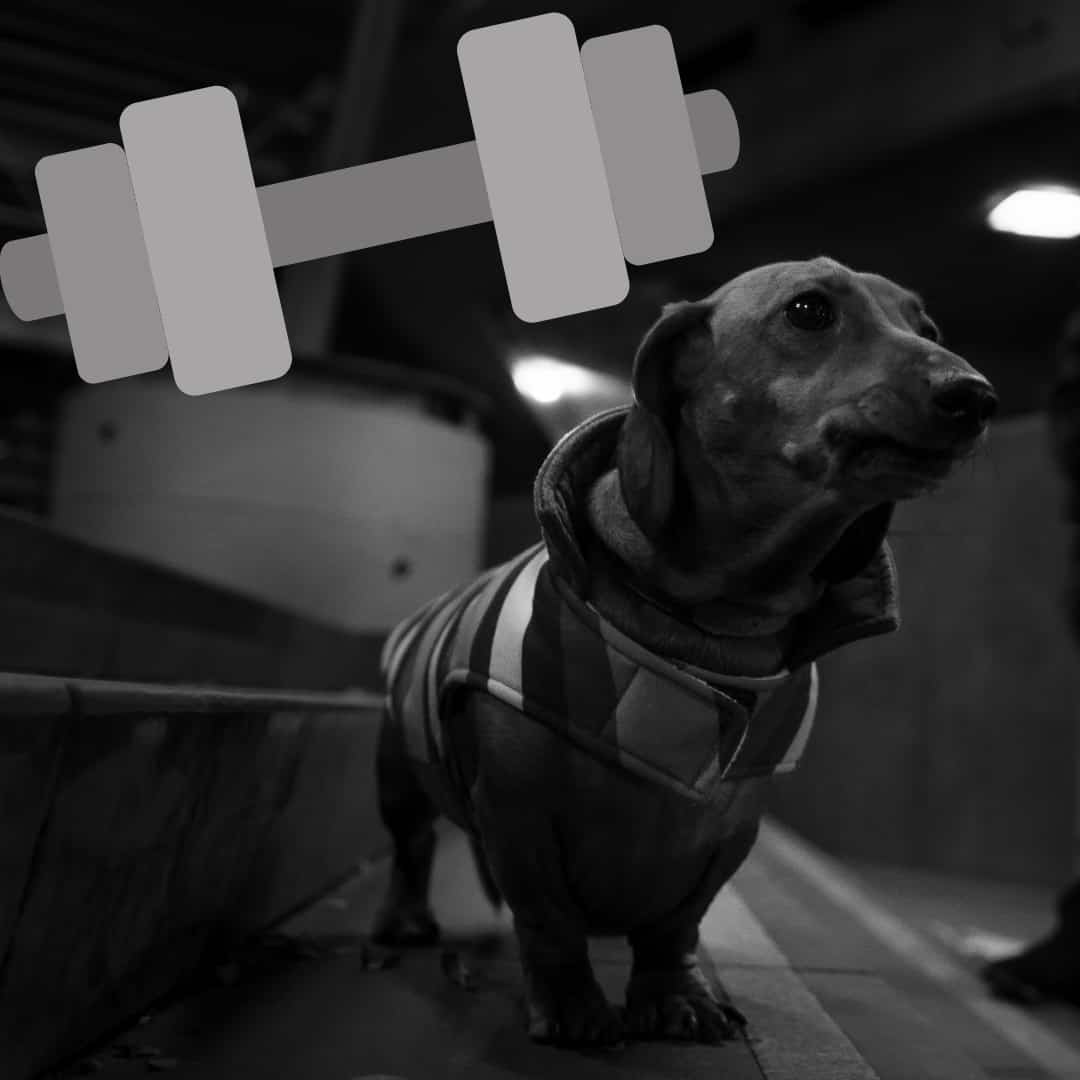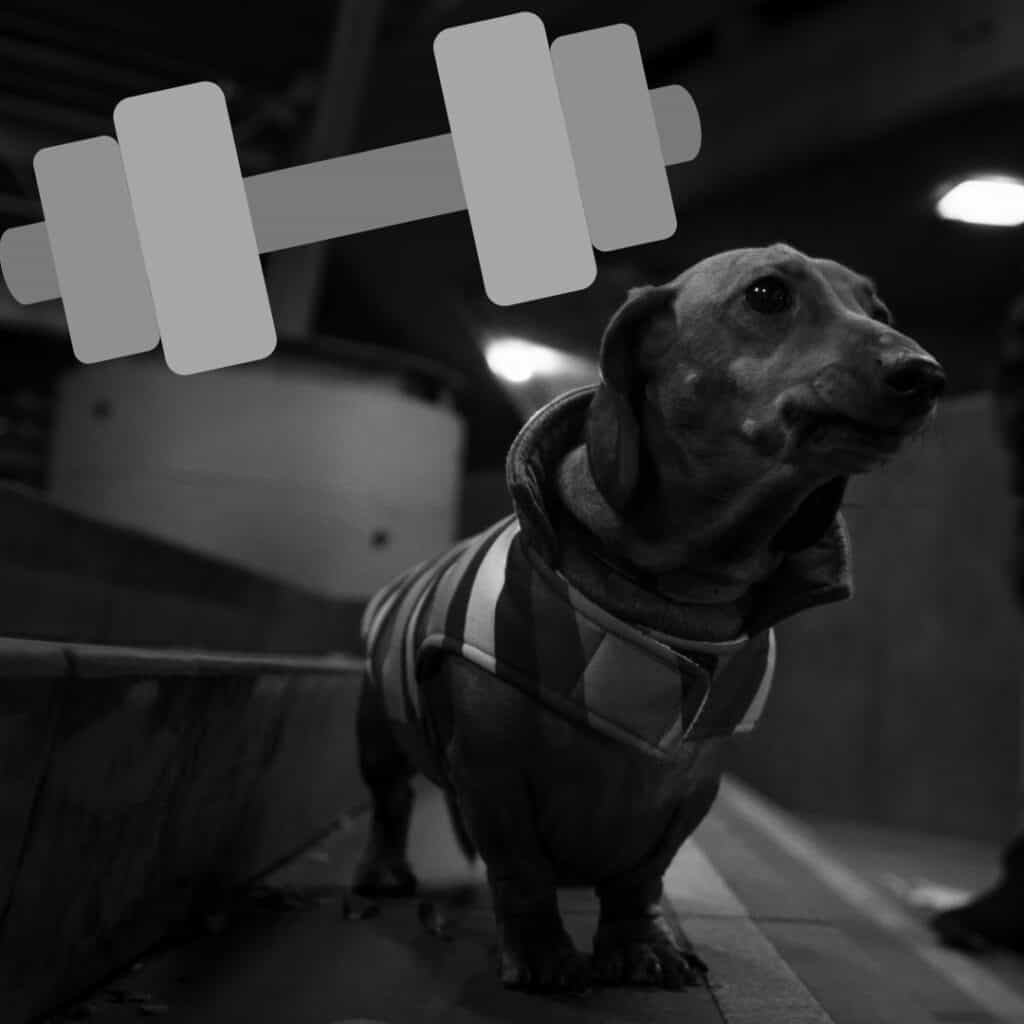 Weighted Vests and Obesity
The most common use for a weighted vest is when you want your dog to exercise. Obesity is quite common in dogs, particularly with certain breeds. If you want your dog to remain fit, look into a weighted vest.
The Best Weighted Vests for Dogs
There are tons of options out there for weighted vests. There are multiple sizes, styles, features, and designs available in the market. How do you know which is the best for your dog? It's a difficult task but I've compiled a list of some of the best weighted vests for you.
#1. XDog Weight & Exercise Vest for Dogs
This is by far the best-weighted vest for your dog. This exercise vest is sophisticated and easy to use. It is manufactured to help your dog train and keep calm while keeping your dog physically and mentally fit.
XDOG Weight & Fitness Vest for Dogs - A Weighted Dog Vest Used to Build Muscle, Improve Performance, Combat Obesity & Anxiety - Improve Your Dog's Overall Health & Exercise. (Medium, Black)
The XDOG Weight and Fitness Vest is a health improving vest that helps with building strength, performance, muscle growth, power, speed and overall health in your dog. It's also a great tool to help combat obesity in over weight dogs, improve cardiovascular health and reduce energy faster for high-energized dogs.
SAFE, COMFORTABLE WEIGHTS BAGS - THE XDOG vest uses weight bags that can be filled with sand or copper bb's.These weights are much SAFER vs METAL BAR WEIGHTS that others use because ours can MOLD and COUTURE with the body during movement. They don't cause pressure points and are less DANGEROUS than a heavy bar weight.
HIGH-QUALITY, LIGHTWEIGHT, BREATHABLE MATERIAL - The XDOG Vest is built for durability during workout however its material is lightweight and doesn't weigh down your dog allowing a natural, fluid movement during wear. The vest is also water-proof.
SECURE SNUG, COMFORTABLE FIT - Because the XDOG features both alligator clips and velcro to help secure the vest on your dog's body you won't need to worry about any "side to side" or "rocking" movement of the vest especially during high-intent running or exercise. The vest will securely stay in place 100% and and will NOT interfere with your dog's natural movement.
FRONT SHOULDER WEIGHT PLACEMENT - The XDOG Vest is the only vest on the market today that features front shoulder weight placement allowing them to build stronger muscles and strength on the front legs for improving explosive takeoff and speed. Don't expect to see this feature on other dog weight vests. Many of them have ignored the front legs completely with weight placement only placed on the back.
This product is available in several sizes from XX-small to X-large so you can find the perfect size for your dog. This vest is also available in colors like light pink, hot pink, blue, green, purple, and black.
Each weight is placed equally on each side so that your dog is balanced. It is a lightweight, durable, adjustable, and sleek vest making it easy and comfortable for your dog to move in.
#2. Canine Full-Body Weighted Dog Set
Full Body Weighted Dog Vest Weights On All 4 Legs More Effective -Builds Strength and Improves Overall Health - Reflective (Medium Vest: 15lbs. and 30lbs. BB's, Blue Strap)
1. Weighted Dog Vest Helps Strengthen And Improves Your Dogs Overall Health for many reasons. WEIGHT BAGS Included only. The weight bags can be filled with Sand Or BB's We Recommend Buying The BB's It Is The Heaviest Option. They Can Be Adjusted From 0 To Full Weight. We Have The Heaviest Most Effective Weighted Dog Vest On The Market.
2. We Use A Fully Water Proof Material Last Longer and Tear Resistant With 1/2 Inch Padded Foam For Comfort. Fits very comfortable and soft.
3. Helps With Anxiety And Calms High Aggressive Dogs.
4. Reflective Night/Day Vision Material Very Visible At Night And In The Day Safety Vision.
5. Air Flow Material Under Body Keeps Your Dog Cool Supplies A Thin Layer Of Air Between Your Dog And The Vest. NEW: Weight Sled Attachment / Weighted Dog Sled Go Here - https://www.amazon.com/dp/B08RYJVQMY?ref=myi_title_dp
If you want your dog to have superior muscle definition, then this weighted vest is a great option. This vest is interestingly designed with individual pockets on either side for sandbags. This weighted vest comes with weighted bags so finding weights won't be a problem. The weights are placed on the back and front legs of the dog to help strengthen them.
This vest was primarily made for exercise and was built to maximize your dog's fitness level. The vest comes with more weight than what is commonly available. Each weight has padding underneath to keep your dog comfortable.
Prevents Hip Dysplasia
The Canine Full-Body Weighted Dog Set has a "dual-weight" design that was approved by vets to help prevent conditions like hip dysplasia on the hind legs. These weights keep the joints and muscles strong. 
#3. ActiveDogs Weighted Vests
Dog Muscle Building Weighted Collar - Weight Pulling Trainer - Dog Endurance Builder
5 lb Weight Collar is made of heavy ballistic material - Padded – Double stitched seams
SHEEPSKIN lined for added comfort - 2" adjustable Hook and Loop closure
Collar comes with 5 weights – Weight can be removed / added
Training with weights builds a dog's muscles - The weight collar is helpful for training dogs in the weight pulling sport
The 5 lb Dog Weight Collar helps with obesity in over weight dogs - Improves health - Improves cardiovascular health - Tire out aggressive dogs - Strength building - Muscle growth - Performance building – Power building – Speed building – Improves overall health in your dog
This is another dog weight vest/anxiety vest that was primarily made for exercise. Unlike the previous products, the ActiveDog vest also can be used for anxiety if the need arises. The vest comes in 3 sizing options. It is a black colored vest with white lining on each strap.
This vest is rugged and is meant for heavy-duty work. It's made with sturdy materials and durable padding. Each strap is protected with a layer of sheepskin to provide the utmost comfort for your canine friend.
Easily Add or Remove Weights
What makes this vest versatile is that it comes with individual pockets so that you can add weights inside. These weights can be easily removed or added in as required. This makes the vest flexible to your needs and the needs of your dog.
#4. OneTigris Tactical Dog Molle Vest
If you're looking for a multipurpose weighted vest, then look no further. The OneTigris weighted vest is made out of 1000D nylon and was made to withstand water and dirt.
Sale
OneTigris Tactical Dog Training Vest Harness with Mesh Padding and Two Handles (Coyote Brown - Upgraded Version, L / 49cm)
Upgraded Version with Bartacked Stitching: 1000D Nylon material with breathable mesh padding & soft cloth covered neck strap
Molle Dog Vest: Plenty of molle webbings for attaching any MOLLE compatible medical and treat/water pouch
Two Handles Design: Front and back handles design with metal clips for your dogs lead control
Wide Hook & Loop Area: Provides space for name tapes, patches or whatever patches you may need
Various Sizes & Colors Available: Measuring your dog for proper fit can reduce the probability of receiving unsuitable size or return. Please check our Dog Sizing Chart before purchase. Your shopping experience is our first concern (Package Includes Tactical Dog Harness & OneTigris Patch Only)
The vest features multiple pouches for carrying essential items for your dog like water, dog food, and a medical kit. This rugged vest also boasts of a double handle system that enhances the safety of your canine buddy.
A Few Design Flaws
Now, there's only one slight problem with this vest. The belly straps can be a little challenging to maneuver. While the straps can fit perfectly when your dog is standing up, they become a little too tight when he/she sits down.
Also, the vest could do with a little padding in the chest area. Some dogs have gotten sores after using the vest a couple of times.
#5. The Zelus Weighted Vest
If you have an athletic dog, then this vest can be the ideal purchase. The adjustable straps enable you to provide the utmost comfort for your dog. If your dog likes running around a lot, then you'll need buckles that are strong enough to withstand their active lifestyle. These buckles are made to last and fit snugly around your dog.
The vest features durable pockets that can hold essentials for your dog. The pockets are easily capable of holding liquids like water for your dog. The double stitch system on each pocket ensures that leaks are easily prevented.
Zelus, Perfect for Big Dogs
The vest works on bigger dogs too. The "shoulder-clasping" function enables bulkier dogs to fit into this vest easily.
That being said, this vest isn't particularly designed for smaller dogs. If you have a smaller dog, the vest might be too big and can come loose when they move around.
#6. The Ruffwear- Approach Pack Weighted Vest
This weighted vest is inspired by saddlebags. The fitness vest comes with cushioned handles and a harness system that allows you to have perfect control of your dog. Like the other products, this strength training vest has pockets for carrying essential items. If you love taking your dog on hikes and trips, then this vest is the perfect exercise accessory for your dog.
Additionally, this weighted vest has a reflective light strip that allows you to keep an eye on your dog in low visibility areas. This is a durable product with good material and strong stitching.
Just make sure to get the right size for your dog. Some users have faced sizing issues where the vest didn't fit correctly. Even large dogs vary in size and need to be measured correctly. Measure length not just body weight.
How to Choose the Best Dog Vest for Your Dog?
Now that I've taken you through some of the best dog vests in the market, it's time to find out how to choose a weighted vest that suits your dog's needs. Dog vests are not the same. Each weighted vest has a different set of features that the others may not have. There are a few things to keep in mind before purchasing a vest.
Size
This is probably the most important aspect you need to consider before choosing a vest. Purchase a dog a vest that fits him/her perfectly. To purchase the most comfortable vest for your dog, you will have to measure the broadest portion of your dog's rib cage.
The vest should not add unnecessary pressure on the ribs and spinal column of your dog. The vest should fit snugly to get the most out of the product. You should also take note of your pet's weight as it will help you decide how much weight your dog can handle.
Age
Like the size of the vest, your dog's age is also one of the most important things to consider. If you make your dog wear a weighted vest that's too heavy before it's fully grown, you may end up putting the dog through a lot of stress. Too much weight can damage the bones and muscles of your dog.
A dog is considered to still be growing if it's younger than two years. A lot of dogs take between 6 and 18 months to be fully grown while larger dogs can take up to 24 months to grow.
People are advised to start using weights only after they reach a certain age. That logic is also applied to dogs.
Padding
The comfort of your dog is the most important factor before you purchase a weighted vest. Size and age are some of the most important things to consider but the padding is equally important. If you make your dog wear anything around its body, he/she is bound to feel uneasy at first and it will take some time for your dog to get used to it.
You must choose a product that has an adequate amount of padding so that your dog can adjust to it and move around with it easily and comfortably.
In addition to comfort, padding also protects your dog's bones, skin, and organs from cuts and injuries caused by tight and uncomfortable clothing. Remember, too much padding is also uncomfortable. Choose the right amount of padding to keep your furry friend cozy and comfy.
What are The Dangers of a Weighted Dog Vest?
There aren't many dangers of using a weighted dog vest but there are some things to keep in mind to ensure that you use them safely and optimally.
Your Must Factor in Your Dog's Age
Consider the age of your dog before purchasing one. Using a weighted dog vest on an animal that is not yet fully grown is by far the greatest danger. You don't want to overwhelm a growing dog's body with weights that can damage its joints and bones.
Old dogs are faced with threats too. If you use weights that are too heavy for an old dog, they will end up being exposed to the same joint and bone problems.
Adding Weight Too Quickly
If your dog is not used to weighted vests and you start overwhelming your dog's body with weights, you may end up damaging its physique. You must factor in the ability of your dog to handle more weight to avoid causing irreparable damage.
Can I Make a Weighted Dog Vest Myself?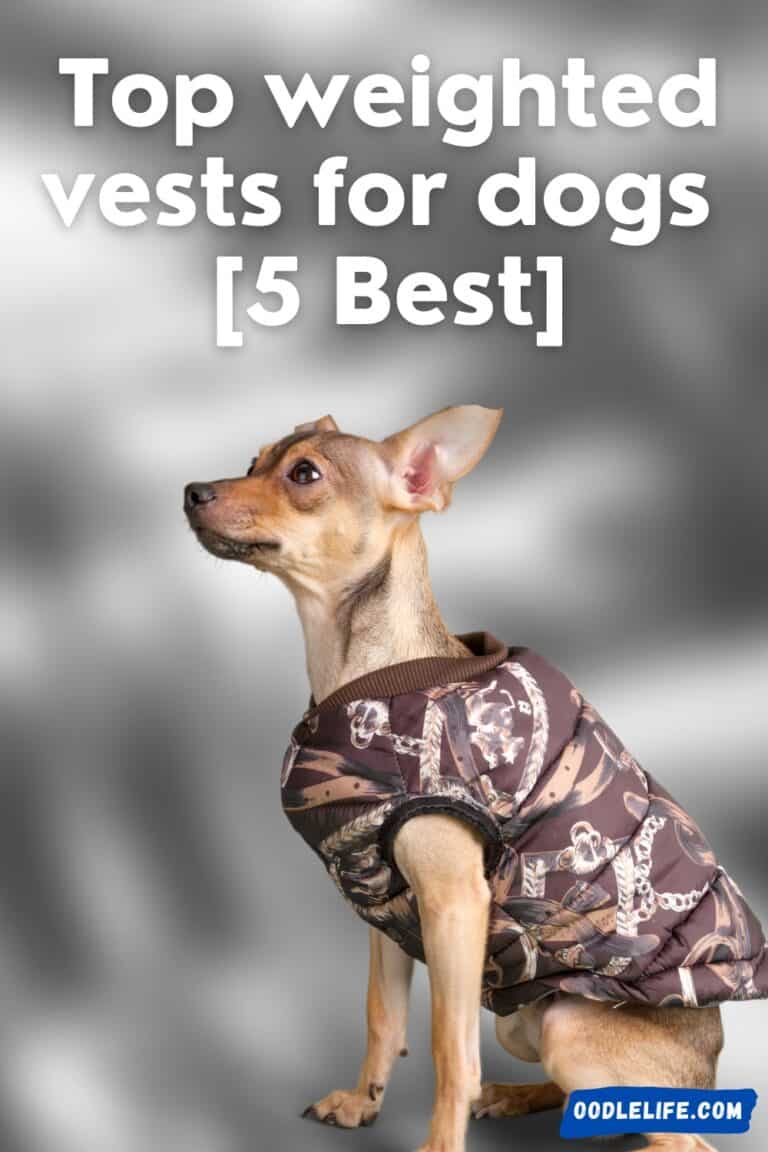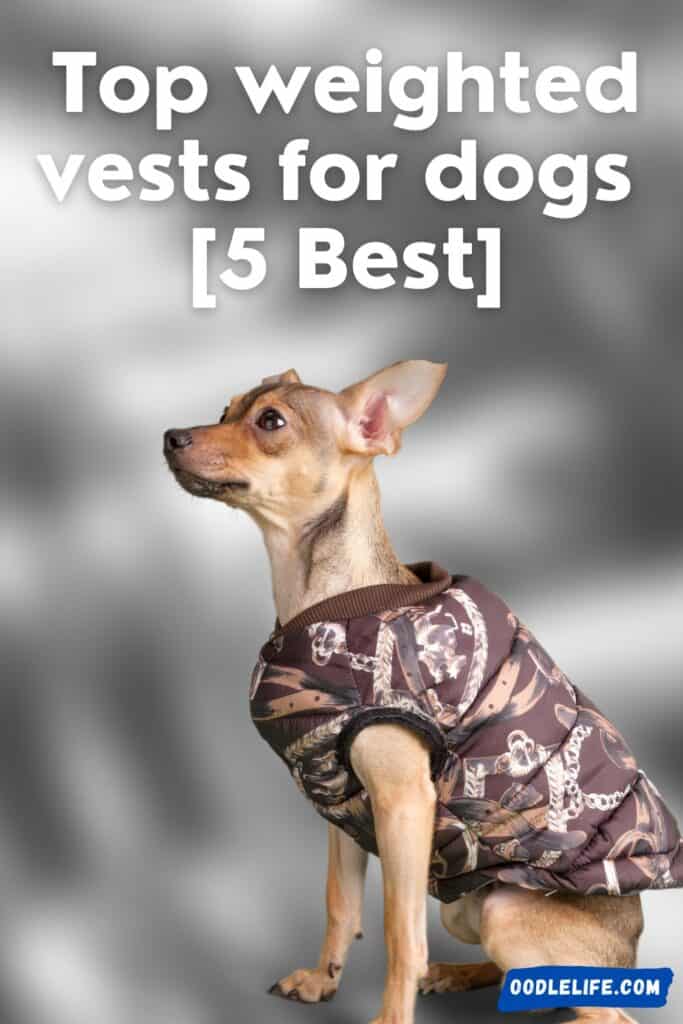 The short answer is yes! Weighted harnesses are quite easy to make. If you're on a budget or you're not willing to spend a substantial amount of money on a weighted vest, then you can make one yourself. Follow the steps I've listed below, and you can fashion your own harness. (Same steps for a weighted blanket).
Step 1
You want to measure your dog first to be able to create the body of the harness. Take a measuring tape and start by taking the tape from the shoulder and under the front and back to her shoulder. It should look like a figure 8.
Step 2
Cut your material to fit these measurements. Remember to add an extra 6 inches to compensate for the growth of your pet and the buckle.
Step 3
Fold one end of the webbing and put your buckle into it. You can use a sewing machine to secure the buckle. A needle and thread will also work, but a sewing machine makes stronger stitches.
Step 4
Next, lay your webbing on a smooth surface and use a pen to mark six places as adjustment holes. Next, heat a nail and push it in through each notch until it penetrates the material.
Step 5
Now, take your socks and attach them to the harness. These socks will serve as adjustable weights. They are soft and don't damage the dog's skin. Next, stitch a strip of Velcro so you can shut them once the socks are filled.
You should fold your harness in a figure 8 so you know where to attach your socks and mark those areas.
Step 6
Sew your socks on each end to create a tube so you can fill them with sand. Ensure that your marks on the webbing face up so that you can stitch with ease. Now, fill your socks with sand and use Velcro to shut the ends. You have now made your adjustable weighted vest.
Conclusion
Whether you're looking for a weighted vest for your dog's anxiety or for exercise, one of these vests should fit the bill. If you are a dog owner who loves DIY, you can even make your own. Hopefully, this guide will help you find the perfect weighted vest for your dog. Here's to more long walks and hikes with your dog!