Best Goldendoodle Breeders In Nevada (2023 Update)
While most people will think that finding Goldendoodle breeders in Nevada is easy, the truth is that it never is. There's so much to consider, and if you're not careful, you might go home with a pet that suffers certain health complications.
Luckily, this doesn't have to be the case since this post will provide you with a list of breeder options in Nevada. It's worth noting that there are not so many Goldendoodle breeders in Nevada. The Goldendoodle is a new breed, and most breeders haven't raised them.
$300 2023 Discount!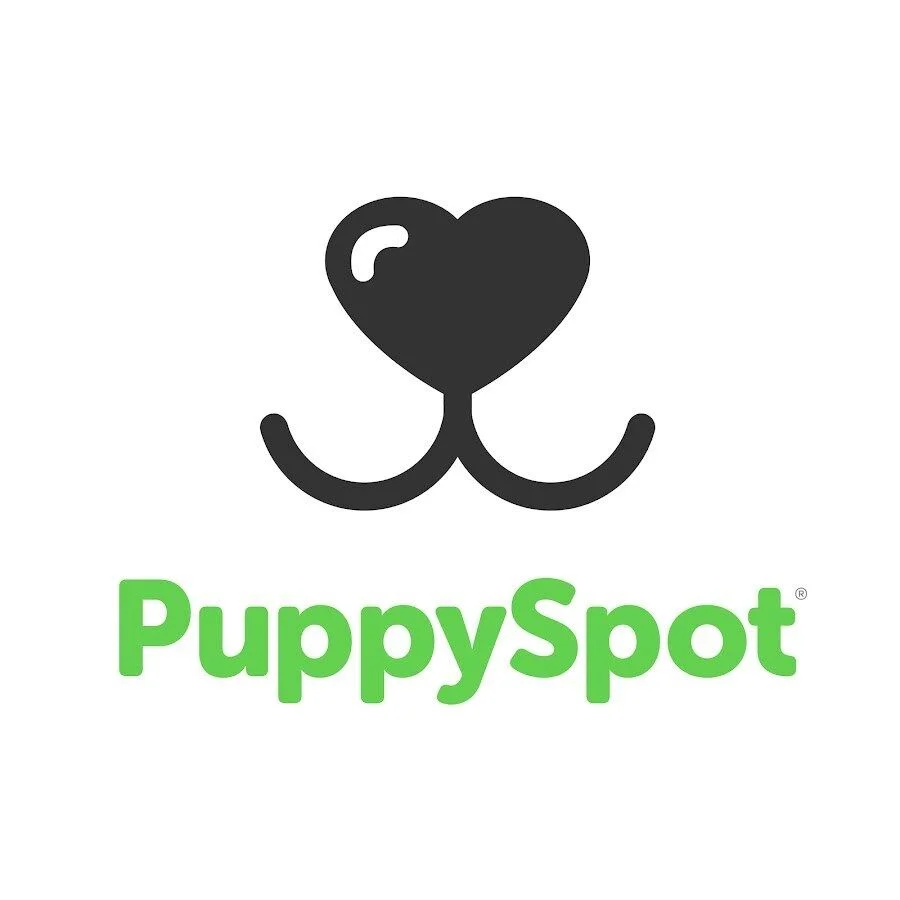 PuppySpot Adoption
PuppySpot is a reputable dog marketplace where you can browse and find compatible puppies right from the comfort of your home. They have placed over 200,000 puppies into homes in the US!
Click through and use the code PUPPY300 for $300 off any puppy adoption.
See Puppies and Save $300
With the growing popularity of Goldendoodles, you should be extra careful when looking to adopt one.
To ensure you find the perfect pet to add to your family, you must work with a reputable breeder near you. It is key to check the breeder's reputation to ensure they have a proven track record. What's more, you should confirm that the breeder knows how to care for and improve the breed.
You want the best new member of your family that you can find!
Here's the best Goldendoodle breeders in Nevada that will ensure you go home with a healthy and happy pup for your family.
4E Goldendoodles Kennels
4E Goldendoodles Kennels has been in business for over ten years, and they certainly know everything about raising Goldendoodles. This reputable breeder strives to change dog breeding procedures. They aim to raise pets that are well-rounded family companions, service dogs, and therapy dogs.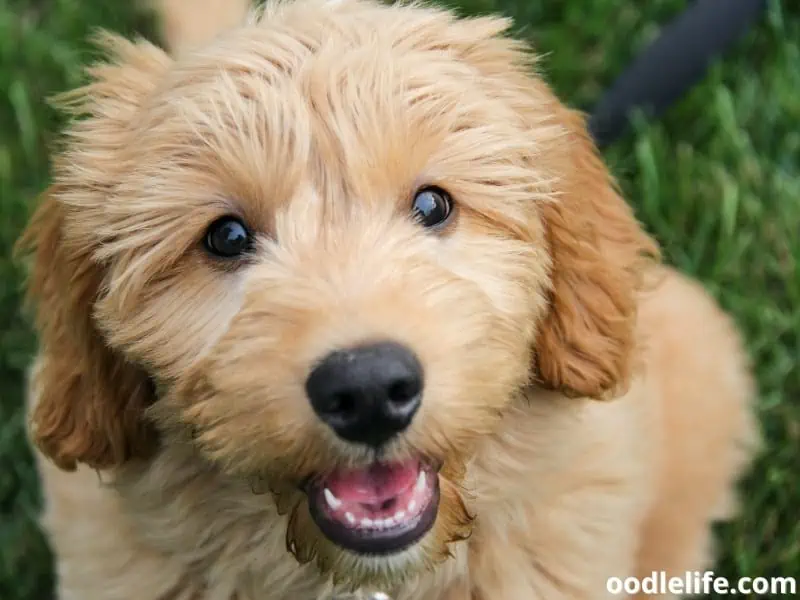 Health is a top priority for 4E Goldendoodles Kennels. When raising their pups, they also strive to ensure their puppies meet the required health standards. The same applies to other dog attributes, such as temperament and intelligence.
4E Goldendoodles Kennels also look for the best Golden Retriever and Poodle to join their breeding program. They choose parent dogs from good bloodlines to ensure there are no genetic complications passed to their breeds.
Goldendoodles are always under camera surveillance all around the clock. These dogs eat quality food and enjoy sleeping in indoors in the house or heated garage.
You get a two-year health guarantee when you choose to work with 4E Goldendoodles Kennels. A professional and licensed vet examines the dogs before adoption to ensure you go home with a puppy with no health concerns.
Breeder Details:
Valley of Fire Goldendoodles
Valley of Fire Goldendoodles in Las Vegas is another dog-certified breeder that offers Goldendoodles of varying colors and sizes. Their puppies portray admirable social traits since they are good natured, playful, and intelligent.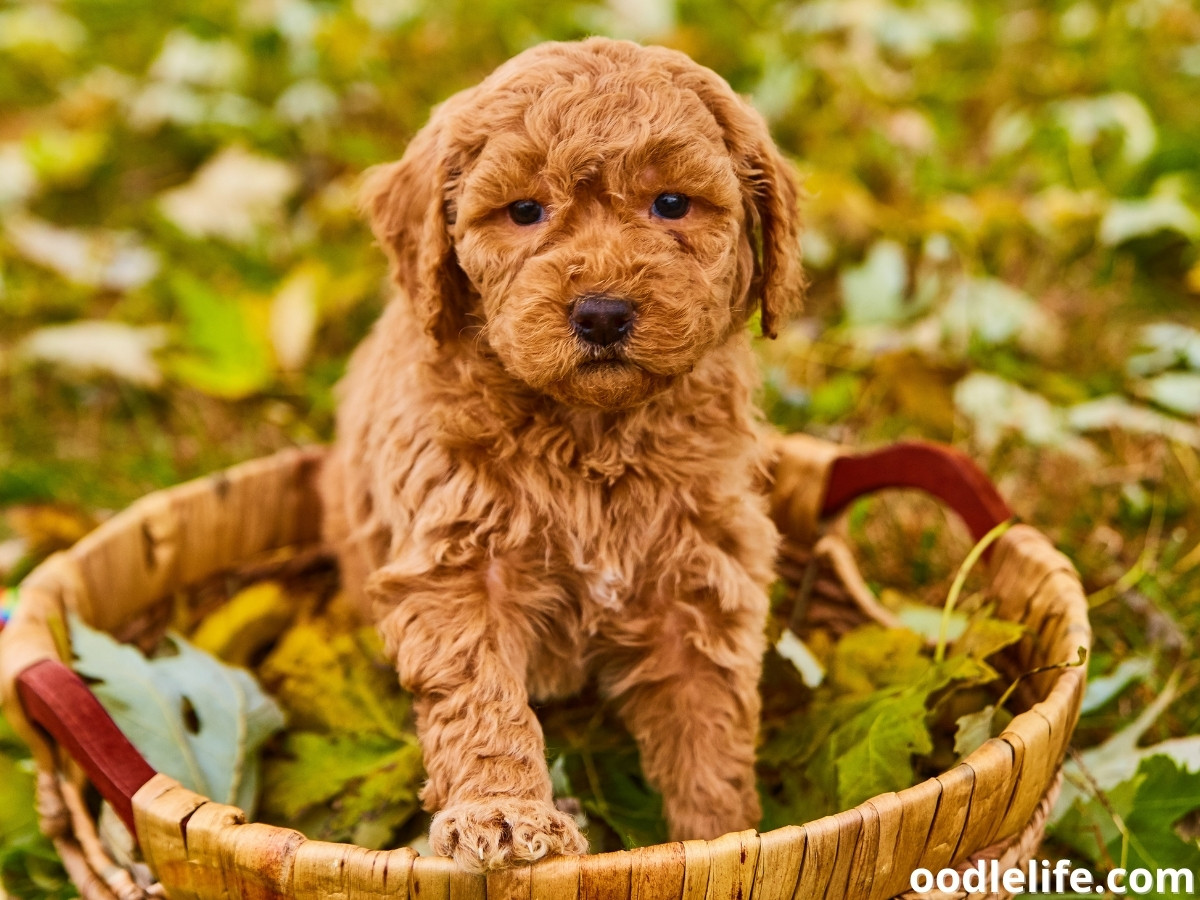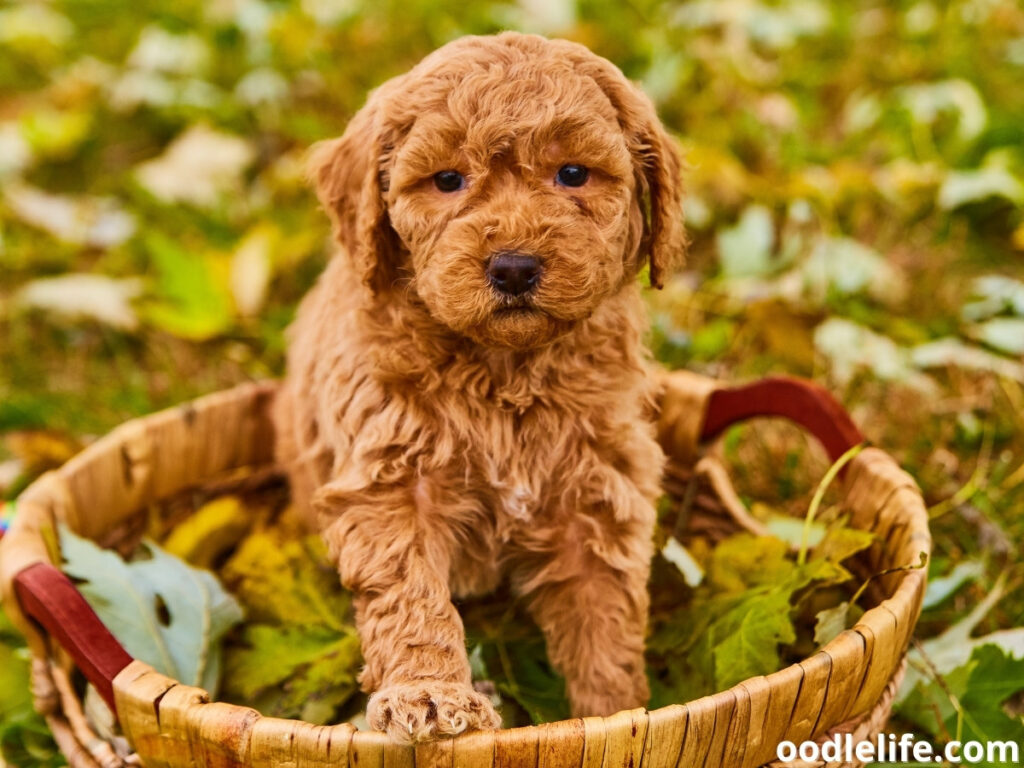 The breeder trains their puppies to serve as a member of your family, service dogs, and therapy dogs. Hence, you're not limited to depending on your dog as a friend, but they'll be there for you when you need someone to cheer you up.
Valley of Fire Goldendoodles has a huge space where they take care of their puppies.
Sometimes they play with children and they may want to sleep in the bed! The training these puppies get at Valley of Fire Goldendoodles allows for an easier transition to a new family setting.
Parent dogs undergo a thorough selection process, and only those with good health join the breeding program. The intelligence level of parents is also another important consideration since it determines how easy it is to train them.
Valley of Fire Goldendoodles offers its clients a one-year health guarantee. A puppy also has deworming records, full vaccinations, and updated American Kennel Club (AKC) reunite microchips.
Breeder Details:
Star Bright Doodles
Star Bright Doodles specializes in micro/mini Goldendoodles. Their choice to focus on this breed is mainly influenced by the fact that they are an active family with young kids. The good thing about this is that they raise their pups as their own.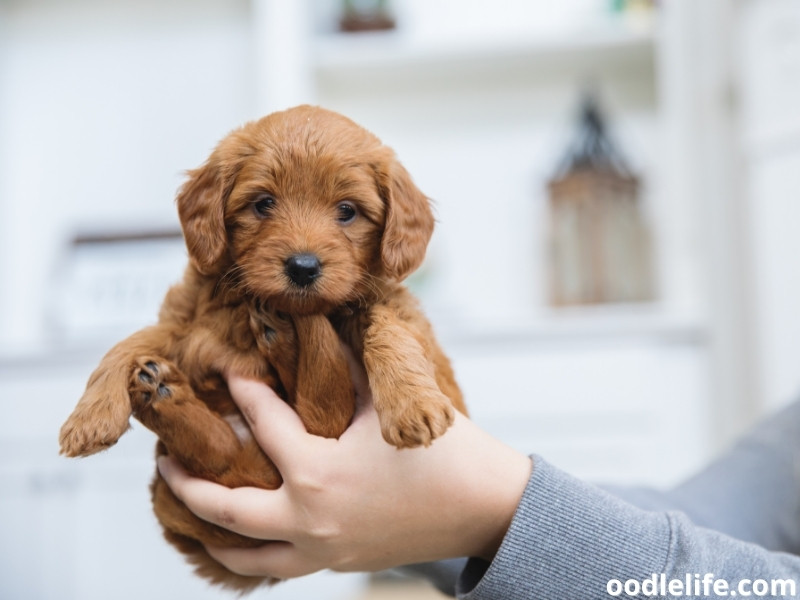 You can rest assured that the Goldendoodles here have a friendly and adorable environment to grow.
Goldendoodles from this breeder are social and intelligent. The breeder strives to ensure that these dogs can become important members of the family. Star Bright Doodles maintains a strict breeding line, using AKC-registered Poodles and Golden Retrievers.
Dog parents undergo intensive research to determine that they are the perfect breed to use. These dogs are normally tested for DNA defects that could affect other breeds. Common issues checked include complications with the eyes, elbows, heart, and hips.
Star Bright Doodles offer a one-year guarantee for their pups. You also get the vaccination and deworming records to make sure you go home with a healthy friend.
Breeder Details:
Shannon Doodles
Shannon Doodles is fairly new in the breeding industry, but it's still one of the best Goldendoodle breeders in Nevada. They have a wide selection of Goldendoodles as they breed all colors and sizes. But they have a special interest in the mini Goldendoodles.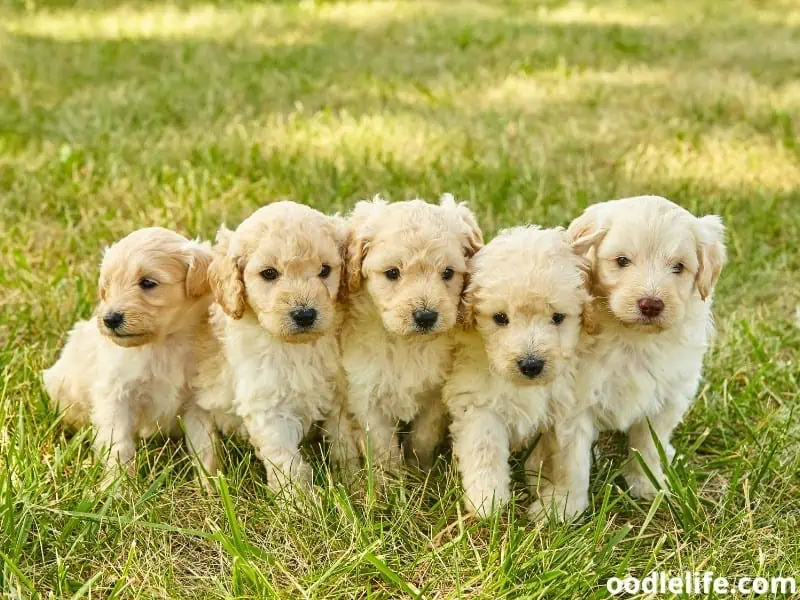 All their puppies are family-friendly, with a nice temperament and exemplary social skills.
Their puppies enjoy the warm and cozy environment where they live. The breeder has puppy cams installed all over, making it easier for them to monitor them 24/7.
Puppies get everything they require for optimal growth. For instance, they eat nutritious food and use supplements to boost their growth. Puppies also have a playing field where they exercise and strengthen their bones and muscles.
Shannon Doodles has a strict breeding program using the best pedigrees. Besides, their experienced team spends countless hours researching the parent dogs to ensure they pick the best that don't have genetic health complications.
Sires and dams undergo testing for good eyes, functional elbows, hips, and hearts. All these health checks are there to ensure your new furry friend is healthy and fit.
Shannon Doodles haven't mentioned anything about providing clients with a health guarantee for their puppies.
Breeder Details:
Sunshine Doodles
Sunshine Doodles have a proven track record for breeding dogs and have been in the business for over ten years. They mainly focus on Teddy bear Goldendoodles of F1, F1b, and F2. You can also find multigene generation breeds at their pet store.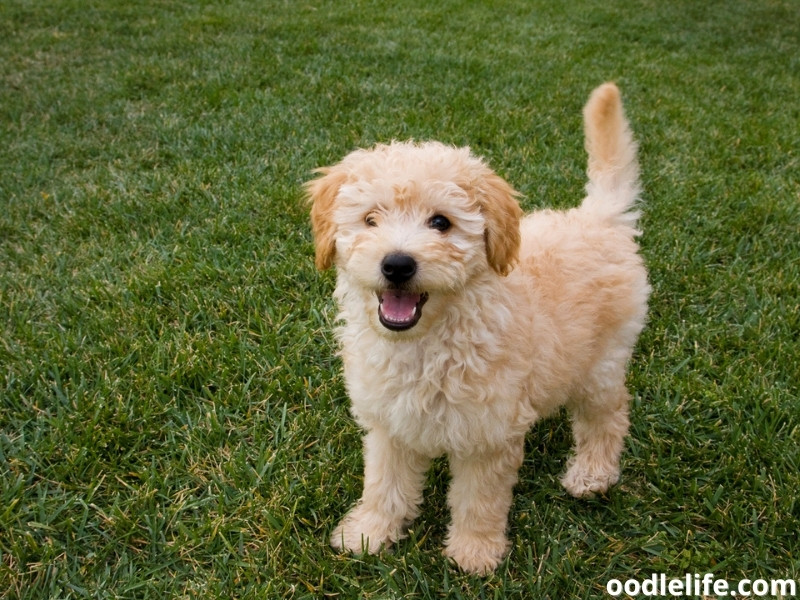 Sunshine Doodles boast about its robust breeding program that strives to ensure they use the perfect dog breeds. Parent dogs usually go through a rigorous selection process. The sires and dams must be healthy, intelligent, and of good temperament.
Since Goldendoodles have certain genetic defects, they are normally vet-checked to guarantee that they are healthy and fit for adoption. The breeder provides its puppies with a friendly and social environment as they prepare them for adoption. Puppies eat nutritious meals and get regular supplements to support their growth.
Sunshine Doodles also has a socialization protocol for their Goldendoodles. Puppies get to mingle with people of different ages. Goldendoodles can also interact with other stimulating sounds, sights, and textures.
You can get a perfect bundle of joy that suits your lifestyle in every way.
Breeder Details:
24 Karat Doodles
If you're looking for a Goldendoodle that can still serve as a therapy dog, 24 Karat Doodles is a great choice. They started in 2016 and continue doing an amazing job in developing a Goldendoodle community that primarily focuses on the dog's health, structure, and temperament.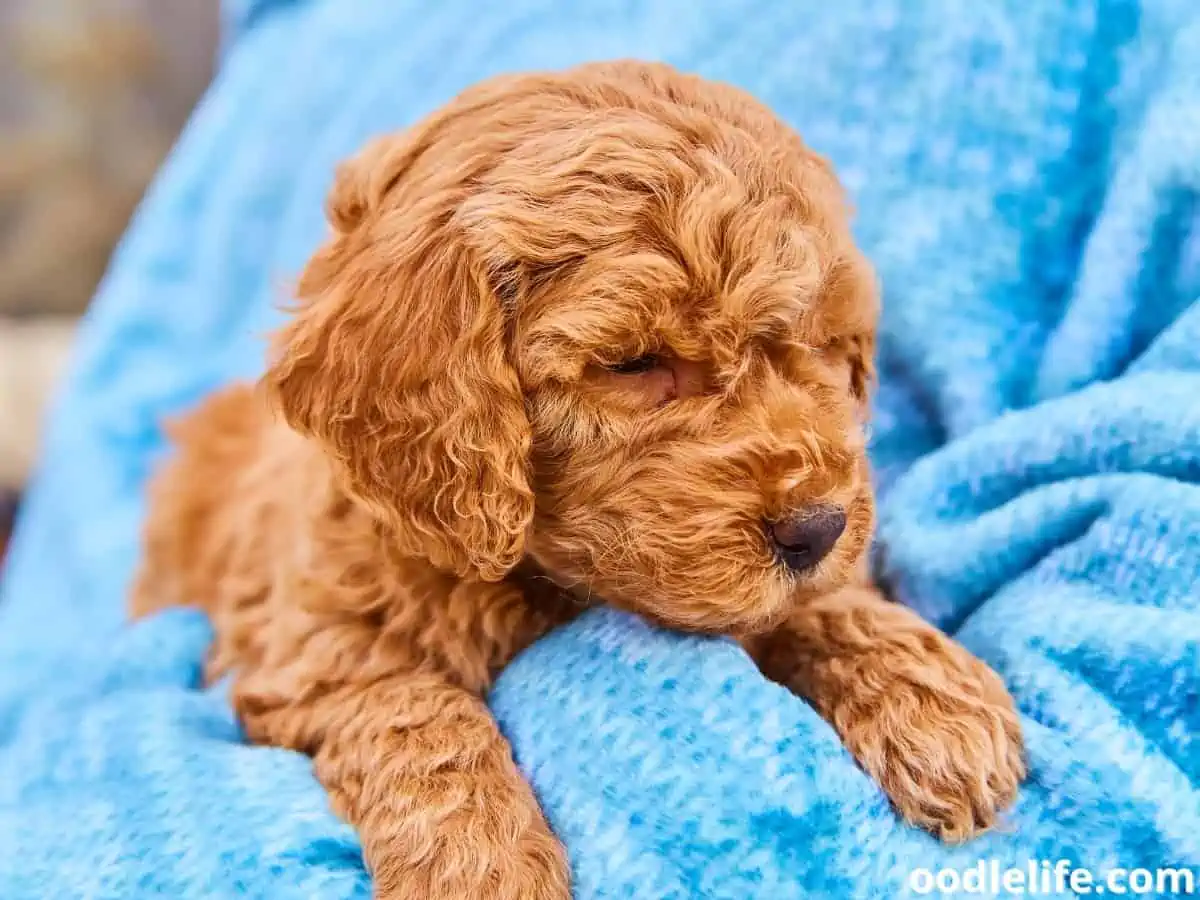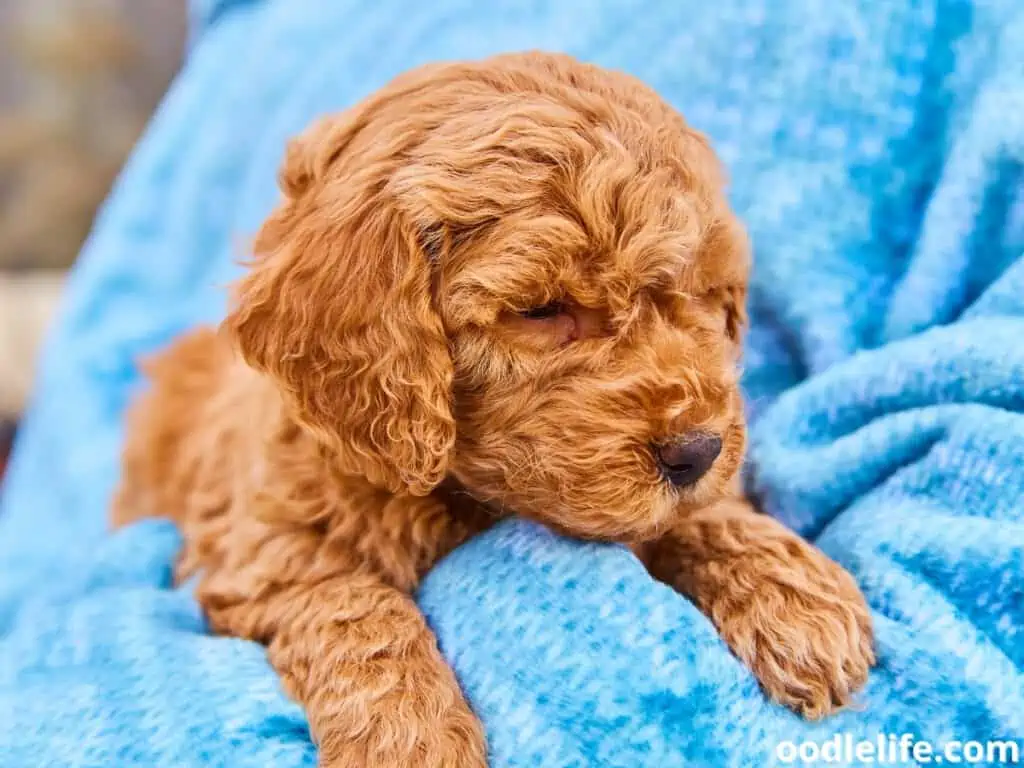 24 Karat Doodles produce Goldendoodles that are well-trained, intelligent, gentle, and compassionate. These breeds are low-shedding, making them the perfect choice for individuals with dog-hair allergies.
Puppies at 24 Karat Doodles enjoy the family setting where they get the love and care they deserve. Goldendoodles are well-trained to be social within and outside a home. Therefore, it should be easy for the new pet owner to train their dog to fit their lifestyle.
Puppies at 24 Karat Doodles also undergo thorough inspections to ensure they don't have any underlying health complications.
Breeder Details:
Conclusion
Finding Goldendoodle breeders in Nevada doesn't have to be difficult. This guide has provided you with a list of options you should try. The good thing about the breeders featured in this post is that they have been in business for quite some time.
Therefore, you can make intelligent decisions by checking their reviews online before relying on their services.