11 Great Toys for Poodles [Imaginative Play]
Poodles can be wonderful pets for you and your family. Poodles are curious and intelligent animals who are always willing to have fun and have a seemingly bottomless source of energy.
These playful pups love bonding with their human friends and are eager to train and learn new tricks. This means that poodles can make for engaging and fun companions, but it also means that it takes some effort to keep them entertained.
These curly-haired dogs love to chew and play, making buying plenty of good toys essential to protecting your items from being torn up by your fluffy pal. Satisfying a poodle's natural curiosity and keeping up with their energy can feel like a full-time job, but choosing the right toys will help both you and your pup stay happy and fulfilled.
Read on to learn about some of our favorite toys for poodles.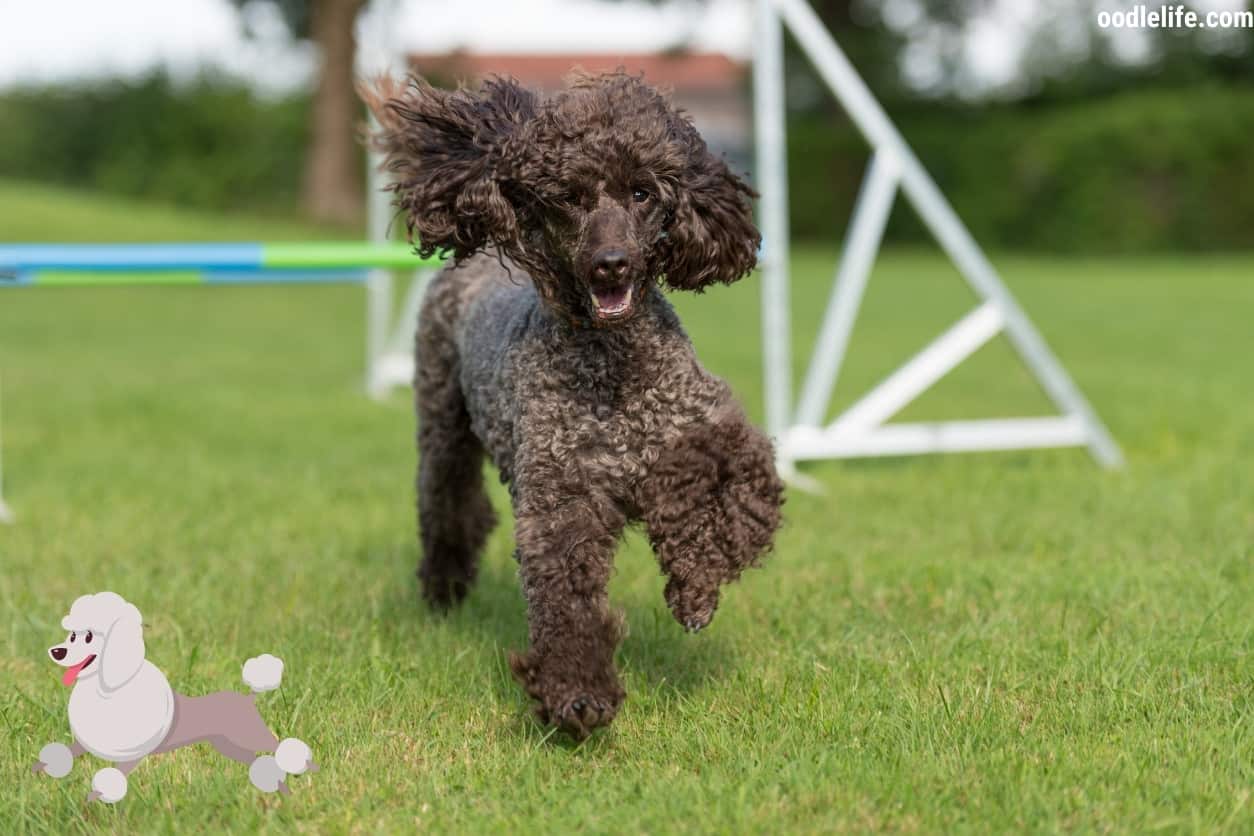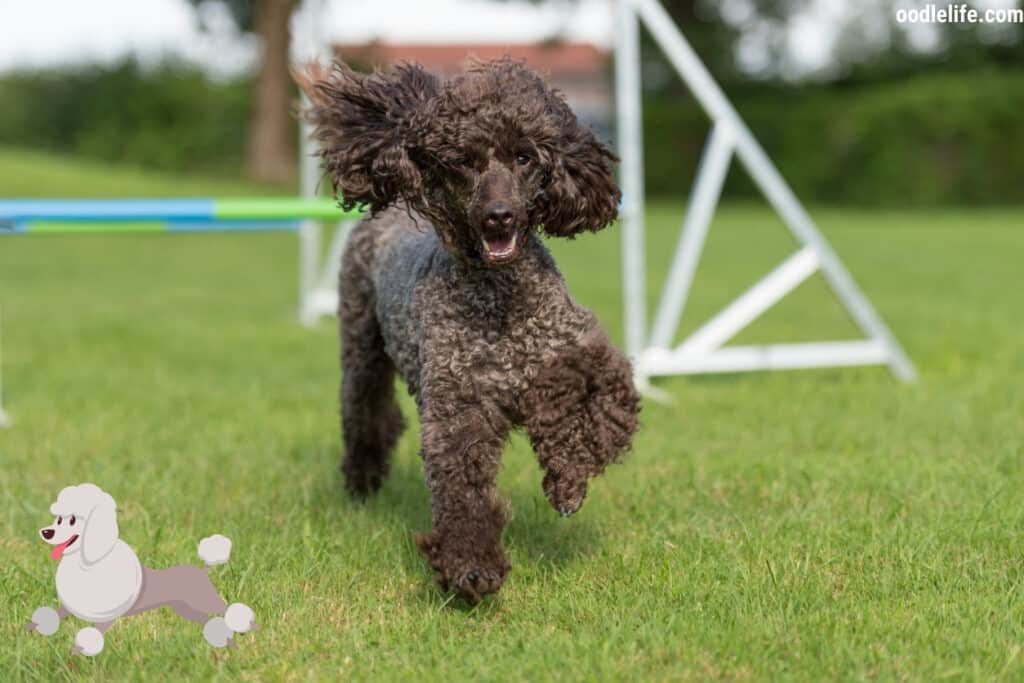 Why Poodles Need to Play
A poodle's physical and mental health is largely dependent on staying physically active and intellectually engaged. Most people recommend giving your poodle up to an hour of exercise each day.
Beyond physical health, your poodle is a highly social and intelligent animal, and they will be most fulfilled when they are challenged by interactive toys and engaged in shared playtime with their owner.
Having the right toys can be a huge help for keeping your poodle happy and healthy. Here are some of the best dog toys that your poodle can benefit from.
Pet Qwerks Talking Babble Ball
This chatty ball dog toy from Pet Qwerks makes a lot of noise—over 20. The interactive Talking Babble Ball produces the typical noises you associate with dog toys, including a range of squeaks and chirps, but it also extends its repertoire to include human speaking sounds that will support your poodle's social engagement needs.
Outward Hound Hide-A-Squirrel Interactive Puzzle Toy
Sale
Outward Hound Hide A Squirrel Plush Dog Toy Puzzle, XL
HIDE & SQUEAK FUN: The Hide A Squirrel dog puzzle is an easy way to get your furry friends engaged for hours of fun! Just fill the tree trunk with 6 stuffed squeaky squirrels, toss it, and let your dog's natural hunting instincts kick in!
2-IN-1 INTERACTIVE PLAY: Toss the squirrel-filled trunk, place it on the ground, or take the squeaky plush toys out and launch them for a game of fetch your dog is sure to love!
CHALLENGING & IRRESISTIBLE: Keep boredom at bay and your curious canine mentally-stimulated while feeding their natural instincts to hunt with plush squeaky squirrels they won't be able to resist!
GENTLE ON THE TEETH AND GUMS: The stuffed plush texture of the Hide A Squirrel dog toy is easy on the teeth making it a great choice for both puppies and adult dogs alike.
PLAY IT SAFE: No toy is indestructible. Do not leave toys with unsupervised pets. Remove and replace toy if damaged.
This clever plush toy will be sure to keep your poodle engaged. In this game, squeaky squirrel toys can be hidden inside a plush tree trunk, and your dog will try to find and extract them. The individual squirrels can also be played with on their own as squeaky toys.
This type of hide-and-seek toy is perfect for poodles because it combines the physical activities of chewing and nudging with the social-intellectual engagement of searching for an item hidden by its owner. Your poodle will be thrilled to show you how they can find the squirrels you've hidden for them.
Starmark Bob-A-Lot Treat Dispensing Toy
Sale
Starmark Treat Dispensing Bob-a-Lot Dog Toy
Adjustable treat dispensing toy
Large chamber fits whole meals
Weighted bottom wobbles. New adjustment gate on the bottom accommodates a larger kibble size and is easier to adjust
The Package Width Of The Product Is 5.4 Inches
The Bob-A-Lot Treat Dispensing Toy will keep your pup entertained and mentally stimulated as they try to reach their favorite treats. This round toy will bob and roll as your dog paws and chases it to access the snacks inside.
A treat-dispensing toy will give your poodle exercise, provide a challenging mental puzzle, and help them with slowing their eating and improving their digestion.
Kong Jumbler Ball Dog Toy
KONG Jumbler Ball L/XL -ASSORTED
Squeaker and tumbling interior ball entice play
Ideal for interactive fun
Handles make pick up and shaking easy
Available in two shapes: Ball and Football
The Kong Jumbler Ball Toy puts a tennis ball inside of a tumbler with a handle, allowing for a delightful shake and fetch game. The noise will surely engage your playful poodle and trigger their curiosity. Plus, the social game of fetch supports your poodle in feeling loved and emotionally fulfilled.
For bigger poodles who like to chew, the large size jumbler ball is a great durable toy that will survive many rounds of play with your pup.
Mammoth SnakeBiter Rope Dog Toy
For socializing, you can't go wrong with a rope toy. Nothing will make your poodle happier than to play you in a friendly and stimulating game of tug-of-war.
The SnakeBiter is an excellent variation on rope toys for dogs that are aggressive chewers, which most poodles are. This rope is thick and solid, allowing your dog to go to town without destroying a favorite toy. Also, the cotton rope fibers will give your dog's teeth a bit of cleaning while they play.
Outward Hound Tough Seams Squeaky Plush Dog Toy
Outward Hound Invincibles Blue Snake Plush Dog Toy, Large
TOSS, TUG, OR FETCH: The Invincibles Snakes are a great way to keep your pup active inside and out with a variety of ways to play and learn together.
DOUBLE THE SEAMS & DOUBLE THE LINING: Our Invincibles plush dog toys are uniquely designed with an inner Dura-Tuff lining and reinforced with double stitched seams to withstand longer days of interactive playtime traditional plush toys can't!
NO STUFFING, NO MESS: Stuffing-free is the way to be for playful and rambunctious pups. Instead, our Invincible Snakes come with multiple squeakers for multiple rounds of toss and tug fun even when bitten!
FIT FOR BIG BITERS: The Invincibles Snakes are available in 3 different sizes so you can choose the right fit for your dog's size and activity level: Large (3 squeakers) XL (6 squeakers) XXL (12 squeakers)
PLAY IT SAFE: No toy is indestructible. Do not leave toys with unsupervised pets. Remove and replace toy if damaged.
Getting a quality squeaky toy is a great idea if you want your poodle to stay engaged while you're out for the day. This squeaky plush toy makes a distinct noise and comes in bright colors that will catch your dog's attention.
The Outward Hound brand is especially good for poodles because of the durability of their squeaky toys. Although this plush squeaky toy is small and light, the construction is extremely tough and will withstand extensive chewing and tearing. Apparently, in some cases, the squeaking device will remain functional even when the fabric has been punctured.
Chuckit! Ultra Ball
Sale
ChuckIt! Ultra Ball, Medium (2.5 Inch) 2 Pack
ULTRA BOUNCE BALL: This ball toy for dogs entices play withhigh impact bouncing! Play fetch at the lake or pool thanks to the lightweight, buoyant design. Compatible with Chuckit! ball launcher.
TOUGH & DURABLE: Rubber ball for dogs has a textured surface & a thick rubber core for aggressive chewers yet is soft on dog's mouths.
PET TOYS: Get ready for bonding & fun with your dogs & cats! Check out a variety of our pet toy products such as frisbees, perches & mirrors for birds, prey wand toys for cats, plush toys, light-up interactive toys & more.
CHUCKIT! FETCH TOYS: Chuckit! creates toys that enrich the human-animal bond & bright colors help dogs & puppies stay engaged. Checkout Chuckit! for ball launchers, bouncy balls, frisbees, indoor dog toys, glow toys & more!
JUST FOR PETS: Petmate makes a variety of pet products for dogs, cats, chickens & other small friends! Check out our brands such as Aspen Pet, Arm & Hammer, Booda, Chuckit! , Jackson Galaxy & more!
Playing fetch is one of the best ways to socialize with your dog and get them to socialize and the Chuckit! Ultra Ball is one of our favorite designs on the market for ball toys for poodles.
Made of a durable rubber material that will hold out against your pup's enthusiastic chompers, this ball has a squeaky toy inside to catch your dog's attention and keep them engaged. In addition, these balls come in bright and contrasting colors that will be easy for your poodle to see.
Trixie Activity Flipboard
TRIXIE Dog Activity Flip Board | Level 2 Dog Puzzle | Interactive Toy for Beginners
INTERMEDIATE LEVEL FUN: The Flip Board - Level 2, puppy puzzle is a fun hide-and-seek challenge that requires your pup to learn how combined actions lead to tasty rewards! Great for pups and small dogs who have mastered TRIXIE's Level 1 puzzles.
CHALLENGING YOUR PUPS MIND: The Flip Board is an interactive treat puzzle game that works your dog's mind while reducing boredom and destructive behavior. There are varying number of placement options. Hide treats under cones or sliding disks. For an added challenge, hide treats under doors which the pup uses a flipping arm to discover!
DURABLE DESIGN: Made with a non-slip rubber ring keeps the base in place. The Flip Board is a game that is built to last for hours of fun! Train your pup not to chew on the toy by removing it after the treats have been eaten.
PLAY IT SAFE: No toy is indestructible. Do not leave toys with unsupervised pets. The Flip Board includes a booklet with tips and tricks for optimal training.
EASY TO CARE FOR: Easy to clean with warm water and soap between uses.
We love this cute activity board for any poodle that has excess nervous energy or anxiety. In this interactive game, treats are hidden in various compartments as a challenge for your dog. Different shapes like cones and circles cover the chambers, and dogs must lift the covers off instead of pushing them aside to access the treats.
This is a challenging game that will keep your poodle's mind at work and hold their attention for a long time. The rubber grip keeps the activity tray in place, and the toy is dishwasher safe for easy cleaning.
Chuckit! Flying Squirrel
ChuckIt! Flying Squirrel Spinning Dog Toy, (Orange/Blue), Multicolor, Medium (10 in x 10 in) (0511300)
FLYING DOG TOY FOR LARGE DOGS: The flying squirrel frisbee spinning toy for dogs is aerodynamic for playing fetch in the yard or park Lightweight and buoyant material is made for poolside and lakes
RUGGED TOUGH: The flying squirrel is a durable toy for dogs is designed to withstand chewing tossing Curved sides of the flying disk allows pets to easily retrieve toy Frisbee glows in the dark for night time play
PET TOYS: Get ready for bonding fun with your dogs cats Check out a variety of our pet toy products such as frisbees, perches mirrors for birds, prey wand toys for cats, plush toys, light-up interactive toys more
CHUCKIT FETCH TOYS: Chuckit creates toys that enrich the human-animal bond bright colors help dogs puppies stay engaged Checkout Chuckit for ball launchers, bouncy balls, frisbees, indoor dog toys, glow toys more
JUST FOR PETS: Petmate makes a variety of pet products for dogs, cats, chickens other small furry friends Check out our brands such as Aspen Pet, Arm Hammer, Booda, Chuckit, Jackson Galaxy more
This frisbee-style dog toy is extra durable and glows in the dark, making for a fun and long-lasting poodle toy. For additional usability, this toy can float—be sure to bring this with you if you ever bring your poodle out to a pool or lake.
For extensive games of fetch, this tough and aerodynamic toy will keep your energetic dog happy.
GoughNuts Ring Dog Toy
Sale
Goughnuts Original Medium Dog Chew Toy Ring for Aggressive Chewers from 30-70 Pounds in Green. Durable Rubber Dog Chew Toy for Medium Breeds and Power Chewers
Same Rubber the Astronauts Use - Seriously: Our reinforced natural rubber is designed by engineers that make rubber for spaceships and aircraft. UNIQUE DURABILITY FOR UNIQUE DOGS: We have multiple rubber recipes to better suit all dog types. Please reference the sizing sheet in the images.
Multiple Sizes Perfectly Fit Your Pooch: We have sizes for every type of dog jaw and chewing intensity. After many years designing chew toys, we found it's healthiest to use a toy that reduces leverage in the dog's jaw, by forcing the jaw to stay more open while chewing. Follow our sizing chart in the images! This is the medium size for dogs 30-70 Pounds.
Save Money and Your Sanity: ruined pillows, couches, or clothes that have been chewed up. No more wasting money on interactive dog toys that break in a week. Save your money with our chew toys that will last a lifetime AND be satisfying and safe for your dog to chew on. Veterinarian recommended.
For Strong Chewers: This toy is sized for strong chewers 30-70 pounds with our orignal rubber. Floats like an ice cube. Red Safety indicator core indicates if you should remove this power chewing toy from your dog and return to Goughnuts for a replacement
Most Durable Toy On the Market, Guaranteed: Lifetime Warranty - You're backed by Amazon's money back guarantee, and Goughnuts lifetime warranty. Family company, made in the USA
When it comes to toys for poodles, durability is key. Poodles can be downright obsessive with their chewing, and this ring-shaped chew toy can be a great solution for protecting your shoes and furniture.
The thick rubber will last for a long time, and a convenient red safety indicator inside the toy will alert you when it has become too worn down to be safe for your dog.
Busy Buddy Bristle Bone Treat Dispenser
Sale
PetSafe Busy Buddy Bristle Bone Chew Toy for Dogs – Strong Chewers – Helps Clean Teeth –Purple, Large
TOOTHBRUSH IN A TOY: Includes rubber nubs and nylon bristles to help stimulate gums and keep teeth clean
3 TOYS IN 1: 3 chewing surfaces for your dog to gnaw on; includes 4 Busy Buddy treat ring refills (additional treat ring refills available separately)
DESIGNED FOR TOUGH CHEWERS: Made from durable nylon and heavy-duty rubber, this toy is designed to withstand a strong chewer
CURES BOREDOM: Long-lasting play with this interactive toy can help calm your dog's anxiety; made for dogs over 6 months old
EASY TO CLEAN: Top-shelf dishwasher safe
This handy toy smartly combines a tough chew toy with a stimulating treat dispenser. The Busy Buddy Bristle Bone features a durable material for chewing, rings for placing treats, and bristles to clean your dog's teeth as they chew.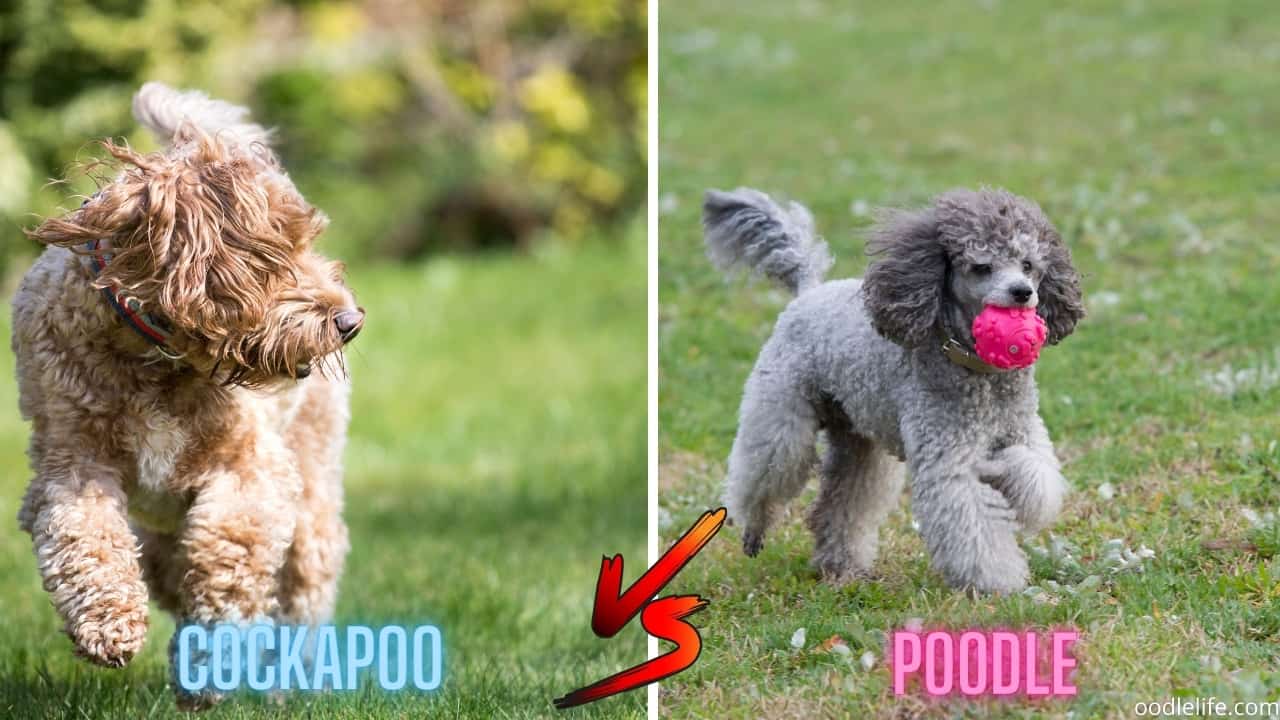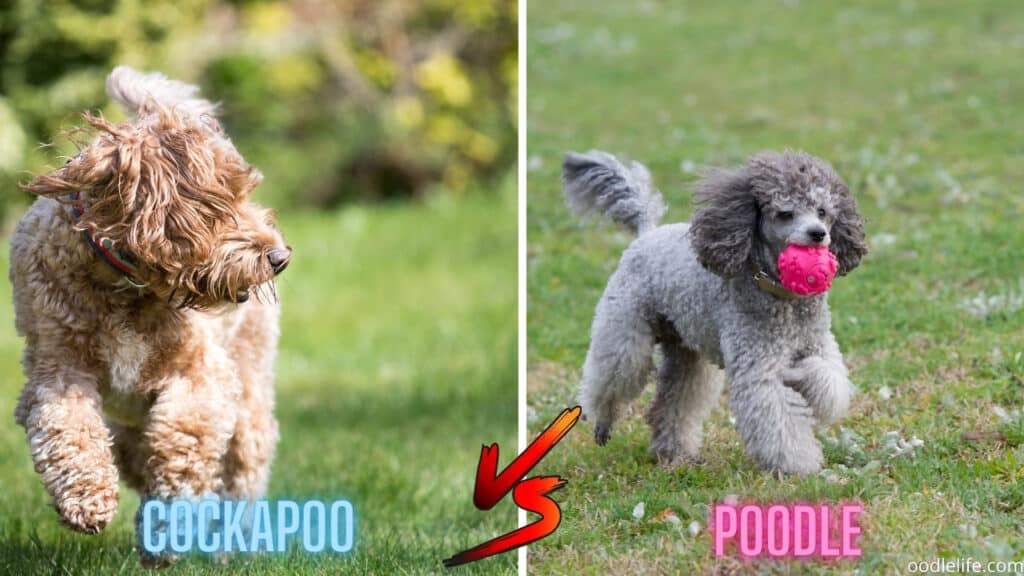 What to Look for in Poodle Toys
While these are our top picks for great toys for poodles, there are plenty of dog toys out there that work well for poodles. Key elements to look for include durability, interactivity, and opportunities for social play. No matter what toys you buy, poodles are fun-loving and curious animals who, above all, just want to spend time with you. Happy playing!