When Do Yorkies Change Color? (Puppy Coat Transition Guide)
Known for their affection, activity, and funny personality, the tiny Yorkie is a beloved breed. It is consistently one of the most popular dog breeds around, and it is not difficult to see why.
On top of their darling personalities, this breed is also adorable physically. However, did you know that Yorkies change color as they mature into adults?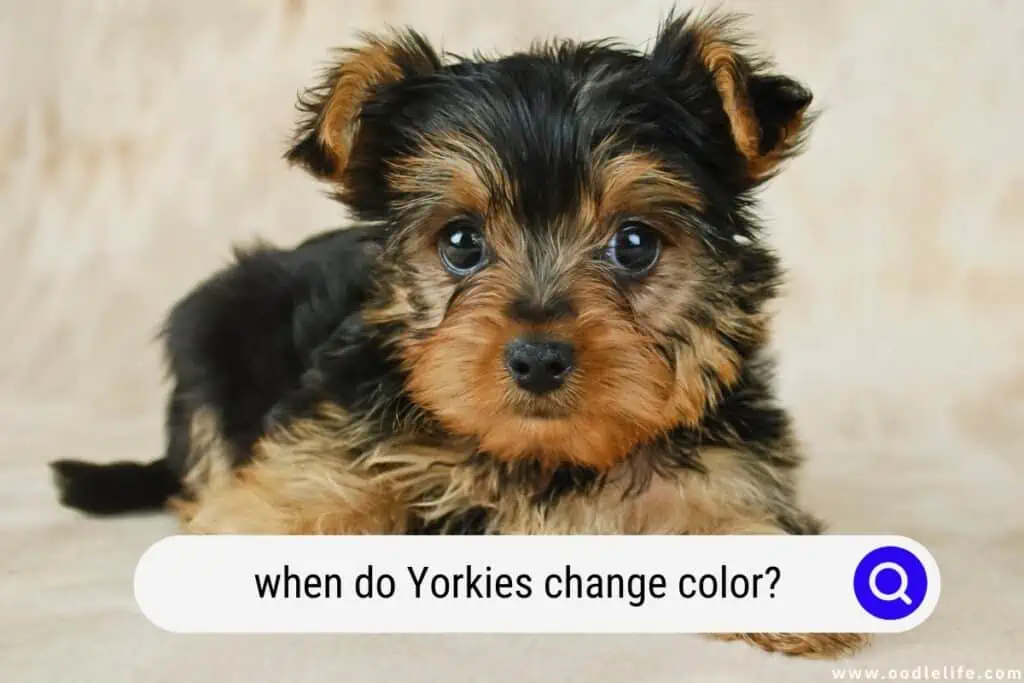 Read on to learn the answer to "when do Yorkies change color?"
What Are the Typical Colors for a Yorkie?
With dog breeding, there are acceptable standards for a dog to be accepted as a good example of a breed. Those variables vary by breed but often include body part shape, colors, and movement.
For a Yorkie to fulfill the breed standard requirements set forth by the American Kennel Club, they must be black or blue combined with tan or gold. Some addition of gray is acceptable at a Yorkie age. While young pups can be any color combination, the young Yorkies are often black and tan, while the adults are blue and gold after the color change.
The quantity of the black/blue with the tan/gold will vary from dog to dog. Often the majority of the dog is black or blue. Gold or tan bits may include the ear tips, muzzle, eyebrows, paws, and chest.
A Yorkie can be anywhere from almost entirely black to almost entirely tan and everywhere in between.
Do Yorkies Change Color?
Yorkies often change color as they age. That change is not usually dramatic. Most purebred Yorkie puppies have black and tan coloring.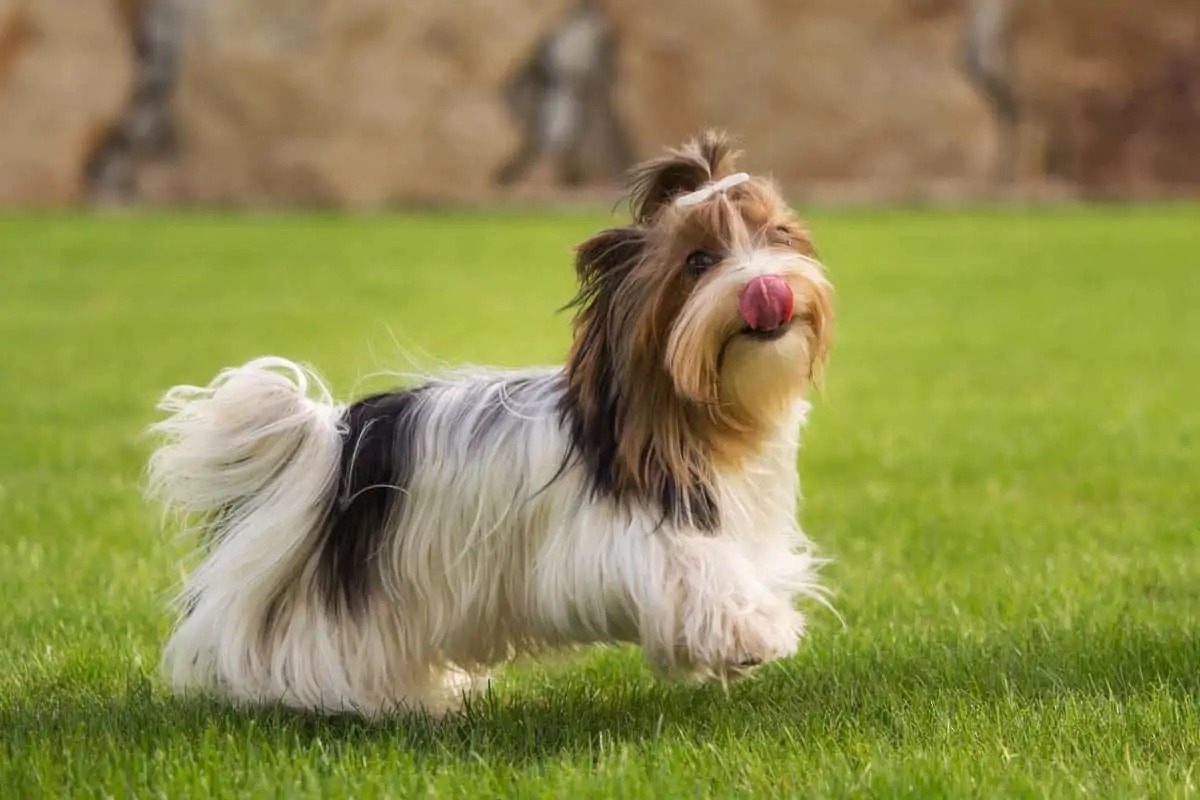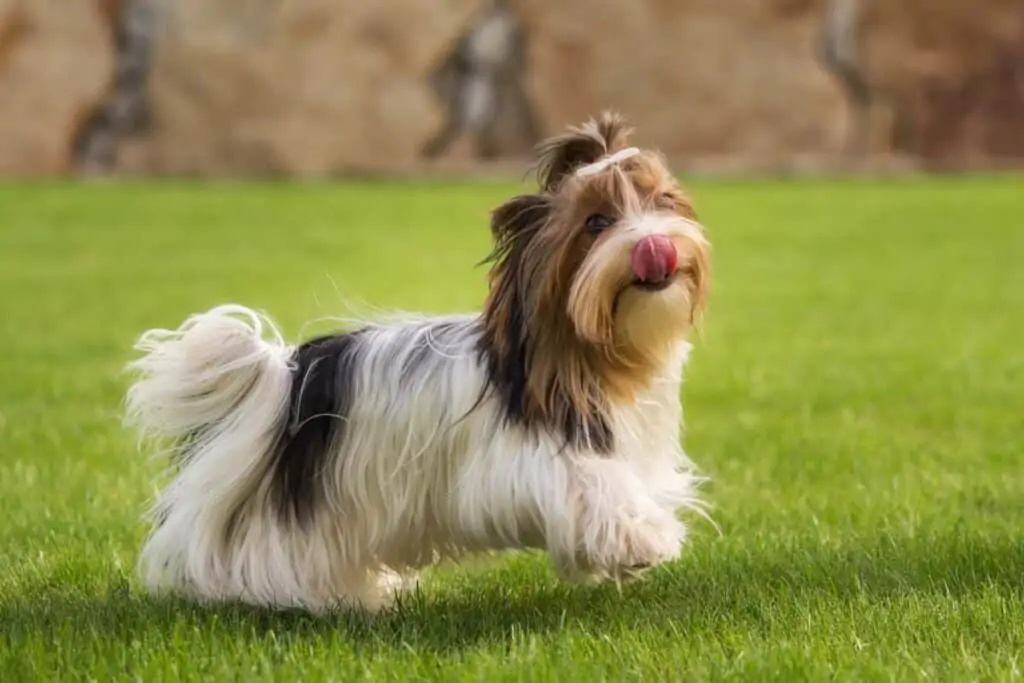 But when do Yorkies change color? Usually, it takes anywhere between six months to a year before changing.
Once the fur changes, the coat becomes lighter and gains some gray coloring. Some dogs may also have the amount of light or dark fur they have changed. For example, a puppy who had black fur on exactly half its body may now mostly have tan fur as an adult.
This color change is a normal part of growing up for your puppy. It happens gradually, and you will likely not notice it for a while after it starts. Even if it begins at six months old, the change may not be observable until they are a year and a half old.
If possible, look to your dog's parents to see what you can expect as they age. If you have other breeds, you may see color changes in their coats, as well, since changes such as these are typical for many breeds.
Why Do Yorkies Change Color?
A few variables contribute to a Yorkie's changing coat color. One of the main factors is a reduction in the eumelanin pigment in the fur from a genetic change. Less pigment means you have less color in the fur.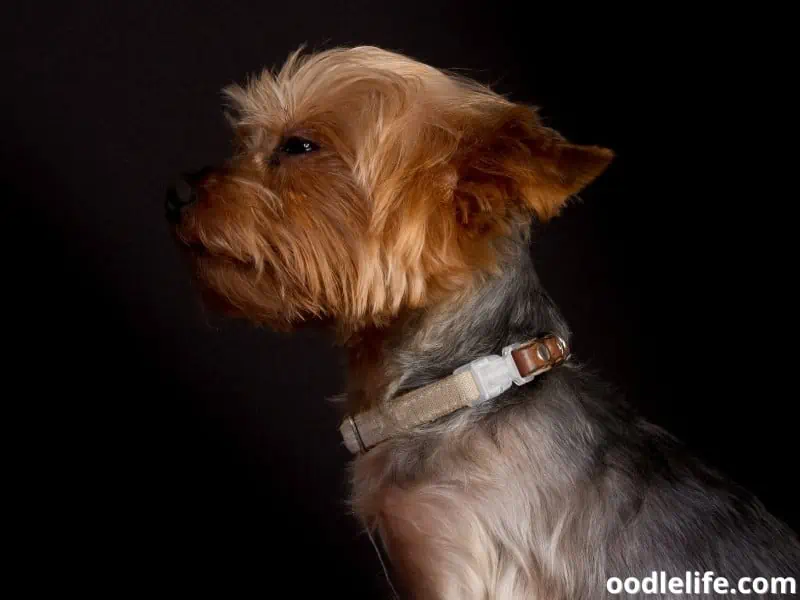 Some of these visible fur changes can also come from less visible hormone changes that occur as a pup ages.
A Yorkie may change color differently depending on its genetic makeup. If a dog has two copies of the gene that leads to the depletion of melanin, its coat will turn to a light silver. However, if they only have one copy, their dark fur will become a little silver, but not as dramatically as if they had two copies of the gene.
Should I Ever Worry About My Yorkie Changing Color?
Most of the time, changing coat colors is normal for Yorkies. The only times you need to worry are if the coat changes a lot right after an injury or if your dog is exhibiting behavioral changes. Hair changes can also be the result of a thyroid or hormonal problem.
Ensure they are eating normally and do not have any skin issues. Signals that something is wrong include damage to hair follicles, skin dryness, weight change, hair loss, odd hair texture, and excessive oiliness.
Changes in the coat are typical within six months to a year. If the change happens much earlier than that, you may want to check in with an expert. If you are worried about any changes in your dog, always check with your vet.
What Factors Affect Color in Yorkies?
There are a few variables that may affect the color of a Yorkie puppy and the adult they later become. Dog genetics and breeding can get complicated. However, the eventual phylogenetic appearance of a dog is the result of breeding and mutation.
Parentage
The parents of a dog are usually a place to look if you want to know what a pup will look like. Purebred Yorkie puppies usually have the traditional black and tan pattern. If you come across Yorkie puppies with other color patterns, they may be a mixed breed.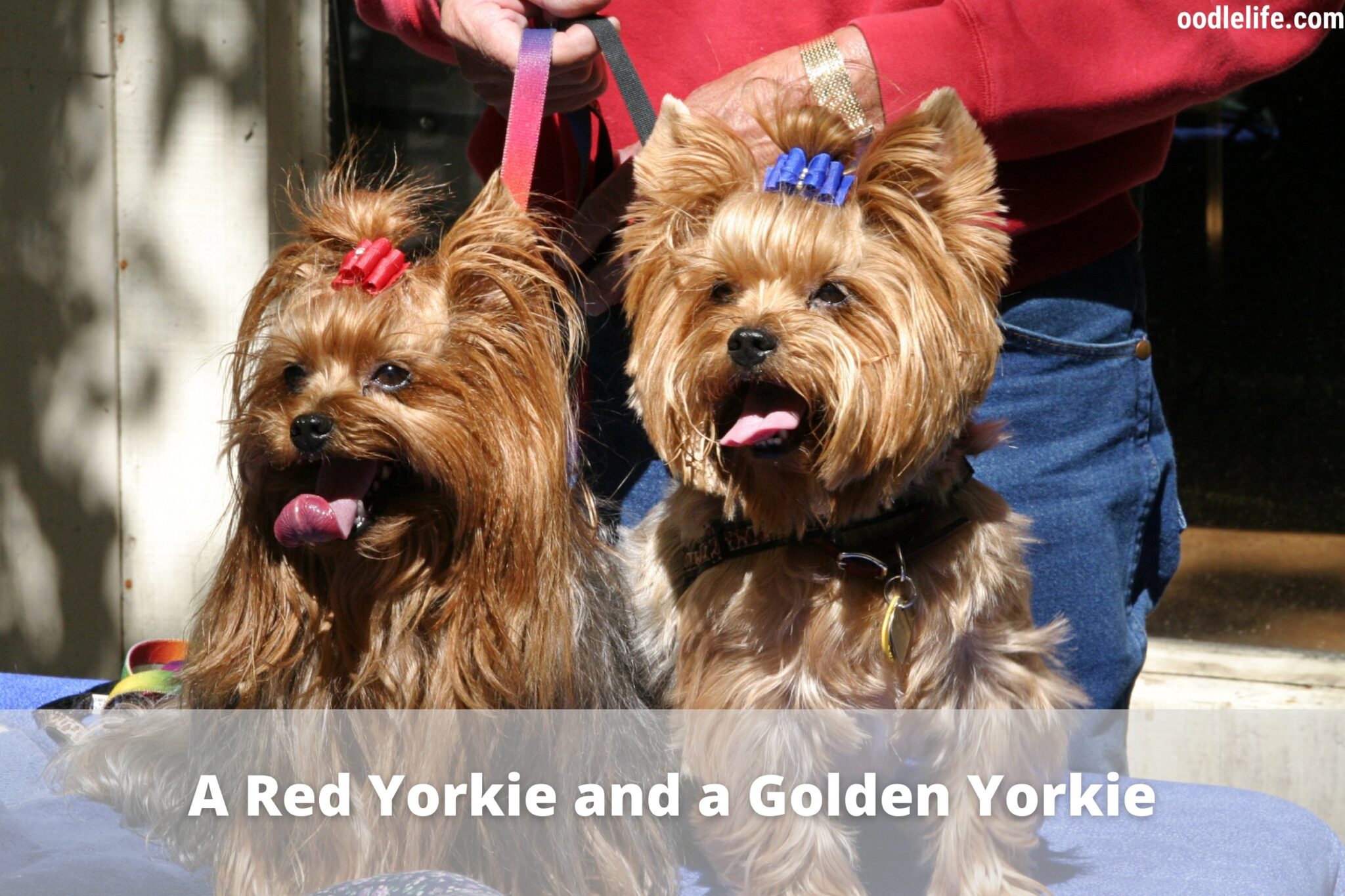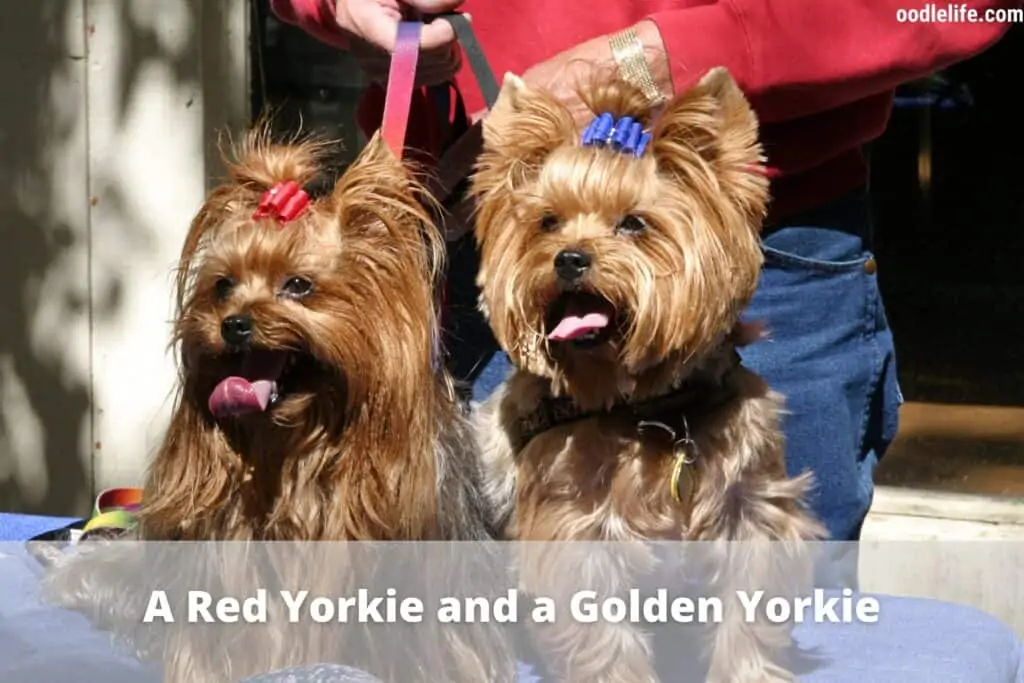 Mutation
Mutation can always affect the way a dog's fur comes in. Some Yorkies may end up with a solid color, such as gold. However, a single-color Yorkie can often indicate a disreputable breeder since most responsible breeders avoid making Yorkies with one color since that trait can correlate with health issues.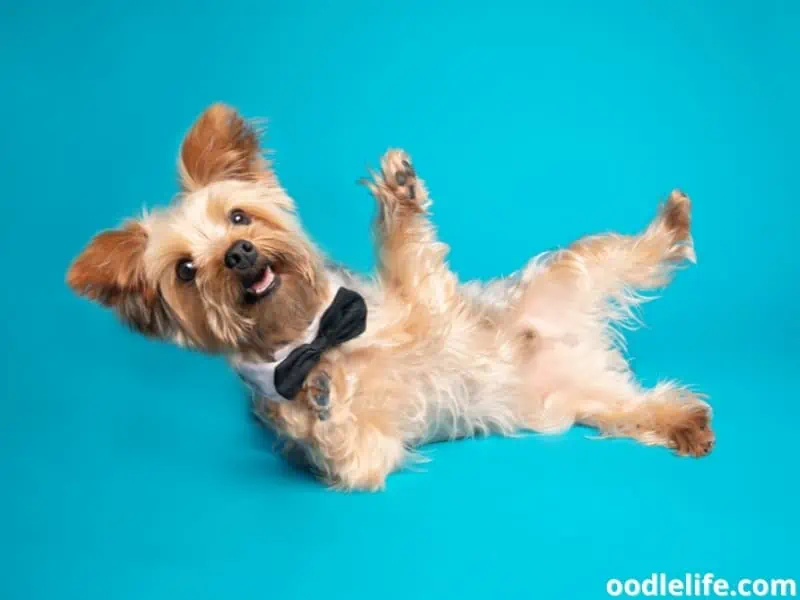 Some dogs may look like a Yorkie but have atypical colors because they are a different breed. For example, a white Yorkie-like dog may be a Biewer Yorkshire Terrier.
How Does a Yorkie's Haircut Affect Its Color?
Like many dogs, Yorkies have hair that grows long instead of fur that grows to a certain length before shedding. So, there are many ways to trim their hair depending on the style and maintenance you want. Most Yorkies should have a haircut about every four to six weeks.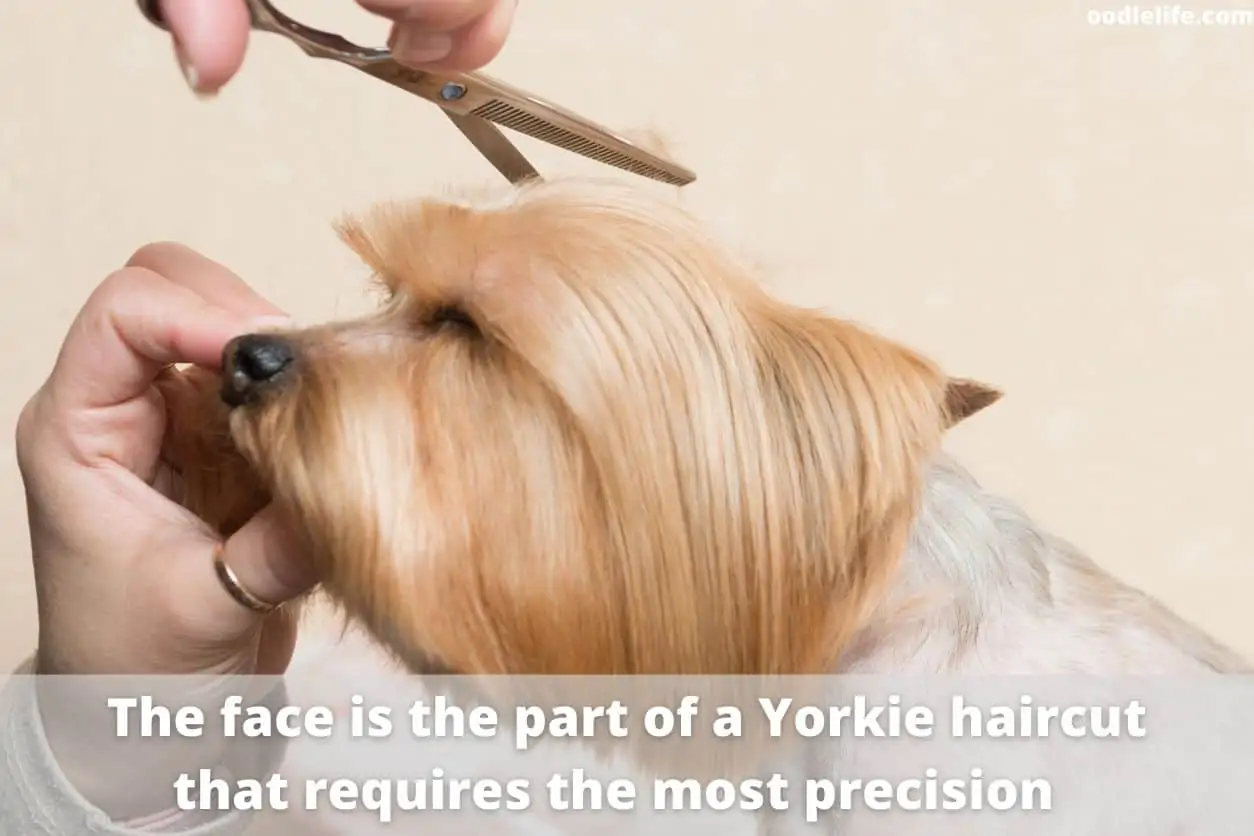 There are a few different coat types, including silky, wavy, or wooly. The silky straight hair grows the fastest, while the others take a longer amount of time. The coat type will not usually affect the color of the coat.
However, some textures can affect the way you see the color.
Typically, the way you cut your Yorkie's coat will not significantly affect the way the color of their coat looks. In some cases, growing a dog's hair long may show the transition to a different color and make the fur look darker. Popular short fur cuts include the teddy bear cut and the puppy cut.
These cuts look adorable. Depending on the pup, they can also make the dog coat look lighter.
FAQs
Here are some frequently asked questions about Yorkie colors and coats.
What is a mismarked Yorkie?
If a Yorkie is mismarked, they have markings different than the ones agreed upon by the American Kennel Club. Simply, a mismarked Yorkie has anything other than black, blue, tan, and gold markings. So, if your pup has white spots on its chest and forehead, it will be considered mismatched.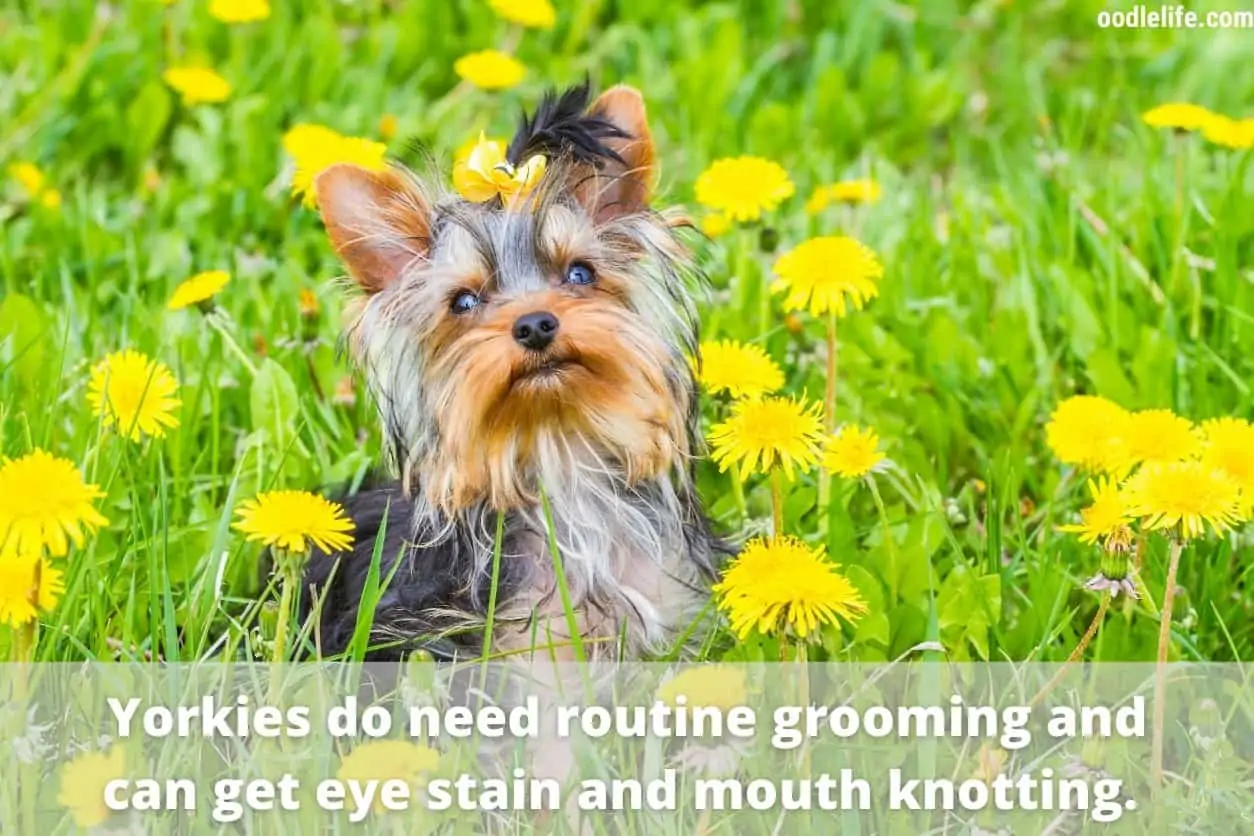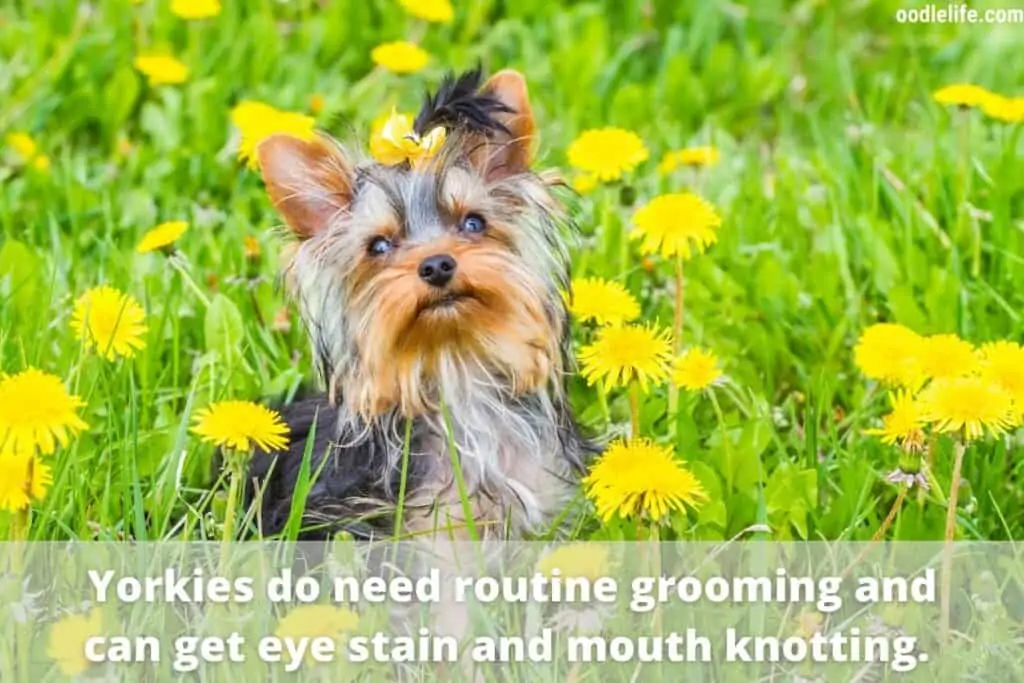 How often should I brush my dog's coat?
If possible, you should brush your Yorkie's coat every day. Regular brushing is even more essential if your dog's coat has texture in it or if they have longer hair. Proper grooming must also include teeth brushing after meals and weekly ear cleaning.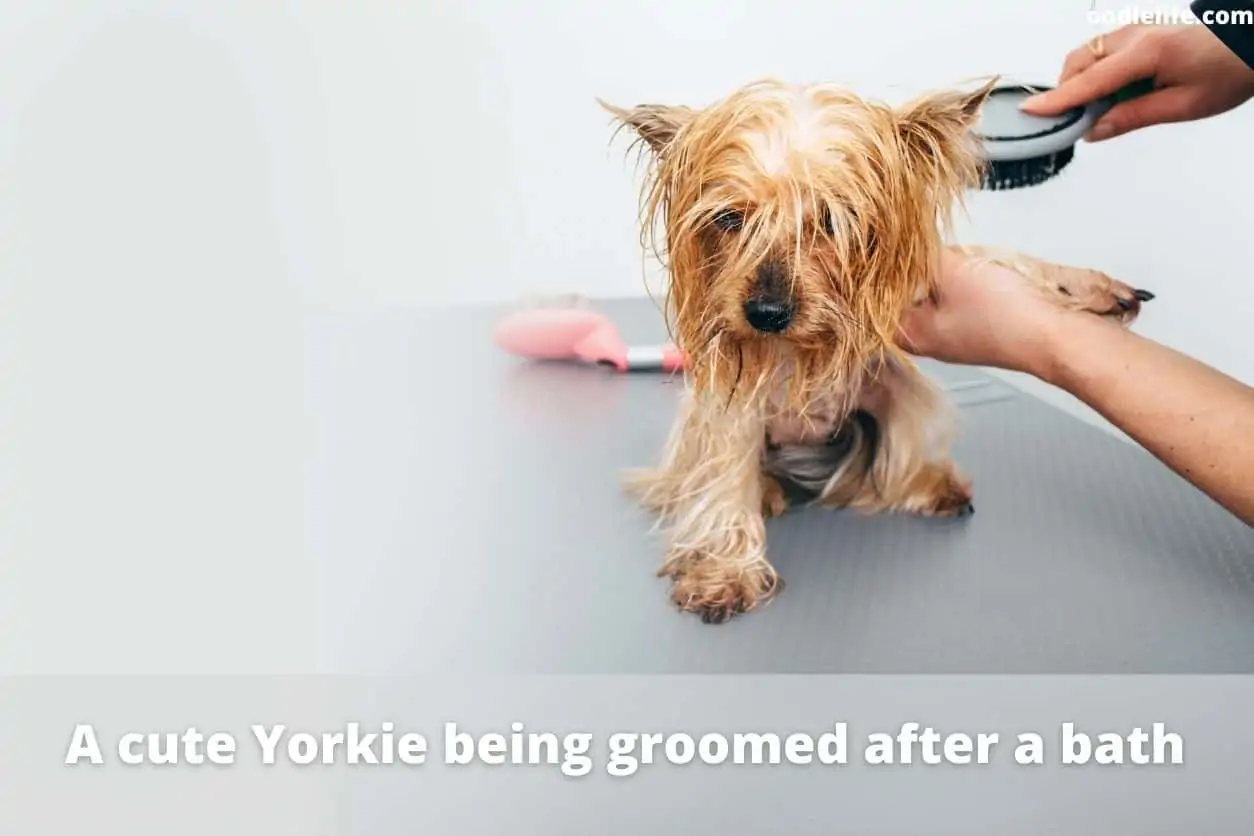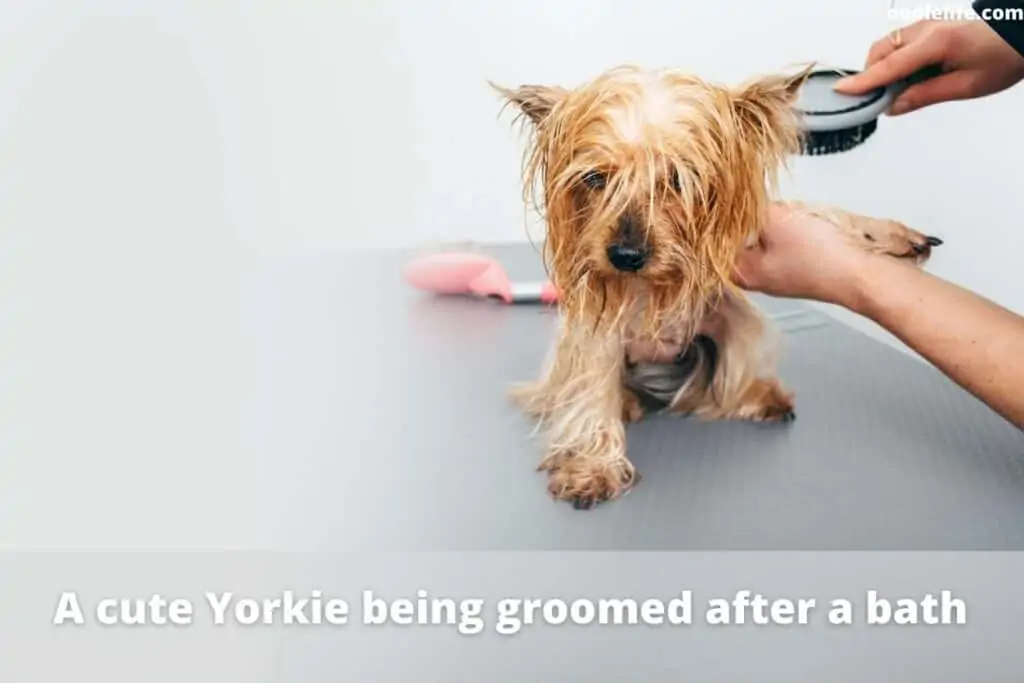 Start a grooming routine early to ensure your puppy gets used to grooming quickly.
What dogs look similar to Yorkshire Terriers?
In the majority of this article, we discussed the strict definition of what a Yorkie looks like. Many other dogs look similar but do not fit the requirements of Yorkshire Terriers.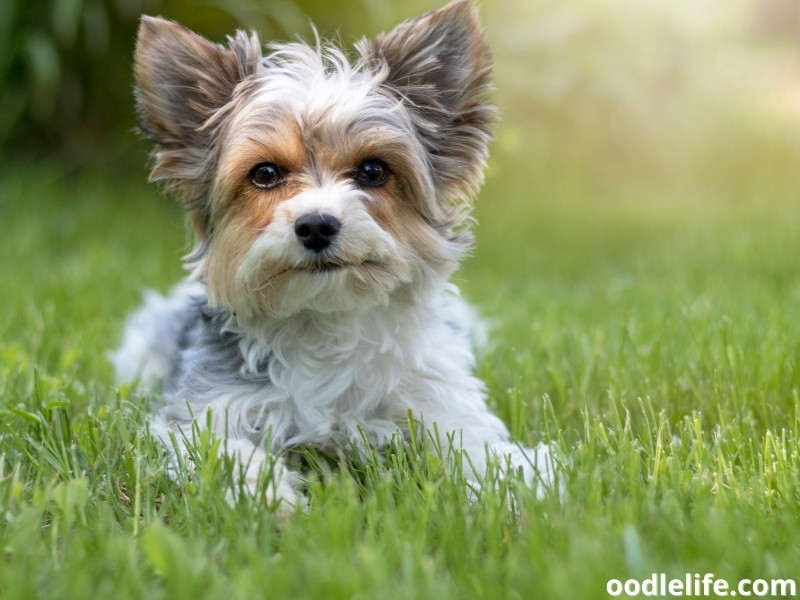 Parti Yorkies are white, black, and tan. Black Yorkies are either fully black or black with some white spots. Biewer Terriers are tricolor and toy sized.
When is a Yorkie fully grown?
A Yorkie is fully grown around a year old, though some elements may be fully grown a few months before that. So, you can track their color change as their adolescence ends. The exact timeline can vary from dog to dog, but this is the general guideline.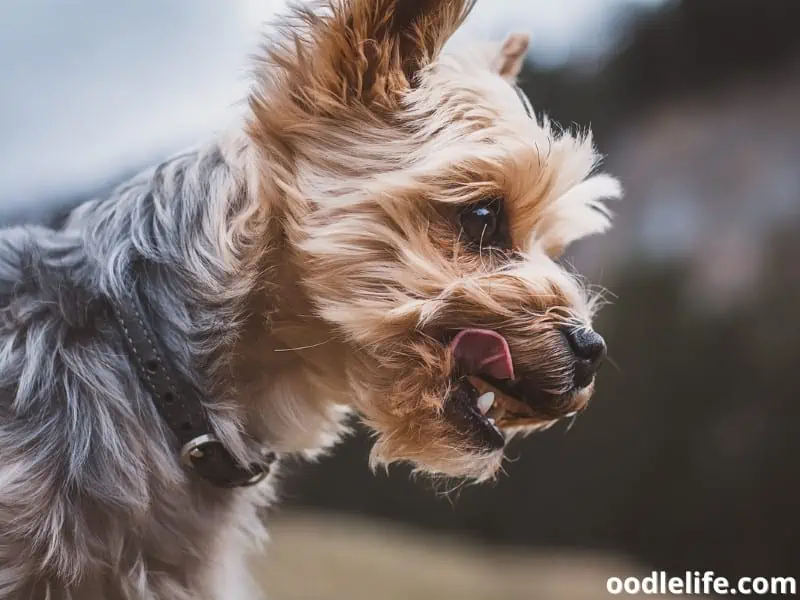 What breeds commonly mix with Yorkies?
Yorkies can mix with several different breeds to create mixed breeds. Some common breeds to mix with include Poodles, Bichon Frise, Pomeranians, Shih Tzus, Chihuahua, Maltese, and Beagles. Depending on the exact breeding pattern, the product of a Yorkie with another breed may have some colors in common with Yorkies but other colors in common with the other breed.
Final thoughts
So, when do Yorkies change color, and is it normal? Changing fur color is perfectly normal for a Yorkie as they become adults. Usually, young pups start black and tan before gaining some grey fur as adults.
You may find your specific Yorkie uniquely changes color since every dog is unique.