Teacup Yorkie Harness and Best Yorkie Harness (2023) 
Like any other dog breed, your Yorkshire Terrier deserves a well-fitting, comfortable harness for their walks. But because this dog breed is so tiny, many Yorkie owners struggle to find a suitable harness for their pup.
So if you've been seeking some high-quality Yorkie harnesses, your search can end right here. I've chosen five of the best harnesses for Yorkies, all of which you can easily buy online.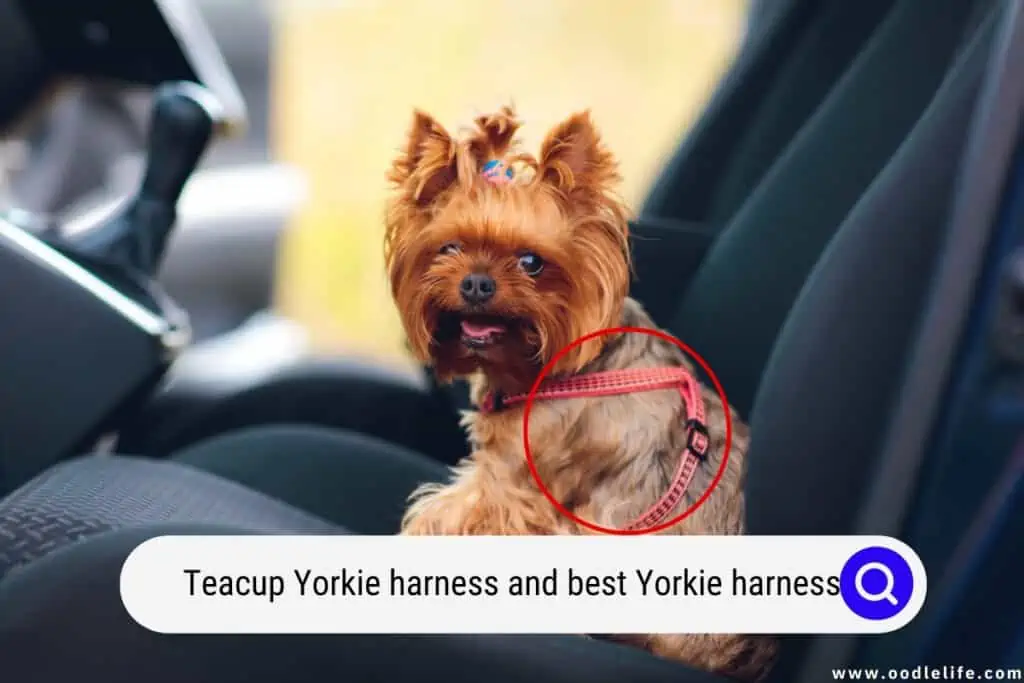 The Best Harnesses for Yorkies
Not all Yorkies have the same needs, so if I were to narrow this list down to just one Yorkie harness, I'd be doing you and your dog a disservice.
Instead, I've chosen my favorite Yorkie harness overall and provided four alternatives for those with different preferences.
So no matter what kind of harness your Yorkie needs, there's a good chance you'll find one in this upcoming list.
Best Harness for Yorkies Overall – KoolTail Soft Mesh Plaid Puppy Harness
If you're struggling to decide which harness is best for your Yorkie, this product from Kooltail is a pretty safe bet. It's comfortable, durable, and pretty easy to use.
KOOLTAIL Soft Mesh Plaid Puppy Harness (SMALL Dogs!)
Quality Material: Made of 100% polyester, which is soft, lightweight, and breathable fabric. This air-mesh dog harness is designed to reduce tugging and pulling on your pet's neck. No complex decoration, but comfortable and safety performance.
Reflective: The reflective material will make your dog more visible and safe in dark. It makes drivers have a long time to react if your dog is on the road. Reflective straps are really nice while out for a walk.
Classic Plaid Pattern: Unique beige plaid design is not the latest fashion, but it's never out of date. Simple style suits almost any breeds of dog and integrates into different environments. Your dog would be attractive and cute when wearing.
Easy Step-On: The hook&loop and quick-release buckle make it to effortlessly slip on or off your dog in seconds. Each harness is with a leash, double D-rings allow them to connect securely. Great for walking, running, hiking, and all outdoor activities.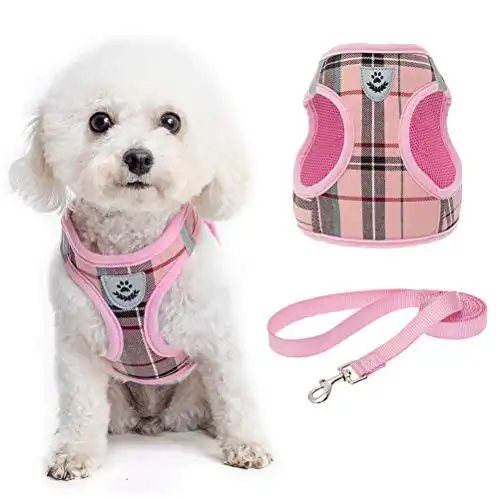 We earn a commission if you make a purchase, at no additional cost to you.
This Teacup Yorkie harness has breathable mesh material. This feature allows your dog to move comfortably and stay cool in warm weather. Best of all, it has an adorable pink plaid design.
Pros
It's very easy to put on, making it ideal for Yorkies who often fuss with harnesses.
It has reflective bands that can help your dog stay visible during the nighttime.
This harness has an adjustable strap to ensure a comfortable fit.
Cons
The Velcro on the back can wear down over time.
It only comes in one color.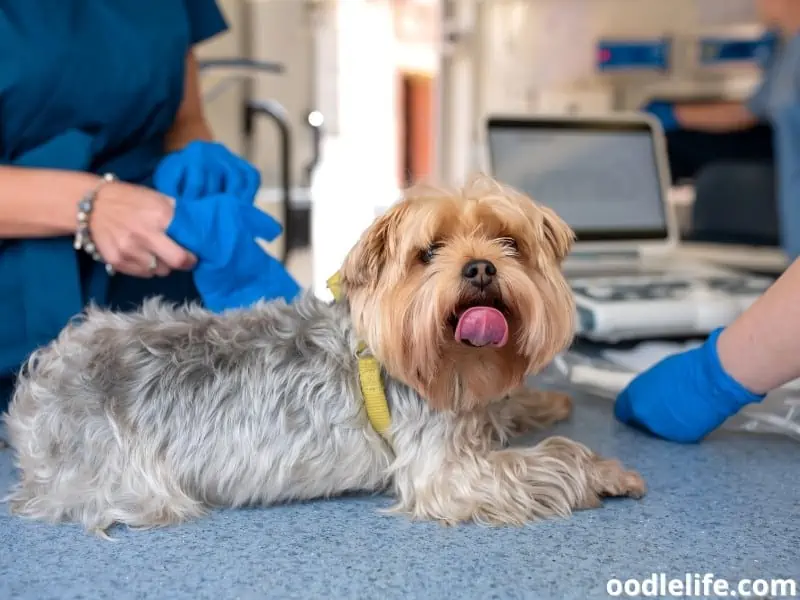 Best Yorkie Harness for Nighttime Walks – Vizbrite Light-Up LED Dog Harness
If you want a peaceful walk with your dog, nighttime can be one of the best times to do it. It's also a great time to walk during the summer since temperatures tend to be cooler after sundown. And if you choose an LED light harness like this one, you can help your dog stay visible even when it's dark.
Light Up Dog Harness No Pull LED Dog Harness with Handle
🐕 Comfort Design for Your Dog and You 👉 This Dog Harness is designed with 2 breathable Soft Neoprene Padded panel to reduce the discomfort and pressure of your dog.
🐕 Protect and Spot Your Dog 👉 Vizbrite LED dog harness is super bright in the dark, which means it will keep your dog highly visible when your dog wears it.
🐕 No Pull Design 👉 As we all know, Our furry friends tend to pull a lot when they are excited to meet new furry friends or to feel nature.
🐕 Fully Adjustable 👉 This adjustable harness has 4 easy adjusting straps that you can use them to create a perfect fit for your dog.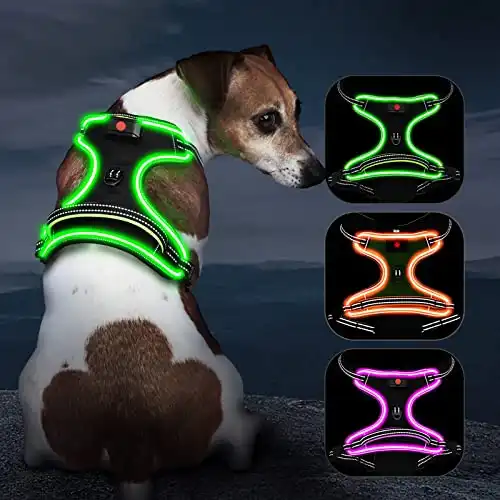 We earn a commission if you make a purchase, at no additional cost to you.
This durable Yorkie harness isn't just practical, but it's pretty comfortable for your dog as well. It has a no-choke design and adjustable snaps to ensure a perfect fit.
Pros
It has both an LED light and reflective material for maximum nighttime visibility.
The battery is rechargeable, so you won't have to worry about replacing it all the time.
Cons
The sizes run very large, so this Yorkie harness may not be ideal for Teacup Yorkies.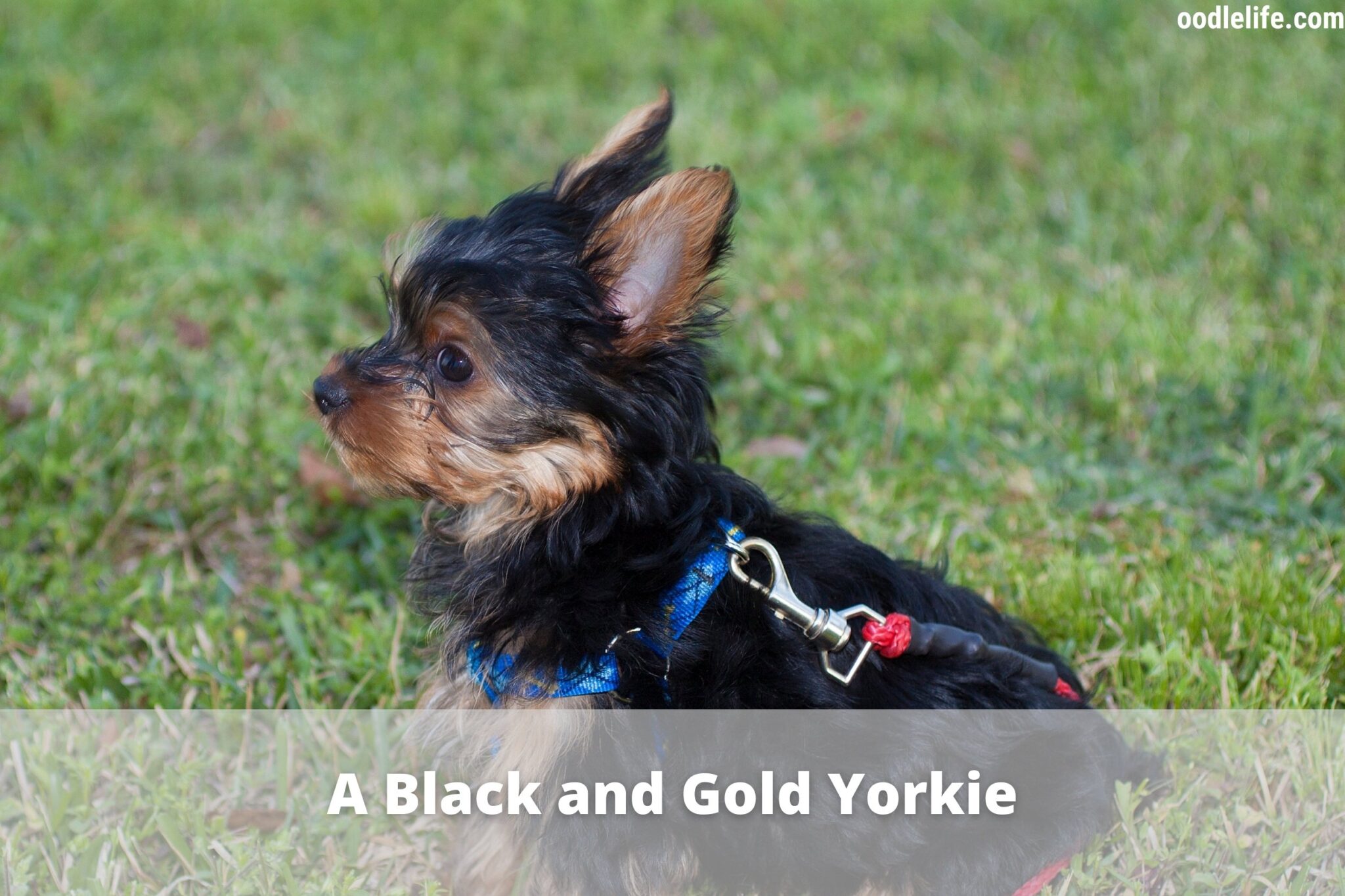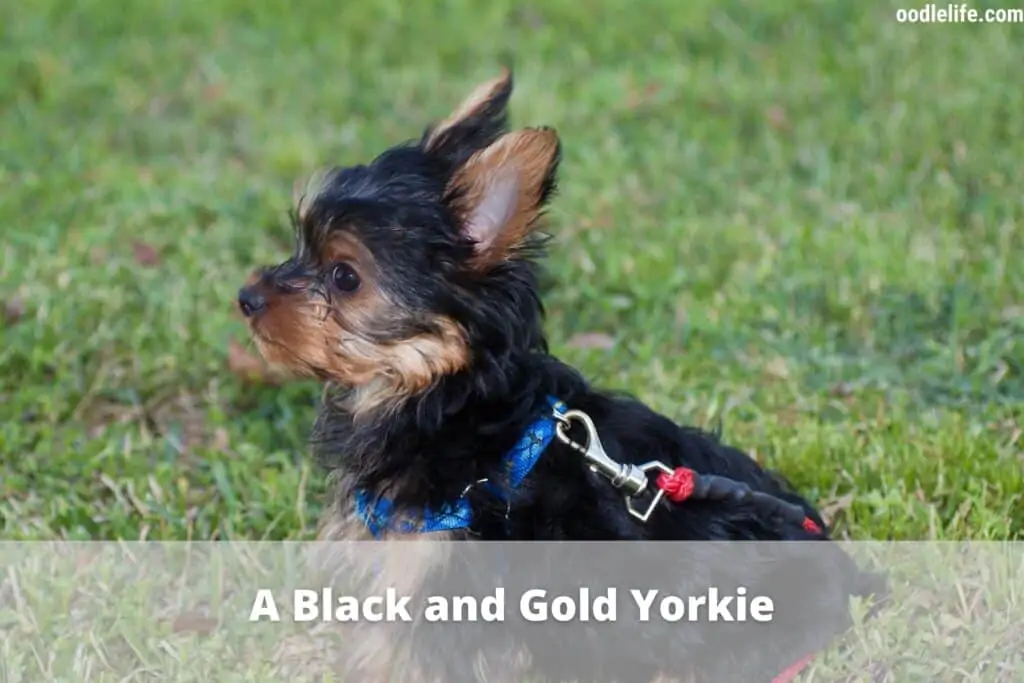 Best No-Pull Harness for Yorkies – PetSafe Deluxe Easy Walk Dog Harness
Do you have a Teacup Yorkie that's always tugging on its leash during walks? Consider this no-pull dog harness from PetSafe. It has a design that prevents pulling without causing any harm to your dog.
PetSafe Deluxe Easy Walk Dog Harness
DELUXE VERSION: Features padded neoprene straps for cool comfort and reflector strips for night safety
LEGACY OF TRUST: This harness was created by a veterinary behaviorist and is trusted by a million dog parents and trainers each year
TEACHES BETTER LEASH MANNERS: Patented martingale loop and front chest leash attachment minimizes your dog's pulling by gently steering him in the direction you are headed
NO MORE GAGGING AND CHOKING: The harness safely controls light to moderate pulling by resting across your dog's chest instead of his throat
QUICK AND EASY TO FIT: The quick-snap shoulder and belly straps allow you to fit the nylon harness easily on your dog; less coverage than many other harnesses to keep your pup cool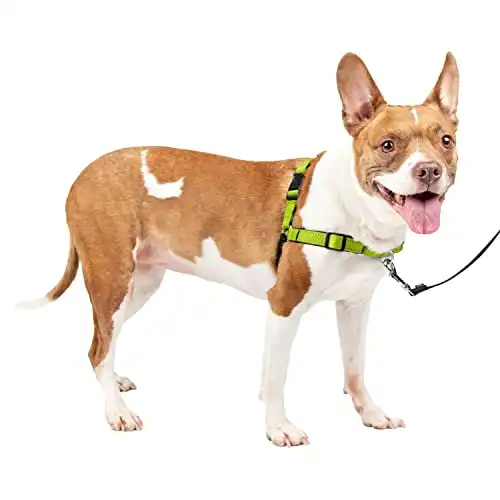 We earn a commission if you make a purchase, at no additional cost to you.
This harness is very lightweight and doesn't cover your dog's body as much as other types. This feature can help them keep cool in hot weather and allow your dog to move freely.
Pros
This Yorkie harness doesn't add pressure to the neck, which can prevent choking or gagging.
It's super easy to put this harness on your dog.
It comes in several colors.
Cons
This harness is not quite as durable as the other options on this list, so handle it with care.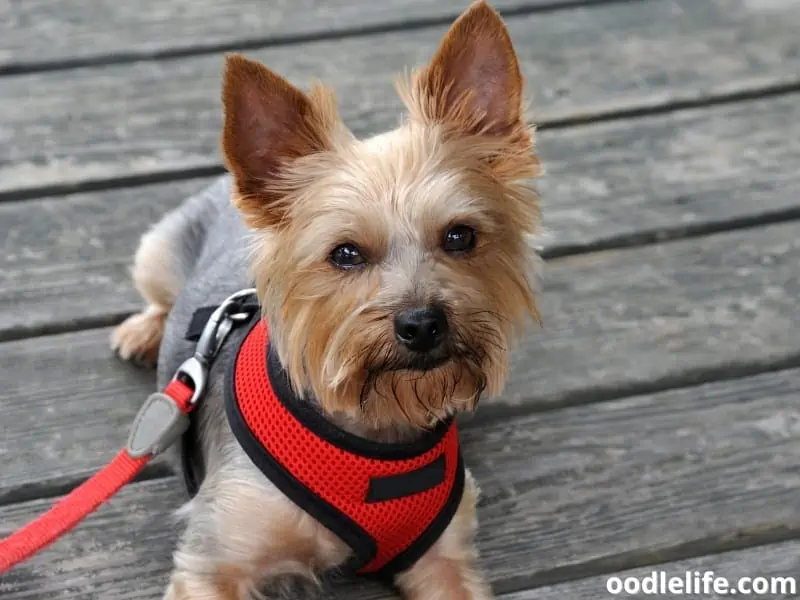 Best Summertime Harness for Yorkies – Doggie Design Nylon Reflective Harness
Sometimes, harnesses can get hot and sticky, which can make summertime walks a hassle for your dog. Fortunately, these harnesses from Doggie Design are a great way to keep your Yorkie cool during walks. They have breathable nylon mesh material that can help your dog regulate their body temperature. 
DOGGIE DESIGN American River Choke-Free Dog Harness Beach Party Ombre (Medium)
Trachea safe - The Choke-Free patented design pulls only from the chest, never the neck. Many smaller breeds are susceptible to having a collapsed trachea, especially when using a collar.
Double D-ring - Most harnesses have only a single D-ring. Furthermore, some companies use D-rings that aren't welded shut.
Reflective strips - All 31 colors of American River Choke Free Dog Harnesses feature reflective strips that can be viewed from the front and the sides to provide visibility during nighttime or early-morning walks.
Double safety closure- Wide touch fastener and high strength plastic buckle clip ensure your dog won't be able to get out of the harness.
Safety – The choke-free design makes this harness an ideal choice for use as a car seat belt harness since it pulls from the chest, not the neck.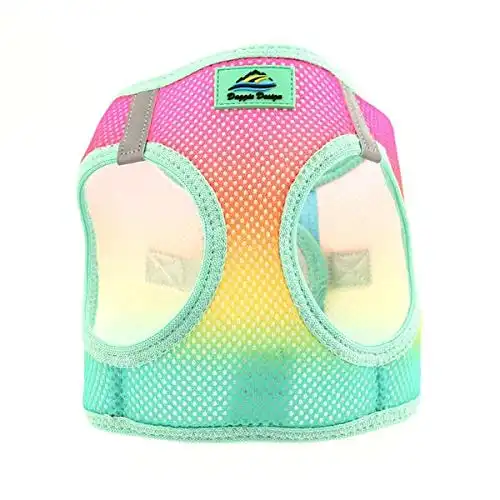 We earn a commission if you make a purchase, at no additional cost to you.
This Teacup Yorkie harness comes in a stylish ombre pattern. So not only will this harness be super comfy on your dog, but it'll look adorable on them as well.
Pros
This harness comes in a wide range of sizes.
It's easy to clean if it gets dirty—just put it in the washing machine!
It has reflective material that can keep your Yorkie safe during evening walks.
Cons
The sizes run very small, so consider getting a size larger than you normally do for your Yorkie.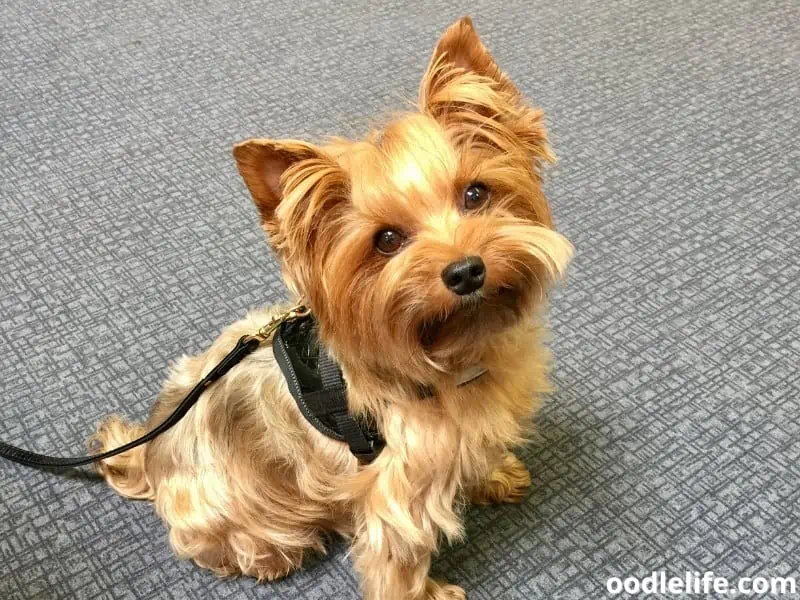 Best Padded Harness for Yorkies – Best Pet Supplies Voyager Padded Fleece Dog Harness
Because they're so small, Yorkies can get cold pretty easily. So if you're taking your pup for a walk on a chilly day, you may want to consider this padded harness. It's soft, comfortable, and has a fleece lining that can help them stay warm. 
Value Step In
Voyager Step-In Plush Dog Harness – Soft Plush, Step In Vest
SOFT & WARM PLUSH: Lined with a soft and warm plush fabric, this harness will keep your pet comfortable during walks on brisk days.
REFLECTIVE BANDS: Two reflective bands on the sides of this harness enhance your pet's visibility for those early morning and late evening strolls.
THREE SAFETY FEATURES: Our hook and loop fastener, buckle and double D-rings work together protect your pet in three layers of security.
STEP IN, CLIP & GO! Step into your next walk in this simple and easy-to-wear vest harness. Click 'Add to Cart' now!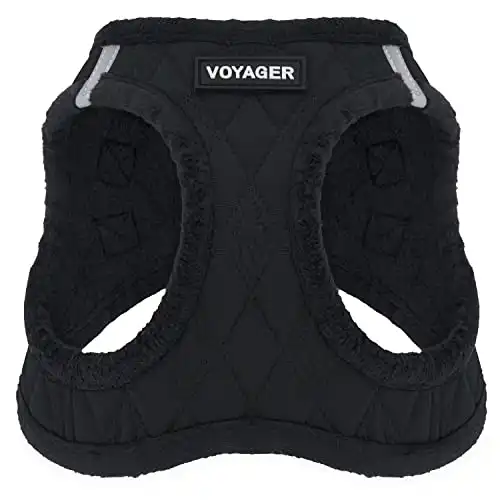 We earn a commission if you make a purchase, at no additional cost to you.
This harness is very easy to put on your dog, so if your Yorkie is fussy about harnesses, this may be a good choice. Additionally, you can machine wash this harness if your Yorkie tends to get messy during their walks.
Pros
This harness has an adjustable design that can provide a comfortable fit for your Yorkie, regardless of their size.
The soft design ensures maximum comfort and can help prevent chafing.
This harness is very budget-friendly.
Cons
This product only comes in one size and color.
Choosing the Right Harness For Your Yorkie
We've featured some pretty great Yorkie harnesses, but no product is perfect for everyone. So before you settle on any of these products, here are a few key factors to bear in mind:
The size. Be sure to take your Yorkie's measurements before making a purchase. Getting a harness that's too small could be painful or uncomfortable for your dog. And if you get one that's too big, your Yorkie may be able to slip out of it.
The features. There are several types of harnesses to choose from. No-pull harnesses, padded harnesses, and light-up harnesses are just a few possible features you can find. Determine what your Yorkie needs in a harness before picking one.
The material. You can find harnesses made from nylon, leather, fabric, and more. These materials can make a difference regarding durability, comfort, and aesthetics, so be sure to keep those in mind.
Why Your Yorkie Needs a Good Harness?
If you're a new dog owner, you may be wondering—why does my Yorkie need a harness, anyway? There are a few key reasons why a good harness can be beneficial for you and your Yorkshire Terrier.
Many dog owners will attach a leash to their dog's collars when they take them for walks. However, while this works for some dogs, other dogs may find this method very uncomfortable. And if your Yorkie tends to pull on leashes during walks, they could be at risk for choking or serious injury.
Fortunately, a harness can prevent this issue by distributing pressure against the chest and belly rather than the neck.
In addition, when you have a comfortable harness for your Yorkie, they can have a more pleasant experience during walks. Taking frequent walks is essential for your dog's well-being, so by finding the right harness, you can help improve your dog's health.
Conclusion
No matter what type of harness you're looking for, the perfect one for your Yorkie is out there.
Our highest recommendation goes to the Soft Mesh Plaid Puppy Harness by KoolTail. But if that one doesn't appeal to you, one of the other options on our list might be the perfect fit for your furry friend.
So, are you ready to take your Yorkie for a walk in the great outdoors? Consider picking up a harness for them today!