The 3 Best Indestructible Dog Harness (Chew Proof)(2023)
If there is one thing that all dogs have in common, it's the love of chewing things. They will happily chew on toys or treats; if these are not available, they may turn to other things. Without proper discipline and training, dogs chew on shoes, clothing items, furniture, collars, harnesses, and leashes.
One of the most common issues pet owners may run into is their dog chewing through their leash, collar, or harness. This habit is hazardous since it can lead to your pup getting loose and running off. To keep your pup as safe as possible, we've compiled a list of the top three best indestructible dog harnesses (chew-proof!) and some chew-training tips.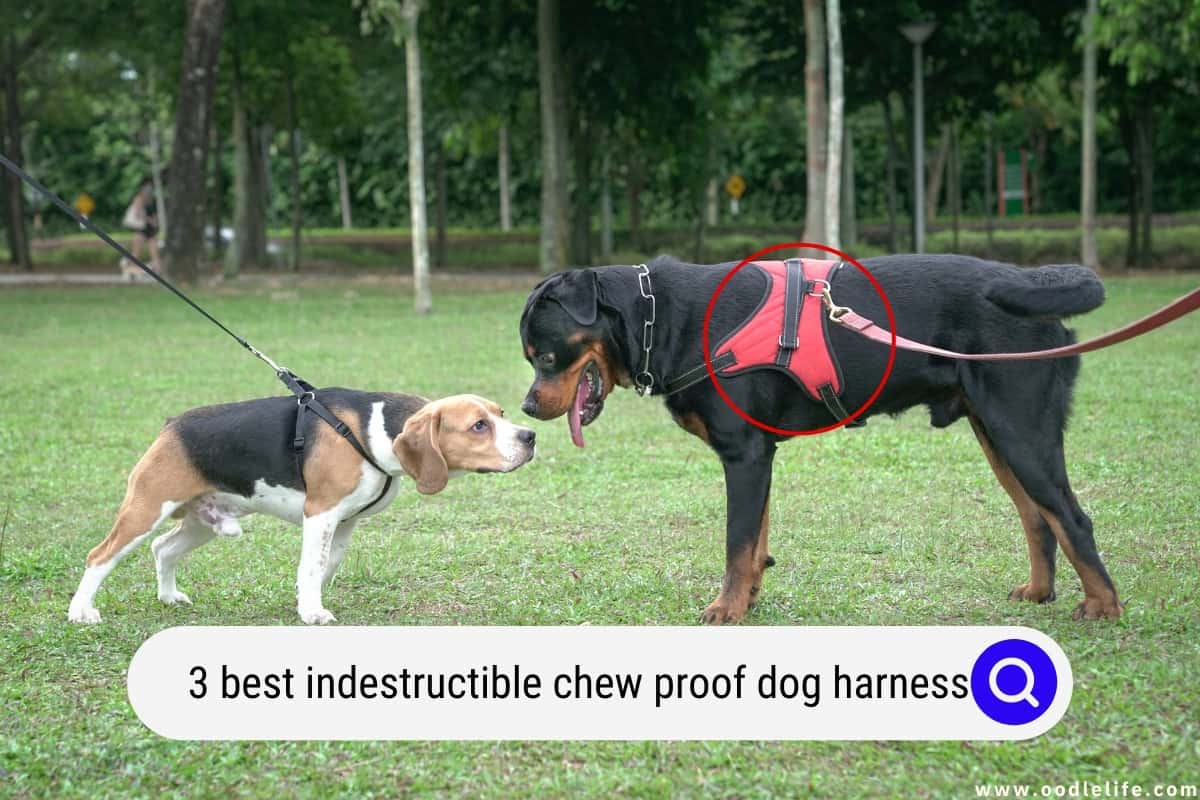 Why Choose a Harness?
For many years, harnesses have been used for specialty or working dogs such as K9s, therapy dogs, and war dogs. Household dogs have historically worn just a collar, sometimes with a tag, to show that they have an owner and are not stray.
However, over the last couple of decades, owners have realized just how superior of an option the harness is to a collar. Where a collar is just one loop that can easily slip off, many different types of harnesses make escape much more difficult.
Additionally, where a collar puts pressure on the esophagus, a harness goes across the whole body, which is a much safer option, especially for dogs that like to pull. 
A harness can be utilized in the car for safe traveling, and many of them also have handles on the back to keep your pet close to you when needed. Generally, you will find you have much more control over your dog with a harness than a collar.

So, it's best to find a chew-proof, indestructible dog harness that works for you and your pup.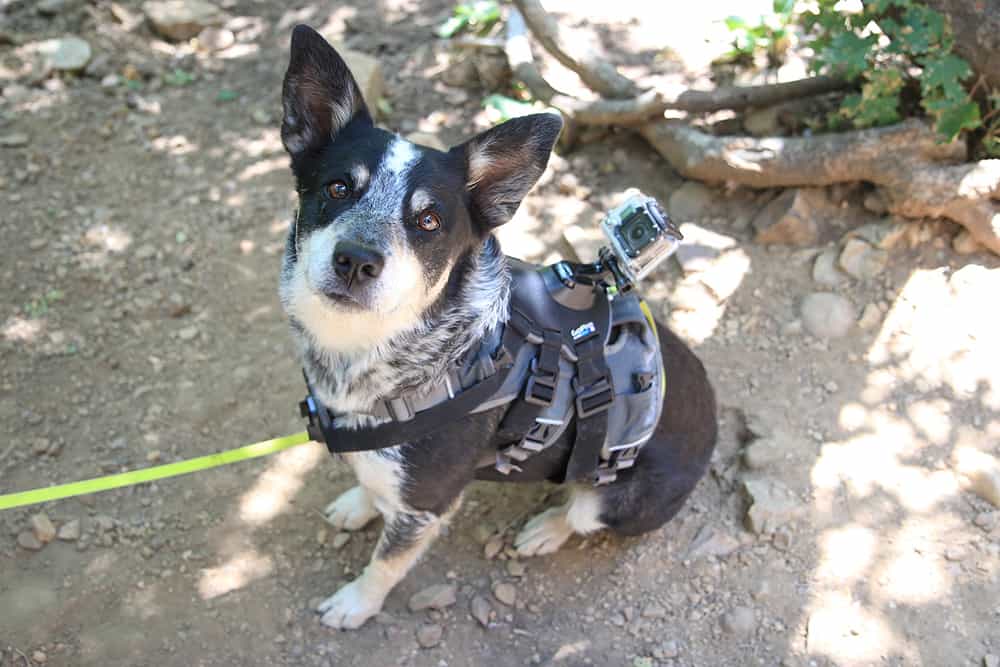 Top 3 Chew-Proof Harnesses
The key to the best chew-proof harnesses is the material used to make them. There are many options available, but they are not all equal in quality. You want to find a harness that is strong, durable, and resistant to your pup's sharp teeth and jaw power.
While there isn't anything that is truly indestructible when it comes to dogs, the options below are as close as you will get.
Rabitgoo Tactical Dog Harness
This oddly named dog harness brand has grown substantially over the last few years. Their Rabitgoo Tactical Dog Harness has over 13,000 reviews on Amazon, with the landing rating at a shining 4.5 stars. It's unclear exactly when the brand was founded, but reviews on the harnesses date back to 2018.
Sale
rabbitgoo Tactical Dog Harness for Medium Dogs, Military Dog Harness with Handle, No-Pull Service Dog Vest with Molle & Loop Panels, Adjustable Dog Vest Harness for Training Hunting Walking, Tan, M
Medium Dog Molle Vest: Neck Girth: 16.4" - 28.5" (42 - 73cm), Chest Girth: 25.4" - 36.0" (64 - 92cm),Belly Length: 10.2" - 16.1" (26 - 41cm), Back Length: 10.5" (27cm). Ideal for Medium Breeds such as Boston Terrier, Dachshund, Heeler, Bulldog, Boxer, Puggle, Australian Shepherd, etc. A professional working dog vest for service, police or military dogs, but also good for hunting and all outdoor companion dogs
Military-standard Material: Heavy duty vest made of 1050D Nylon with sturdy stitching for extra durability and wearability, suitable for all field use. Two Metal Shoulder Buckles can bear great pulling force, ensuring your dog is safely harnessed during training, hunting, working, and any other occasions. Well padded in every pressure load point to protect your dog's skin, while the breathable air mesh keeps your dog ventilated and comfortable
Practical Design For Versatile use: Molle system equipped on both sides for pouches, water bottles, and dog tactical gears. Multiple Hook & Loop Panels for morale patches and badges to showcase your dog's personality. A wide range of use for personal service, law enforcement, hunting, or outdoor recreation
Maximum Control & Securtity: Dog safety harness features 2 Metal Leash Attachment Points for safer dog walks - One Front Clip for No-Pull control or dog training, and one Back Clip for casual walking or jogging. Reinforced top handle for additional control and easy lifting aid in both general and treacherous situations
Easy Use With Full Adjustment:Put on and take off this easy dog harness with 4 quick-release buckles with no hassle. 5 fully adjustable straps (2 Shoulder, 2 Chest, 1 Belly) allow a snug fit with maximum mobility.
The tactical harness comes in sizes small to X-large, with various colors. The harnesses are made of 1050D Nylon and extra stitching for durability. The buckles are solid metal making them indestructible, and the inside is padded for extra comfort.
It also comes with a handle on the back for keeping your dog close when necessary and is also helpful for old dogs who need additional support.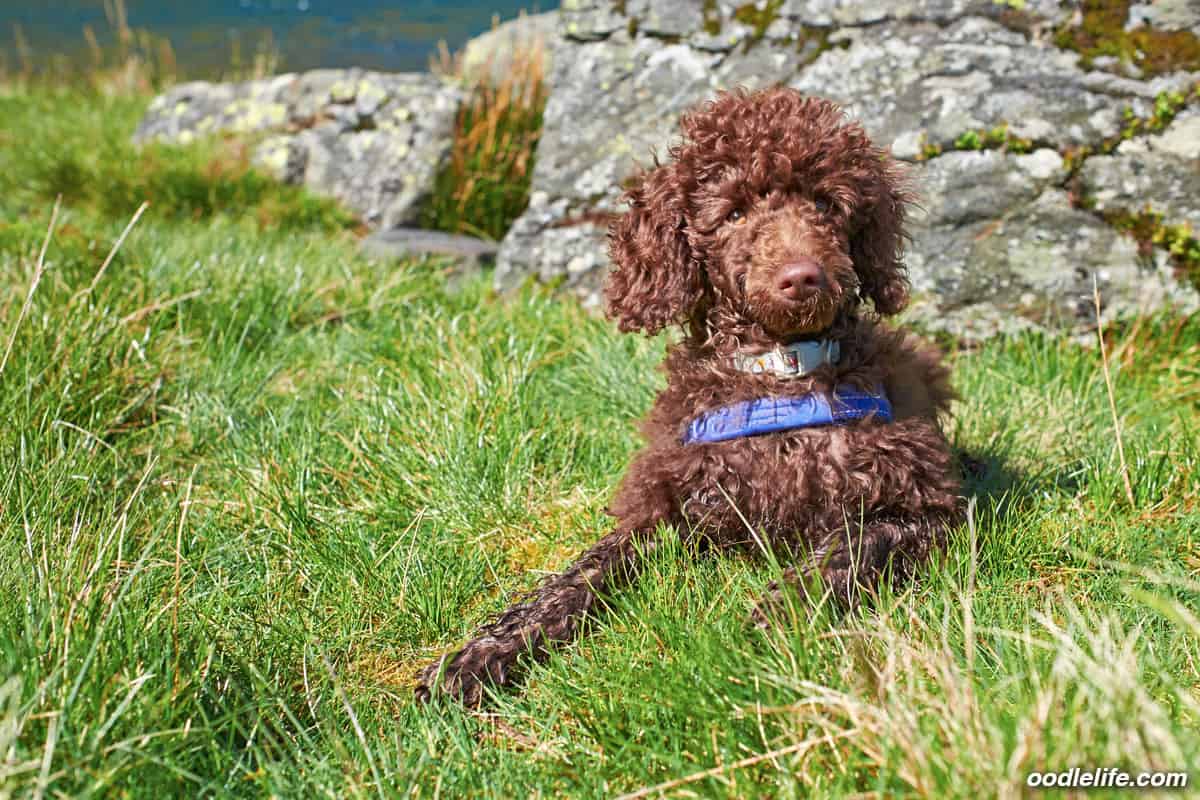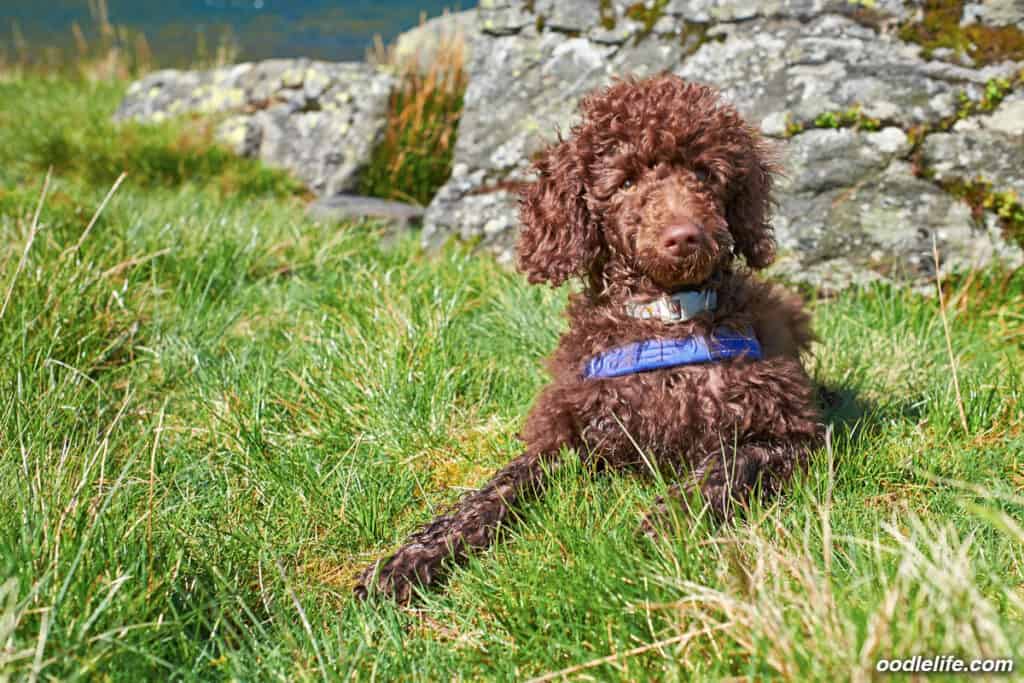 EzyDog Quick Fit Adjustable Dog Harness
This brand certainly deserves mention as they've been around for almost 30 years and are still going strong. Founded in 1995 by John Hatcher, EzyDog continues to grow and evolve with its customers' needs in mind.
EzyDog Premium Quick Fit Adjustable Premium Dog Harness Vest with Reflective Stitching - Perfect for Training, Walking, and Control - Padded for Comfort (Medium, Gray)
SIMPLE ONE-CLICK FIT SYSTEM: Our Patent Pending EzyDog One-Click Fit System lets you know if you have the right fit without all the frustrations that fitting other harnesses can cause. As easy to use as a collar, with all the benefits of a harness.
NEOPRENE PADDED CHEST SLEEVE: Our premium waterproof neoprene chest sleeve covers the adjustable chest strap for a durable and comfortable fit on your dog.
REFLECTIVE SAFETY STITCHING THROUGHOUT: We've incorporated high-visibility reflective stitching throughout our award-winning design to increase nighttime visibility and safety for both you and your dog.
QUICK-CLIP BUCKLE SYSTEM: Our heavy-duty EzyDog Quick-Clip Buckles provide you with fast and easy on and off for hassle-free fun.
SELECT THE BEST SIZE: Fit matters! If you are close to the end of a size, choose the larger of two sizes: GIRTH in inches: XXS 12"-15", XS 15"-18", SM 18"-21.5", MD 21.5"-26.5", LG 26.5"-33", XL 33"-42"
EzyDog Quick Fit Adjustable Dog Harness is just one of the many harness options they offer, and it's one of their best, with almost 3,000 reviews and 4.5 stars.
This neoprene harness is both comfortable and durable, and its attached D-ring is made of steel which will not rust. The singular strap across the chest is out of reach of your dog's teeth, so they are less likely to chew.
Customers love the lightweight versatility and how easy it is to assemble. All it takes is one click of the buckle! They offer a variety of sizes from XXS to XL, as well as many colors and patterns.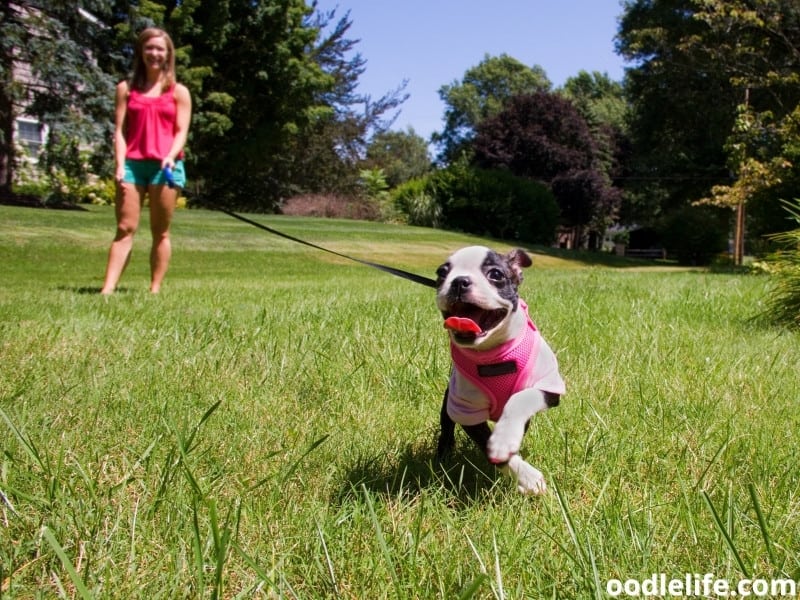 KONG Max Ultra Durable Neoprene Padded Chest Plate Dog Harness
Most dog owners will know of the world-renowned KONG chew toy. Founded in the 70s by Joe Markham, KONG products can now be found in over 80 countries worldwide.
They have since expanded to offer other products such as collars, harnesses, leashes, dog beds, and more, all of which fall under their 60-day warranty. This policy guarantees the products to be indestructible, or you get your money back!
The KONG Max Ultra Durable Neoprene Padded Chest Plate Dog Harness Heavy Duty is just one of many options they offer. The extra wide chest plate is very comfortable for your pup, and the leash rings on both front and back offer versatility on walks. It also includes a built-in handle on the back for additional control.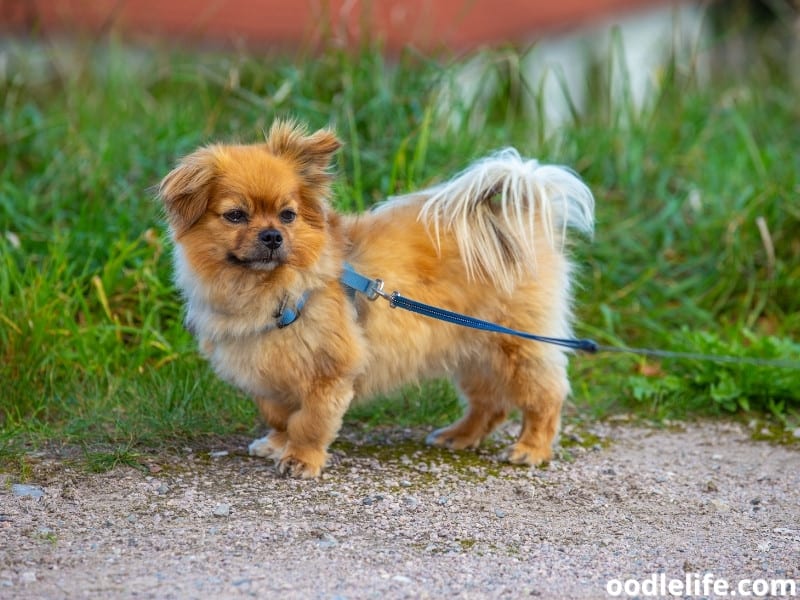 Why Does My Dog Chew Its Harness?
As previously stated, dogs chew just about anything they can get their mouths on. They must be taught from a young age what is safe to chew and what is not, or they could end up hurting themselves or destroying valuable items.
There are a few reasons why dogs chew things, the most prevalent being boredom. If your pup is not getting enough attention or given something to do to occupy themselves, often, they will pass the time with destructive behavior. This can be chewing things, digging holes, or shredding things.
Younger dogs also like to chew because they are teething, and it feels good on their sore mouths. Just like human babies, puppies can have the urge to gnaw on solid, chewy, or cool objects to ease the pain of new teeth cutting through.
Another reason dogs chew is due to anxiety. If they go through any life change, they may become stressed or anxious, which can lead to chewing. The difference may be anything from a new schedule to a new home or living space.
Usually, dogs will come out of this once they adjust to their new routine.
When chewing on collars, leashes, or harnesses, the above reasons may be the culprit. However, there is also the possibility that their harness is simply uncomfortable for them. This is especially prevalent in young dogs who have never worn a collar or harness before.
It will take some time for them to adjust, and you can help by not keeping them in the harness for long periods.
Make sure that whatever harness you purchase fits your dog correctly and is not chaffing or rubbing uncomfortably in sensitive areas. Additionally, many harnesses are for outdoor activities such as hunting, walking, or hiking and should not be worn full-time. It's a good idea to keep a collar on hand when your dog is in the house and only put the harness on when you are going out.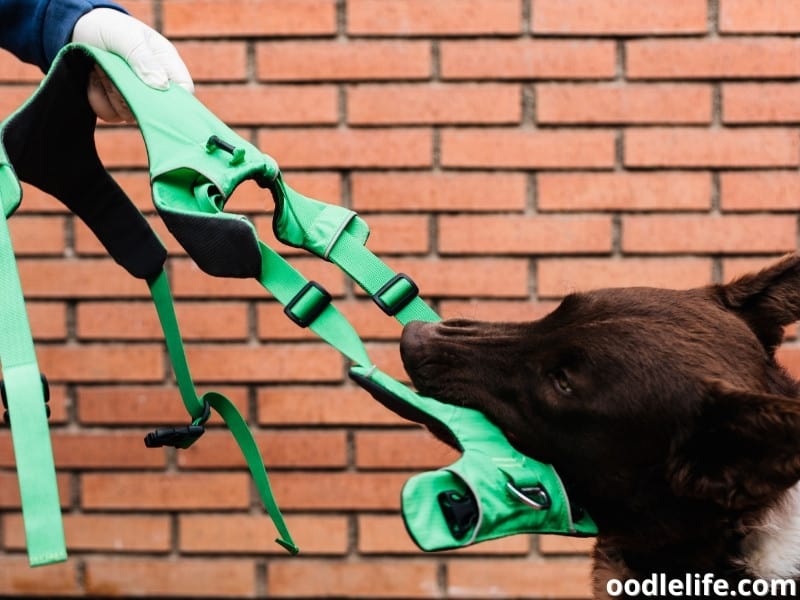 How to Stop Dogs From Chewing?
While you don't necessarily want to stop your dog from chewing, you do want to teach them what they are allowed to chew and what they are not. Redirection is the key to getting your dog to stop its destructive behavior.
Chew Toys
A good chew toy is one of the most underestimated tools for training a dog. Toys are not one size fits all; what works for some dogs may not work for others.
Heavy chewers may require more heavy-duty toys—something durable that they won't shred in five minutes. KONG toys are a great option, but heavy-duty rubber is good too. Thick rope toys are suitable for chewing, and you can also use them to play tug of war!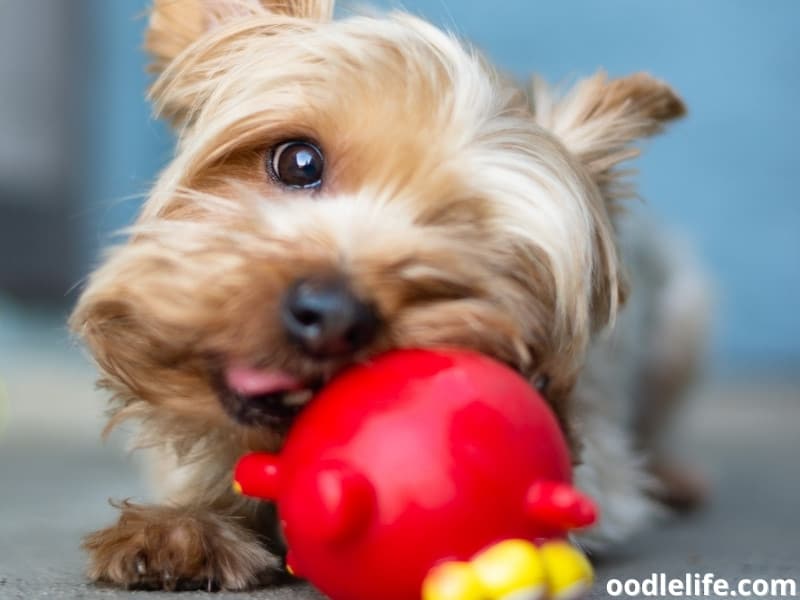 Treats
Gone are the days when owners get away with giving their dog rawhide as a treat. Today, many other healthier options are available for your pup as a chew treat—ones that they can digest and will not choke on! Bully sticks are one of the best chew treats on the market and are manufactured by many brands.
They come in a variety of sizes suitable for all dog types.
Bones and antlers can also be used as chew treats, especially for heavy chewers. Remember only to give raw bones to your dog since cooked bones become brittle and could break. Additionally, avoid giving bones or antlers to pups under six months old, as their teeth are still fragile.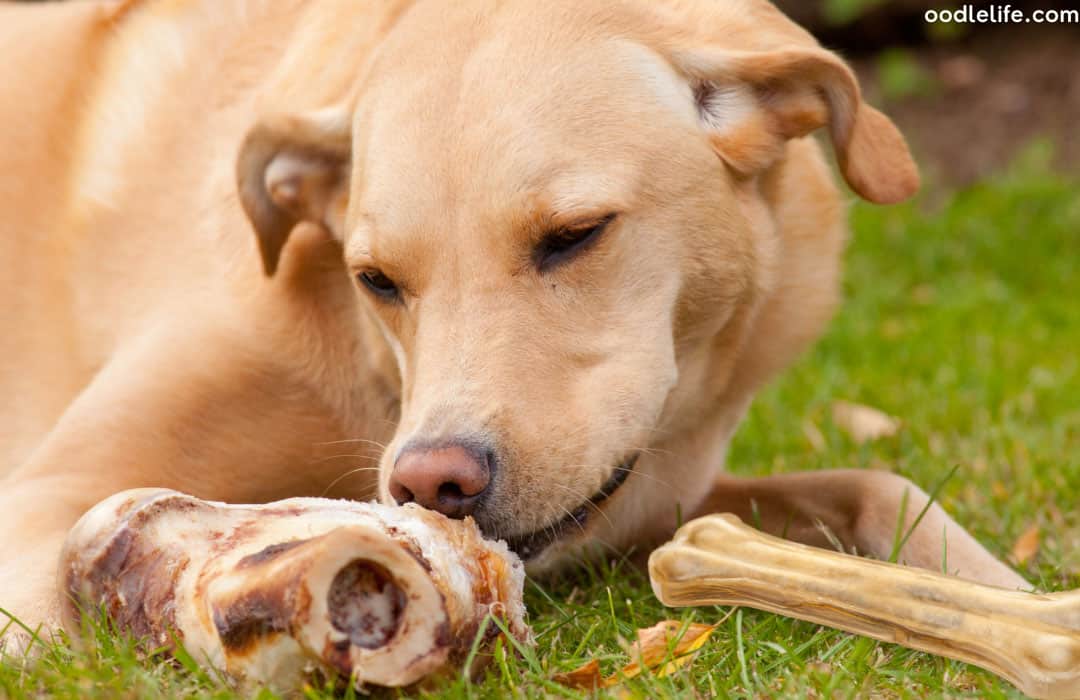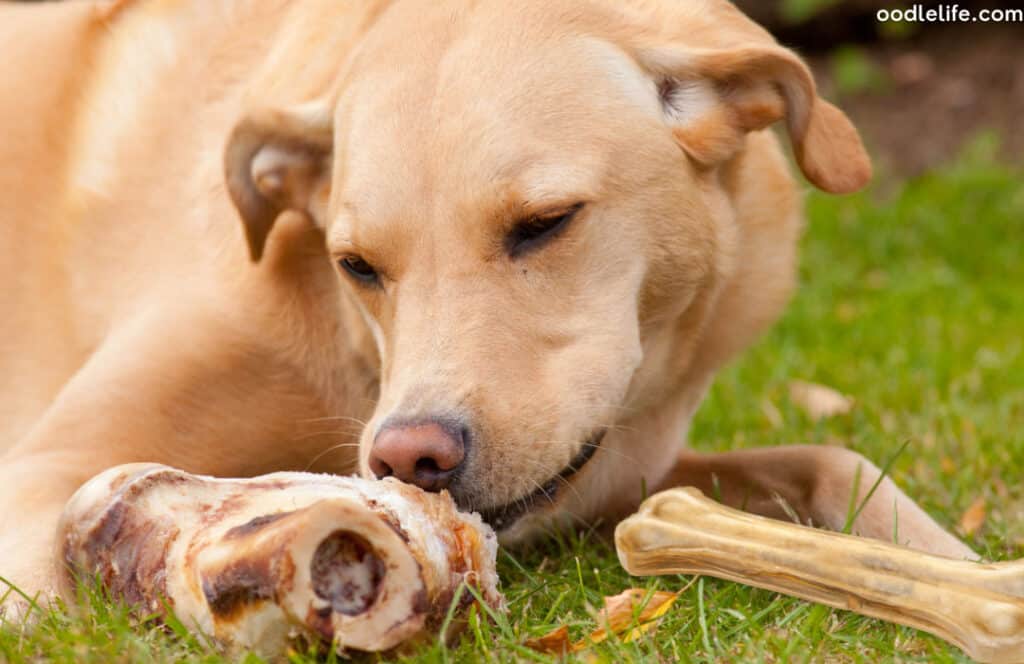 Conclusion
Finding the proper harness should be a cakewalk with some of the top-notch options we've listed. These chew-proof, indestructible dog harnesses are secure and likely to last longer than your average harness.
Remember to size carefully to make sure it is comfortable for your dog. Don't keep the harness on too long, and always try to redirect their chewing to a healthier option. Your pup's safety and comfort should always be a priority—they will thank you for it!