Top 5 Best Dog Harness for Cockapoo (Reviewed from best Budget to Premium)
Taking a Cockapoo for a walk is an exciting whirlwind of energy, excited sniffing, and even a littleleash pulling. Even well-trained Cockapoo puppies and dogs are packed to the brim with vibrant energy. They love to run around, explore, sniff, and play.
While you might still see the occasional person walking a Cockapoo with a traditional collar and leash, dog harnesses are the best solution for Cockapoos.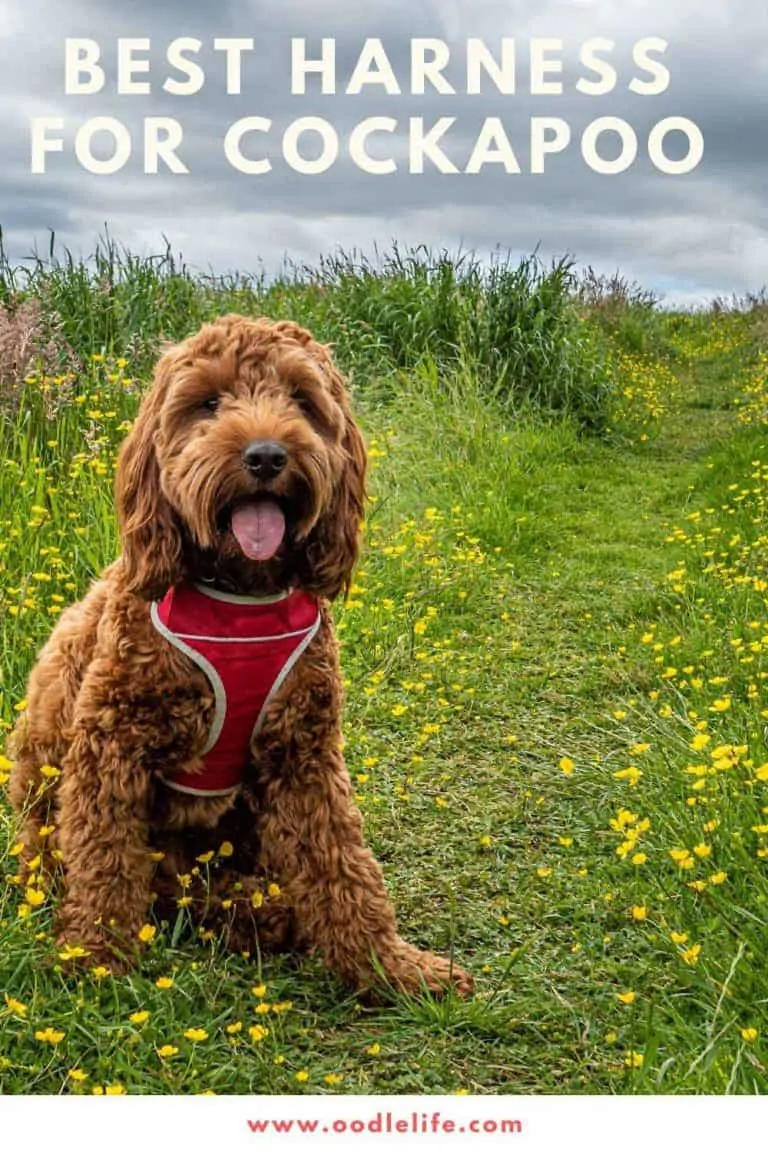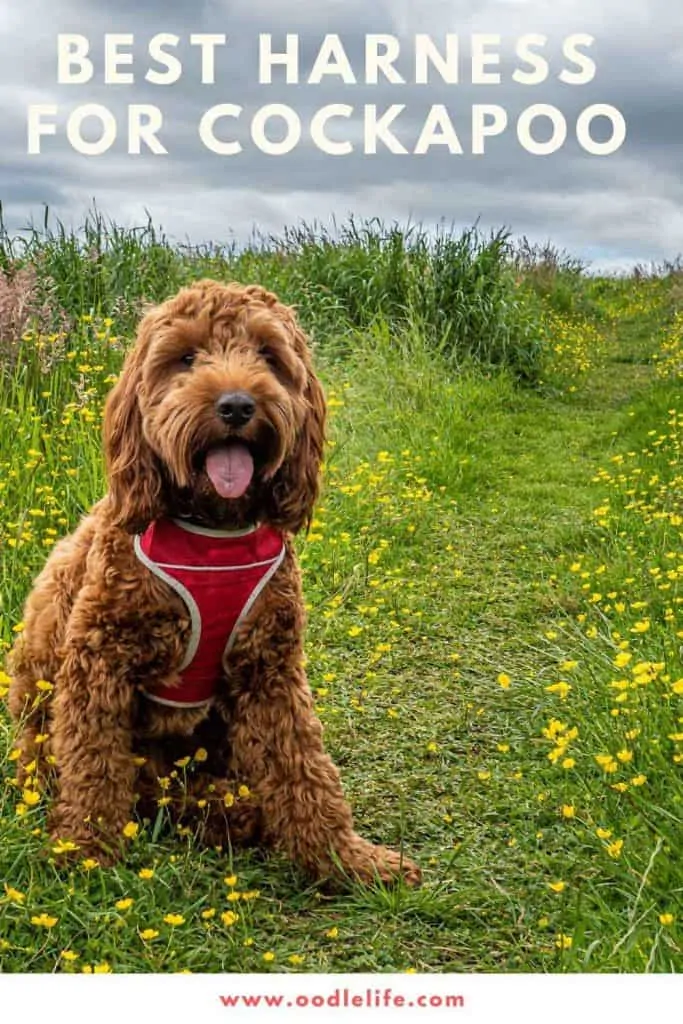 No time to delve into the Review? Here are the Top 5 Recommended Cockapoo Harnesses.
Pros:

Remarkable value

Easy use

Washable

Adjustable

Pros:

High end quality

No pull

Durable

Performance focus

Pros:

Great for travel

Good for water

Easy step in design
Remarkable Value
Pros:
Remarkable value

Easy use

Washable

Adjustable
Performance Pick
Pros:
High end quality

No pull

Durable

Performance focus
Step In Pick
Pros:
Great for travel

Good for water

Easy step in design
04/20/2023 03:41 am GMT
Harnesses give Cockapoos the freedom to move. At the same time, they do not involve a collar around the neck. This means your Cockapoo will not feel choked. Instead, they are comfortable while they run, play, and sniff up a storm!
Finding a dog harness that perfectly suits a particular breed of dog is essential. A comfortable harness makes training a Cockapoo much easier.
These harnesses are made in the ideal size for your dog. If you have a Cockapoo, you want to find the best dog harness for a Cockapoo. These five harnesses are the best of the best.
The Best Overall Cockapoo Harness
The best overall balanced Cockapoo harness is the Ruffwear Front Range in small size.
The Ruffwear Front Range dog harness was designed to give owners the flexibility that they need, a variety of preferences to choose from, and be comfortable for dogs to wear.
RUFFWEAR, Front Range Dog Harness, Reflective and Padded Harness for Training and Everyday
Made for extended wear: Lightweight, durable, and made for all-day outdoor adventures; Designed for easy on and off
2 leash attachment points: Reinforced webbing at chest stands up to pulling and gives additional control (ideal for training, too); Aluminum V-ring centered on back
Padded for comfort: Foam-padded strips across the chest and belly provide equal load distribution and comfort when running, walking, or resting
Customizable fit: 4 convenient points of adjustment for full range of motion; Easy access ID pocket for safe storage of your dog's tags
Easy to see, day and night: Bright, easily visible fabric with reflective trim helps your dog stand out against any landscape day and night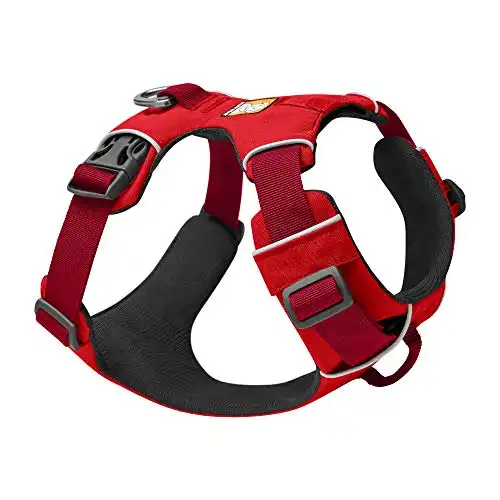 We earn a commission if you make a purchase, at no additional cost to you.
Options Available for the Ruffwear
You'll find that this isn't just the best dog harness for cockapoo dogs for the dogs, it's also great for owners. There are a few different options to choose from.
This dog harness is available in so many colors that everyone can find their favorite. Colors include, but are not limited to: blue, orange, red, pink, purple, black, and grey.
There are also sizes available from XX small all the way to X large. The small is great for a Cockapoo, but keep in mind that dog sizes vary, so it's important to double-check the product description before ordering.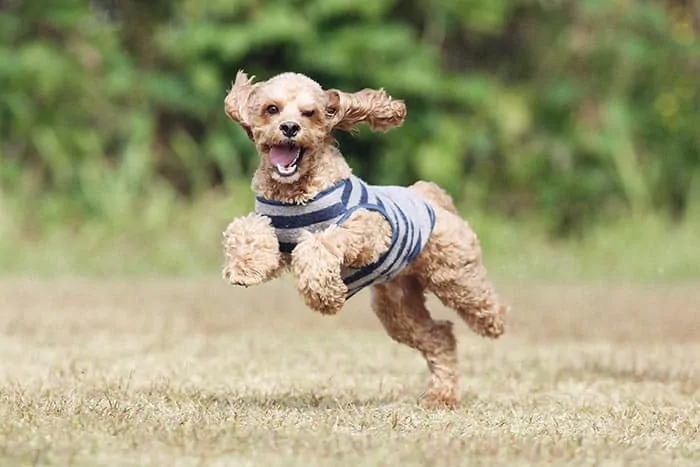 Design of Ruffwear Harness
Ruffwear designed this harness to be convenient for both the dog and the owner. It comes with four adjustable straps to keep the harness snug against your furry friend without being too tight.
The best feature we found in our hands on is the additional padding underneath of the buckles guarantees that it will be comfortable for your Cockapoo too. I found it better than the competitors for this underside padding. I think it will be more comfortable for a Cockapoo (or similar sized dog).
A challenge with all harnesses is the fur rubbing and causing matts. Using a quality Cockapoo brush will undo any matting – but a harness will extra padding is supposed to limit the amount of matts that will form.
A separate loop is included to attach a beacon (sold separately) so that drivers can safely see and avoid your dog while you're out.
Not only will this harness be suitable, but it can also keep your dog safe on nighttime walks.
The updated design makes this harness visually pleasant for pet owners too. The design trends modern but focuses on basic function. I like that there are two leash points are available.
One can be used for walking the dog, but a separate one on the bottom can help redirect your little one if they start to stray off the path. An ID tag pocket guarantees that someone can help them find their way back to you if they get lost.
The over the head style makes it a breeze to put this one on your dog and take it back off when you get home from a walk. Some harnesses are legitimately tricky to get onto your Cockapoo until they learn the process. This harness style is easiest for fast attachment while still being secure.
Overall, this is the highest-rated dog harness for Cockapoo sized dogs.
Best Fashionable Quality Cockapoo Harness – Rabbitgoo
The best value fashionable Cockapoo harness is the vibrantly coloured Rabbitgoo No Pull Harness.
The Rabbitgoo No Pull Harness is designed to help owners train their dog, and still be used long after they stop pulling when on walks. This can help with a more active (or even help control a hyper Cockapoo).
Remarkable Value
rabbitgoo Dog Harness, No-Pull Pet Harness with 2 Leash Clips
Adjustable Dog Harness - Recommended Breeds: Small to Large Dogs, such as Golden Retriever, Goldendoodle, Labradoodle, Maltipoo, Huskie, Labrador, Alaska, German Shepherd, Akita, etc.
No Pull, No Choke - Our non-pulling dog harness is specially designed with 2 metal leash rings for safer dog walks. Use the chest attachment clip to stop your dog from pulling on walks, perfect for dog training or dogs who tend to pull. The back one is great for casual walks, jogging, hiking, etc
Easy to Use - This hassle-free overhead harness is easy to put on and take off with its 2 fast-release buckles. Slide the harness over your dog's head, buckle it up, adjust the straps, and here you go! Grab the top handle for additional control. Lightweight and easy to clean
Fully Adjustable - This adjustable harness features 4 easy adjusting straps around the body. You can use its 2 neck straps and 2 chest straps to create a perfect fit for your dog with some room of growth. No worries about slipping out or choking
Safe and Comfortable - Your dog will enjoy the daily walk in this comfort dog harness! Made of durable nylon oxford and padded with soft cushion to protect your dog's skin. Breathable air mesh keeps your dog cool during outdoor activities. Super bright reflective strips ensure a safe walk both day and night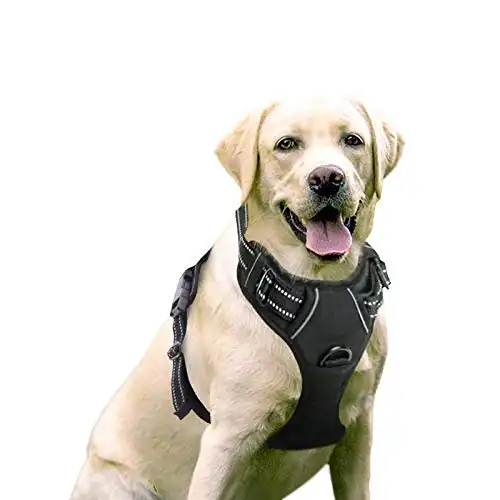 We earn a commission if you make a purchase, at no additional cost to you.
Rabbitgoo Harness Options Available
This harness is also available in a variety of vibrant colors and sizes. You can opt for a cyan blue, classic black, or a beautiful baby pink with black trim as well as six other undertones.
Regardless of the primary color, the trim and adjustable straps are always black.
The size options are small through extra-large. It should be noted that the smallest size available is for a dog with a 13.8 neck circumference. This is appropriate for most Cockapoos, but would not suit a different breed like a Teacup or Toy Goldendoodle.
Colourful Rabbitgoo Designs
The design and vibrant colours of this harness help it stand out. The overhead model and fast release buckles make it easy to put on and take off.
A loop in the front of the chest is available to help teach dogs to quit pulling on walks. After they are trained, use the loop on the back for a casual jog around the block. It is made from Nylon Oxford, an extremely durable material that guarantees that this pet harness will last.
The tactical appearance and fashionable colors definitely make this harness the most fashionable one on the list. There is nothing that can compare to the look of this harness with eye-catching color combinations like lime green and black.
Best VALUE Harness Option for Cockapoo
If you're looking to get some bang for your buck, the Voyager Lightweight All-Weather harness is the way to do it. You won't spend many notes on this one!
Value Step In
Voyager Step-In Plush Dog Harness – Soft Plush, Step In Vest
SOFT & WARM PLUSH: Lined with a soft and warm plush fabric, this harness will keep your pet comfortable during walks on brisk days.
REFLECTIVE BANDS: Two reflective bands on the sides of this harness enhance your pet's visibility for those early morning and late evening strolls.
THREE SAFETY FEATURES: Our hook and loop fastener, buckle and double D-rings work together protect your pet in three layers of security.
STEP IN, CLIP & GO! Step into your next walk in this simple and easy-to-wear vest harness. Click 'Add to Cart' now!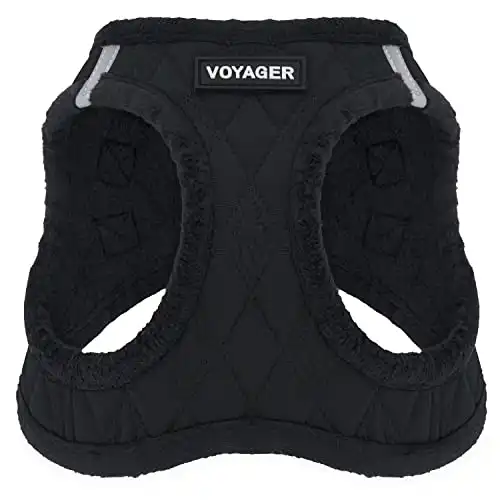 We earn a commission if you make a purchase, at no additional cost to you.
The Style Options Available
With over twenty color combinations and seven sizes available, you have more options to choose from with this harness.
The lines around the legs and back are a different color on each harness, but you aren't stuck with black. Instead, you'll get fresh color combinations like orange with matching trim or black with yellow trim.
The smallest size for this harness is a chest of 9.5 inches. That will suit Cockapoos (or similar sized dogs like Cavapoos)
Design of the Voyager
The breathable mesh is ideal for any weather. If it gets wet, it dries quickly. During hot summer walks, your puppy will have enough air circulation that they don't feel too hot and sticky.
It did not feel as durable to us as the more expensive options – but holds up well with regular use. IT seems perfect for wet weather or the beach as a easily washable budget backup option.
It's also a little flexible to make walks and runs more comfortable. Straps to secure the harness in place are on the back of the yoke, which would place them on your dog's back.
The step-in design versus the overhead design is excellent for dogs that tend to squirm when something is placed over their head.
Two reflective shields on each side of the harness are standard to help protect your dog during night time hours. This harness is not only budget-friendly, but it's also straightforward to use.
The Premium Harness Option
The Julius K9 Power Harness is considered the King of harnesses. There were several things that we liked about this harness that earned it a spot as the best harness for Cockapoo dogs.
IDC Powerharness, Size: XL/2, Pink
Size: Chest circumference: 28-37.5 in, Weight of the dog: 65-95 lbs. For more products please visit our Amazon Storefront!
Professional control for urban walks: IDC Powerharness is your dog harness for bustling days, early morning walks, and getting around safely. It is a harness you can fit in one move and count on when...
Interchangeable hook & loop patches: You can choose from countless different patch options to express your dog's personality, mood, or to display useful information on your harness.
Sturdy construction for everyday use: The handle atop the harness allows you to control your dog with confidence. Reliability and durability are guaranteed by the shatterproof buckle, and the use of...
One-click fit for daily use: To make your bustling days go smooth, the harness can be fitted in a single move.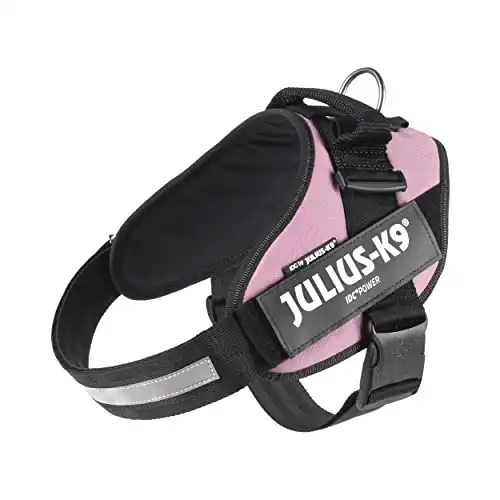 We earn a commission if you make a purchase, at no additional cost to you.
Options Available
With over thirty color combinations available, it's guaranteed that everyone can find something that they like. You can go for skulls and crossbones, splatter paint, or a lovely green with black trim. There is something for every style!
For added customizations, you can order custom patches to put on the sides to make your harness one of a kind.
Nine size options also guarantee that there is something for every dog of every size.
Design
These harnesses are designed to help walk dogs that insist on pulling and also to be durable. The material itself is thick, and the stitching is double stitched for additional durability. This one is not going to break the first time you use it!
The overhead design makes this one easy to use. Although the harness is not as bulky as other options, this just adds to its ease of use. Owners can slip their dog's head through the harness, buckle the straps, and go. After moving their head through, there is only one strap under their belly that will need to be buckled.
A loop on the top is perfect for attaching a leash to their back. There is also a handle provided for those that would like to hold a Cockapoo without a leash.
Reflective edges come standard on this harness for additional safety. It should be noted that a loop on the chest is not available with this harness, but the harness itself can be enough to help prevent dogs from pulling during walks.
Icefang Tactical Dog Harness
The Icefang Tactical Dog Harness goes beyond the basics! This company boasts that their tactical harness is also escape-proof, making it the best dog harness for Cockapoo escape artists.
There are quite a few ways that this harness stands out from the rest.
Icefang Options Available
There are five color options available, including army green, to go with the harness's tactical nature. Sizes range from small to large, with the smallest fitting a dog with a 14-inch neck circumference.
If you need help measuring your dog correctly, the company offers a sizing chart with instructions!
Tactical Design of the Icefang Harness
The design of this harness is what will make you raise your eyebrows. Steel buckles instead of plastic ones are virtually indestructible. They are not going to break if your dog attempts to escape.
Additional fabric is underneath the buckles to prevent it from rubbing up against your dog's skin resulting in chaffing.
It has the no-pull front loop for dogs that are still in training. After training, a loop on the back can be used for traditional walking. There is also a handle on the end of the harness for additional convenience.
Straps are included so that your dog can help you carry things. This is a great idea for camping, hiking or other outdoor activities. Additional items can be purchased to attach to the vest, such as a third loop for carrying things.
Not only is the design impressive, but the material is also built for outdoor use. The Nylon material is coated with a water-resistant coating, helping to keep your dog dry if you get caught in the rain.
The drops of water will run right off. The design covers the back of the dog as well, further protection from the elements.